Templederry Mission Walk – A Great Success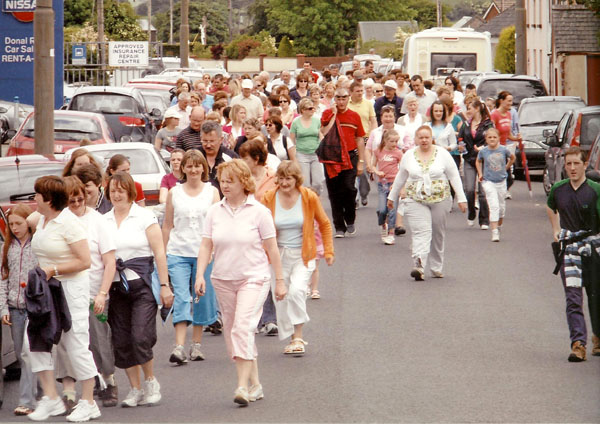 Setting off on the Mission Walk for Fr. Matt in Brazil

A sincere and heartfelt thanks to everyone who supported the very successful Mission walk on Sunday last. Fr. Willie Teehan welcomed everyone for the walk, which he said was always a wonderful community occasion. He introduced Fr. Tadgh Herbert who has worked closely with Fr. Matt in Brazil for many years. Fr. Tadhg spoke about Fr. Matt's work there and assured everyone that each cent collected would be of great benefit to the poor in this very remote area of Brazil. Fr. Tadhg will be going back to Brazil in a few weeks. To everyone who participated in the walk and to everyone who supported it financially – a very sincere Thank You. It was an outstanding success with about 250 people taking part.
Fr. Matt rang on Sunday night and was amazed to hear that so many people had contributed so generously. He asked that we extend his deep gratitude to everyone and said all will be remembered in his prayers and the prayers of the many people who will benefit from your generosity St. Paul's second letter to the Corinthians during the week was so appropriate – "God loves a cheerful give… you will be enriched in every way for great generosity…"
At present we have collected more than €10,000 – if anyone would still like to contribute – the fiend will remain open for another 2 weeks. Further details from Marian Harrington. Tel. 0504-52020 / 087-6765133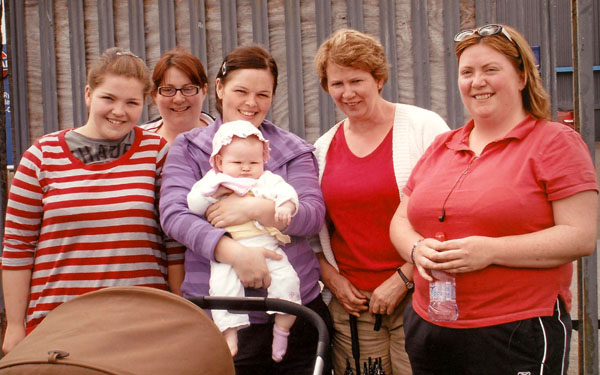 Clare Ryan, Fiona Ryan, Brenda Ryan with baby Saoirse, Maura Ryan and Bríd Ryan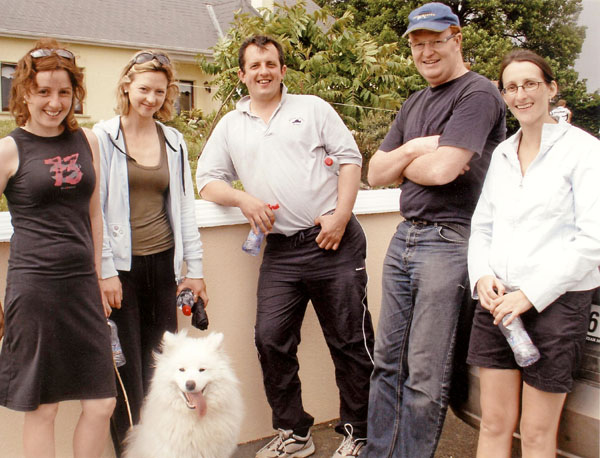 The Borrisoleigh Contingent taking part in the Walk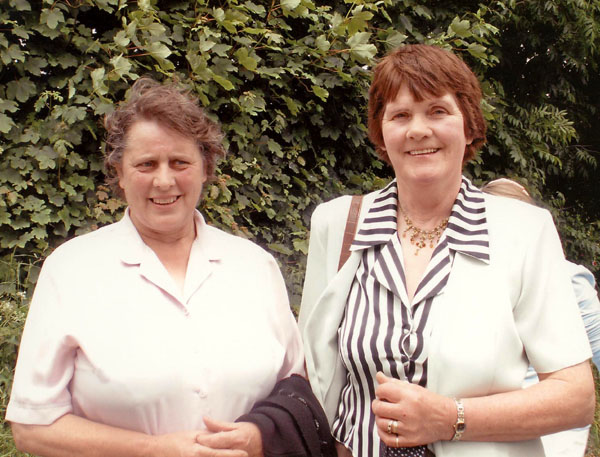 Fr. Matt's sister Molly and his sister-in-law Mary Ryan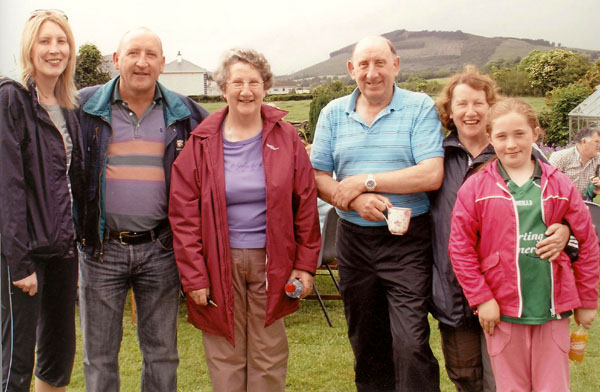 The McLoughney Clan enjoying the day out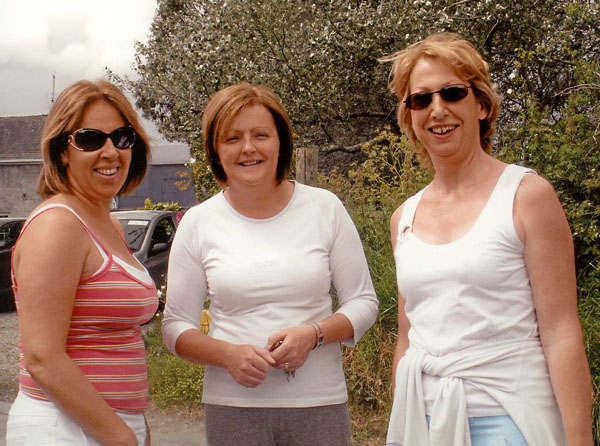 Maura Carey, Ailish Murray and Mairead Gleeson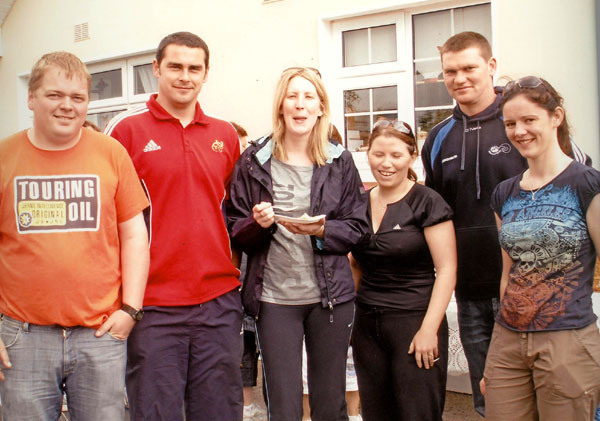 Philip Ryan, Andrew Ryan, Mairead McLoughney, Sheila Ryan, Alan and Laura Ryan after the walk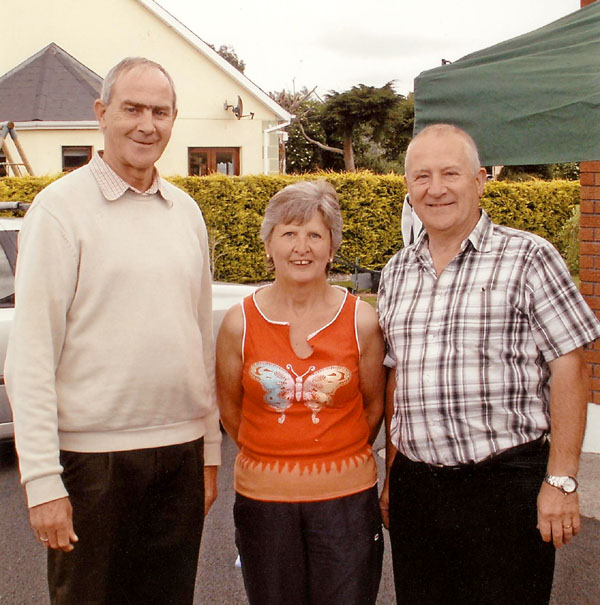 Fr. Martin Ryan with Marian Harrington (Organiser) and Tom McLoughney (Commander in Chief)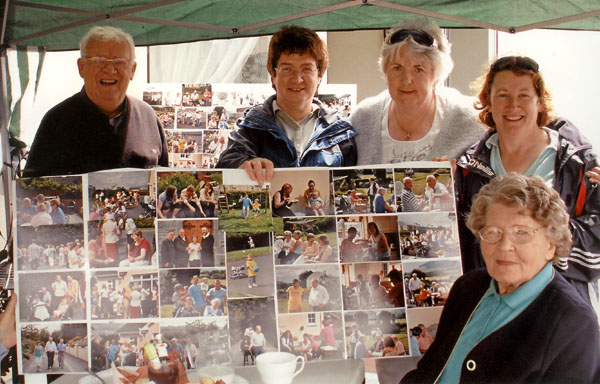 Fr. Leo Long, Siobhán Harrington, Mary Brosnan, Bernie Hayes and Maura Hogan examining the photographs of last year's Mission Walk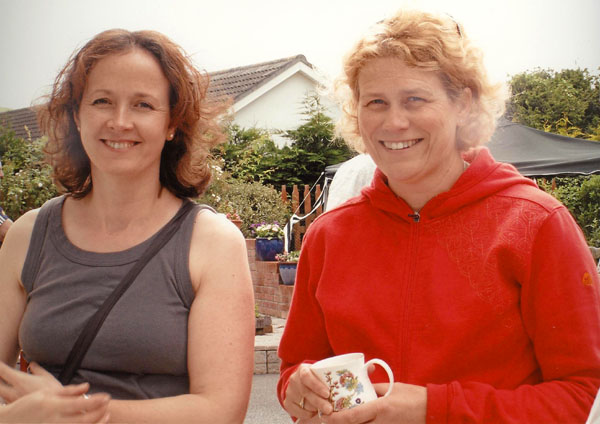 Joan Brennan and Liz Cox happy to smile for the photographer!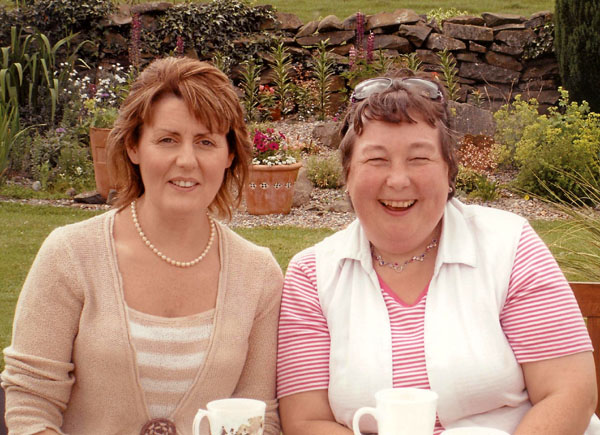 Mary McCutchen and Ann Vickers-Purcell enjoying a cuppa after the Walk

Visit our photo gallery to view all the photos from the Mission Walk or click here:
St. Cualan's Sponsored Walk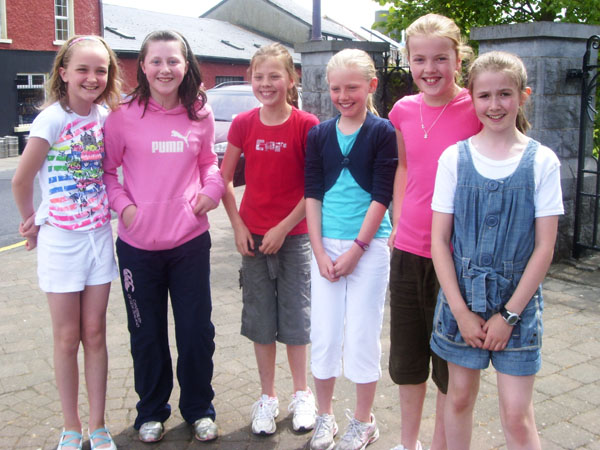 Young power walkers in the St. Cualan's sponsored walk

St. Cualan's Annual Sponsored walk took place on Saturday last 20th June. As usual there was a great turn out and we sincerely thank all those who participated or supported the walk in any way. As you can see from the photographs it was a very enjoyable event. Our walk is a method of raising finances that are required to provide social activities etc. for the senior citizens of our parish and in our eyes is a very worthy cause.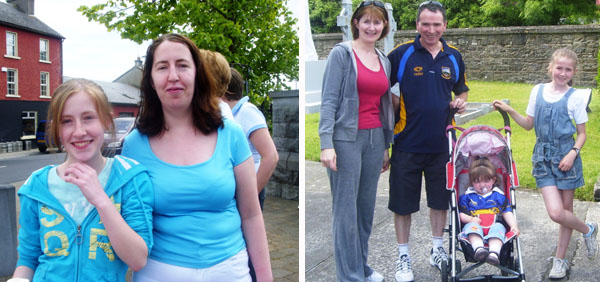 Aisling & Teresa Kiely with Eileen and John Slattery and their two girls before the walk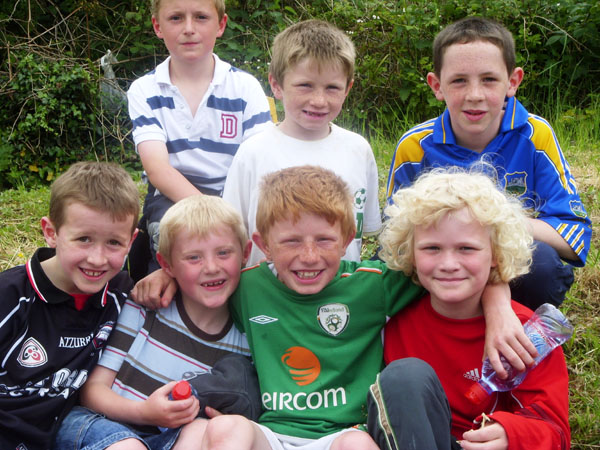 Some of the lads getting ready for the walk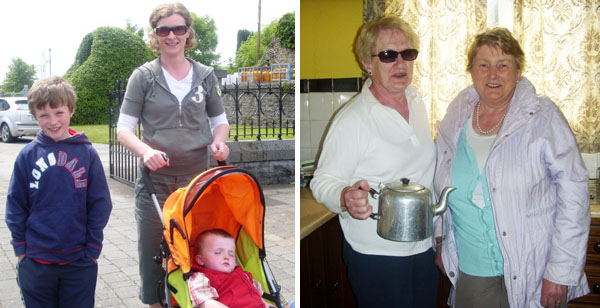 Patricia & James Ryan with Donnacha sleeping peacefully and Bridie Shanahan and Margaret Kelly getting ready to make the tea for the walkers
Borris-ileigh -v- Moneygall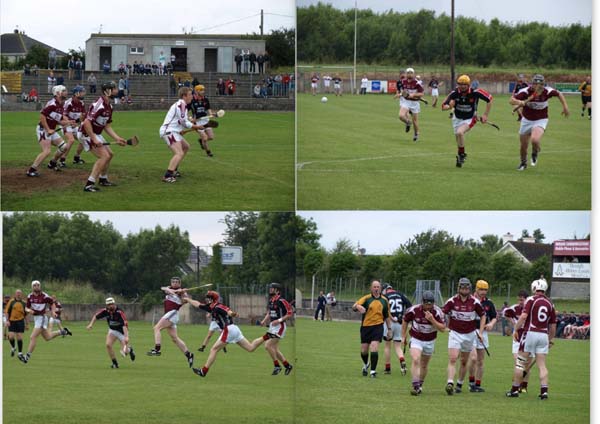 Borris-ileigh were victorious on Sunday last against Moneygall with a final score of 2 – 15 to 0 – 14. Some of the action of the game above

Who will get to the ball first!!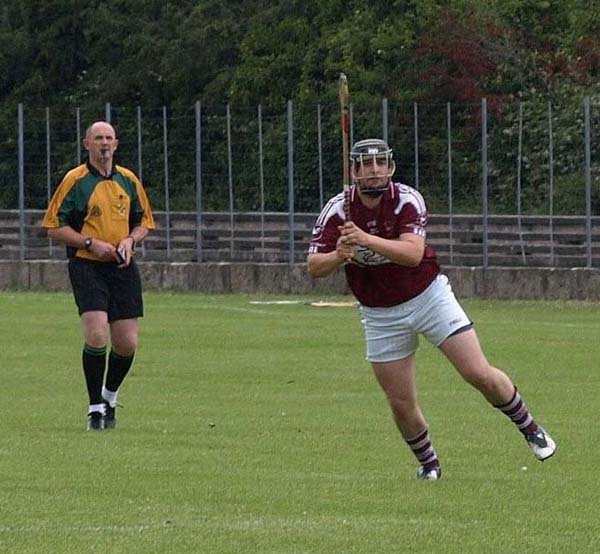 Referee ready to mark in yet another score from ace free taker David O'Connor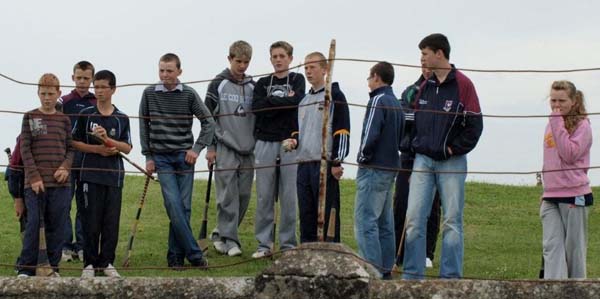 Spectators at the match on Sunday
All revved up and nowhere to go!!!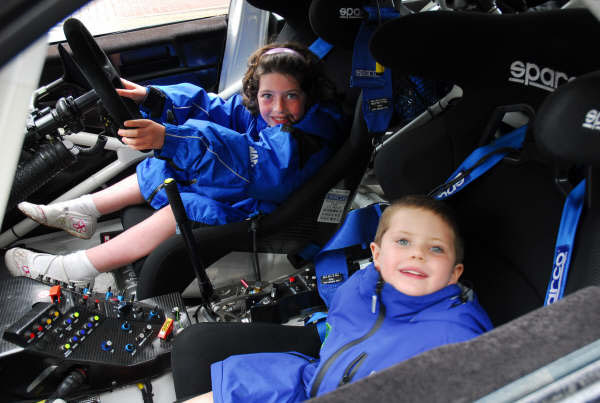 Aoife and Seán Max behind the wheel of a Subaru Impreza WRC Rally Car at the Ravens Rock Rally last Sunday. Boy and Girl Racers the pair of em!
Borrisoleigh A.F.C.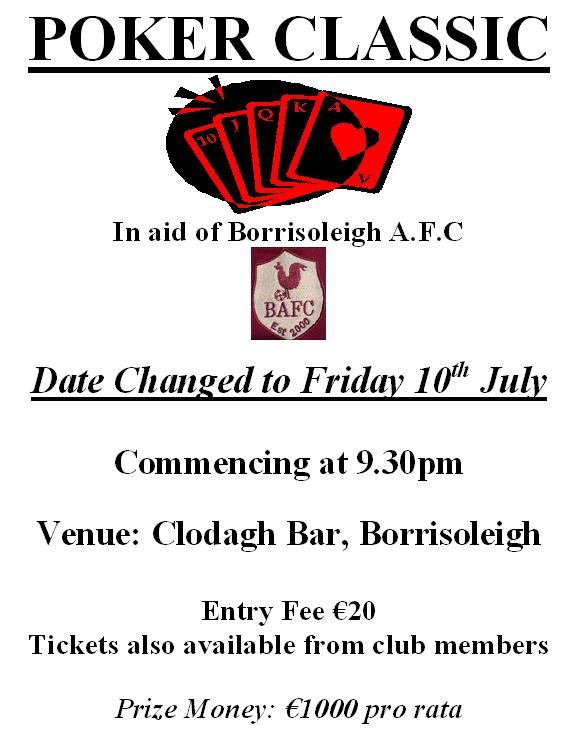 Fun day out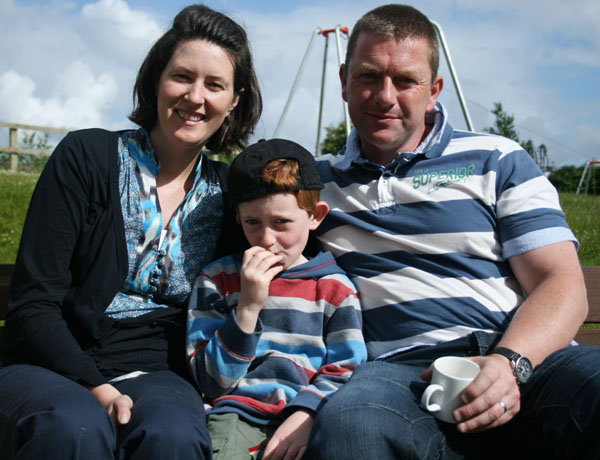 Siobhan and Tommy Hurley enjoy a day out recently with their nephew Fionnan Hurley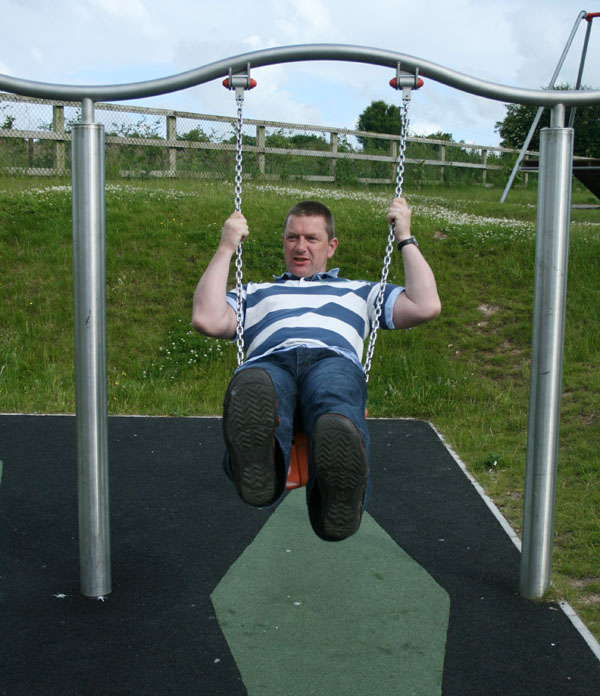 There was no getting little Tommy away from those swings…..

Trip to the Gold Coast and North Coast of New South Wales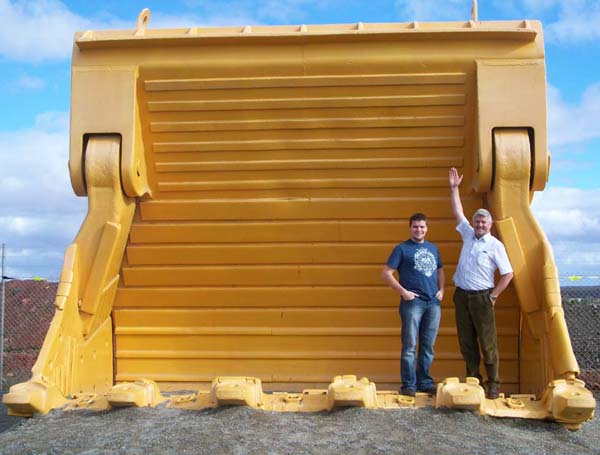 Lookout Latteragh!! 60 tonne capacity bucket on the way. Look what Ollie found whilst on holidays!!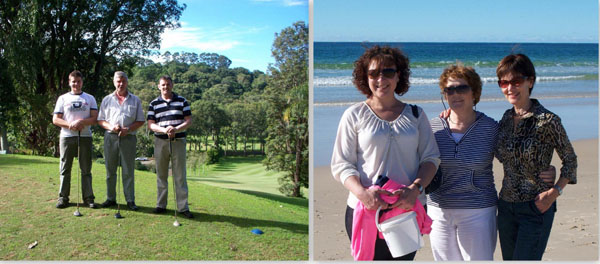 Ivan & Olly Kelly & Ray Doyle enjoying a round of golf on the far north coast NSW with Kellie, Eleanor and Mary Madden (Templederry)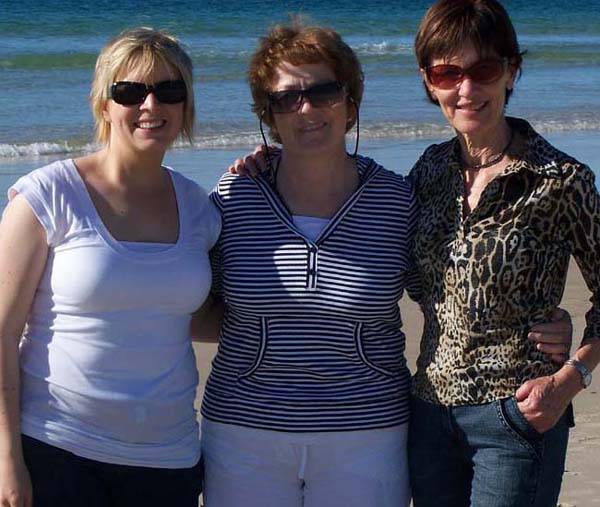 Annemarie & Eleanor Kelly with Mary Madden (Templederry)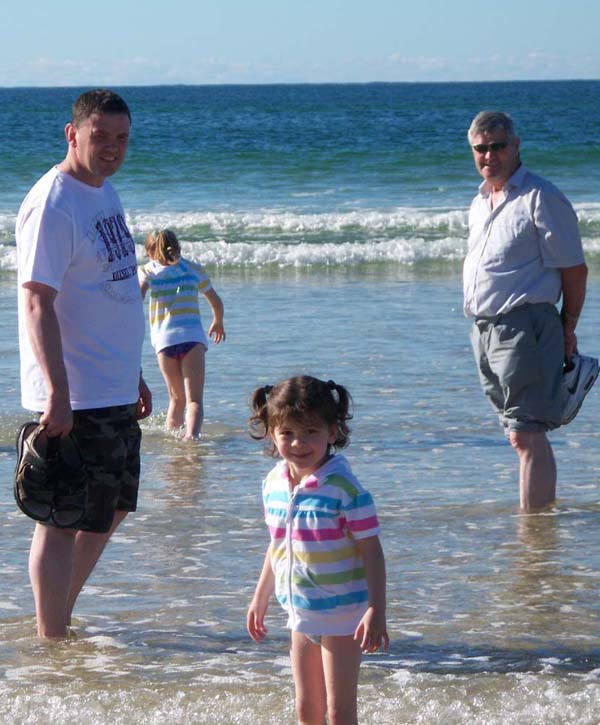 Ray Doyle, Liana & Emma Kelly & Olly Kelly enjoying the sun on the Gold Coast
"Munster recapture Heineken Cup"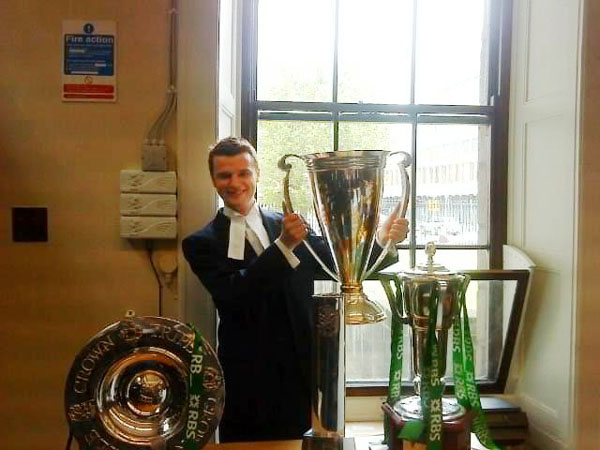 Patrick Ryan (Barrister) photographed with the Heineken Cup, The Triple Crown and the Six Nations trophy. These cups were recently brought to the Law Library

Preparatory works to the Town Park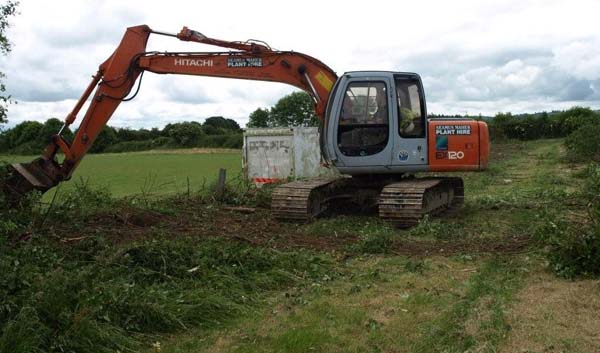 Works being carried out in the Town Park to remove ditches before building a boundary wall
Cemetery Masses in St. Brigid's and Glenkeen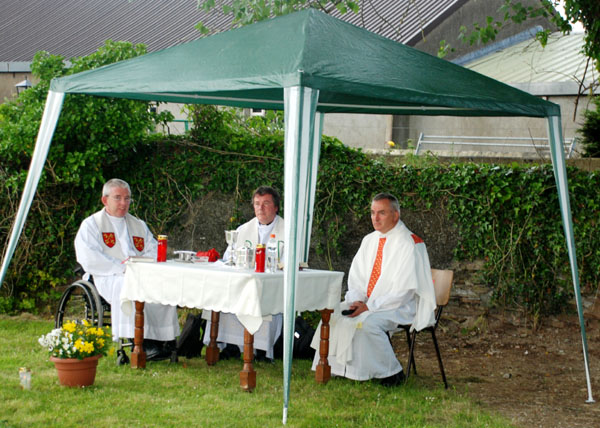 Frs Michael Barry CC, Nicholas Irwin CC and Liam Everard PP at the beginning of in St. Brigids Cemetery on Monday 22 June last
Graveyard Masses were celebrated in St. Brigid's and Glenkeen cemeteries during the last week or so. Mass was offered in Ileigh on this Wednesday evening July 1st and there will be Mass celebrated for those buried in The Sacred Heart Churchyard on Friday next July 3rd. May those buried in all of our cemeteries rest in peace.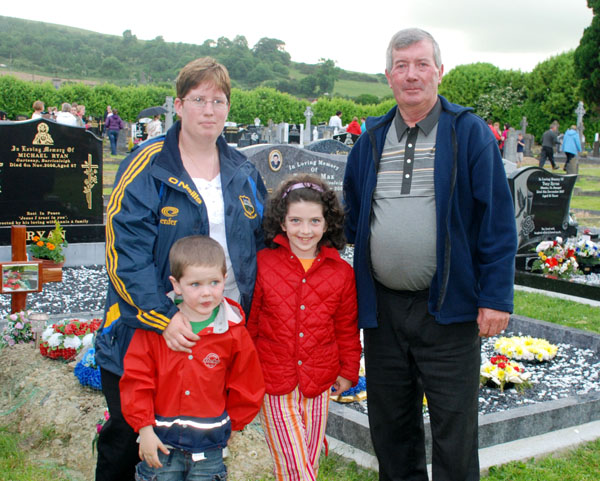 Fiona Max with Seán and Aoife and her dad Tim at the Mass in St. Brigid's Cemetery recently

Anna Ryan, Anna Kelly with baby Tomás Max and Paddy Dolan after the Mass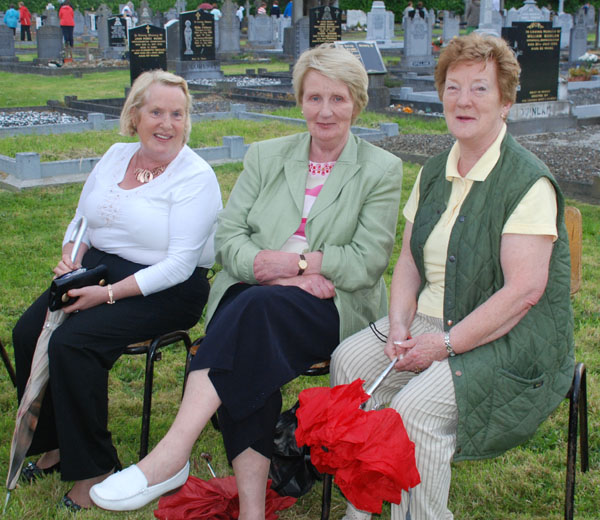 Nora Delaney, Maeve Bannon and Joan O'Neill enjoy a little chat after the Mass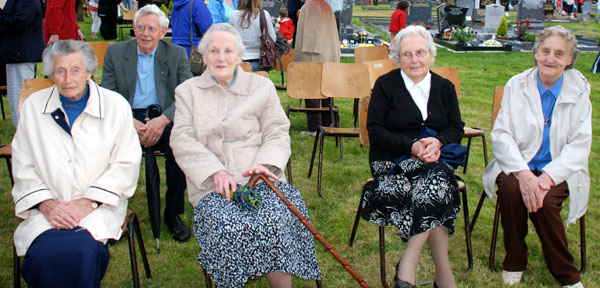 Mai Maher, Jack Costello, Mary Ryan, Mary Ryan and Tess Groome paying their respects to those buried in St. Brigid's Cemetery
Graveyard Mass in Glenkeen

Bríd Ryan and Bridie Ryan at the cemetery Mass in Glenkeen recently


Fr. Nicholas Irwin with Martin Ryan and Gerry Ryan with baby Michael while Martin Kennedy looks on


Marie Fogarty, Mary Sheilds and Breda Newe, also Breda and Larry Devitt at the Mass in Glenkeen
Clodagh Macra Ice-Cream Fun Day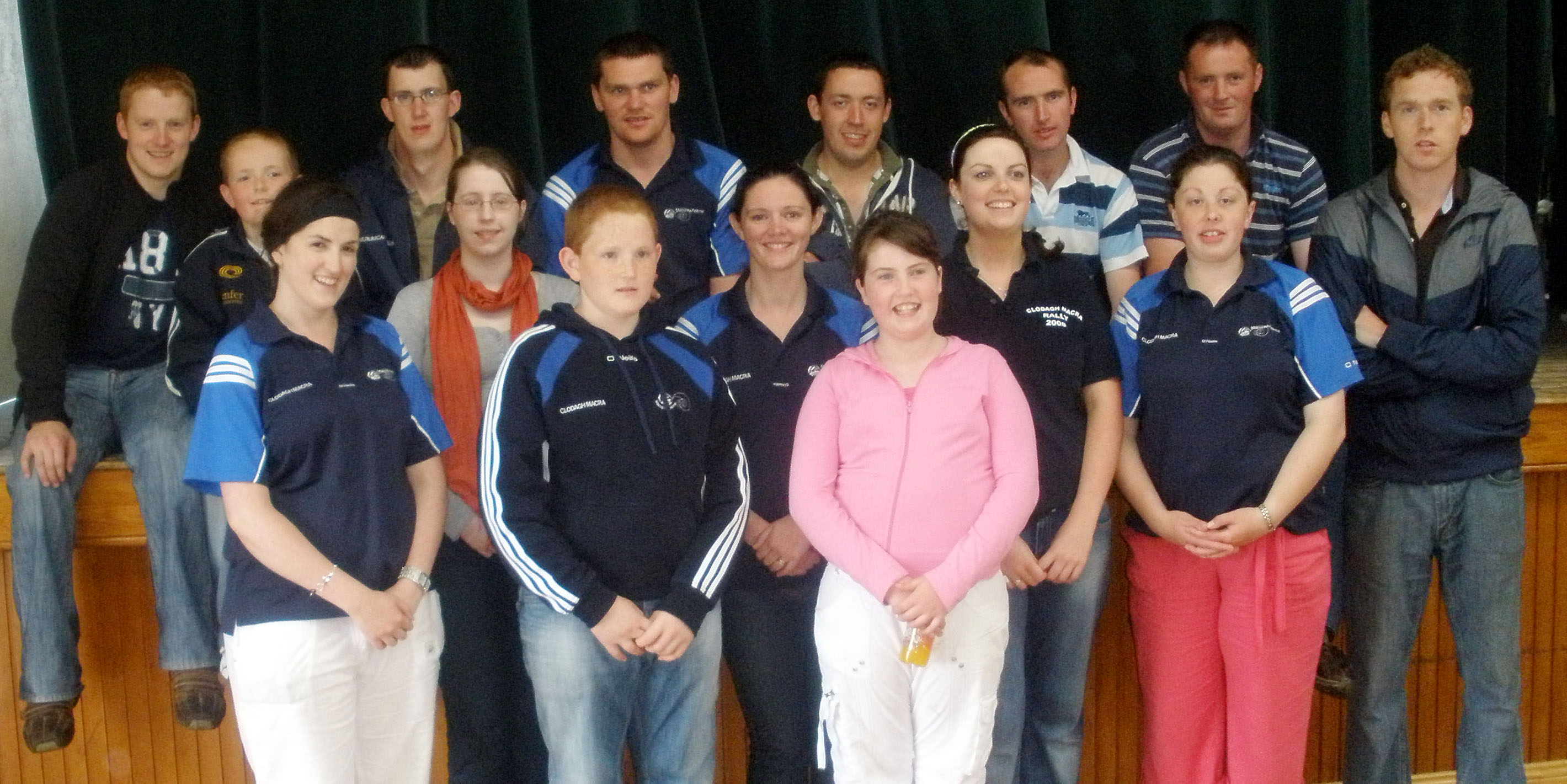 Some of the hard-working Macra Members who helped to organise and run the fun day
It has been a very busy weekend for Clodagh Macra. We held our Ice-Cream Fun day, in Templederry on Sunday last. We organised it as a Macra Know Your Neighbour Weekend event, but decided that we would also make some money for a good cause. All the money raised will go to Down Syndrome Ireland.
Despite the weather, a great crowd turned out for what was a very enjoyable day for all. There was plenty of activity for all, with bouncing castles, welly throwing, hurling targets, and many more games. The tug of war competition was very popular with 6 teams entering and the team representing "The Shop", in Glastrigan beat the Clodagh team in the final. There was of course ice-cream and refreshments for all.
A huge thanks must go to all of our memebers who helped to organise and run the event and turned up to support us on the day. As all the money has not been collected yet, we do not have an official figure as to what was raised, but it all goes to a great cause.
Saturday evening saw us compete in the Annual South Tipp raft race. Success eluded us as our raft capsised on a number of occasions, but it was very entertaining nevertheless!
Best of luck also to our farm skills team who are competing this Sunday in Dunmanway for a place in the National Final.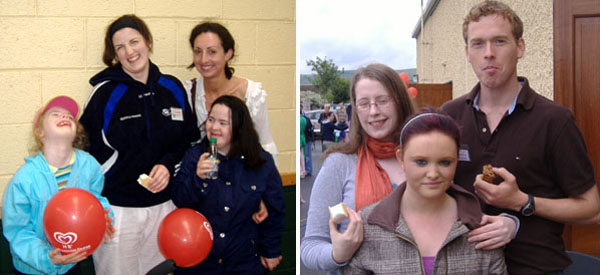 Supporting the ice-cream fun day – Gemma, Paddy and Becky taking a break!


The childrens tug of war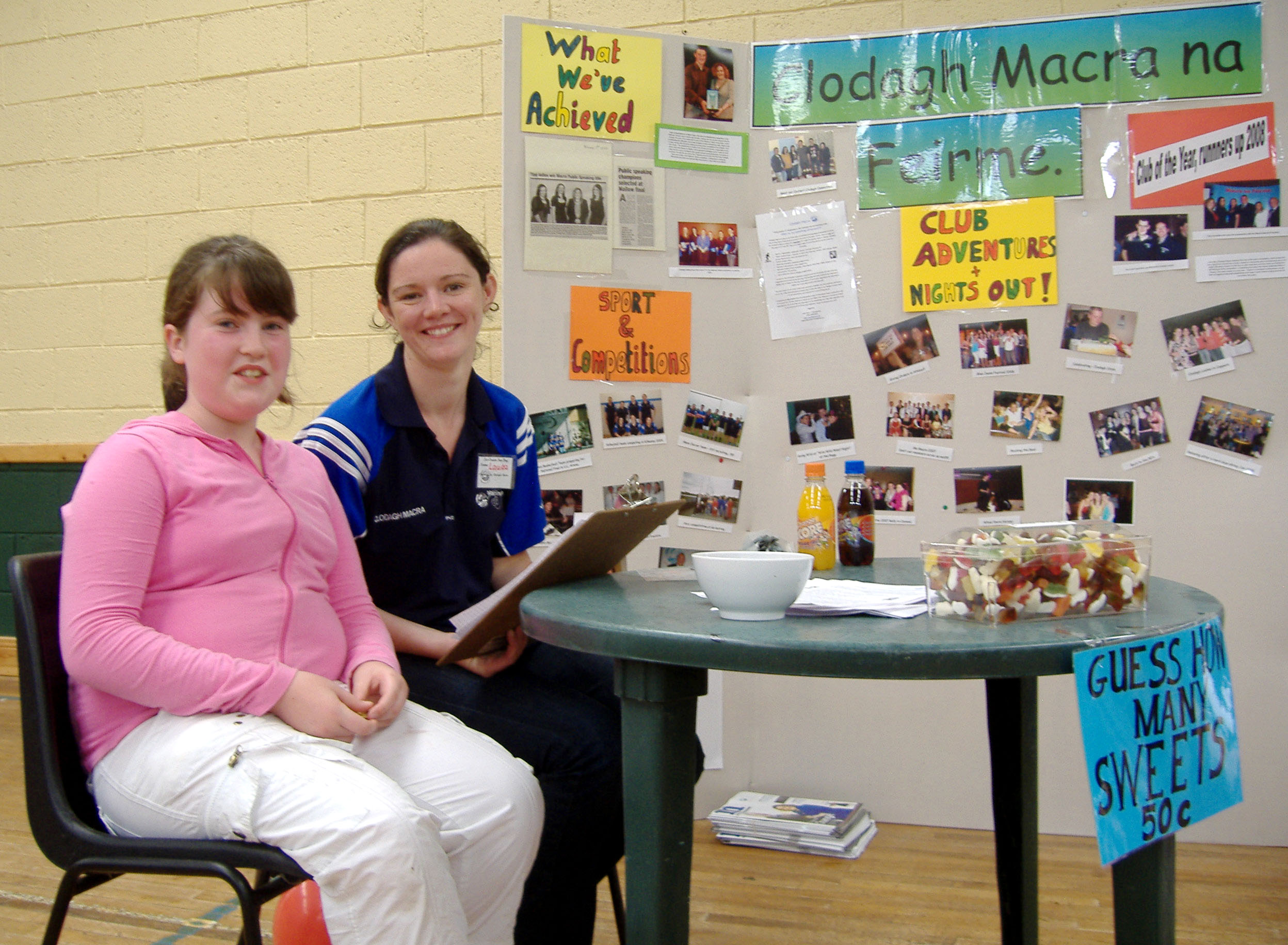 Laura and Aine man the Clodagh Macra stand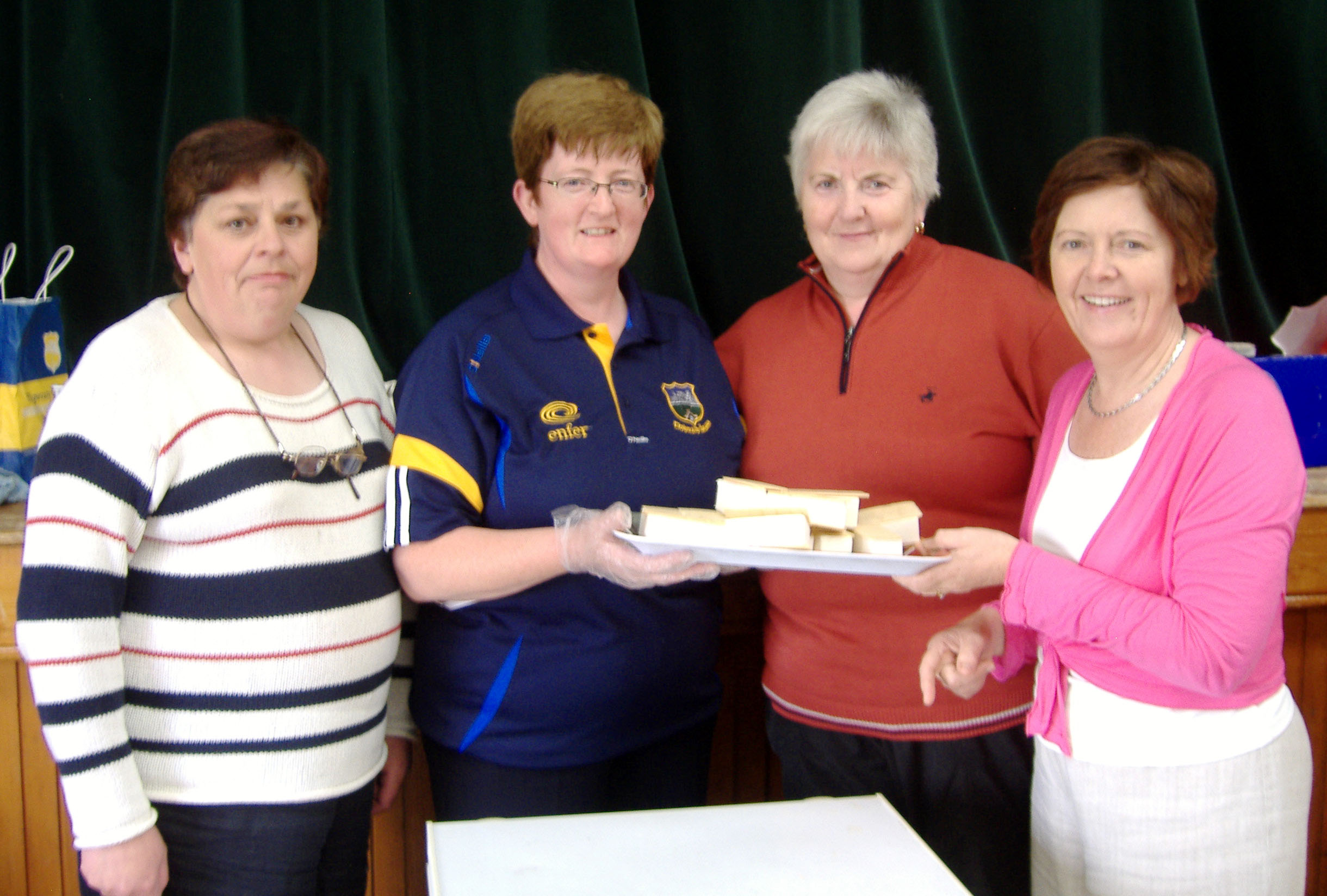 Betty Kennedy, Nora Carey, Mary Brosnan and Catherine Ryan who helped on the ice-cream stand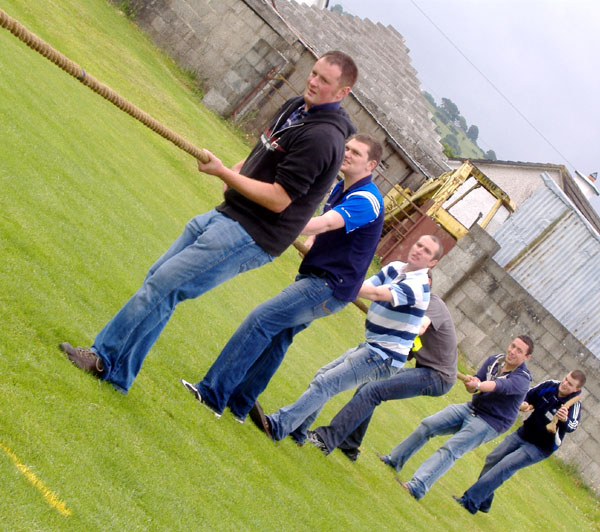 The Clodagh Tug of War Team
The Clodagh Rafting Team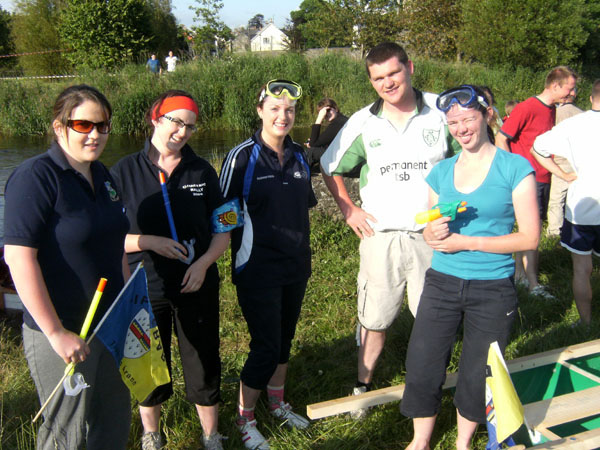 The Clodagh Rafting Team- all kitted out and ready for rafting. The race took place at the Bridge in Golden
Graduation Day For "First Steps" Montessori School


The Graduates of "First Steps" Montessori School
On Friday June 12th last the pupils of Margo's Montessori School which operates from the Marian Hall graduated with honours and distinctions. The Children put on an early morning Concert for their parents and families. Each child was then presented with his/her certificate of graduation and then a party followed. There was even a bouncy slide erected to add to the fun and games of the occasion. Over €150 was collected on the day and goes towards a collection for the charity 'Bóthar'. Well done to the graduates and many thanks to all who made the occasion such a success.
Thumbs up from the Graduates!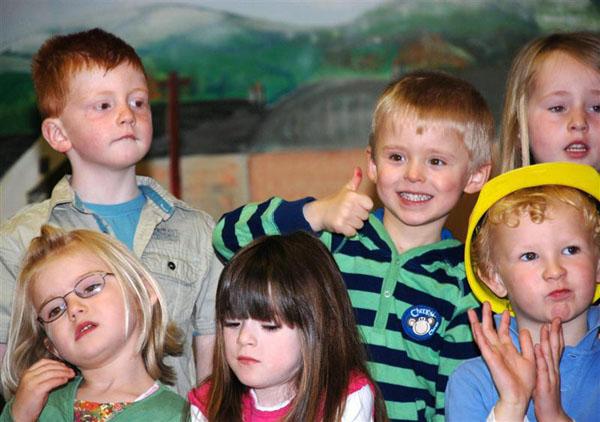 David,Toby, Muireann, Emer, Hope and Harry enjoying the fun of Graduation Day

The Borrisoleigh Tenors!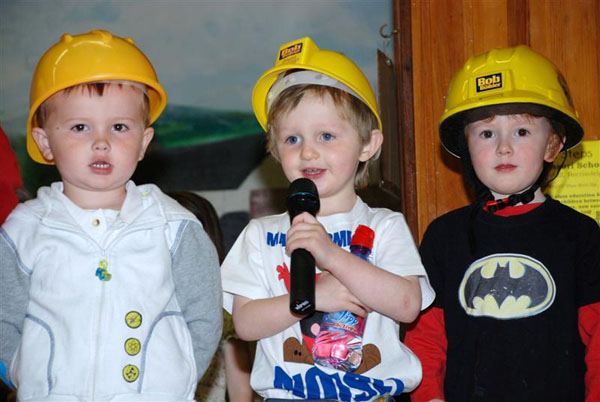 This dynamic trio givin' The Celtic Tenors a run for their money!
Graduating with honours!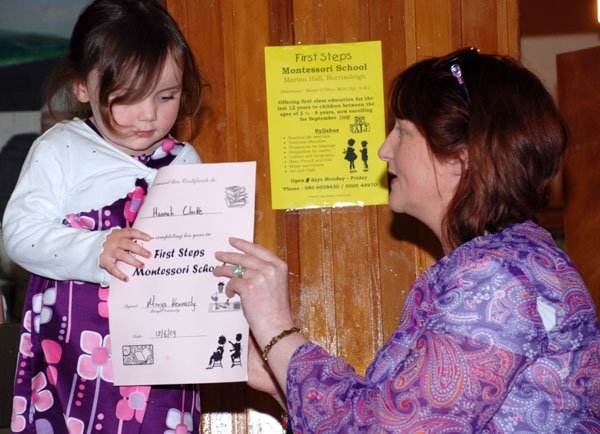 Margo presents one of her pupils with a graduation certificate
Enjoying the event!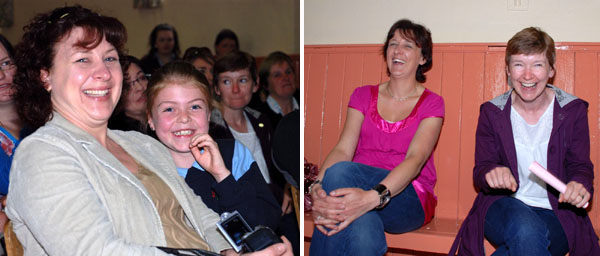 Kellie and Liana Kelly and Evelyn Hodgins and Brónagh Delargy seem to be having fun at the graduation concert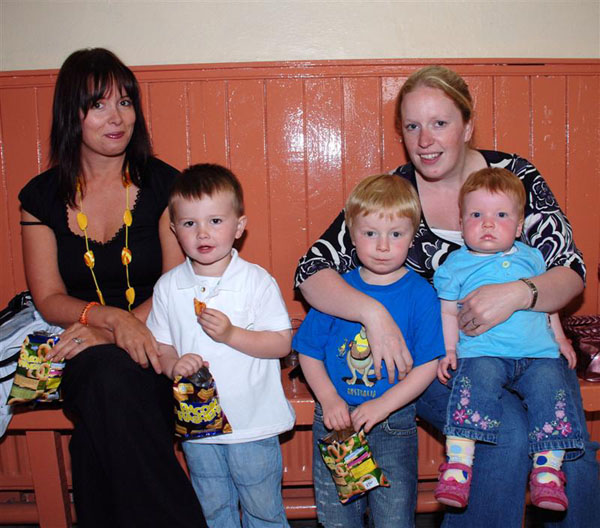 Noleen Murphy and Naoimi Young with Cian, Kian and Kara
To view more photos from the Graduation Concert go to our photo gallery of click on the folowing link:
Borrisoleigh Community Complex Development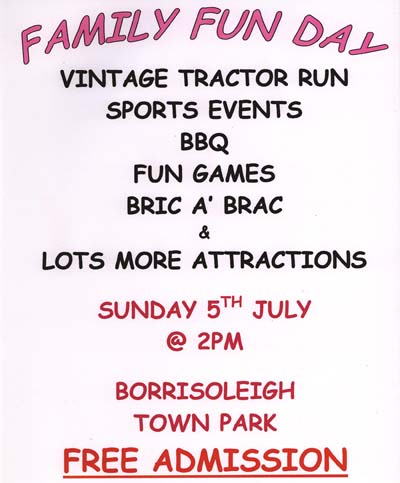 Bric-a-Brac Collection

Bric-a-Brac Collection for the Fun Day
Contact 087-4192103
Books, Toys, Ornaments and any other small items welcome
No clothing or furniture please!
Request for cakes and buns!!!

Any donations of fresh cakes, buns on Sunday morning to keep the tea pot boiling for the full day would be gratefully received.

Marian Hall Lotto
30/06/09
Numbers: 10, 12, 15, 25
No Winner
2 Match 3 @ €75 each
Cissie Walsh, Roscrea
Kate Conroy, c/o Bingo
Next Weeks Lotto Jackpot
€4, 050
Pic of the past…..down memory lane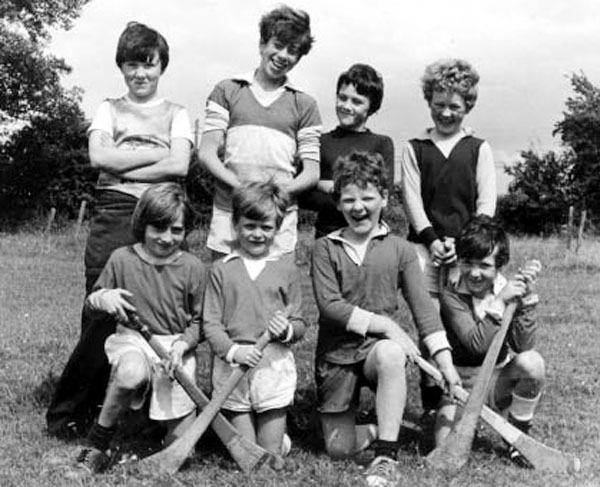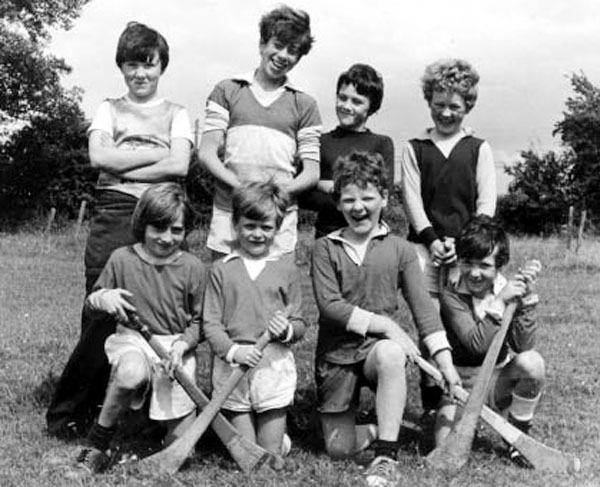 Hurling Friends
Back:
Tom Hurley, Michael Lavery,Liam McGrath and James Stapleton
Front: Joseph Maher, Enda Loughnana, John Young and Eamon Hurley


Your Website Needs You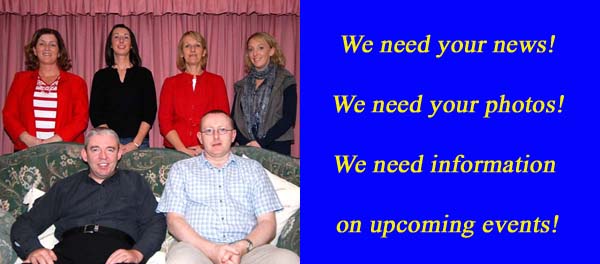 Website Committee: Noreen Fahy, Margaret Cowan, Marie McGrath, Aileen Óg Groome, Michael Barry and Enda Ryan

Many thanks to all who contributed photographs and news items for this weeks current news. Well done!



Send your email to

info@borrisoleigh.ie

Also if you like what you see and would like to leave a comment, remember to use the Guestbook!