Wedding Bells Ring Out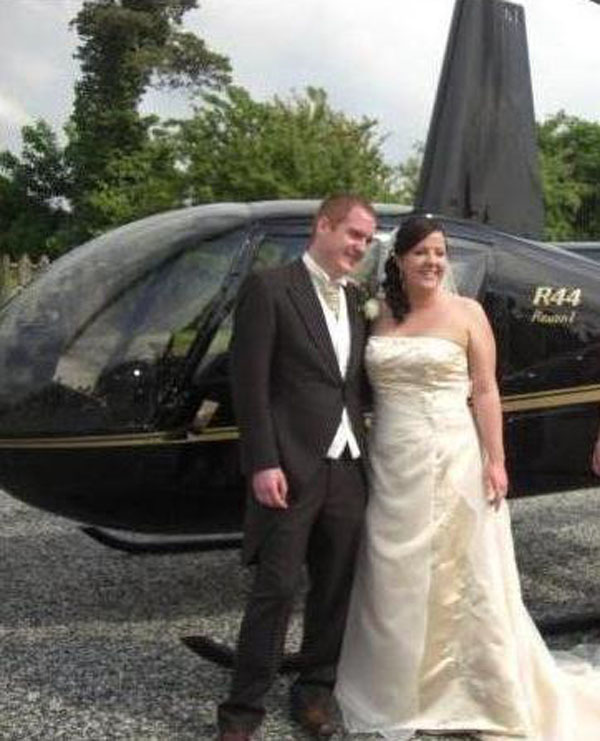 Congratulations to the happy couple, David and Blaithin
The wedding of Blaithin O'Donnell, Borrisoleigh and David Coleman, Foxford was held in Christ the King Church in Knockmore and the Reception was held in Pontoon Bridge Hotel in Foxford Co. Mayo on 30th May 2009. They are on honeymoon in Miami for 3 nights, a week long Carribean Cruise and finish up with 3 nights in New York.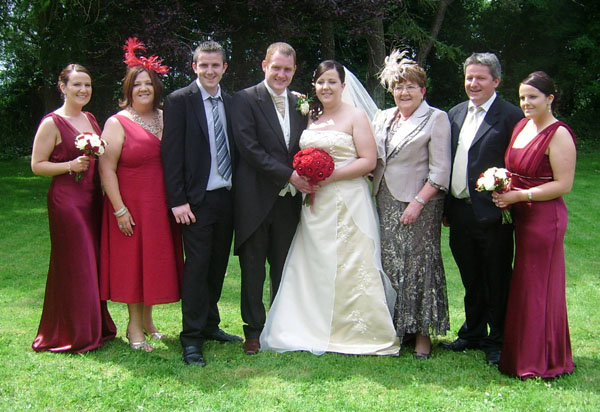 David and Blaithin with the O'Donnell family

Celebrating on the rocks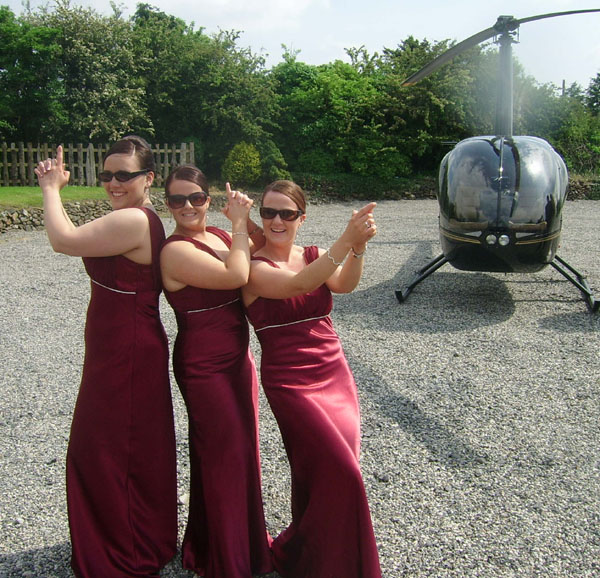 Blaithin's angels!

Borrisoleigh Community Complex Development
presents
FAMILY FUN DAY

on
Sunday July 5th 2009

in
The Town Park

Vintage & Working Tractor Run, Novelty Races, Bric-a-Brac Stall and many other side shows

Bric-a-Brac Collection
Bric-a-Brac Collection will take place at the Pavillion in the Town Park on Monday 22nd June. Wednesday 24thJune, Monday June 29th and Wednesday July 1st between 6.30pm and 7.30pm.
Contact 087-4192103 to leave items outside of these times

Books, Toys, Ornaments and any other small items welcome
No clothing or furniture please!

Mission Walk in Templederry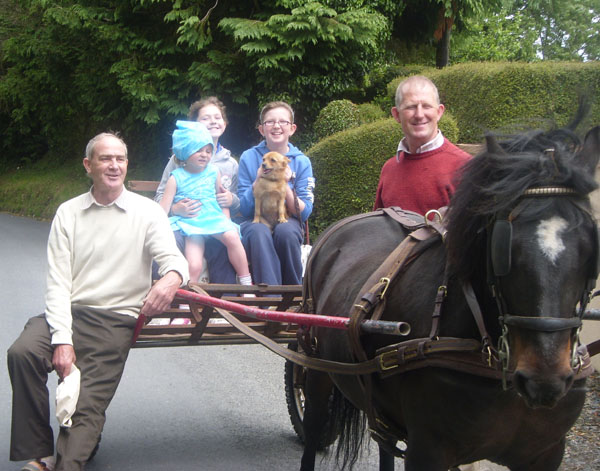 Fr. Martin Ryan with little Ciara O'Brien, Roisin and Aisling Ryan and their Dad Joe Ryan. The Pony's name is Magic.
The Mission Walk in aid of Fr. Matt's Mission in Brazil took place in Templederry on Sunday last 14 June. We will have a full report with more pictures next week.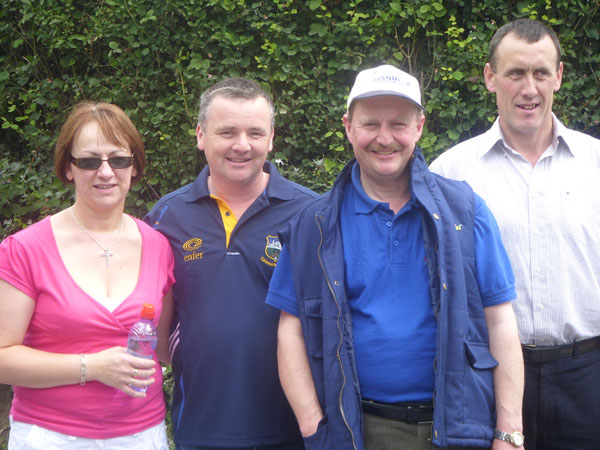 Fr. Matt's neighbours Helen Slattery Pat Slattery Martin Costello and Rory O'Dwyer


Jack Shanahan with Tim McLoughney and Christy Kinane with Michael Corcoran



Some of the younger folk taking a break along the way!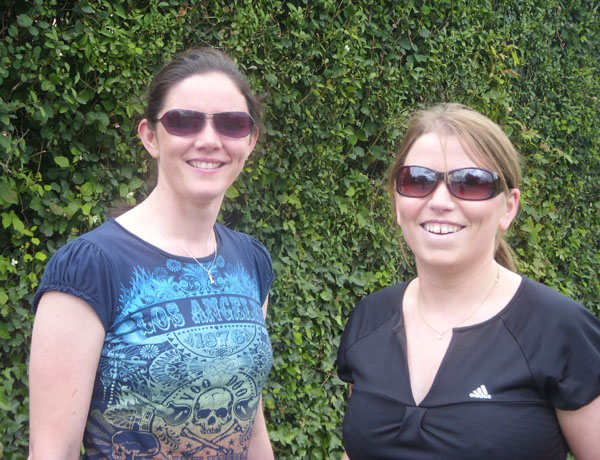 Laura Ryan and Sheila Ryan – the cool dudes!

Thomond Historical Society Visit Borrisoleigh



Members of the Thomond Historical Society, including Michael Delaney of Rathmoy, on a recent outing in North Tipperary. Their itinerary included a stop in Borrisoleigh where they visited the Church of the Sacred Heart. They admired the Church with its rich stained glass windows including the two Harry Clarkes. Saint Cuilean's Bell Shrine and its history was also featured on the visit.
Recent publication with local connection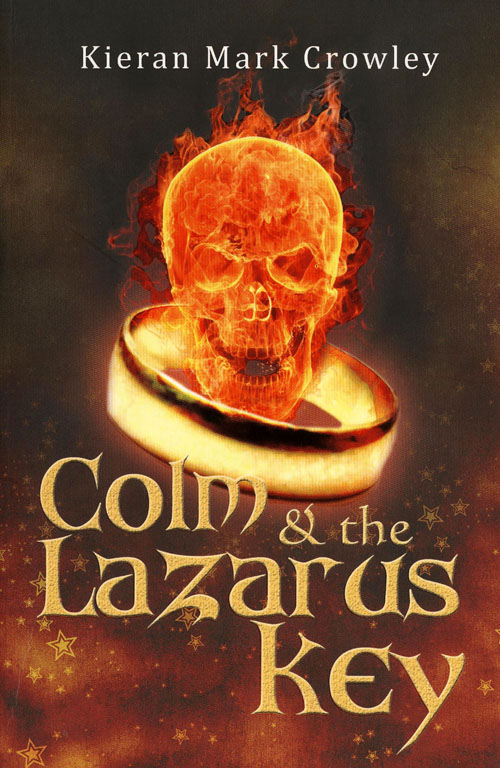 Mary Crowley, nee Treacy, formerly of Fantane, is the proud mum of author
Kieran Mark Crowley
who recently published his book
Colm & the Lazarus Key
. This book is an exciting contemporary mystery story from a new Irish voice in children's writing. a mix of fantasy and fast-paced adventure, with engaging characters, an imaginative storyline, as well as romance, humour and suspense,
Colm & the Lazarus Key
has all the elements for a magical read. The book may be purchased locally at Donal Hurley's shop from next week and is retailing at €7.99. It can also be ordered through this website at
info@borrisoleigh.ie
for €10 which includes postage and packaging. We wish this budding author the very best of success.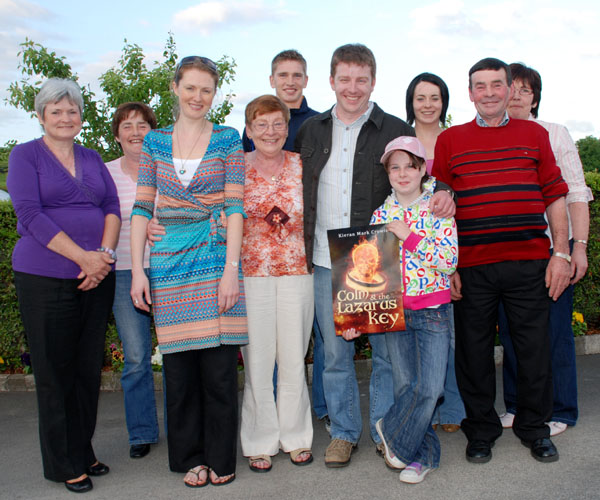 Kieran Mark Crowley, author of Colm & the Lazarus Key, pictured here with his mum Mary, partner Deirdre, niece Jessica and other Fantane locals: Geraldine, Teresa, Brendan, Lilian, Willie and Anne

Clodagh Macra


Clodagh Macra are hosting a Know Your Neighbour Event in Templederry on Sunday 28th June. We are hosting an Ice-cream Fun Day in the community centre from 2-5pm. The Know Your Neighbour is an national macra initiative and it is in it's 4th year. It encourages locals to get out and about and get to know others in the community. All funds raised on the day will be donated to Down Syndrome Ireland.
We are having a tug of war competition, teams of 6 (over 16 only!). Any interested teams contact Alan on (086)3881539 or turn up before half 2 on the day! There will also be bouncing castles and slide, welly throwing, hurling skills and of course ice-cream for all!
This is our first year organising such an event, so all support would be hugely welcomed! See you there.
First Holy Communion day in The Parish

First Holy Communion Day was celebrated in Borrisoleigh on Sunday June 14th. Twenty-six pupils from our three primary schools, St. Theresa's N.S., St. Patrick's N.S. and Scoil Bhríde, Fantane celebrated their First Holy Communion on the day. Fr. Nicholas Irwin was the main celebrant at the Mass during which he complimented all concerned for their efforts in preparing the young boys and girls for this important day in their lives. He especially thanked teachers for their invaluable work and example with the children throughout the year.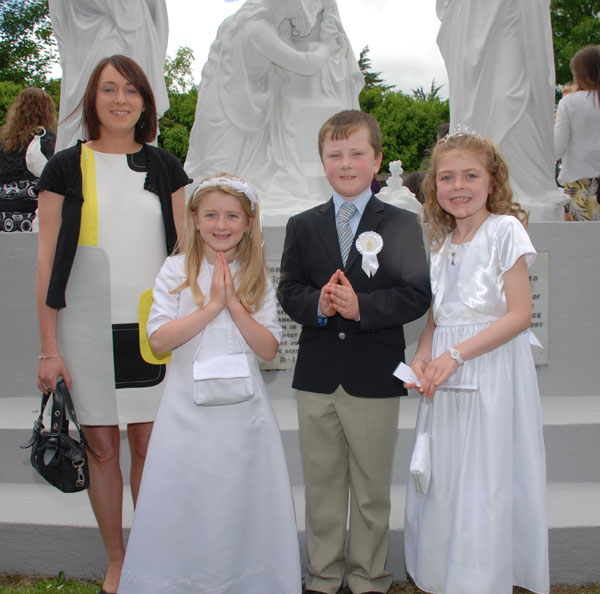 The Fantane Trio: Ciara Doolan, Liam Ryan and Leanna Kelly with their teacher Miss Deirdre Harrison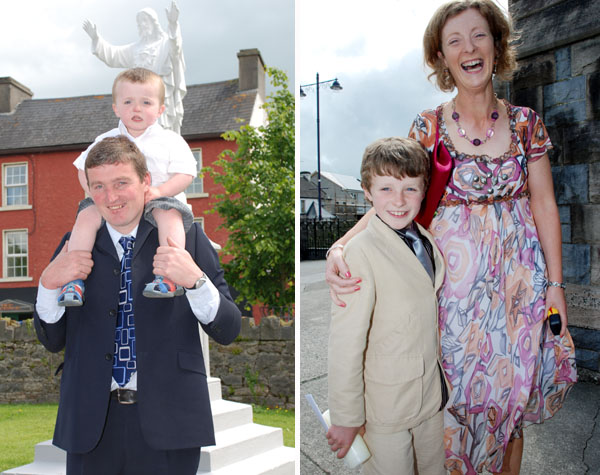 Denis Ryan under his son Donnacha, as opposed to being under a car, while James, looking very dapper, hangs out with his mum Trisha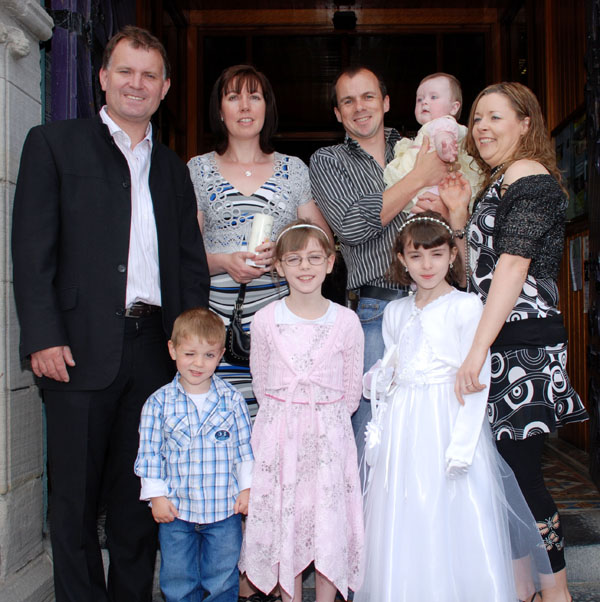 Rachel Ivors and her family on her big day!

Hip Hip Hurrah!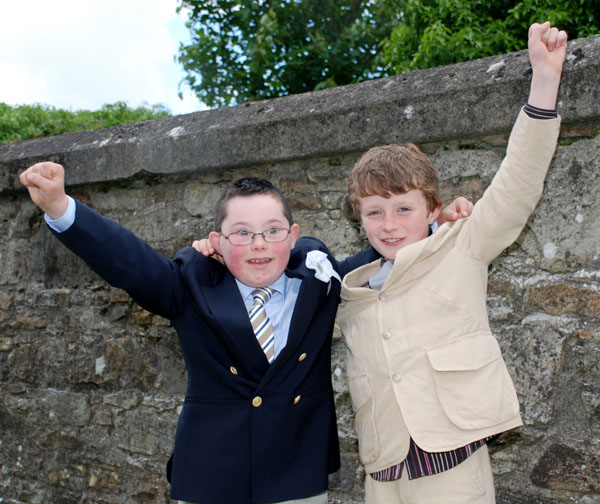 Diarmuid and James are delighted with the way the day went!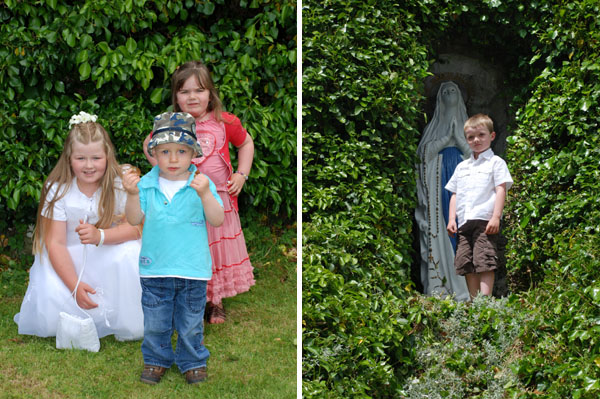 Leah Harkin with friends while Daniel Ryan pays a visit to Our Lady in the grotto!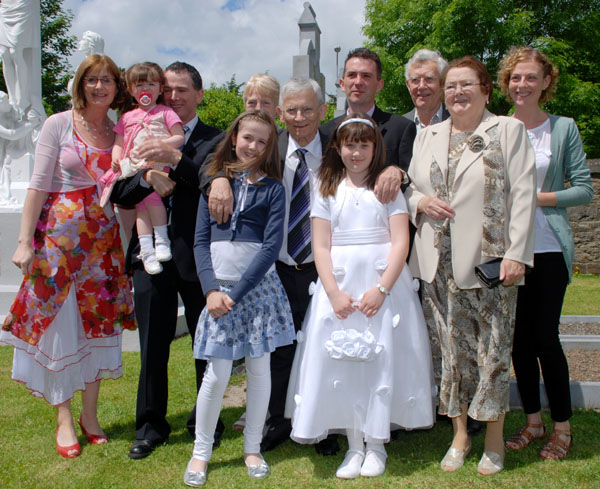 Laura Slattery with members of her family on her First Holy Communion Day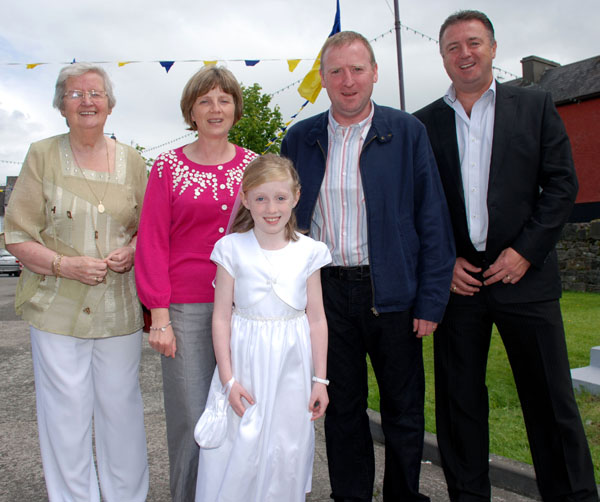 Cliona O'Connell with members of her family after the ceremony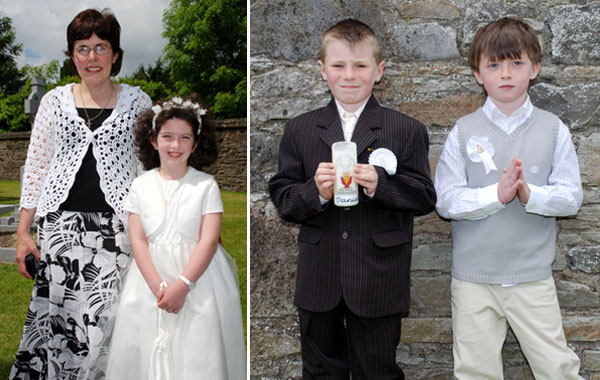 Mary Butler with Aoife Max and Daniel Fahey with Killian Bergin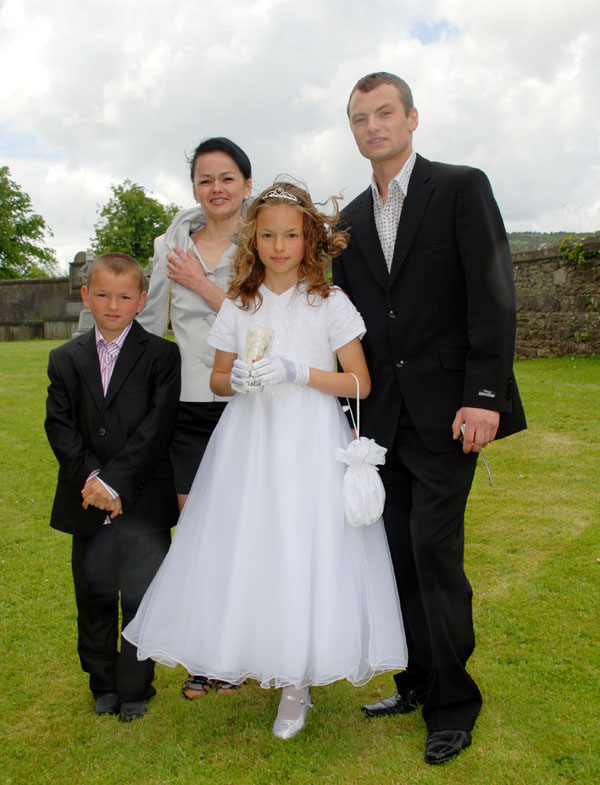 Kristine Danko with her brother Alvis and her mother and uncle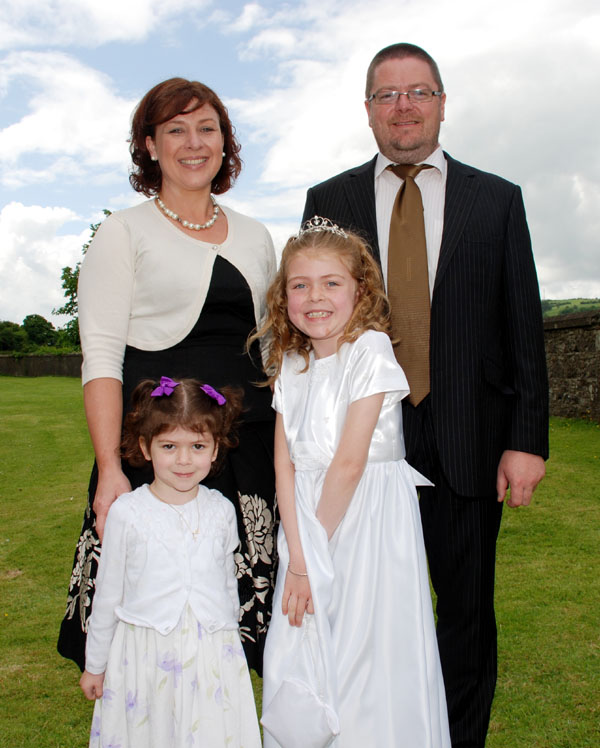 Leanna Kelly with her parents Kellie and Alan and sister Emma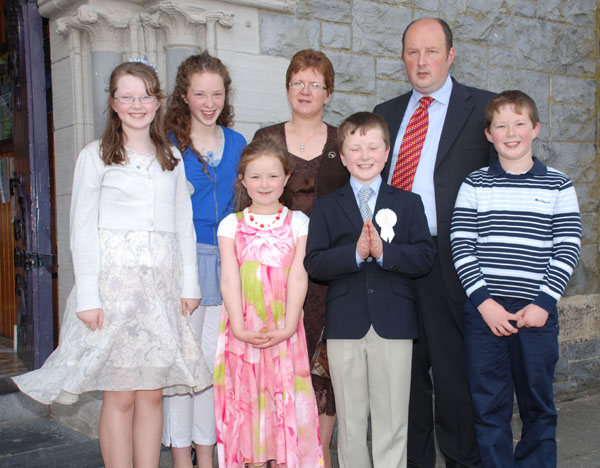 Liam Ryan with his family on the day of his First Holy Communion
Party Time!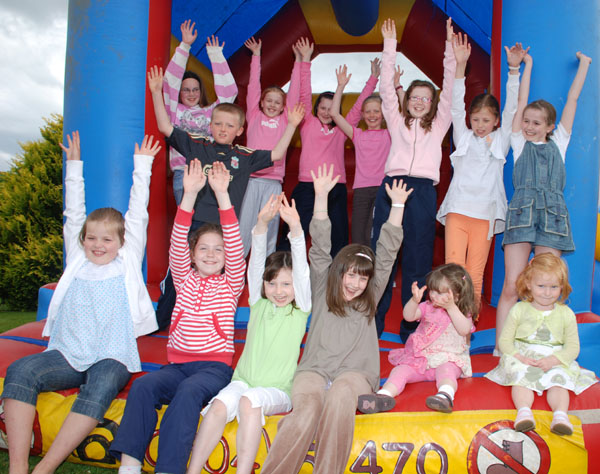 Party time at Laura Slattery's of Cullohill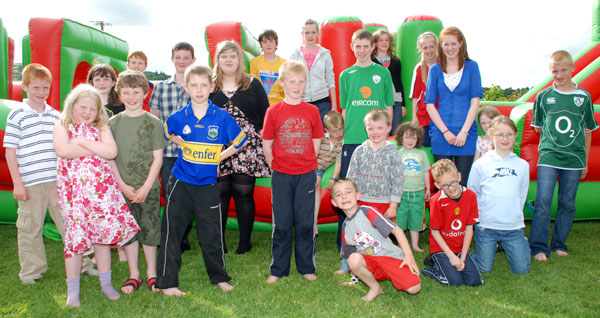 James and Seamus Ryan (cousins) let their hair down in Gurteeny on Sunday evening last with some friends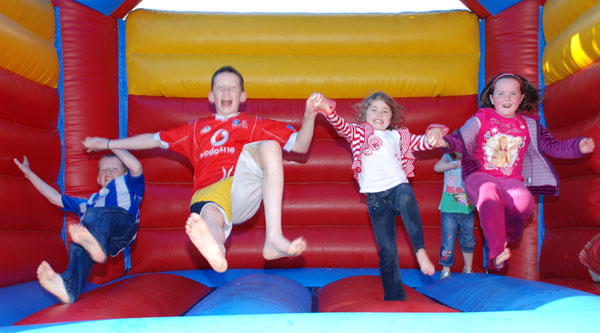 Bríd Ryan of Fishmoyne bounces her way through the afternoon with other bouncers! (nice one Philip!)

Touching up for the BIG DAY!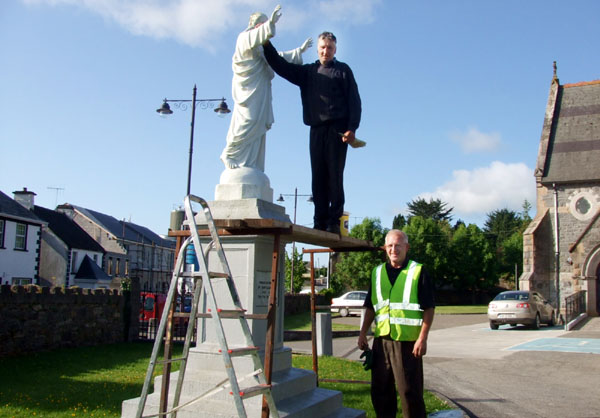 Willie and Phil making sure that our church and its grounds are looking well for First Holy Communion Day. Thanks to all the FAS workers for their help in this job.
St. Cualan's Club
It's that time of year again so grab your
WALKING SHOES
&
Join
St. Cualans
on their annual sponsored walk on
Saturday 20th June 2009
leaving the square at
2.30pm
refreshments afterwards in the Marian Hall.
As always your support
adds greatly to this event.
Marian Hall Lotto

16/06/09
Numbers: 3, 10, 13, 24
No Winner
4 match 3 winner @ €40 each
Statia Treacy, Mt. George
Anna Ryan, Coohaun
Michael Kennedy, Curraghloss
Mary Williams, Errill
Next Weeks Lotto Jackpot
€3,750
Borris-Ileigh GAA Lotto
Thursday 11th June
Jackpot: €6,200 (Not won)
Numbers: 3, 10, 20, 30
€50 Lucky Dip winners:
Mary O'Brien c/o Garda College
Gerry Ryan, Glenkeen
Anthony Kennedy, Castlecourt
Mary Costello, P.O. Main Street
Next draw: Thursday 18th June, in The Clodagh Bar
Jackpot: €6,400
Pic of the Past… down memory lane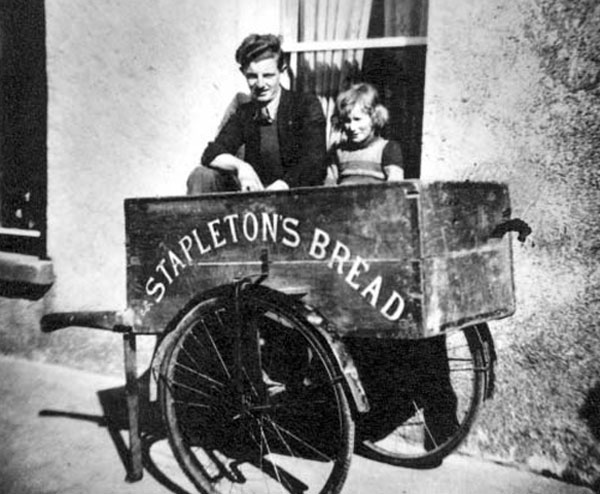 Stapleton's Bread Delivery Cart in the 1940s
Jim Stapleton and Judy Shanahan
Your Website Needs You!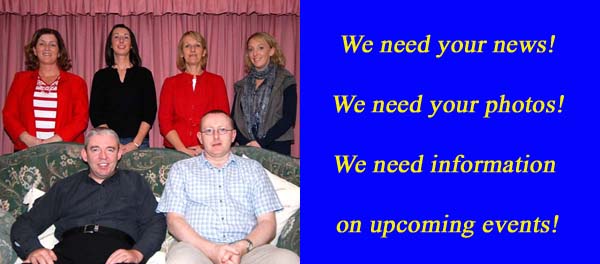 Website Committee: Noreen Fahy, Margaret Cowan, Marie McGrath, Aileen Óg Groome, Michael Barry and Enda Ryan
Many thanks to all those who contributed photographs and news items for this weeks current news. Well done!
Send your email to: info@borrisoleigh.ie
Also, if you like what you see and want to leave a comment, remember to use the Guestbook!