Borris Boys are North Final Winners!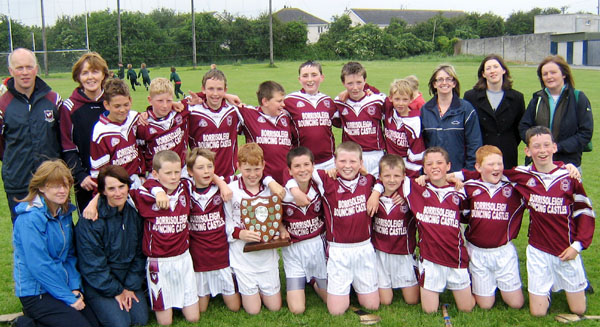 The North Final winning team with their trainer and the staff from the school
On the 8th of June St. Patrick's Boys' National School played Youghalarra in the North Final of Section C in the Cumann na mBunscol competition in MacDonagh Park, Nenagh. Everyone was hoping that North honours in this competition would be coming to the school for the very first time ever. This was a day not to be forgotten. The nerves were starting to kick in and we were quiet going into the dressing room. We got togged off and Michael Ryan, our trainer, lined out the team and gave us a pep talk. He told the panel what was expected of them; to do our best, to focus on hurling and to play as a team. We were without Sam and Liam Devaney but we went out to play a good hard game.
We went out onto the pitch and had a puck around as a warm up. Christy, the referee, then called both teams in together and told us the rules. Time for the throw in! We began the match at full force. Borris got the first score and this settled us. We scored two early goals but Youghalarra kept in touch. We were leading with a scoreline of 2-3 to 0-4 at half-time.
The second half was tough with Youghalarra scoring to bring them within a couple of points at one stage. We dug deep and were victorious at the final whistle. The match ended Borrisoleigh 4-7, Youghalarra 1-9. They were a tough opposition to overcome but we did it.
We went back to Borrisoleigh and paraded around the town with horns blowing. We got drinks and crisps back in the school. The win means that we go onto the County Final to be played next week in Semple Stadium. The panel is James McCormack, Franz Leimlehner, Declan O'Connell, Eoin Stapleton, Shane Kenny, Jack Hogan, Kieran Maher, Tom Fitzgerald, Philip McCormack, Sean Kenny, Micheal Carey, Brendan O'Dwyer, Jack Prior, Daniel Hogge, David McCormack, Dan Brooks, Sam and Liam Devaney.
We would like to say a sincere thank you to all our supporters and we would love to see you all in Semple Stadium next week.

Best of luck to the Boys' school in the County Final from all in Borris!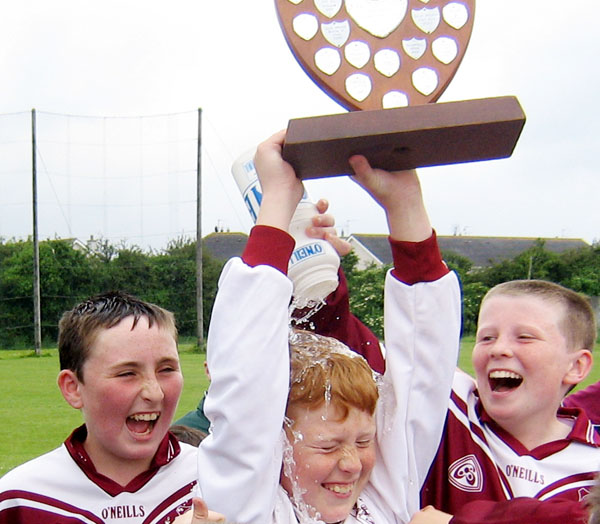 Declan having a splashing time with James and Brendan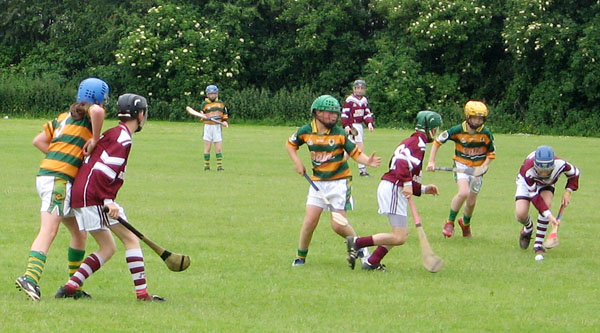 Some of the action from the final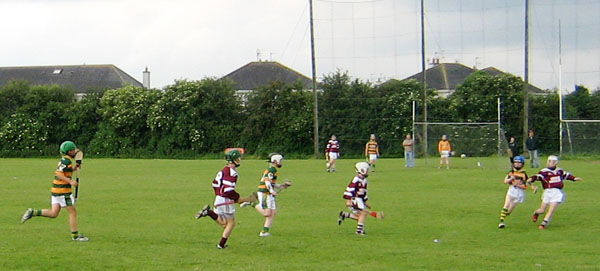 Great skill being shown on the field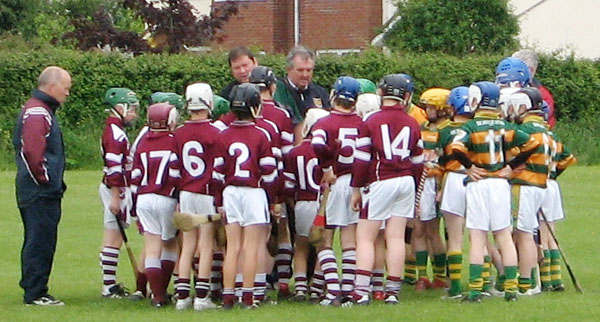 Both teams being spoken to before the throw in

We knew ye could do it!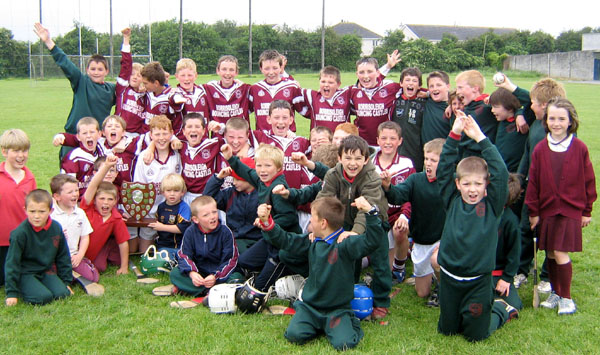 Fantastic young supporters
Running for Jack & Jill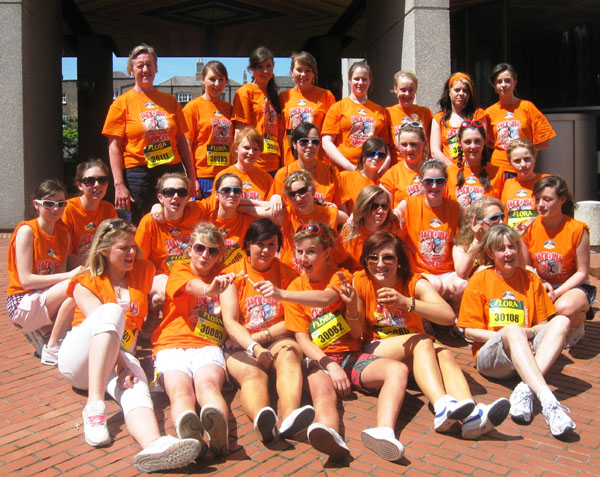 St. Joseph's College mini-marathon campaigners!


Pictured before the race in the beautiful summer sunshine are twenty-seven students and five teachers from St. Joseph's College who took part in the mini-marathon as a fundraiser for the Jack & Jill Foundation. Thanks to all who sponsored the girls, your support is very much appreciated.

The

Adler comes to town!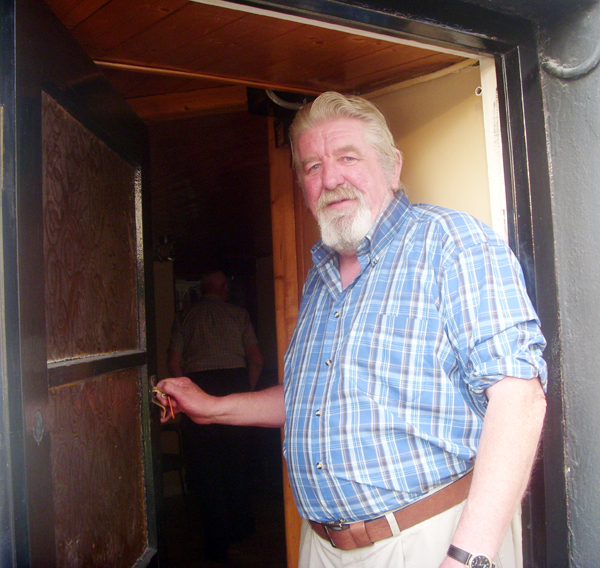 Billy Ryan turns the key in his 'town house'! He recently acquired a second residence on Main Street thus offering the advantages that come with having a country residence and a town pad. Sure why wouldn't you?! After all, we're only in a recession! Good man Billy!!! Well wear! When is the house warming?! We believe that you're already practicing your party piece "sometimes I live in the country, sometimes I live in the town"! Oh Good night Irene!!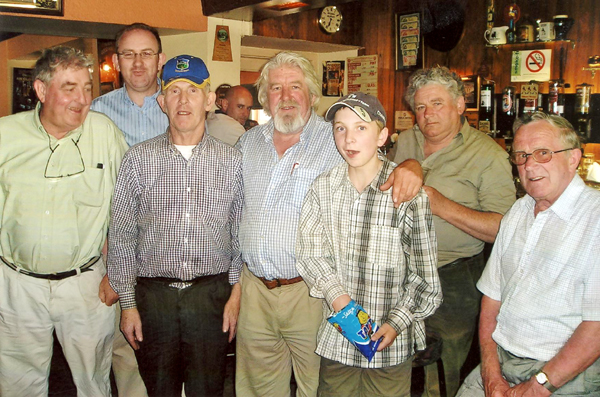 Billy, after a day out at the races with his pals
Huntin' Crocs Down Under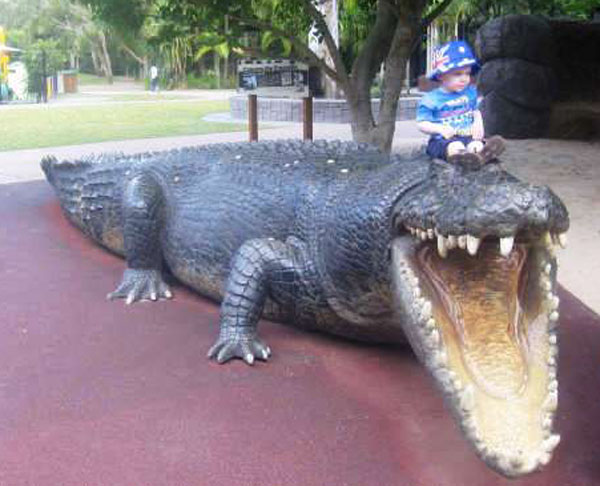 Darragh Kennedy (Castlecourt) gets up close and personal with the locals during his recent holiday in Brisbane, Australia
More leisurely pursuits!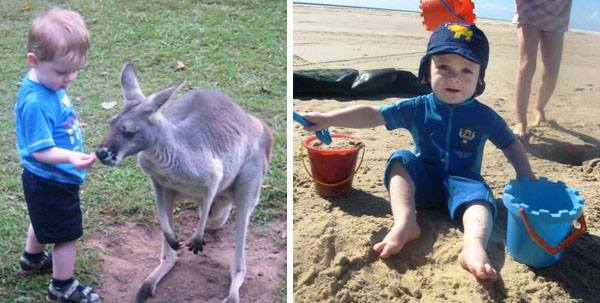 Darragh feeding skippy and then preparing to build a sand castle. The 'construction industry gene' is obvioulsly in his blood!

Havin' an auld chat after Mass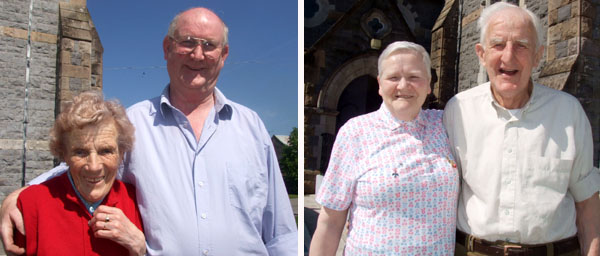 Ida Costello with Matt Stapleton and Biddy Young With Jack Ryan having a chat after 10:30 morning Mass on Tuesday last 2 June

Knock Summer Youth Festival 2009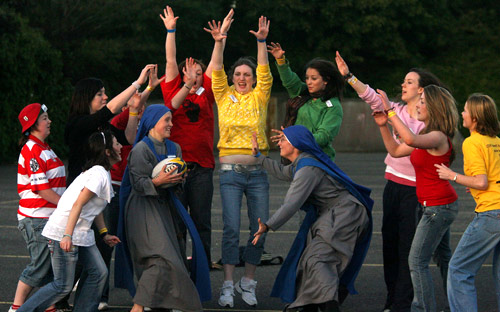 Young people enjoying last year's Youth Festival at Knock
The Knock Summer Youth Festival has been running for the past 8 years. This year the festival will take place from the 23rd to the 26th of July. Hundreds of young people will camp over three nights near the spot where the Virgin Mary appeared to a group of local people in 1879.
There will be free buses coming from every diocese in the country to the Marian Shrine so if you're between the ages of 18-35, mark it in your diary, grab your sleeping bag, find out where your bus is going from and get to Knock for an experience different to any other you're going to get this Summer. For further information on Knock Summer Youth Festival visit www.knock-shrine.ie/youthfestival or www.bebo.com/knockyouthfestival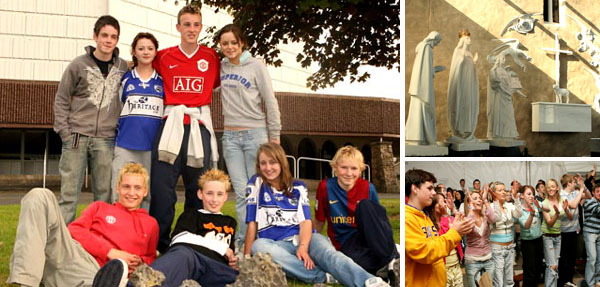 Young people at last year's Summer Festival at Knock Shrine
Table Quiz in The Clodagh

in aid of Fantane N.S. Parents' Assoc.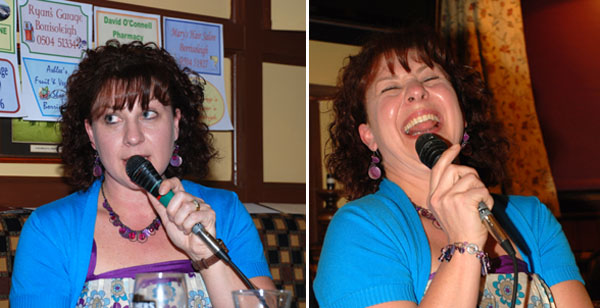 Kellie Kelly (Chairperson of Fantane N.S. Parents' Assoc) doin' a great job as MC at the table quiz in The Clodagh on Friday night last 5 June

Our fundraising Table Quiz held in the Clodagh Bar last Friday night was a fantastic success. I think everyone who was there would agree we had a very entertaining night. A big thank you to Lisa for letting us host the quiz in the Clodagh, and for all her hard work promoting the night for us. Thank you to Phil Maher for the use of his audio equipment.
We also would like to thank everyone who was there, or supported us on the night and their generosity with our raffle sales. We had 23 spot prizes on the night, so a big big thank you to all who donated/sponsored a prize on the night. They were: O'Connells Pharmacy, Ashlee's Fruit & Veg, O'Dwyer's Butchers, Fitzgerald's Butcher's, Ryan's Garage, Mary's Hair Salon, House of Hair, Kelly's of Fantane, Devaney Haulage, The Clodagh, Julia Youngs Hairdressers & our own Board of Management. Thank you again, Kellie Kelly, (Chairperson)
The victors!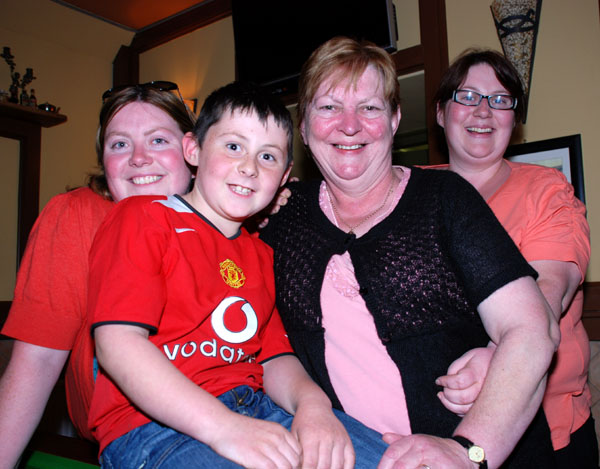 Bríd, Liam, Nuala and Fiona Ryan who won the quiz after beating 'Pinky and the Brains' in a play-off!

Runners Up – 'Pinky and the Brains'!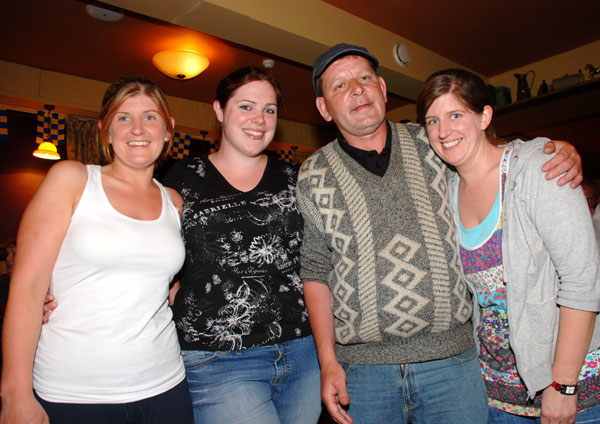 Noreen McCarthy, Emma Clohessy, Patrick (Pinky) Ryan and Celine McCarthy who gave the over-all winners a run for their money. Both teams were kind enough to drop their winnings back into the fund. Thanks for that lads!

Cheers!


Frances Kennedy with Martin Fahey (Board Members), Frances Doolan (Board Member) with Willie Ryan and Theresa Doolan with Geraldine Fahey, all present to support the Parents' Association fundraiser.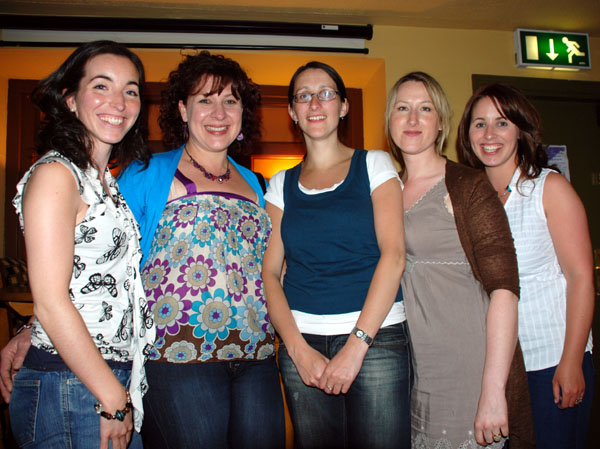 Amy Delahunt, Kellie Kelly, Ann Ryan, Siobhan Ryan and Michelle Broderick bringing a touch of class and glamour to the occasion!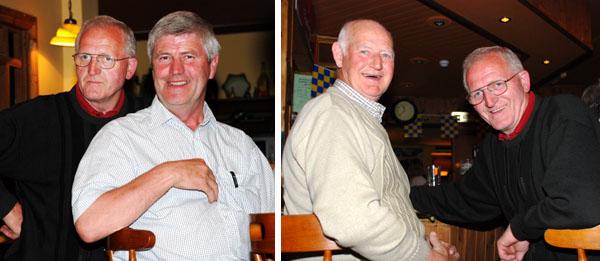 Phil Maher (School Caretaker) with Ollie Kellie (Board Member) and Mick Kennedy (man behind the scenes to the School Treasurer!)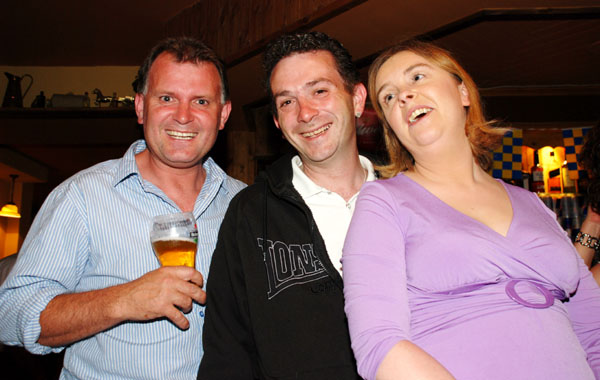 Sean Ivors, Jimmy Slattery and Lisa Ryan in fine form during the table quiz fundraiser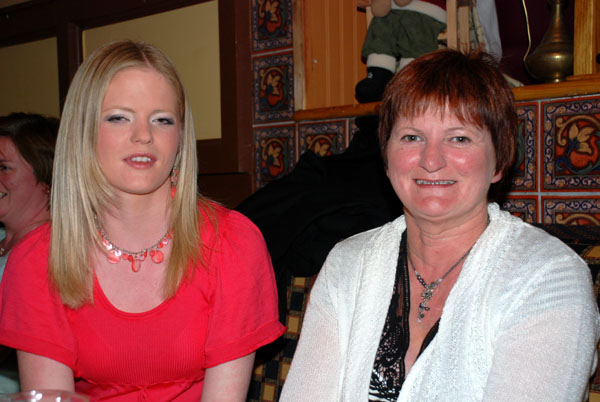 Joanne Ryan (Board Member) with her mum Noreen at the quiz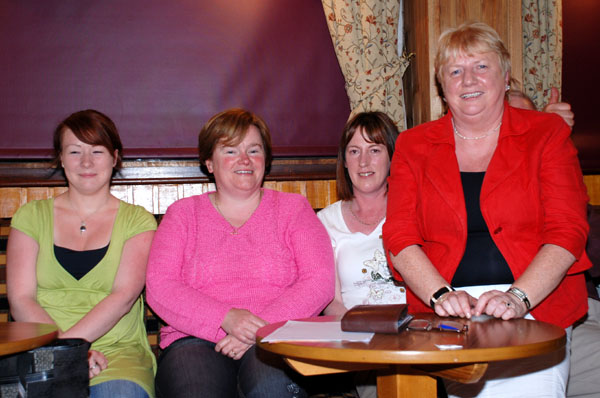 Emma Eagan, Mary Joyce, Rita Kiely and Frances Kennedy (Board Treasurer) employees of Jim Ryan's Accountants in Templemore who came to support the fundraiser. They called themselves 'Balancing Act' cos as they say "they balance the books"!

Flowers for the girls!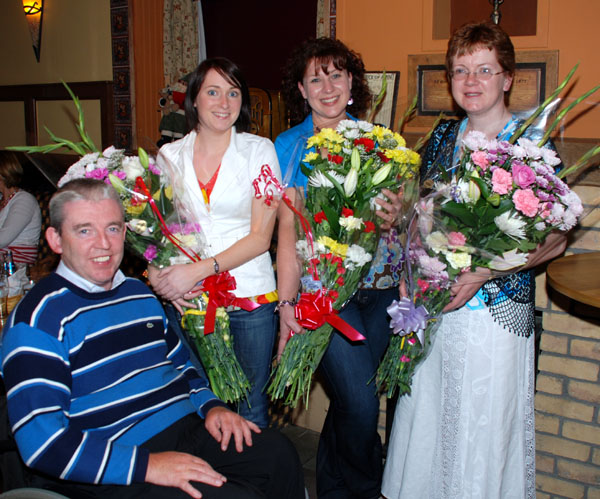 Fr. Michael Barry (Chairperson of Board of Managment) makes a presentation to the teachers Miss Deirdre Harrison and Mrs Catherine Ryan (Principal) and also to Kellie Kelly (Chairpesron of Parents' Assoc.). He thanked them for their valued contribution to the goings-on of the school and paid tribute to the Parents Assoc. for their support of school projects, particularily in these straightened economic times when school budgets are being curtailed.
Fantane Commemorative Books for Sale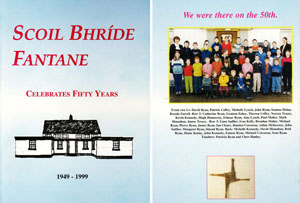 Scoil Bhríde Fantane is sixty years open this year. This Commemorative Book details the life and times of the school during its first 50 years from 1949 to 1999. It was produced to celebrate the 50th anniversary of the school. If you would like to purchase a copy of this book you may do so by contacting our website at info@borrisoleigh.ie The cost per copy locally is €10 or it can be delivered by post for €12.50
Borrisoleigh AFC Date Change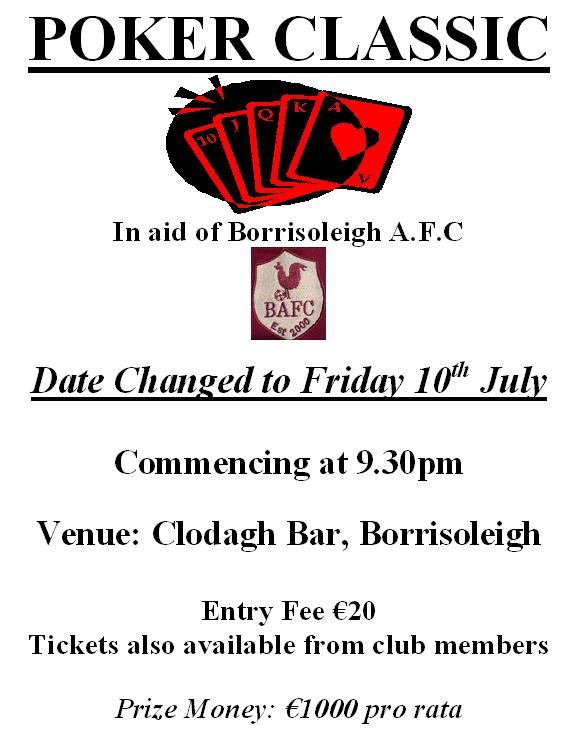 Cemetery Masses in the parish



Masses will be celebrated in our local graveyards in the coming weeks. St. Brigid's Cemetery Mass on Mon. 22 June at 8p.m. Glenkeen Cemetery Mass on Thursday 25 June at 8p.m.. Ileigh Cemetery Mass on Wednesday 1 July at 8p.m. Borrisoleigh Churchyard Cemetery Mass on
Friday 3 July at 8p.m.

Ever thought of going to Medjugorje?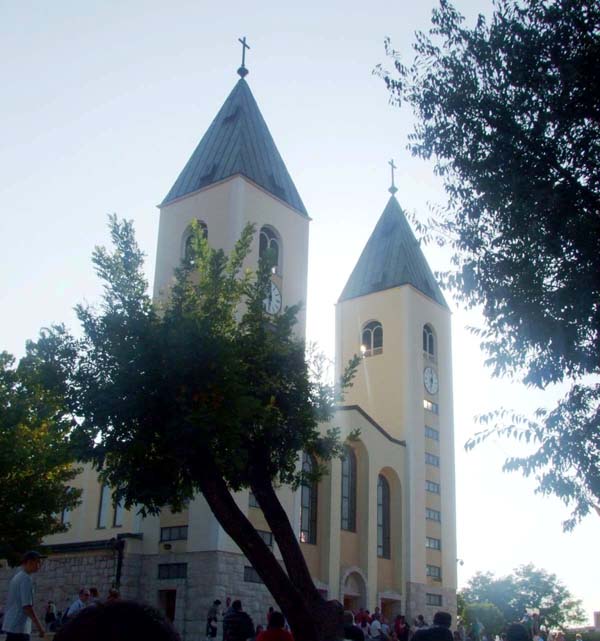 St. James' Church in the village of Medjugorje in Bosnia Herzegovina
This year's final pilgrimage to Medjugorje is planned for October 24th to October 31st [to coincide with the mid term break]. Despite the recessionary times in which we find ourselves, people are traveling to the Shrine of the Queen of Peace in ever increasing numbers. For this pilgrimage, we would like to encourage people from the parish to join with us and become the Apostles of Our Lady's messages. The total cost of this seven day pilgrimage is €699.00. A deposit of €80.00 secures a seat. For more details, contact John Connors at 087 6657700".




Summer smiles and sunshine!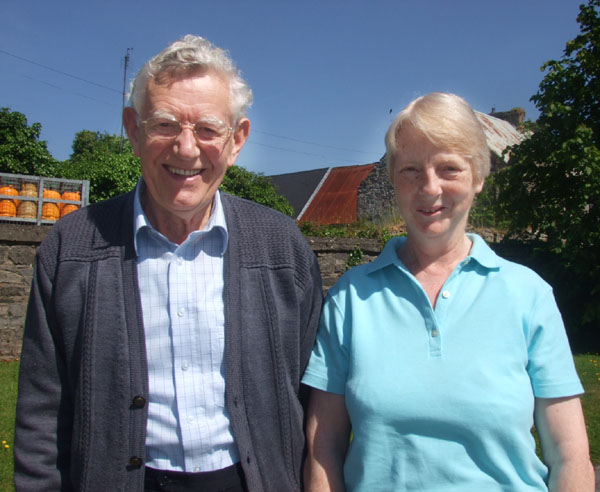 Jack and Chrissie Costello enjoying the recent summer sunshine

Happy Birthday Mick!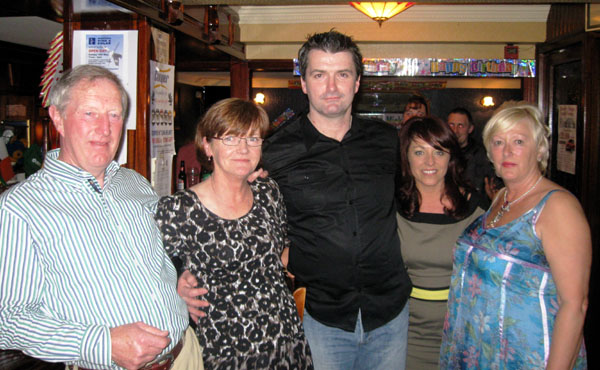 Mick Ryan of Knockanure with Nuala, Barry, Noreen and Phidelma celebrating his 60th birthday with family and friends recently in Stapleton's.


News from Oz!

Marie Cowan and John Walsh after a rugby match in Scone, NSW, Australia recently. John has been consistently voted Player of the Game since he arrived in February!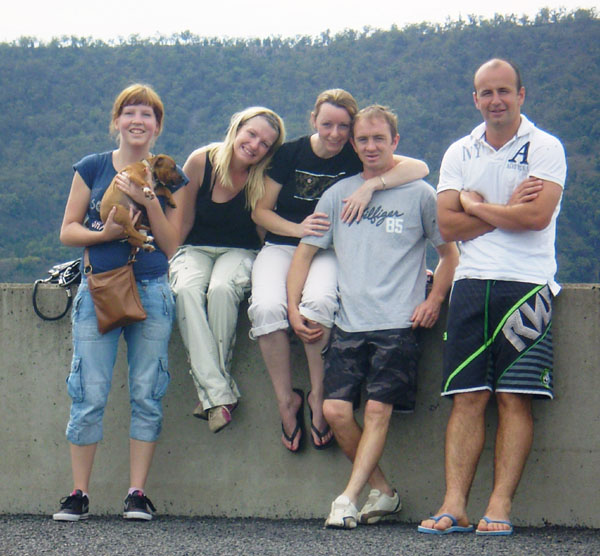 Indra Jekabsone (with Max in her arms), Siobhan Young ,Marie Cowan, Mikey Kenneally and John Walsh

Indra, Marie and Siobhan
Our Man in Bulgaria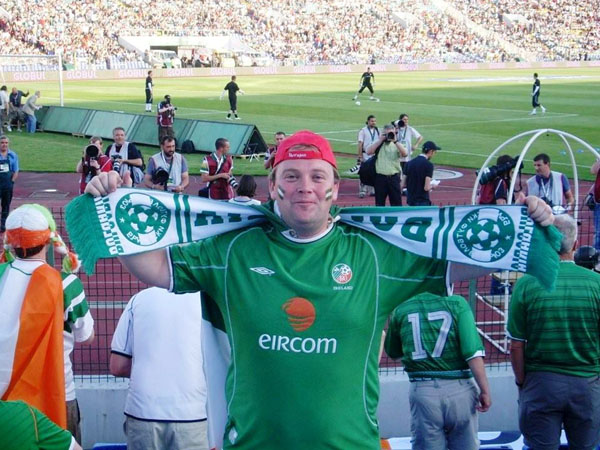 Sean Prior displaying his true colours at the Irish v Bulgaria football game last Saturday in Sofia
Rubbin' shoulders with the captain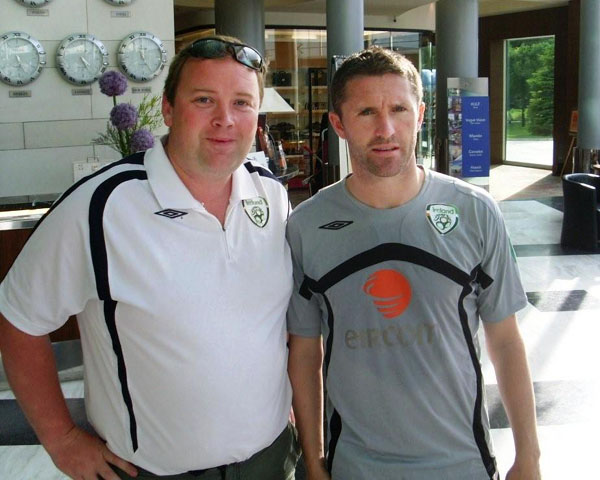 Sean gives an audience to Ireland's Captain Robbie Keane!
Music Fest Men!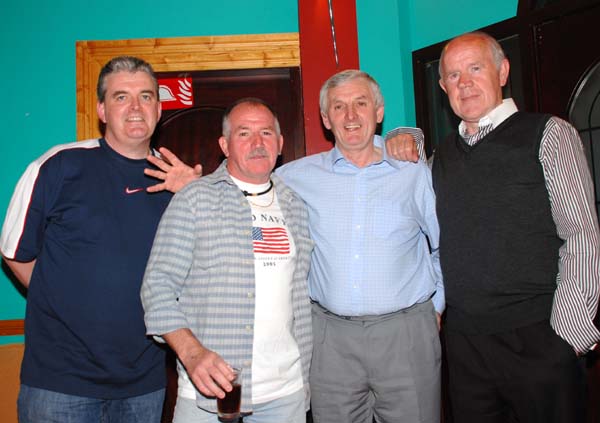 Michael Kinane, Joe Lyons (Dublin), Rory Kinane and Lar Corbett at the Music Fest in The Ragg during the Bank Holiday Weekend
Baby Power
Borrisoleigh Parents & Toddler/Baby Group welcomes 2 newcomers Luke Ryan 7 1/2 weeks and Jack Groome, 2 weeks. As you can see both are chilling out,oblivious to the commotion going on around them.
Fifi's Tots Pre-School Tour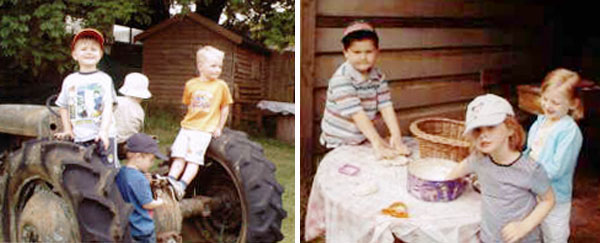 The children of Fifi'sTots Pre-School had three fluffy visitors recently. Pictured holding the ducklings are Shane Maher and Sean Young, their little owner and last Thursday they went on their annual pre-school tour to Pallas Hill Open farm. The children had a great morning feeding sheep, goats, rabbits ducks and geese and then had a picnic lunch followed by playing in the huge sandpit, the playground, playing football and of course the tractor.

A great morning was had by all
Marian Hall Lotto

09/06/09

Numbers: 1, 6, 17, 23

No Winner
3 match 3 winner @ €50 each

Cissie Walsh, Roscrea
Anna Murphy, Roscrea
Mary/Noreen, c/o Bingo

Next Weeks Lotto Jackpot

€3,600
Pic of the past…down memory lane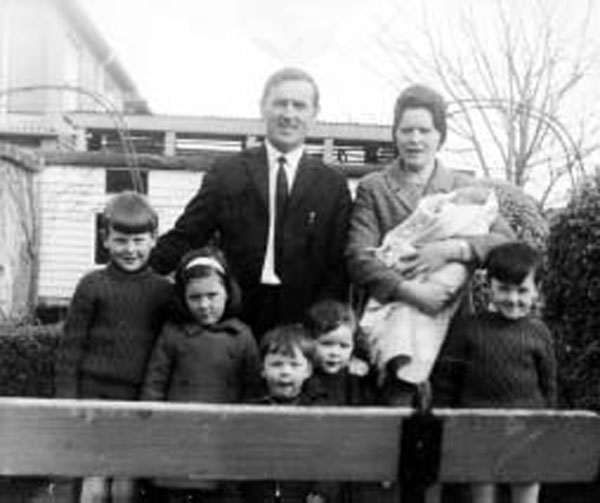 Loughnane Family, Chapel Street
Back: Paddy and Kathleen (with Pat in her arms)
Front: Eddie, Frida, Joe, Mary and Martin
Your website needs you!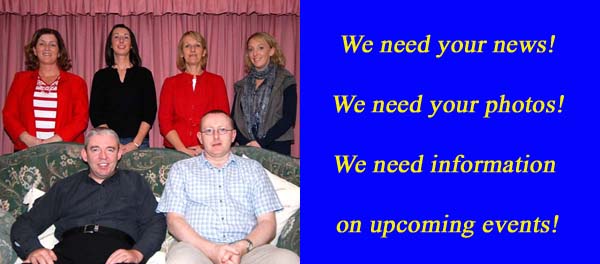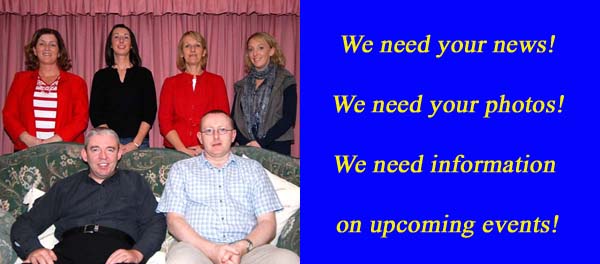 Website Committee: Noreen Fahy, Margaret Cowan, Marie McGrath, Aileen Óg Groome, Michael Barry and Enda Ryan
Many thanks to all those who contributed photographs and news items for this weeks current news. Well done!

Send your email to: info@borrisoleigh.ie

Also, if you like what you see and want to leave a comment, remember to use the Guestbook!