Making that call – Vinny, you've won the car!
Fr Liam Everard PP does his Pat Kenny impersonation when he rings a lucky parishioner to announce that he has won a car!

Handing over the keys!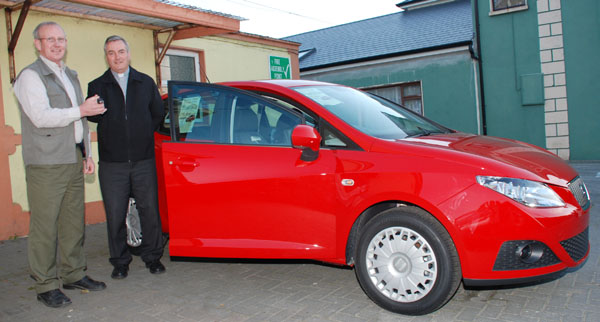 Fr. Liam Everard, PP presenting Vincent O'Connor with the keys of the new car he won in the Borrisoleigh Parish Centre Draw


Heartiest congratulations to Vincent O'Connor, Summerhill, the popular winner of the car in our final night's draw on Saturday 30th May. Congratulations also to the other winners on the night: Murty Gleeson, Ballyroan: €600. Anna Gilmartin, Grange: €200. Elaine Kenny, Greenlawn: €100. Úna Shanahan, Coolcormack: Free entry into draw for car. The draw was a great success and the Committee would like to thank all the Promoters who worked so hard. Thanks also to all who supported this project both within and outside the parish.
Congratulations!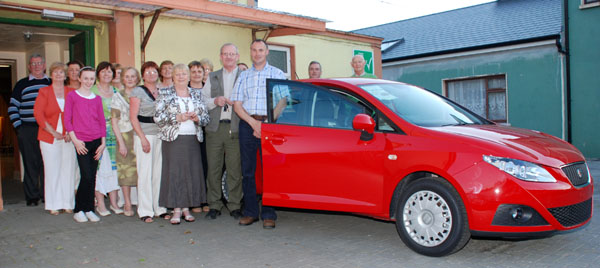 Martin Fahy (Fahy and Ryan Car Sales, Templemore) supplier of the car, with Vincent and other well-wishers at the Marian Hall in Borrisoleigh on Saturday night last 30th May

Are we there yet?!!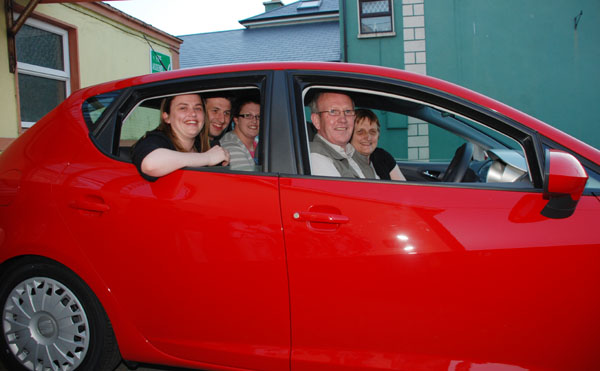 Lizzie, David, Pauline, Mary and Vinny try out their new car for size!

Mingling with Emma from 'The Den'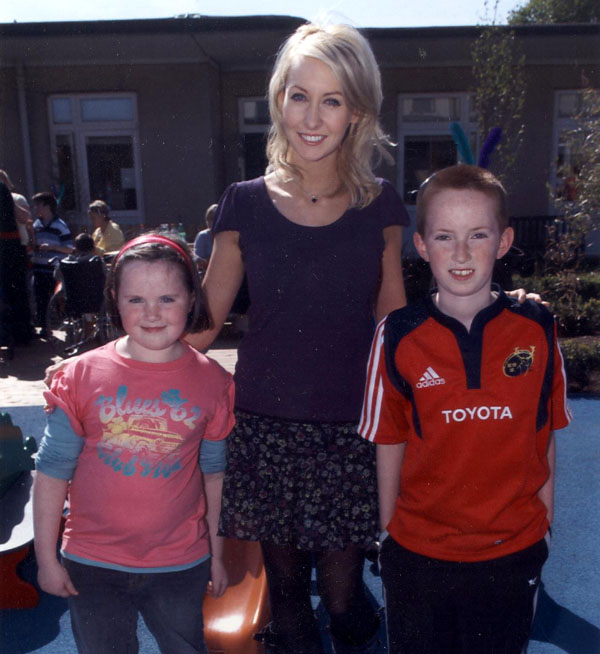 Brid and TJ Ryan in Crumlin Hospital recently with Emma O'Driscoll of 'The Den' at a Charity event to raise money for the Children's Hospital. TJ spent a little time there but happily is on the road to recovery T.G.

Music Fest Mania!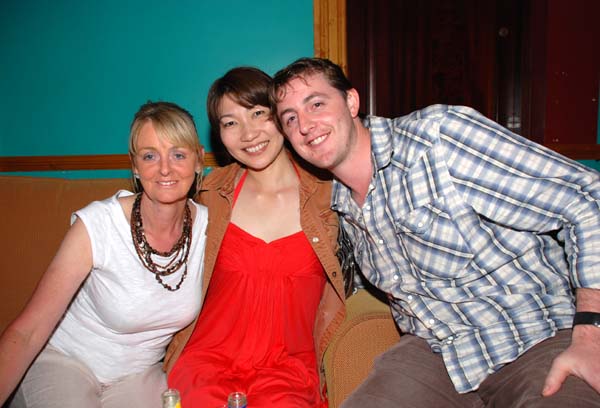 Della, Miyoko and Sean Ryan enjoying the Music Fest at The Ragg on Sunday evening last 31 May

A great crowd turned out in support of the Borrisoleigh Community Development fundraiser held in Younge's, The Ragg on Sunday night last. A great night's entertainment was provided by Silver Dollar, Outta Diesel, Minus 1, DJs Big & Bald and DJs Zig 'N' Zag.A raffle was held on the night with the spot prizes being generously sponsored by; Templemore Arms Hotel, Murphy's Bar Templemore, Conry's Bar Tipperary, Philly Bourke Hardware, Tynan Design, Borrisoleigh Coop, Eimear O' Connell Health and Harmony, Clonmel Electrical Services and Stakelums Office Supplies.Tickets and posters for the event were generously supplied by Michael Doyle Serla Print Ltd., and the Flashing Sign by Stephen Treacy MacLoughlin Road Markings. The committee would like to express there sincerest gratitude to Donal and Rose Younge for the use of their facilities for the night, all the bands and DJs, all the sponsors and everyone who supported to make this such a successful night.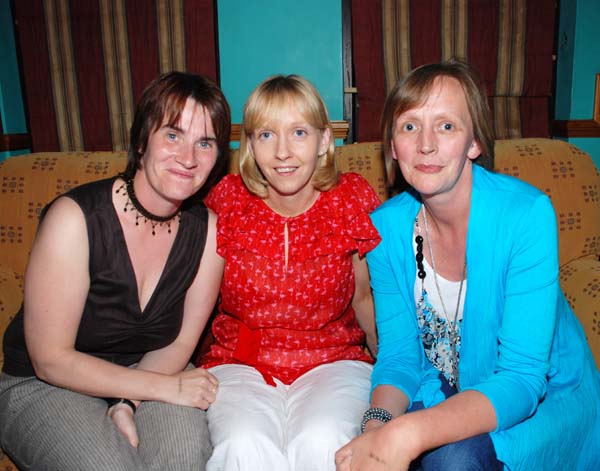 Vera Hogan, Mary Reid and Geraldine Delaney enjoying a chat at the Music Fest



Matt Ryan, Eamon Ryan, Michéal Ryan and John Ryan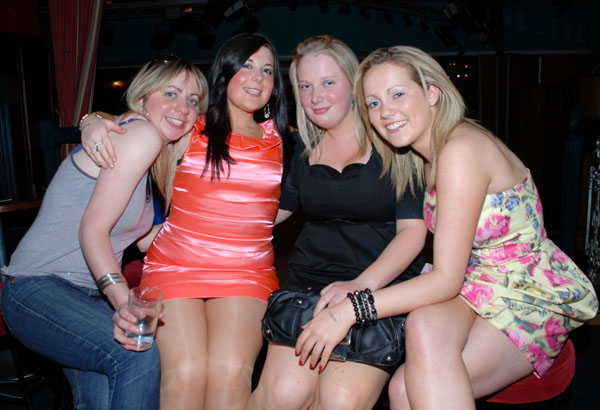 Liz Kinane, Siobhan Hogan, Brid Ryan and Christine Hayes huddle for the camera!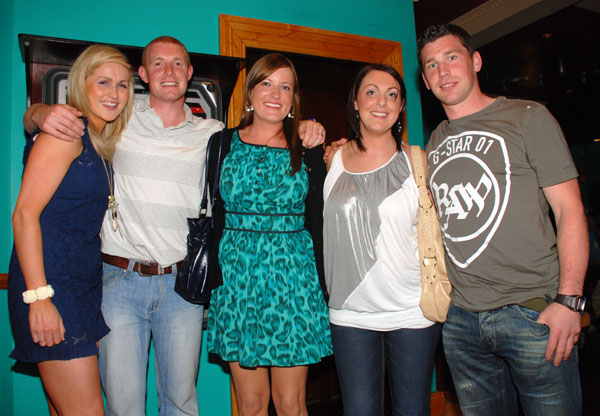 Moira Dooley, Eamon and Deirdre Corcoran, Kerrie Ryan and Declan Maher enjoying the music at The Ragg

Benny in a sandwich!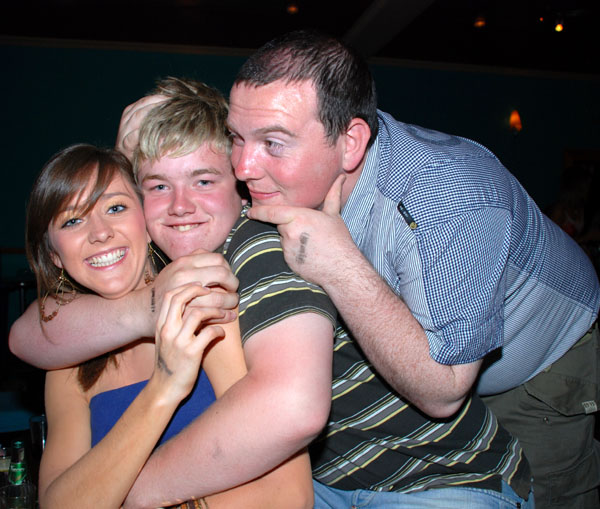 Marie Ryan, Benny Harkin and Rory Ryan in a group hug!



Neil with Donna and Joanne with Maeve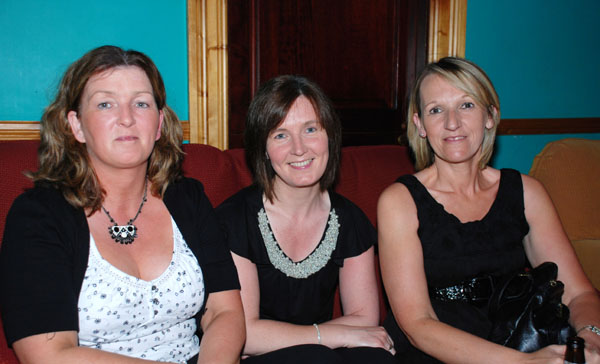 Noreen Fahy, June Stapleton and Marie McGrath enjoying their night out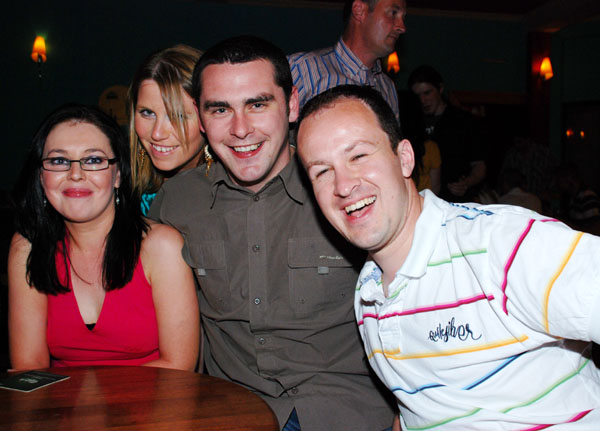 Joanne, Sheila, Andrew and Mark with Martin Fahy in the background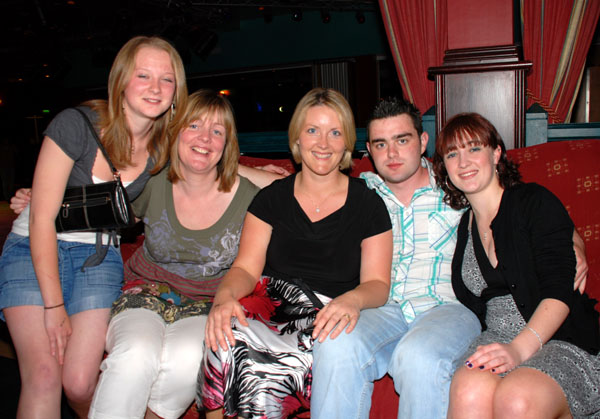 Ava Brooks, Elaine O'Sullivan, Michelle Duignan, Joseph Buckley and Martina Hayes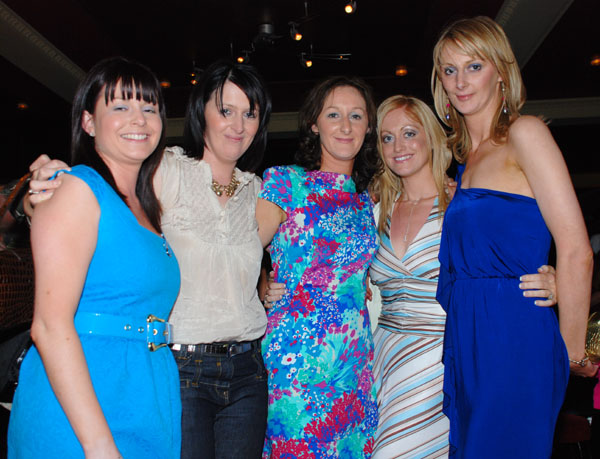 Lorraine McLoughney, Maíread Fahy, Marie Murray, Donna and Annette Fahy

Preparing for their big day!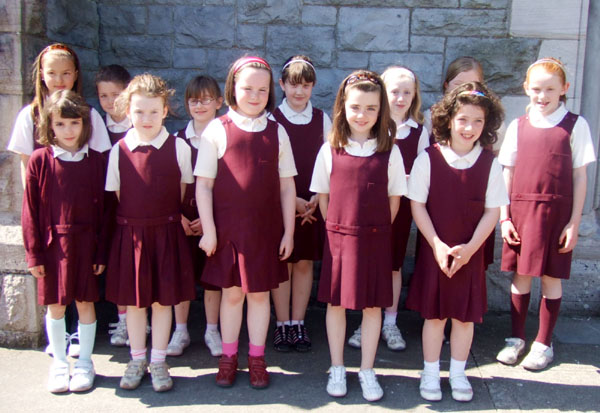 Second Class from St. Theresa's National School


Second Class primary school pupils from our three primary schools converged on the Parish Church on Tuesday morning last to celebrate their First Confession. This is by way of preparation for their big day of First Holy Communion which will be celebrated on Sunday 14 June. The local clergy report that these young pupils are very well prepared and are a credit to their teachers and families. Twenty-six pupils in all we receive their First holy communion. We wish them the very best for the 14th.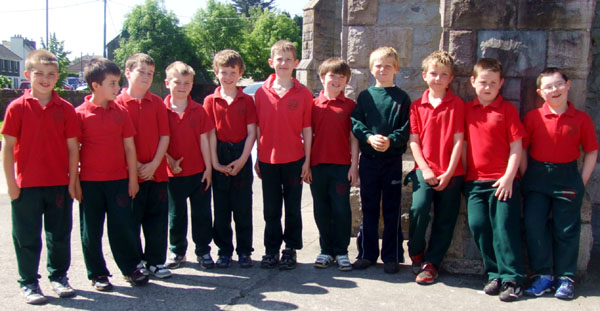 Second Class from St. Patrick's Boys' National School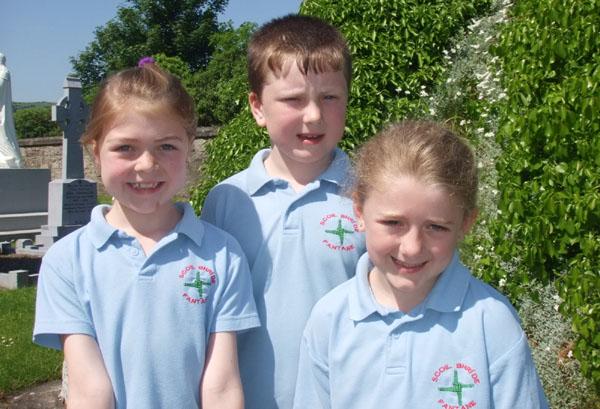 Second Class from Scoil Bhríde, Fantane – Leanna Kelly, Liam Ryan and Ciara Doolan

May He Rest In Peace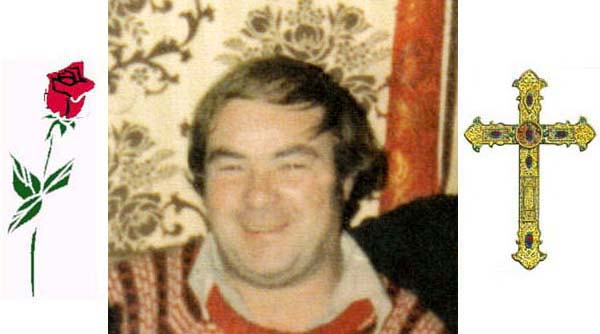 Martin McMahon RIP
(This picture was taken a number of years ago)
The death has occured of Martin McMahon of Mount George on Thursday 14 May last. His Requeim Mass took place in the Sacred Heart Church on Sunday 17 May with burial in St. Brigid's Cemetery. We offer our sympathies to his family. May he rest in peace.
Summer Sunday Stroll!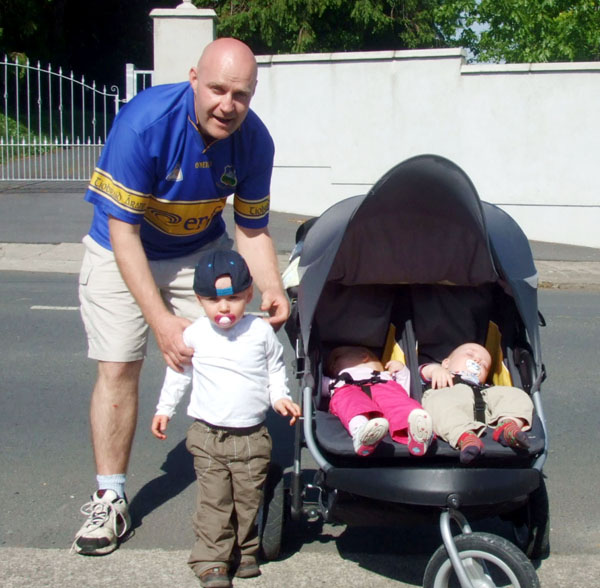 Mossy, Cormac, Cillian and Aoife Ryan out for a stroll last Sunday morning

Exam Time!!!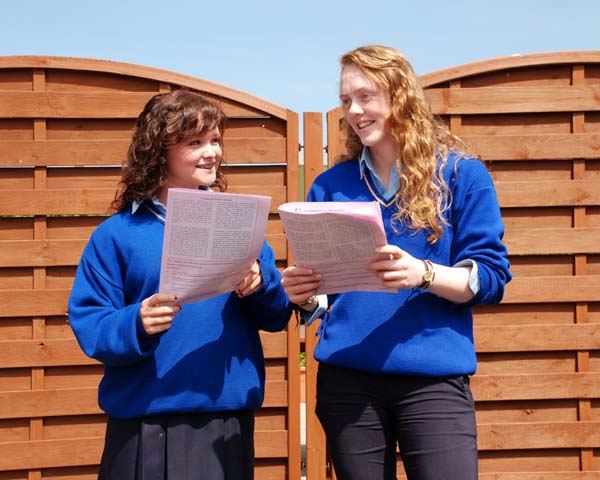 Becky Prior and Christine Kenny share their thoughts with each other after the first of the Leaving Cert. Exam Papers (English Paper I) which began on Wednesday 3 June. We wish all our students doing The Junior Cert. and The Leaving Cert. the best of luck over the coming days and weeks.
Celebrations – Happy "21st"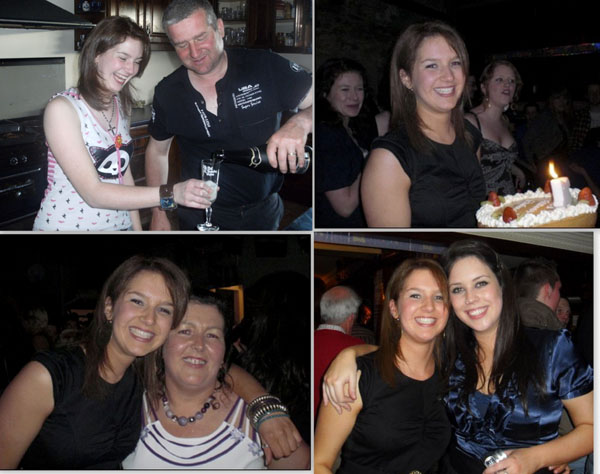 Elaine Maher, Kilfithmone recently celebrated her 21st Birthday
Top left: Elaine with her dad Seamus pouring the the champayne Top right: Elaine with her friends Grainne and Christina
Bottom left: Elaine with her mum Teresa Bottom right: Elaine with her college friend Anna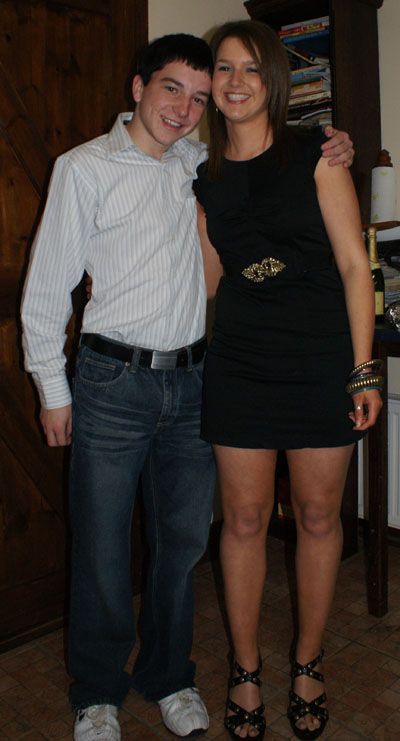 Elaine with her brother James
Primary Game



Kieran Maher made his debut in Thurles on Sunday last when he put up a great show for Tipperary in the Primary Game. Well done Kieran!!
Eyeing the ball!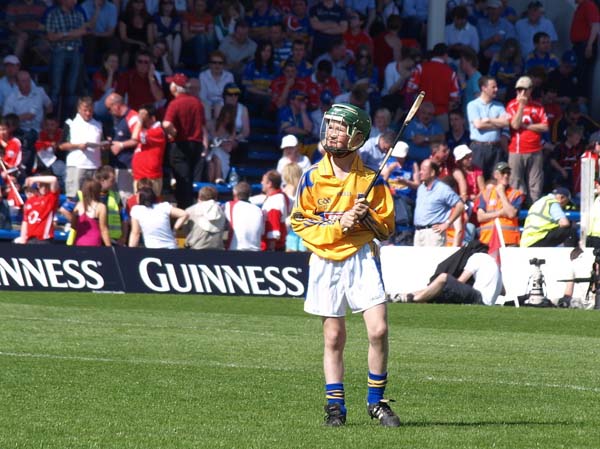 Kieran Maher – A star in the making!
Kieran writes the following about his big day at Semple Stadium
– On Sunday May 31st I went to Dr. Morris Park at a quarter past twelve. I was selected to play in goal for the Tipperary team in the Primary game during the half time interval of the senior match between Cork and Tipperary. I had a few pucks with my team mates when I arrived. The team then got togged off and had something to eat. The team then went to Semple Stadium and we went to our seats. We watched the primary girls play camogie at the interval of the intermediate match.
We then went out onto the pitch to form a guard of honour for the Tipperary and Cork teams. At half time it was our turn to take to the pitch to play against the opposing primary team from Cork. After ten thrilling minutes Cork were the winners with a score line of 0-3 to 0-2. When the senior match was over we went to Hayes' hotel for dinner. I enjoyed the day and was delighted to have been selected.
Tipperary -v- Cork in Semple Stadium


Can you spot yourself in the crowd above!!
Michael Clohessy and Michael Ryan getting themselves ready for the big game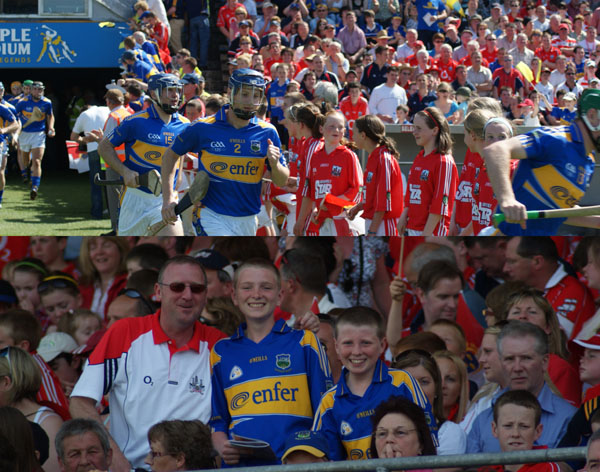 Paddy Stapleton making his way to the field with Ruairi, Cathal and Declan O'Connell watching on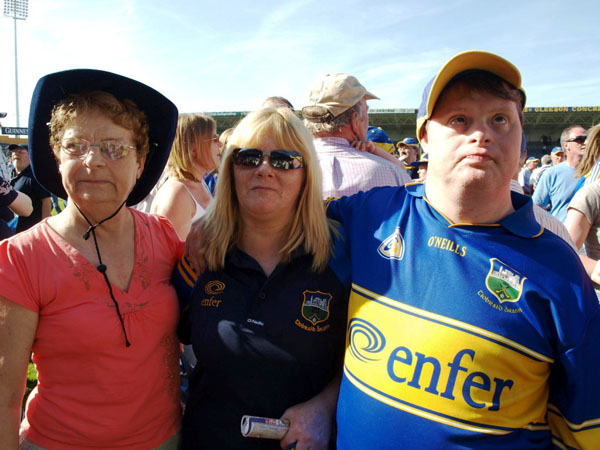 Ann O'Sullivan enjoys the match with her friend Catherine Nevins and her son Vincent
Meeting the All-Star!


Raymond and James McCormack with Eoin Kelly
Borris Boys represent Tipp in Munster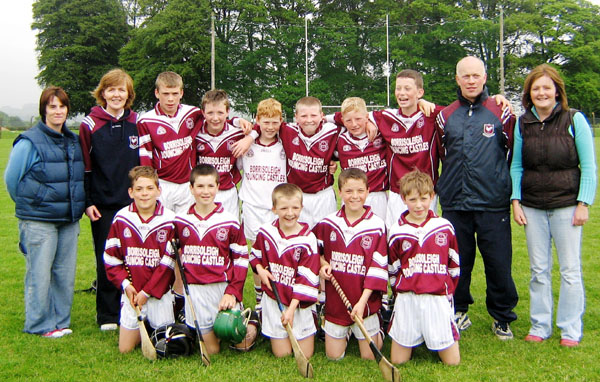 Team, Staff and Coach
Congratulations to St. Patrick's Boys' Mini-Sevens team who represented Tipperary with distinction in the Munster Schools' Blitz at Lismore on Friday last. Our boys did Borrisoleigh and Tipperary proud as they hurled their hearts out to ensure victories over Cork Champions, Newtownshandrum and Kerry Champions, Ballyduff. Following hard fought contests they were unlucky to lose out to Doon and Lismore who represented Limerick and Waterford respectively. Sincere thanks to all the parents and supporters who travelled on the day. Particular thanks to Michael Ryan, team coach who has so generously given of his time and expertise over the years.
St. Patrick's had an excellent victory over Burgess NS in the Primary Schools' Championship to ensure a place against Youghalarra N.S.in the North Final at Mc Donagh Park, Nenagh on Monday next, 8 June, at 1.00 p.m. All support would be very welcome as they bid to bring divisional honours to Borris.

To view photos of the boys in action go to our photo gallery or click here: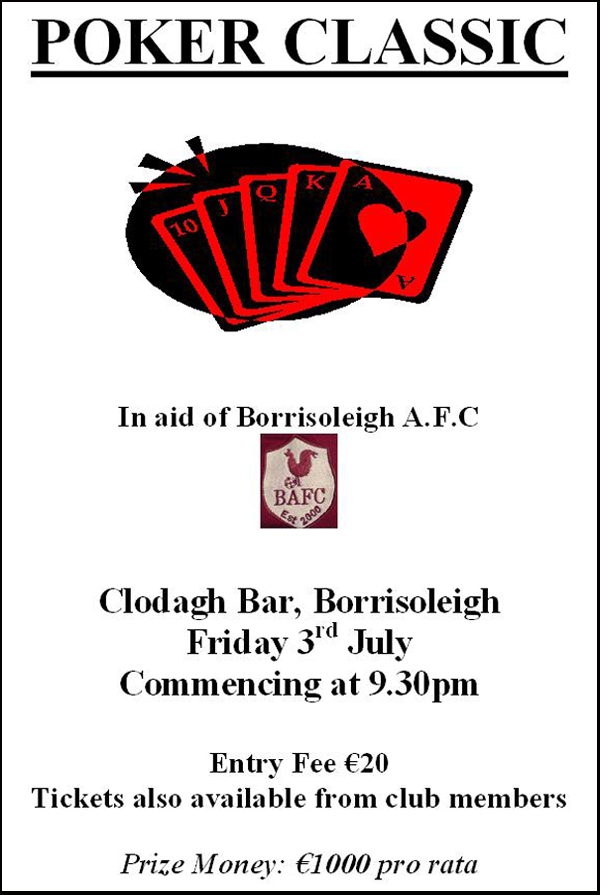 Dail Deputies for a day!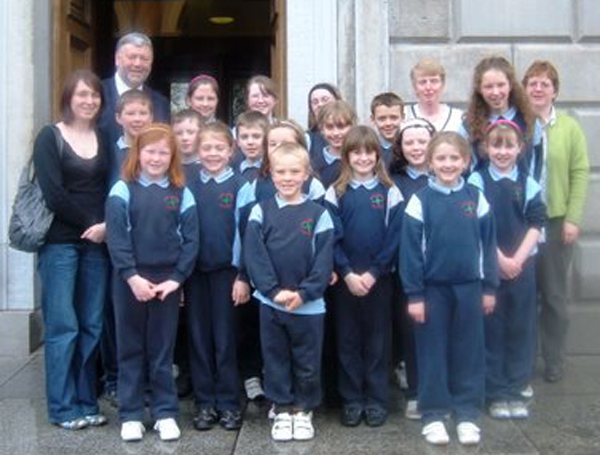 Deputy Noel Coonan with children and staff of Scoil Bhríde on a recent school tour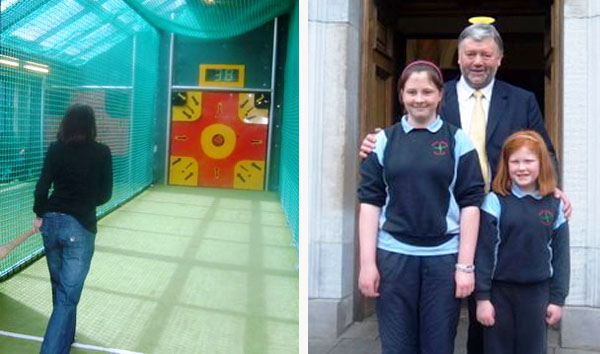 Miss Harrison tests her skill on a recent visit to Croke Park while Deputy Noel Coonan meets with his cousins Rachael Larkin and Laura Kennedy on the steps of Leinster House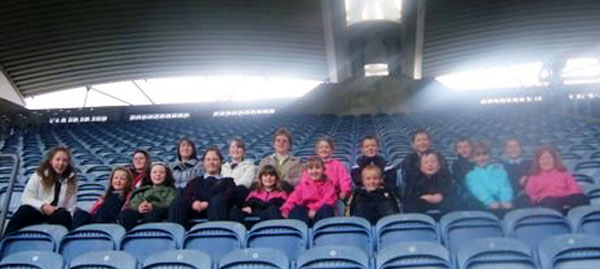 Pupils of Scoil Bhríde enjoy the view from the Cusack Stand

Peadar Cummins Tournament in The Park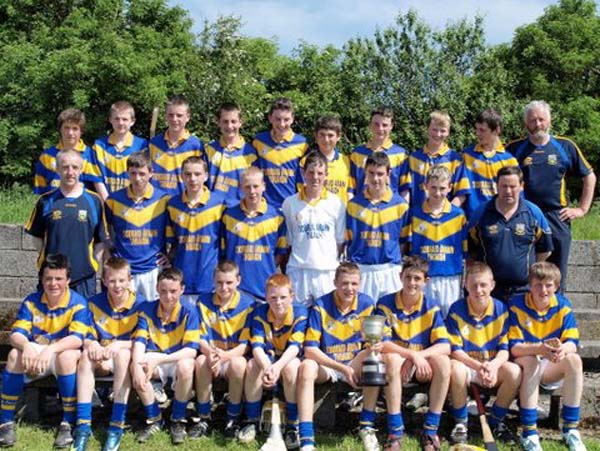 The victorious North Team who won the Peadar Cummins Cup 2009 last Saturday in Borrisoleigh including Seamus Bourke (Back Row Fourth from Right) and Matt Stapleton (Front Row Fourth from Left)

In magnificent sunshine we hosted this annual tournament in Borrisoleigh last Saturday 30th May. The two semi-finals between the North & the South and the Mid and the West produced some great hurling the results of which meant the West would play the South in the Plate Final which the South won comfortably and the North would play the Mid in the Peadar Cummins Final. This was a great game which was very close for long stages. However, the North proved stronger in the second half and pulled away to win in the closing stages. The Club was well represented on the North team with both Matt Stapleton and Seamus Bourke playing in the semi-final. In the final Seamus Bourke scored two great points to help the North to victory. Congratulations and well done to both lads. Sean Creamer Chairman of the County Bord na nÓg presented the Peadar Cummins Cup to Captain Mark McCarthy of Toomevara. Although too numerous to mention individually, the juvenile club committee would like to thank all those who helped to make the day such a success, including those who prepared the field, manned the scoreboard, umpires, referees, prepared the match program, those who provided and served the refreshments and Templederry GAA Club who hosted the semi-final between the Mid and the West. Well done to all concerned.

Flags flyin' high at The Park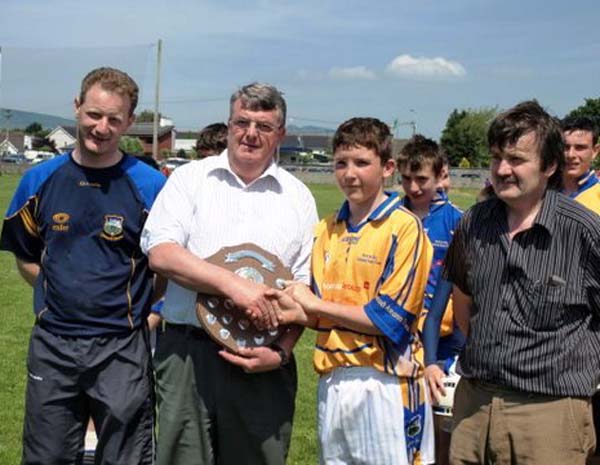 South Captain receiving the Peadar Cummins Plate from Sean Creamer (Chairman Juvenile Tipperary County Board) also present Jimmy Stapleton (Chairman Borris-Ileigh Juv GAA Club) and Neil Ryan (Secretary Juvenile Tipperary County Board)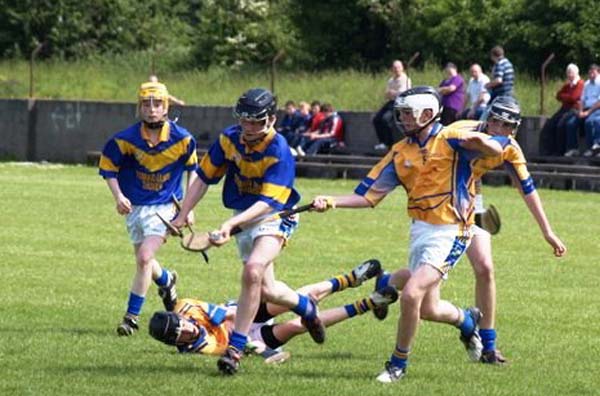 Seamus Bourke in full flight against the South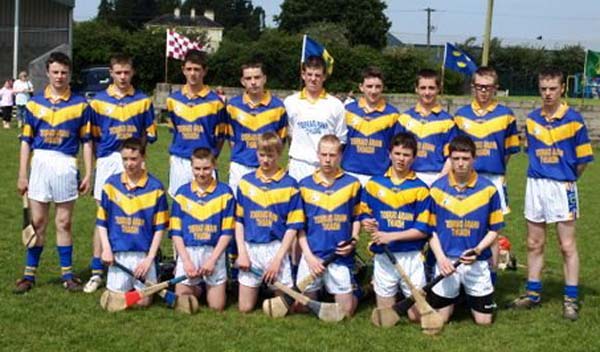 The North Team who lined out in the semi-final against the South including Borris-Ileigh players Seamus Bourke( Back Row first on left) and Matt Stapleton (Front Row Second from Left)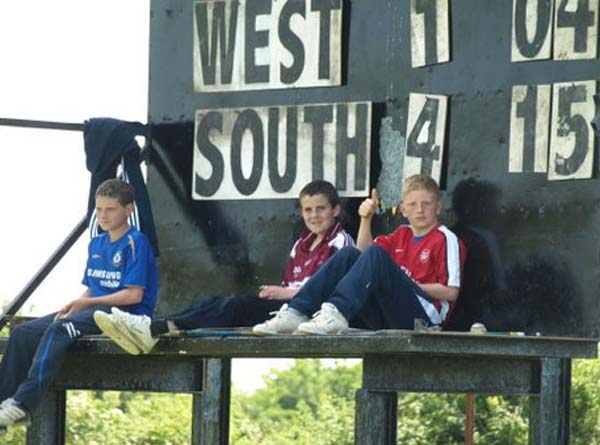 Score Board Operators Dean Ryan, Declan Ryan and Sean Kenny
Take it easy lads!


Thomas Fahy, Sean McCormack and Rory Ryan enjoying the sunshine
For the latest Juvenile GAA Club news click here

C'mon Borris!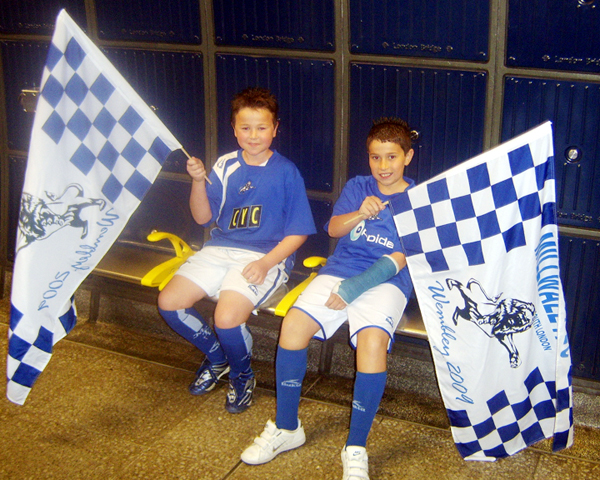 Two Grandsons of Jimmy and Bridie Slattery of Pallas Street, Karl Henderson and Ashley Pulford on their way to Wembley Stadium for the Play-Off Final
Bus to Knock from Borris on June 27th


St. Joseph's Young Priests' Society Annual Pilgrimage to Knock takes place on Saturday June 27th. A bus will leave the Square, Borrisoleigh at 8.15 a.m. sharp. Fare €20.00. Enquiries and bookings to Mary Kiely (0504 51535) or Mary Lanigan Ryan (0504 51241)
Marian Hall Lotto
02/06/09
Numbers: 9, 10, 17, 20
No Winner
2 match 3 winner @ €75 each
Nora Crowley, Richmond, Templemore
Teresa Dunne, Roscrea
Next Weeks Lotto Jackpot
€3,450
Pic of the Past… down memory lane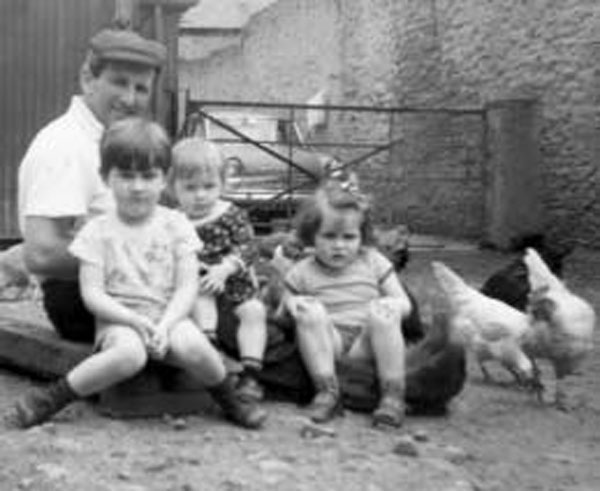 Feeding the hens!
Tommy Lanigan-Ryan (Snr) pictured with Tom (Jnr), Madelaine and Agnes
Your website needs you!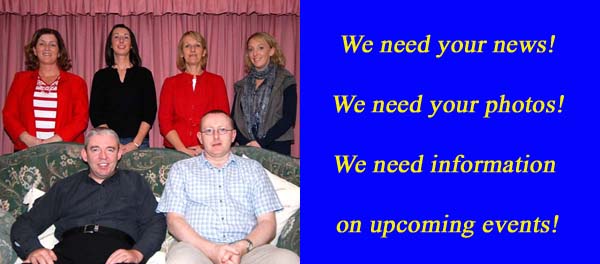 Website Committee: Noreen Fahy, Margaret Cowan, Marie McGrath, Aileen Óg Groome, Michael Barry and Enda Ryan
Many thanks to all those who contributed photographs and news items for this weeks current news. Well done!

Send your email to: info@borrisoleigh.ie
Also, if you like what you see and want to leave a comment, remember to use the Guestbook!