Little rest after a long stroll!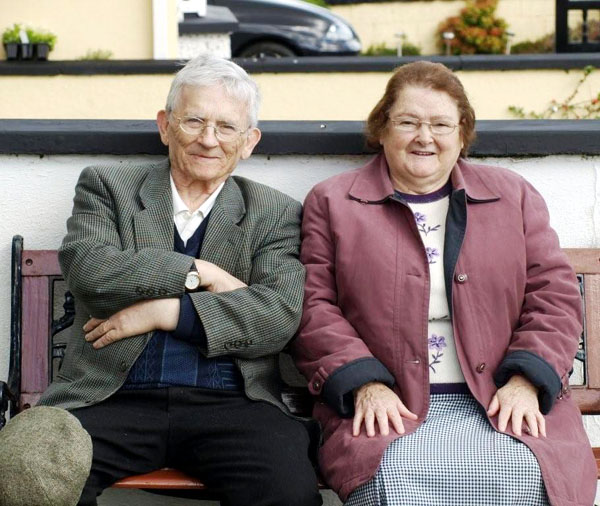 Jimmy and Bridie Slattery of Pallas Street were seen out and about for a little stroll recently. Reports are coming in that the happy couple hold hands while pacing the lanes around Pallas Street but these are, as yet, unconfirmed!!!


St. Joseph's College Graduation Ceremony


Here come the girls!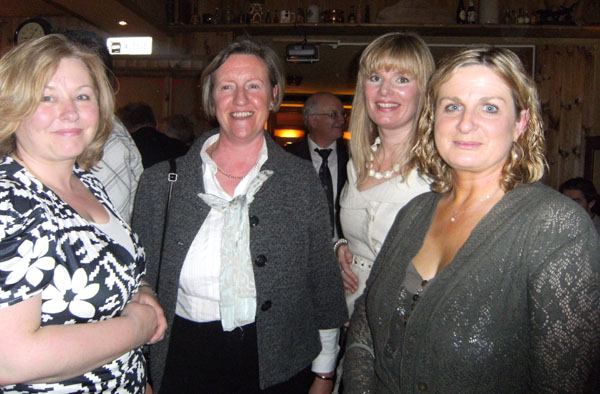 Ms Meagher, Ms Reagan. Ms Rowe and Ms Brennan gave the graduates a good send off!
The annual graduation Mass for the Leaving Cert. Class of 2009 took place in the Sacred Heart Church on Thursday evening 21 May. In what turned out to be a special celebration presided over by Fr. Liam Everard PP (College Chaplain) both students and teachers mingled as equals sharing their stories of the past and their hopes for the future. It was also an occasion to wish Mr. O'Shea the very best in his future retirement and to welcome Caroline Hogan as the newly appointed Principal.


Benny gives his muinteoirí a big thumbs up!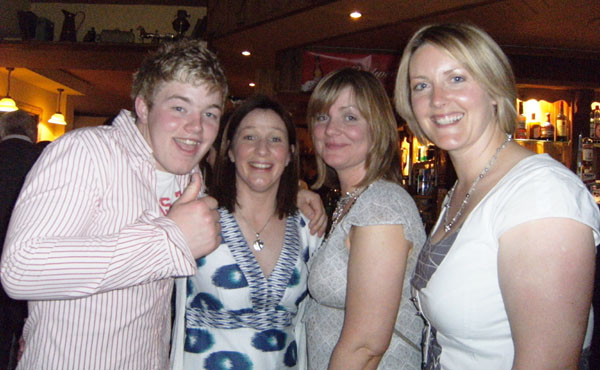 Benny Harkin celebrating with some of his teachers, Ms Cahill, Ms O' Sullivan and Ms. Duignan.
Great buddies!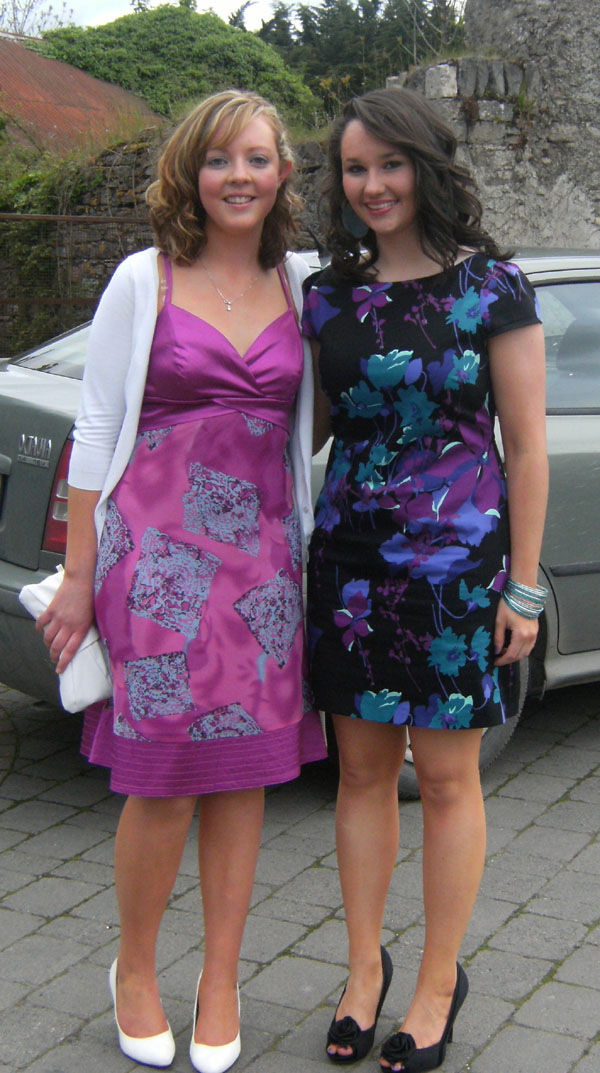 Maria Ryan and Nessa Fitzgerald (Tipperary) Borris girls united!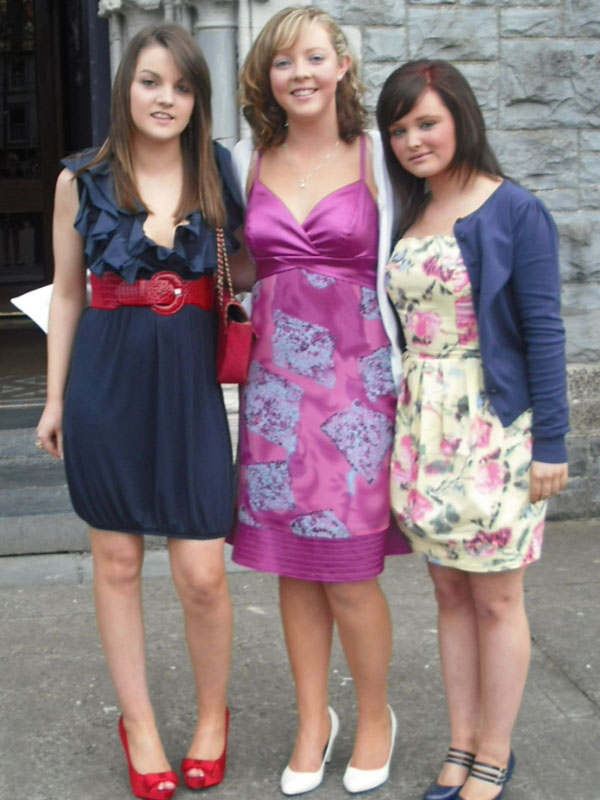 Style by the mile – Niamh Lyons, Maria Ryan and Becky Prior.
Mingling with the teachers!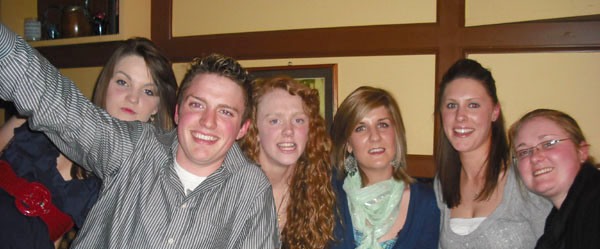 Niamh Lyons, Declan O Donoghue (Burgess), Christine Kenny, Ms Kerns, Ms Stack and Ms Meagher
More locals qualify in CPR and Defibrillator Training Programme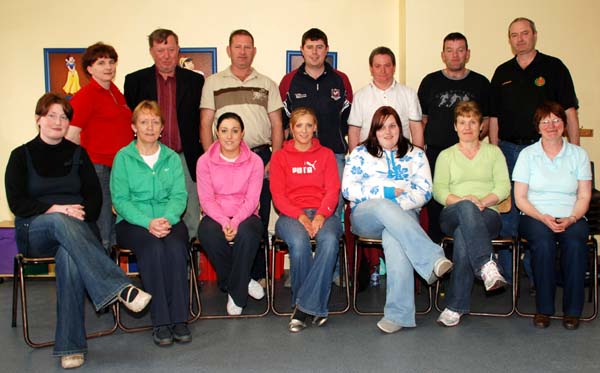 Christina O' Dwyer, Lar Smyth, Michael Ryan, P.J Kiely, Joe Kennedy, Joe Harkin, Noel Purcell, Rena Stapleton, Anna Ryan, Michelle Stapleton, Charlotte Addis, Natasha Mason, Phil Mason and Noreen Ryan
The second group of twelve local volunteers in the defibrillator training programme took part in a training session in the Marian Hall on Saturday May 23rd. This brings the total number of trained responders in the community to twenty-four. The group were trained by Christina O'Dwyer and Noel Purcell (Ambulance Service). Other training sessions are planned for the future. If you would like to get involved in this local initiative please contact any of the following: Christina O'Dwyer (087-2672282), Paula Ryan (087-9035949) or Úna Shanahan (087-9768724)
One-two-three PUSH!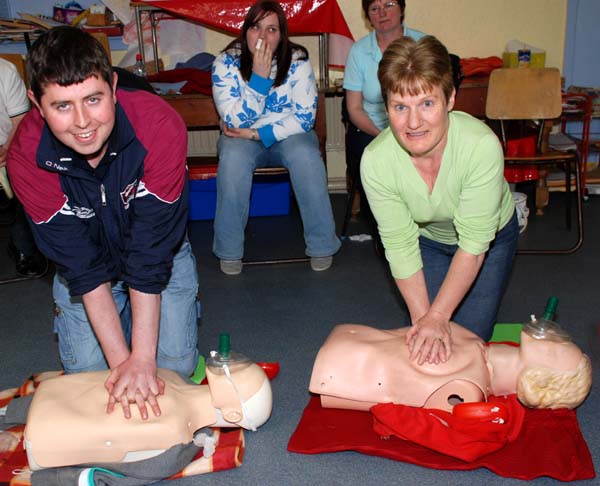 PJ Kiely and Phil Mason displaying their CPR techniques at the training day last Saturday
Puffin and panting their way through the training session!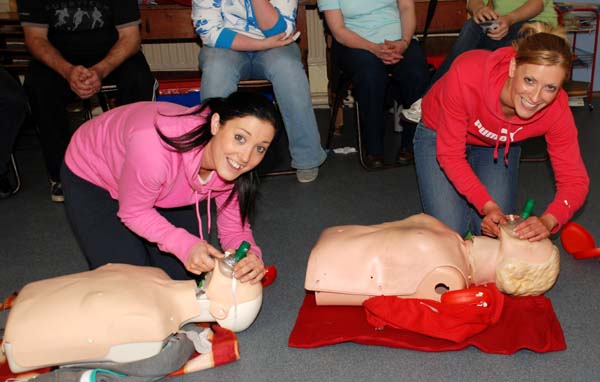 Michelle Stapleton and Charlotte Addis preparing to give the 'kiss of life'!

The main thing Michael is to keep 'em alive!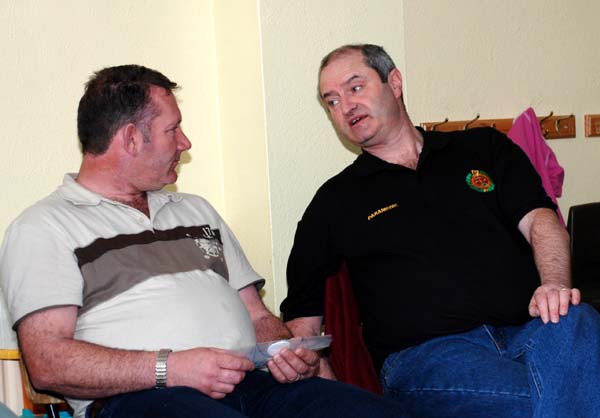 Noel Purcell (Trainer) discussing some of the finer points of resuscitation with Mike Ryan during the coffee break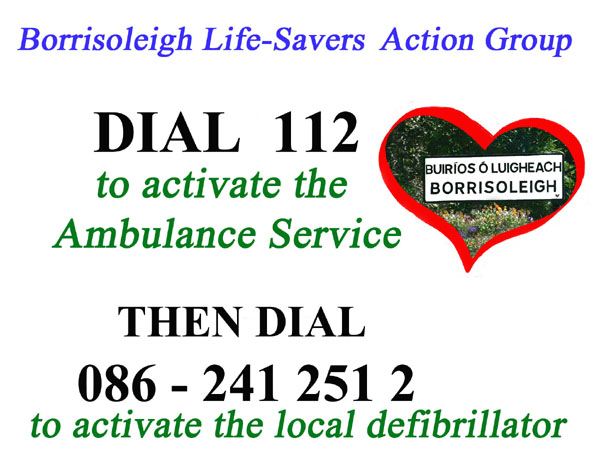 The numbers to call in an emergency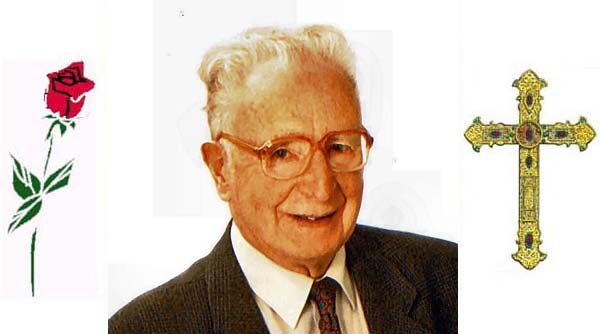 Edmond (Ned) Cullen R.I.P.
We record the death of Edmond (Ned) Cullen, formerly of St. Brigid's Villas, Borrisoleigh (Sat. 23 May). Ned's Funeral Mass took place on Monday 25th May in the Sacred Heart Church at 11.30 a.m. with burial in St. Brigid's Cemetery. We extend our sympathies to his family and friends. May he rest in peace.

Clodagh Macra AGM
New Committee members
Out with the old, in with the new!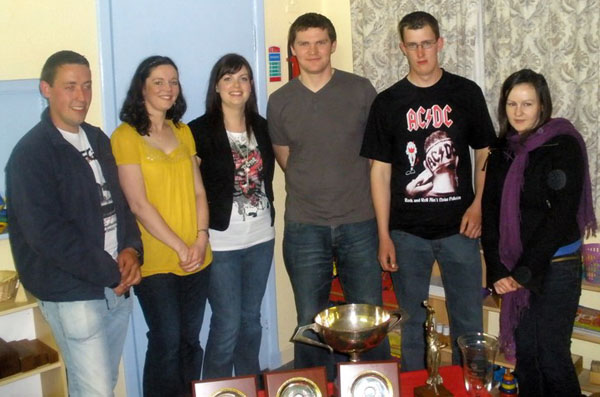 Eamonn Ryan, Laura Ryan, Majella Carey, Alan Ryan, John Ryan and Denise Ryan are the newly appointed committee members.
Outgoing Committee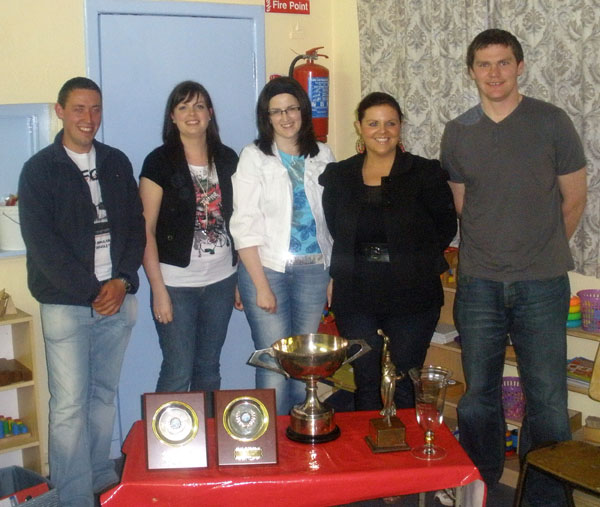 Special thanks to Eamonn Ryan, Majella Carey, Teresa Kennedy, Annemarie Kavanagh and Alan Ryan.
Clodagh Macra held their AGM last Friday in the Marion Hall. It was a hotly contested AGM with plenty of competition for the top jobs! The new committee are Alan Ryan (chairpperson), Eamonn Ryan (vice-chairperson), Majella Carey (secretary), Laura Ryan and Denise Ryan (P.R.O.) and John Ryan (treasurer). We wish them the best of luck in the coming year.
A huge thank you must go to our out-going committee. It has been a great year for the club, taking two national titles – public speaking and mastermind, and runners up in club of the year. There were a few social drinks had afterwards in Stapletons.
Sam and her horse Monty

A step up from shank's mare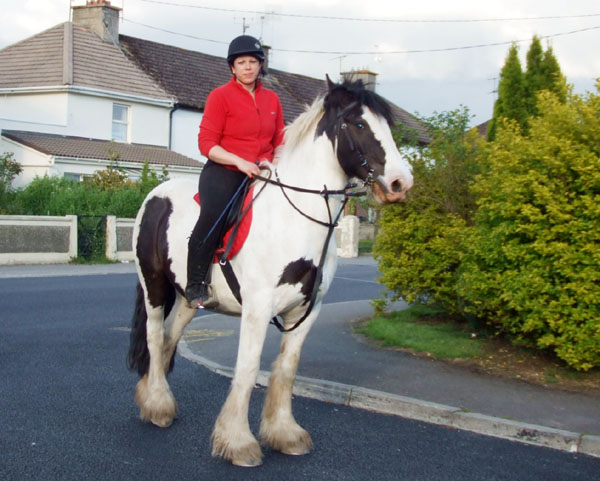 Sam Holland caught on camera on Sunday evening last May 26th while out on her horse Monty

Birthday Celebrations (It's a family affair)!

Happy 40th Birthday!

Making the speech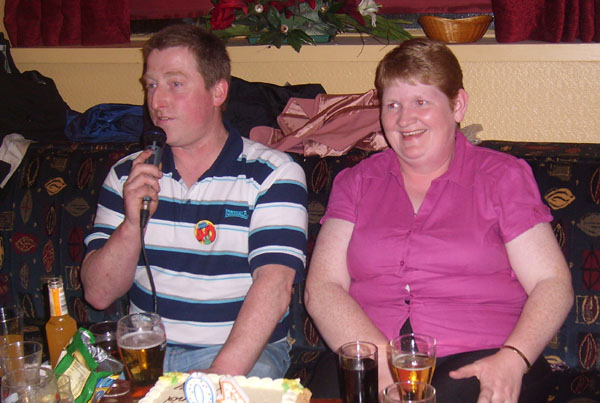 Paddy Quigley and Mary Quigley (Ryan) celebrating their recent 40th birthday in Stapletons pub.
Happy 7th Birthday!

I'll huff and I'll puff…….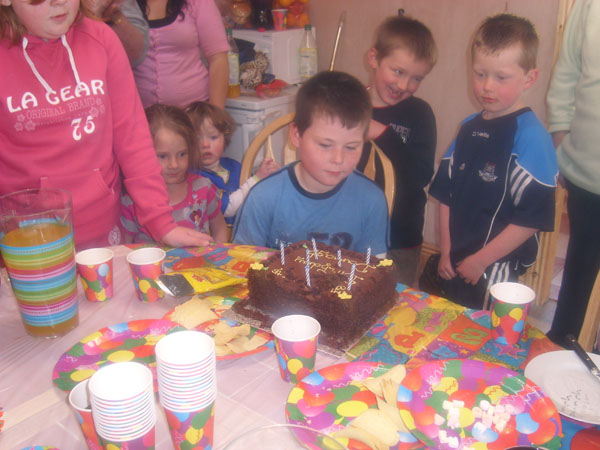 Darragh Quigley celebrating his 7th birthday with his family and friends.


Scoil Bhríde, Fantane N.S. Table Quiz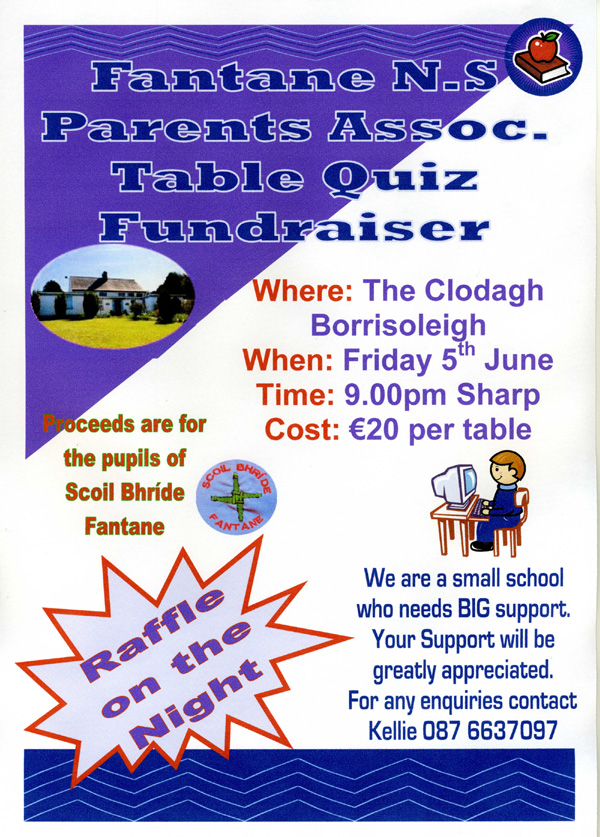 Heading to the North Final



Sean Kenny in possession, Sam Devaney supporting from behind and Kieran Maher out left
On Thursday last, 21st May, the St. Patrick's Boys school team travelled to Nenagh to take on Burgess, the last obstacle to the North Final of the Cumann na mBunscol. After a tremendous display the Borrisoleigh team emerged victorious and are now busy preparing for the North Final. Well done lads and best of luck.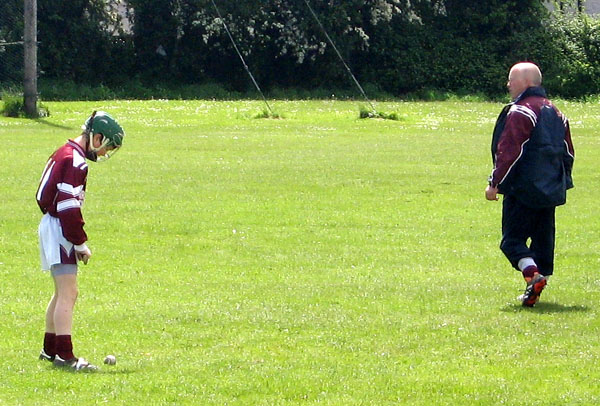 Kieran Maher eyeing up the ball to take a free with Michael Ryan (Manager) on the sideline

Tom celebrates the BIG FIVE-O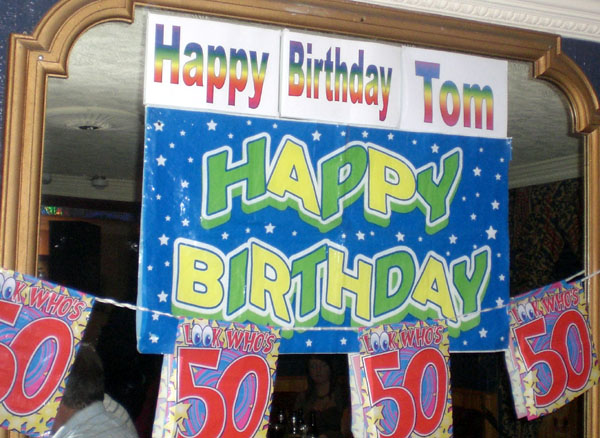 Happy Birthday Tom!

A surprise 50th birthday party for Tom Mason of Mount George took place last Saturday night at Stapleton's Bar on Main Street. This was a 'secret' that was very well kept, even more so, because Tom and Phil's son Paul who has been in Perth Australia for the last few years made a surprise appearance at the party much to the excitement of the Mason family. Phil orchestrated the return of the 'prodigal son' for the occasion and never even hinted that it was going to happen.

Tom was surrounded by family and friends for the celebration of his big FIVE-O! But after the shock of the surprise party and Paul's return he nearly looks ready for the next big one – the big SIX-O!!!

Family reunited!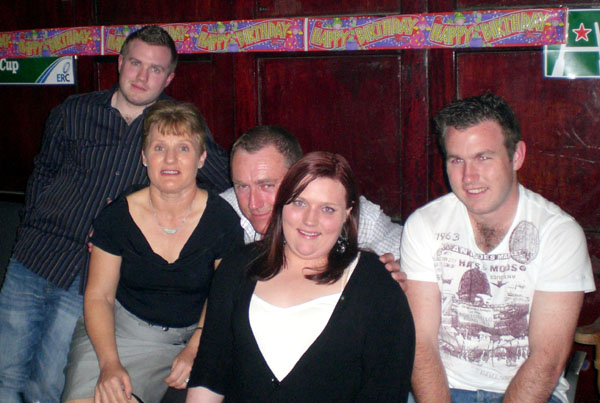 Tom surrounded by his family, Gerard, Phil, Natasha and Paul
Paul pops in from Auzzieland!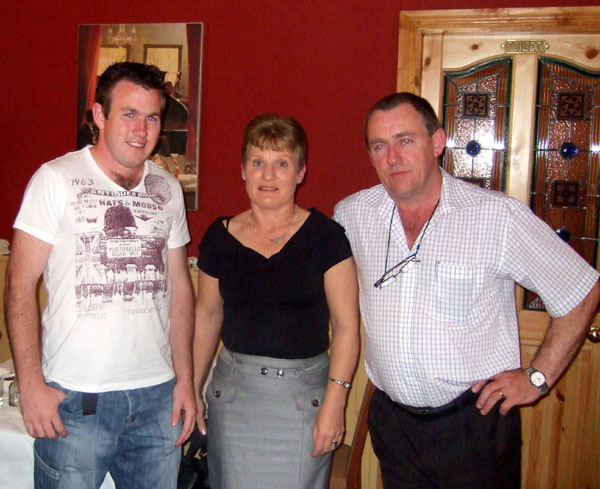 The wanderer returns – Paul with parents Phil and Tom

Enjoyin' the party!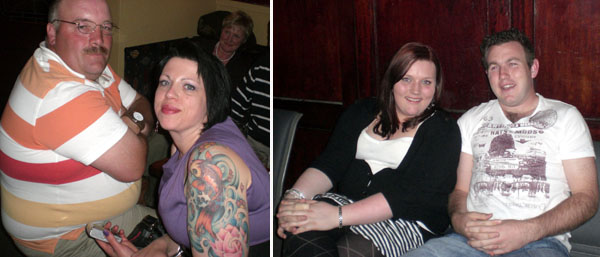 Joe and Sam Holland & Natasha and Paul pose for the papparazzi!


Several swimming pools open-up on the Ileigh Road!

Looking into the situation!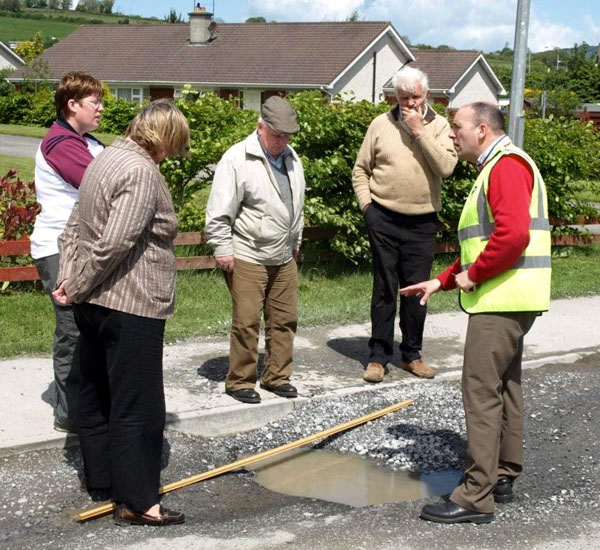 Pictured recently on Ileigh road were Jim O'Sullivan, Councilor Pauline Coonan, Austin Kelly, Fiona Max and County Council engineer Peter Fee viewing the state of the road and potholes with depth of up to 6 inches. Mr. Fee said they were some of the worst potholes he had ever seen and that a plan to rectify the problem would have to be put in place. This has been welcomed by local residents and Councilor Coonan.

Testing the waters of Cnoc Neibhin!!!




Noel Coonan T.D., Sean Kelly – Fine Gael candidate for the European Election and Councilor Denis Ryan tested the waters in the newly-opened "swimming pool" on Ileigh road on Saturday last.

Tis a fairly big one right enough!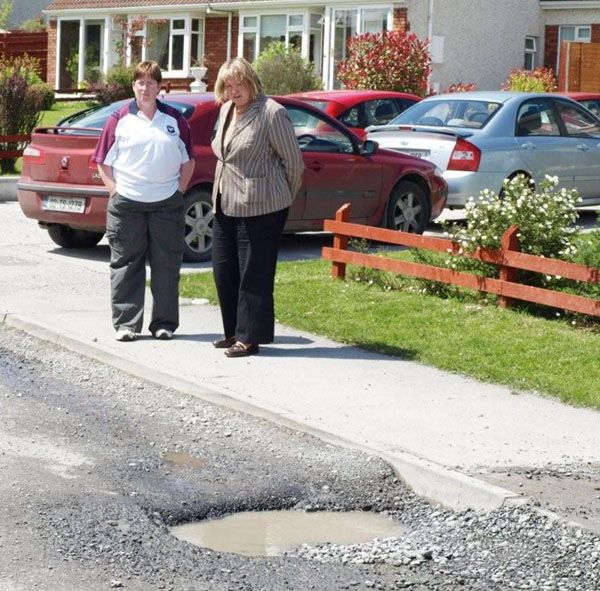 Fiona Max, local resident, with Councillor Pauline Coonan at the edge of the Abyss!


Borris-Ileigh Juvenile GAA Club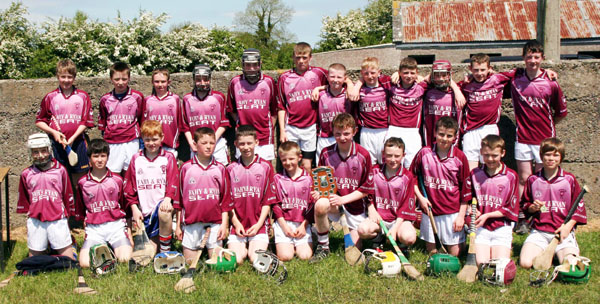 Our Juvenile Hurlers captained by Liam Ryan
The Peadar Cummins U14 Inter Divisional Tournament takes place in Borrisoleigh on Saturday 30th May. This tournament is in honour of Peadar who was a great stalwart of Borris-Ileigh Juvenile GAA Club and always produces some great hurling from all the young players. Good luck to our own representatives Seamus Bourke and Matt Stapleton on the North division squad. As this is a busy day for the Juvenile Club it would be appreciated if all committee members could provide refreshments and be available to lend a hand on the day.
Last week, at all age groups, was a busy week for matches. Our U8s hosted both Kilruane and Upperchurch while our U10s took part in the County Board organised Blitz in Toomevara. These U10 blitz games are continuing over the next two Saturdays. With the U12 and U14 hurling championship fast approaching, the U12s continued their preparation with challenge games last week against Templetuohy and Toomevara. Our thanks to all Clubs for hosting those games. With the commencement of the hurling championship coming closer, it is very important that all players attend training and challenge matches. Reminders of training and games generally issue by text. However, if in doubt contact the manager of the team who will have the correct details.
Our juvenile hurlers took part in the Martin Cunningham Tournament in Roscrea last Sunday morning where we played Roscrea and Kilruane. Despite a good display against Roscrea where we played some good hurling we lost that game. However, this meant that we qualified for the Plate Final against Kilruane where we came out on top by 1-4 to 0-2. The shield trophy was presented to Liam Ryan Captain of the team. Well done to the manager, selectors and players.
Congratulations!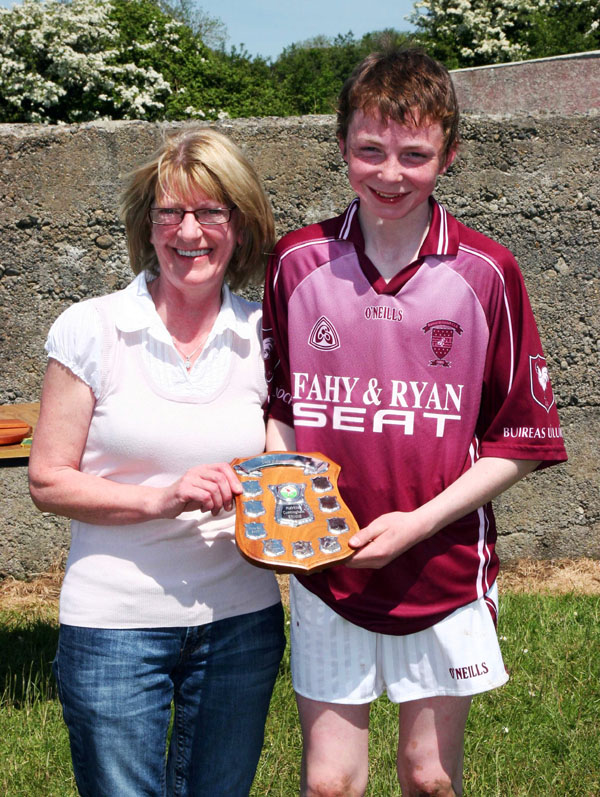 Liam Ryan (Captain) is presented with the Plate

Vintage Rally in Thurles
You may be interested in the Vintage Rally on Sunday 7th June 2009 run by Thurles & District Vintage Club at Corbally (Dublin Road) Thurles in aid of a really good cause, the North Tipperary Hospice with lots of entertainment from 10 a.m. onwards from working exhibits, Mountbellow Tractor build team in action, vintage tractors, cars, lorries, bikes, stationary engines, auto jumble, dog show, tractor balancing, pets corner and family entertainment.
AGM of Borrisoleigh Development Association

The AGM of Borrisoleigh Community Development Association takes place in the Marian Hall on this Thursday May 28th at 8:30 p.m.
Borris-Ileigh GAA Lotto
Thursday 21st May
Jackpot: €5,600 (Not won)
Numbers: 3, 4, 24, 26
€50 Lucky Dip winners:
John Stapleton, Pallas Upper
Angel c/o Stapleton's Bakery
Archie Connors c/o Gleesons
Eddie Loughnane c/o Stapleton's Bakery
Next draw: Thursday 28th May, in Finn's Bar
Jackpot: €5,800

Marian Hall Lotto

26/05/09
Numbers: 17, 19, 24, 27
No Winner
1 match 3 winner @ €150 each
Brendan & Kayleen O'Dwyer, Main Street
Next Weeks Lotto Jackpot
€3,300

Pic of the Past… down memory lane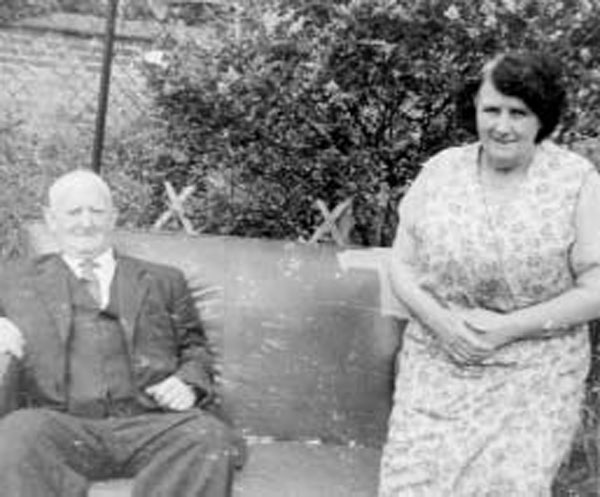 Tom and Nora Crowley, Chapel Street
This photograph was taken in Birmingham.
Your Website Needs You!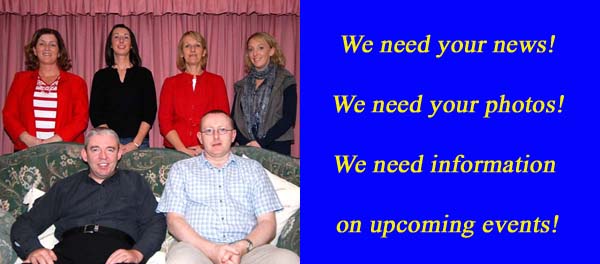 Website Committee: Noreen Fahy, Margaret Cowan, Marie McGrath, Aileen Óg Groome, Michael Barry and Enda Ryan

Many thanks to all those who contributed photographs and news items for this weeks current news. Well done!

Send your email to: info@borrisoleigh.ie

Also, if you like what you see and want to leave a comment, remember to use the Guestbook!