IT'S A MUSIC FEST!!

Get Your Dancing Shoes On!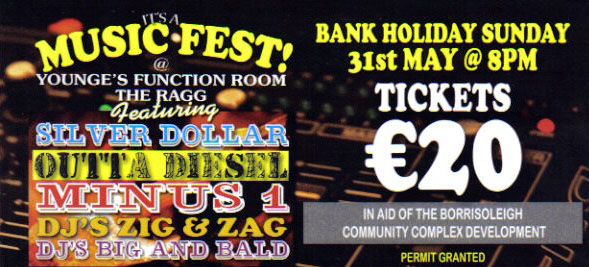 Bank Holiday Sunday
May 31st @ 8pm

Younge's Function Room, The Ragg

Tickets available from any of the Community Complex Development Committee
Will the Real Rose of Tralee Please Stand Up?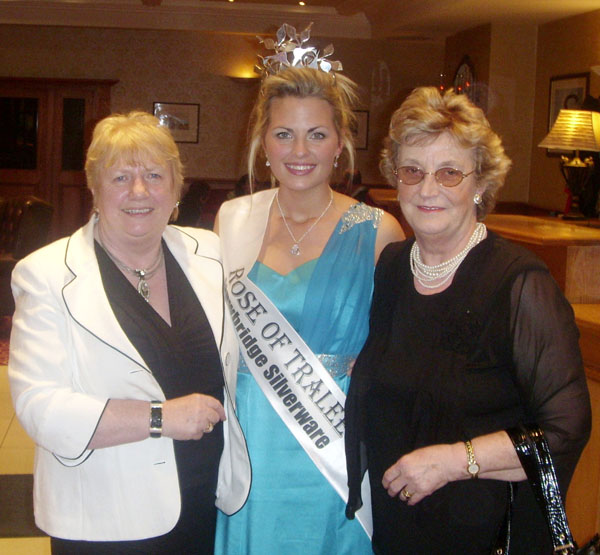 Frances Kennedy, Cullohill and Mai Ryan, Curraghgloss with the current Rose of Tralee, Aoife Kelly, Portroe. Nenagh

The Cullohill Rose!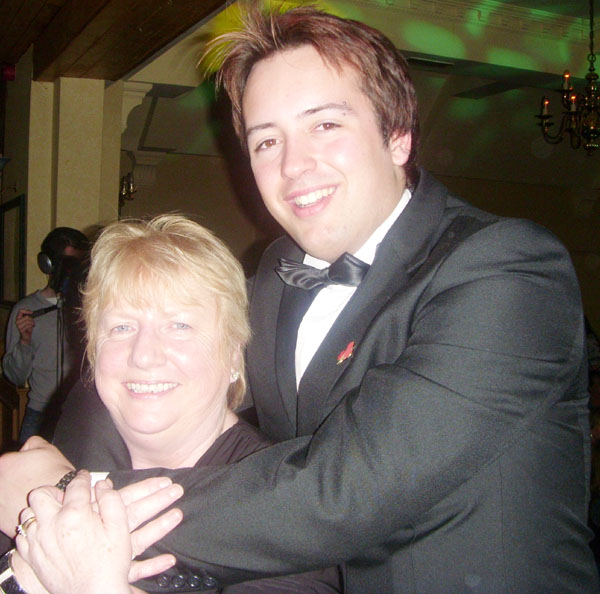 Shane Smyth of Currnaboola, Borrisoleigh with Frances Kennedy, Cullohill. Borrisoleigh. Shane is all set to take part in the competition for escort at The Tipperary Rose Contest which was held in the Anner Hotel on Thursday night last April 23rd
.
Borris-Ileigh Parish Centre Draw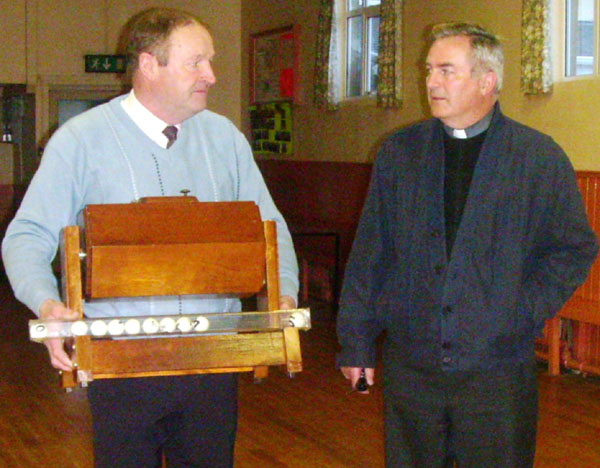 T.F Stapleton and Fr. Liam Everard preparing for the monthly draw
Going Once, Going Twice…….


T.F. Stapleton checking it once, checking it twice with Vera and Jack Hogan lending a helping hand

Draw Results 25/4/2009


The results of the Borris-Ileigh Parish Centre Draw which was held in the Marian Hall on Saturday 25 April were:
1st Prize: €600 Paddy & Angela Maher, Curnaboola
2nd Prize: €200 Ger & TJ Ryan, Coarsepark
3rd Prize: €100 Jerry Ryan, Glenanogue
4th Prize: Free entry for draw for car: Noreen O'Donnell
St. Joseph's College, Borrisoleigh

All Ireland Junior Camogie Champions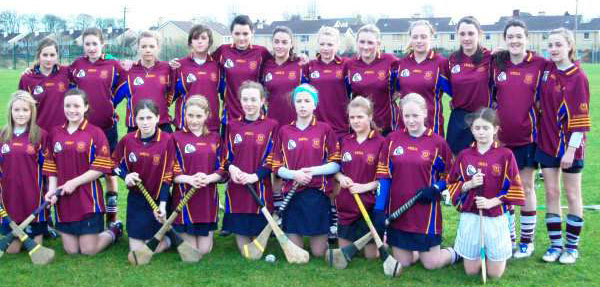 Presentation evening for All Ireland Champions
St. Joseph's College, Borrisoleigh, victorious Junior Camogie team are having their presentation evening on Wednesday 6th May 2009 in the School Hall at 7pm. All players, their parents, staff and supporters are welcome to attend and celebrate the school's first All Ireland success. The presentation will be made by Tipperary Senior Hurling Captain and past pupil, Willie Ryan.
Tipperary Mountain Treking Centre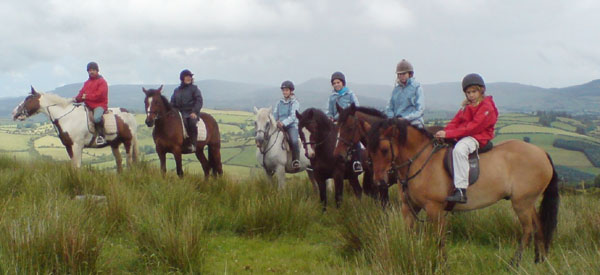 A French family enjoy the Black Hill trek at the Tipperary Mountain Treking Centre in Borrisoleigh

Tipperary Mountain Trekking Centre, is based at Rusheen, Borrisoleigh, Tipperary, Ireland. We provide pony trekking in Tipperary as well as Trail rides through the mountains and some of the finest off road horse riding you will experience in Ireland or anywhere in Europe. They specialise in Horse Riding Lessons, Horse Riding Treks, Horse Riding Holidays, Residential and Non-Residential Summer Camps for children who want to immerse themselves in the horsey lifestyle. They also cater for large groups like School Tours and Riding Clubs on a non-residential basis and also run introductory courses for adults on equine behavioural psychology and horse ownership. Accommodation is available for Residential Camps and also on a Bed & Breakfast basis in Rusheen House which is accredited by Bord Failte, Responsible Travel (the ethical tourism company) and Sawday's Special Places to Stay in Ireland. For more information please visit www.timotrec.com
Ringfort View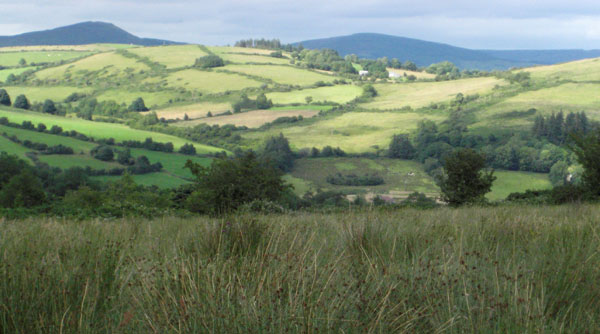 View of ringfort from the top of the Black Hill

Pony Treking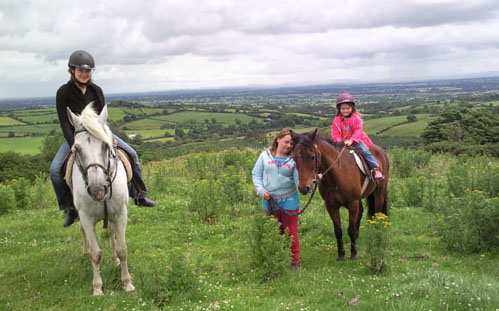 Laura from Borrisoleigh riding 'Sunggles', led by Donna from Drom, with their French friend Sophie riding 'Lucy'
Rusheen House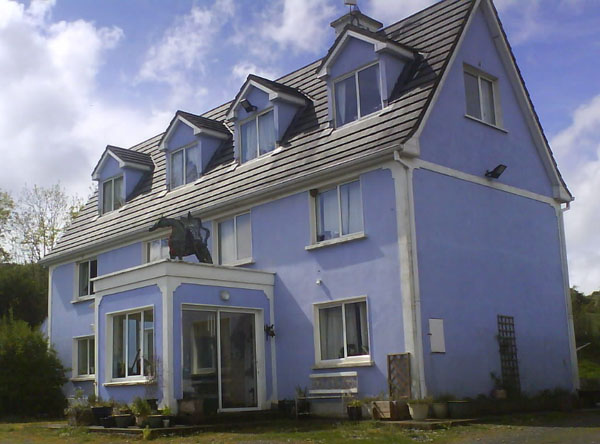 Rusheen House (the dragon is a wicker sculpture made by local artist Lyn Kirkham, from Killea).
Munster Rugby Supporters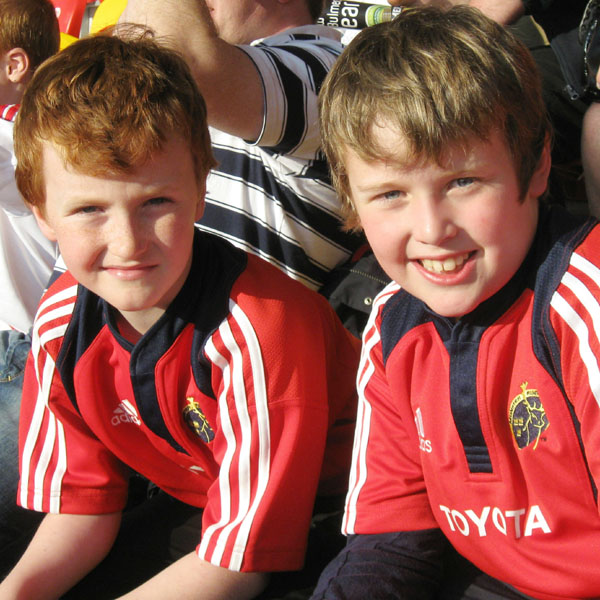 Partick O'Connell and Aaron Reid on their first visit to Thomond Park to see their heros Munster beat Connaught
"Live" and Healthy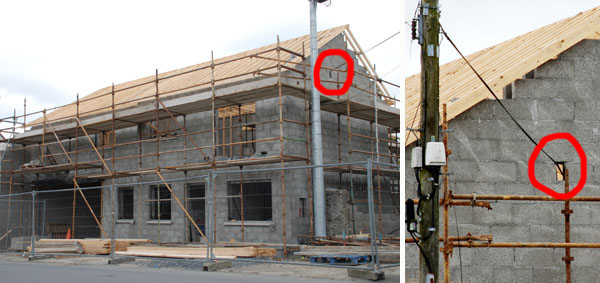 Our local Health Centre is progressing so swiftly that construction work had to continue around pre-existing electricity wires.
There was no time to wait for them to be re-located!!
Home on Holidays from Down Under!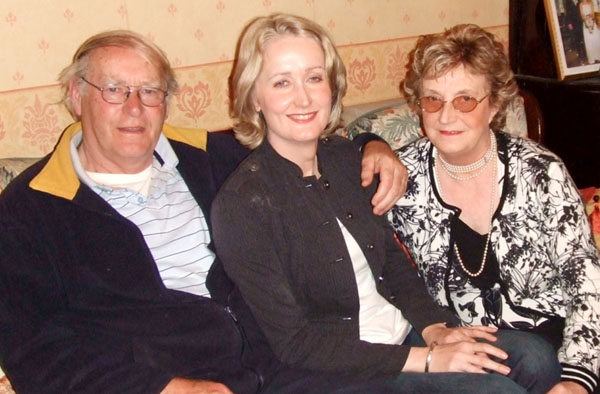 Dominica Ryan (Bradley) pictured with her Mam and Dad, Pat & Mai Ryan of Curraghgloss. Dominica has spent the past 15 years in Australia, and frequently returns on holiday to visit her family at the old homestead in Curraghgloss.

Golden Wedding Anniversary

50th Wedding Anniversary cake complete with zimmer frames
The Golden Wedding Anniversary of Derry Fox nee Lennon and Tony Fox was celebrated with family recently in Cyprus. Mary Lennon enjoyed the Greek Easter at St. Paul of the Pillar Church. The Mass was said entirely in Latin which was memorable as Mary remembered the whole of the Mass and the hymns also in Latin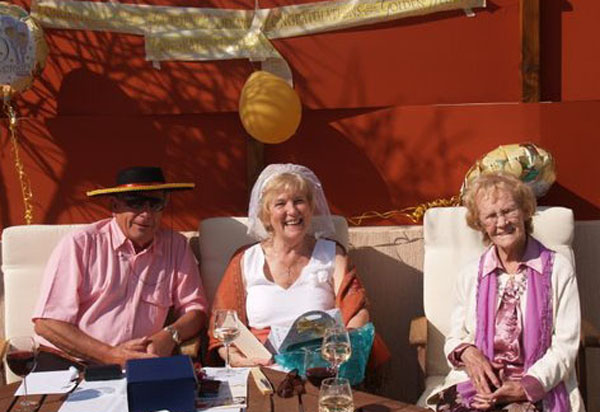 Tony, Derry and Mary enjoying their celebrations
"Cock a doodle do"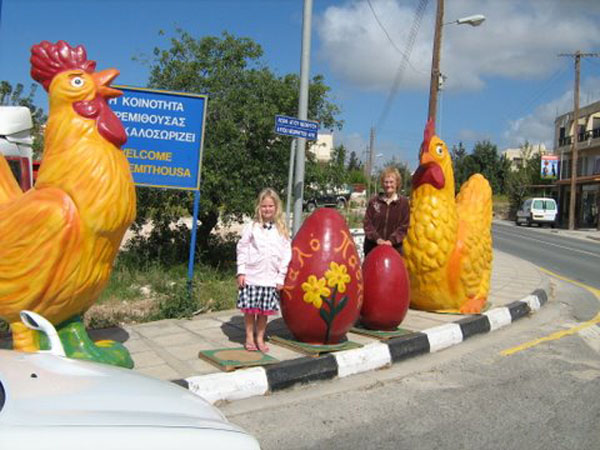 Meaghan with Mary Lennon out and about enjoying the sunshine


Borrisoleigh Ladies Soccer Club
Borrisoleigh -v- Blackcastle on Sunday last.


Borrisoleigh Ladies Soccer Club is up and running again after a break of 3 years. Their first match against Blackcastle was played on home ground on a glorious sunny day. The home team were defeated with a score line of 6-2. Eimear Stapleton and Grace Ryan scoring the goals.
The second match of the season was against The Commons. Borrisoleigh were the victors on this occasion, with 2 great goals from Emma Treacy and 1 from Kristina Kenneally. The final score was 3-1.
Training takes place on Wednesday evenings at 7.15pm in the scooer field. New players are very welcome. No experience is required.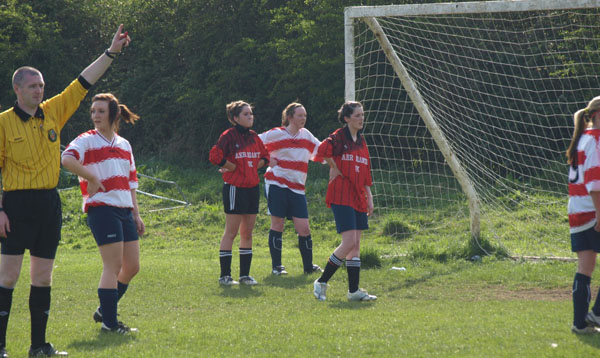 Hey Aoife the Ref is pointing the other way!!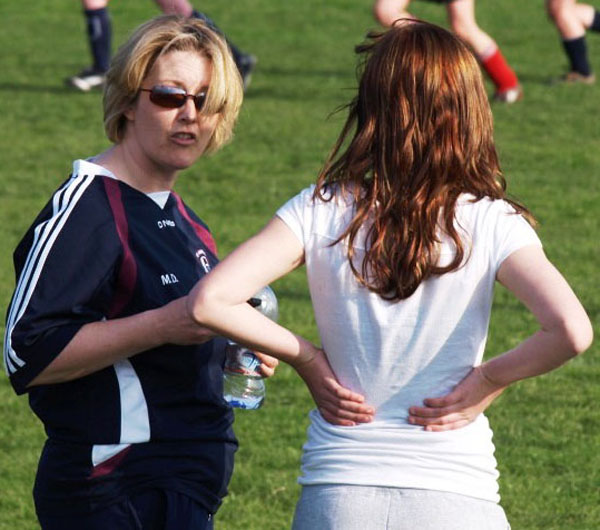 Michelle Duigan, Coach with Nicole Walsh turning her back on the situation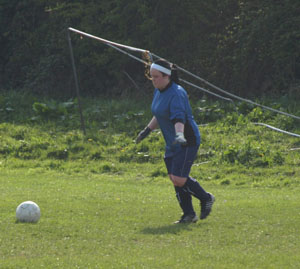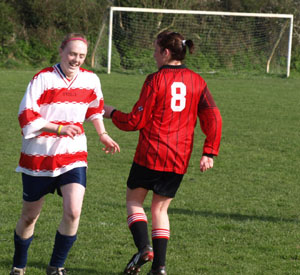 Have the goals collapsed around the goalie!! Are the girls dancing a reel or playing soccer?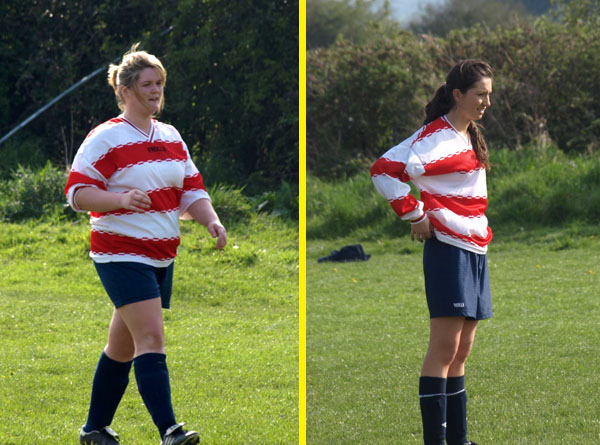 Shauna and Eimear hanging about waiting for the ball to come their direction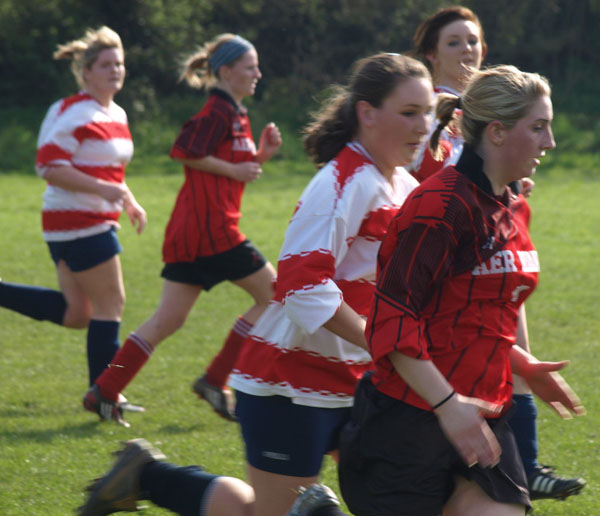 Girls trying to out run each other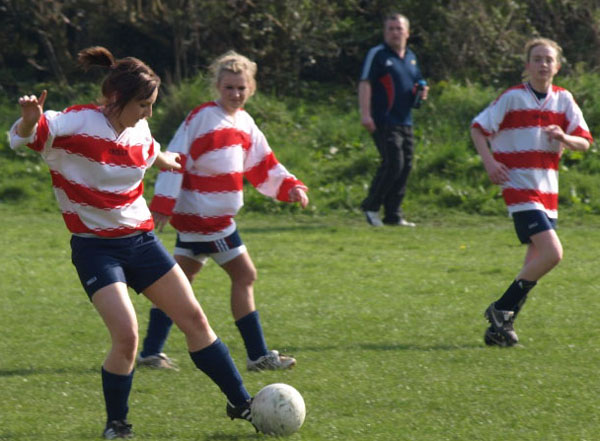 Aoife gets to the ball first while Noirín and Karen wait for the pass
North Tipperary Emerging Talent Soccer Squad

Dylan Reid, Thomas Ryan and Páidí Scanlon were part of the North Tipperary Emerging Talent Soccer squad. The boys travelled to Bolton during the Easter break. They enjoyed training sessions with Bolton and Preston North End. They attended the UEFA match between Manchester City and Hamburg. The trip finished off with a match against a Preston North End side with North Tipperary coming away victorious. Well done boys! We will be keeping an eye on you!!

GAA 125th Anniversary Celebrations at St. Patrick's Boys' N.S.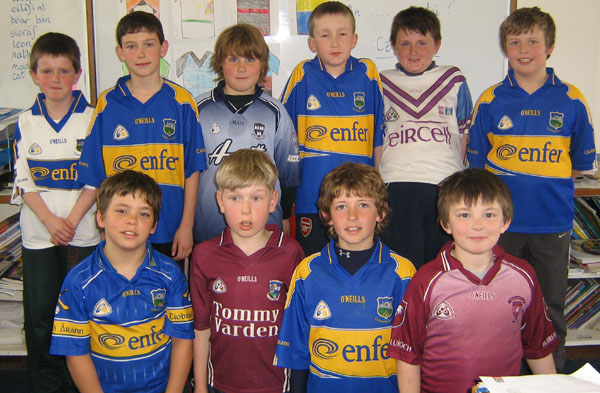 As part of the GAA 125th Anniversary celebrations Friday, April 24th 2009 was designated GAA Day in schools throughout the country. The pupils and teachers of St. Patrick's Boys' N.S. embraced the spirit of the day by organising a special GAA themed day within the school.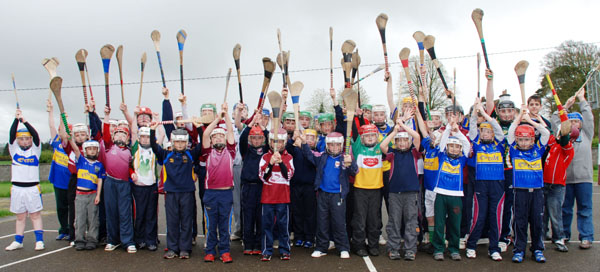 The chance to shed their uniform for the day led to an array of colourful jerseys throughout the school, their colours outdone only by the imaginative designs for futuristic jerseys in Third and Fourth Classes. Thirteen counties were represented on the day, with a large number of Borris-Ileigh and Tipperary jerseys to the fore. Particularly noteworthy was the 'Rath Muigh'(or Rathmoy!) jersey, designed and produced by past-pupil, Cathal Bourke!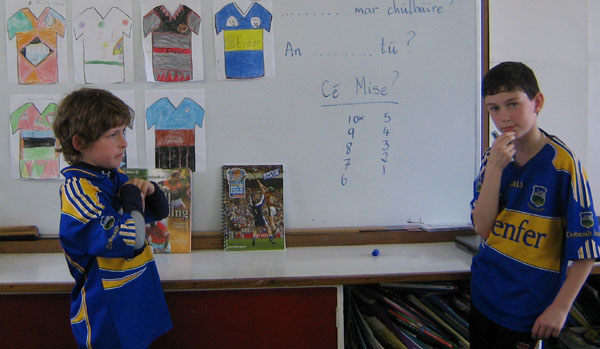 All subjects centred on a GAA theme and the boys were delighted to realise that they had actually done Geography, History Irish, English and Mathematics as
they discussed championship fixtures, studied graphs, completed crosswords and quizzes and played games such as 'Ce Mise?' involving their GAA heroes.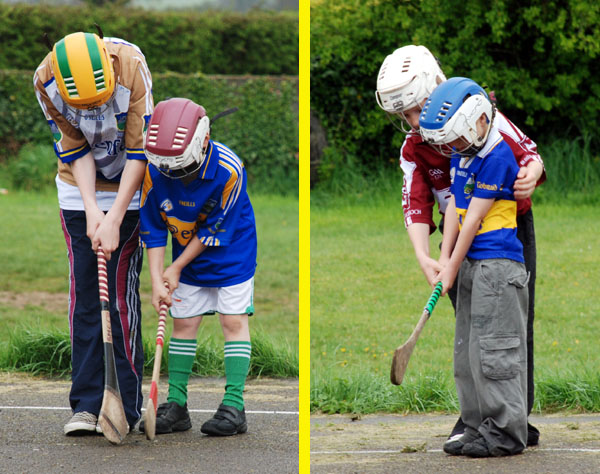 The younger boys really enjoyed the hurling skills sessions with their heroes from Fifth and Sixth. All are looking forward to
the hurling season ahead as we prepare for the first round of the Schools' Championship
Hurling Parish League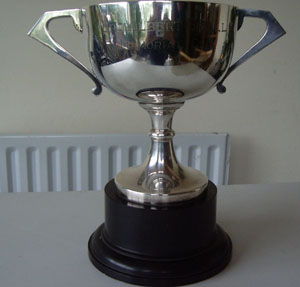 Hurling Parish League begins this Saturday morning @ 12 noon.

This year all teams will be called one of the provinces of Ireland. All players must bring their own jerseys, with colours appropriate to their own team.
Leinster (all players wear GREEN)
Captain: Thomas Ryan
Team: Kieran Maher, Philip McCormack, Declan O Connell, Dylan Reid, Sarah Ryan, Sean Ryan, Eoin Stapleton, Charlie Stapleton,
John Ryan (Gurteeny), Jamie Corcoran, Patrick O Connell
Ulster (all players wear YELLOW)
Captain: Matt Stapleton
Team: Danny Ryan, Shane Kenny, Micheal Carey, Stephen Doolan, Paudie Scanlon, Gerry Kelly, David McCormack,
Dan Brooks, Conor Keane, Nicky Cooney
Connacht (all players wear WHITE)
Captain: Michael Ryan
Team: Seamus Bourke, Sean Kenny, Dean Ryan, Tom Fitzgerald, Jane McCormack, Liam Devaney, Jack Prior, Paudie Younge, Aaron Reid, Dylan Molloy, Cian Murray
Munster (all players wear BLUE)
Captain: Declan Ryan
Team: Liam Ryan, Jack Hogan, James McCormack, Sam Devaney, Grace O Mahony, Brendan O Dwyer, Franz Leimlehner, Edward Addis,
Aaron Donnelly, John Ryan (Garrangrena)

Information Sought

Borrisoleigh holds a significant place in the history of my family here in Australia as some of us have been there including Mark and Maree O\'Grady, Patricia Parker, Peter Meredith ( I am Peter's brother, son of Kathleen a twin to Terese. Some of your residents have visited us here. I am the grandson of Ned and Kitty O'Shea (nee Ryan). Kitty was born on 9/1/1900. I would like to be able to gain access to any information regarding their lives and their departure from Ireland in the early quarter of the 20th Century. If any information could be provided, that would be greatly appreciated. Thanking you, Tony Meredith (tony.meredith@hotmail.com).


Marian Hall Lotto

28/04/09
Numbers: 6, 8, 9, 13
No Winner
3 match 3 winners @ €50 each
Ann Young, Mountgeorge
Joan Hayes, Rathdowney
Kay Ryan, Drombane
Next Weeks Lotto Jackpot
€2,700
Pic of the Past………down memory lane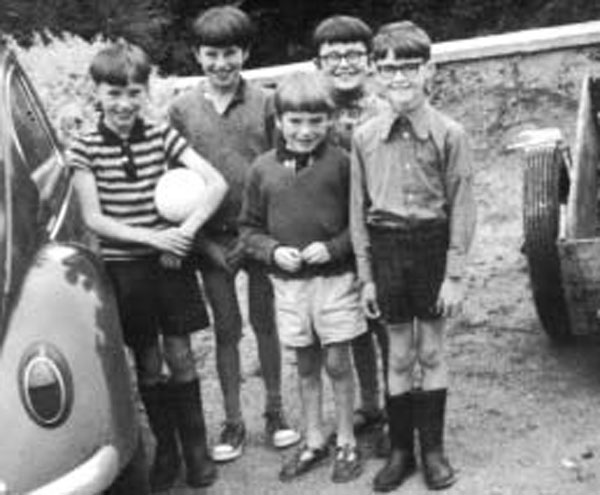 Dan Doolin, John, Gerry and PJ Quinlan with Francis Doolin, all from Ballyduff

Your Website Needs You!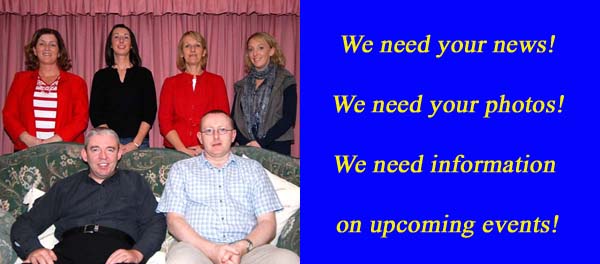 Website Committee: Noreen Fahy, Margaret Cowan, Marie McGrath, Aileen Óg Groome, Michael Barry and Enda Ryan

Many thanks to all those who contributed photographs and news items for this weeks current news. Well done!
Send your email to: info@borrisoleigh.ie
Also, if you like what you see and want to leave a comment, remember to use the Guestbook!