Easter Ceremonies in Borrisoleigh & Ileigh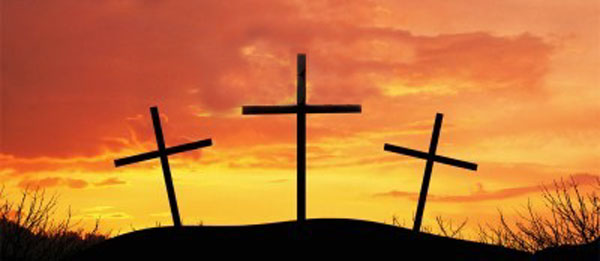 Father, into your hands I commend my spirit.

Sacred Heart Church, Borrisoleigh

Holy Thursday: Mass of The Lord's Supper – 8p.m.
Holy Thursday: "Watch with me" Holy Hour – 10p.m. to 11p.m.
Good Friday: Celebration of the Lord's Passion – 3p.m.
Good Friday: Stations of the Cross – 8p.m.
Holy Saturday: Easter Vigil Mass – 9p.m.
Ileigh Church

Good Friday: Stations of the Cross 7p.m.

Borris Boys win the Mini 7s


We are the champions!
Congratulations and well done lads!

On Thursday April 2nd we went to Dúrlas Óg GAA grounds in Thurles to contest the mini 7's county final. The teams participating were: St Patrick's Boy's NS Borrisoleigh, New Inn N.S, Grangemockler N.S, Gaelscoil Bhríde Thurles N.S and Loughmore N.S. First we played Gaelscoil Bhride and after a closely contested battle we drew the game with a score line of 1-1 to 0-4. Next we played New Inn. It was another tough encounter that we won with the score line of 2-6 to 0-2. Our third match was supposed to be against Grangemockler but both teams agreed not to play the match. The opponents for our fourth match were Loughmore N.S. It was an important match for us as we had to win to proceed to the final against Gaelscoil Bhríde. We won the Loughmore match on a score line of 1-4 to 0-3 points. Onto the final!!! It was a close match to the very end but we came out on top with a score line of 2-5 to 1-5. We were so excited about winning. It was the first time ever our school has won a county final. There were big celebrations in Borrisoleigh afterwards.

Match report by Eoin Stapleton, Declan O'Connell, James McCormack and Jack Hogan

The team was: Phillip McCormack, James McCormack, Jack Hogan, Sam Devaney, Kieran Maher, Sean Kenny, Micheal Carey, Declan O Connell, Eoin Stapleton and Tom Fitzgerald

A Proud Moment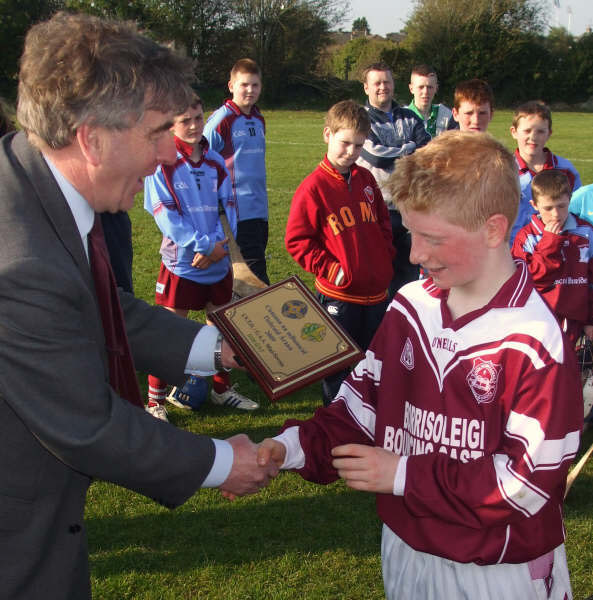 Jimmy Duggan, Gael Scoil Thurles presents the winners trophy to captain Seán Kenny
The Plaque was presented to Seán Kenny, proud captain of the Borris team, by Mr. Jimmy Duggan, principal of Gaelscoil Bhríde, Thurles. Mr. Duggan spoke of the great teams of the past from Borrisoleigh and predicted seeing the panel on a great team of the future. In his speech Seán paid tribute to all of the teams that played with great skill and determination. Many thanks to all the supporters who travelled on the day. A very special thank you to Michael Ryan, team manager, for the great work he does with the boys. The celebrations continued on the next day in school when the whole school joined with the boys in rejoicing about their win. The younger classes were afforded the opportunity to meet the County Champions and aspire to be like them some day.

A Piece of the Action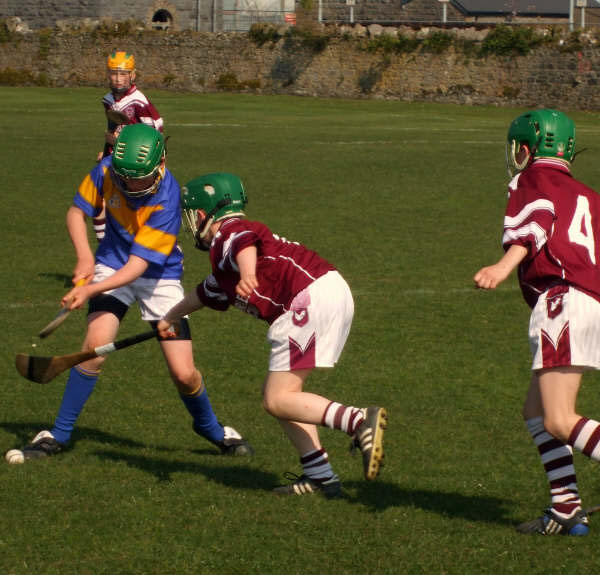 Look I can just about reach it!!

We won!!!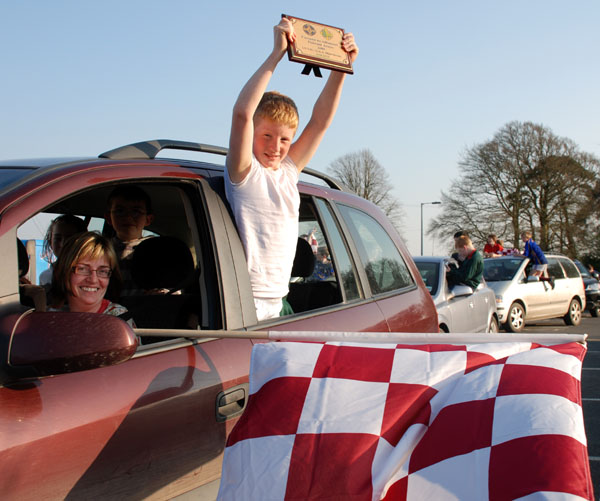 Seán Kenny (captain) reaches for the skies with his team's latest acquisition much to the amusement of his teacher Ms. Shanahan!

Staff & Superstars!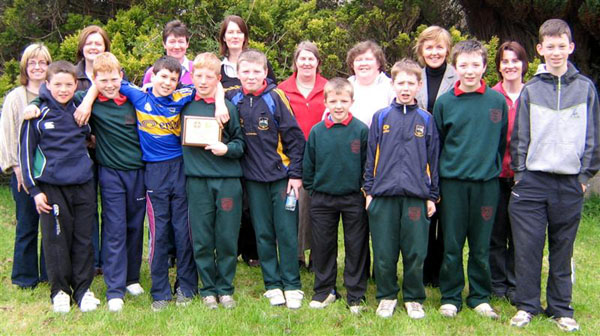 Behind every great bunch of men there is an even greater bunch of women!

We are the champions of the world!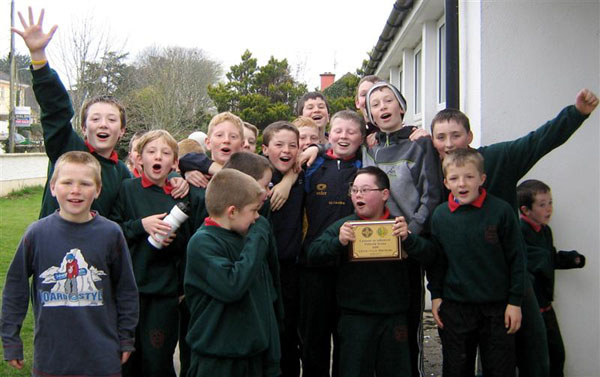 Not much work done in school that day!

The handshake of congratulations!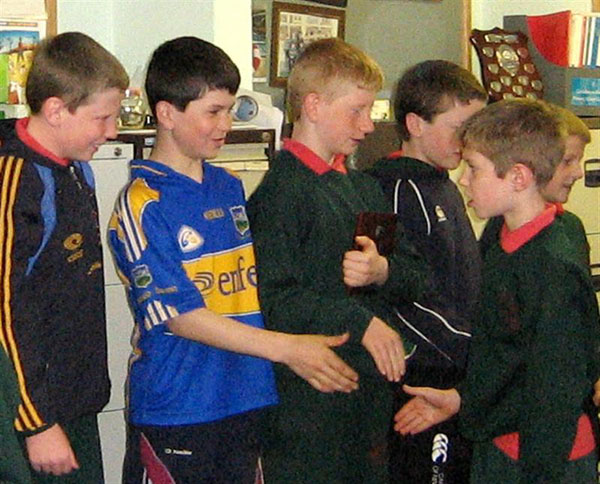 Seamus Ryan offers the handshake of congratulations to Kieran Maher after the great win!

Flying the flag for Borris!

Who said school can't be fun!
To view the complete set of photos of the County Final of the Mini 7s go to our photo gallery or click on the following link: Click here

Borris-Ileigh Juvenile Club Table Quiz
A table quiz will be held in the Marian Hall on Friday night (Good Friday) at 9pm. A table of four will cost €20. Raffle and spot prizes on the night. All proceeds in aid of the Juvenile Club. Your support would be greatfully appreciated.
Fun Run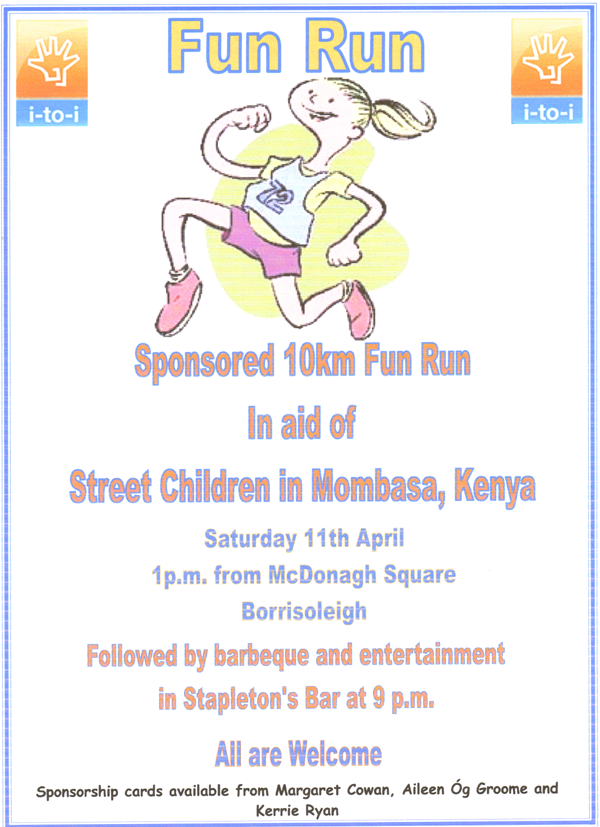 St. Cualans visit to the Cistercian Monastery Roscrea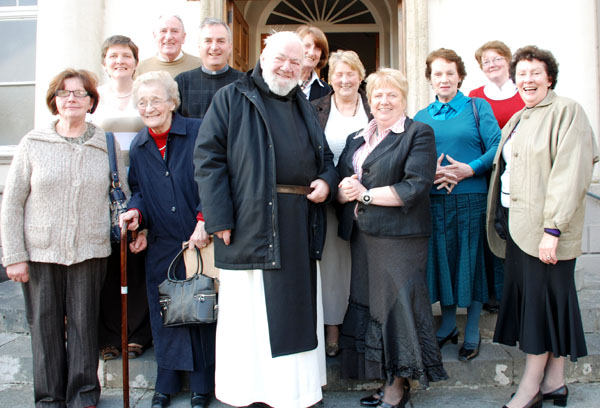 Fr. Nivard Kinsella with members of St. Cualan's Senior Citizen's Club on their recent visit to the Abbey in Roscrea
It was a beautiful spring afternoon, not a cloud in the sky, when St. Cualan's Senior Citizens set out on their annual trip to St. Joseph's Monastery, Roscrea. This is an annual event where they have the opportunity to receive the sacrament of Penance for Easter. Everyone was in good form and as they entered through the monastery's gates they immediately observed the beautiful and well planted manicured lawns.
Don't pick the flowers!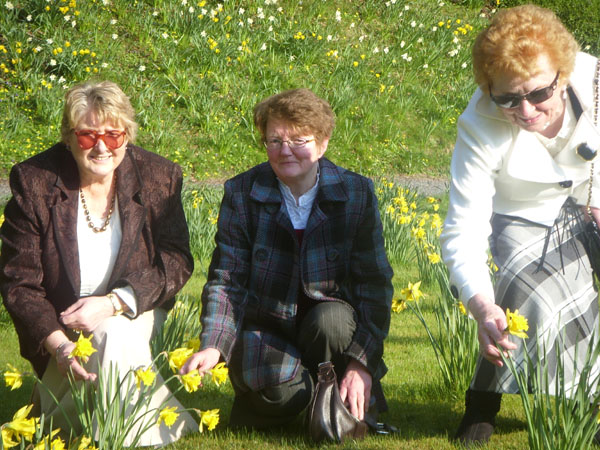 Enjoying the sunshine and the daffodils are Margaret Kelly, Kathleen Ryan and Mary Ryan (caught!)
They all received the sacrament of Penance and to bide time until tea, some went on walks and others went to the shop to purchase religous objects for their grandchildren or otherwise. At 4 p.m they were served with a very tasty tea which would "warm the cockles of one's heart." They were joined by Fr. N.J. Irwin our chairman, Fr.Liam Everard PP and Fr. Michael Barry who as usual captured the events of the day with his photographs.
Three Lovely Ladies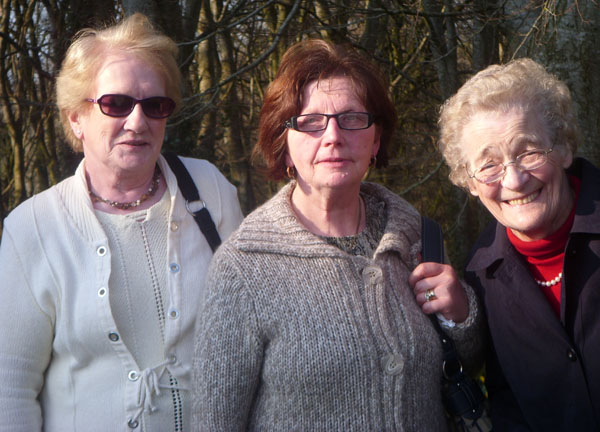 Bridie Shanahan, Patricia Young and Nora Ryan enjoing the April sunshine

You don't say…!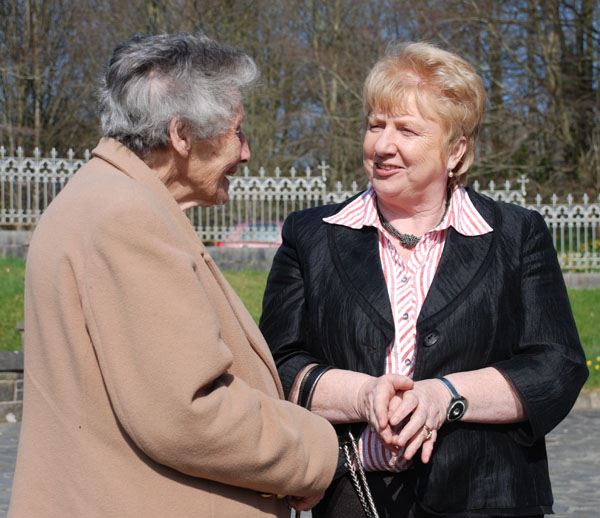 Mai Maher engages in a little light banter with Frances Kennedy at the Abbey
Amongst the daffodils!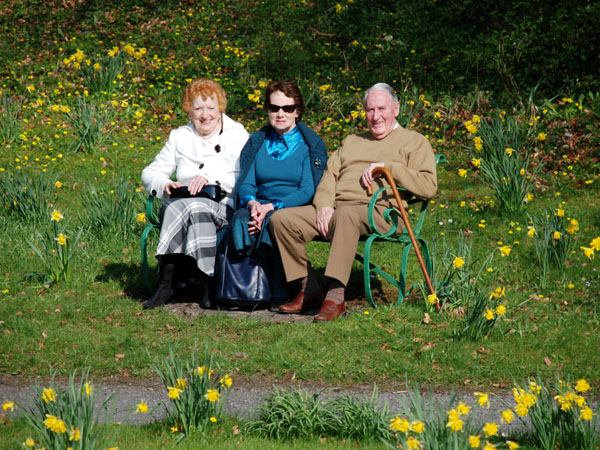 John and Noreen McGrath with Mary Ryan among the daffodils!
Our day at the Abbey

Mary Ryan with Chris and Jack Costelloe
The good Fathers and Brothers did not spare their hospitality and friendship on them. It was a lovely day and everyone enjoyed the few hours away from the hustle and bustle and the stress of everyday life.

Confessions this way lads!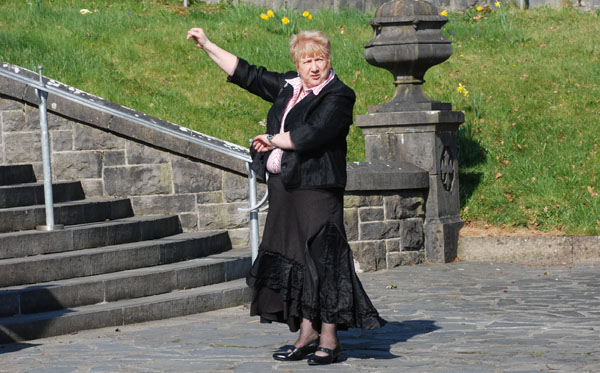 Frances Kennedy leads the way to confessions at the Abbey!

May She Rest in Peace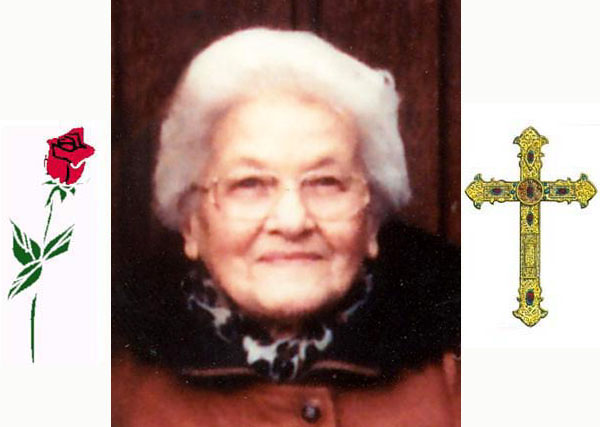 Rose Leahy R.I.P.

The death has occurred of Rose Leahy of 10 Knockanevin on Saturday 4 April at Nenagh General Hospital. Her Requiem Mass took place at the Sacred Heart Church, Borrisoleigh on Tuesday last 7 April followed by interment in Glenkeen Cemetery. Our deepest sympathies to her family and friends.


Trip to Glasgow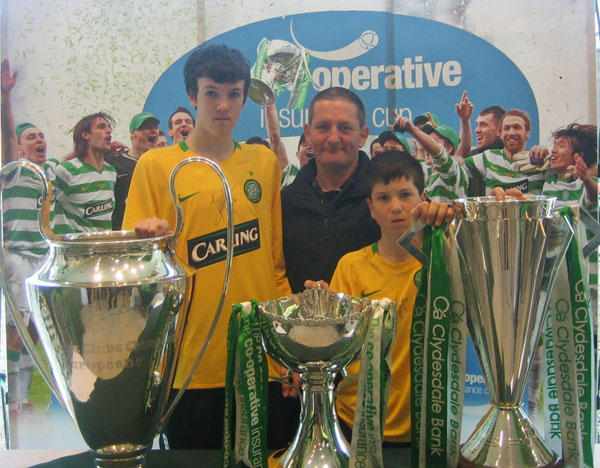 Thomas Fahy, Michael Hogan and Kieran Maher on a visit to Glasgow for the Celtic -v- Hamilton match on Saturday last 4th April 2009.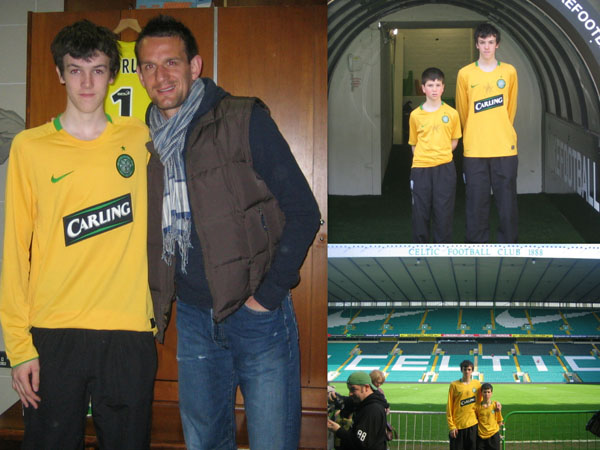 Thomas pictured with Jan Vennegoor of Hesselink of Celtic with Thomas and Kieran pictured in Celtic Park

Trip to the Excel Centre, Tipperary Town on 29th March 2009
Tipperary Youth Service

Music Men


Group instrumental – Sean Kenny, Aaron Reid, Philip McCormack & Jack Hogan
Borrisoleigh Youth Club took part in a Variety Show in the Excel Centre in Tipperary town on March 29th last. Clubs from all over the county took part. A lot of hard work and preparation went into all of the performances. Well done to all who took part. Borrisoleigh were successful in the Solo Song and the Comedy Act.
Marian Hall Lotto


07/04/09

Numbers: 02, 09, 16, 18

No Winner

3 match 3 winner @ €50

Nonie Crowe, Burgess
Nonie Coffey, Ballycommon
Mary & Noreen, c/o Bingo

Next Weeks Lotto Jackpot

€2,250


Pic of the Past ………down memory lane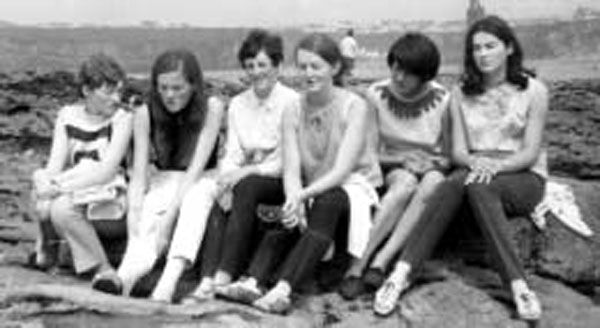 In Ballybunion
Margaret and Mary Ryan, Coolataggle, Mary Dempsey, Anna Ryan, The Glebe, Mary Delaney and Angela Ryan, Coolataggle
Your Website Needs You!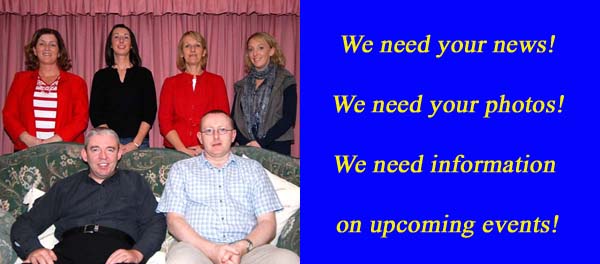 Website Committee: Noreen Fahy, Margaret Cowan, Marie McGrath, Aileen Óg Groome, Michael Barry and Enda Ryan

Many thanks to all those who contributed photographs and news items for this weeks current news.
Well done!

Send your email to:
info@borrisoleigh.ie
Also, if you like what you see and want to leave a comment, remember to use the Guestbook!