All-Ireland Glory for the Girls of St. Joseph's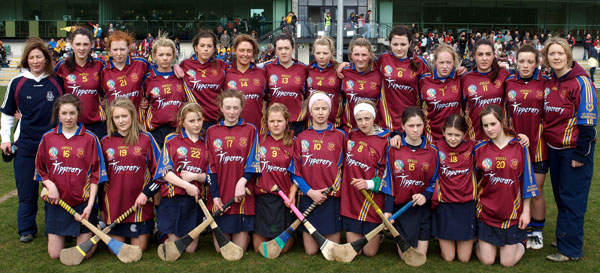 All-Ireland Junior B Camogie Champions!


St. Joseph's Team: Edel Ryan (Silvermines), Katie O'Meara (Templemore), Geraldine Kelly (Toomevara), Moira Ryan (Captain) (Toomevara), Claire Ryan (Toomevara), Sheila Ryan (Toomevara), Louise McLoughlin (Silvermines), Teresa Ryan (Toomevara), Niamh O'Donoghue ( Burgess/ Duharra), Nicole Walsh (Toomevara), Michelle Ryan (Toomevara), Aoife Ryan (Toomevara), Moira Ryan (Toomevara), Maria Ryan (Silvermines), Julieanne Bourke ( Toomevara). Player of the match: Michelle Ryan (St. Joseph's).

St. Joseph's College Borrisoleigh 5-7
St. Patrick's High School Keady 2-2
It's now written into the sporting history books of St. Joseph's College that their first junior camogie All-Ireland final was one of the best sporting achievements the school has recorded. This 14 point drubbing of St. Patrick's in this final and the manner in which the title of All-Ireland champions was achieved, is a clear signal from Borrisoleigh that they are serious contenders for the Senior competition in the future. Skill and strength was the winning combination in a gale force cold wind that blew diagonally, favouring Borrisoleigh slightly in the first half and on a perfectly manicured Ashbourne pitch on Saturday last.
This game was over as a contest after the first thirty minutes as St. Joseph's had far too much firepower for the Armagh girls who faced a Borrisoleigh side who hurled with a greater fluency, pace and craft over the hour. The girls from St. Joseph's were primed to perfection and their ability to play as a team combined with their overall movement and ability to take scores was superior while the girls from Armagh found themselves totally at sea for three quarters of the game.
St. Joseph's played the better game and were sharper overall with a lot of work from midfielders Teresa Ryan and Niamh O'Donoghue, and this clearly showed in their early scoring spree when they had 3.1 on the scoreboard within eight minutes. Nicole Walsh's '45' went straight to the Armagh net while Captain Moira Ryan sent a ball from the corner back up front where her name sake the second Moira Ryan drove it over. Laura McGeown's puck out fell short and Aoife Ryan took advantage for a second goal which seemed to kill off the Armagh spirit somewhat. Armagh were trying for goal on one of the few occasions they managed to work the ball up field but the St. Joseph's backs cleared and Julieanne Bourke struck for Borrisoleigh's third goal. Katie O'Meara, Niamh O'Donoghue and Nicole Walsh played a big part in the build up. St. Joseph's were unlucky to hit several wide of target where the wind carried the ball from it's intended target, but they finished the half when Nicole Walsh took a pass from Sheila Ryan and split the uprights to leave St. Joseph's on 3.2 to no score on the break.
St. Patrick's reputation for staging a comeback failed to materialise due to the strong attack St. Joseph's launched where within the first minute on resumption they came close to goal but Aoife Ryan settled for a point and shortly after she widened the gap further. Therese Ryan's effort at a point was blocked by Kirsty Sheridan but Maria Ryan gathered and rattled the Armagh net.
Keady were introducing fresh legs into the play which was beginning to show as they were gaining more possession but St. Joseph's won a free which Nicole Walsh sent over. St. Patrick's had no recovery plan in place and when Michelle Ryan claimed St. Joseph's fifth goal after a pile up around the Keady goal mouth, the mountain was too high for the Armagh girls to climb. Nicole's Walsh's accuracy from placed ball left 21 points between the sides with 10 minutes remaining when Armagh staged their comeback getting two quick points before sub Niamh Murphy got hold of a Michelle Morgan ball to give Edel Ryan no chance to deny. Ciara McGuigan's goal gave hope to St. Patrick's but it was too little too late and St. Joseph's were crowned All-Ireland Junior B champions to great scenes of pitch invasion from the large crowd of supporters and to bring the cup back to Tipperary where it had remained with St. Mary's Nenagh for the last 12 months.

Manager's Reaction
A very happy manager was full of praise for the girls in the way they conducted play. St. Joseph's manager Therese Cahill had equally as much praise for the clubs acknowledging their work with the girls. Highly complimentary of Noelle Kennedy's hard work with the Inter County U/16 team the manager said ' Noelle is doing great work and now Tim Maher with the U/14's and we have girls from the Mines, Burgess and Nenagh and their work and the amount of work the clubs do is highly important to us'. Looking forward to moving up to senior, the manager concluded 'we'll take whatever is thrown at us when the time comes'. Report by Rose Mannion
Winning Captain shows off the Cup!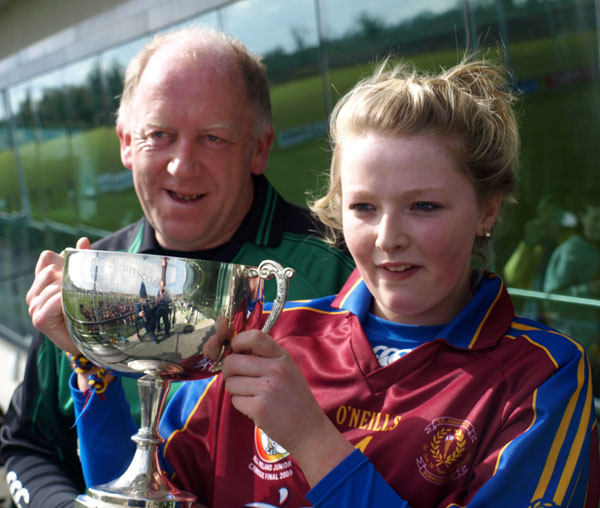 Moira Ryan (Captain) proudly holds the Cup

Good man Séan!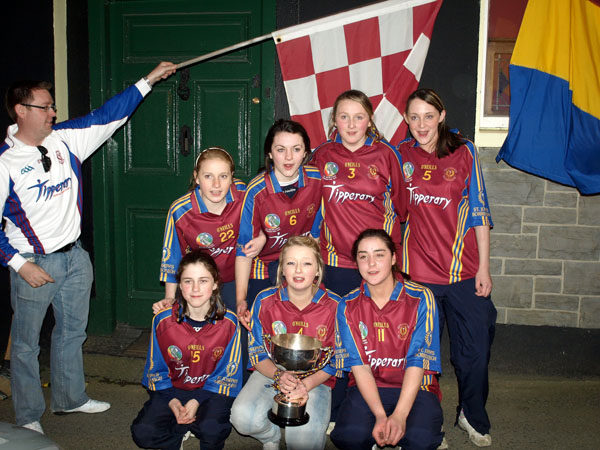 Members of the victorious team pose to the world's paparazzi after the great win!

Jubilant in victory!



Smiles and hugs all round after winning the top prize!

Score during the first half



The writing was on the wall, or the scoreboard, even during the first half! The final score was 5-7 to 2-2.

Did you win that daddy?!!!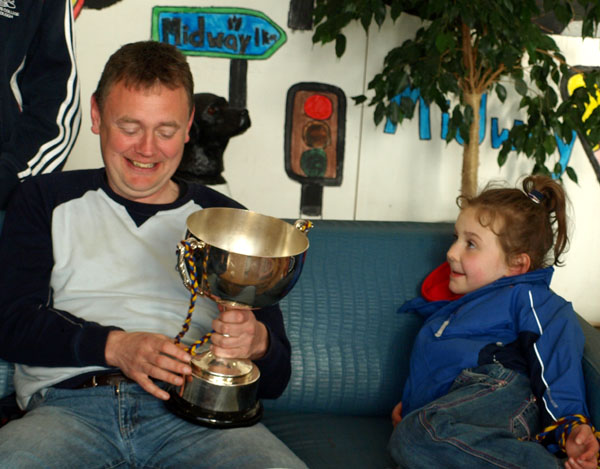 Kevin McCarthy wishes it were his much to the amusement of his daughter!

Travelling Ryanair!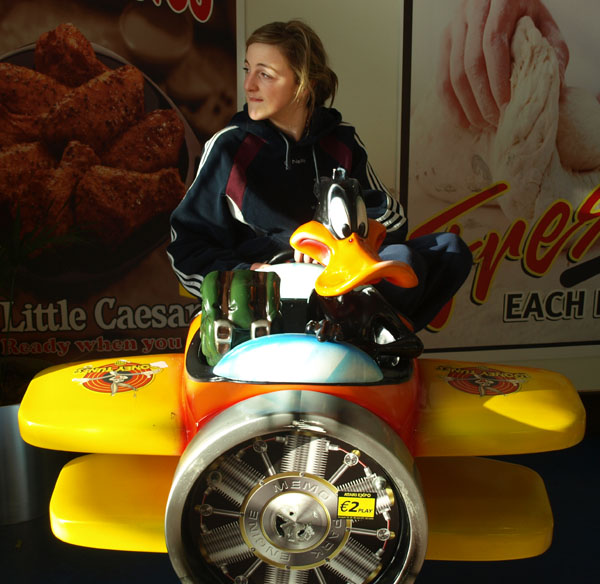 Teresa Ryan takes a short flight with Donald Duck to celebrate the great win! The flight cost €2 before taxes! The full cost is still being calculated!!!


To view the complete set of photos of the All-Ireland Win go to our photo gallery or click on the following link: Here

Borrisoleigh Soccer Club

Borrisoleigh Soccer Club have set us a senior ladies team. Training in the town Park soccer field on Wednesday at 7:15p.m.. A great way to keep fit over the summer months. No experience required. All are welcome.

Confirmation Day in Borris!

St. Patrick's School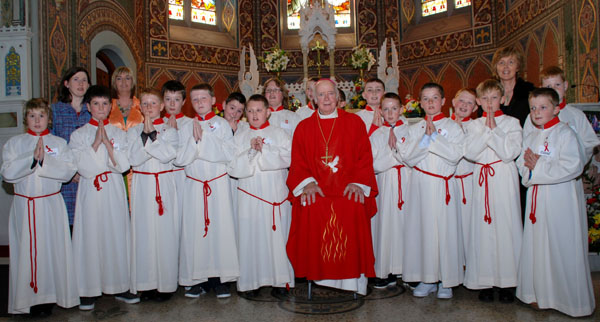 Confirmation pupils from St. Patrick's Boys' National School with Archbishop Clifford


Congratulations to the group of thirty-eight young people from the parish who received the Sacrament of Confirmation in the Sacred Heart Church, Borrisoleigh on Friday 28th March. After many months of preparation the day finally dawned, bright and sunny with a strong breeze. A brief pause in the road works, currently being carried out in the village, ensured that everyone made it to the church on time. Archbishop Dermot Clifford celebrated the ceremony in the company of the local priests Frs Liam Everard PP, Michael Barry CC and Nicholas Irwin CC. After the ceremony the Archbishop kindly posed for as many photos as people wished to take. A great day was had by all and the people of The Parish are proud of the young people from the three local schools, Scoil Bhríde, Fantane, St. Patrick's Boys and St. Tereasa's Girls, Borrisoleigh who received their Confirmation.

St. Theresa's School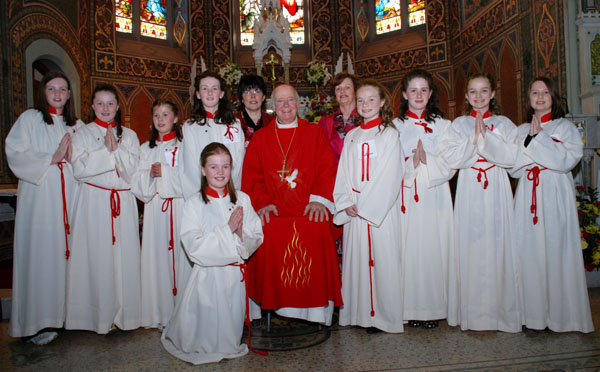 Confirmation pupils from St. Teresa's Girls' National School with Archbishop Clifford

Scoil Bhríde


Confirmation pupils from Scoil Bhríde, Fantane with Archbishop Clifford

On Altar Duty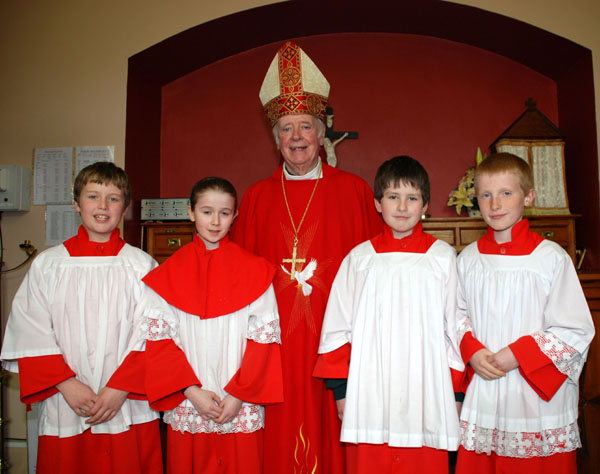 Altar servers Aaron Reid, Martina Slattery, Aaron Donnelly and Sean Ryan with the Archbishop

Friends meet up for a chat!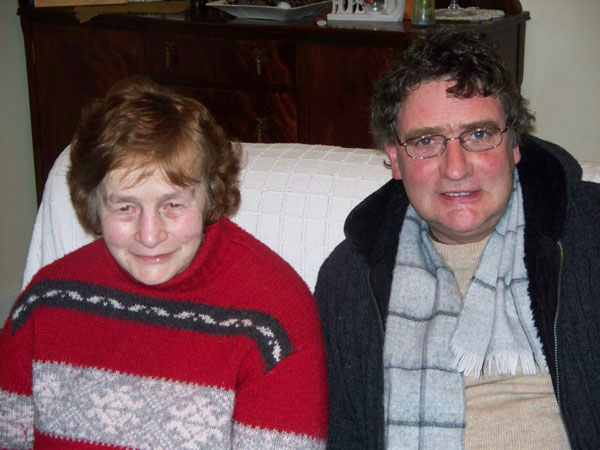 Fr. Rory Kelly chatting to his cousin Kathleen Ryan on a recent visit with his family in Fantane


On yer bike!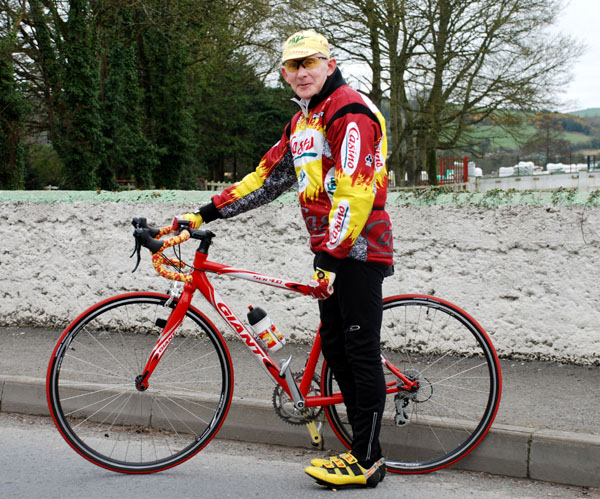 Tom Ryan takes to the road again on his 'two-wheeler' after a period of hibernation off the roads! He certainly looks the part – should've been in the Fashion Show Tom!

Camogie Club Fashion Show

You show 'em Séan!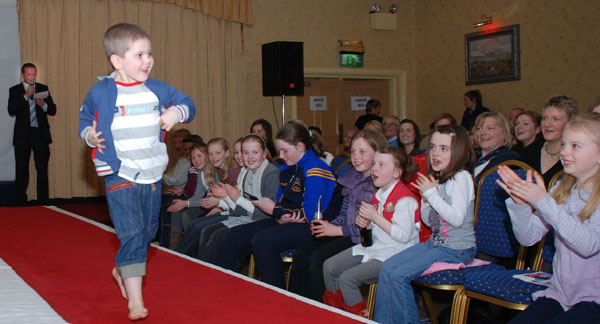 Séan Max struts his stuff on the catwalk to the adulation of the crowd!
Borrisoleigh Camogie Club held a fashion show in the Templemore Arms Hotel on Friday 20th March as a fund raising event for the club. The night began with a cheese and wine reception. Men, Ladies and children from the parish took to the catwalk to model clothes from local shops. The children modelled clothes from Fashion Fare, Templemore. The men modelled clothes from Stakelum's Menswear, Thurles and Mullaney's Templemore. The ladies' fashions came from Rumplestilskin, Chic Lady and Anne-Marie's all from Nenagh, as well as from Gúna Galore, Roscrea. The Bridal Wear came from De Staffords of Nenagh. Sports wear from Lár na Páirc Thurles along with our own local Borrisoleigh merchandise were also modelled.
We would like to thank everybody who sponsored an advertisement in our booklet. We would also like to thank Gleeson Group for providing the wine, Eddie Moran of Pollys pub, Templemore for sponsoring the cheese. Of course our night would not have been a success without Micheál Tierney, our M.C. who did a fantastic job and made our models feel at ease. Thanks also to our models on the night … next they will be on the front page of 'Vogue'.
The total takings have not been finalised as yet but when we have the final total, it will be announced. Thanks once again to all involved in making this night a wonderful success.
Stuck in the middle of you!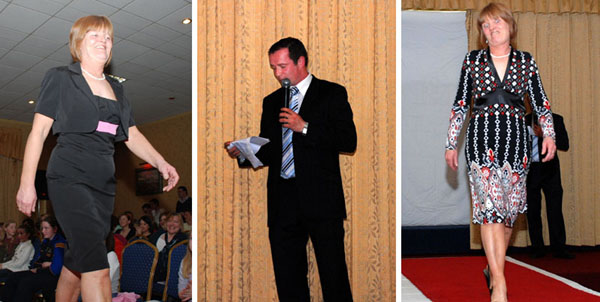 Micheál Tierney MC for the night and Carmel O'Brien as she steps out in style

Full of Grace!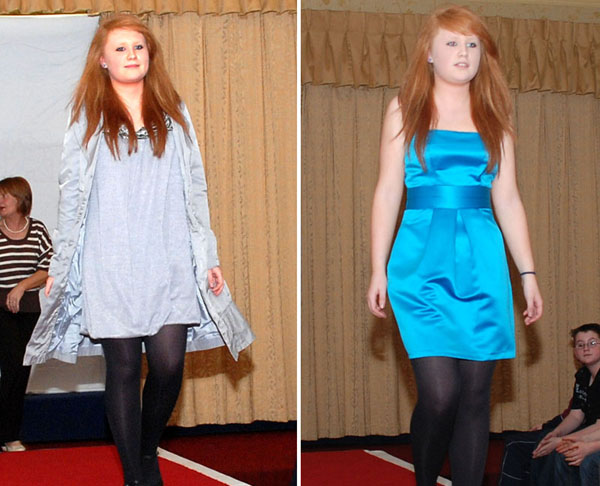 Grace Prior setting a very high standard of catwalking!

Philly does it Philly's way!



Philly Bourke will not be bested! Nice one Philly!!!

Eimear – born for it!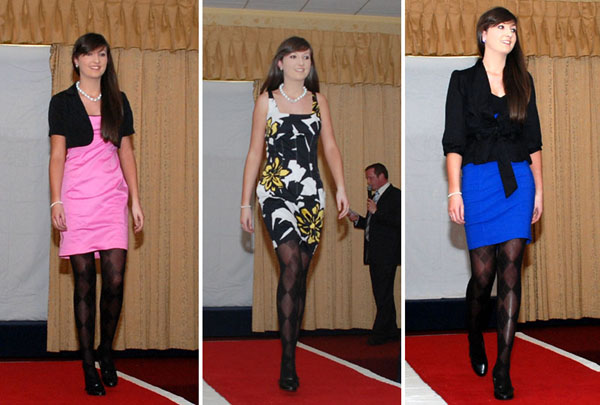 Eimear Stapleton in an ensemble of outfits that fit her down to the ground!

Cutting a dash!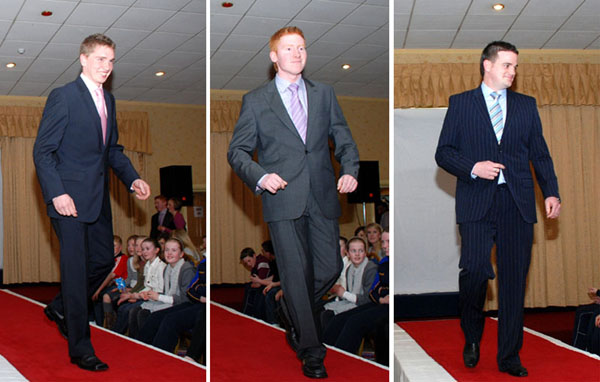 Brendan Maher, Gerry Treacy and Diarmuid Kinnane demonstrate a touch of class!

At home on that red carpet!


Clíodhna Bourke, Niamh McGrath and Becky Prior throwing shapes!

Here comes the brides!!!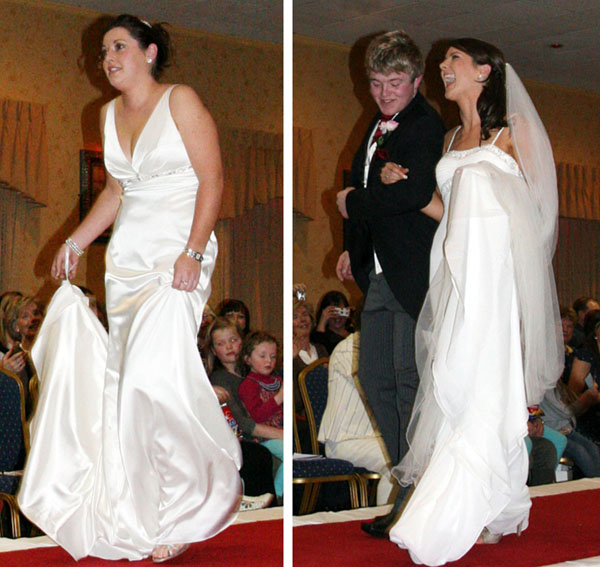 Joanne Cowan watching her step as Benny Harkin links Michelle Ryan down the aisle


To view the complete set of photos of the Fashion Show go to our photo gallery or click on the following link: Here

Music Fest!!!


IT'S A MUSIC FEST!!

Silver Dollar
Outta Diesel
Minus 1
DJs Zig and Zag
DJs BIG & BALD

Bank Holiday Sunday
May 31st
@ 8pm

Younge's Function Room, The Ragg

Tickets: €20
in aid of the Borrisoleigh Community Complex
Fishy Business!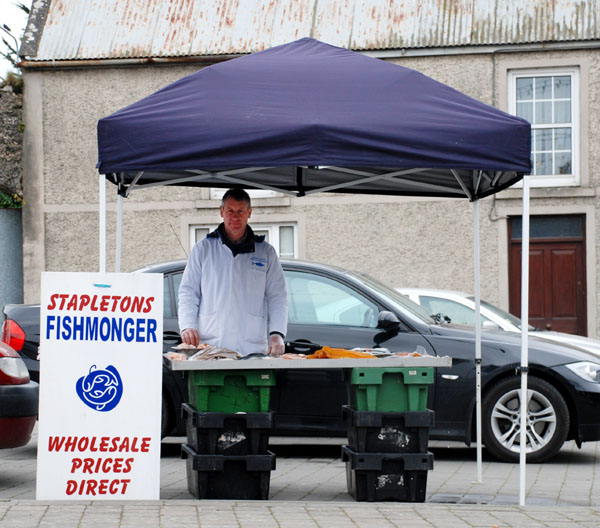 Vincent O'Sullivan of Stapleton's Fishmonger's in Thurles plying his trade in McDonagh Square on Wednesday April 1st

March Parish Centre Draw

Winner alright!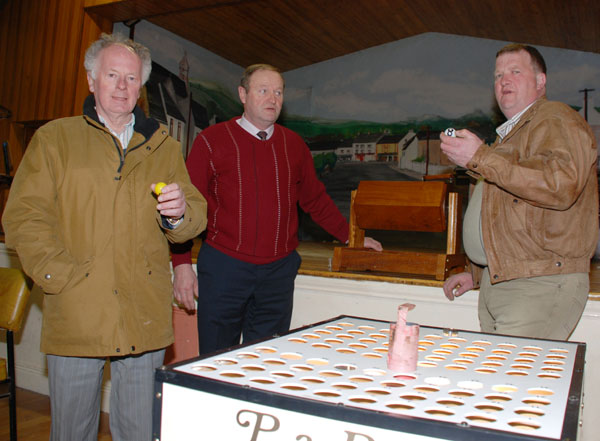 Thomas Russell, TF Stapleton and Pat Kearney doing the honours for this month's draw
The March Parish Centre Draw took place in the Marian Hall on Saturday 28th. The winners are listed below. The next draw will take place on Saturday 25 April at 8:45 P.M.
This month's results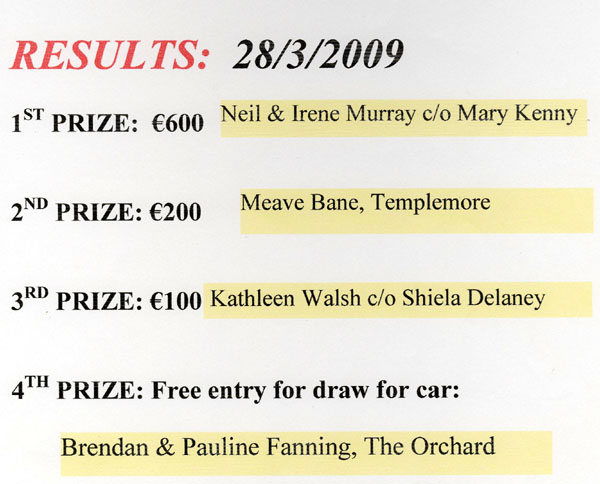 The Scrutineers!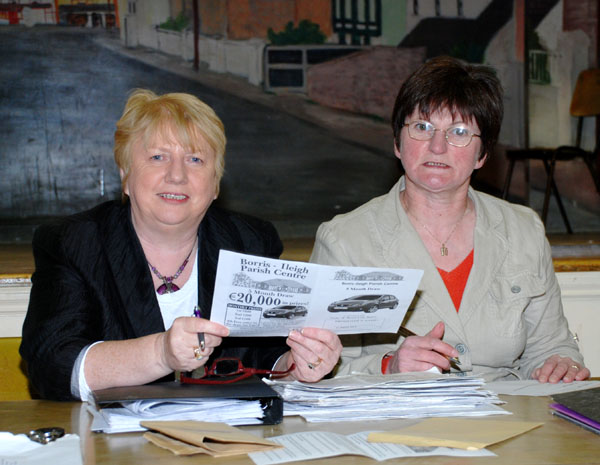 Frances Kennedy and Noreen Ryan Keeping a very close eye on the proceedings!

Is it a 'Luas' line or a 'Canal'?!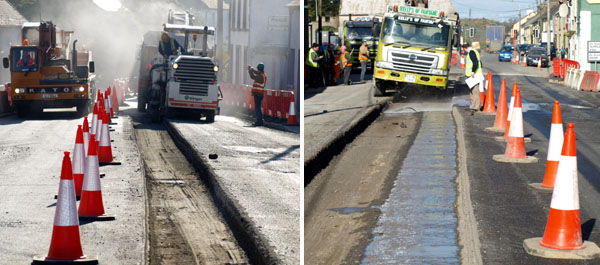 Repair works being carried out on Lower Street

The Fountain on Lower Street is alive and well!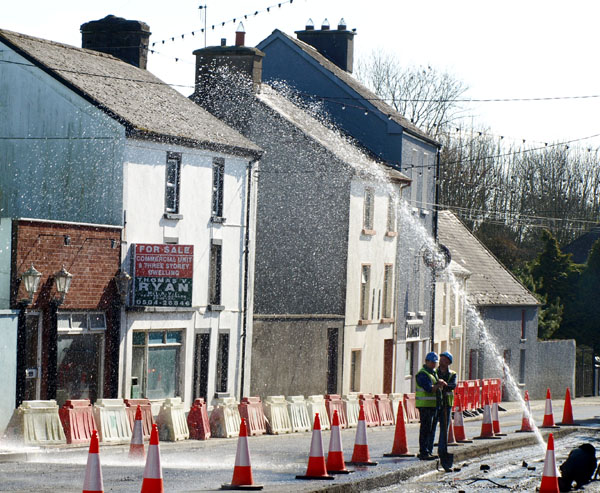 An unexpected rupture helps to keep the dust down! (Keep the hats on boys!!!)

Girls show the boys how it's done!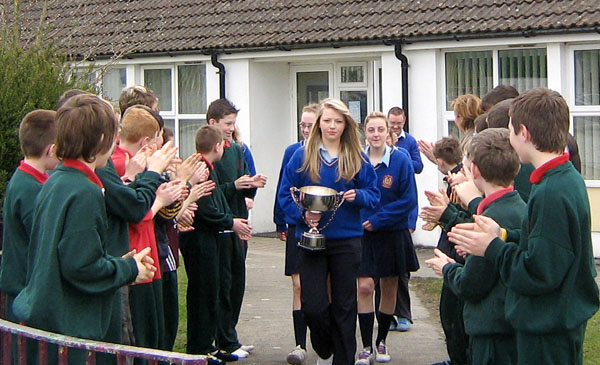 Well done girls – the lads applaud the lassies in the wake of their sporting success!


There was great excitement in St. Patrick's Boys School on Wednesday morning last when the pupils learned that an All-Ireland winning team was due to visit. It was to great applause that representatives of the camogie team from St. Joseph's College were welcomed to the school. Ms. Cahill, the team manager, spoke of the hard work, commitment and determination that the camogie team had displayed and wished the Mini Seven's panel from the Boy's school the best of luck in the County Final on Thursday, 2nd of April.
Words of encouragement from the manager!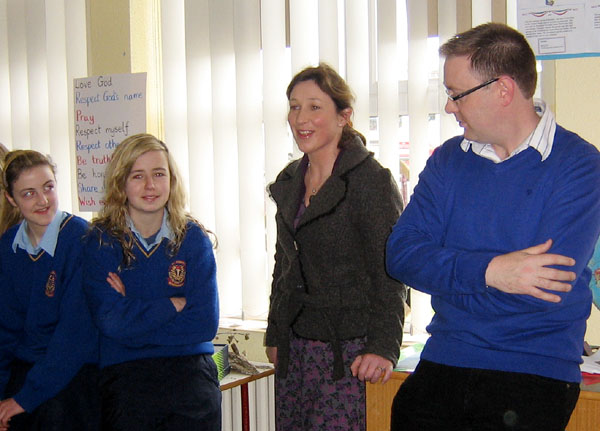 Miss Cahill (Team Manager) giving words of encouragement to the boys as they face their next sporting challenge!

Happy to have the girls among them!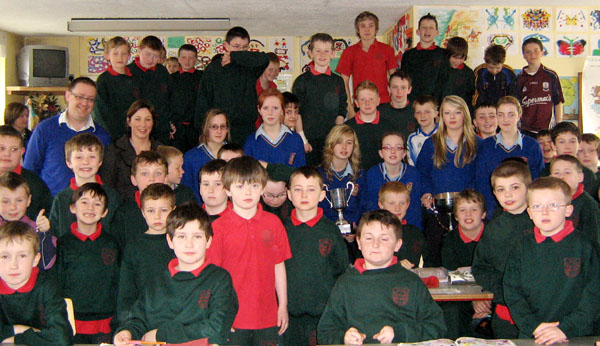 All-Ireland Champs in our midst
Borris Boys top of the North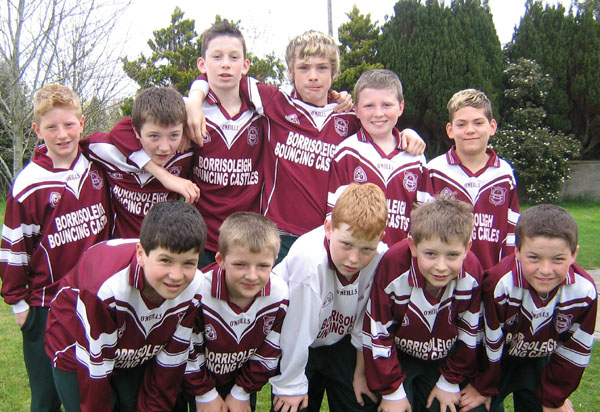 North Champions looking forward to the County Final
On Monday March 23rd we left St Patrick's B.N.S. at midday to travel to Toomevara to take part in the Mini 7's tournament. The first game against Ballinree was due to start at 1:00p.m. We lost this game. Next game saw us up against Scoil Eoin Naofa from Roscrea. We won this game and our third match was against another Roscrea school namely Sacred Heart School. This was a very important match as the winners would play Ballinree in the final of the North Tipperary section. We beat this team quite comfortably. Our supporters were going wild in the dug out.
Now we were in the final and the feeling was ecstatic. We came out on top with a score of 6-1 to 1-3. We were all very happy because we won and the crowds ran onto the pitch to congratulate the players. We got on the bus and we sang our way back to Borrisoleigh and were back in school at 3-30 p.m. A great day was had by all!
Panel for Mini-7's was as follows:- Kieran Maher, James McCormack, Declan O'Connell, Franz Leimlehner, Sam Devaney, Philip McCormack, Seán Kenny, Jack Hogan, Micheál Carey and Tom Fitzgerald.

The Mini 7's panel are through to the County Final, in Thurles on Thursday 2nd April. The very best of luck to all invloved. (Match Report by the boys)
Paddy's Day Parade in Dublin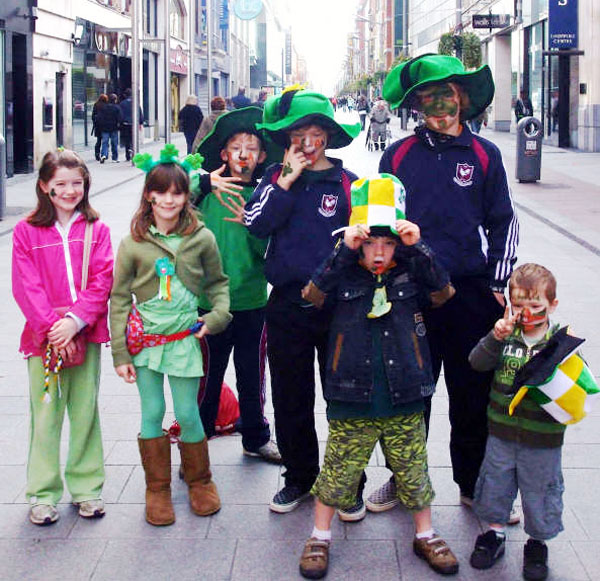 Emer Delargy, Tia Devaney, Dan Brooks, Sam Devaney, Liam Devaney, James Devaney and Archie Devaney enjoying the Parade in Dublin on St. Patrick's Day

Peace Man!


Friends one and all on the Luas jouney to the centre of Capital for the Parade
Pic of the Past… down memory lane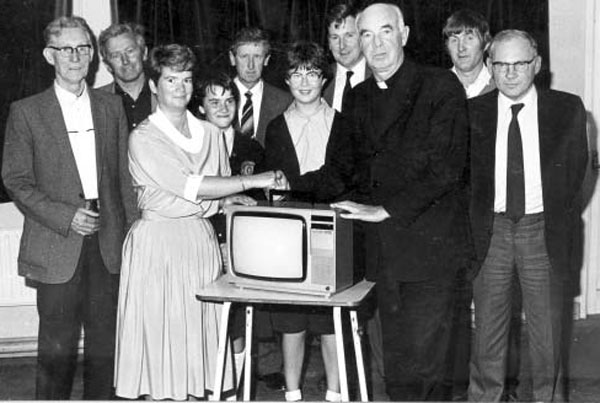 Winning Streak!
Included in this photograph are; Jack Hackett, Eddie Kenny, Biddy Stapleton, Vera Delaney, Timmy McSherry, Margaret Stapleton, Ned Gleeson, Very Rev. T. Kennedy PP, Gerry Ryan and Toby Clarke

Marian Hall Lotto

31/03/09

Numbers: 04, 09, 14, 19

No Winner

2 match 3 winner @ €75

Boysie Hogan, Nenagh
Nonie Crowe, Burgess

Next Weeks Lotto Jackpot

€2,100

Your Website Needs You!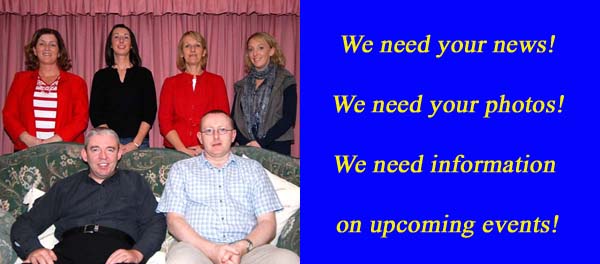 Website Committee: Noreen Fahy, Margaret Cowan, Marie McGrath, Aileen Óg Groome, Michael Barry and Enda Ryan
Many thanks to all those who contributed photographs and news items for this weeks current news.
Well done!
Send your email to: info@borrisoleigh.ie
Also, if you like what you see and want to leave a comment, remember to use the Guestbook!