Daffodil Day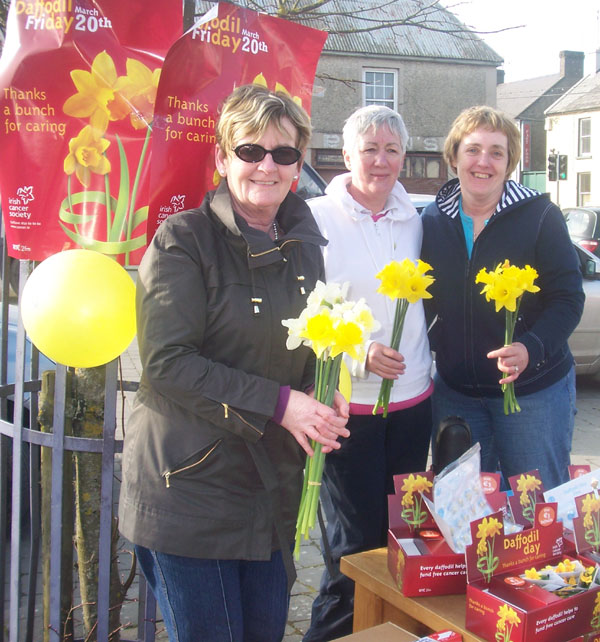 Marie Rabbitte, Marette Smith and Pat Kinane with their bunches of daffodils on daffodil day last Friday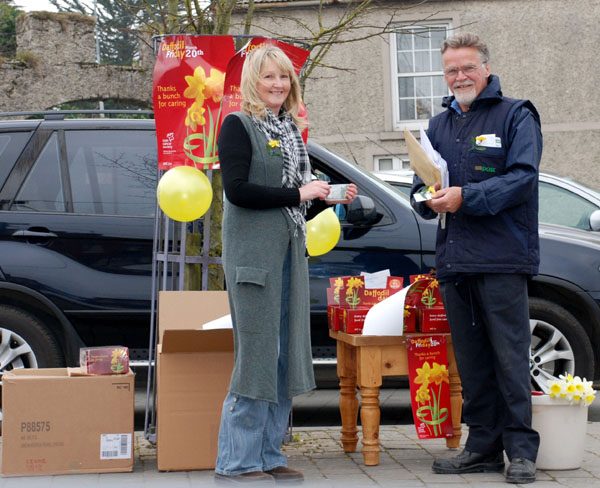 Paula Stapleton gladly relieves local postman Michael Revins of some dosh on daffodil day last Friday.

Well done to all concerned for raising over €1,300 on daffodil day in Borrisoleigh in support of The Conquer Cancer Society of Ireland
Fashion Fair Fund-raiser for Borris Camogie Club

Stepping it out on the catwalk (or is it down the aisle?!!!)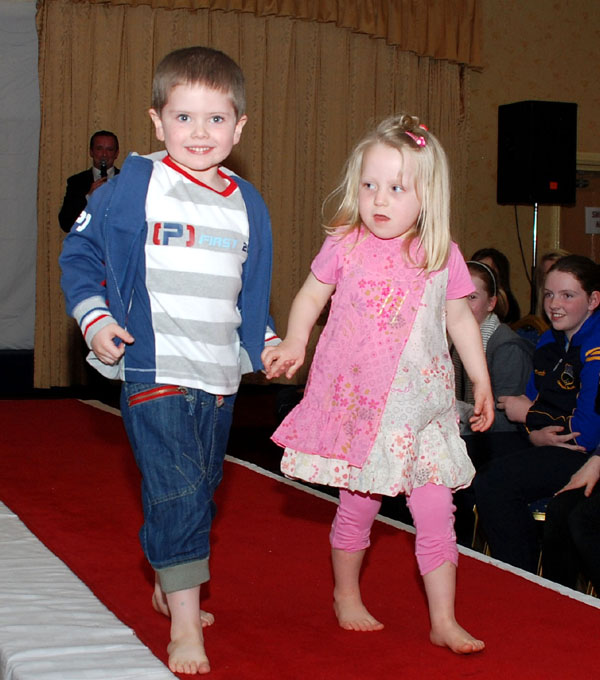 Sean and Mai (The happy couple!)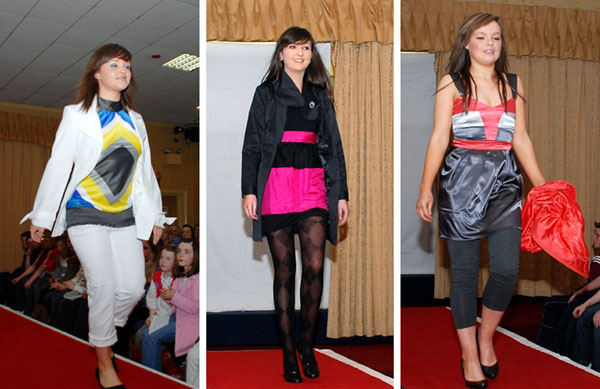 Becky, Eimear and Claire showing their 'suave' side on the catwalk

Style man style!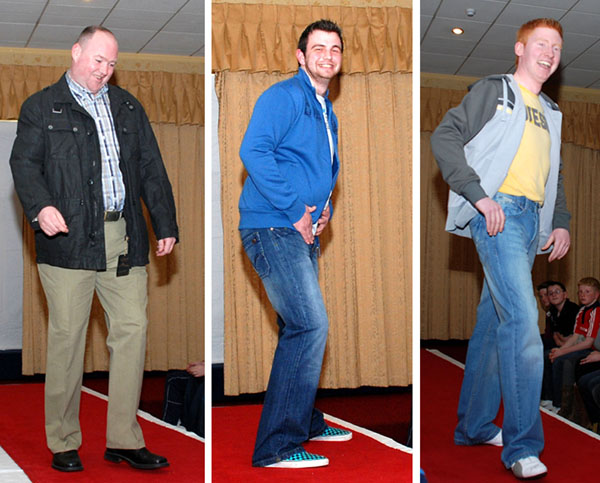 John, David and Gerry demonstrate their 'unique' catwalk moves!

We will have a fuller account of the Fashion Show next week in our Current News with a number of photo galleries capturing the style and elegance of the occasion.

Junior All-Ireland Camogie Final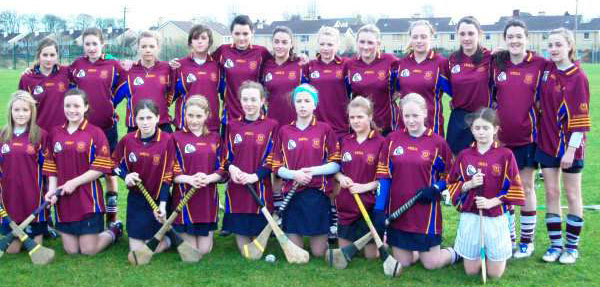 Best wishes to St. Joseph's College camogie team who are playing St. Patrick's High School, Keady, Co. Armagh in Ashbourne Co. Meath at 1pm, Saturday 28th March on Pitch 1.
Defibrillator Training Day at the Marian Hall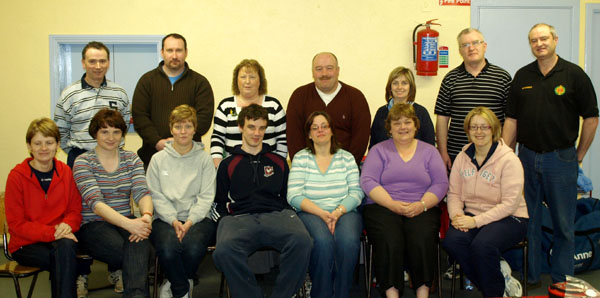 The first group of local volunteers who have successfully completed their training in the use of life-saving defibrillators with their trainers Christina O'Dwyer and Noel Purcell (back row extreme right)
On Saturday last, 21st March, a group of twelve people were trained in the use of defibrillators and were also CPR trained. After a day spent blowing a lot of hot air into 'dummies' the twelve volunteers are highly competent, confident and capable to deal with an incident, which hopefully will never arise. Borrisoleigh Life Savers Action Group have five defibrillators purchased and as soon as the new trainees receive their certifications the defibrillators, in their bright yellow boxes, will be put into place around our community. It is essential that the importance of treating the defibrillators as life saving equipment is stressed to all in our community.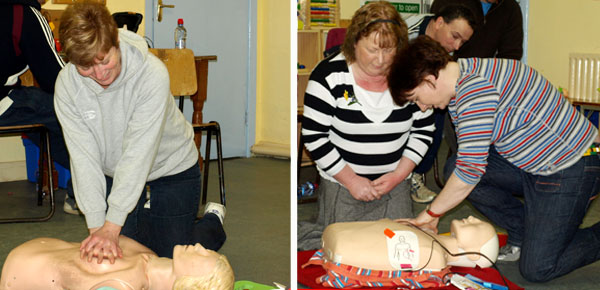 Celia Addis demonstrates her 'hands-on' technique at the training session while Christina O'Dwyer (trainer) shows Kathleen Ryan how to apply the defibrilator pads to Donny the Dummy!

No show like a Joe show!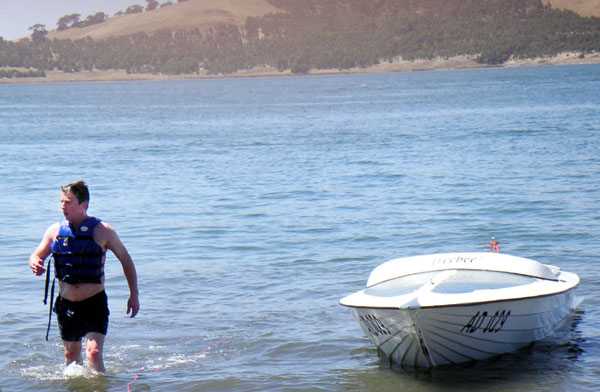 Local publican Joe Loughnane as you've never seen him before doing his 'Colin Firth a la Darcy in Pride and Predjudice' impression as he emerges from the waters of Lake Bullen Merri, Camperdown in Victoria Austrailia during his time there recently when he stayed with friends Peter and Helen O'Sullivan of Glenormiston Australia
Slip sliding away!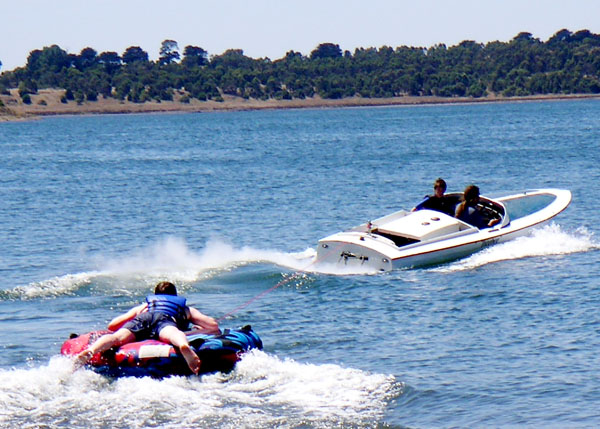 Joe Loughnane playing catch-up as he chases a speeding boat on his self propelled inflatable tyre! (please ignore the red rope between him and the boat for the full effect of this caption!)
Final Preparation for The Sacrament of Confirmation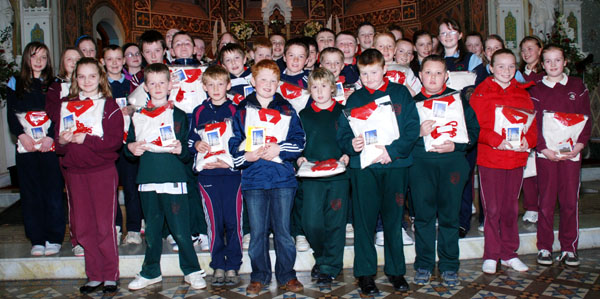 Fifth and sixth class pupils from the parish who will receive the Sacrament of Confirmation on Friday 27 March in The Sacred Heart Church
In the Sacred Heart Church on Tuesday evening 24 March the group of young adults from the parish who are preparing for their Confirmation gathered for a final preparation ceremony. Fr. Liam Everard, PP in his address to parents and candidates for confirmation stressed the spiritual significance of the sacrament and encouraged the young people to grow in their faith and to develop the gifts of the Holy Spirit received in the Sacrament.
This was the final preparation before the Confirmation ceremony to be held in our parish on Friday, 27th March. Also during the ceremony a parent of each child was invited to bring forward a candle and light it from the Paschal Candle ( which represents the light of Christ among us). They then passed on the lighted candle to their child as a symbol of passing on the faith. Those taking the Pioneer Pledge were presented with their pins by Mrs. Mary Kenny. To conclude the ceremony the group were presented with their Confirmation gowns and commemorative confirmation cards which is gifted to the group by Archbishop Clifford. The group, eight from Fantane N.S., twenty-one from St. Patrick's Boys N.S. and nine from St. Theresa's Girls N.S., are eagerly looking forward to receiving their Confirmation and continuing to live a full and active Christian life.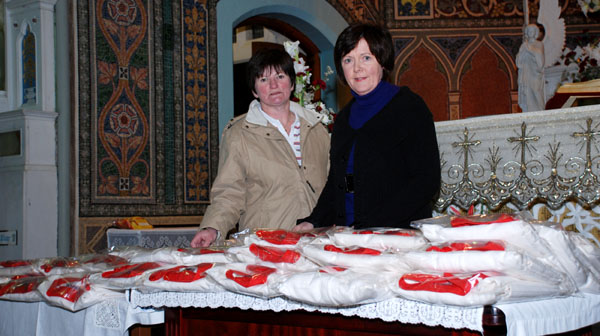 Noreen Ryan and Catherine Ryan giving a final check on the confirmation gowns before they are presented to the Confirmation Class. Noreen and Catherine organised the buying of the extra gowns needed and ensured that each pupil had one to fit their size. Thank you Ladies!

Paddy's Day Parade in Templemore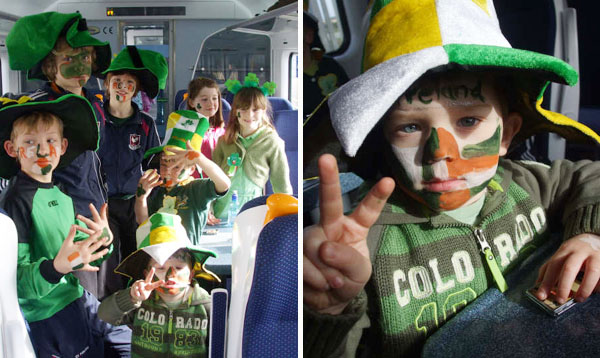 A sample of photos taken by Michael Ryan of Pallas Street at the Street Parade on St. Patrick's Day last week

A Night Out in New York!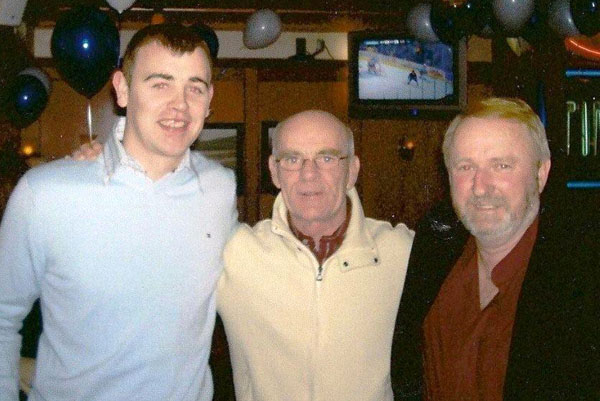 Eoin Kelly of the Waterford Team with Bertie Sherlock of Kilkeary and John Hayes of Long Island, New York enjoyng a night out
John Hayes, originally from the Silvermines but currently living in Long Island, New York sent us these photos and left the following comment in our Website Guestbook: I have been away from home since 1969. Even though I am from the Silvermines I have many friends from the Borrisoleigh area. I look forward to your website every week to get all the local news.You have no idea how important this website is for immigrants like myself. I truly appreciate all your hard work!!!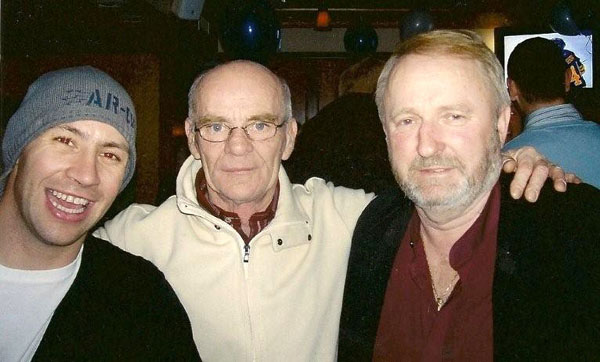 Dan Shanahan, Bertie Sherlock and John Hayes celebrating at Rosie O'Grady's in NY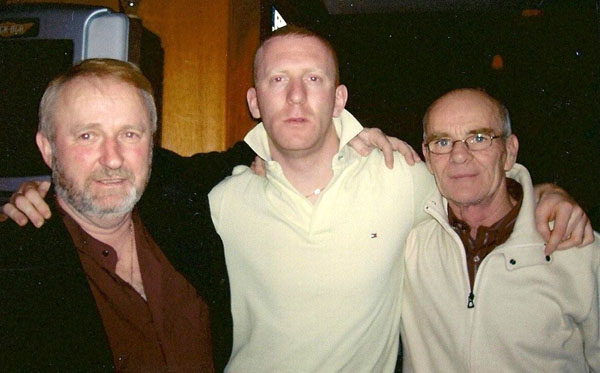 John Hayes, John Mullane and Bertie Sherlock of Kilkeary who is a member of the Waterford training staff

The Road Less Travelled!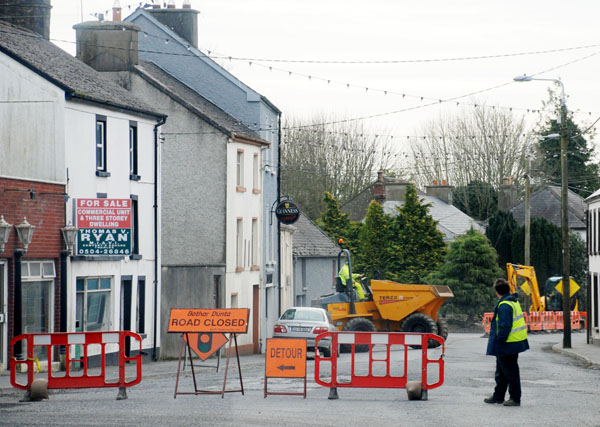 Manning the barricade on Lower Street!
Now that the repair works to our main street have finally commenced the effects on local and through-traffic are being felt. The hope is that these essential repairs will be carried out as efficiently and as swiftly as possible. It is estimated that there will be disruption to traffic and local trade for at least the next six weeks.
Mass attendance despite diversions!


The owner of this vehicle is not deterred by diversions when coming to early morning Mass

Parish League in The Park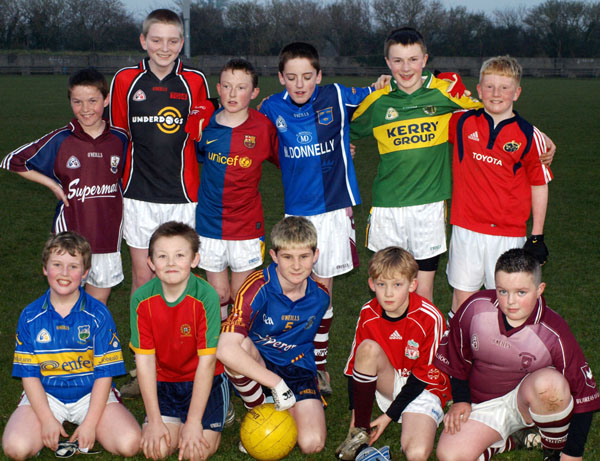 Darragh Ryan and his winning Team in the Parish League
The Final of the Parish League was played in the Town Park on Wednesday 18 March. The four teams were captained by Darragh Ryan, Teresa Ryan , Shane McCormack and Seamus Doolan. Darragh Ryan's team won the competition while Seamus Doolan's team won the Plate.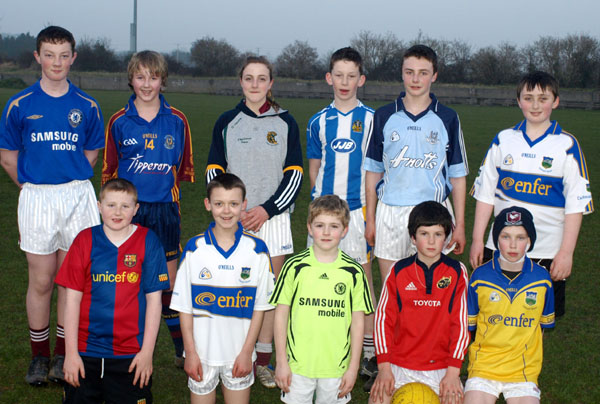 Teresa Ryan (Captain) and her boys! Runners-up in the final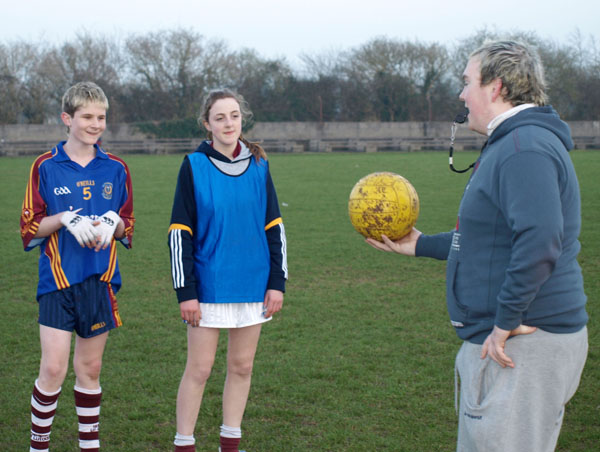 Rory Ryan, referee, showing Darragh Ryan and Teresa Ryan what a yellow ball looks like!

Captains going for the high ball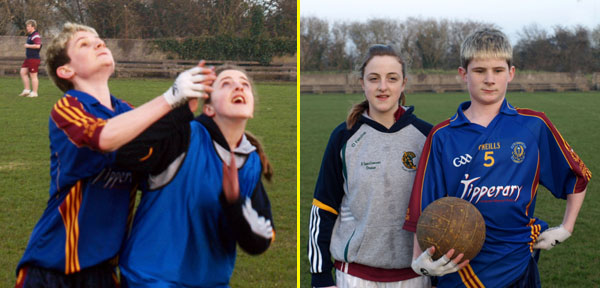 Darragh and Teresa – equally matched!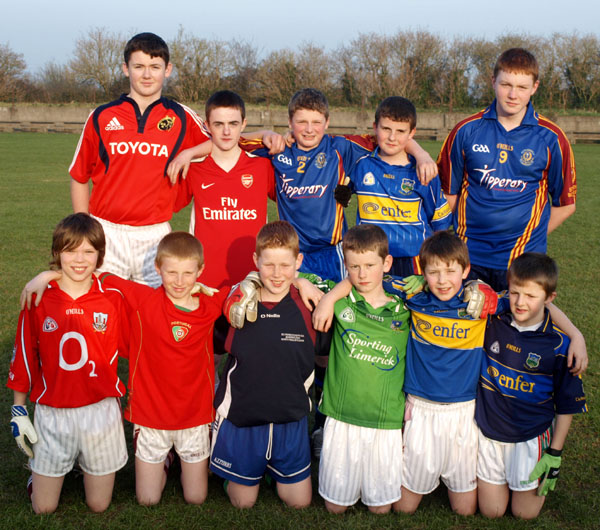 Seamus Doolan and his team – winners of the Plate

Poised for action!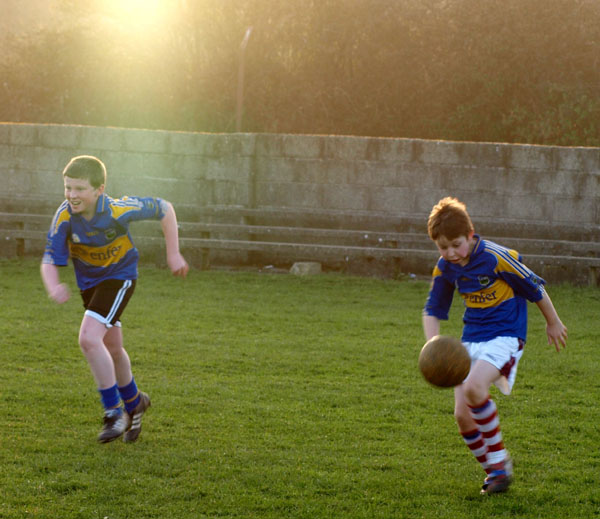 Declan O'Connell and Micheál Carey displaying their football skills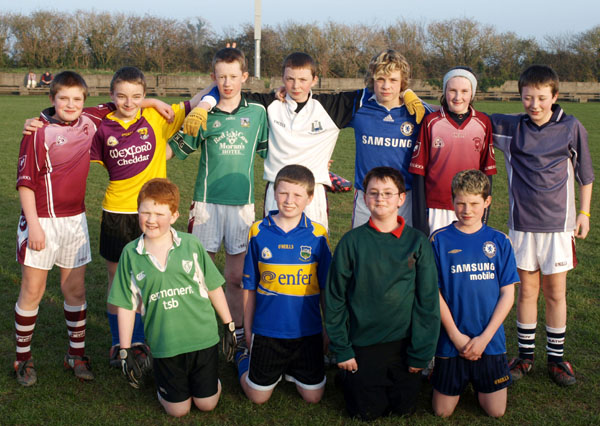 Shane McCormack with his band of merry men and lady Sarah!

Long Arm Tactics!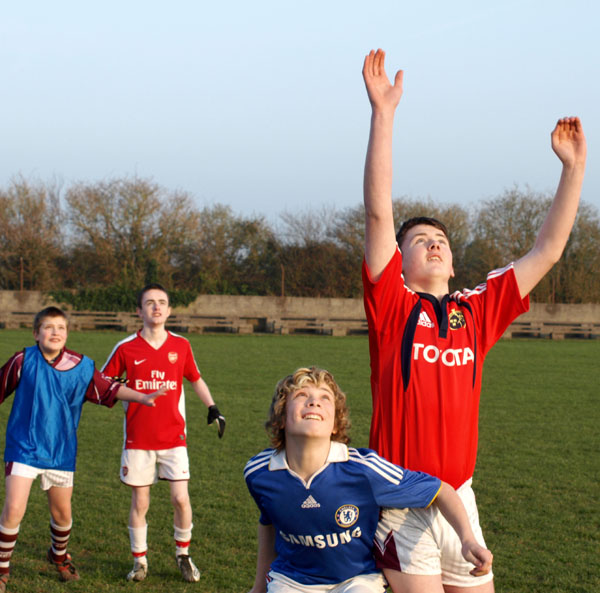 Seamus Doolan demonstrates his winning long arm tactics while Sam Devanney can only look on!

Rugby Fans in Edinburgh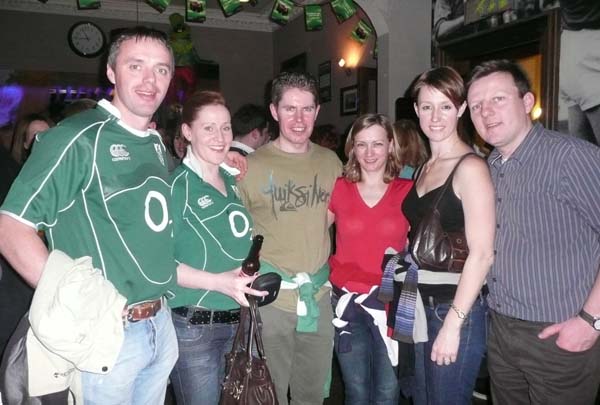 Aidan Cowan, Maria Kiely, Thomas Kiely, Mary Cameron, Bridget Rolfe and Vincent Kearney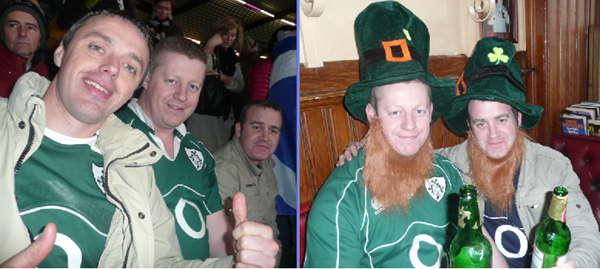 Aidan, John and Neil cheering on the Ireland rugby team on their recent victory over Scotland.


Sponsored Fun Run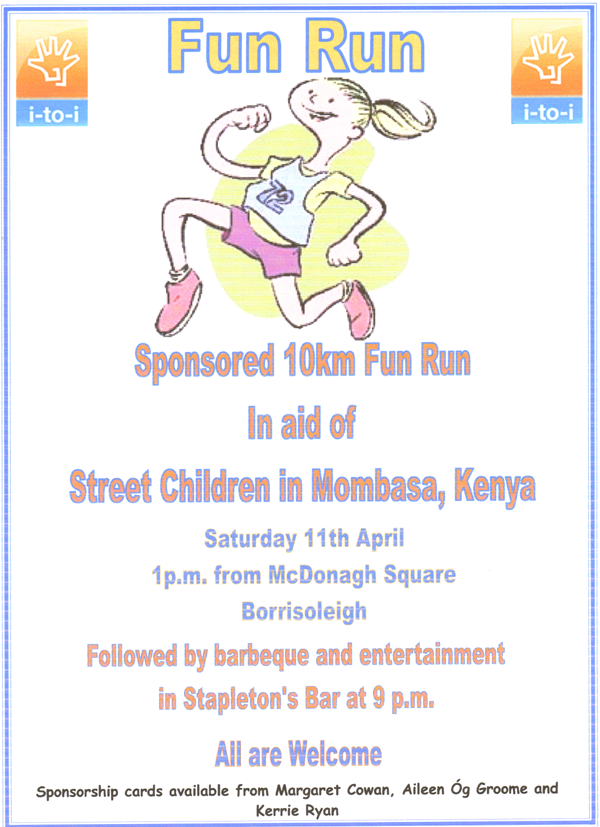 Margaret, Aileen Óg and Kerrie are heading to Kenya in July to work as volunteers in Mombasa. Mombasa is Kenya's second largest city and is home to more than 30,000 street children and many more youngsters who have been orphaned by HIV/AIDS.
The girls will be working with children who have been abandoned; orphaned as a result of HIV/AIDS; or whose families may be entrenched in poverty and unable to take care of them. Many of these children are street kids who receive care and education at rescue centres and children's homes. The work will involve teaching English, Maths and Health Education. They will also assist with the day-to-day running of the orphanages, including cooking, preparing meals, cleaning and care work.
A sponsored walk / run / cycle is taking place Easter Saturday, 11th April at 1pm. The girls are hoping for a large turn out on the day so get your walking shoes on! Sponsorship cards are available from Margaret, Aileen Óg, Kerrie and from Stapleton's Bar. Any contributions, big or small, will be greatly appreciated and put to good use.
Join the girls in Stapleton's Bar on the night for a great nights entertainment with music from Tim and Dec and D.J Zig. Hope to see ye there!

Borris-Ileigh GAA Lotto
Thursday 19th March
Jackpot: €6,800

Numbers: 5, 11, 16, 18

Jackpot Winner

Ollie Small, Knockanevin, Borrisoleigh

Next draw: Thursday 26th March, in Bourke's (Tommy & Tricia Foley's)
Jackpot: €4,000
Pic of the Past … down memory lane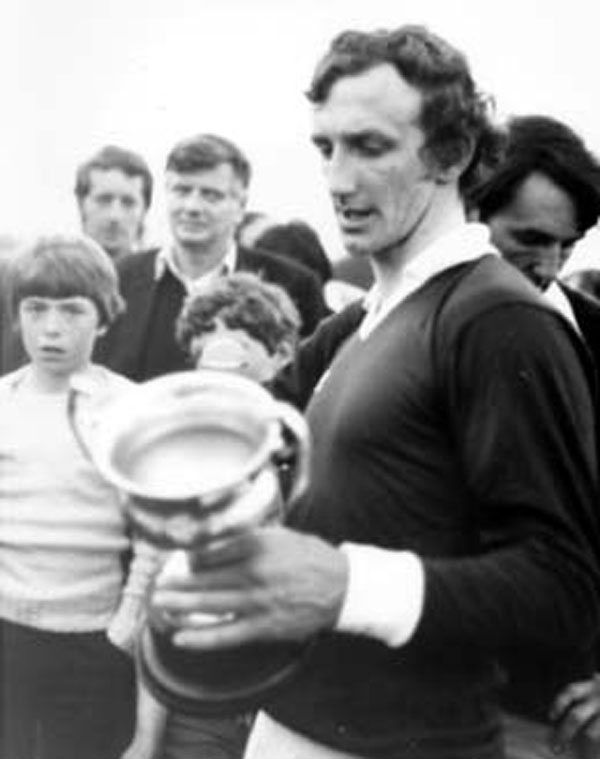 Brendan Kenny, winning captain at the Borrisoleigh Festival Tournament.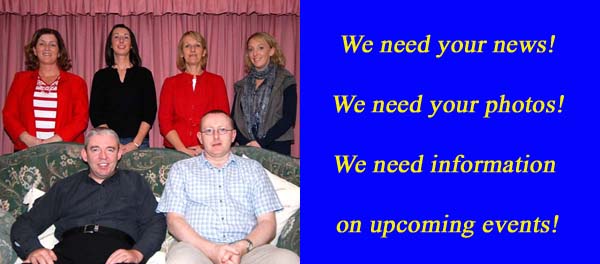 Website Committee: Noreen Fahy, Margaret Cowan, Marie McGrath, Aileen Óg Groome, Michael Barry and Enda Ryan
Many thanks to all those who contributed photographs and news items for this weeks current news.
Well done!

Send your email to: info@borrisoleigh.ie

Also, if you like what you see and want to leave a comment, remember to use the Guestbook!