Wedding Bells for Joanne and George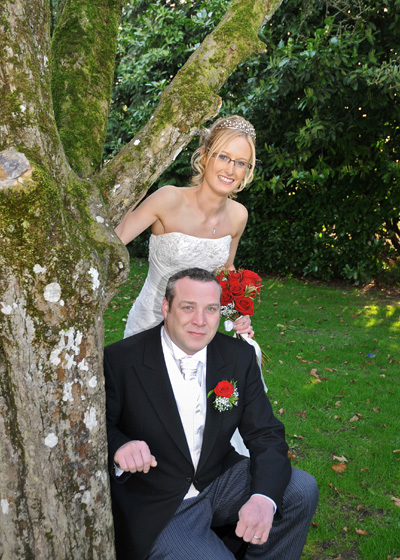 Joanne Kennedy and George Grogan who were married on Saturday 14th March 2009
The wedding celebration of Joanne Kennedy of Mountkinane, daughter of John and Philomena, to George Grogan of Thurles took place in the Sacred Heart Church on Saturday last 14 March. Their weddeing reception took place at The Anner Hotel, Thurles and the happy couple are currently on honeymoon in Egypt. Congratulations and best wishes Joanne and George for a long and happy life together.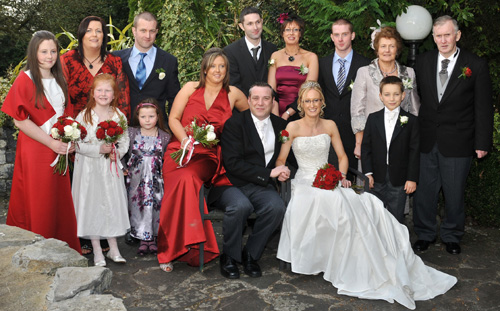 The Kennedy Family with the Bride and Groom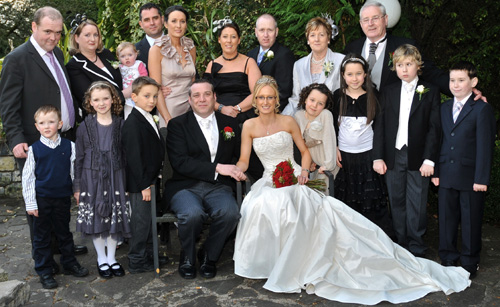 The Grogan family with the Bride and Groom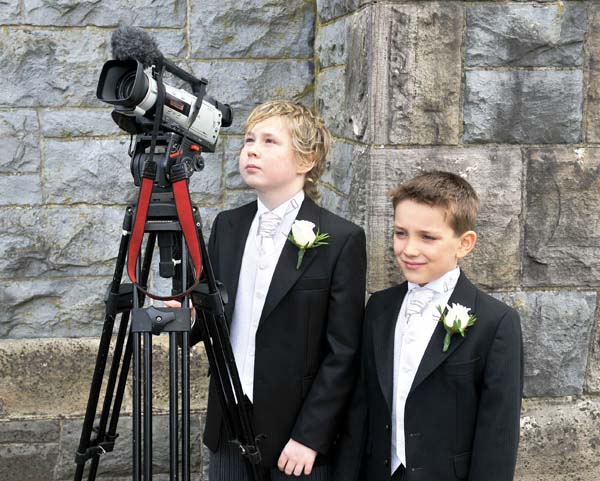 Conor (groomsman) and Dylan (page boy) – two young professional photographers on hand to keep an eye on things!

Senior Hurling League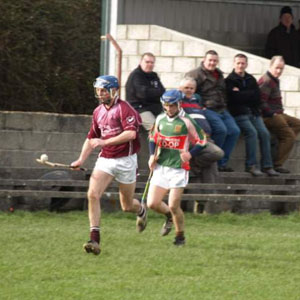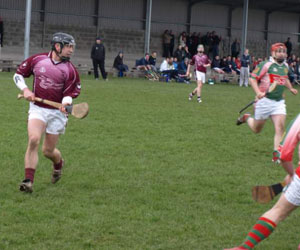 Kieran Cowan clearing his lines with Declan Maher ready to take possession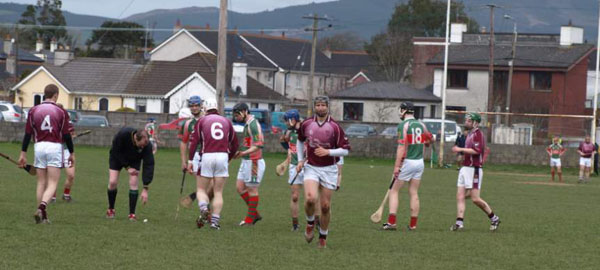 The referee getting ready to re-start the play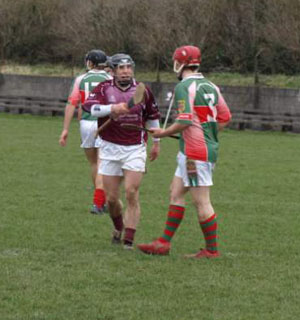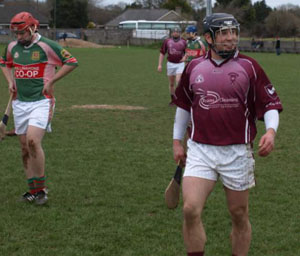 John Keane making his point to his opponent after an incident and Declan Maher in a happy mood after the final whistle

Borrisoleigh had a convincing win over their opponents Mullinahone in the first round of the Senior Hurling League on Sunday last the 15th March 2009.
The final score was 4-16 to 0-9 pts.

A Mass gathering in Fantane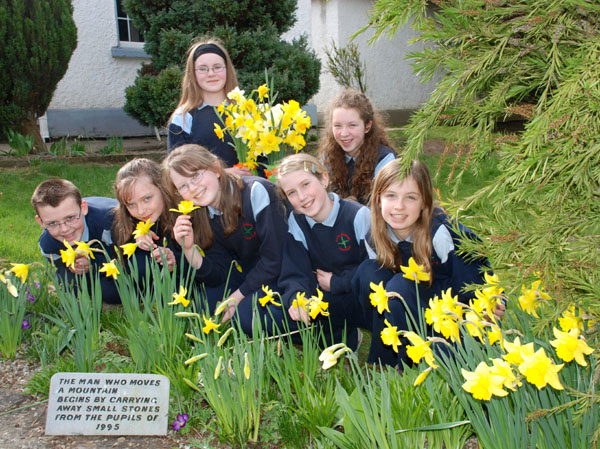 Senior pupils in Fantane checking out this years crop of daffodils!
The pupils of Scoil Bhríde Fantane had their annual school Mass on Monday last celebrated by Fr. Michael Barry (School Chaplain). Both St. Patrick and the school's patron saint St. Brigid got a mention. There was plenty of shamrock in evidence and given that this Friday is Daffodil day the pupils were happy to pose with the school's flowerbed of daffodils. There will be an opportunity to contribute to the Daffodil Day collection in Borrisoleigh in the local shops and Post Office. All proceeds go to Hospice a very worthy cause. Please support.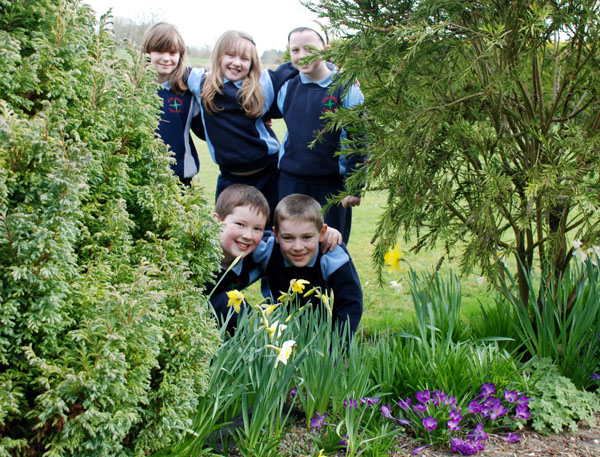 Happy faces at Scoil Bhríde,Fantane

Jus' hangin about!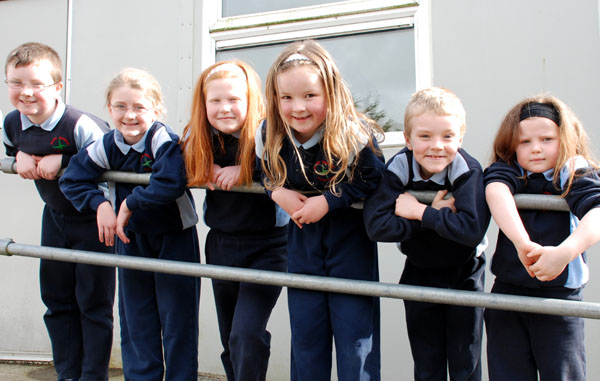 Junior pupils of Scoil Bhride in happy mood after the school's annual Mass on Monday 16 March
Shamrock Ladies!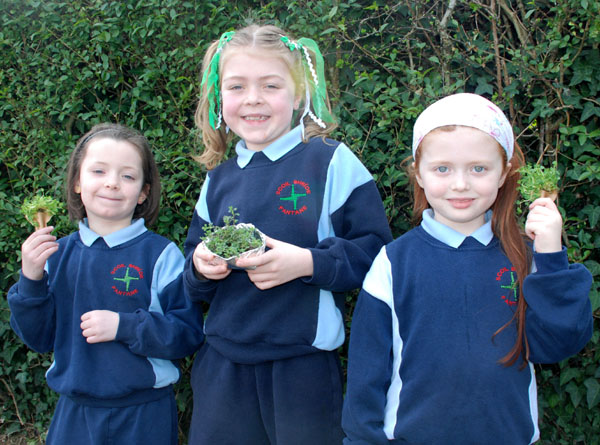 Happy St. Patrick's Day to everyone from the pupils of Scoil Bhríde, Fantane
"Reminder to all"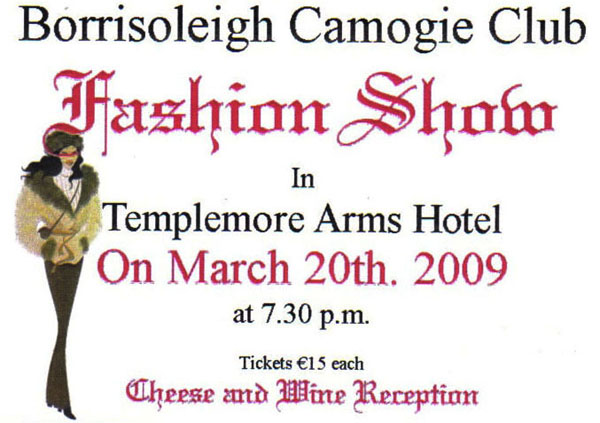 Tickets are available from any of the committee. Your support would be appreciated.

May They Rest in Peace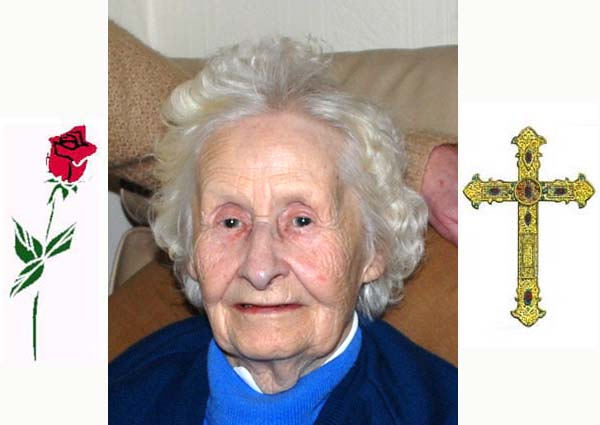 Bridget (Biddy) Younge of Glentane, Templederry RIP


The death has occured of Bridget (Biddy) Young of Glentane, Templederry on 12 March last in the loving care of the matron and staff of Carrigeen Nursing Home. Her Requiem Mass took place at the Sacred Heart Church, Borrisoleigh on Saturday last 14 March followed by Interment in St. Brigid's Cemetery. We offer our deepest sympathies to her family and friends.


The death has also occured of Mary Farrell of Garranagrena on Wednesday 11 March at Nenagh General Hospital. Her Requiem Mass took place at the Sacred Heart Church, Borrisoleigh on Friday last 13 March followed by Interment in St. Brigid's Cemetery. Our deepest sympathies to her family and friends.
In Party Mood and Mode!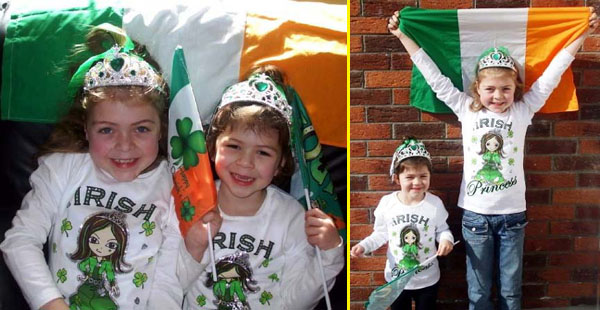 Liana and Emma Kelly, Currabaha all dressed up to celebrate St. Patrick's Day. Hi to all their folks down under! G'day!!!

Second Round of Parish League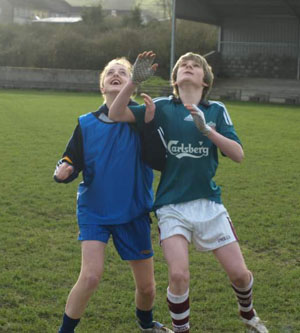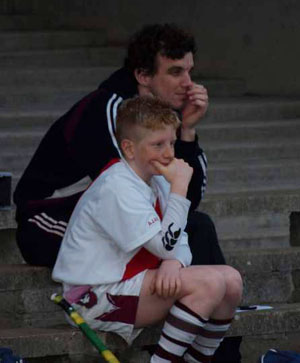 Teresa Ryan and Darragh Ryan contesting the throw in with Brendan and Sean Kenny studying the form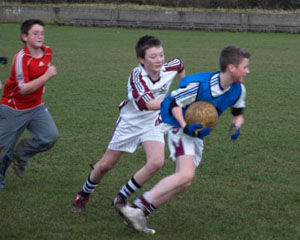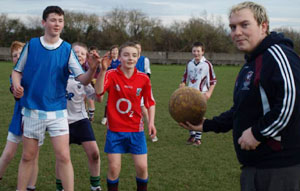 Charlie Stapleton and Eoin Stapleton chase Danny Ryan for the ball while Rory Ryan gets ready to start the game

Munster Final of Senior Scór


The Munster Final of Senior Scór will take place in Cappoquin on Saturday 21st March. We wish all involved representing Borris the very best of luck!

St. Theresa's Girls in Leprauchan Mood!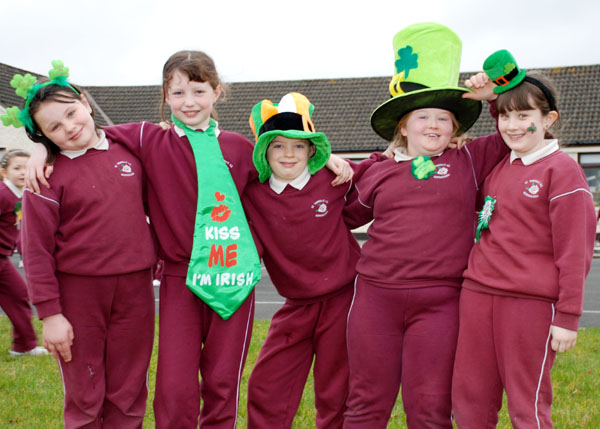 Alison Hogg, Clodagh Ryan, Amy O'Brien and Laura Slattery getting in the mood for St. Patrick's Day celebrations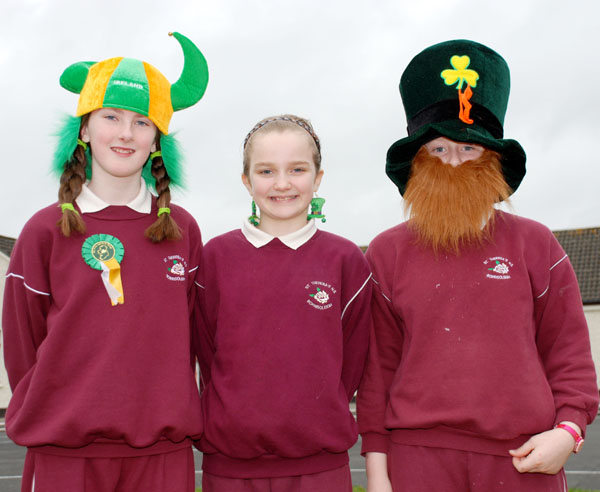 Sarah Ryan (G), Eimear Lyons and Sarah Ryan(C) preparing for St. Patrick's Day
Handing over the money!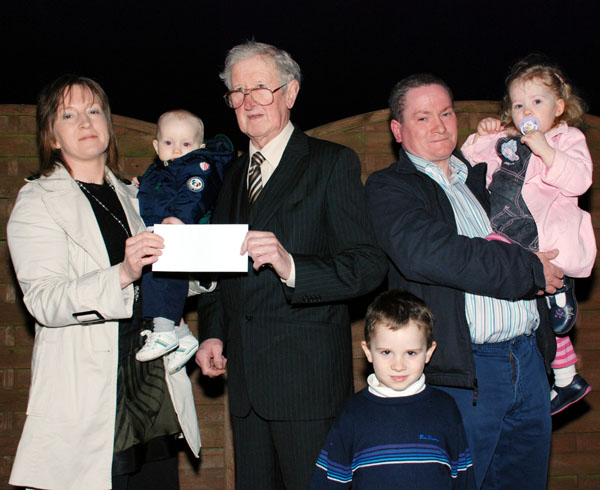 Marian Hall Committee Chairman Tim McSherry presents Marion Kennedy of Curraglass a cheque for €9,300 after she won the lotto on Tuesday 3 March. She brought her family along to make sure that all of her winnings would be handed over. They have promised to help her spend it!!! Baby Cathal is in her arms, while Tara is with her daddy Joe and Michael stands in the front. The seller of the winning ticket was Jimmy Farrell of Garranagrena.

Preparing for Confirmation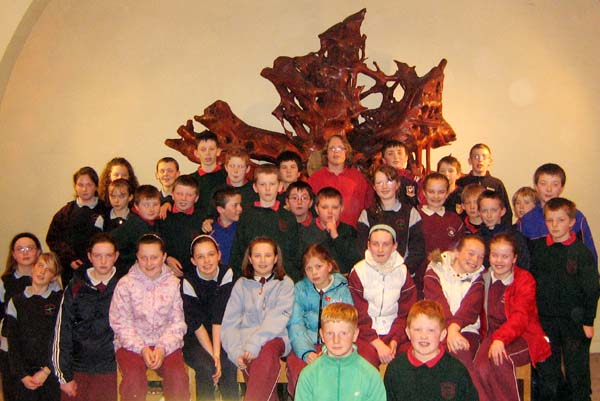 The above group of young people from the parish, who are in the middle of preparing for the Sacrament of Confirmation, spent a very pleasurable day on retreat in the serene, tranquil and yet vibrant surroundings of St. Patrick's College, Thurles on Thursday last. The retreat was presented by Fr. Joe Walsh and afterwards the group were refreshed, relaxed and re-invigorated.
The Sacramemt of Confirmation will take place in the Sacred Heart Church, Borrisoleigh on Friday 27th of March at
11am
.
Street repair works will be in progress so it is advisable to plan for delays.
St. Joseph's College bidding for All-Ireland Glory!



The wheel of 'good' fortune for the St. Joseph's Camogie Team
Best of luck to the camogie girls of St. Joseph's College who will fight for victory in the All-Ireland Camogie Final on Saturday 28 March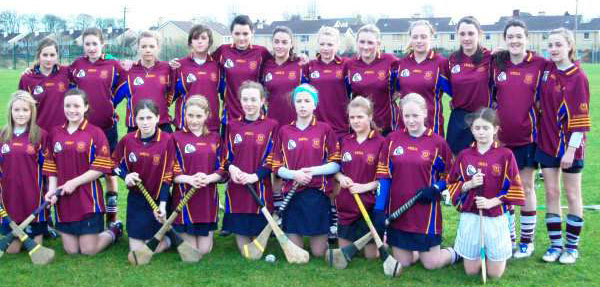 Bidding for all-Ireland Glory
St. Joseph's College Junior Camogie have reached the All Ireland Final with a team well balanced in skill, a mean defence and a full forward line capable of scoring goals, as witnessed by their scorelines to date.
The final is against St. Patrick's High School, Keady, Co . Armagh, a team who have contested two other finals in recent years and deserving the tag of favourites, having demolished Loreto, Coleraine 10-10 to 1-1 in the Ulster Final and beat a very good Connacht Champions, St. Mary's Vocational, Athenry by a single point on a scoreline of 2-11 to 3-7 in the semi. However, St., Joseph's girls will not be overawed. During the campaign St. Joseph's have battled in hazardous conditions and against bigger opponents but always came out on top. The defence copes well under pressure and the forwards are able to live off scraps and share the duties to inspire the team to glory. The midfield pairing of Niamh O' Donoghue (Burgess) and Teresa Ryan (Borrisoleigh) work tirelessly throughout each game. During the campaign St. Joseph's accounted for Ursulines, Thurles in Round 1 and Colaiste Choilm, Ballincollig in Round 2 with Maria Ryan (Silvermines) amassing an incredible 4-6 against the Ballincollig side. The semi final against Borrisokane V.S. proved the girls tightest game score wise winning by 2-7 to 1-3. The Munster Final and All Ireland semi final were tough physical game with St. Joseph's having to soak up severe pressure in the opening halves only to power to glory in the second half. They beat St.Flannan's, Ennis 4-7 to 1-2 and Borris Vocational School, Carlow 4-8 to 0-3, with Moira Ryan (Templederry) showing her poachers instinct with a hat-trick of goals against Borris V.S.
We hope that Moira Ryan (Toomevara) will be able to inspire her team to bring hope the silverware on Saturday 28th March.
This team is made up of players from Toomevara Camogie Club: Moira Ryan (captain), Geraldine Kelly, Sheila Ryan, Claire Ryan, Teresa Ryan, Aoife Ryan, Michelle Ryan, Nicole Walsh, Moira Ryan, Julie Anne Bourke, Regina Cleary, Karen Kenny.
Silvermines: Edel Ryan, Maria Ryan, Louise McLoughlin, Elaine Murphy, Vivienne Glesson.
Burgess: Niamh O'Donoghue
Templemore: Katie O'Meara
Drom and Inch: Karen Purcell
Borrisoleigh: Miriam Dunne

We extend every good wish to this panel of players. All support would be gratefully appreciated, looking forward to seeing you all.

History of the Club
St. Joseph's Borrisoleigh have been active participants in Munster camogie competitions for the last 15 years. The first title was won in 2000 when the junior team, captained by Geraldine Kinane beat Ballyphehane of Cork in the Munster final. Kathleen Kennedy of Toomevara played centre back that day and her first cousin Sheila Ryan will line out in that position in this year All – Ireland final.
The Munster Intermediate league was also won in 2000 where players such as Joanne Ryan, Melissa Stapleton, Niamh Harkin, Maria Tynan, Louise Young, Deirdre Delaney and Teresa Maher played an active part.
In 2001 Triona Dunne, Rosanna Kenneally, Mary Bradshaw and Laura Stapleton and Elaine Young led the school to a junior final against Bandon where they failed to progress.
In 2008 St. Joseph's reached the Senior B final where Fiona Young, Bonnie Kennedy, Kristina Kenneally, Shauna Rabbitte, Aine Brislane, Eimear Shanahan and Christine Kenny and the majority of this year's panel suffered defeat to Christ the King, Douglas, the current Munster A champions.

Supporting Special Olympics Ireland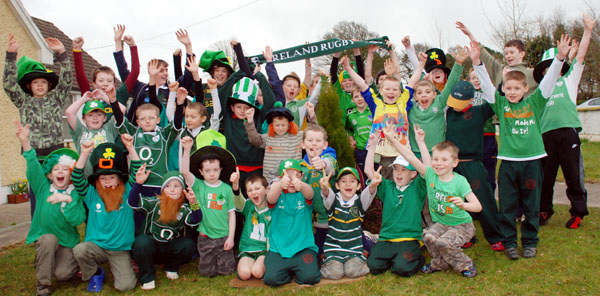 Hip-Hip-Horaah for Special Olympics Ireland!

Friday, March 13th, was designated as 'Green Day' in schools throughout North Tipperary. In conjunction with Special Olympics Ireland the boys at St. Patrick's B.N.S. decided to dress in green and make a donation towards North Tipperary Special Olympics. As the boys wear green as part of their everyday uniform it was decided to make 'Green Day' special by dressing up with a fun St. Patrick's Day theme. The boys were delighted to raise €155 and wish to thank all who contributed towards this worthy cause. Well done lads!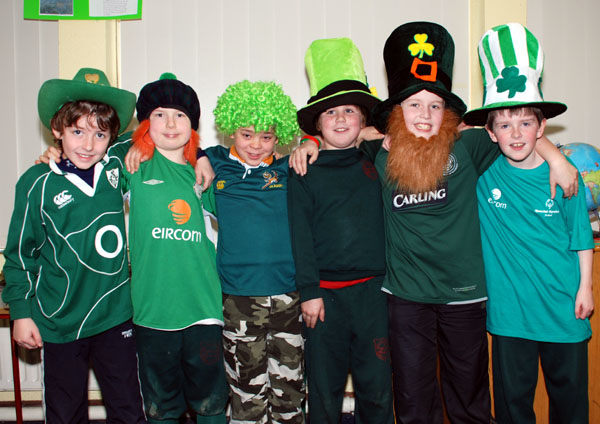 Wearing 'The Green' at St. Patrick's Boys' National School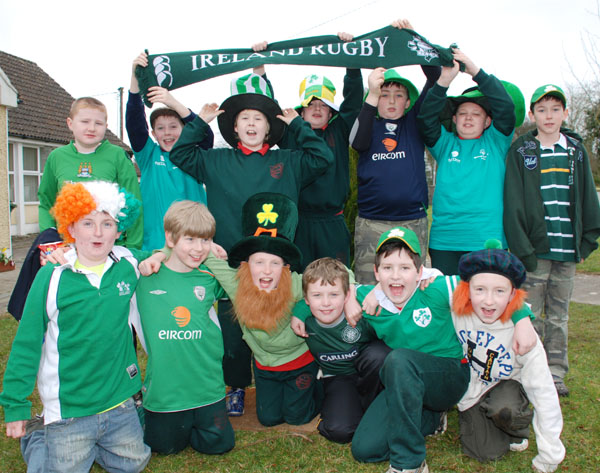 Supporting 'Ireland in the Rugby', 'St. Patrick' and 'Special Olympics Ireland'!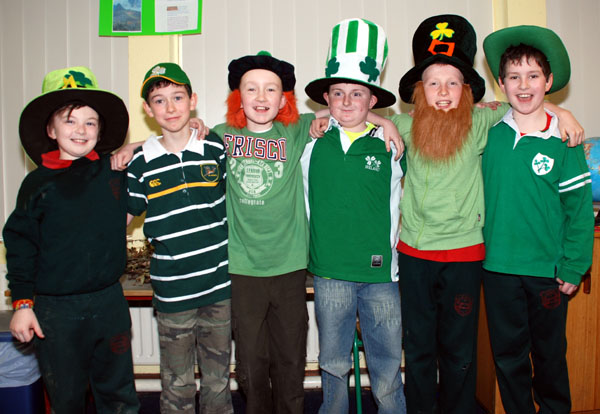 Anything is better than having to do lessons!

Martin Maher heading to Zambia
Martin Maher of Cullohill is travelling to Zambia with eight students and two fellow teachers from Thurles CBS for two weeks on Friday 27 March. To support this initiative there will be a fundraising dance in The Anner Hotel in Thurles on Friday night next 20 March commencing at 9.30 p.m.
Music is by Silver Dollar, Ebony, Eddie and Claire Loughnane and the DJ on the night will be Noel O'Brien. Tickets are €10 and your support would be greatly appreciated. We hope to have a report and photos from Martin about the trip on his return.
Marian Hall Lotto

17/03/09
Numbers: 05, 09, 14, 17
No Winner
3 match 3 winner @ €50
Bgt Loughnane, Templetuohy
Peg Mearns, Rathdowney
Mgt Hourigan, Cappamore
Next Weeks Lotto Jackpot
€1,800
Pic of the Past … down memory lane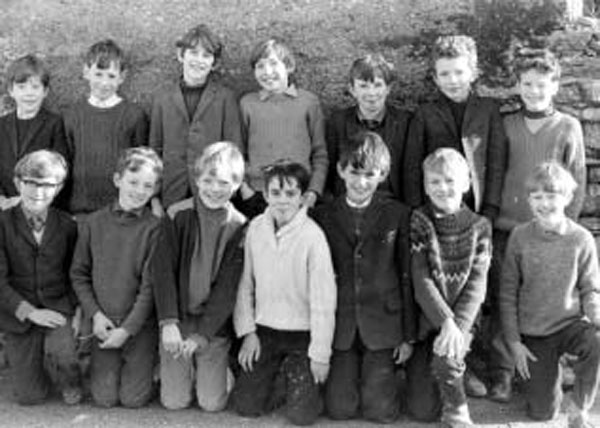 Back: Joe Treacy, Tom McGrath, Greenlawn, Christy Donnelly,Jimmy Chadwick, Tom Reid, P.J. Small and Michael Kennedy
Front: Joe Stapleton, Tom McGrath, Knockanevin, Bobby Ryan,Johnny Treacy, P.J. McInerney, Donny Maher and John Stakelum

Your Website Needs You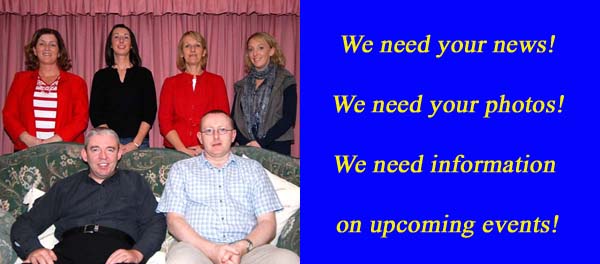 Website Committee: Noreen Fahy, Margaret Cowan, Marie McGrath, Aileen Óg Groome, Michael Barry and Enda Ryan

Many thanks to all those who contributed photographs and news items for this weeks current news.
Well done!

Send your email to: info@borrisoleigh.ie

Also, if you like what you see and want to leave a comment, remember to use the Guestbook!