Homecoming Party for Cliodhna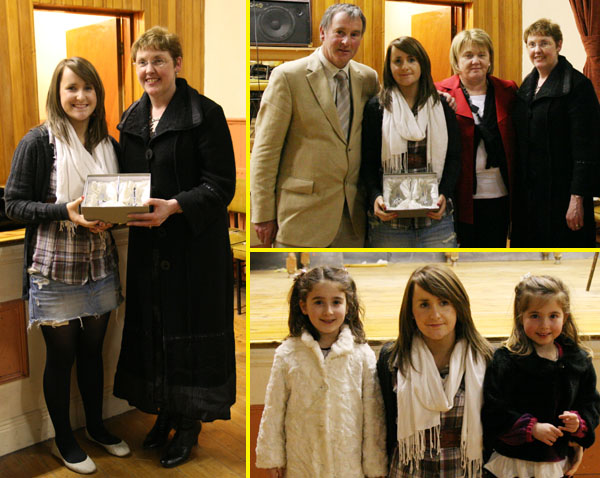 Congratulations to Cliodhna Bourke on her performance in the Recitation competition of the All-Ireland Final of Scór na nÓg on Saturday 21st of February in Athlone. Unfortunately, Cliodhna was pipped at the post by the Roscommon entry, but it is a marvellous achievement to reach the All-Ireland Final and Borrisoleigh is very proud of her. Thanks to all who helped out in making the Home-Coming for Cliodhna in the Marian Hall such a success that night.

February Parish Centre Draw Results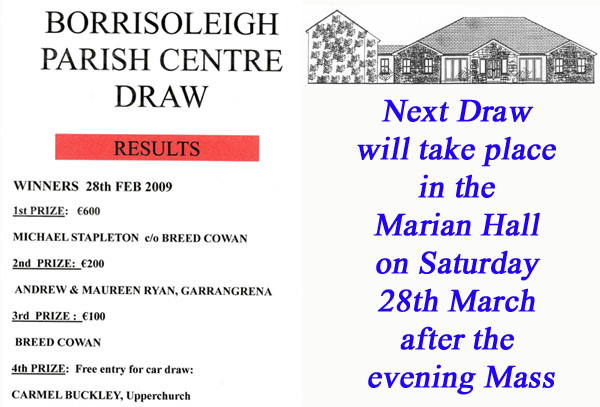 And the winner is!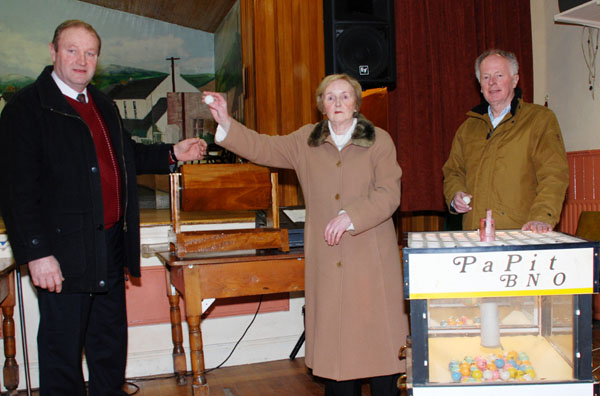 Mary Kenny picking a winner at the recent draw in the Marian Hall



Catherine Kennedy, Catherine Ryan and Siobhan Stapleton at the draw last Saturday night 28 February


Bag Packing for the Parish Centre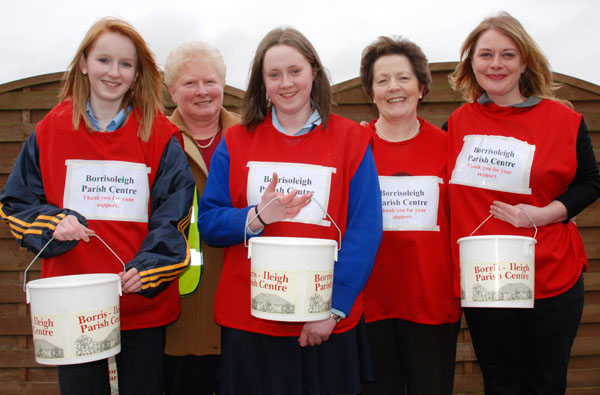 Kate Kenny, Brigid Hennessy, Brid Ryan, Eleanor Kelly, Freda Hennessy
A very successful bag packing fund-raiser for the Parish Centre took place at the weekend at Dunnes Stores in Thurles Shopping Centre. Thanks to the hard work and effort of the local volunteers, €1,731 was raised. Sincere thanks to all who supported the venture and to Dunnes Stores who accommodated our collectors.
North Final of Scór Sinsear



Set Dancers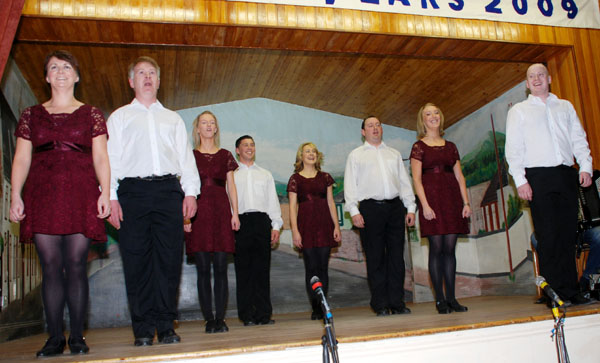 The North Final of Scór Sinsear took place in Borrisoleigh on Saturday evening 28th February. A great evening's entertainment was provided by all participants, and the standard across the competitions was extremely high. Congratulations to the following Borrisoleigh competitors who were successful in their competitions: Paddy Dolan, runner-up in Solo Song; Brendan Kenny, runner-up in Recitation; Paul Boyle, Brendan Kenny and Pat Kavanagh, winners of the Question Time; Brendan Kenny, Mary Bradshaw, Noel O'Brien, Vincent Stapleton, PJ Kiely, Declan Maher, Diarmuid Kinnane and Henry Groome, winners of the Novelty Act; Sarah Maher, Sharon Madden, Eimear Ryan, Rory Ryan, Conor Walsh and Jason Fahey runners-up in the Novelty Act; Declan Maher, Helen Carroll, Thomas Walsh, Julie Ryan, Peter Ryan, Evelyn Groome, Henry Groome and Aileen Óg Groome winners of the Set Dancing. Well done to our Bean an Tí, Breda Ryan and to all the committee members on making the night such a success. Winners and runners-up go forward to the County Final in Clonmore on Friday next 6th March. Best of luck to you all!
Will we fit?
Lovely Hurlin' Brendan – or is it Archbishop?!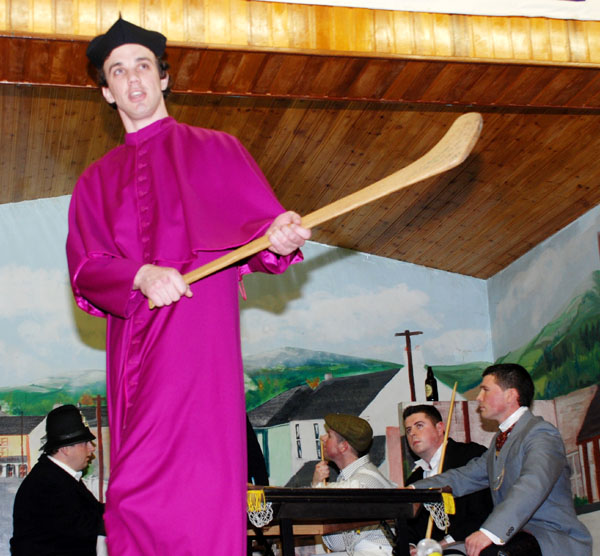 Juliet, Juliet wherefore art thou Juliet?!!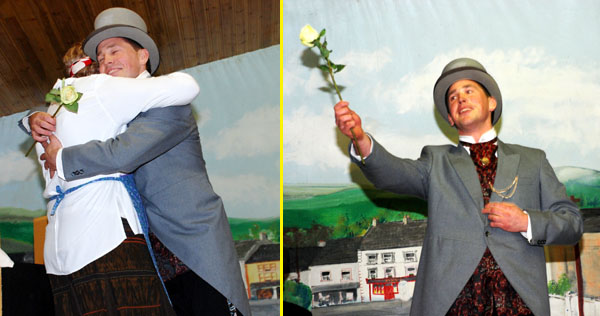 See what I can do!!

Look at my Pinnochio impression!!!

I think it's your shot!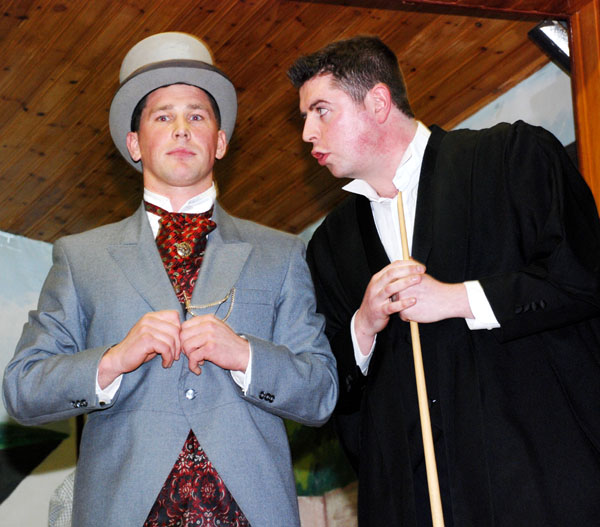 It's a fair cop guv!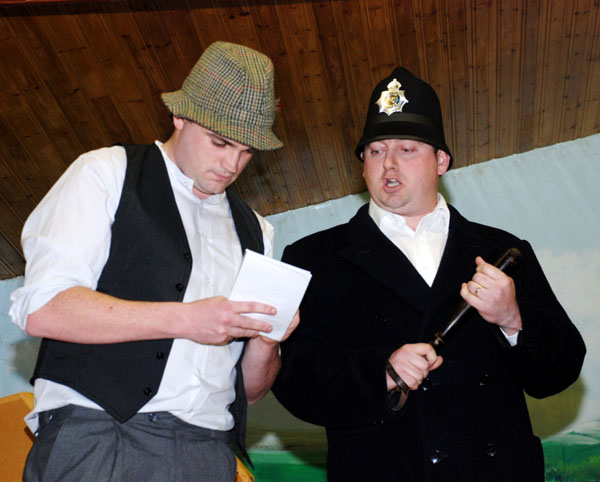 On the one hand, but then again, on the other hand!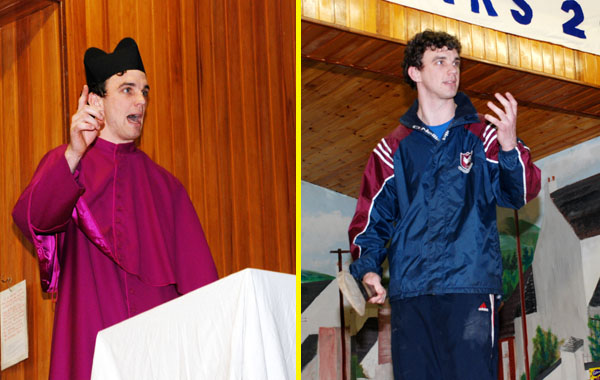 How could anyone not love that face?!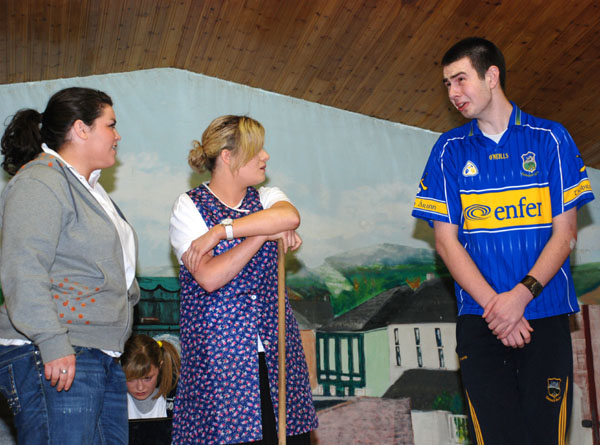 All eyes on Rory!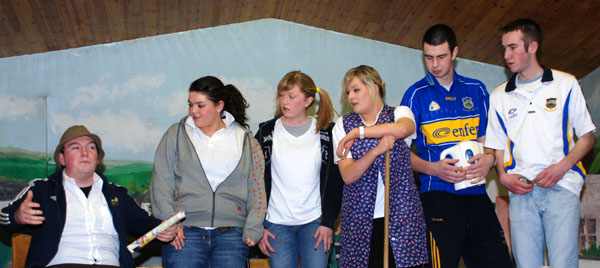 Himself and herself!

Codliveroil and The Auld Bog Road!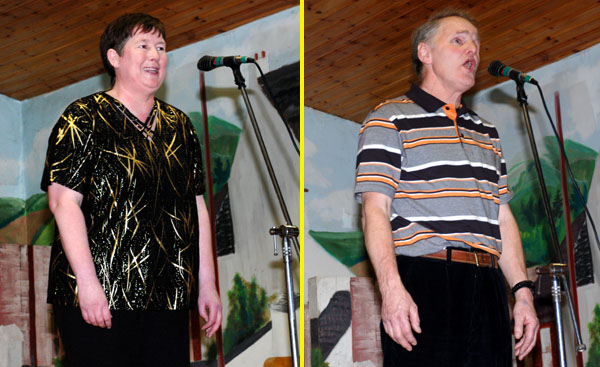 Templederry Ballad Group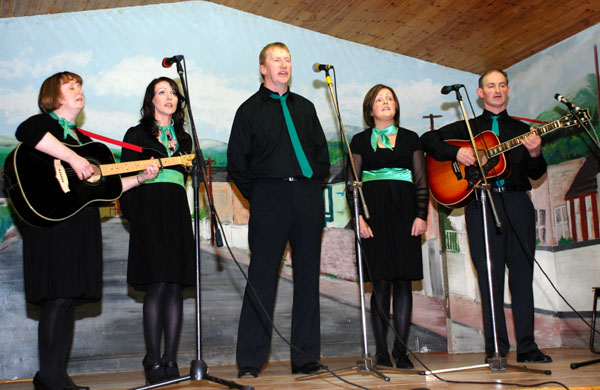 The 'old' reliables!




Peg McLoughney and Mai Maher enjoying the Scór entertainment in the Marian Hall last Saurday night 28 February


Search for local Talent at St. Joseph's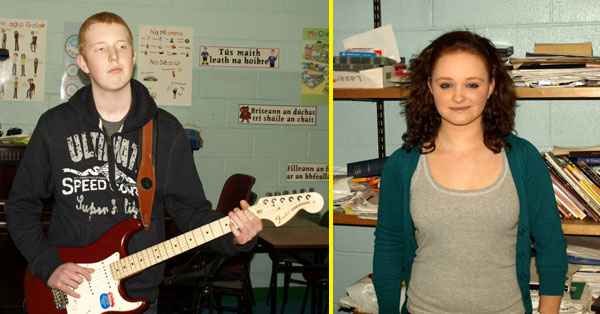 Niall Kenny playin' the blues and Becky Prior getting ready to impress Tipp Fm!
On February 24th last Tipp Fm came to town to search for local talent. Two promising stars Niall Kenny and Becky Prior will go forward to represent St. Joseph's College in the next round of Tipp Fm's search for a star. On the night Niall played blues guitar and Becky Prior sang an Aleisha Dixon song. We wish them the very best at the next stage of the competition.
Keeping a watchful eye on her man!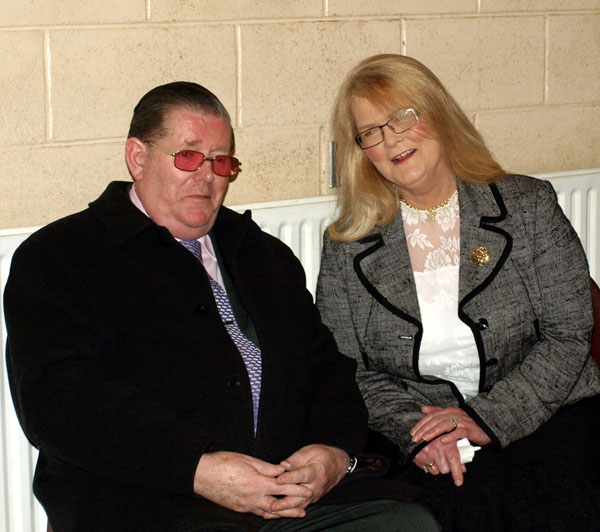 Padraig O'Shea (Principal) who doesn't need to search for any talent, Gloria is right there beside him!

Lucky guy!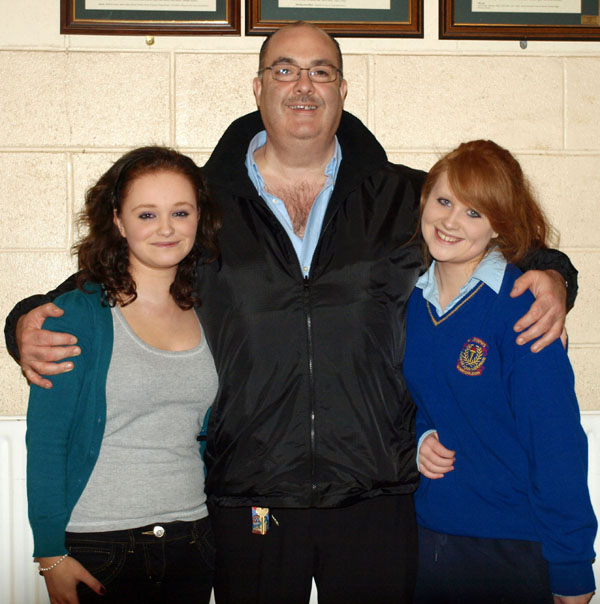 Becky Prior wth Norman Morrissey of Tipp FM and her sister Grace



Maths Quiz for Junior Cert high achievers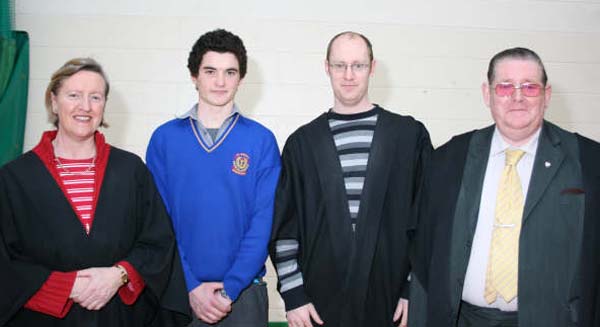 Pictured above in St. Joseph's College, Borrisoleigh are (LtoR), Alice Regan (Deputy Principal), James Ryan, Thurles who received a Grade A in Higher Maths and was one of the Junior Certificate students to share in the first 500 places out of 56023 candidates; Cathal O' Shea, James' Maths teacher and Padraig O' Shea (Principal)

Bidding for All-Ireland Glory!


The Junior Camogie Team will play in the All-Ireland Semi-Final against Borris Co. Carlow in Tommevara this Saturday at 2pm. They are seen here honing their skills for the big match on Saturday.

Team Players – one and all!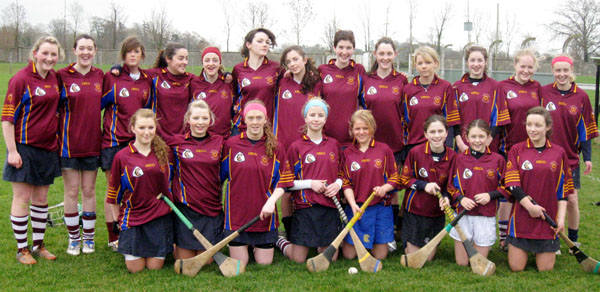 St. Joseph's intermediate girls' camogie team who contested the Munster Final on 28 February in Piltown against Carrick-on-Suir Seconday School. They were beaten in a tight contest despite their valiant efforts.


Nan celebrates the Big Seven-O!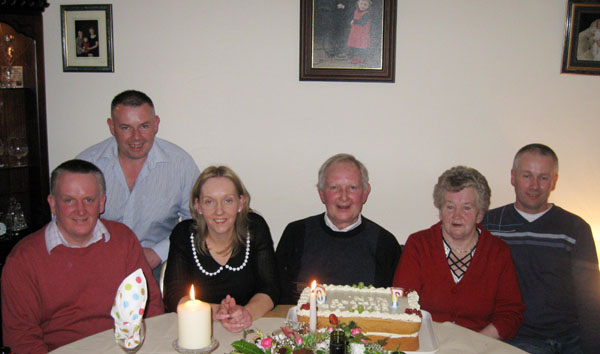 Nan and Tommy Reid with their family Dinny, Ger, Mary and Christy on the occasion of Nan's 70th birthday.


Nan Reid celebrated her 70th birthday on 27 February. She was joined by her husband Tommy, family and friends at a party hosted by her daughter Mary.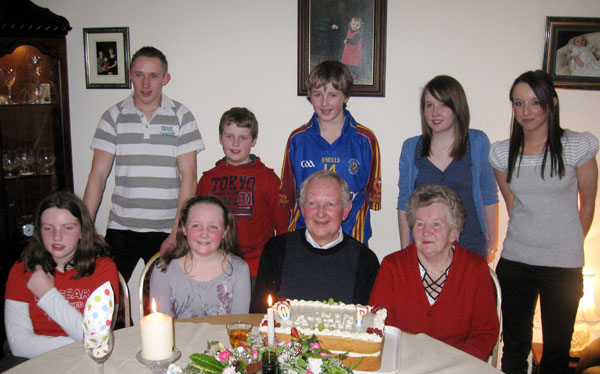 Nan and Tommy with their grandchildren Shauna, Kellie, Alan, Aaron, Dylan, Laura and Sabrina at Nan's party. (missing from photo Ollie).

Road Imrovement Works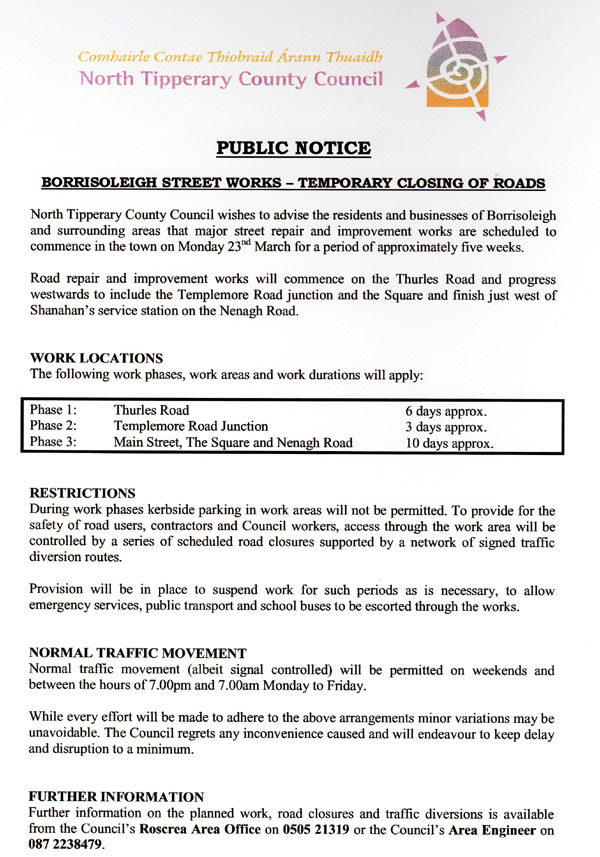 Lights – Camera – Action!

The Tipp Team preparing to do battle against Cork at the official turning on of the lights!

Let there be light – and there was light!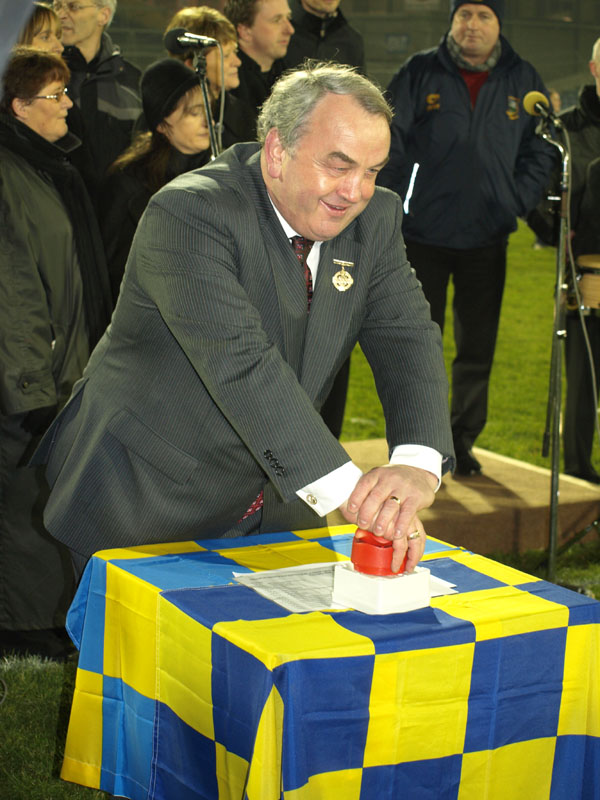 Nicky Brennan (President of the GAA) launching the new lights at Semple Stadium, Thurles on Saturday 14th February

One man and his dog!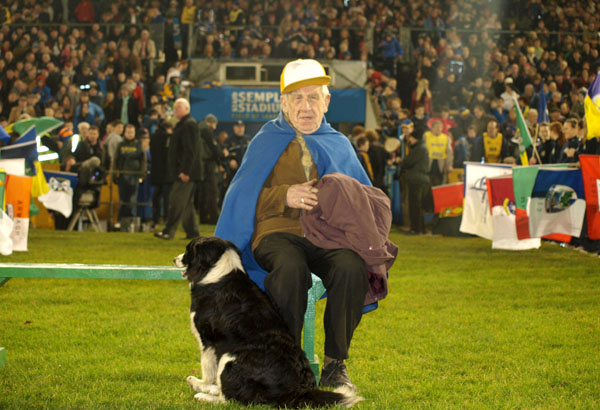 In the midst of all the excitement at Semple Stadium this hurling fan takes time to relax and savour the moment with his best friend!

Keeping his fans happy!

Local hurling hero meets and greets his fans while signing loads of 'cheques' to keep 'em happy during these recessionary times!

VEC Grants for Borris

North Tipperary V.E.C. is to grant funding to three Borrrisoleigh Youth groups. €1,800 is to be granted to Borrisoleigh Youth Club, €1,100 for Borrisoleigh Foróige and €800 for Clodagh Macra Club .Welcoming the allocation of funding Local Councillor John Hogan who is a member of North Tipperary V.E.C. stated that it is important that these youth groups are supported in providing educational and social outlets for the youth of Borrisoleigh and surrounding areas. These groups will nurture a sense of pride in the locality and create leaders for Borrisoleigh in the future. I believe that the community life of Borrisoleigh has a bright future due to activity of these groups and others in the area – John Hogan.
Borrisoleigh Sports/ Youth Centre
A public meeting was held on 26/02/2009 to discuss the proposal of a new building to facilitate the above. It was unanimously agreed that this project should go ahead. Some concerns were raised about the cost and layout of such a building, but it was decided that the committee should carry out further ­investigations in relation to these matters. Fundraising is to commence immediately in order that we can hire the necessary experts to advise us on the design, layout, structure, etc of this building. All local sport and youth organisations will be contacted before any final decisions are made. It was very encouraging to see how enthusiastic everybody is about this project and on the night nine people volunteered to join the committee. In fact names are still being submitted. If you would like to be involved you can contact any committee member, all are welcome.
Committee Members: Bobby Ryan, Don Ryan, Breda Ryan, Jimmy Stapleton, Brendan Kenny John Cummins, Fr. Michael Barry, Vera Hogan, Rena Ryan. The following also came forward on the night to be on the committee – Paraic Maher, Martin Ryan, Diarmaid Kinnane, Frank Cooney, John Keane, Micheál Tierney, Jamie Groome, David Butler and Philip Delaney.
Card Creations

A sample of Mary Sheridan Maher's cards which can be made to measure


Ever wanted to create a card for that special occasion? Card Creations can do the job for you. Here are just a few samples of Mary Sheridan Maher's work. She will be happy to work with you to achieve that perfect card bringing your ideas to life. Photos of your nearest and dearest can be included on the card of your choice.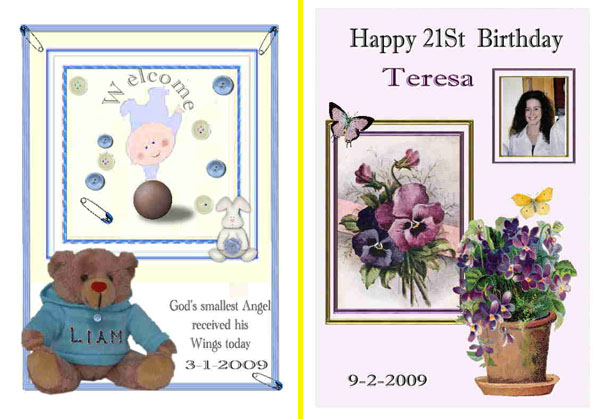 Another sample of Mary's work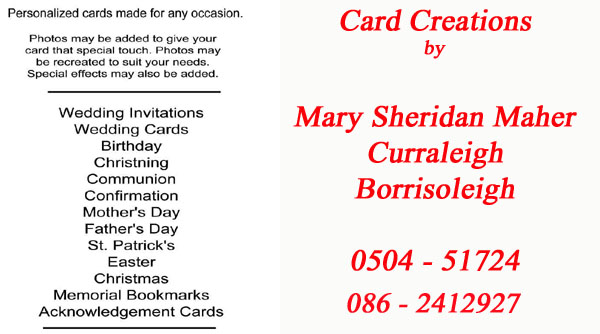 Letter from The Gambia, Africa


The letter below was received after Christmas from Rev. John Mendy who was one of the very many students world wide to benefit from prayers and financial help from St. Joseph's Young Priests' Society.

St. Joseph's Young Priests' Society was founded to foster vocations to the priesthood and religious life. Members subscribe annually, and all monies go to the society where they are distributed as the needs arise. Students in training for the priesthood in Ireland and all over the world receive financial help from the Society.
Here in Borrisoleigh we meet on the first Tuesday of every month.
Enquiries and information from Mary Lanigan-Ryan or Mary Kiely.

St. Therese's Parish,
Banjul,
The Gambia.

Dear Members of St. Joseph's Young Priests' Society,

I am Fr. John Mendy. I was ordained into the priesthood on November 21st. 2008. I had all of my studies to the priesthood in Ghana. It was a wonderful experience.

I write this letter with a free mind and a heart full of joy and happiness. There is no doubt that this joy and happiness was brought about by you and your society. The immense help that you have rendered to me cannot be under-estimated for it has gone a long way in bringing my desire to reality.

Training a priest in our sub-region is very expensive and the Bishop could not have done it alone without your help. I therefore want to express my sincere thanks and appreciation to you and your society for your help. I definitely appreciated every bit of help that you have given me.

May God continue to replenish every resource that you have put into my formation and may He continue to bless and keep you in the good work you are doing in training priests for the work of evangelisation.

Thank you, Yours in Christ,

Rev. John Mendy.

Clodagh Macra 80's fancy dress night


Macra members enjoying the night in fancy dress
Stick 'em up!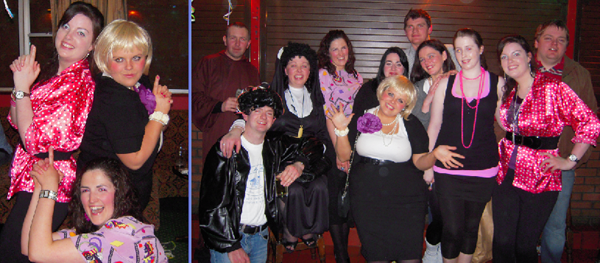 Clodagh Macra at a 80's fancy dress night run by North Tipp Macra
Great night was had by all our members, who danced the night away to 80's music in some rather dodgy ensembles!!
Borris-Ileigh GAA Lotto
Thursday 26th February
Jackpot: €6,200 (Not won)
Numbers: 7, 24, 25, 27
€50 Lucky Dip winners:
Philip Brett, the Ragg
Lily Donoghue, Glentane
Tommy Foley c/o Bourke's Pub
Bily Ryan (A), Fantane
Next draw: Thursday 5th March, in Stapleton's Bar, Main Street
Jackpot: €6,400
Marian Hall Lotto
3/03/09
Numbers: 4, 10, 12, 20
1 Winner
Marian Kennedy, Curraghloss
5 winners @ €30 each
Mick Ryan, Mt George
Lillian Loughnane, Thurles
Mary Tierney, Glenbreda
Cissie Walsh, Roscrea
Keith Carroll, Rathdowney
Next Weeks Lotto Jackpot
€1,500
Pic of the Past…….down memory lane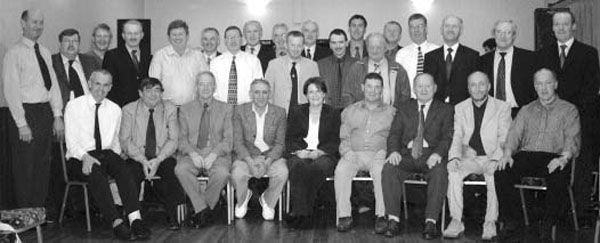 Reunion of the North Junior Hurling Champions (1979)
Back:
John Stapleton, Michael Small, John Kelly, Fitzmaurice Ryan, John Kinane, Rory Kinane, Richie Tynan, Liam Corbett, Matt O'Connell, James Slattery, P.J. Bourke, John Slattery, Donnacha O'Dwyer, Paddy Hennessy,Michael Carroll, Willie Stapleton, Paudie Stapleton, John Bradshaw and Bobby Ryan
Front: P.J. Ryan, Billy Ryan, Francis Spillane, Michael Gleeson, Margaret Tierney (representing her late husband Tom),
Tom Joe Spillane, Johnny Loughnane, Ollie Delaney and Michael Ryan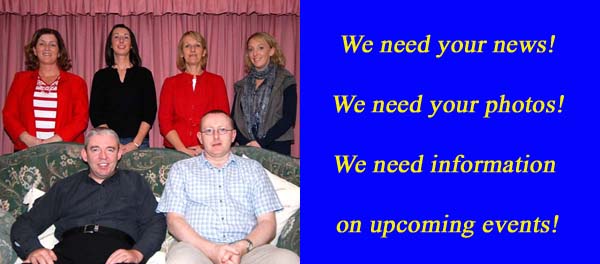 Website Committee: Noreen Fahy, Margaret Cowan, Marie McGrath, Aileen Óg Groome, Michael Barry and Enda Ryan

Many thanks to all those who contributed photographs and news items for this weeks current news.
Well done!

Send your email to:
info@borrisoleigh.ie
Also, if you like what you see and want to leave a comment, remember to use the Guestbook!