Painting the town 'white'!
(nearly finished!!!!)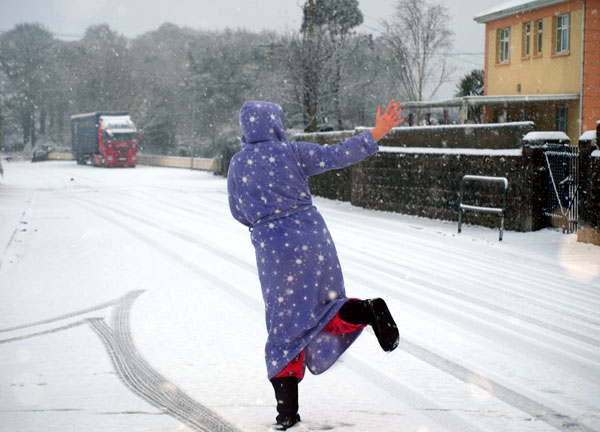 I'm singing in the snow – yes singin in the snow! (bet you don't know who I am though?!)

Up & down Pallas Street on Sunday 8 February
All-Ireland Champions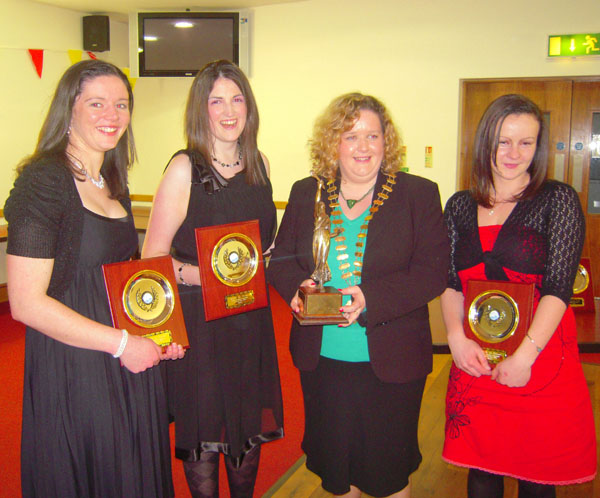 All-Ireland Public Speaking Champions Laura Ryan, Teresa Kennedy and Denise Ryan with Catherine Buckley (National President of Macra na Feirme)


National glory came to The Clodagh Macra Club last Saturday night 7 February at the Mallow GAA Complex where the All-Ireland Public Speaking Championship was held. The dynamic trio saw off their stiff competition when they beat Galway, Waterford, Louth and Laois to claim the top prize. The girls debated the topic "The Corporate Sector has Hijacked Sport". Well done on this marvellous achievement – Our first No. 1 – onwards and upwards we go…


Money give-away!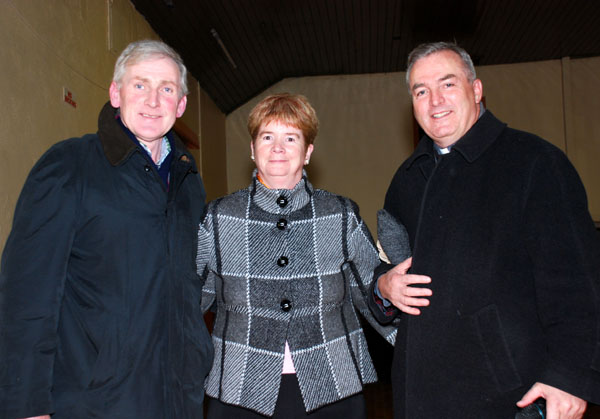 Michael Ryan, Biddy Stapleton and Fr Liam Everard PP at the first of the Parish Centre Draws on 7 February last
The first of the five monthly draws in the fundraiser for the Parish Centre took place in the Marian Hall on Saturday last 7 February. Fr. Liam Everard. PP addressed those who attended and thanked them for their support. Thomas Russell and TF Stapleton then officiated over the draw for the winners who were as follows: first prize of €600 to Maire Treacy, Ballycurrane, Thurles, second prize of €200 to Peggy Treacy, Fantane, third prize of €100 to Tommy O'Dwyer St. Brigid's Villas, and the fourth prize of 'a free entry to the draw for the car' to Maura Ryan Ballyconnor, Latteragh.

The next draw will take place before the Saturday evening Mass on 28 February in the Marian Hall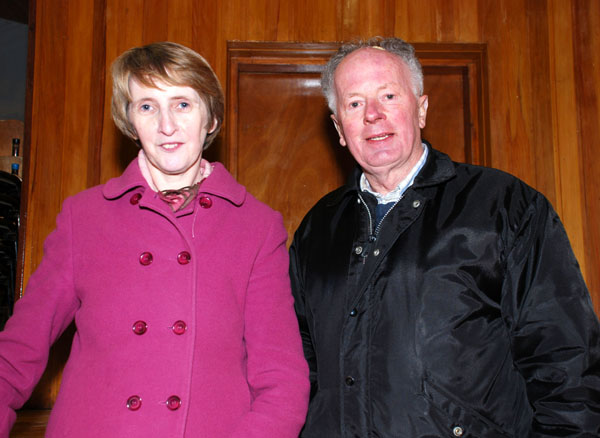 Kathleen Ryan and Thomas Russell at the Draw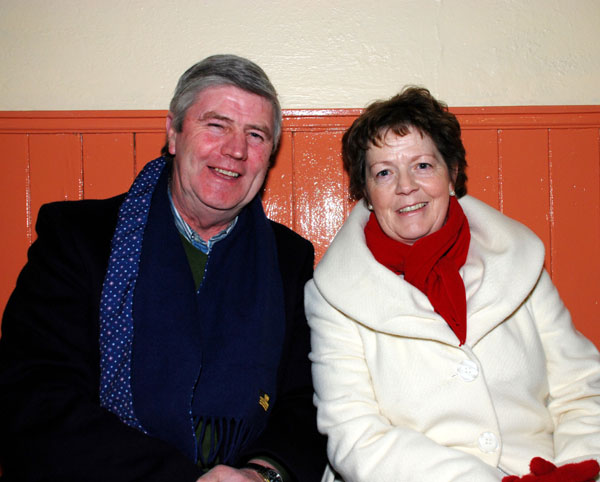 Ollie and Eleanor Kelly hoping to 'have' or 'to be' a winner on the night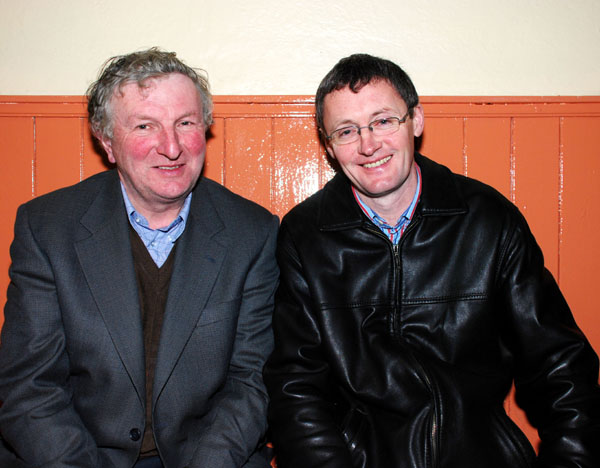 Gerry O'Reagan and Francis Doolan at the Draw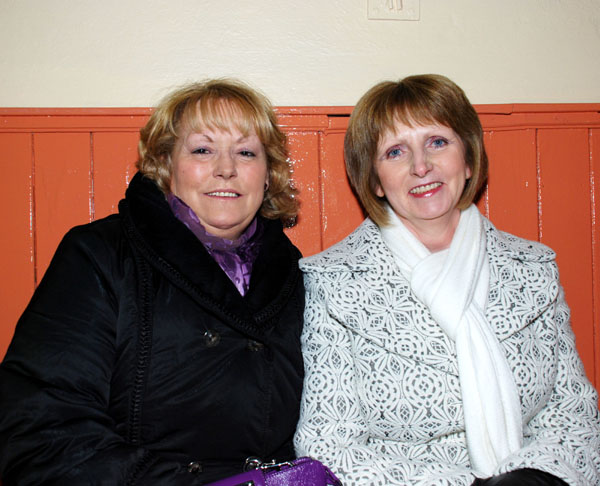 Bernie Kinnane and Nora Ryan adding a little style to the proceedings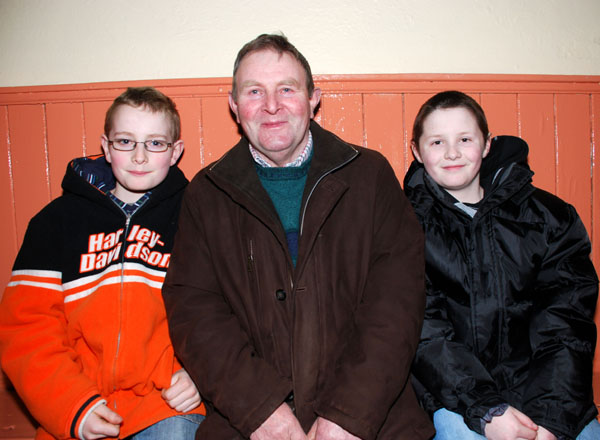 Martin Bourke with his two grandsons Thomas and David at the Draw
Trip to Sunderland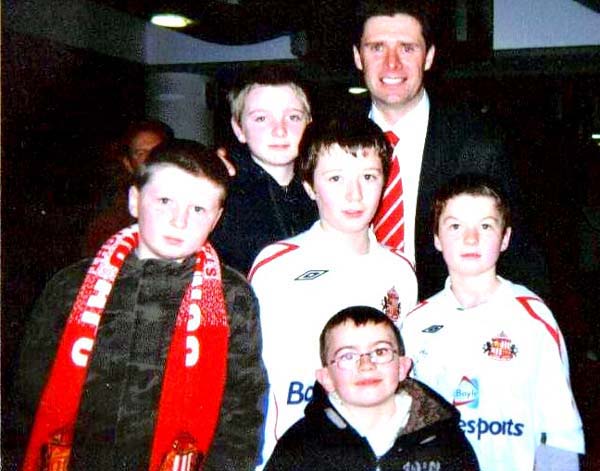 Niall Quinn, Chairman of Sunderland F.C. meets the Borrisoleigh Boys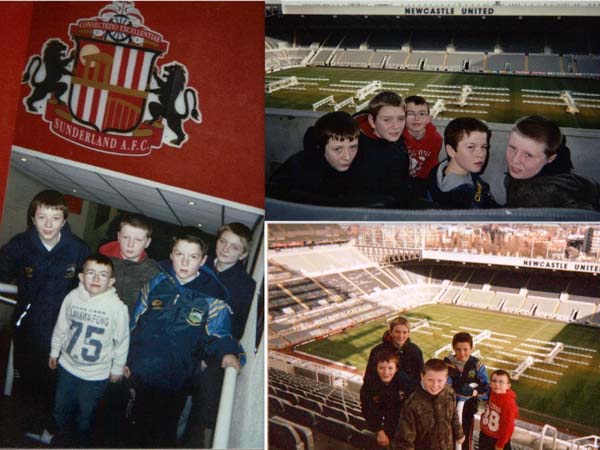 Eoin Stapleton, Declan and Cathal O'Connell, Jack and Cathal Hogan on a recent visit to Sunderland -v- Stoke match.
They met Niall Quinn after the match and also visited St. James's Park, home of Newcastle United.

The Borris Choir Boys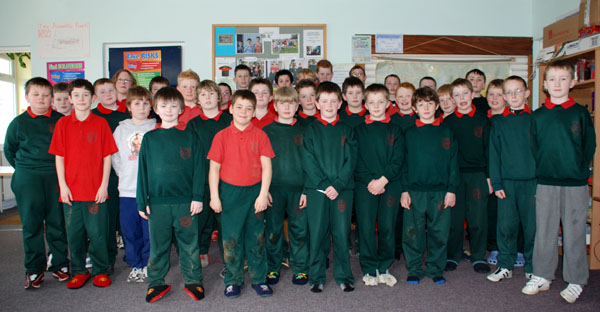 The senior choir boys from St. Patrick's Boys' National school photographed during a recent rehearsal in preparation for the Confirmation ceremony on Friday 27 March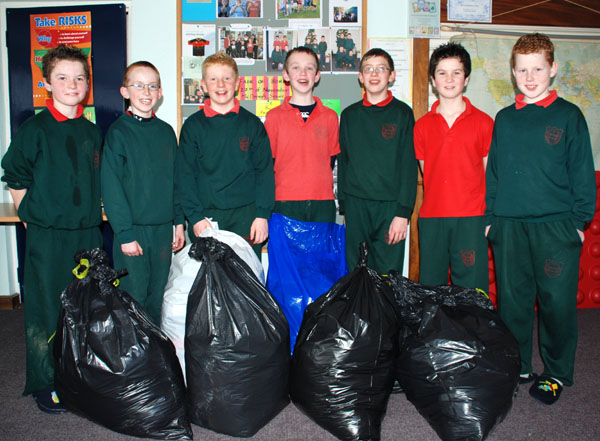 Sixth class boys from St. Patrick's boys' National School organising the bags of used clothing for our Kenyan Orphanage Appeal

Happy Birthday Guys!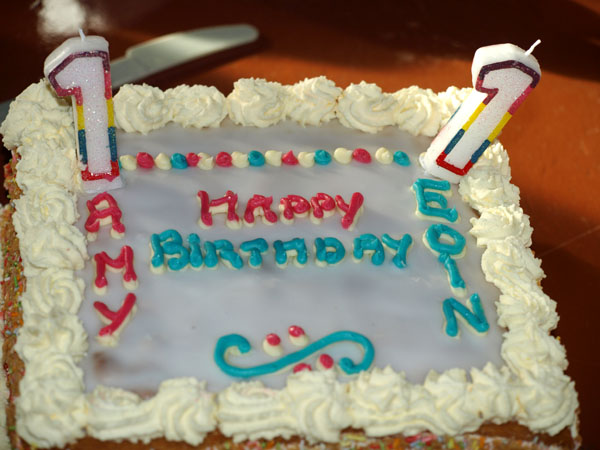 We're ONE today!
Amy and Eoin Ryan of Coarsepark celebrated their first birthday party on Wednesday 11 February at a special party in their honour at the Borrisoleigh Parent and Toddlers Group in the Marian Hall. We wish them a happy birthday and the very best as they plan for the BIG 2 which, in fairness, is a lifetime away!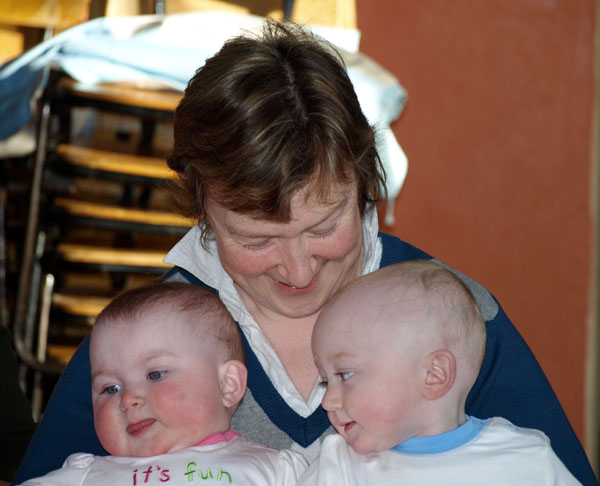 Proud mum Lucia with darlings Amy & Eoin on their very first birthday!

Some of the invitees to the big party!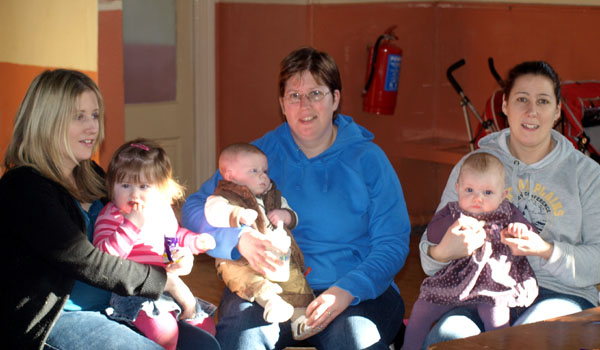 Carol Kelly with baby Abbey, Fiona Max with baby Tomás, and Lorriane Stapleton with baby Grace Stapleton whom she babysits



Double Trouble!




It's our party and we'll play if we want to!

Family History Project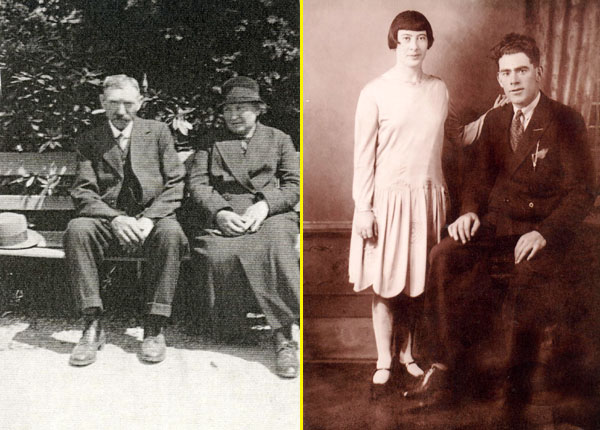 Matthew and Elizabeth O'Donovan & James and Sarah Maloney


St. Theresa's 4th, 5th and 6th classes are thoroughly engrossed in their family history project. This involves researching family surnames, family crests and of course a family tree. Some lovely old photographs have been unearthed and these will be displayed as part of the project.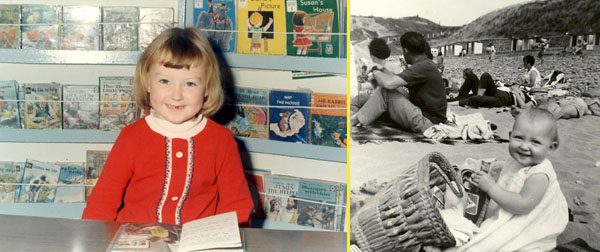 Lucia (O'Donovan) Ryan from Coarsepark (mother of the twins) as a young girl in school and as a 'liggle' baby catchin a few rays on the beach!

Four generations of Ryans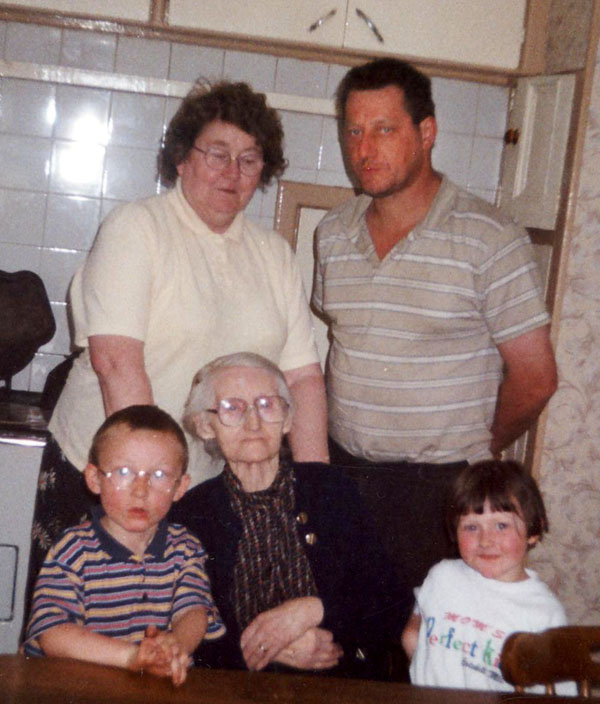 Josie Ryan with her daughter Maura, Maura's son John and his son Thomas and daughter Sarah


Borris-Ileigh Juvenile GAA Club

The Annual General Meeting of the Juvenile Club took place on 24th January in the Marian Hall. Comprehensive reports were presented to the meeting by Sheila Delaney Secretary and Mary Stapleton Treasurer and both were highly commended by Jimmy Stapleton in his Chairman's address for the tremendous work put in by both during their times in office and he wished them well in the future. Jimmy also praised the effort and dedication of the Committee and those involved in training teams and also the commitment of all of the juvenile players in the club from U8 to U16. In outlining the great strides made by the Juvenile Club at all levels he had a special mention for the U16's who won football and hurling titles at divisional level and also captured the hurling county title. Parents and sponsors were also thanked for their contribution to the juvenile club throughout the year. Micheal Tierney Chairman of the Senior Club also addressed the meeting and reaffirmed the tremendous work being done at juvenile level and assured the meeting of the continued support of the senior club. The following nominations were ratified for 2009. Chairman Jimmy Stapleton, Secretary P. J. Ryan, Treasurer T. J. Ryan, Vice-Chairman Michael Carey, P.R.O Ruairi O'Connell. The following managers and selectors for 2009 were also ratified U8 manager Paddy Ryan, U10 manager P.J. Younge, U12 Hurling and Football Manager Ruairi O'Connell U12 selectors Michael Carey & Denis Kelly, U14 Hurling & Football Vinnie Stapleton and U16 Hurling & Football manager Jimmy Stapleton.

Indoor Hurling
Indoor Hurling commenced during January for boys born in 1999, 2000, and 2001 on Thursday evenings in the sports hall in St Josephs Secondary school, Borrisoleigh from 7 to 8 pm and for boys born in 2002, 2003 and 2004 in the Marian Hall on Saturday mornings from 10.30 am to 11.30am. New players are always welcome to attend. Players should arrive togged in runners and with a helmet. Indoor hurleys will be provided. The cost is €2 per session. Players will be notified by text of any changes to times etc. Hurling training for 2009 has begun with the U14's first to resume despite the recent cold weather. All other teams will be getting going over the next number of weeks and all players will be notified by text of times, dates etc.
2008 Parish Football League

The deferred football league will take place in the next few weeks. Players will be notified of the exact dates and times of fixtures. The captains and teams have been drawn as follows:
Team A Captain Darragh Ryan, Cathal O'Connell, Philip Fahy, Thomas Ryan, Jack Hogan, Sean Kenny, Jane McCormack, Paudie Scanlon, Franz Leimlehner, Gerry Kelly, Aaron Reid, Dan Brookes, Paudie Younge.
Team B Captain Seamus Doolan, Seamus Howard, Danny Ryan, Matt Stapleton, Declan Ryan, James McCormack, Karen Kenny, Micheal Carey, Tom Fitzgerald, Liam Devaney, David McCormack, John Ryan, John Niserky.
Team C Captain Teresa Ryan, Seamus Bourke, Dylan Reid, Kieran Maher, Shane Kenny,Philip McCormack, Grace O'Mahony, Stephen Doolan, Bendan O'Dwyer, Sean Ryan, Conor Keane, Aaron Donnelly,Bertie Niserky.
Team D Captain Shane McCormack, John Fitzgerald, Dean Ryan, Liam Ryan, Michael Ryan, Declan O'Connell, Sarah Ryan, Sam Devaney, Eoin Stapleton, Edward Addis, Charlie Stapleton, Jack Prior, Herbie Bruwer.
Membership
The annual Juvenile Club membership fee for 2009 of €10 per child or €20 per family is now due. This year all juvenile players have to be registered with Croke Park by the end of March so we would ask that all forms distributed be returned to any manager or committee member by the 7th of March. In addition forms should be returned so that mobile numbers on text lists can be updated. Your assistance in this regard would be appreciated.

Annual Church Gate Collection
The Annual Church Gate Collection for the Juvenile Club will take place on the weekend of Saturday 28 February/Sunday 1st March. Your support would be greatly appreciated


Borris-Ileigh GAA Lotto
Thursday 12th February
Jackpot: €5,600 (Not won)
Numbers: 3, 13, 16 & 27
€50 Lucky Dip winners:
Damien Slevin c/o J. Maher
J.J. Rusk, Kilfithmone
Joe Buckley, Rathmoy
John Maher c/o Gleeson's
Next draw: Thursday 12th February, in Stapleton's (Cross of Pallas)
Jackpot: €5,800
Marian Hall Lotto

10/02/09

Numbers: 5, 11, 18, 19

No Jackpot Winner

3 winners @ €50 each

Gerard Kennedy, Kilfithmone
Joan Irwin c/o Bingo
Mary O'Grady, Ballinaclough

Next Weeks Lotto Jackpot

€9,000

Pic of the Past…….down memory lane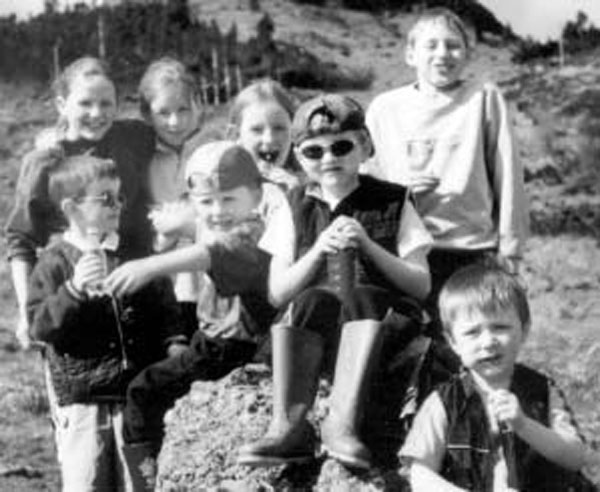 Devil's Bit Climb
Back: Aisling Stapleton, Marie Tynan, Aoife Stapleton and Liam Tynan
Front: William Delaney, Declan O'Connell, Cathal O'Connell and Eoin Stapleton

Your Website Needs You!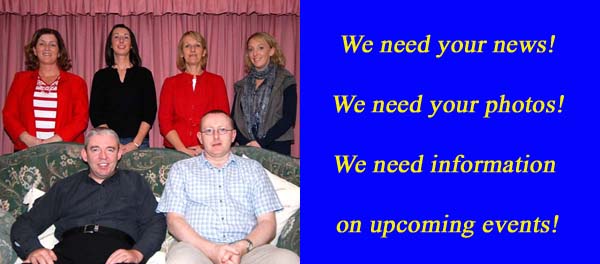 Website Committee: Noreen Fahy, Margaret Cowan, Marie McGrath, Aileen Óg Groome, Michael Barry and Enda Ryan

Many thanks to all those who contributed photographs and news items for this weeks current news.
Well done!


Send your email to:
info@borrisoleigh.ie
Also, if you like what you see and want to leave a comment, remember to use the Guestbook!