St. Joseph's College Borrisoleigh Munster Camogie Champions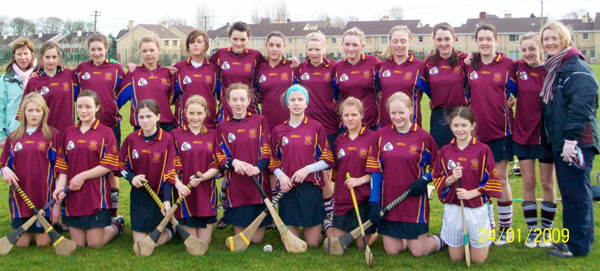 The Munster Champs with their mentors

On Saturday the 24th January, St. Joseph's College and St. Flannan's College, Ennis competed in the Munster Colleges Camogie Junior B Final. St. Joseph's travelled to Éire Óg in Ennis and in near perfect conditions put on a superb display of hurling. The Borrisoleigh defense had their work cut out for them as they hassled and harried the Clare girls. The match was very close with nothing between the two teams. Borrisoleigh took the lead in the first half, a lead they never relinquished.
In the second half St. Joseph's girls took control once again. A great display of hurling followed with St. Joseph's College leading to a victorious finish. The final score was St Joseph's College 4-7 to St Flannan's College 0-3. Well done girls!
The referee Willie Barrett presented the cup to the winning captain Moira Ryan. He commended both teams on the high level of sportsmanship exhibited in the match and gave a special word of thanks to the parents and supporters for the encouragement they gave the girls.
The St. Joseph's team wishes to thank most sincerely the parents and supporters who travelled on both days to support the team.

St. Joseph's: Edel Ryan, Katie O'Meara, Geraldine Kelly, Moira Ryan (captain), Claire Ryan, Sheila Ryan, Louise McLoughlin, Teresa Ryan, Niamh O'Donoghue, Nicole Walsh, Michelle Ryan, Aoife Ryan, Moira Ryan, Maria Ryan, Julie-Anne Bourke, Elaine Murphy, Karen Kenny, Karen Purcell, Vivienne Glesson, Ceri Healy, Miriam Dunne, Regina Cleary.
Subs: Elaine Murphy for Claire Ryan, Ceri Healy for Niamh O'Donoghue.Scorers: St. Joseph's College – Sheila Ryan (0-1), Niamh O'Donoghue (1-2), Nicole Walsh (0-2), Aoife Ryan (1-0), Moira Ryan (1-0), Julie-Anne Bourke (1-2)


Look at what we won!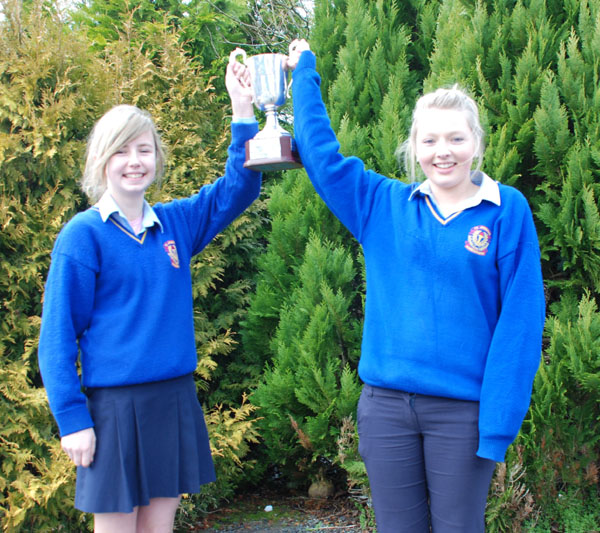 Moira Ryan of Gortagarry Toomevara and Nicole Walsh of Pallas Street holding th Junior B Munster Camogie Cup. St. Joseph's College beat St. Flannan's of Ennis in Ennis on Saturday 24 January. The all-Ireland semi-final will take place in early March at a date and venue to be decided.
St. Joseph's Senior Camogie Team are playing Carrick-on-Suir in Piltown Co. Kilkenny on Saturday 7 February

Rugby Accolade for St. Joseph's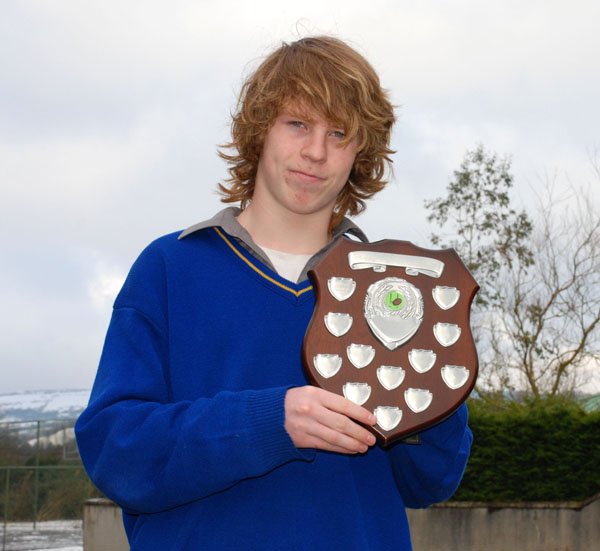 Jack Donovan, Captain of St. Joseph's U/14 Rugby Team holds the Christy O'Brien Plate which they won in late 2008. It was the third time the plate was won by St. Joseph's in recent years.
Home and Away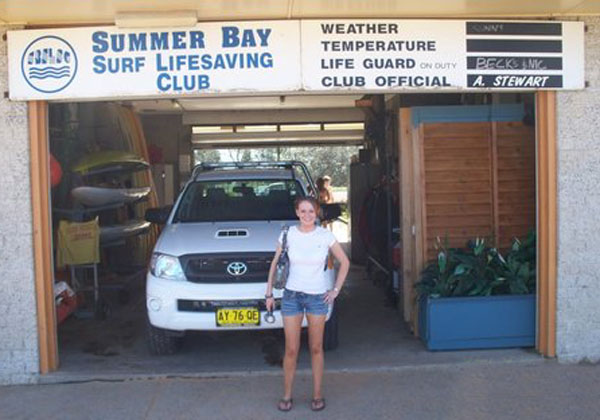 Brid Harty photographed "down under" in sunny Palm Beach where Home & Away is filmed.
First Draw in aid of the Parish Centre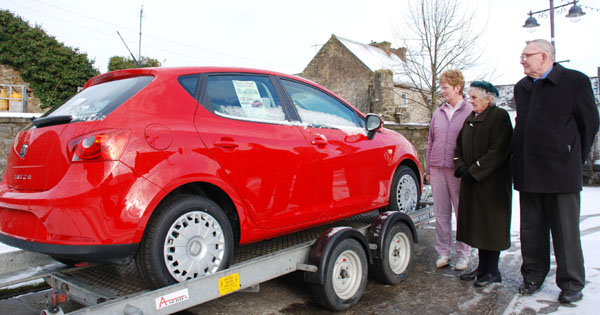 It's a nice red shiny one isn't it?!!
Miriam McCormack with Biddy and Mick Ryan admiring the span-new Seat Ibiza car which is the top prize in the Parish Centre draw which commences this Saturday evening
7th February in the Marian Hall after evening Mass.

Golden Vale Pony Club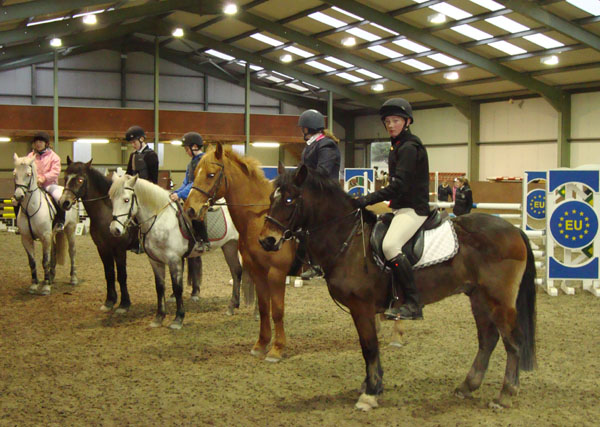 Seán Ryan, Rathmoy who represented the Golden Vale Pony Club in the South Eastern League in Ballinmona, Co. Waterford recently. Seán came first in the 90cm category. Congratulations Seán!

Young Aviators of the Past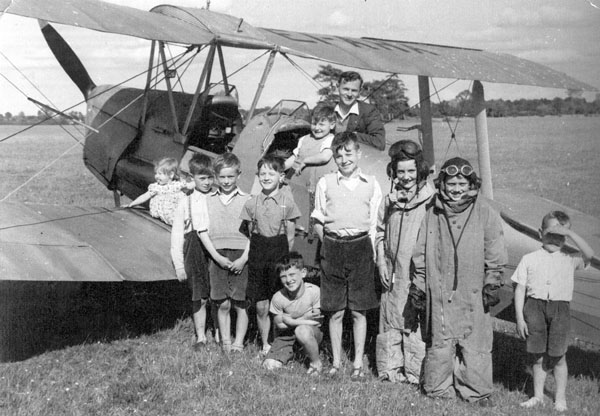 This photo, taken by Jimmy Chadwick of his plane in Cooks Field, was submitted by Seán A. Ryan
Included above are Nora Chadwick, Paudie O' Driscoll, Matt Fanning, Oliver Ryan, Murty Ryan, Derry Bourke, Seán Ryan, Stephen Ryan, Noel Maher, Paddy Prior and Fitz Chadwick.



Cashel and Emly Lourdes Fundraising Draw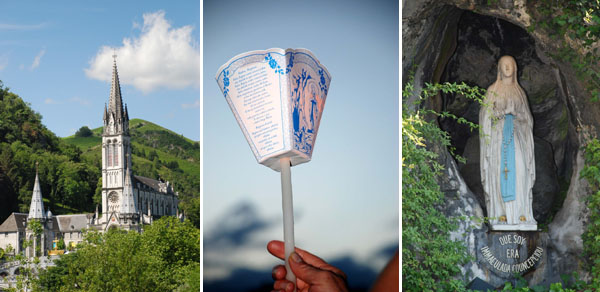 The Cashel and Emly Lourdes Fundraising Draw will commence on February 14th 2009 and will take place over 3 months. Tickets are € 30 each or € 10 per month.
Your support would be greatly appreciated.
Tickets are available in Borrisoleigh from : O'Connells Pharmacy, Main Street – Catherine Ryan, The Glebe – Anna Ryan, Glenarisk

Hunt Day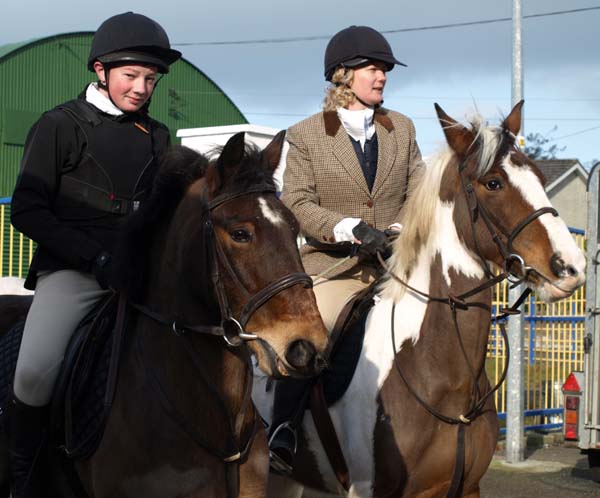 Sean and Rena Ryan ready for the off on Sunday last 1st February 2009 at the Hunt in Borrisoleigh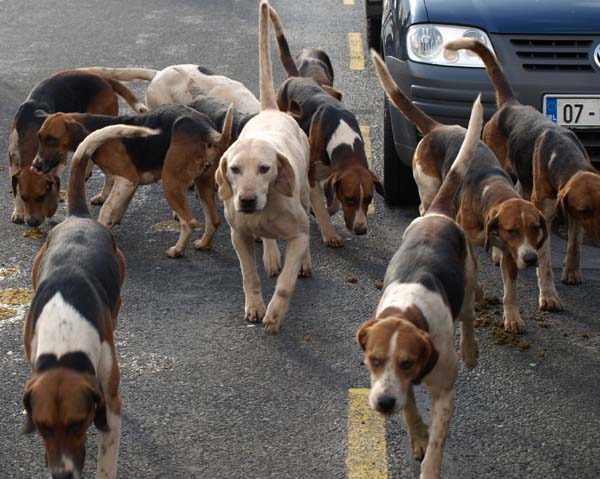 The hunting dogs getting ready for their run
Operation Transformation continues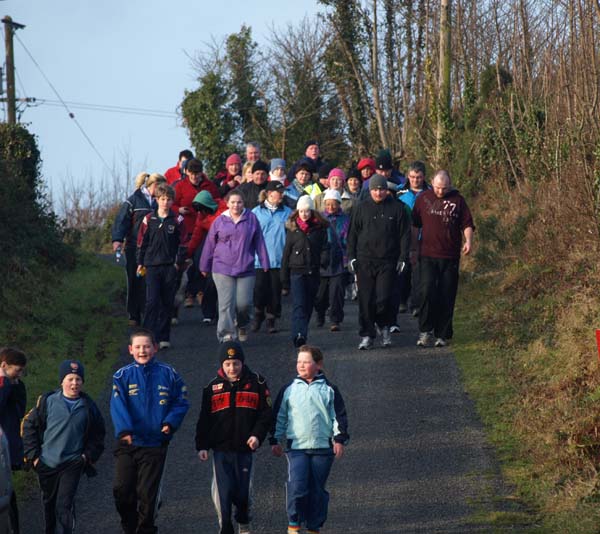 Look at the crowd that took part on the walk on Sunday morning last to the Devils Bit!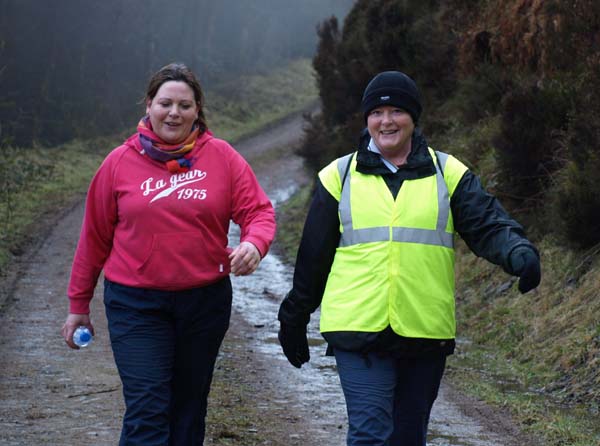 The girls are stepping it out but still smiling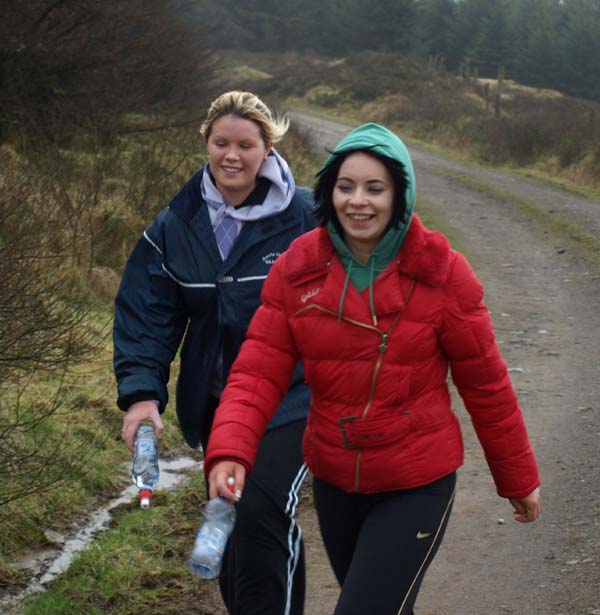 Ann Fahy and Lillian Treacy are just starting the high climb to the top
May He Rest In Peace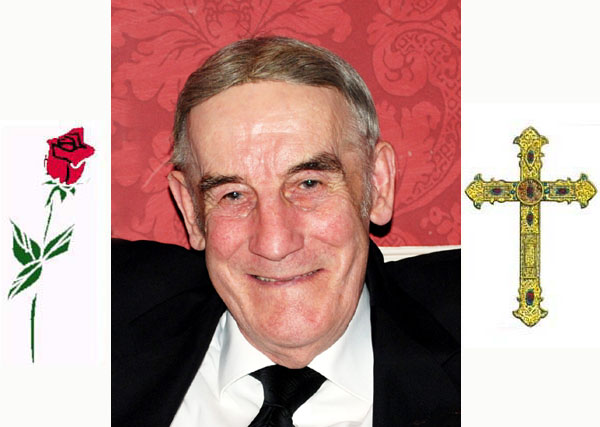 We record the death of Neil O'Dwyer of Fishmoyne Borrisoleigh who died at Nenagh General Hospital on Saturday 31 January following an illness . His Requiem Mass took place at The Sacred Heart Church, Borrisoleigh on Monday 2 February followed by his burial in St. Brigid's Cemetery. We offer our sincere sympathies to his family and friends.
Winter Scenes around Borrisoleigh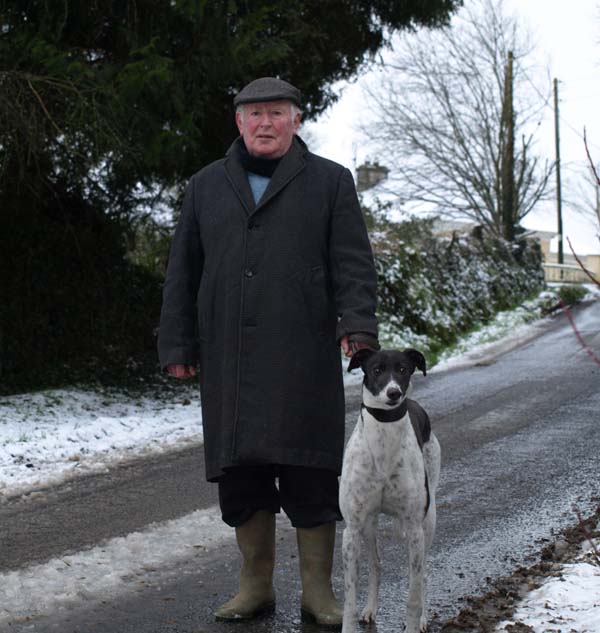 Tom Kiely out walking his dog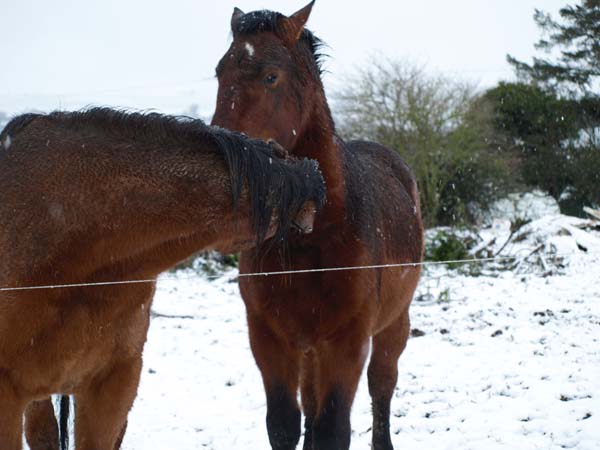 Just horsing around!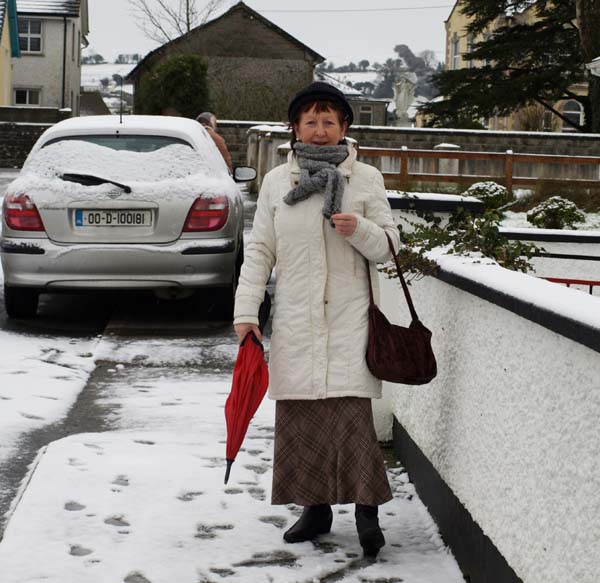 Biddy Hurley minding her step as she walks on the snowy footpath




Borris after the "big fall" on Tuesday 4 February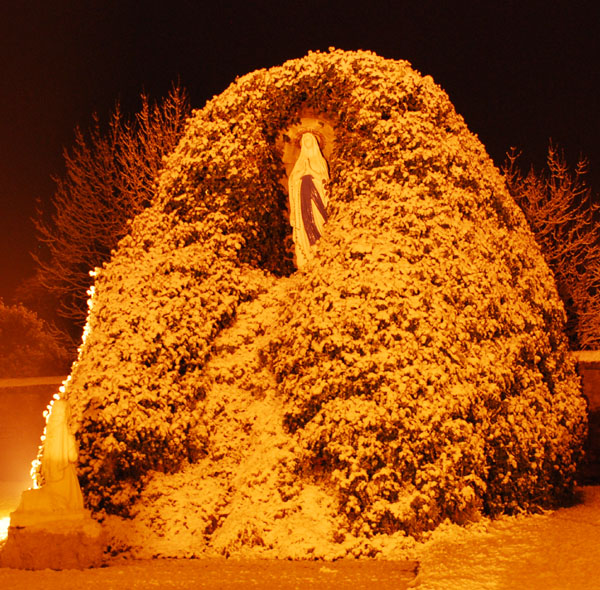 The snow covered grotto in the churchyard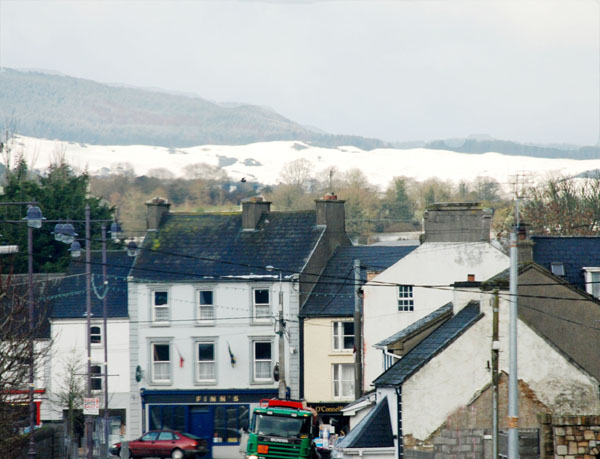 This photo was taken in Borris on Tuesday 3 February showing a thick blanket of snow on the hills behind our town. If you're lucky enough to be viewing this in the warmer climates of Australia or South America spare a thought for the rest of us as we battle against the ravages of the cold – Brrrrrrrrrr!
Borrisoleigh Coursing Club News



On December 26th and 27th, Borrisoleigh Coursing Club held their annual two day meeting. After a dull but dry St. Stephen's day a sharp overnight frost forced the meeting on the second day to be delayed by two hours. However, the frost failed to disrupt proceedings and once coursing got under way, spectators were treated to some fantastic coursing with strong running hares.
In the final of the Rathmoy Stakes for working members the John Hackett trained Slim Jim True got the better of the local Hang Em On The Wire syndicates Another Panic by half a length. The runner up in the final was trained by Willie Duff. Borrisoleigh Coursing Club would like to thank everyone who helped in any way to make this year's meeting a success. A special thanks to the Kennedy family, Fishmoyne for the use of the field, to local slipper Owen Walsh, Judge Noel Loughnane and the hard working and dedicated committee. After another successful year of top class coursing the club looks forward to 2009, where it once again no doubt will lead the way, and hold up the proud tradition of coursing in the Borrisoleigh area.
In deep discussion!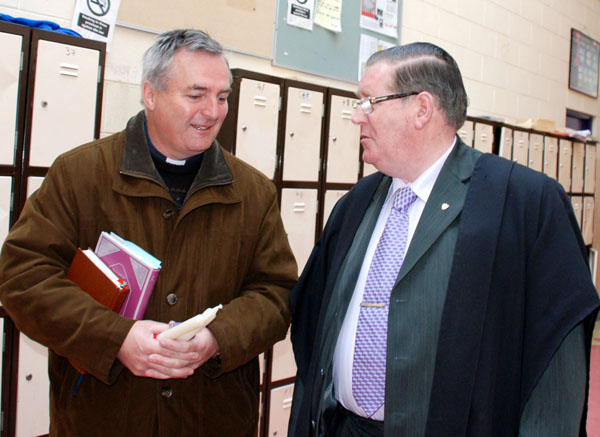 Fr Liam Everard PP listens attentively to the words of wisdom of Padraig O'Shea (Principal) at St. Joseph's College on Tuesday 3 February last. Frs. Everard, Irwin and Barry came to the school to impart the special blessing of St. Blaize to all the staff and students on the Feastday of the Saint .
Ileigh Choir Annual Party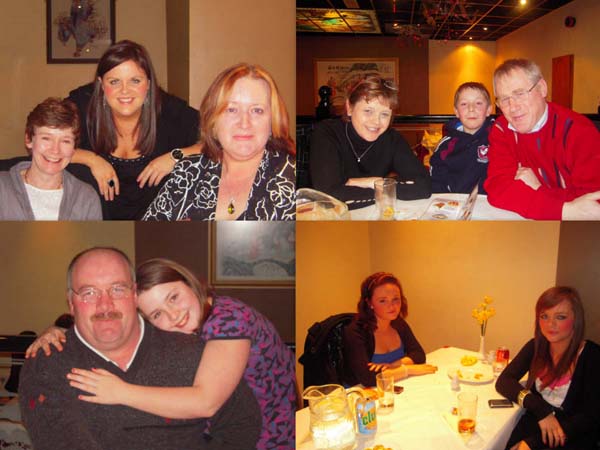 Top left
– Bronagh Delargy, Anne Marie Kavanagh and Mary Maher;Top right – Helen, Micheál and Michael Carey
Bottom left – Joe and Hazel Holland; Bottom right – Becky Prior and Clare Kavanagh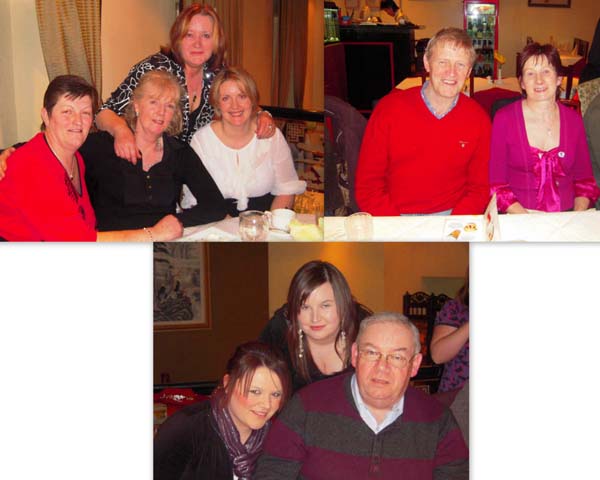 Top left
– Catherine Harty, Ann Ryan, Mary Maher and Michelle Duignan;Top right – John and Helen Kelly
Bottom – Michelle, Aine and Michael Lynch

Cross Country Championships of Ireland

Sarah Ryan, Martina Slattery, Clodagh Ryan and Emer Delargy who took part in the Juvenile "B" Cross Country Championships of Ireland in Boyle, Co. Roscommon on Sunday January 25th.
Well done girls!

Ready,Steady,Go….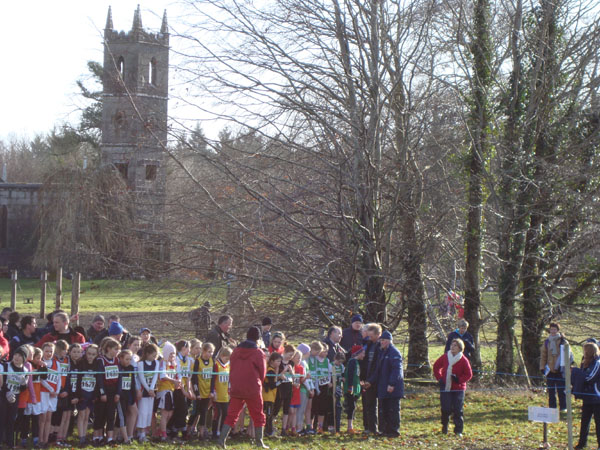 At the starting line, all ready to go.
Water Quality and Treatment of Waste in Borrisoleigh


At the January meeting of North Tipperary Co Council Councillor John Hogan asked Officials for a progress report in connection with the sewage plant in Borrisoleigh. Councillor Hogan stated that during 2008 proposed planning permissions were refused in Borrisoleigh because of lack of capacity in the sewage plant and the local river was also polluted as a result. Council Engineer Mr Gerry Robinson told the meeting that North Tipperary Co Council is currently installing a temporary wastewater treatment system in Borrisoleigh and that building should resume as soon as the temporary system is in place. Mr Robinson also said that the temporary treatment system should improve the quality of water in the river.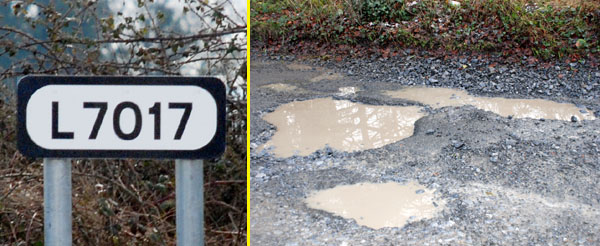 The new local road signs and the dreadful state of our local roads
North Tipperary County Council received €150,000 in 2008 from the Government for a regional road signposting programme. The road between Nenagh and Thurles is a regional road and this is why these new strange looking signs have appeared at the start of every side road and public laneway off of the road. Most of the side roads start with the letter L followed by a number – the L stands for Local. All roads in Ireland officially start with a letter followed by a number. The highest category of road starts with an M (Motorway) followed by N (National)Followed by R (Regional)and finally L for the local roads that have taken a pounding this winter with the relentless rain and bad weather.

Clíodhna bids for All-Ireland glory!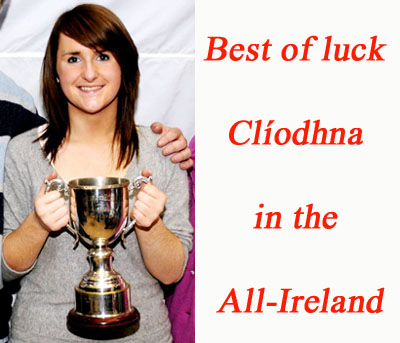 Clíodhna Bourke – All-Ireland Recitation Finalist

We wish Cliodhna every success in the All-Ireland. As the All-Ireland Final is an all ticket affair, anyone wishing to go should give their names to any of the Scór Committee immediately. The North Final of Scór Sinsear will take place in the Marian Hall Borrisoleigh on Sat 28th February. A very entertaining night is promised as many talented acts from the Parish have been rehearsing recently. So come along and lend your support on the night and you won't be disappointed! Best of luck to all Borrisoleigh participants.
Credit Union Quiz – Winners and runners-up!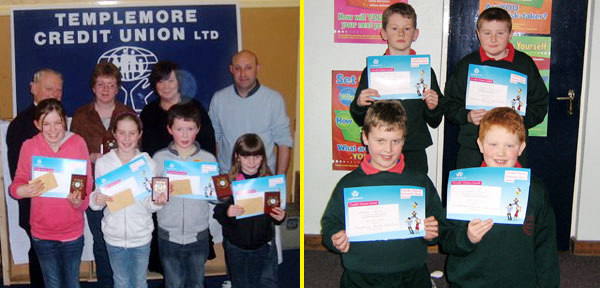 Winning team from Scoil Bhríde Fantane in Category A of the Credit Union Quiz (on left) Sarah Kinane,Tara Crawford,John Ryan and Tia Devaney with Marcus Wilson (Templemore Credit Union), Catherine Ryan (class teacher), Deirdre Kavanagh (Templemore Credit Union) and Michael Fogarty (Templemore Credit Union).
The U/11 team from St. Patrick's Boys' N.S. (on right) are Conor Keane, Jack Prior, David Mc Cormack and Aaron Reid were runners-up on the night, a single question behind their neighbours in Scoil Bhríde Fantane N.S.
Snow Time In Fantane

Enjoying the Snow in Fantane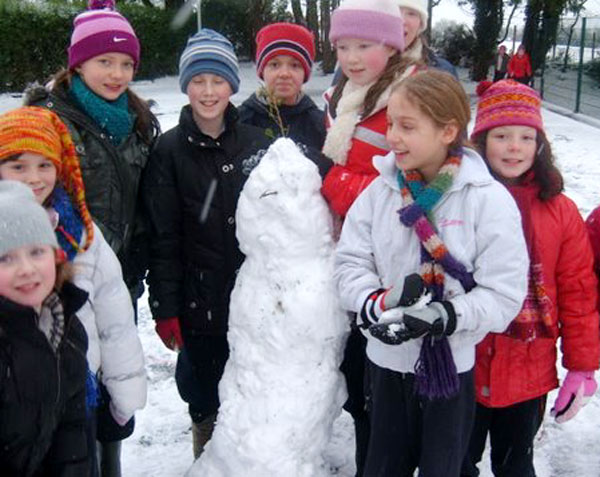 Great excitement as winter arrives in Fantane
St. Brigid's Crosses for St. Brigid's School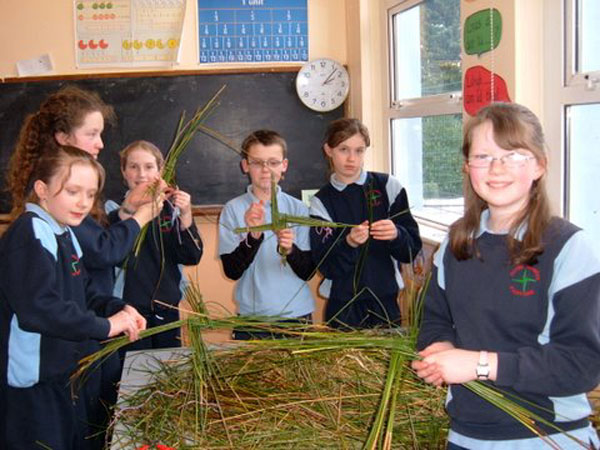 Senior pupils making St.Brigid's Crosses
Hurling Blitz
Celebrating the GAA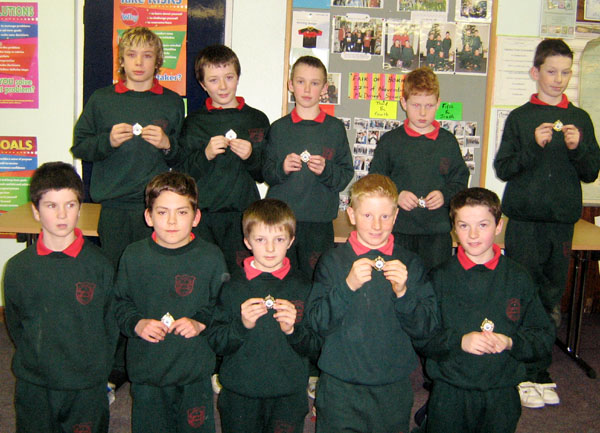 Some of the pupils from St. Patrick's Boys' N.S. who participated in an inter-schools' indoor hurling blitz in Cloughjordan recently
"Interview an Entrepeneur Competition"

'Richie Tynan – A Glass Act'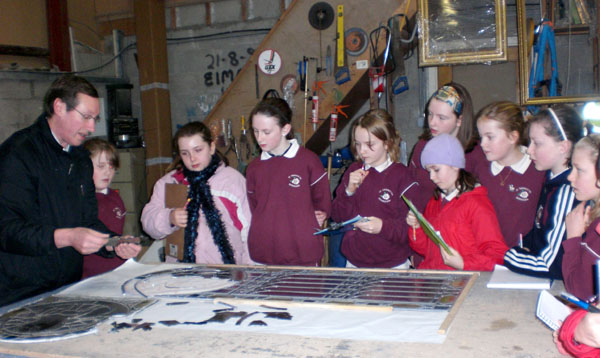 Richie Tynan demonstrating his Glass Skills to the girls from St. Theresa's

This month, fourth, fifth and sixth classes visited the workshop of Richard Tynan. Lorna Ryan, Eimear Lyons, Shauna Ryan, Emma Ryan, Hazel Stapleton and Sarah Ryan interviewed Richard about his glass design business in the context of "Interview an Entrepeneur Competition" Richard showed exactly how he creates such beautiful stained glass windows, which adorn Churches and prayer rooms in most counties. Indeed, one of Richards most famous designs is found in the magnificent Cathedral of Durham, England. The children are of course very familiar with the windows depicting our own Bishop Joseph Shanahan and Bishop Thomas Quinlan here in our own Church of the Sacred Heart, Borrisoleigh.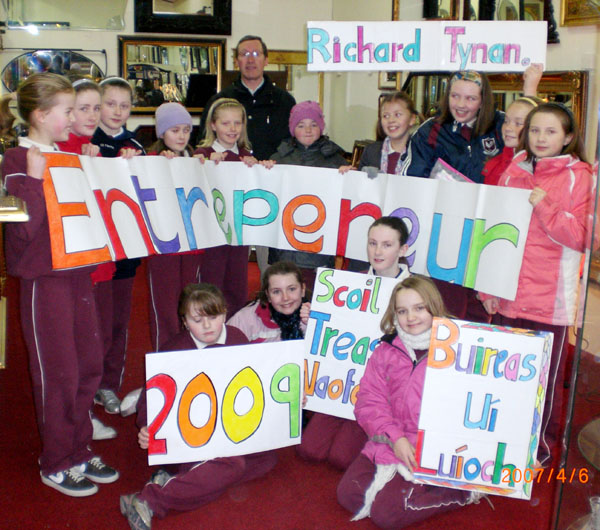 St. Theresa's girls with Richie Tynan, their choice of local Entrepeneur for 2009

FIANNA FÁIL
THE REPUBLICAN PARTY
Borrisoleigh Cumann


Fianna Fail Borrisoleigh Cumann held a vibrant meeting on Tuesday 20th January 2009. The meeting was called to deal with the upcoming Ard Fheis and with applications for delegate passes and motions and after this was dealt with debate shifted to the state of the economy, the roads and upcoming local elections amongst many other issues. All comments were appreciated and noted and hopefully the upcoming AGM scheduled for Friday night 6th March 2009 at 8pm will inspire more debate and comment. The meeting is open to all and will be held in the Clodagh Bar meeting room.

Pic of the Past…….down memory lane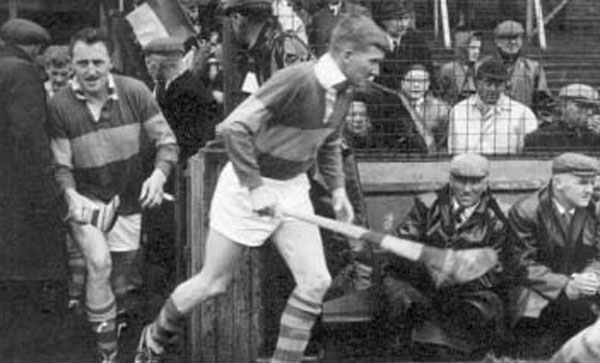 Liam Devaney of Lower Street takes to the field for Tipperary with Mick Burns in front

Your Website Needs You!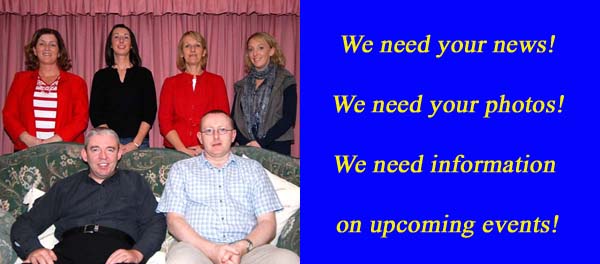 Website Committee: Noreen Fahy, Margaret Cowan, Marie McGrath, Aileen Óg Groome, Michael Barry and Enda Ryan

Many thanks to all those who contributed photographs and news items for this weeks current news.
Well done!

Send your email to: info@borrisoleigh.ie

Also, if you like what you see and want to leave a comment, remember to use the Guestbook!