Our man in Kenya

Fr Liam with children from St. Gabriel's parish which is run by Fr Peter Finnegan a Kiltegan priest. This school is adjacent to Kenya's biggest slum

Last week Fr. Liam Everard PP visited Kenya as one of eight Diocesan Representatives of Trócaire. The aim of their visit was to prepare for this year's Trócaire Lenten Campaign, which has as its theme 'Displaced People'.
He writes… This displacement takes place mainly through conflict, war, political motivation, boundary disputes between tribes and countries, drought, famine etc. Our group was led Eithne McNulty who works in Trócaire's Belfast office. We linked up with Peter De Kaiser (Regional Manager for Trócaire, East Africa) and Mike Comerford (Nairobi Office). We also met some of the Kiltegan Missionary priests who gave us accommodation and great hospitality. I met Fr. Liam Kelly from Ileigh, who works in Kitui and who sends his greetings. Some of the Kiltegan priests featured on the news during the post election violence of January 2008. This violence which was politically motivated and involved tribal warfare led to thousands of families being displaced. Many of them came to the Mission compounds for shelter and refuge. One such was the mission compound of Londiani parish where Fr. Con Ryan from Drombane works. We met him with his parish team on the roadside where he had just finished saying Mass for his community. The Church was appropriately named 'Our Lady of the Wayside'.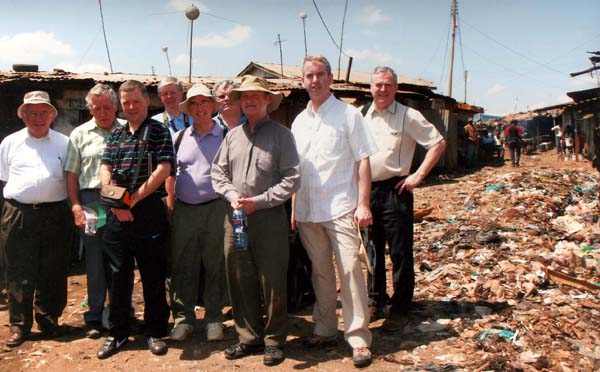 Fr. Liam with the other diocesan representatives and Fr. Peter Finnegan (Kiltegan Priest) 2nd from left


Fr. Brian Treacy who was also there during the conflict spoke to us about what it was like at that time. He talked of having 4,000 people on church grounds in a displacement camp and of the precarious nature of virtually everything for the period of the violence. He spoke of a tribe going against their own nature by destroying food and the anxiety of older people in the tribe at what might follow i.e. 'no luck for it'. He also spoke of how forgiving the Africans are, and how they will need to be, but it is a slow process. These displaced people literally had nothing, so they depended very much on emergency aid some of which was supplied by Trócaire. The priests were called out at different times to collect dead bodies and perform burials. Their relationship with the police was not easy. They needed the police for protection when they had to travel out but they couldn't be seen to be over identifying with them. The violence affected relationships within the community and parish organisations because groups and committees were a mixture of the different tribes or ethnic groupings. While the people at this camp have now returned to their homes many of which were burnt and destroyed others are not so lucky.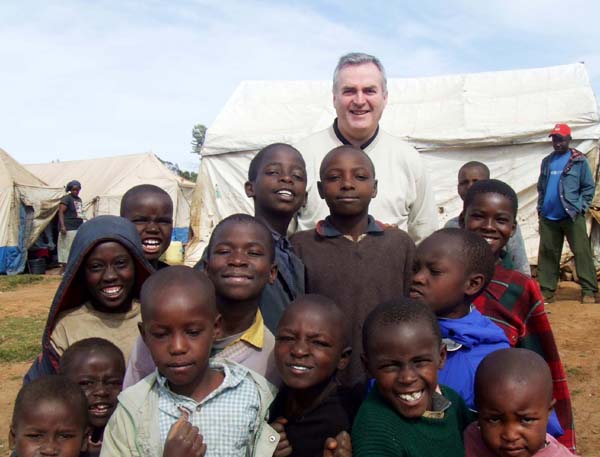 Fr Liam with some of the children who live in camps for displaced people in rural Kenya


We visited two different Internally Displaced People's (IDP) camps where many families still live in atrocious conditions. Trócaire have projects with the local organisations that are helping these people. They are also providing aid to help rebuild houses, they provide material to build the walls and a roof and the family provides the rest. Frs. Tommy Dougherty and Ray McNicholas from Yumumbi parish in Eldoret brought us face to face with torched and deserted buildings and also with returning individuals who spoke resolutely of their desire to rebuild. They asked us to take a particular message back to the people of Ireland. 'We do not thank you for your money alone – we thank you for your prayers and your thoughtfulness. The events of the past year could so easily have led to despair and worse. The hope that has sustained us and those people we serve who were literally 'burnt out' in their thousands came from the higher power of your prayers that which saved us from the all too real temptations of revenge and despondency". Both expressed gratitude to Trócaire for the support they have received down through the years – 'support given generously, responsibly and with great dignity'. These are just a few examples of a very packed week where we travelled a thousand miles within Kenya on roads that at times were very bad and sometimes disappeared altogether.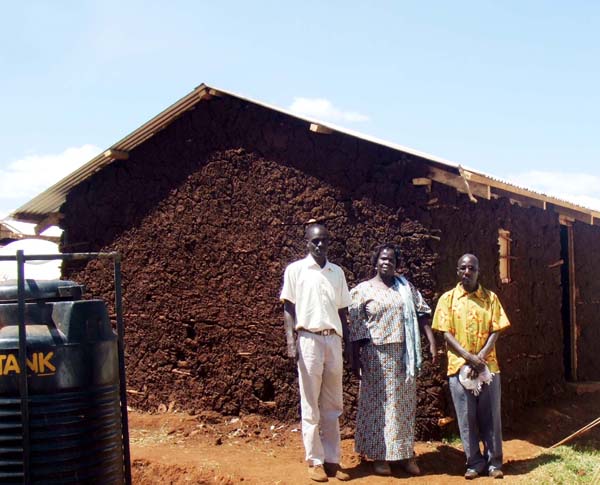 A newly constructed house funded by Trócaire to help resettle displaced people


While we saw a lot of poverty and hardship we also saw a lot of resilience and courage. There were signs of people beginning again to rebuild their lives and houses. Trócaire, the Kiltegan Missionaries, Sisters and Lay people were at the heart of this wonderful work. While some of our journeying was slow and tiresome we always felt it was worthwhile when we experienced the welcome of the people, sometimes in traditional dress, song and dance. Also their great sense of appreciation for our visit and the hope and compassion it held out to them. On many occasions they asked us to take back a message of thanks to the Irish people for all their support. There would be no Trócaire without the generous support of people. It was heartening to see how money given to Trócaire was applied in various different projects and how it was a source of new hope and life for people. It was also great to receive such a warm welcome from the Kiltegan priests and to see at close hand the great work they do.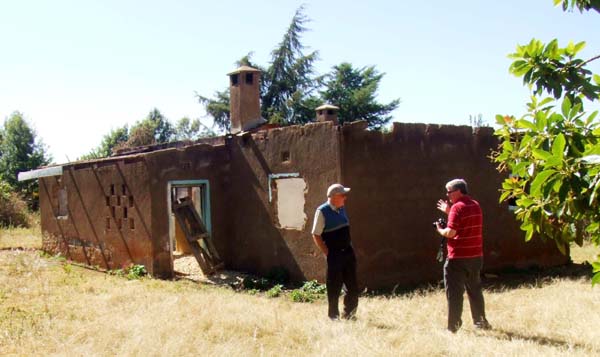 Fr. Tommy Dougherty (Kilteegan Priest) stands outside a torched house of one of his parishioners, an example of the post election violence of January 2008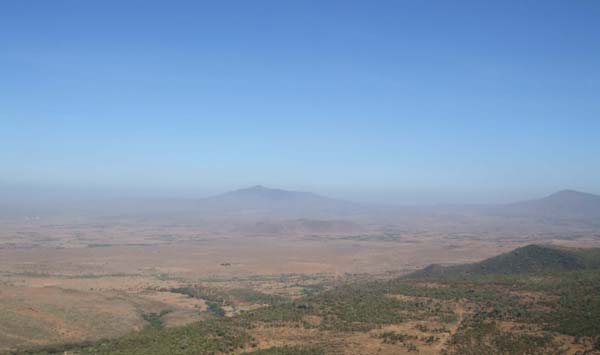 This photo captures some of the natural beauty of the Rift Valley region of Kenya, a noted scenic expanse in this vast country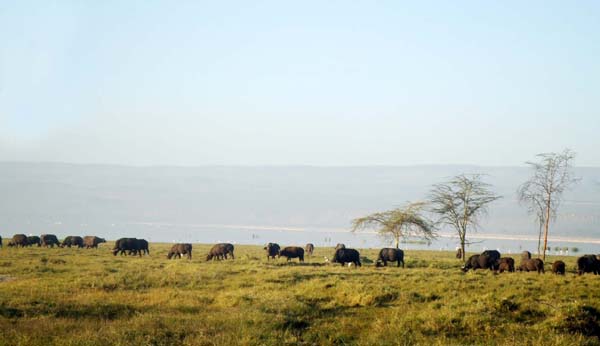 Some wild buffalo seen in Nakuru National Park and expertly photographed by our very own papparazi (not the younger lad!)
Cheque Presentation to Irish Cancer Society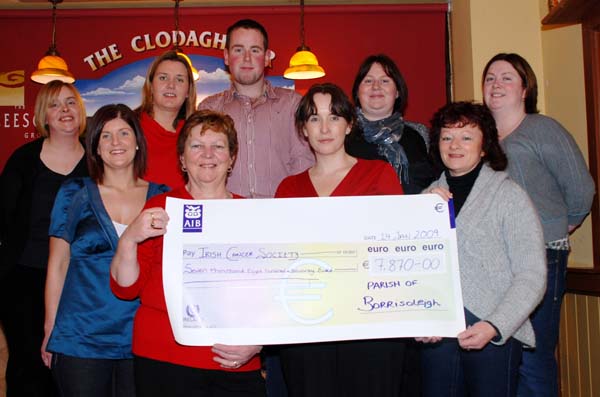 Nuala and Betty present the Cheque to Julie Harris of The Irish Cancer Society
Also in photo are Lisa Ryan, Noreen McCarthy, Nuala Stapleton, Noel O'Brien, Fiona and Brid Ryan

On Wednesday evening 14 January the proceeds of the recent Talent competition held in aid of the Irish Cancer Society were handed over. Julie Harris, Munster Fundraiser for the Irish Cancer Society, came to collect the cheque which was presented to her by Nuala Ryan and Betty Treacy. The overall total came to €7,870 and Nuala was fulsome in her gratitude of those who contributed and her praise of those who helped in any way.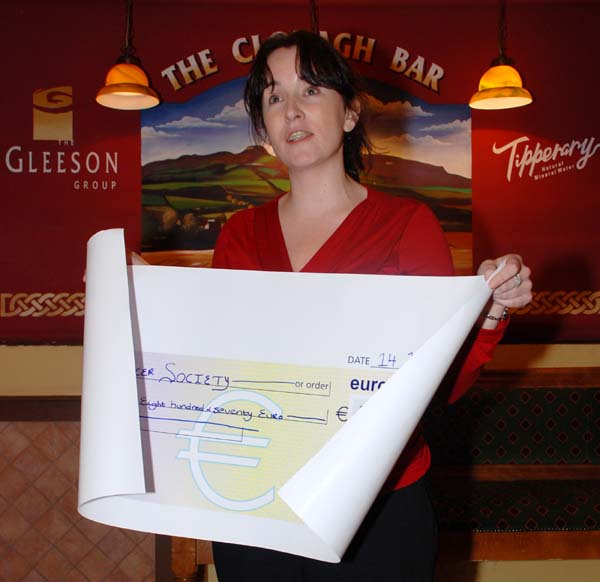 Julie Harris (Munster Fundraiser for The Irish Cancer Society) thanks everyone for their hard work

Julie then thanked everyone present for their amazing efforts and assured them that the monies would be well spent. She made the following observations as part of her speech:

Unfortunately, 1 in 3 people in Ireland will be affected by cancer.

The Irish Cancer society provides a National Cancer Helpline which is Freefone 1800 200 700

Last year we took over 12,000 calls on this line. The line is staffed by professional nurses and all matters are dealt with in the strictest confidence
The Irish Cancer Society fund cutting edge scientific research right here in Ireland.

The Irish Cancer Society provides nursing for every stage of the disease from cancer liaison nurses in hospitals right up to our night nursing service nationwide.

None of the work the Irish Cancer Society do is possible without the support of the generous Irish public. It is through their tremendous fundraising efforts that we are able to work to improve the lives of those living with the disease in our communities nationwide.
Winter Scenes around Borris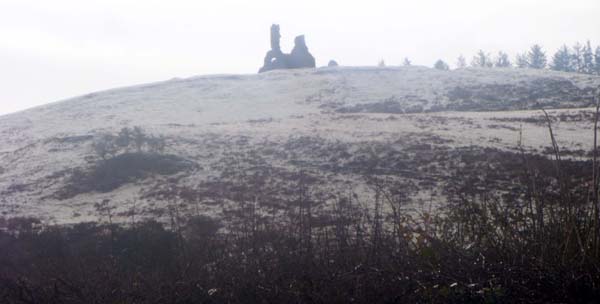 Cullohill Castle covered in snow last Sunday morning the 18th January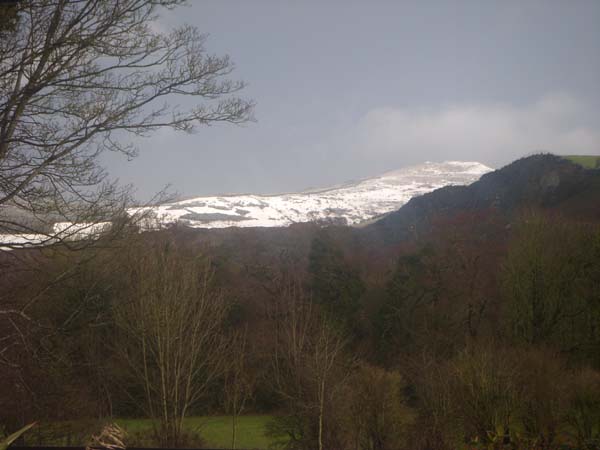 Tower Hill last Sunday morning

Munster Final Scór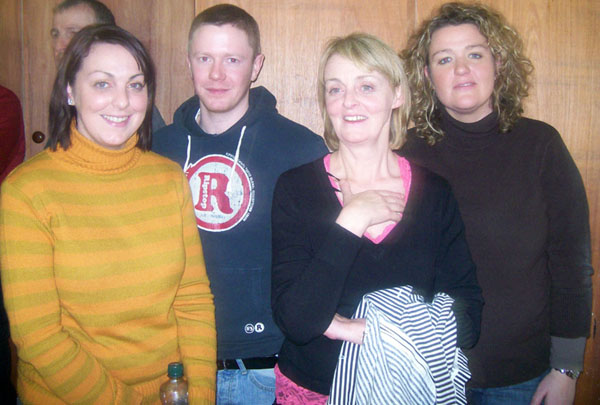 Pictured at the Munster Final Scór in the Youth Centre in Mallow on Sunday 18th January are Kerrie Ryan, Shane Kelleher, Della Ryan and Edel Groome

The Munster Final of Scór na nÓg took place in Mallow, Co Cork on Sunday 18th January 2009. Participants hailed from all corners of Munster. Borrisoleigh were represented in Solo Song, Recitation, Novelty Act and Set Dancing. The standard of performance was extremely high in all categories. Well done to all our competitors who did themselves, their families and their clubs proud. Congratulations to Cliodhna Bourke who was victorious in the Recitation and will take part in the the All Ireland Final which will be held in Athlone in February. Mo cheol sibh!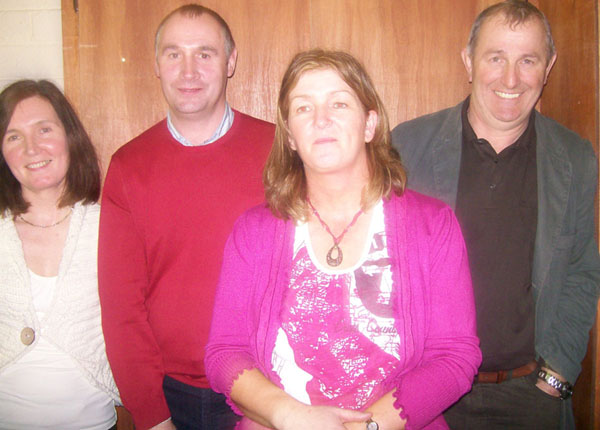 Also enjoying the Scór were June Stapleton, Martin and Noreen Fahy and Don Ryan

Congratulations Catherine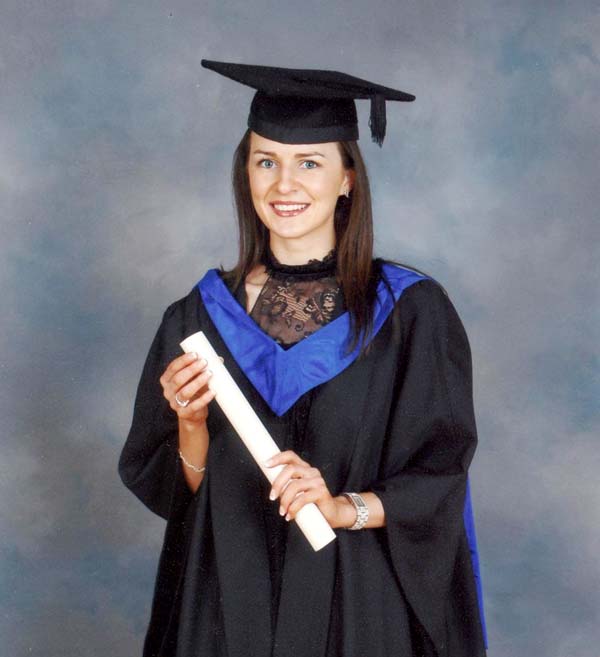 Catherine Bradshaw of Coolderry was recently conferred with her B.Ed degree in Trinity College. Having studied in Froebel College, Blackrock Catherine is now teaching in Dublin
Please don't park here!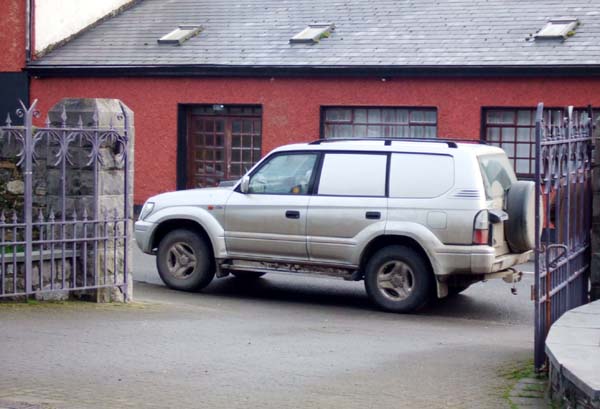 This was the view that greeted Mass-goers on Thursday Morning last 15 January as they attempted to gain access to the Parish Church from Pallas Street. This vehicle was parked across the entrance to the gate with no regard for the lay-faithful and their efforts to get to Mass on time. At least the driver didn't park in the parking bay for disabled drivers and passengers at the church entrance, that being said, he could have chosen a better spot!!!

Parish League Past and Present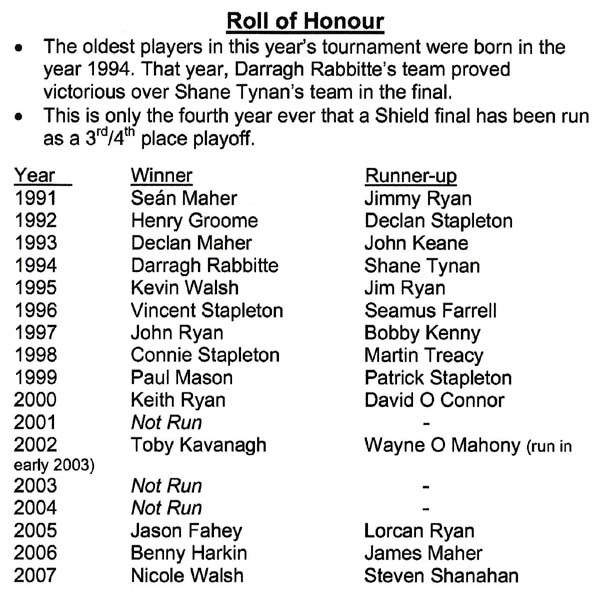 Last year's (2008) winning captain was John Fitzgerald and the runner's up captain was Philip Fahy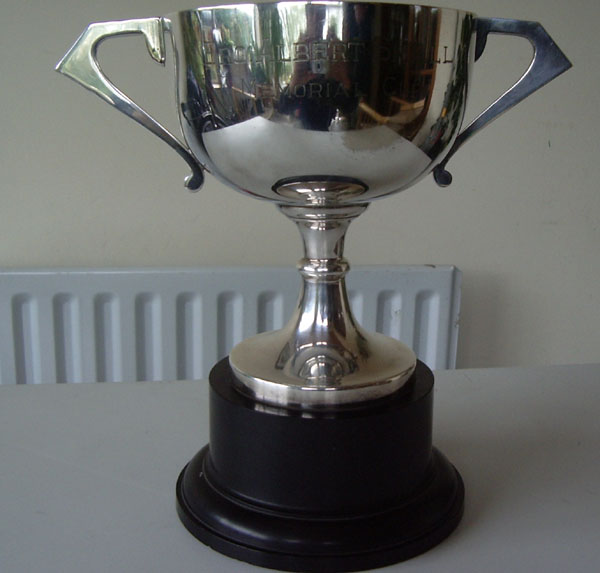 Brother Albert Small Cup


The final of the U'14 Parish Hurling League brings together two teams to contest for the much sought after Brother Albert Small Cup.
This cup has been competed for and awarded to the winners of the league for 30 years or more. However, many people have often posed the question "Who was this Brother Albert Small after whom the cup is named and where did the cup originate?"
Jimmy Small was a member of the Small family of Gortnacranna, Borrisoleigh, who joined the Patrician Order and spent his life in the teaching profession. He selected the name of 'Albert' as his Patrician title and having taught for many years in Australia, he returned to teach in Ireland, being based in Fethard, Co. Tipperary up to the time of his death in 1972.
He was always very interested in Gaelic games and promoted them at home and abroad. He was a selector of the Tipp minor football team who contested, unsuccessfully, an All-Ireland final in the '50s, being defeated by Dublin. He was coach and selector for many school and parish teams during his years in Fethard.
His nephew, Michael (our former headmaster), decided to perpetuate his memory and so presented this cup for the winners of the U'14 Parish League. Over the years, this cup has proudly rested in the homes of the Ryans of Ballyroan, the Mahers of Cullohill, the Stapletons of Pallas Cross, the Stakelums of Main St., the Kennys of Pallas St. and the Rabbittes of the Nenagh Rd. among many, many more. Indeed, Mark Rabbitte has the proud distinction of captaining two parish league winning teams.
The recent renewal was arguably the best in living memory with the final going all the way to extra-time (surely a first!) in very poor conditions. Not only that, but was the first time the competition was run under lights. Of course, John Fitzgerald of Main St. proved victorious over Philip Fahy of Glenbreeda in what was a spellbinding finale. While the level of skill in these conditions was a joy to behold, what was most impressive was the commitment and will-to-win shown by all players. Obviously, the Parish League hasn't lost any of its old aura.
In preparation for the 2009 league, an effort is being made to trace the full roll of honour, right back to the first winners of the Brother Albert Small Cup. Assuming that the cup was presented soon after Brother Small's death, the list of winners may even go back as far as 1972 or 1973. Recent programmes have only gone back as far as 1991 when Seán Maher was the winning captain so any help with winning captains and years would be greatly appreciated. Please contact Brendan Kenny with any useful information on 087-4192103 or brendan_kenny@eircom.net

Thursday 15th January
Jackpot: €5,000 (Not won)

Numbers: 16, 17, 23 & 24

€50 Lucky Dip winners:

Joe Loughnane, Chapel Street
Margaret O'Hara, Ballyragget
Donal O'Driscoll, Lios Padraig
Christy Reid, Glentane

Next draw: Thursday 22nd January, in Bourke's Bar (Tommy & Tricia Foley's)
Jackpot: €5,200

Marian Hall Lotto

20/01/09

Numbers: 14, 15, 16, 19

No Jackpot Winner

2 winners @ €75 each

Margaret McKeogh, Ballina
Margaret Clare, Thurles

Next Weeks Lotto Jackpot

€8,700
Pic of the Past… down memory lane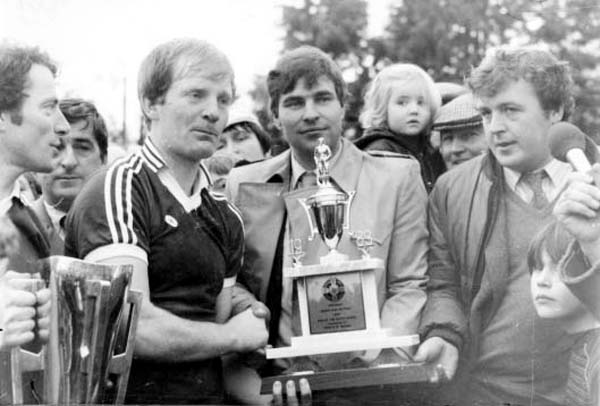 Noel O'Dwyer receives the 'Man of the Match' award after the 1983 County final.


Your website needs you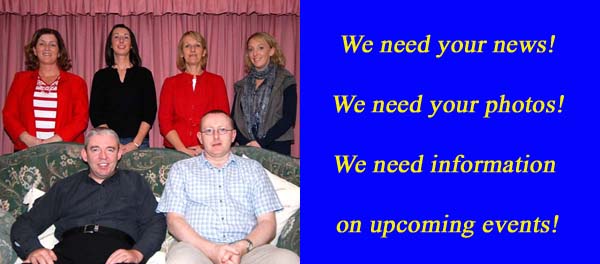 Website Committee: Noreen Fahy, Margaret Cowan, Marie McGrath, Aileen Óg Groome, Michael Barry and Enda Ryan

Many thanks to all those who contributed photographs and news items for this weeks current news. Well done!

Send your email to: info@borrisoleigh.ie
Also, if you like what you see and want to leave a comment, remember to use the Guestbook!