Double celebration for Deirdre and Caroline

Happy Birthday Girls!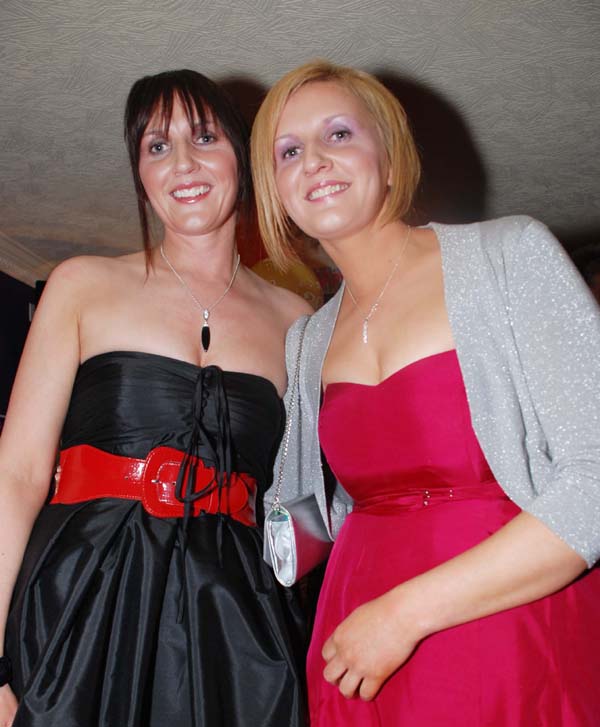 Deirdre and Caroline 'all dressed up to the 9s' on their big night!


Caroline and Deirdre (Doyle) O'Connor from Summerhill celebrated their 30th birthday in style at Stapleton's Bar on Saturday 10 December. The youthful looking duo were joined by family and friends for what turned out to be a great party. Music on the night was by Manna South. Happy birthday girls! Welcome to the thirty-somethings!!!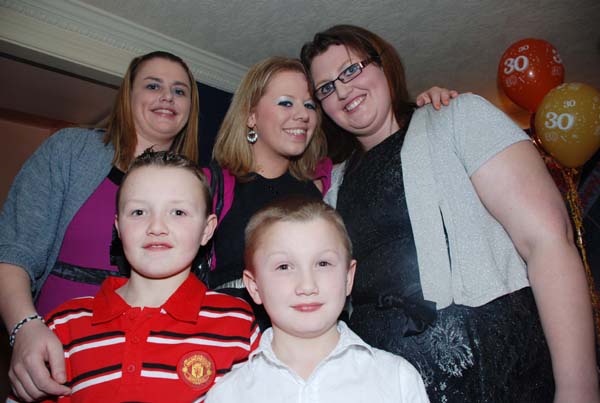 Lizzie, Margaret Gleeson, Pauline with Shane and Darragh Doyle enjoying the night at Stapleton's

Pick a glass – any glass!!!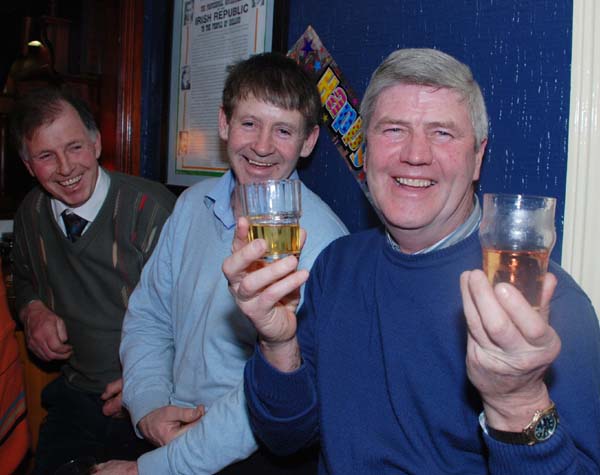 Mick and Noel Doyle enjoying the party celebrations with Ollie Kelly in playful mood!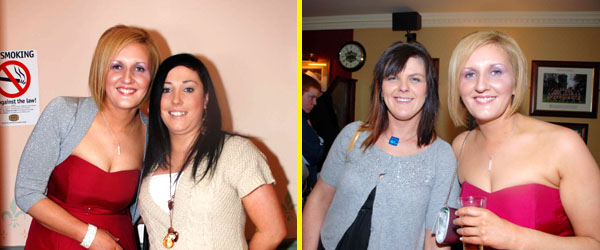 Caroline and friends

It's OK – I'm not drivin'!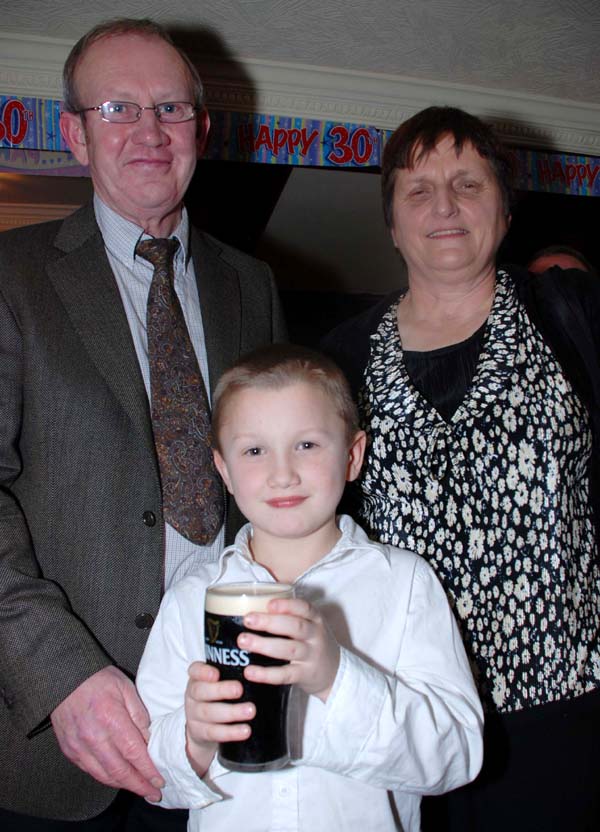 Parents of the 'happy couple' Vinny and Mary with grandson Darragh (who knows what's good for him!)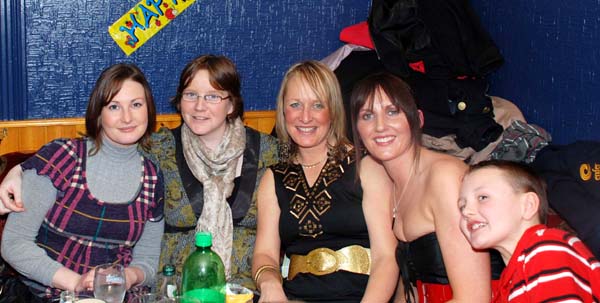 Deirdre with her son Shane and friends
The Munster Semi Final of Scór na nÓg took place in Cappoquinn on Sunday 4th January 2009. Participants hailed from Tipperary, Cork and Waterford. The standard of performance was extremely high in all categories. Congratulations to all competitors who did themselves, their families and their clubs proud. Mo cheol sibh!
Borris-Ileigh were trimuphant in the following:-

Solo Song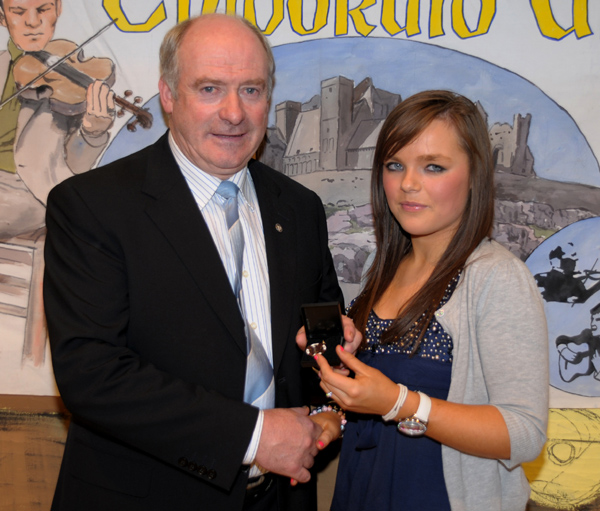 Clare Kavanagh receiving her trophy from Seamus McGrath (Co Chairman of Scor)

Recitation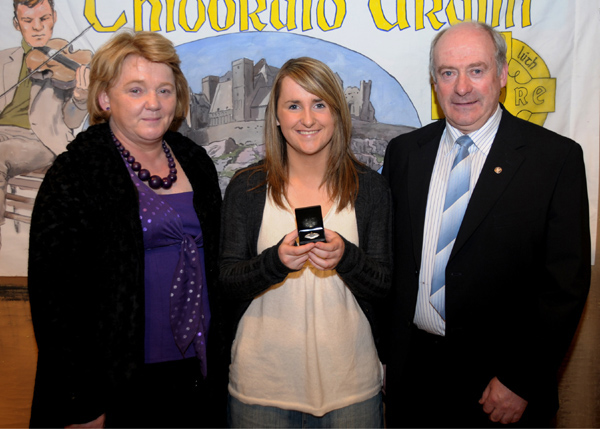 Cliodhna Bourke pictured with Mary Bourke (Co. Secretary of Scor) and Seamus McGrath (Co. Chairman of Scor).

Novelty Act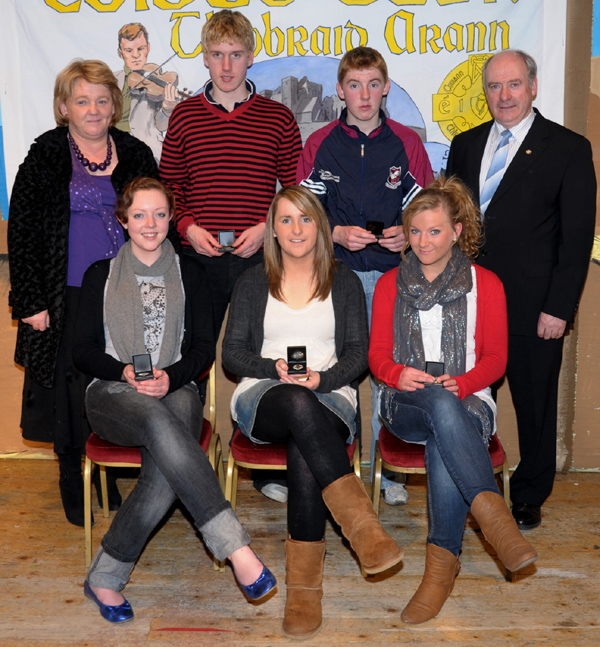 Front L to R
Maria Ryan, Cliodhna Bourke, Noirin Stapleton
Back L to R Mary Bourke (Co Secretary of Scor), Dan Mc Cormack, Jack Bourke, Seamus McGrath (Co Chairman of Scor).

Set Dancing
Front L to R
Clare Kavanagh, Aoife Stapleton, Grace Prior, Mari Ryan
Back L to R Tom Walsh, Louise Fahy, Teresa Ryan, Niamh McGrath, Eimear Stapleton, Seamus McGrath(Co.Chairman of Scor)

Winners will take part in the Munster Final in Mallow on Sunday 18th January 2009 at 2.30 pm. Go n-éirí an t-ádh libh!
Colourful Characters Following the Wren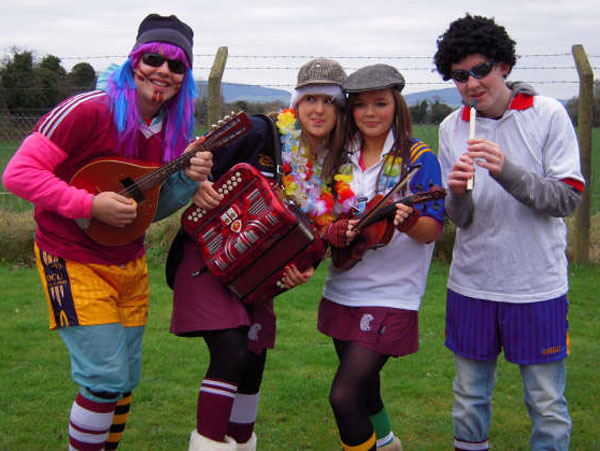 Tommy Kavanagh, Clíodhna Bourke, Clare Kavanagh and Jack Bourke keeping the St. Stephen's Day tradition alive
Clodagh Macra Activities

Skiing in Andorra


Members of Clodagh Macra enjoying their time on the slopes in Andorra recently. Next years trip is being planned already!!
Public Speaking Experts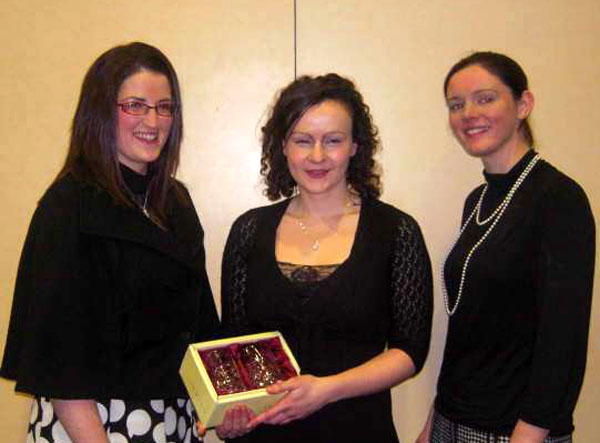 Macra members Teresa Kennedy, Denise Ryan and Laura Ryan
Clodagh Macra's team who won the National Quarter Final of the Public Speaking Competition which was held in the Southcourt Hotel, Limerick on Saturday 10th January. They beat teams from Cork, Limerick and Clare. They now go through to the National Finals which will be held on February 7th. Well done to Denise who also got the award for best speaker on the night.

Parish Centre Draw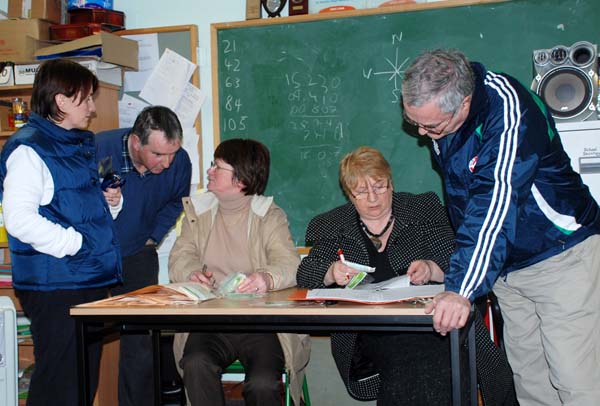 Checking it once and checking it twice!!!
Noreen Ryan and Frances Kennedy on the receiving end of the monies coming in for the Parish Centre Draw. The first draw takes place in the Marian Hall on Saturday 31 January after evening Mass. The list of promoters is on the Parish Church notice Board. Your support would be appreciated.
Horsing Around on St. Stephen's Day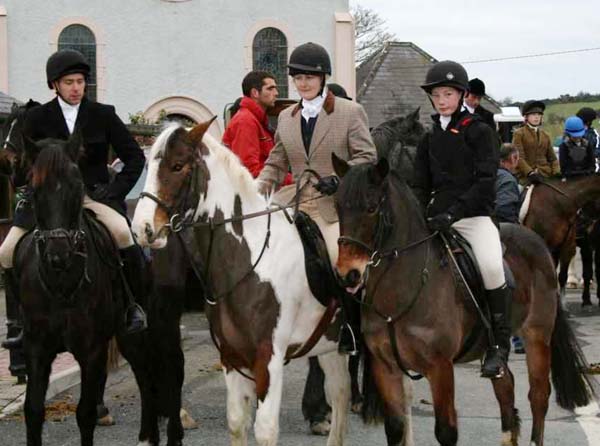 Rena and Sean Ryan of Rathmoy pictured with JJ Kinane getting ready for the off with the Suir Vale Harriers Hunt on St.Stephen's Day in Upperchurch
Medjugorje Group Reunion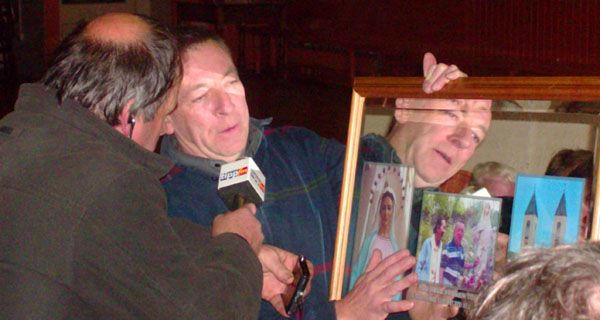 Johnny Connors being interviewed by Eamonn O'Dwyer for Tipp FM

Sunday 23rd November was a very special day for the Medjugorje Group. We had our annual get-together, a meeting of the many people who had travelled to Medjugorje with us on our two pilgrimages this year. We began at 3 o`clock with the Rosary in the church. This was followed by a `Holy Hour of Adoration`. This hour followed the same format as the actual `Holy Hour` that is held in Medjugorje three evenings of each week throughout the year. It consists of a series of short meditations, followed by a time of silent reflection, and then by a hymn. A truly moving experience.
From the church we went on to the (appropriately named) Marian Hall. There we renewed the friendships that were made earlier in the year and indeed in earlier years. Stories were shared and experiences exchanged while photographs taken in sunnier climates were passed around. One of the most popular photos was one showing a number of us with the visionary, "Vicka"; a prized possession indeed!
Over tea and sandwiches, generously prepared by Mary Delaney from Rathdowney. Mary Maher and a group of the Ileigh choir members entertained us with a beautiful selection of Marian hymns. Eamon O`Dwyer of Tipp FM had come to interview people about their experiences of Medugorje. There was plenty of willing interviewees, all with some story to relate about their travels to the shrine of the `Queen of Peace`. So listen out for `Down your Way` sometime in mid-January.
As the evening came to a close, it was time to bid goodbye to one another as many had quite long journeys to travel home. People had travelled from Limerick, Kildare and Castlecomer in Co. Kilkenny to be with us as well as those that were more local. All in all it was a great evening. Just about enough to sustain us until the springtime comes again and our thoughts and plans turn again towards that "place among the hills", in far away Herzegovina.
A special word of thanks to Fr. Liam Everard, not only for his participation on Sunday, but for accompaning us as spiritual director on our pilgrimage and all his help and encouragement throughout the year.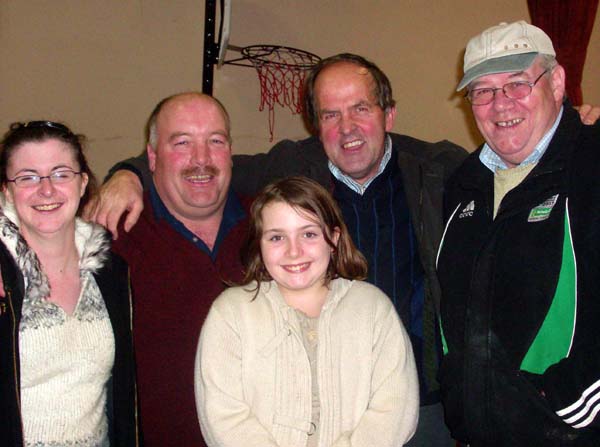 Enjoying the Reunion at the Marian Hall on 23 November last were Margaret Devitt, Joe Holland, Eamonn O'Dwyer, Michael Lynch and Hazel Holland
Interested in Photography




View from the Southern Side of The Devil's Bit
These spectacular photographs were taken by Dusan Hoza, an amateur photographer, who is working in Borrisoleigh. If you are interested in photography and would like to get in touch with Dusan you can contact him at hoza_dusan@yahoo.de.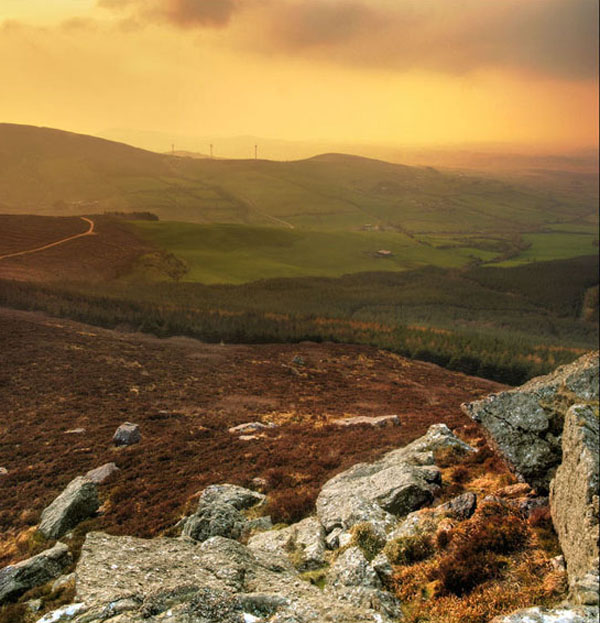 View from the Northern Side of the Devil's Bit
Juvenile GAA Club AGM
Borris-Ileigh Juvenile GAA Club AGM will be held on Saturday 24th January 2009 at 8 p.m. in the Marian Hall. Nominations must be with
Sheila Delaney, Club Secretary on or before Saturday 17th January 2009.

Marian Hall Lotto

13/01/09
Numbers: 05, 12, 16, 28
No Jackpot Winner
1 match 3 winner @ €150
Noreen O'Donnell, The Orchard, Borrisoleigh
Next Weeks Lotto Jackpot
€8,550
Pic of the of Past… down memory lane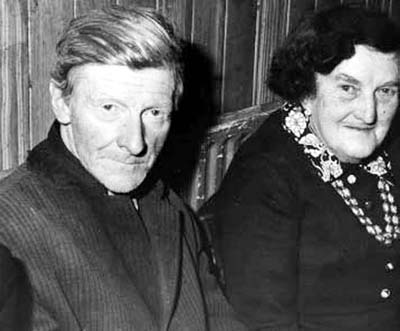 Patrick Carroll, Pallas and Elizabeth Patterson

Your Website Needs You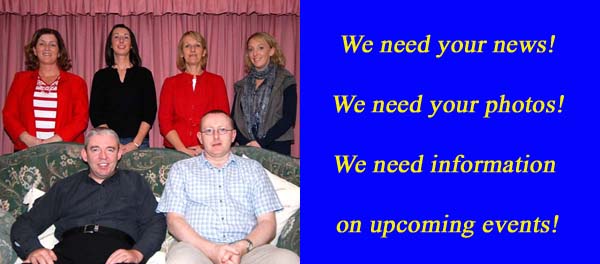 Website Committee: Noreen Fahy, Margaret Cowan, Marie McGrath, Aileen Óg Groome, Michael Barry and Enda Ryan
Many thanks to all those who contributed photographs and news items for this weeks current news. Well done!

Also, if you like what you see and want to leave a comment, remember to use the Guestbook!