St. Cualan's in Party Mode!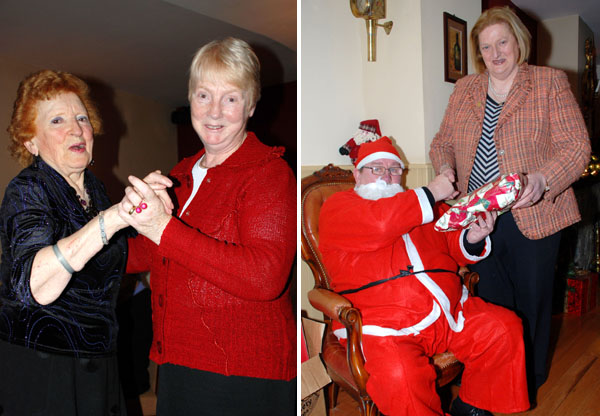 Mary and Chris stepping it out at the Christmas Party while Santa rewards Mary Ryan for being a good girl during 2008

Our annual Senior Citizen's party took place on Sunday 7th December 2008. Mass was celebrated by our chairman Fr. Nicholas J. Irwin CC. Our local choir enhanced the liturgy with traditional hymns and Christmas carols. As the evening was quite cold, we made a quick dash over to Sheehan's Restaurant where we were greeted by Santa Claus, who was togged out in a fabulous new suit. Mind you it was a bit on the large size and there was no doubt he had plenty of leg room. Someone must have got his measurements wrong.
The atmosphere was electric and both service and food was superb. "Hats off" to Sheehan's and their staff. After the meal our loyal musicians and friends Phil Maher, Mick Shanahan and John Maher and Tim McSherry provided us with the usual musical entertainment. Thank you very much lads, you never let us down. Our Clergy Fr. Liam , Fr. Michael and Fr. Jim mingled with the guests and a "few mini confessions" were heard. Even Santa's was heard as you can see from the photos below, and he felt much lighter but alas this made his suit look bigger and larger. Poor Santa!!!
Mai Maher was presented with a bouquet of flowers. Mai celebrates her 90th birthday on 15th December and never missed a Christmas party in eighteen years. Congratulations Mai and we wish you many years of health and happiness. Sincere thanks to all who helped on the night and to all who contributed in any way to making the night such an enjoyable occasion for our Senior Citizens. A special word of thanks to our very generous sponsors. Every year they come up trumps.

We wish all our friends a very happy and holy Christmas.

Santa makes a house call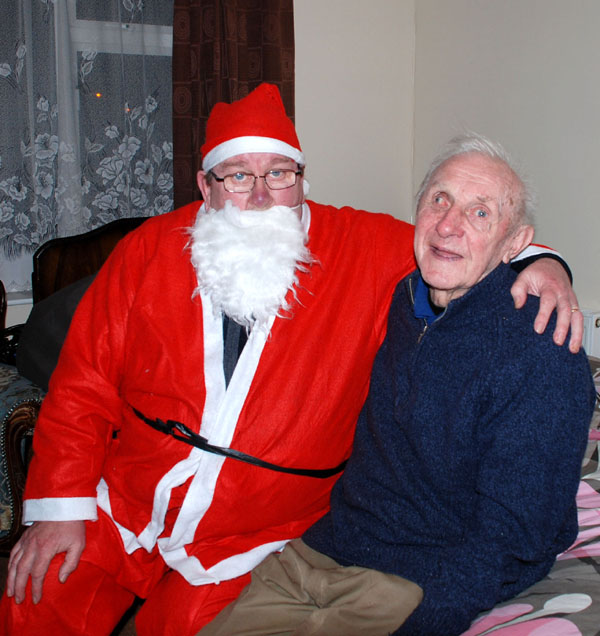 Santa on a visit to Michael Ryan at his home in Knockanevin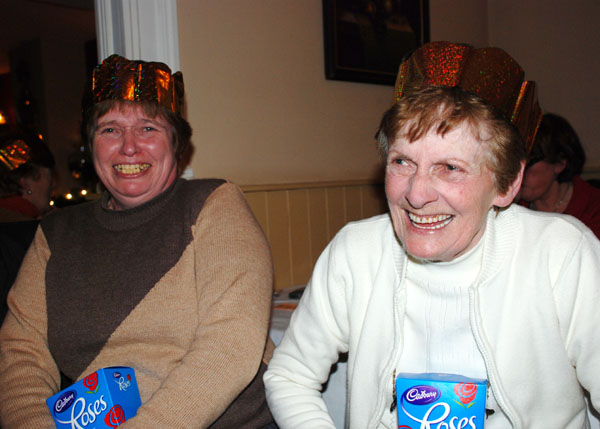 Pauline Cleary and Eileen Martin in fine festive cheer at the St. Cualan's Christmas Party Happy Birthday Mai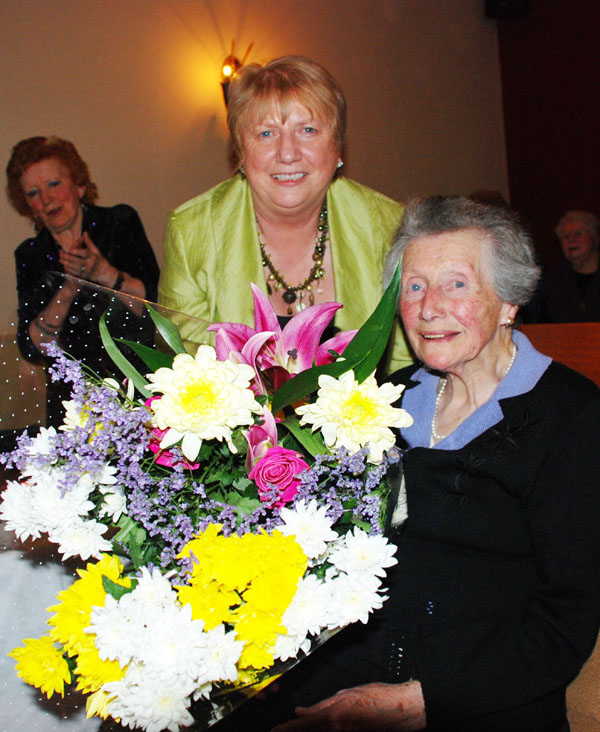 Frances Kennedy presents Mai Maher with a bouquet of flowers on behalf of the St. Cualan's Senior Citizens Club on the occasion of her 90th birthday

The Music Men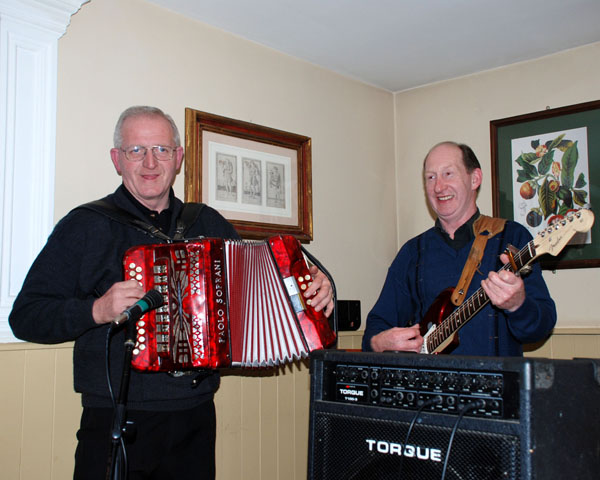 Phil Maher and Mick Shanahan in fine music form at the St. Cualan's Christmas Party
Tell me more… tell me more…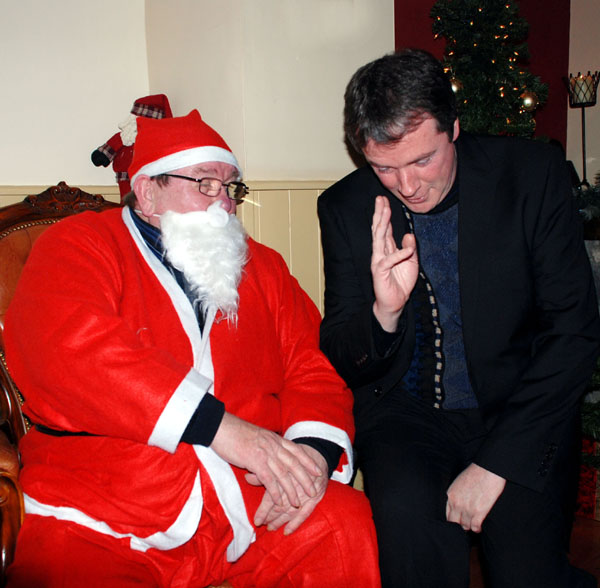 Fr. Nicholas patiently hears Santa's confession but one gets the feeling that it's a never-ending story!!!

The pretender and the real thing!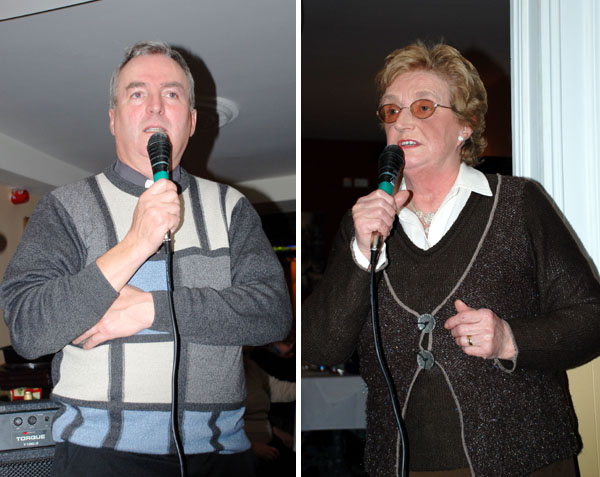 Mai Ryan and Fr. Liam entertain the St. Cualan's gathering at Sheehan's Restaurant on Sunday 7 December last

You brought me nothing last year!!!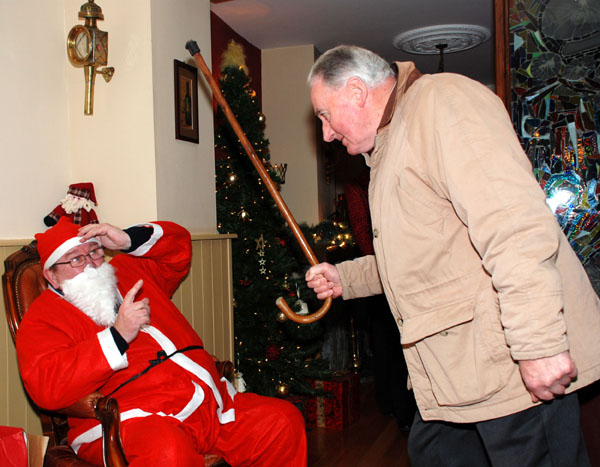 John McGrath has a word or two with the Big Man over undelivered product in 2007 – Show me the presents!!!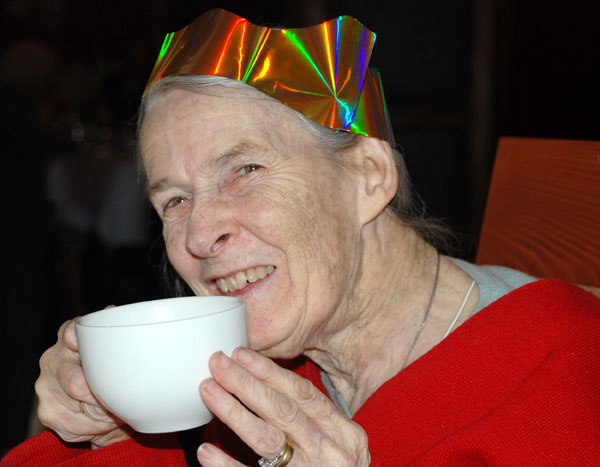 Dr. Joan salutes one and all for Christmas – and many happy returns to you too Dr. Joan!

Smalls at Large!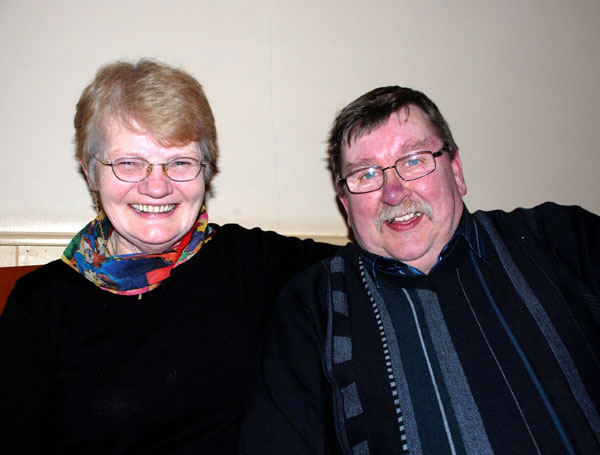 Joan Small and Mick Small enjoying the party

Well done Christy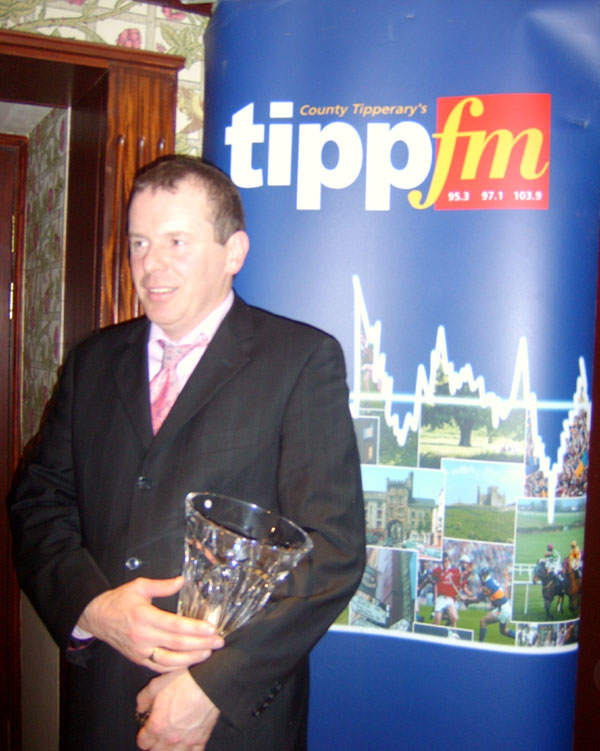 Pictured here is Christy Slattery receiving his award at the Tipp FM Sports Awards 2008 held recently in the Anner Hotel
Christy won the sports award of the month for February as recognition of his outstanding achievement of winning his 7th Open Doubles All-Ireland in Racquetball. He had paired up with Noel O'Callaghan of the Fermoy club for these All-Irelands and this was the 4th title they have won together as a pair. Christy is also the holder of 5 Singles All-Ireland medals. Very few people are the proud owners of so many All-Ireland medals of their chosen sport and this is the result of a lot of hard work and long hours spent training. Christy has also went on to represent his county on the International team on a number of occasions, he was a member of 4 teams that travelled to World Championships and of 4 teams that travelled to European Championships.
Christy is now dedicating a lot of his time to coaching at both local and national level where he has proven to be very successful. He was coach to the Senior International team for the World Championships earlier this year where the Irish team had a very successful tournament been only beaten by the USA team who are seeded No. 1 in the world and who went on to win the World Championships. Christy has also been coach to the Irish Junior Team and has taken teams to the Junior World Championships on a number of occasions to Los Anglos where they had their highest placing ever in the World Championships in finishing 4th. Presently some of the best and most promising junior racquetball players in Ireland come from the Templederry club who are currently been coached by Christy. Christy puts a lot of time and work into Racquetball and its great to see this been recognised and to see Christy been awarded a Tipp FM Sports Award. Congratulations and well done Christy.


Card Sharks at the Cross!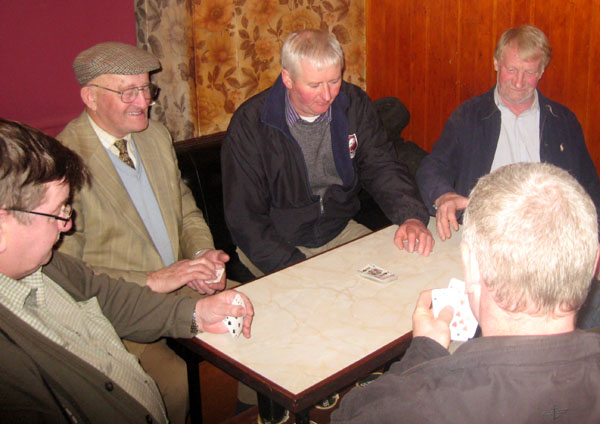 Mick, Matt, Tim and Tom size up their options in a game at the Cross recently

Greetings from the parish at Christmas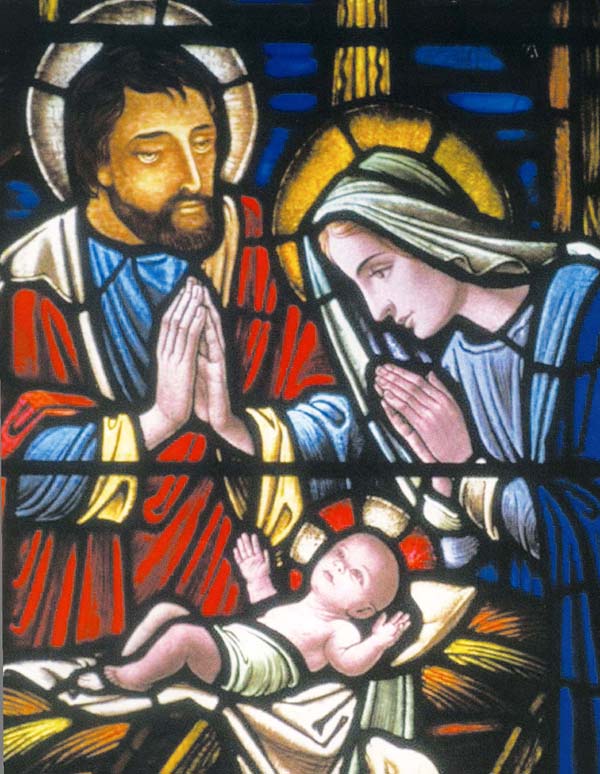 For unto us a child is born…


Home for Christmas has a familiar ring to it. It is a time when thoughts of home and family are uppermost in our minds. Many people journey to be at home at this time. Where this is not possible people make contact through the various means of communication.
Christmas celebrates God's journey into our world through the everyday miracle of the birth of a child. He came through the medium of the family. This makes a powerful statement about the value of the family. He also entered our world in humble and poor circumstances. The presence of our 'Family Giving Tree' in the Church, supporting the Trócaire Global Gifts, helps us to keep this aspect in mind.
Christmas is the season of goodwill and presents the challenge to heal wounds of division and discord. There will be an opportunity to celebrate the Sacrament of Reconciliation on Tuesday 23 December from 7pm onwards, with the presence of a visiting confessor.

It's encouraging to hear of the good response to our Parish Centre Draw, especially in these difficult economic times. Hopefully by this time next year we will have made a lot of progress. Thanks to all our promoters and all who generously support this project. Thanks also to the FÁS workers for erecting the Crib; it creates a lovely atmosphere in the Church and sets the scene for our Christmas masses. Again this year the Christmas Eve Mass will be at 7.30pm.

I wish all parishioners a very happy, holy and peaceful Christmas and a special greeting to all who are away from home and from the parish at this time. Thanks to the Borrisoleigh website committee for this opportunity to send Christmas greetings. I would also like to compliment them on the wonderful work they do, which is appreciated very much both at home and abroad. Keep up the good work.
May the love, peace and goodwill that Christmas inspires be in our hearts and minds so that we in turn can transmit it to others. Happy Christmas to all and every blessing in the New Year. (Liam Everard, PP)
Christmas Concert in the Marian Hall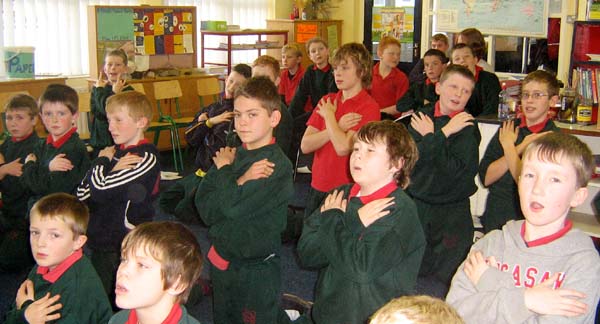 Hard at work preparing for the Christmas Concert

Preparations are in full swing for St. Patrick's Boys' N.S. Christmas Concert at the moment. Music, Art, Dance and Drama are to the fore as everybody works very hard to ensure a very enjoyable night on Thursday, December 18th. First and Second Classes will present a festive variety piece entitled 'It's a Small World' while Third to Sixth Classes will present 'Peace Child-the Musical.' The boys have promised a great night's entertainment and would be very grateful for your support.
Congratulations also to their Quiz Teams who achieved first and fourth places respectively in the North Final of the GAA Primary Schools' Quiz, Team A, retaining the title which the school won last year. Both teams performed excellently in the subsequent Co. Final, finishing in third and sixth places. Well done, boys!
The Winning Team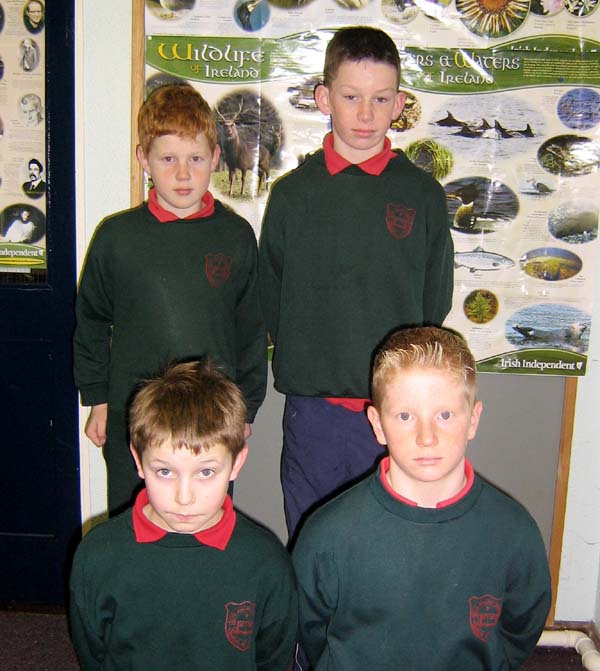 GAA Quiz Team B – Prizewinners in the North and County Finals

Best of luck Philip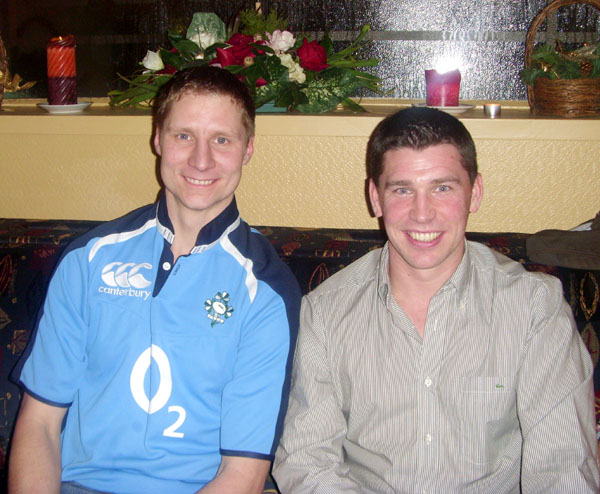 Philip Maher and Declan Maher recently pictured at Stapleton's Bar. Philip is to marry his sweetheart Marie Costello from Liscrea Bouladuff on Friday 19 December in The Ragg. Best of luck Philip!
Local Artists Exhibit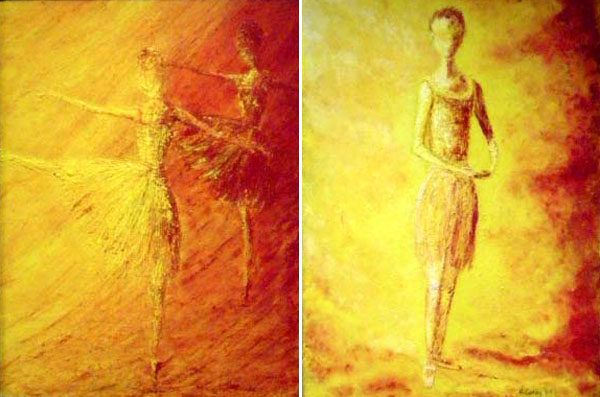 Two of Helen Carey's pieces currently on display at the Tipperary Institute
The 'Creative Journey' Art Exhibition is currently running at the Tipperary Institute, Thurles, from 10th – 19th December 2008. Among the five people exhibiting are Dave Carter and Helen Carey both from Ballydaff, Borrisoleigh. The exhibition plots the three year journey of the Creative Arts Group of Roscrea 2000, of which Dave and Helen are members. For this exhibition Dave has worked in acrylics and his landscapes are views of the Sliabh Blooms and Timoney. Helen has worked with acrylics, chalk and mixed media and her work includes dancing figures and landscapes based on local views of the Black hill, Latteragh and Ballydaff.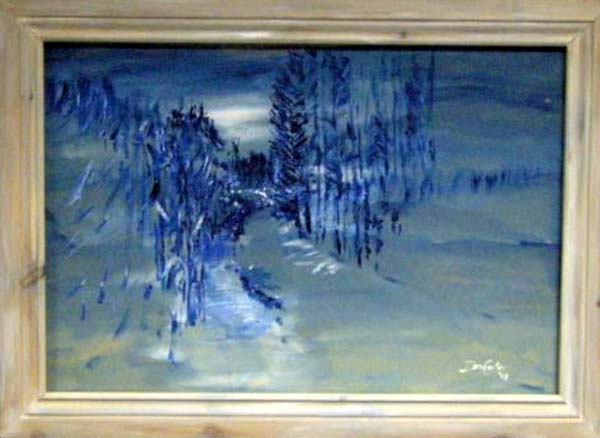 A piece by Dave Carter currently on display at the Tipperary Institute

School Days… best days of our lives!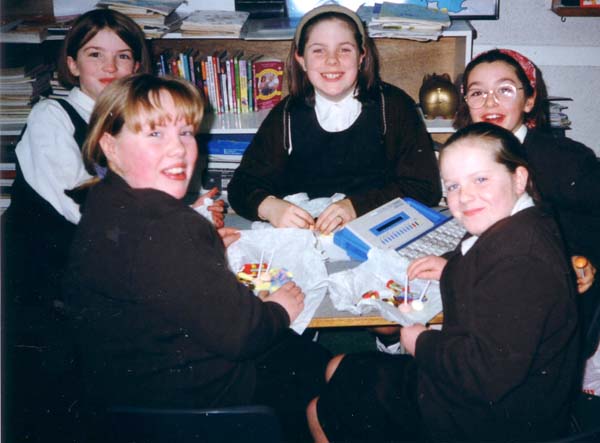 Siobhan Young, Ann Marie Young, Emma Cloghessy, Joanne Cowan and Gráinne O'Donnell
(Photo from a few years back submitted by Mrs Mary Butler – Teacher at St. Theres's N.S.)
Choir Night Out!
Makin' sweet Music!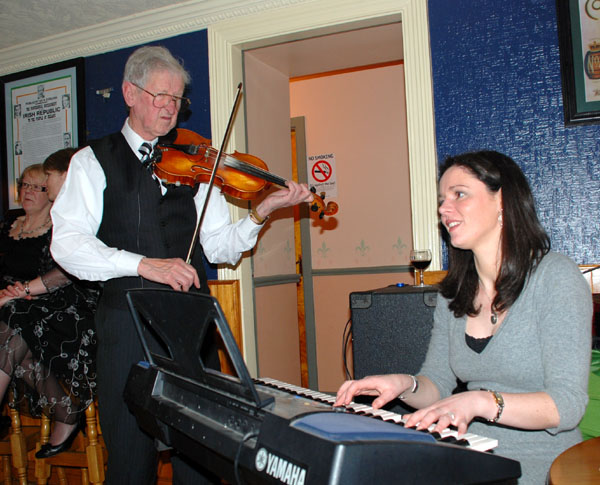 Timmy and Laura in tune with each other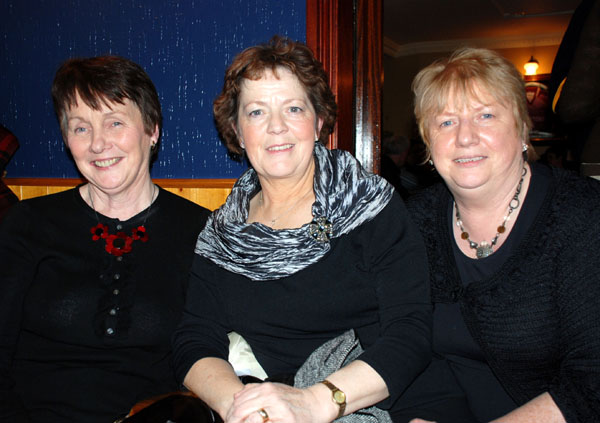 Mairead Bradshaw with Eleanor Kelly and Frances Kennedy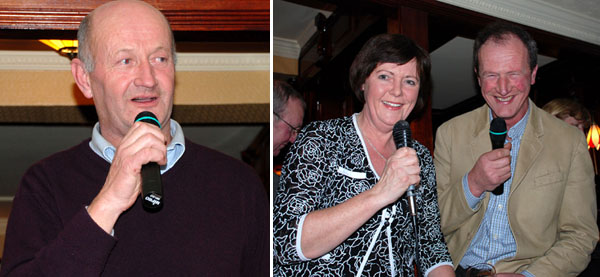 John Stapleton singing 'Delila' while Martin and Catherine Ryan attempt a duet!

Voices of Angels!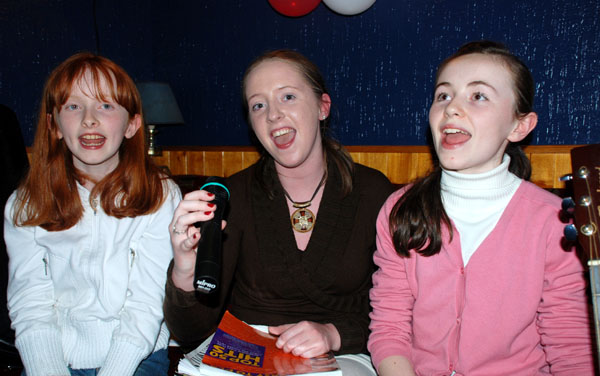 Orla, Karen and Eimear in full voice

Sing to your heart's content…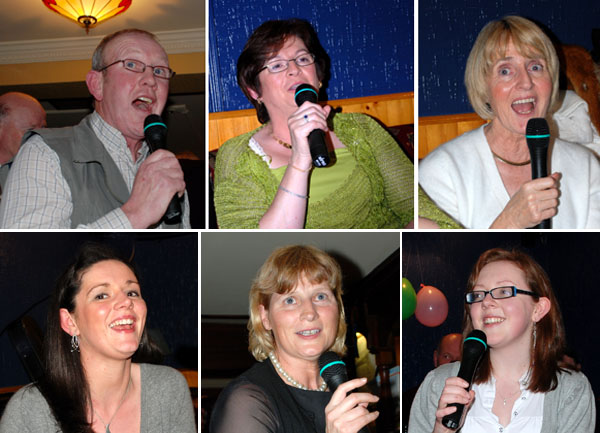 Vinny, Phil, Biddy, Laura, Teresa and Maria lend their voices to the sing-along

The Choirboys!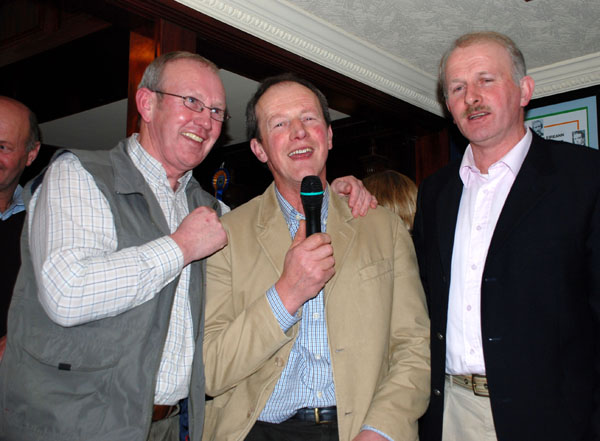 Vinny, Martin and Fitz fly the flag for the men!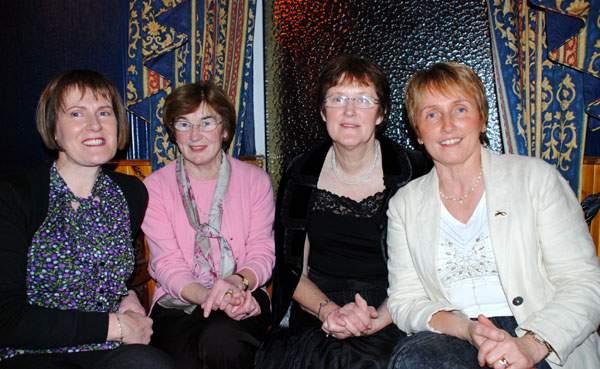 Julie, Angela, Jody and Marion enjoying the night out
Borris-Ileigh Juvenile GAA Club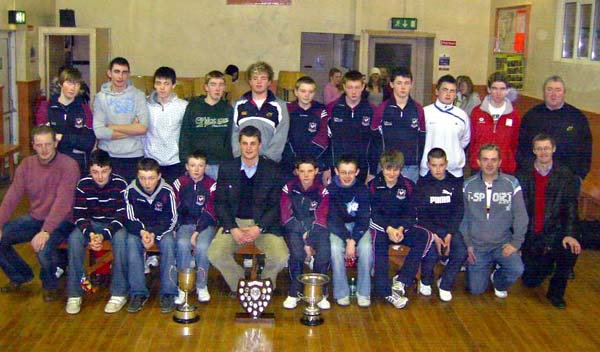 Paul Curran (Mullinahone) pictured with Juvenile Club members

The Juvenile GAA Club presentation night took place in the Marian Hall on Saturday 13th December. The guest of honour was Paul Curran of Mullinahone and he presented medals to the U16 Hurlers and Footballers, the winners of the Parish league and Plate finals and also formally presented the U8 Meagher Cup to young Alvis Danko who accepted the trophy on behalf of the young players who won the competition earlier in the year for the first time. Paul also made presentations to those who represented the club at county and divisional level during 2007. The full report can be read in the GAA Club News section (
click here
). More photos will be added in a Photo Gallery later.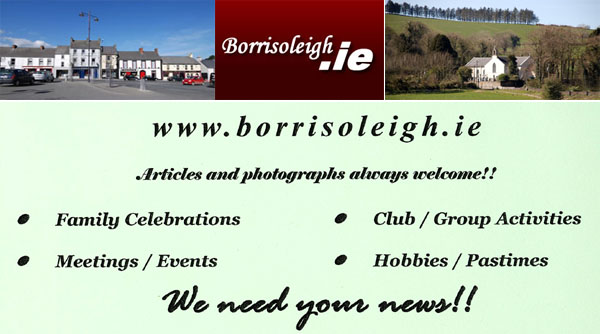 We welcome any information, news items, photographs or other items of interest for use on our website

Contact us at:
info@borrisoleigh.ie
Good Health!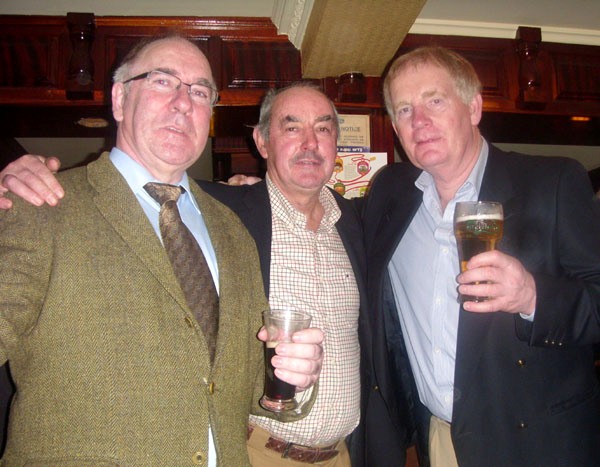 Michael Delaney, Mick Cowan and Noel O'Dwyer enjoying a drink recently at Stapleton's Bar

Marian Hall Lotto
16/12/08
Numbers: 09, 17, 19, 27
No Jackpot Winner
1 match 3 winner @ €150
May Sweeney, Templetuohy, Thurles
Next Weeks Lotto Jackpot
€8,100
Pic of the of Past… down memory lane



At Mass in the Marian Hall
Mai Stapleton, Lizzie Patterson, Mary Walsh, Mrs Loughnane, Margaret Doyle, Josie Bourke and Noreen McGrath. In the background: Margaret Stapleton, Ann Kearney and Anna Ryan, Coohaun
Your Website Needs You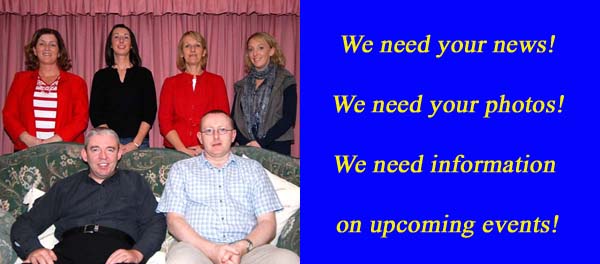 Website Committee: Noreen Fahy, Margaret Cowan, Marie McGrath, Aileen Óg Groome, Michael Barry and Enda Ryan

Many thanks to all those who contributed photographs and news items for this weeks current news. Well done!

Send your email to: info@borrisoleigh.ie

Also, if you like what you see and want to leave a comment, remember to use the Guestbook!