Welcome Baby Łucja



Sisters Pola and Łucja Grodzkie living in Borrisoleigh – Łucja was born in Clonmel on November 20th


5 Month Draw for the Parish Centre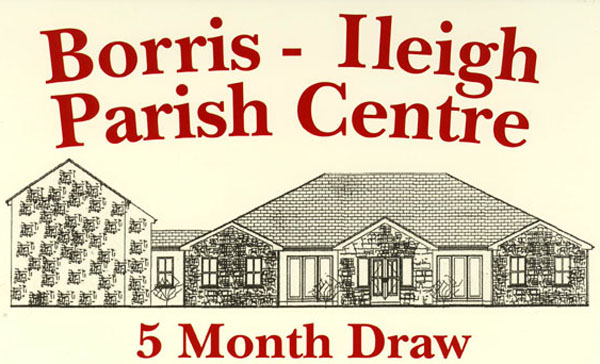 On Tuesday evening last a meeting took place in the Boy's National School to organise the Parish Centre Draw. Tickets for the Draw were distributed to the various promoters. There will be five draws early in the New Year with the first on January 31st. Tickets are €100 each. The top prize is a new Seat Ibiza 1.2 5dr Saloon Car which will be won in the final draw on May 30th. If you would like to become a promoter we would love to have you on board. Simply speak to any of the existing promoters and the rest can be arranged. Please support the fundraising effort for our new parish centre which will be for the benefit of the whole community of Borrisoleigh and Ileigh.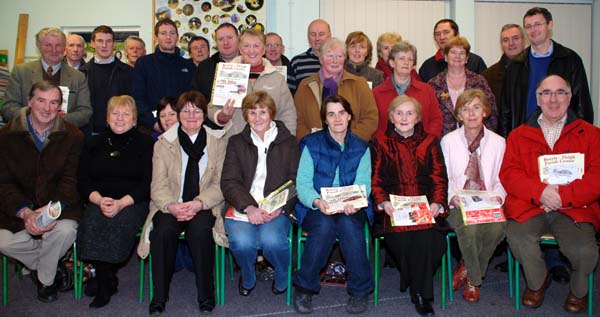 Some of the Promoters of the Parish Centre 5 Month Draw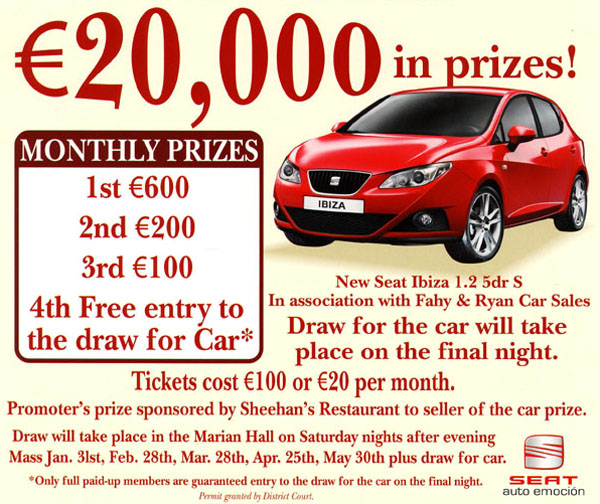 Happy Birthday Neddy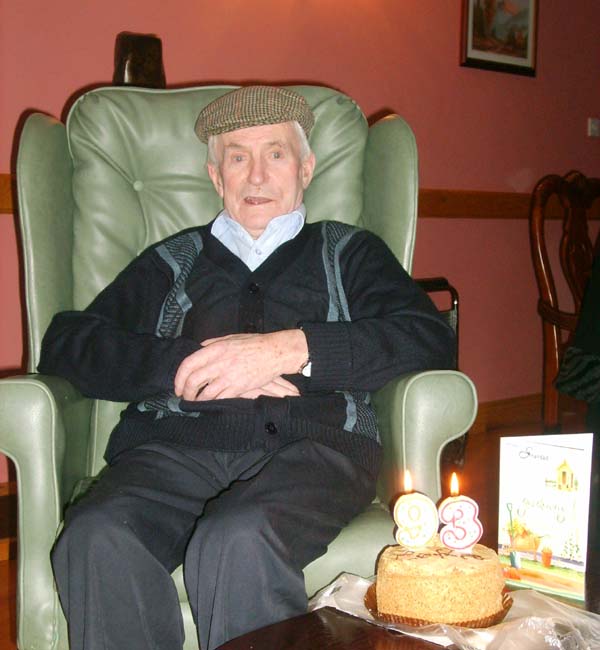 Neddy Madden of Glentane recently celebrated his 93rd birthday. He was joined by family and relations at a celebration to mark the event at Riverdale Nursing Home in Nenagh last Sunday 7 December.

Four Generations!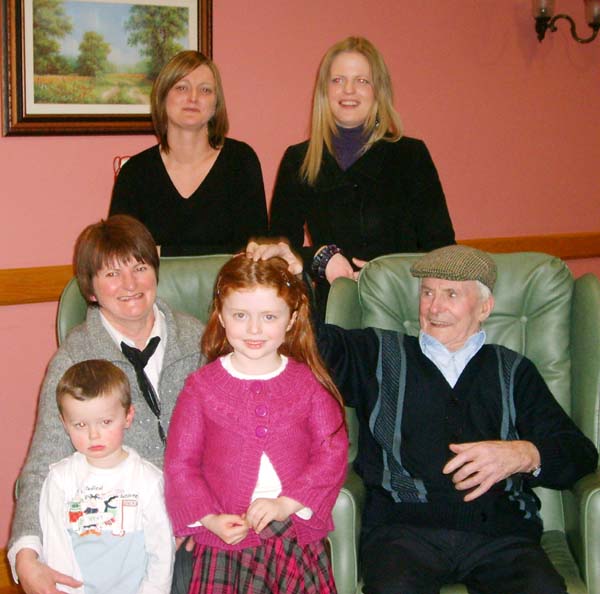 Neddy with Noreen, Karen, Joanne, Leisha and Calum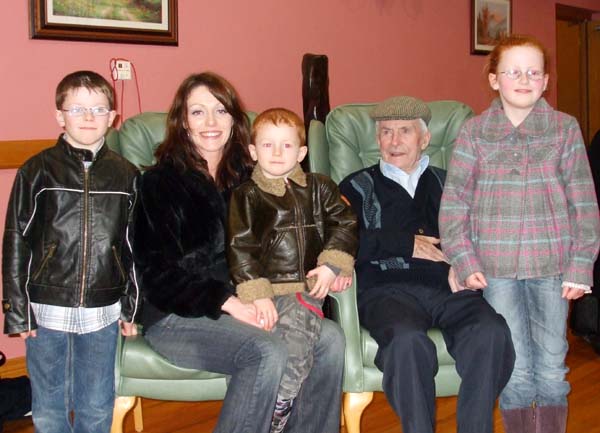 Neddy with Eithne (grand daughter) and her children Amy, Liam and Cillian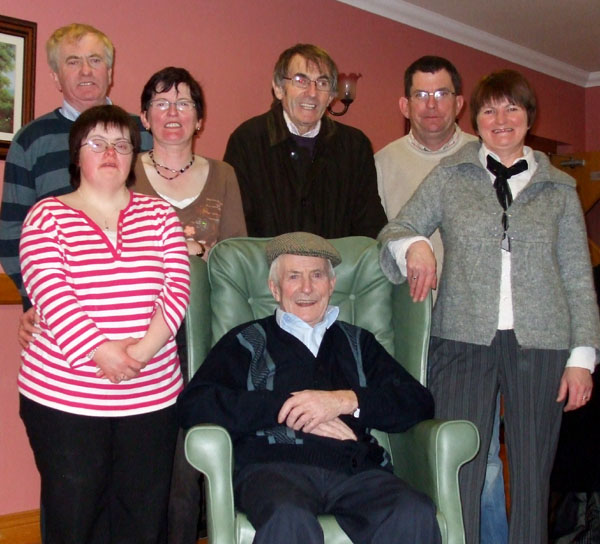 Neddy with Joan Dan, Helen, Tom and Tony and Noreen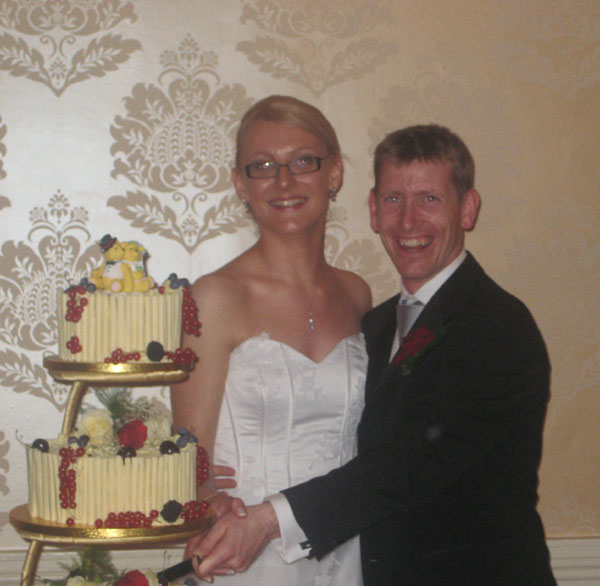 Congratulations to Sabine Grange from France and Michael Browne from Rathmoy, Borrisoleigh who were married recently in Holycross Abbey and celebrated with a reception in Dundrum House Hotel.
The two Michaels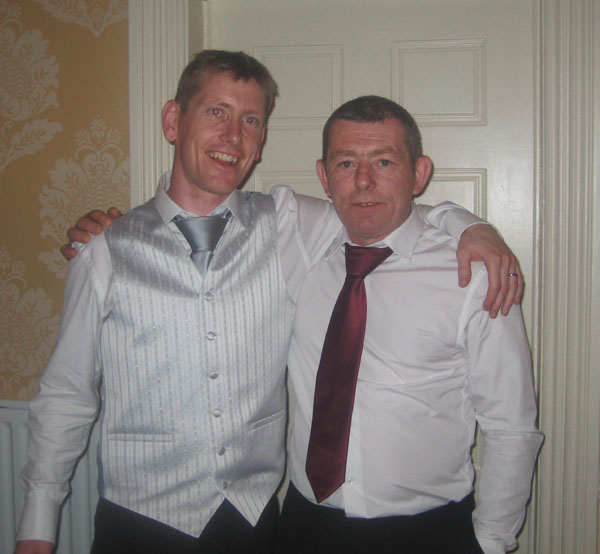 Michael Junior with his father Michael
Lighting up Borris for Christmas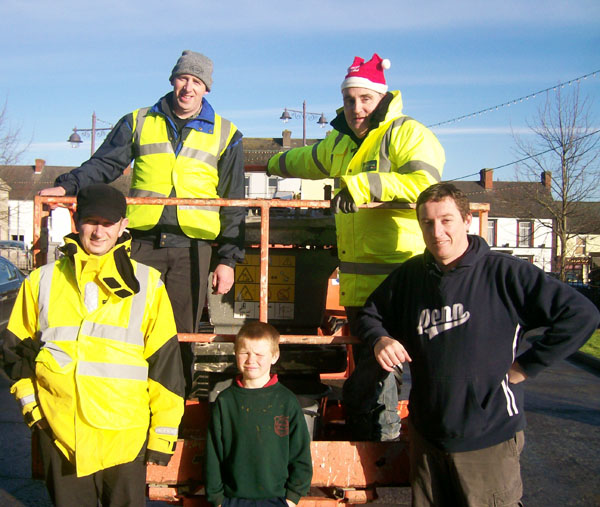 Tom McGrath and Michael Lyons making sure the Christmas lights are in good working order, while Dave Carter and George Ryan keep the traffic moving. They were assisted by Pa Pa Foley. The lights were switched on last Saturday evening. Many thanks to all who supported the Church Gate Collection for the lights last weekend.

Elaine Graduates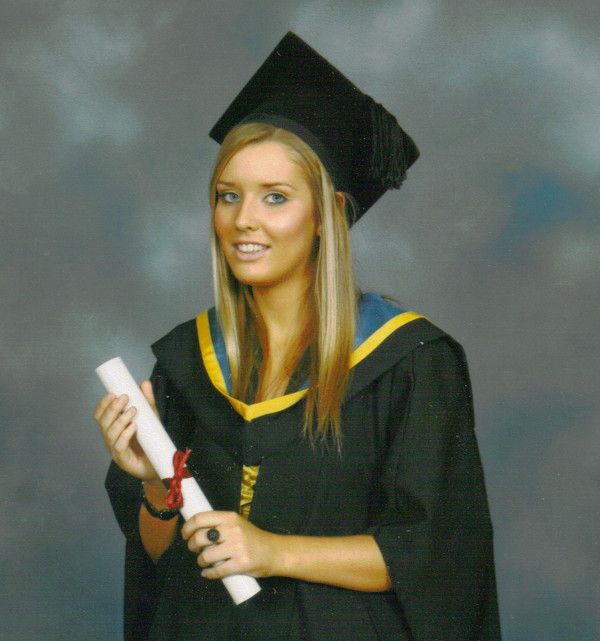 Elaine Stapleton recently graduated with a Bachelor of Education from Mary Immaculate College, Limerick. Well done Elaine and best of luck with your future teaching career.

Juvenile Club Tour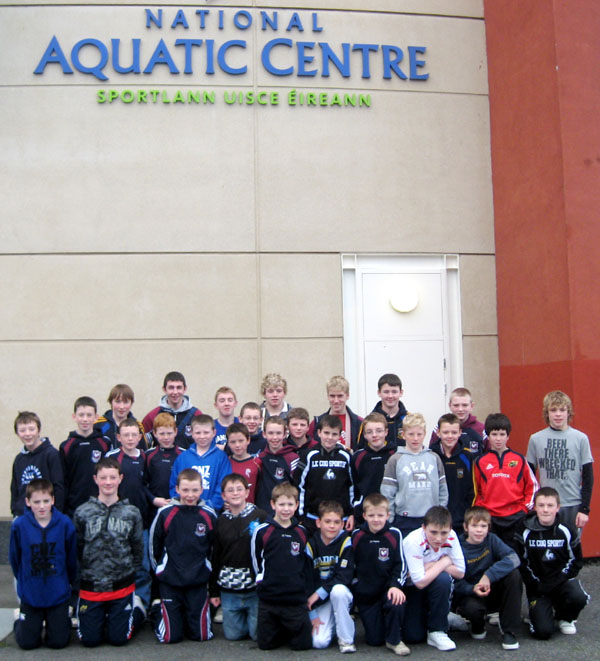 Borrisoleigh Juvenile Club at The National Aquatic Centre

On Saturday, November 29th, Borrisoleigh Juvenile Club had its annual end of year trip. Members of the U-12, U-14 and U-16 panels journeyed to Dublin to the National Aquatic Centre. A great day out was had by all. The three water slides in the National Aquatic centre where the main attraction for children and adults. On the way home we stopped in Portlaoise in an amusement centre. The children had a mixture of Indoor soccer, bowling and different types of amusements and computer games. None of the adults were humiliated in any of these games! Some of our boys tried their luck at ice skating as well with limited success. Entertainment on the bus was provided by Pat Short and John Kenny and was loved by all. We arrived back in Borris that evening after a great day. Most people were only fit for the bed. We wish our U-16's in their last year the best of luck in their senior hurling careers. In their time with the club they have been a source of great pride and joy for their team-mates, mentors, families and the parish as a whole. This talented and hard working group capped off their time with the juvenile club with a memorable county title win.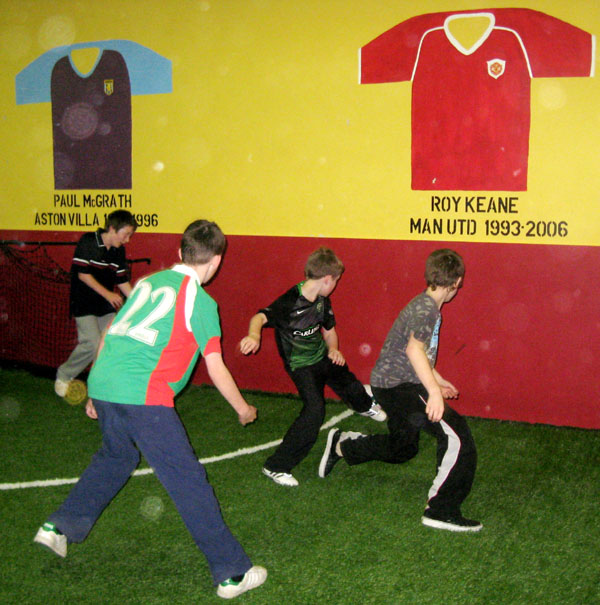 Enjoying a kick-around

Jimmy on cue!

Jimmy Slattery carefully eyes up his next shot during a tense competitive game whilst on the day out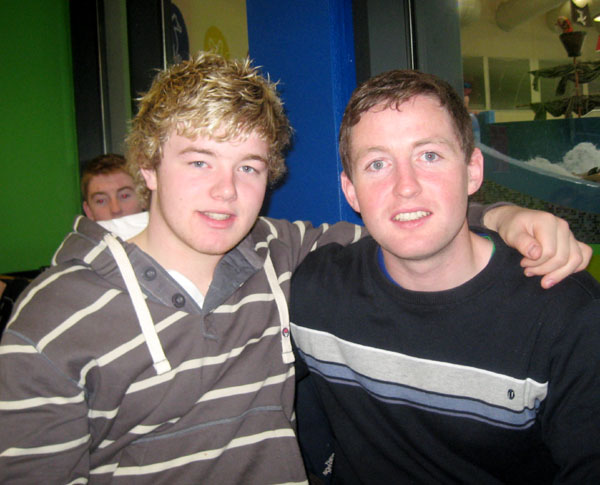 Benny and Vinny square up to the cameraman

Dancing on Ice!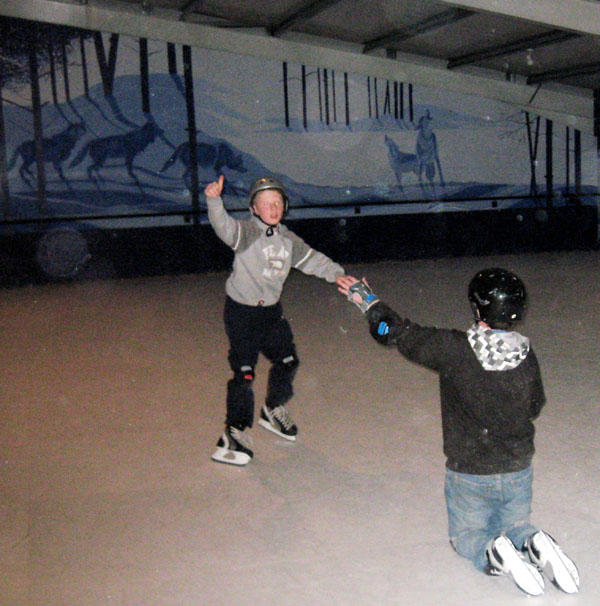 Sean Kenny shows off his moves on ice!
Recently Engaged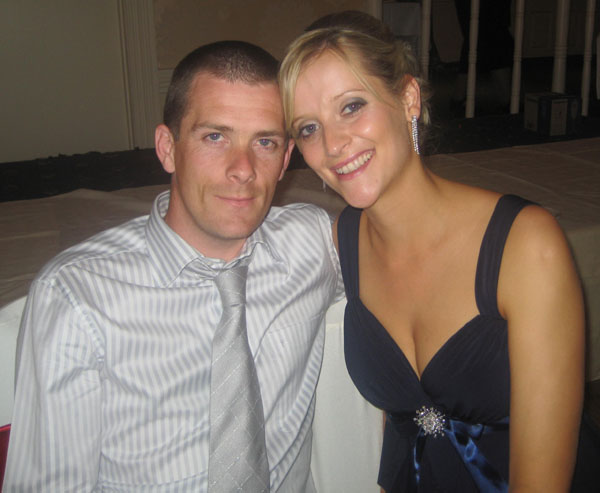 Congratulatioons to Declan Stapleton, Borrisoleigh and Marguritte Ryan, Ileigh on their engagement. We wish them both every blessing and happiness for the future.
Mick lights up for Christmas!


At 5 p.m. on Monday 8 December Mick Hogan of Pallas Street officially turned on the lights of his home which for the season of Christmas becomes a veritable Santa's Grotto and Bethlehem in Borris! No sooner had the lights begun to shine when the cars began to arrive with children of all ages who were mesmerised by the sight of what they saw.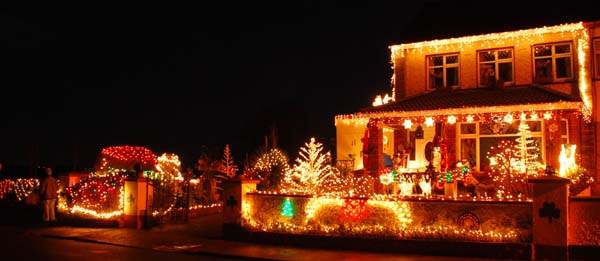 Mick spent over two days putting up the lights, but in truth, spent over five years amassing the collection of lights, santas, cribs, sleighs etc. most of which were transported home from America by his brother Martin. The lights will remain on from 5 p.m. to 10 p.m. each evening until the New Year and all children young and old are welcome to come and have a look! But regardless of how many children may visit the shining lights of Borris the biggest child of them all will always be a boy named Mick!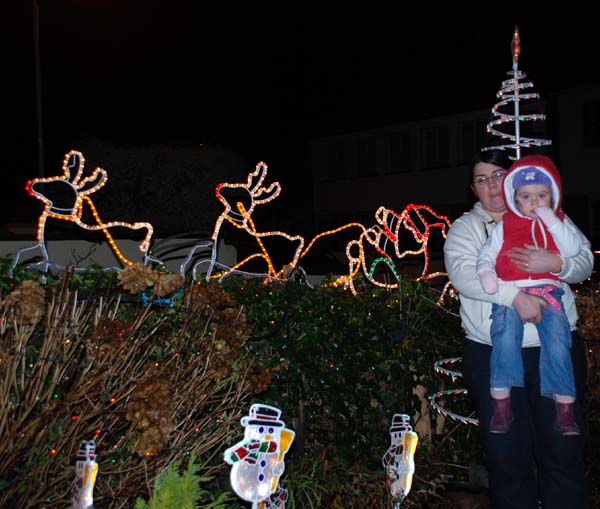 At the official launching of the lights were Pauline Fanning and her daughter Alesha

I'm in the money…


Toby Kavanagh with family and friends at the cheque presentation at Stapleton's of the Cross of Pallas on Thursday 4 December. Toby was the most recent winner of the Borris-Ileigh GAA Lotto Draw Jackpot in the amount of €15,600. Well done Toby! But remember never to forget who your friends are!!!!
TF gives Toby the 'cashable' cheque while John Bradshaw makes the official presentation to Toby with the BIG cheque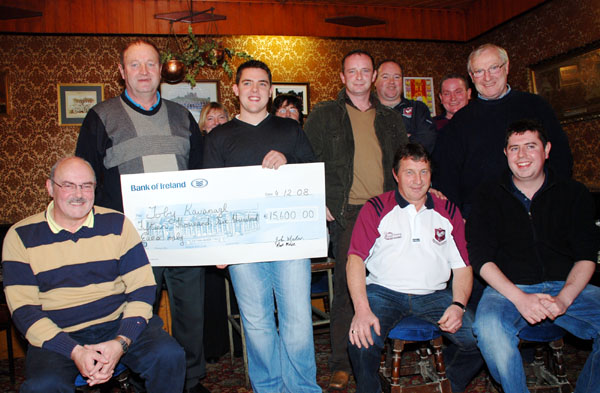 Toby with Club members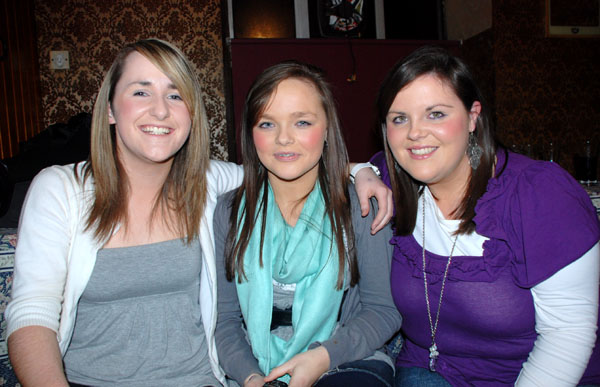 Clíodhna, Clare and Anne Marie at the cheque presentation recently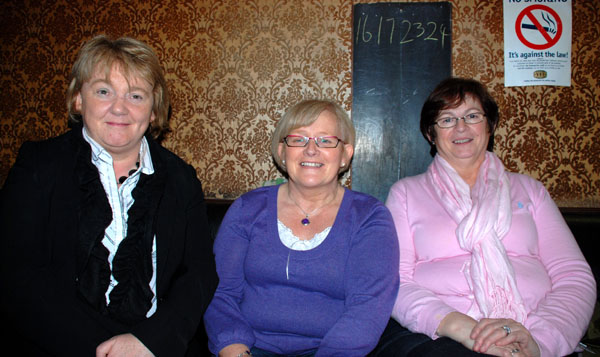 Mary Sadie and Phil reluctantly pose for a photoshoot! P.S. Sadie won €50 on the night! When your luck is in it's in!

Congratulations to all those who participated in the Scór na nÓg North Final in Templederry last Friday 5th December.We wish the winners best of luck as they compete in the County Final in Cashel this Friday night at 7:30. Please come along to show your support to the competitors.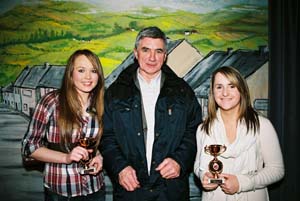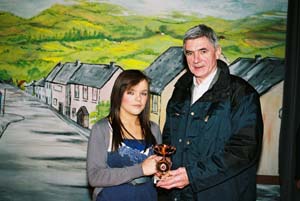 Pictured here are Mari Ryan and Cliodhna Bourke winners of Recitation and Claire Kavanagh who won Solo song.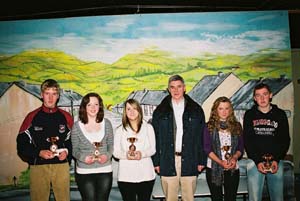 Question Time Winners – Seamus Doolan, Philip Fahey and Tomas Ryan. Novelty Act Winners – Dan McCormack, Maria Ryan, Cliodhna Bourke, Noirin Stapleton and Jack Bourke.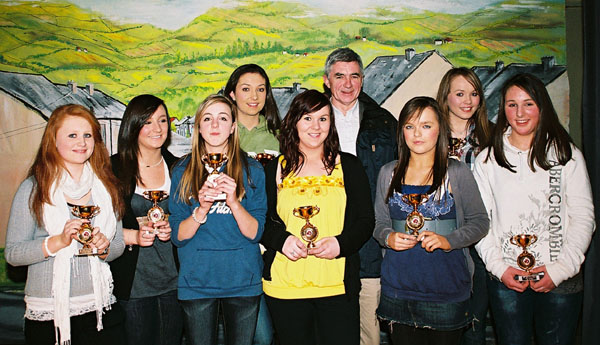 Set dancers – Grace Prior, Aoife Stapleton,Teresa Ryan, Eimear Stapleton, Louise Fahy,Clare Kavanagh, Mari Ryan and Niamh McGrath.

Borris-Ileigh Juvenile G.A.A. Club
present
The U-14 Hurling Parish League Finals 2008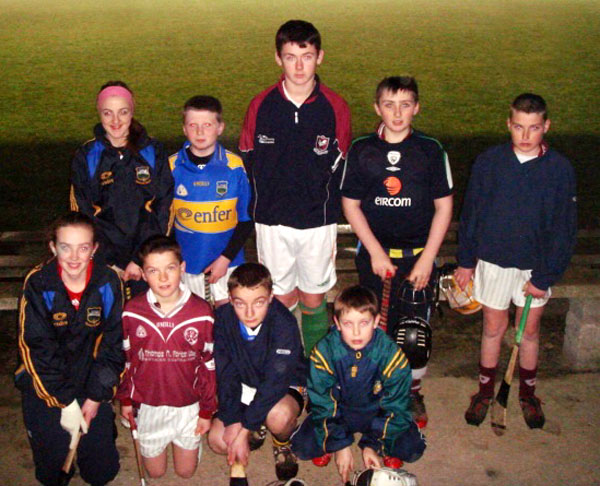 John Fitzgerald's team in the Parish League being played under lights for the first time

John Fitzgerald's team will play Philip Fahy's team in the Parish league final on Thursday night 10 December. Seamus Howard's team will play Cathal O'Connell's team in the Shield Final. This is the first year that the parish league is being run under lights and it has been a great success so far.

Thursday 4th December
Jackpot: €4,000 (Not won)

Numbers: 16, 17, 23 & 24

€50 Lucky Dip winners:

Martin Costello, c/o Tipp Co-op
Breda Kent, Rathmoy
Mark Devitt, Rusheen
Sean & Miyo Ryan, Ballyroan
Jimmy Grees, c/o Gleesons
Sadie Kavanagh, Rathmoy
Phil Maher, Cullohill
Peter Kennedy, Kilfithmone

Next draw: Thursday 11th December, in Bourke's Bar (Tommy & Tricia Foley's)
Jackpot: €4,200

Marian Hall Lotto

09/12/08

Numbers: 12, 16, 19, 27

No Jackpot Winner

1 match 3 winner @ €150

Matthew Coffey, Ballycommon, Nenagh

Next Weeks Lotto Jackpot

€7,950
Pic of the Past… down memory lane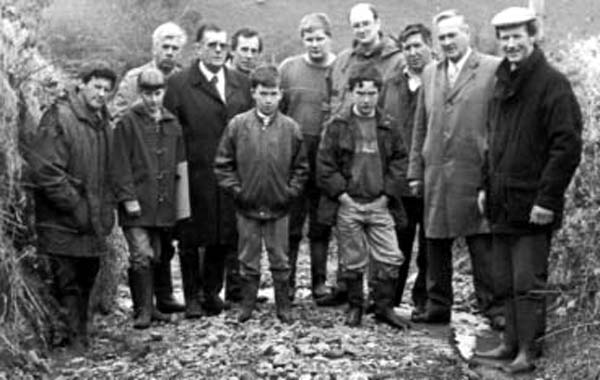 Road Condition Protest
Back: Michael Ryan, Glenkeen, Donal Ryan, Garrangrena, Padraig O'Shea,
Michael Ryan, Glenarisk, Anthony Ryan, Garrangrena, Paddy Ryan, Garrangrena,
Jimmy Farrell, Martin Mangan, and Martin Ryan, The Glebe
Front: Donal Ryan Jnr., Seamus Farrell and Martin Ryan Jnr., The Glebe

Your Website Needs You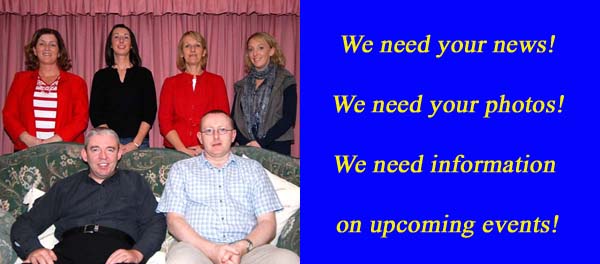 Website Committee: Noreen Fahy, Margaret Cowan, Marie McGrath, Aileen Óg Groome, Michael Barry and Enda Ryan

Many thanks to all those who contributed photographs and news items for this weeks current news. Well done!

Send your email to: info@borrisoleigh.ie

Also, if you like what you see and want to leave a comment, remember to use the Guestbook!