Recently Married in Toronto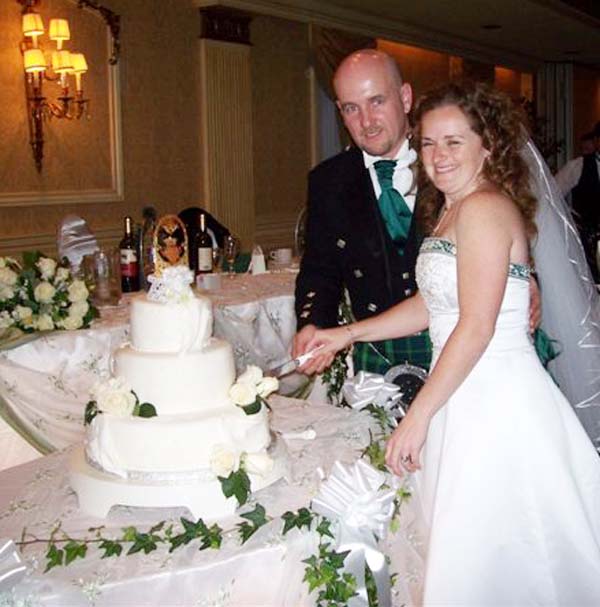 Aidan Shanahan, of Knockbrack and Angela Mullaney of Toronto, Canada, who were married on the 4th October. Aidan's mum and members of his family spent an enjoyable week in Toronto, including a visit to Niagara Falls. Aidan and Angela are currently honeymooning in Mexico.

Niagra Falls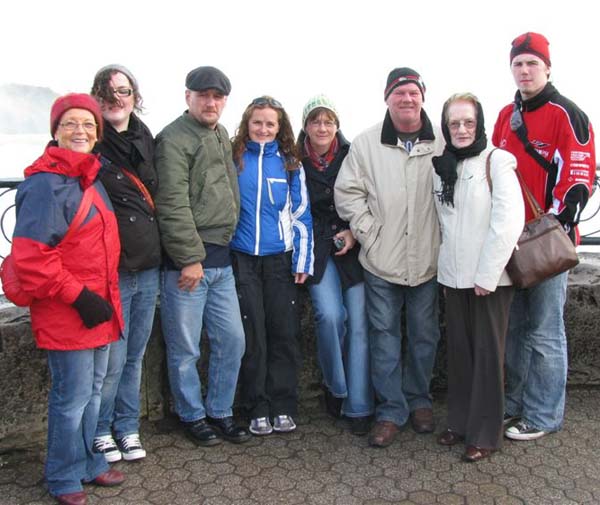 Family and friends at Niagara Falls include Joan Ryan, Michelle Kennedy, Aidan and Angela Shanahan, Kaye and Mike Kennedy, Bridie Shanahan
and Kevin Kennedy.
Home on Holidays from New York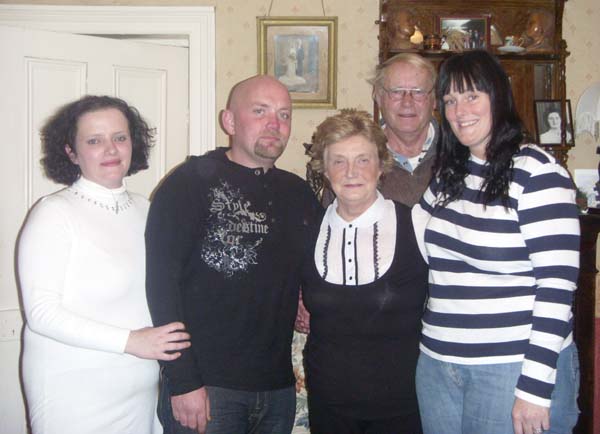 Pat and Mai Ryan Curraghgloss, playing host and hostess to Margaret Gleeson and her brother Mark and Mark's wife Melissa. Margaret and Mark are formerly from Summerhill, Borrisoleigh and are now living in New York. This is Margarets and Marks first time in nine years being on holiday together at home in Borrisoleigh.

Building A Home for Jesus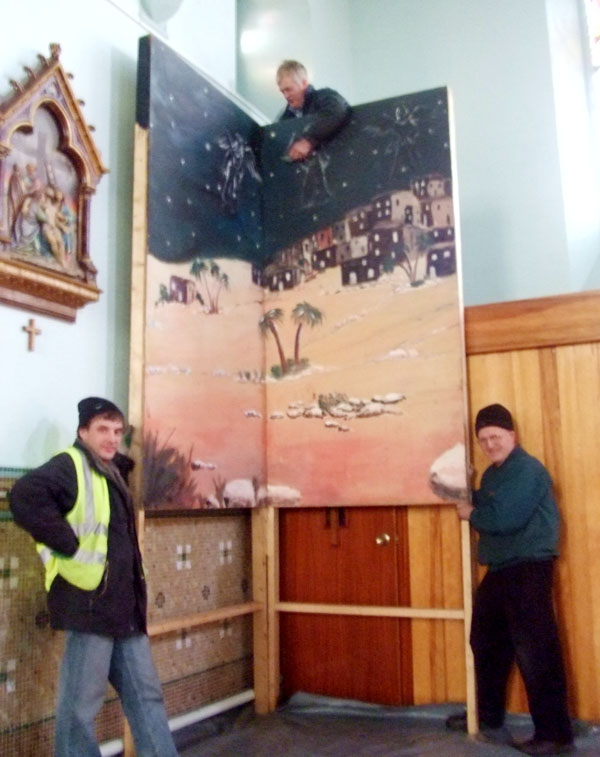 Seamus Bergin, Dan Madden and Phil Maher building the Crib in The Sacred Heart Church in Borrisoleigh

Golden Jubilee Celebrations in Los Angeles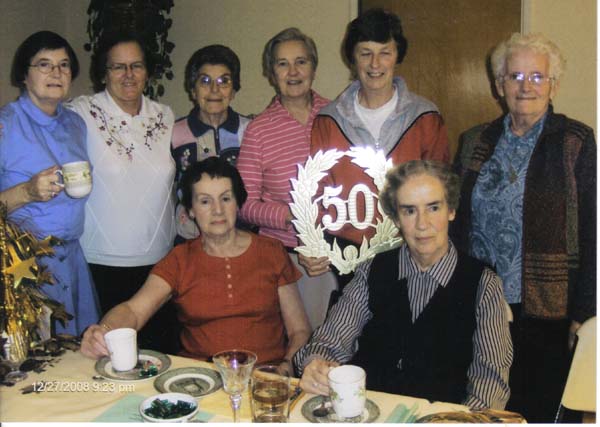 Noreen McGrath pictured here with her sister Sr. Maureen Skelly on the occasion of her Golden Jubilee. Noreen travelled to Los Angeles to celebrate Sr. Maureen's Jubilee. Sr. Maureen belongs to the Presentation Sisters and is teaching in Mont Clair. Also in the photograph are some of the sisters from Sr. Maureen's congregation.
Old Friends Meet in New York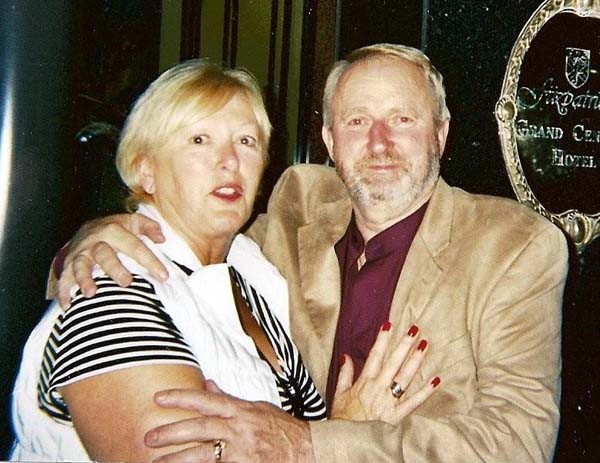 Fidelma Ryan with John Hayes
Mike and Fidelma Ryan of Borrisoleigh met up in New York while on holiday with old friend John Hayes, who left Ballinaclough, Silvermines in 1969.They have managed to stay in touch all these years!!! John hopes to pay a visit at Christmas.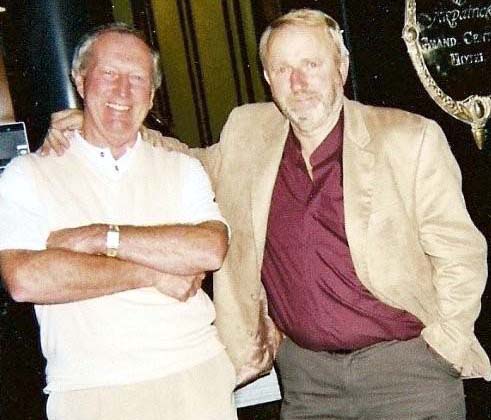 Mike and John Hayes in "The Big Apple"
Table Quiz for Parish Centre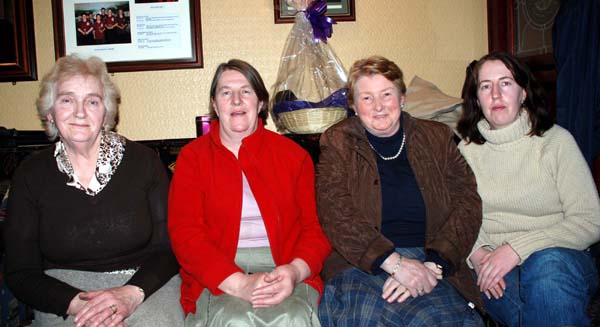 The winning team with a maximum of 60 points! Mary Lanigan Ryan, Mary Kiely, Margaret Kelly and Teresa Kiely
A table quiz was held in Stapleton's Bar on Friday night last 28 November last in aid of the Parish Centre Project. The organisers of the event were very pleased with the turn-out and are very happy to announce that the total raised on the night was €1,340. Sincere thanks to all who supported the fundraiser event and the many others who worked on the night to sell tickets, provide refreshments and generally ensure the smooth running of the quiz.
A special word of thanks to Thomas Russell who set the questions and presented them in typical 'Thomas Russell' style and to his adjudicators Michael Ryan and Mary Kenny who kept a close eye on the results as they came in. Fr. Liam Everard PP expressed his gratitude to all concerned, thanking one and all for turning out in such large numbers on such a cold and frosty night. A great night was had by all.

Thomas Russell asks the questions while Michael Ryan and Mary Kenny check the answers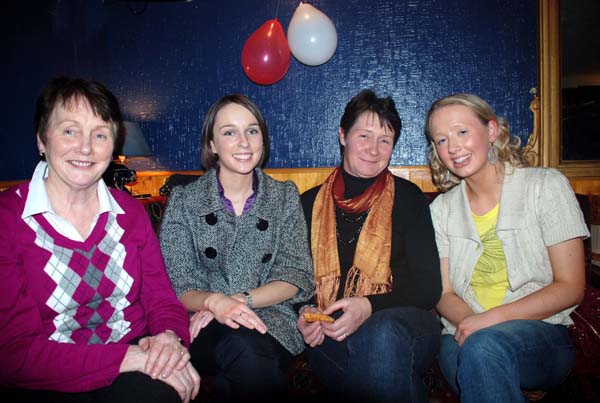 Mairead and Maura Bradshaw with Margaret Harty and Caroline Kenny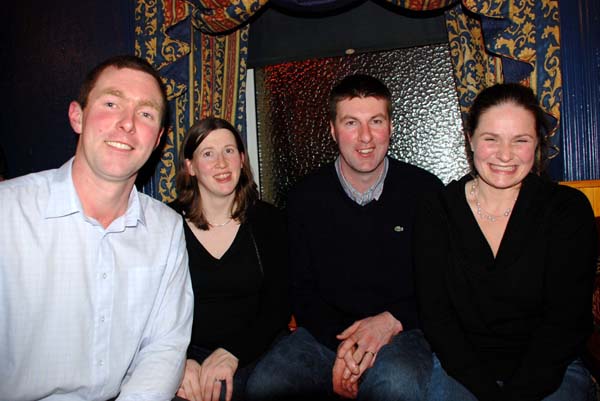 Paul and Maeve Slattery with John and Josephine Begley



Mary Ryan with Fr. Liam and TF Stapleton with Martin Bourke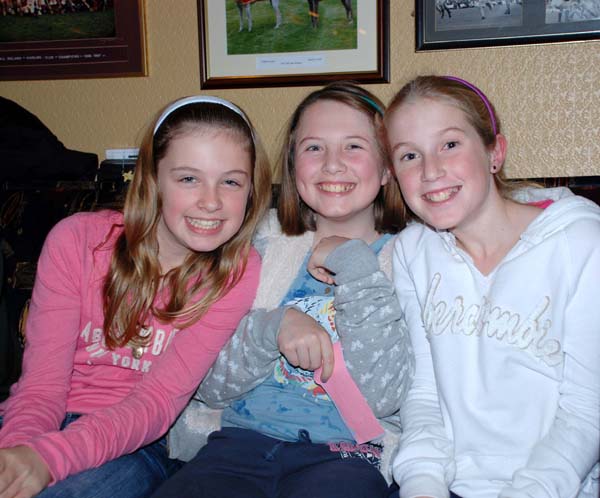 Sarah, Hazel and Tara enjoying the fun at the Table Quiz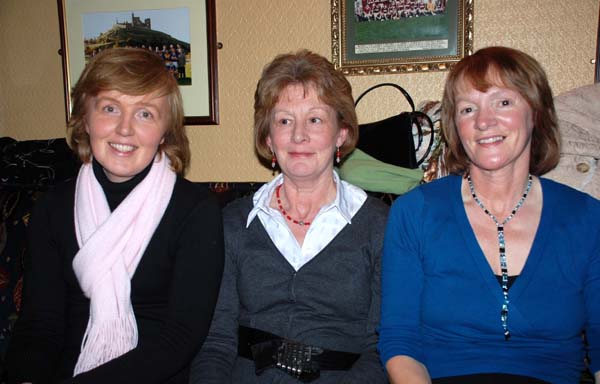 Kay Ryan, Josephine Kennedy and Denise Ryan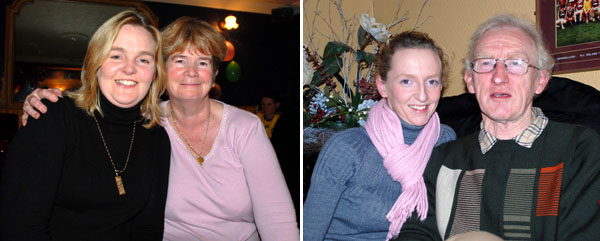 Tina Lyons with Biddy Stapleton and Julie Ryan with her Dad Seamus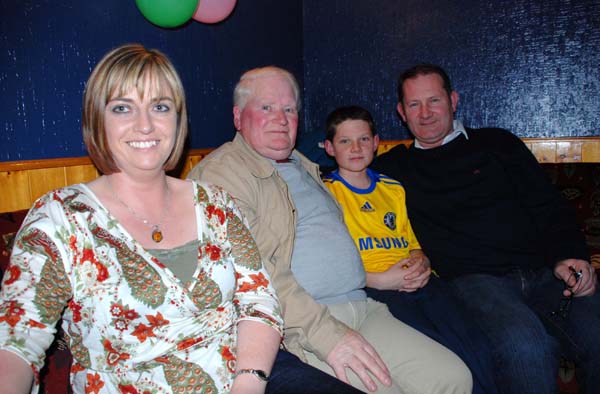 Úna Shanahan, Jim Sullivan, Dean and Michael Ryan at the Quiz last Friday night
Excellence Award for Eimear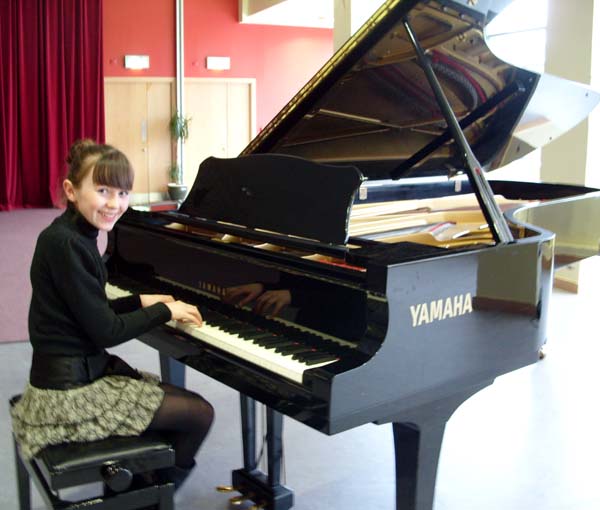 Eimear is pictured at the piano in Griffith College
Eimear Ryan of Ileigh was the recipient of an Excellence Award for Piano at the recent Prize Winning Ceremony at Griffith College, Dublin. These awards are presented on an annual basis by The Leinster School of Music and Drama to students who achieve excellence at their piano or speech and drama examinations. Eimear received her award for her performance of Ecossaise in G by Beethoven. She was among the twelve recipients for piano who were invited to perform at the awards ceremony in Griffith College Auditorium, the headquarters of the Leinster School of Music and Drama. Nine students received speech and drama awards at the ceremony. Well done, Eimear!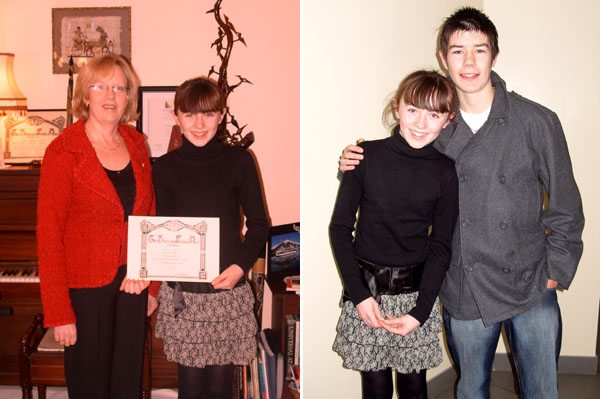 Eimear with her teacher, Mrs. Breda Kinane, Templederry and with Ryan Andrews of 'The Clinic' and 'Fair City' who received a speech and drama award at the ceremony

Family Giving Tree 2008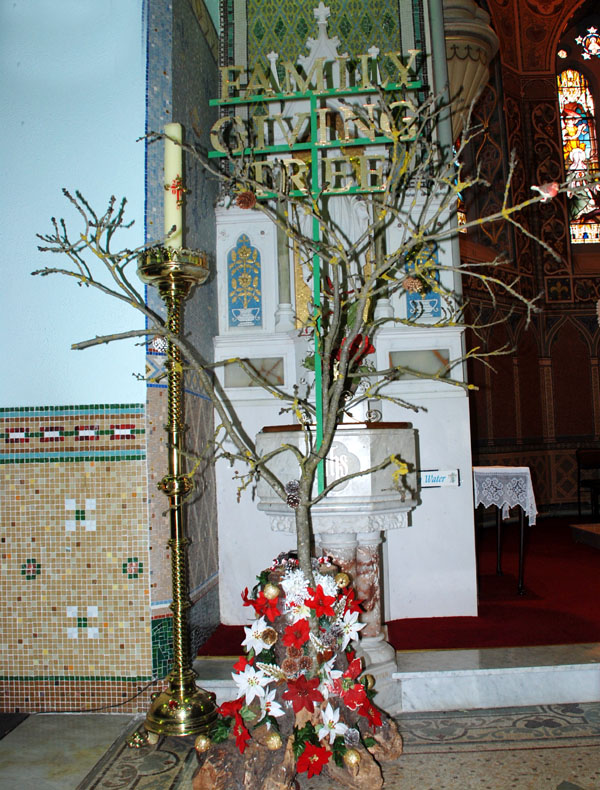 The Family giving Tree in The Sacred Heart Church, Borrisoleigh

Throughout Advent, Trócaire, the overseas development agency of the Irish Catholic Church, runs its annual Christmas gifts appeal, Global Gift. Trócaire offers a range of ethical Christmas gifts that people can purchase for friends and family, which the organisation distributes to poor and vulnerable families and communities in the developing world.
Trócaire's Global Gifts reflect the true meaning of Christmas as they provide a meaningful alternative to conventional Christmas presents and remind us of the compassion Christ showed during his lifetime.
This year's Trócaire Global Gifts include school lunches for Burmese refugee children (€10), olive trees for Palestinian farmers (€20), seeds and tools for African families (€35), goats for African families (€45), mother and baby care throughout the developing world (€60), support for grandparents caring for orphaned grandchildren (€80), the gift of food worldwide (€100), the gift of water for poor families around the globe (€150), land for poor Ugandan families (€200).
Global Gifts may be purchased locally from The Post Office, O'Connell's Pharmacy, Stapleton's of Main St., Coffey's of Lower St., Bourkes's Hardware, Bourkes's of Chapel St. and Stapleton's of Pallas Cross. You will receive a Global Gift Card to send to the person in whose name you purchased the gift, and also a ribbon representing your gift which can then be attached to the Family Giving Tree in the Sacred Heart Church in Borrisoleigh.

Borris-Ileigh U'14 Parish League

Hurling teams 2008

1st round – Monday 8th Dec.
2nd round – Tuesday 9th Dec.
3rd round – Wednesday 10th Dec.
Finals – Thursday 11th Dec.


Captain – Seamus Howard
Darragh Ryan, Dylan Reid, Liam Ryan, Shane Kenny, James McCormack, Grace O Mahony, Sam Devaney, Franz Leimlehner, Liam Devaney, David McCormack, Jack Prior, Paudie Younge
Captain – Philip Fahy
Seamus Bourke, Danny Ryan, Thomas Ryan, Declan Ryan, Philip McCormack, Sarah Ryan, Paudie Scanlon, Tom Fitzgerald, Seán Ryan, Charlie Stapleton, Dan Brooks, John Niserky
Captain – John Fitzgerald
Teresa Ryan, Seamus Doolan, Matt Stapleton, Jack Hogan, Declan O Connell, Karen Kenny, Micheál Carey, Brendan O Dwyer, Edward Addis, Aaron Reid, John Ryan (Gurteeny), Bertie Niserky
Captain – Cathal O Connell
Shane McCormack, Dean Ryan, Kieran Maher, Michael Ryan, Seán Kenny, Jane McCormack, Stephen Doolan, Eoin Stapleton, Gerry Kelly, Conor Keane, Aaron Donnelly, Herbie Bruwer


Reminder



Reminder: Borris-Ileigh GAA Annual General Meeting takes place this Sunday @ 5.30pm in the Marian Hall. Membership / insurance can be paid that evening. All welcome.

Club Merchandise wil be on sale on Saturday 6th December in the Town Park Pavillion from 11am to 1pm

Pic of the Past… down memory lane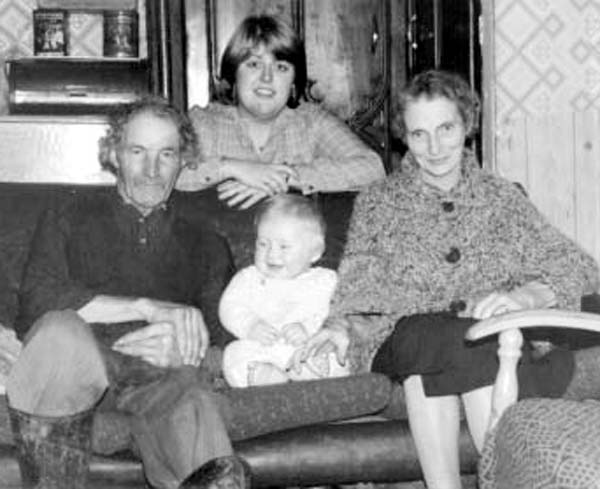 Spillane's of Pallas.
At the back: Marie Smith and sitting: Stephen, John and Bridie

Your Website Needs You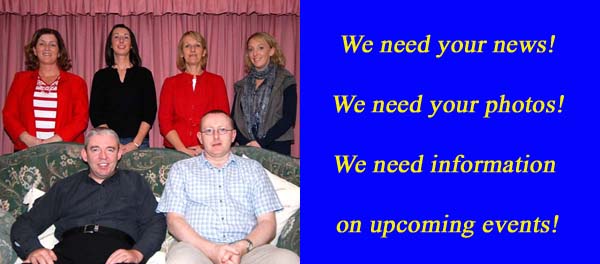 Website Committee: Noreen Fahy, Margaret Cowan, Marie McGrath, Aileen Óg Groome, Michael Barry and Enda Ryan
Many thanks to all those who contributed photographs and news items for this weeks current news. Well done!

Send your email to: info@borrisoleigh.ie
Also, if you like what you see and want to leave a comment, remember to use the Guestbook!