St. Joseph's First Years play County League
Back Row: Mr Crowley (manager), Kieran Harrahill(Drom), Barry Moran (Clonmore), Kian Harty (Nenagh), Niall Keller (Nenagh), Kieran Larkin (Latteragh), Dylan Reid (Glentane), Seamus Bourke (Kylecrue), Danny Ryan (Borrisoleigh), Neil Scott (Templemore), Michael Ryan (Templederry), Pauric Ryan (Toomevara).

Middle Row: Dilon Fairbrother (Errill), Liam Ryan (Fantane), Sean Ryan (Rathmoy), Michael Ryan (Glenrisk), Noel Ryan (Drom), Darren Bourke (Toomevara), Ciarán Carey (Templederry), Paudie Scanlon (Cullohill), Daniel Ryan (Grangelough), Paul Carey (Drom), Mr O' Shea, Principal.
Front Row: John Fitzgerald (Borrisoleigh), Colm O'Brien (Killenaive), Martin Coffey (Templemore), Declan Ryan (Borrisoleigh), Mark Grace CAPTAIN (Toomevara), Dean Ryan (Borrisoleigh), Shane Daniels (Balinaclough), Michael Tierney (Toomevara), Thomas Ryan (Borrisoleigh), Andrew Hayden (Balliaclough).
The first year hurlers of St. Joseph's College, Borrisoleigh enjoyed a very successful County League, winning their first four matches, before losing to an exceptional Borrisokane side in a top of the table encounter.
St. Joseph's opening fixture was at home to Ballingarry and proved to be a very tight affair, with Borrisoleigh holding out for a two point victory. A final tally of 1-7 was enough to win the game.
St. Joseph's second encounter in the league was an away fixture against St. Ailbe's of Tipp Town. This game was played in terrible conditions, with constant rain and a heavy pitch making fluent hurling nearly impossible. Borrisoleigh had the assistance of a strong wind in the second half and a Martin Coffey goal sparked a storming comeback that culminated in a seven point victory. This wonderful second half performance gave huge confidence to the team, and the quality and standard of their hurling in the next league matches were an immense improvement on their previous forward play.
The third league game was a home fixture against a much vaunted Cistercian College, Roscrea who had enjoyed wide margin victories in their opening games. This game was the highlight of St. Josephs season, as they put in a near flawless performance when all players fulfilled their potential and accomplished an amazing victory, scoring a remarkable 9-10 in the process.
The challenge to St. Joseph's was now whether they could repeat the performance in their next match, an away fixture against Comeragh College, in Carrick-on-Suir. Again, however, conditions contrived against the lighter St. Joseph's side, as rain lashed down for the duration of the match. The Carrick Swans GAA pitch stood up remarkably well to the deluge, but it wasn't a day for the pretty free-flowing hurling which was becoming St. Joseph's trademark. Instead a dogfight ensured against a robust Carrick-on-Suir side, which showed plenty of commitment and determination on the day, and proved difficult opposition to overcome. The first half was tight and scrappy, but Borrisoleigh's forwards looked the more clinical. Borrisoleigh's final score of 6-7 was commendable considering the conditions.
St. Joseph's final league fixture was a top of the table encounter with a very talented Borrisokane C.C. The winner would progress to the County Final while the loser would bow out of the competition. Borrisokane had a better scoring difference coming into the game, so St. Joseph's knew only a victory would progress them into a coveted County Final. Played in Ballinderry, weather conditions were again atrocious, with wind and rain lashing the players for the duration of the game. Again Borrisoleigh were at a huge physical disadvantage, but Borrisokane also possessed excellent hurlers, with no apparent weakness in their line-up. Very strong up the middle, Borrisokane were simply too good for a gallant St. Joseph's on the day. For the first time in the competition, Borrisoleigh's defenders were struggling to cope with their opponents. Midfield was well contested. St. Joseph's played very well in the second half and put on plenty of pressure, but Borrisokane's ability to match those score for score meant that little inroads were made on the deficit. The standard of hurling was exceptional, and some of the scores were a joy to behold. Cruelly for Borrisoleigh, they conceded two more late goals near the finish, and ended up losing by twelve points. Borrisokane are an exceptional side, and will take some stopping in the County Final. St. Joseph's can take some consolation in giving Borrisokane by far their most competitive game in the league, and also from winning four of the five matches they played.
Congratulations to everyone concerned.

Wedding Bells Ring Out in Ileigh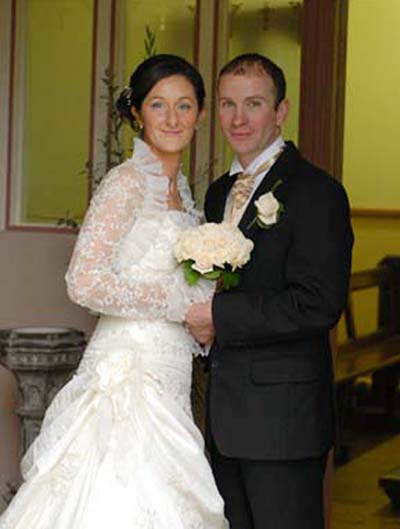 Marie Murray and Peter Madden who were married in Ileigh Church recently.
The marriage of Marie Murray of Rathcarden and Peter Madden of Longford took place in Ileigh Church on 25 October. The happy couple then celebrated with family and friends at their reception at Dundrum House Hotel.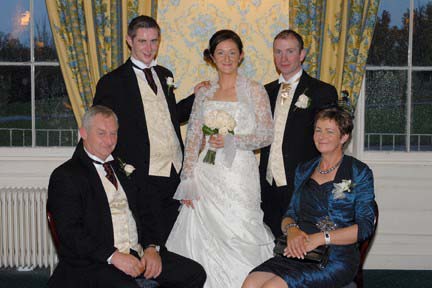 Marie and Peter pictured with Marie's parents Dinny and Maureen and brother Michael
Graduation Time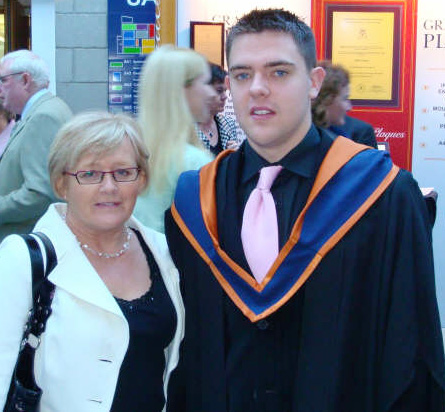 Toby Kavanagh pictured here with his mother Sadie on his Graduation Day. Toby recently graduated with a Bachelor of Engineering in Civil Engineering from Limerick Institute of Technology. Congratulations Toby!!

Flood Relief Works on Pallas Street

Flood relief works were carried out on the access road to the rear of residences on Pallas Street on Monday 10 November. For a number of years major flooding was a problem in this area of town especially for residents Jimmy and Bridie Slattery. The Council were made aware of the problem and thankfully they have responded much to the relief of all concerned. Hopefully we will see Main Street getting a similar make-over before too long as we are reliably informed that major funding has been allocated for this project.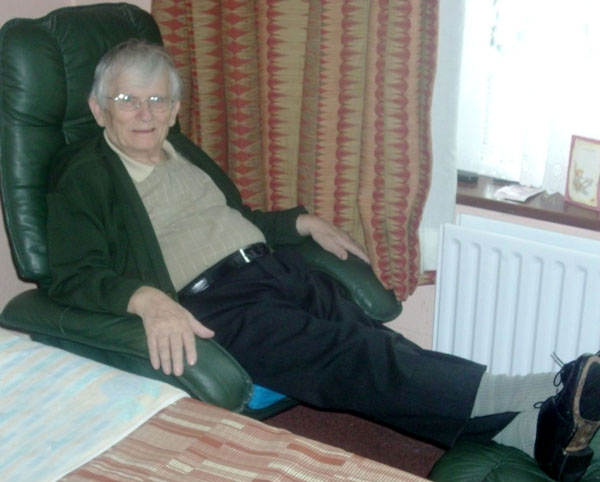 Jimmy relaxes while improvement works are going on outside
Christmas Shoe Box Appeal

(OPERATION CHRISTMAS CHILD)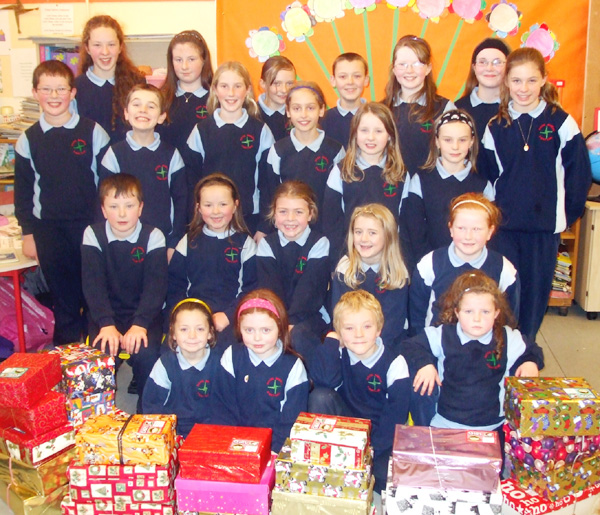 Pupils from Scoil Bhríde Fantane with their contributions to the Christmas Shoe Box Appeal 2008
Over the last ten years almost two million of the world's most disadvantaged children have received a shoe box enthusiastically packed with gifts from Ireland. For many of those children it was and will be one of the few gifts they have ever received. It may seem small, but your shoe box can change a child's life. It brings hope and smiles to some of the world's poorest children. This simple act of generosity gives hope to children caught in the midst of wars, natural disasters and extreme poverty and shows them they have not been forgotten.
The newly established Youth Club in Borrisoleigh is going from strength to strength. Each Friday evening an average of seventy children from aged 7 to 13 gather for fun and games in the Marian Hall. The Club recently purchased some sports equipment and hope to acquire some more as funds become available. The energy and excitement at their meetings is electric – It's great to have an outlet for our younger folk to be able to let off some steam at the end of the week! It's all about fun, fun, fun and there certainly seems to be a lot of that at the Club. Well done to all concerned.
Taking the Plunge!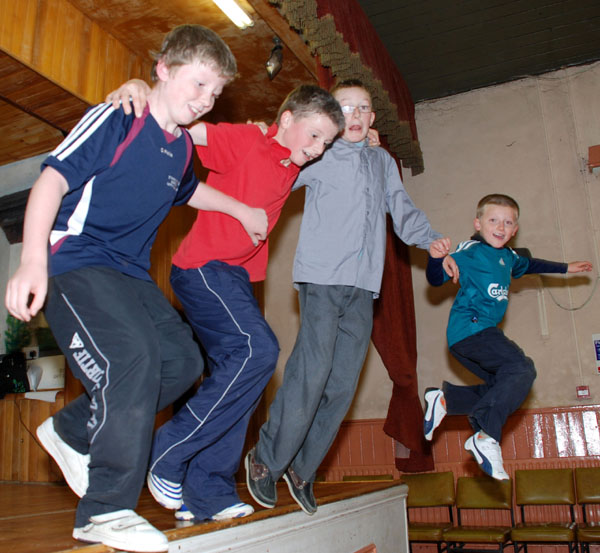 Some Youth Club members take to the skies at last Friday's Youth Club Meeting

Girl Power!!
Some of the Ladies enjoying more refined activities at the Club
Hitching a lift!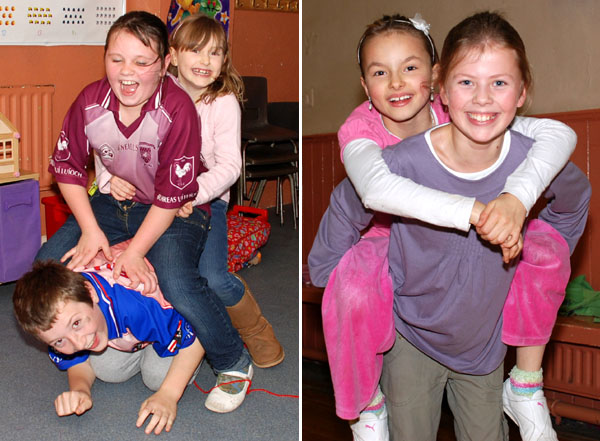 Eoin Stapleton under pressure while Lorna Ryan takes it all in her stride!!
The Rena Moves!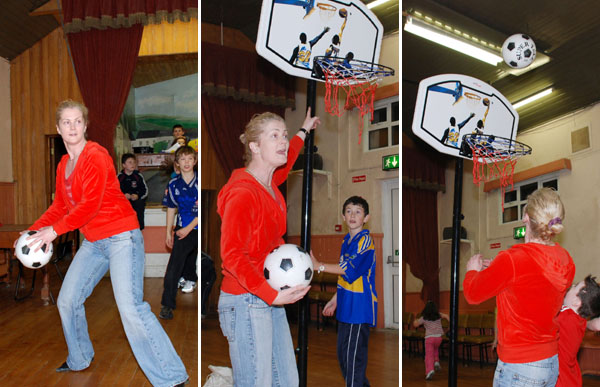 Step 1: get the ball Step 2: find the hoop Step 3: go for it
It nearly went in!!
Graduation!!!

Vera Hogan who attended her Graduation in Dublin and received her Diploma in Montessori Teaching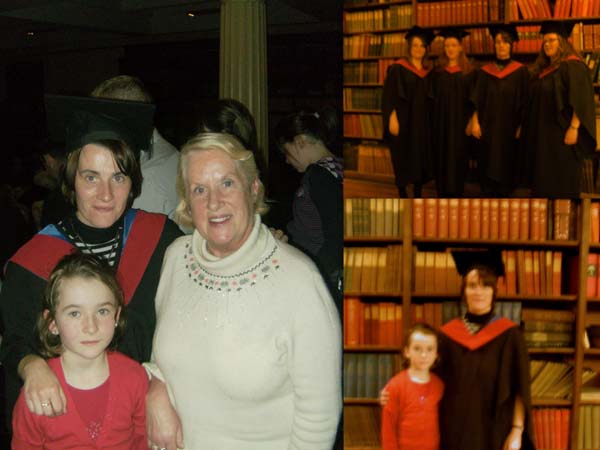 3 generations – Nora, Vera and Aedin and Vera with classmates Laura, Helen and Ciara who also graduated on Saturday last.

Munster Interfirms Hurling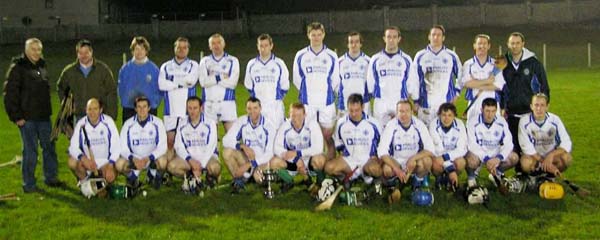 Declan Hickey,John Plower Barry Duggan Stephen Callinan, Mike Noone, John O'Connor, Christy Koyce, Shane Mullally, Ger O'Brien, James Carroll, Aidan Dwyer, Eoin Bonfield, Michael Browne, Conor Clancy and Niall Cahalan

Analog OMC created history last night by capturing the Munster Inter-Firm hurling title for the first time in their history with a magnificent performance against a strong UCC team at Kildorrery in Cork. Captain Barry Duggan made a passionate speech on accepting the cup as everyone celebrated this historic victory. Great credit is due to all involved who give up their free time to represent the company. They have now qualified for the All-Ireland semi-final which will take place in the next few weeks.
Mikey Browne (Rathmoy) played corner forward in the final and Aidan Dwyer (Rathealty formerly of Knockanevin) played at centre forward.

Camogie Club Night Out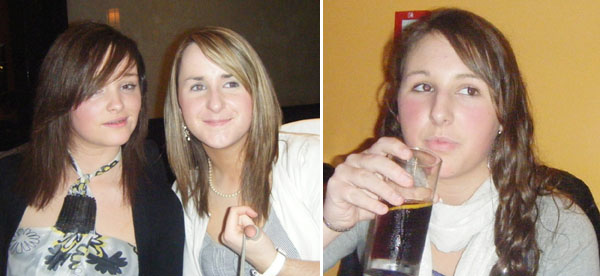 Becky Prior with Cliodhna Bourke and Niamh McGrath enjoying a night out in Jumbo


Siobhan Stapleton with Edel Hogan and Eimear Stapleton with Grace Prior


Louise Fahy with Grace Prior and Clare Kavanagh with Siobhan Stapleton

After the recent AGM of the Borris-Ileigh Camogie Club the following Officers were elected:-
Chairperson
– Carmel O'Brien
Secretary
– Vera Hogan
Treasurer
– Geraldine Delaney
Pat Kavanagh, Philly Bourke, Carmel O'Brien and Jimmy Slattery are remaining with the Junior B Team.
Carmel O'Brien, Julie Delaney, Vera Hogan and Geraldine Delaney will continue training the Juveniles.
More help is needed with the Juveniles. Please contact any of the above Officers if interested in lending a hand.


Clodagh Macra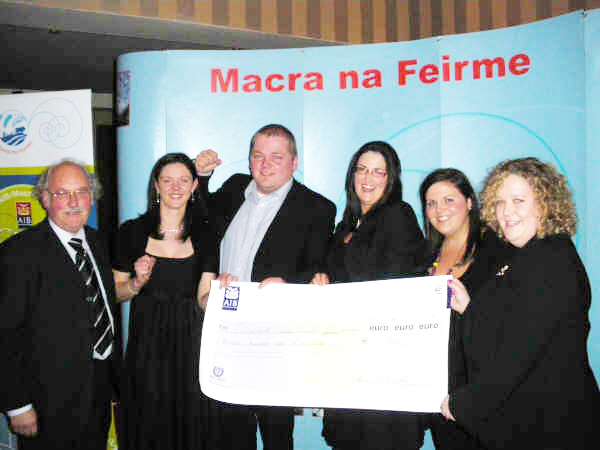 Clodagh Macra receiving their cheque from AIB agricultural advisor Tom Quigley and Macra na Feirme national president Catherine Buckley.
Clodagh Macra was awarded joint second in the National Club of the Year Competition 2008. Twelve Clubs were short-listed for the semi-final and interviews were held with these twelve clubs, from these interviews Clodagh were picked in the final six. These final six clubs then went on to the final in Salthill on the 25th/Oct. Each club had to give a five minute presentation of their club's achievements for the macra year 07-08. The competition is judged on each clubs' actions and activities throughout the macra year, such as competitions, fundraising, community involvement and the general running of the club for the year. Mountmellick Macra were given 1st place for the second year running, Clodagh Macra and Tullyallen Macra from Louth were awarded joint second. We received a cheque for €850 on the night. Over twenty of our members travelled to Salthill on the 25th, it is testament to our great supporting members that the club have achieved such success in its brief existence. Well done to everyone involved.
Anyone interested in joining Clodagh Macra can contact Teresa (our chairperson) on 086-3006615. There are many competitions and nights-out planned between now and Christmas and now is as good a time as any to come along with us wherever the road takes us!!

Marian Hall Lotto
11/11/08
Numbers: 09, 11, 23, 28
No Jackpot Winner
2 match 3 winner @ €75 each
Lar Smyth, Main Street
Mary Smyth, Rossnamulteeny
Next Weeks Lotto Jackpot
€7,350
Pic of the Past…..down memory lane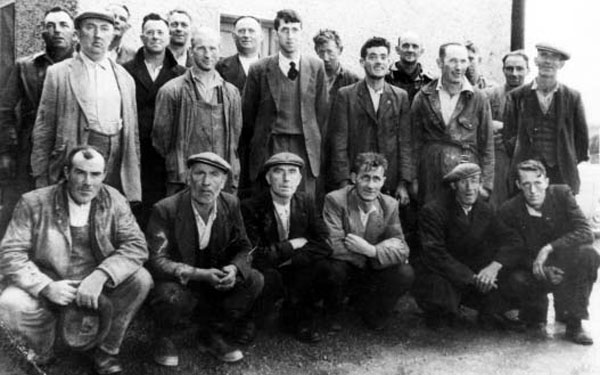 Central Quarry Latteragh – The Workforce
Back: Dick Kennedy, Jack Barry,Con Howard, Tim McLoughlin, Ned Carey, William Ryan, Tommy Bergin, Tommy McLoughlin and Matt Fahey
Middle: Jack Hingerty, Paddy Hayes, Michael Deegan, Michael Dunne, Frankie Leamy and Mick Hayes
Front: Ned Tobin, Peter Hingerty, Willie Coughlan, Pat Kennedy, Ned Creagh and Tim Ryan


Your Website Needs You!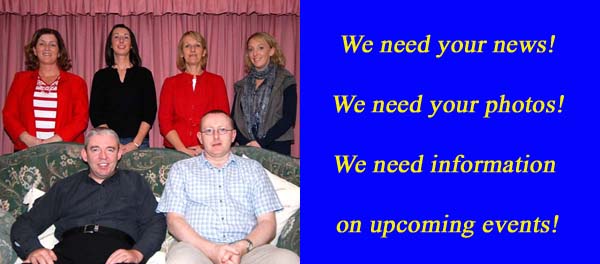 Website Committee: Noreen Fahy, Margaret Cowan, Marie McGrath, Aileen Óg Groome, Michael Barry and Enda Ryan

Many thanks to all those who contributed photographs and news items for this weeks current news. Well done!


Send your email to:
info@borrisoleigh.ie
Also, if you like what you see and want to leave a comment, remember to use the Guestbook!