St. Cualan's Capers at Halloween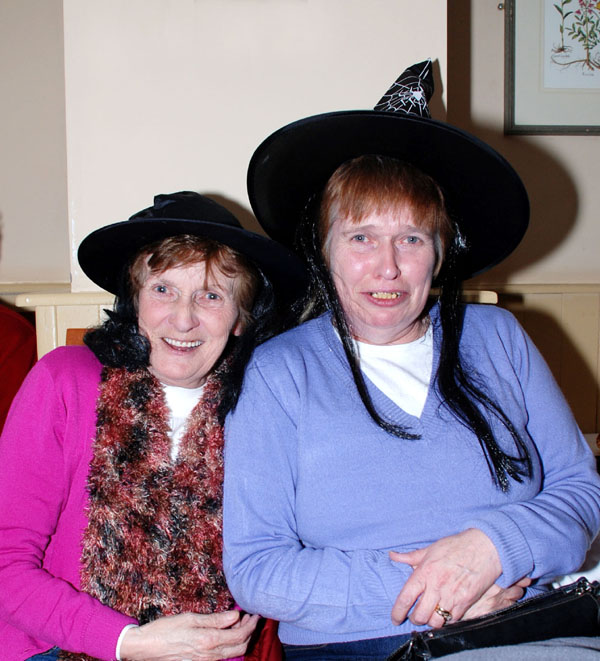 Eileen Martin and Pauline Cleary get into the spirit of the St. Cualan's Halloween Party at Sheehan's Restaurant on Wednesday 29 October
St. Cualan's, Senior Citizens held their Halloween Party on Wednesday evening last November 29th. Our evening commenced with the celebration of Mass by our chairman Fr. N.J. Irwin. Afterwards we made a quick dash to Sheehan's Restaurant for a fabulous meal. The service was superb and the atmosphere was terrific. Our senior citizens, as usual, were dressed in their best ensembles and there wasn't a hair out of place. They looked a million dollars. Phil Maher, our loyal and faithful musician put on quite a show, whilst Mai Ryan took us down memory lane with her beautiful rendition of Dan O'Hara. Of course our night would not be complete without the presence of our "roving reporter and photographer" Fr. Michael. Barry. As you can see from the photograph below every picture tells it's own story. Everyone had a brilliant night from start to finish. "Hats off" to Sheehan's Restaurant and to all the committee.
We congratulate one of our friends Mary Quinn on the celebration of her eightieth birthday, and we wish her many years of health and happiness.

It's all in the eyes!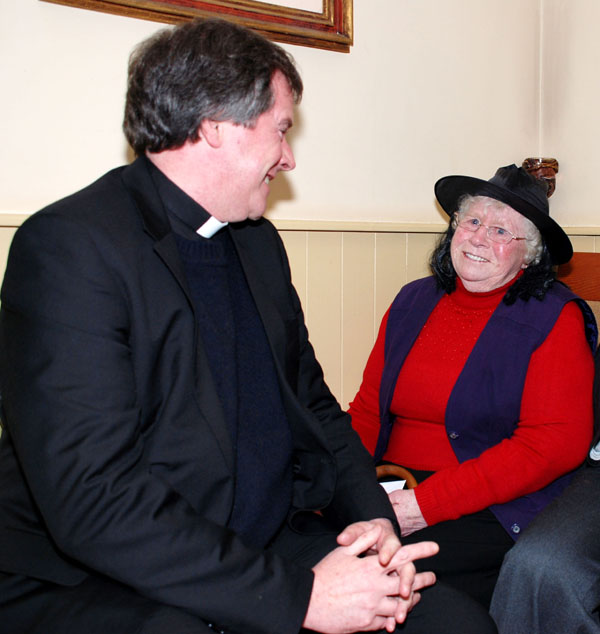 Mary Quinn being congratulated by Fr. Nicholas Irwin on the occasion of her 80th birthday

Blessed art thou among men!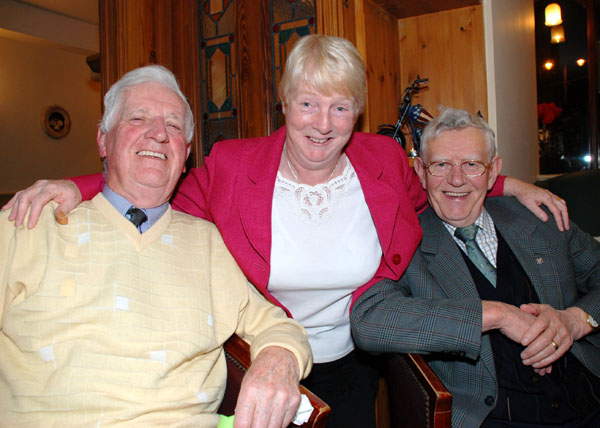 Chris Costello with a man on both arms – PJ Ryan and husband Jack

X Factor Finalists!!!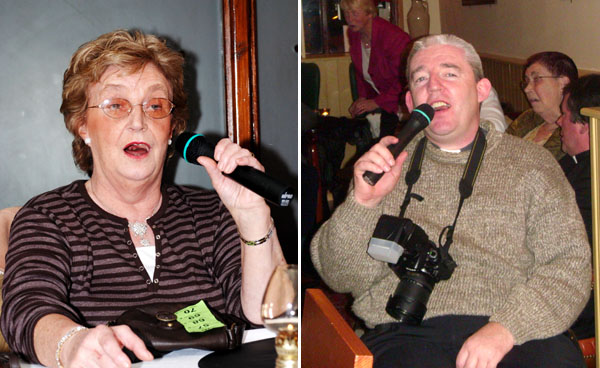 The battle for musical supremacy between the very talented Mai and the 'ever-hopeful' Fr. Michael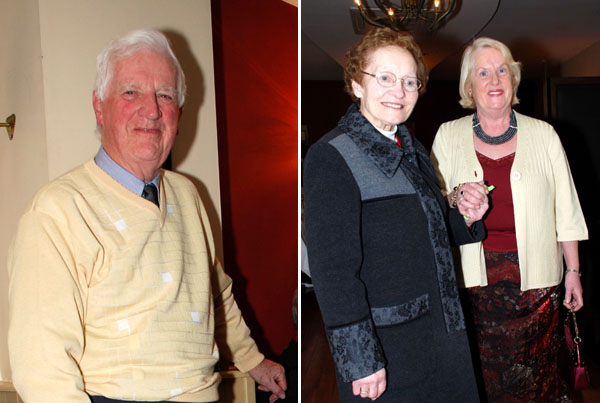 PJ Ryan and Maura Ryan with Nora Delaney enjoying the Halloween festivities at Sheehan's Restaurant

Top of the Class for Úna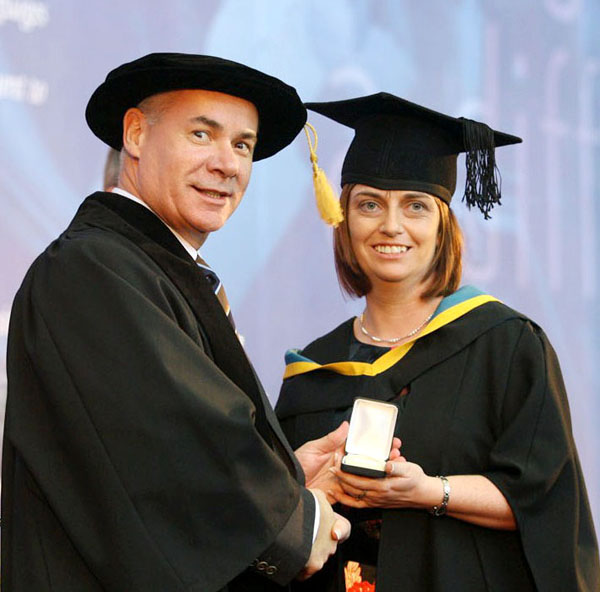 Dr. Eugene Duffy presents Úna Shanahan with her medal for achieving first in her class in Theology

Úna Shanahan graduated with a Bachelor of Education degree from Mary Immaculate College on Friday 24 October. Úna also received a college medal in recognition of achieving first place in her Theology results. Well done and congratulations!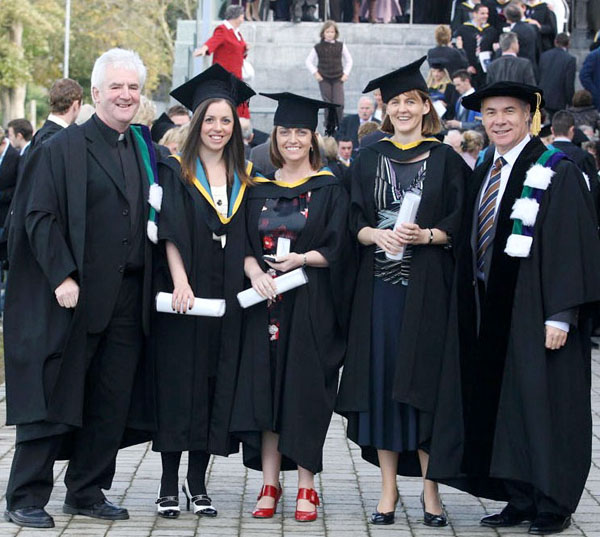 Úna Shanahan with her fellow classmates Kate Coughlan and Mairead Kennedy, and lecturers Fr. Michael Wall and Dr. Eugene Duffy

Sinéad does the Business!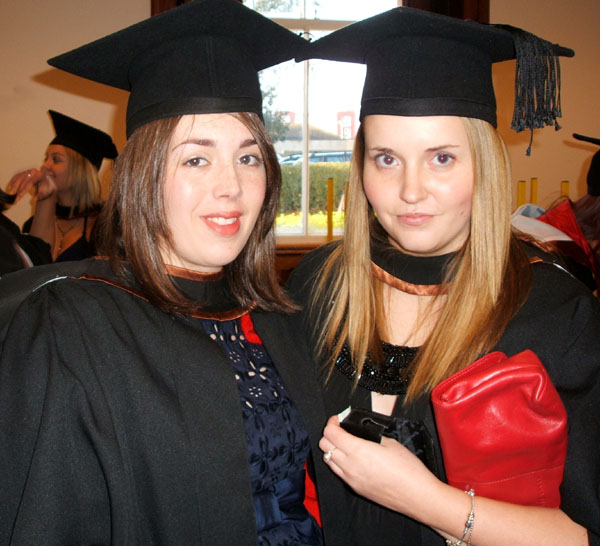 Sinéad Maher of Mountkinane is pictured here with her friend Rhona Caffrey from Waterford at their graduation from Waterford Institute of Technology on Friday 24th October. Sinéad graduated with a Bachelor of Business & Accounting (Honours) and is currently completing a Masters in Accounting in Waterford Institute of Technology. Congrats on 'doing the business' Sinéad!

Clare 'on song'!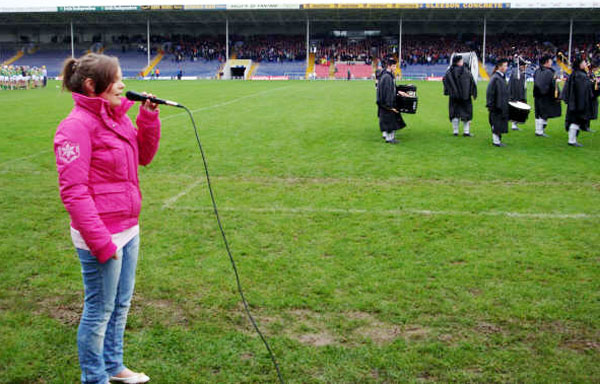 Clare Kavanagh had the honour of singing Amhrán Na bhFiann at the Tipperary County Senior Hurling Final on the 19th October in Semple Stadium.

St. Theresa's Halloween Party in the Marian Hall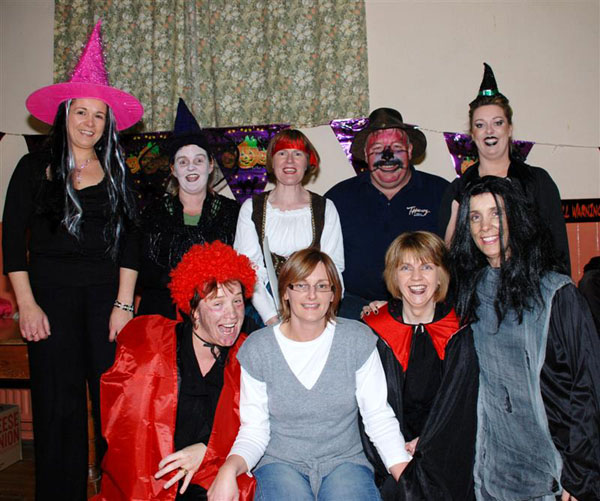 Members of St. Theresa's National School Parents' Association who organised the Halloween Party: Frances Stapleton, Tina Lyons, Julie ryan, Joe Holland, Emma Sherlock, Triona Fitzgerald, Marissa Murray, Catherine Delaney and Mary Stapleton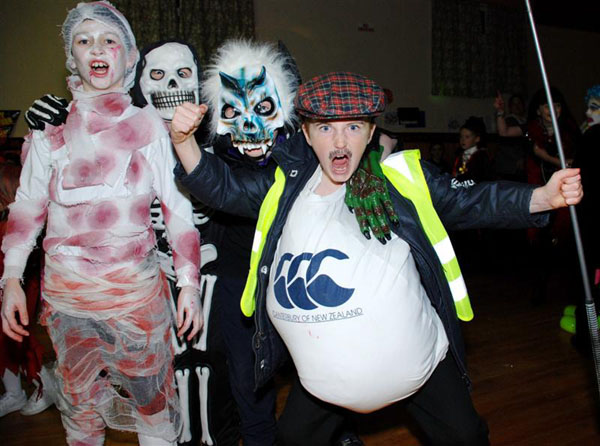 Some of the characters at the Halloween Party – not to be messed with!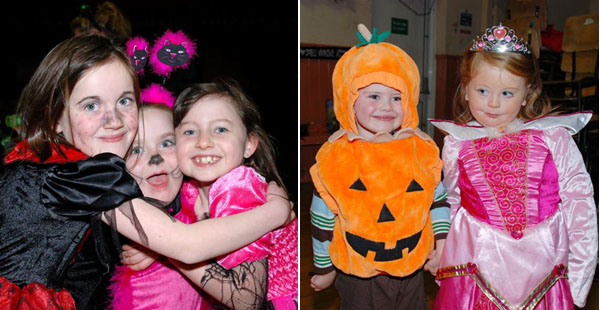 Everyone seems happy here – aaaah!

The Music Man

Matthew Ryan who did a great job of making sure that everyone had great fun at the Halloween Party

Dracula makes friends!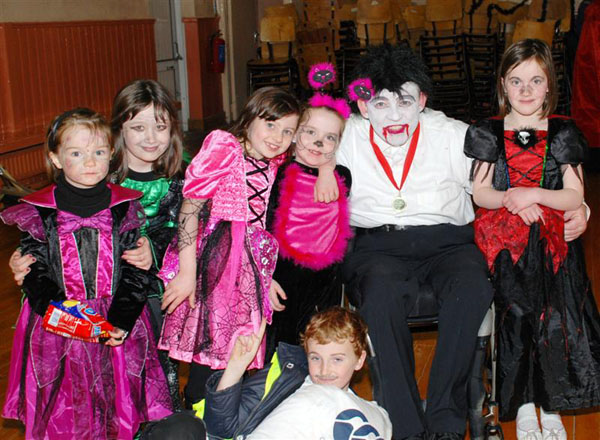 Some of the younger folk with Dracula who obviously did a very poor job of scaring everyone away!

Mothers and Daughters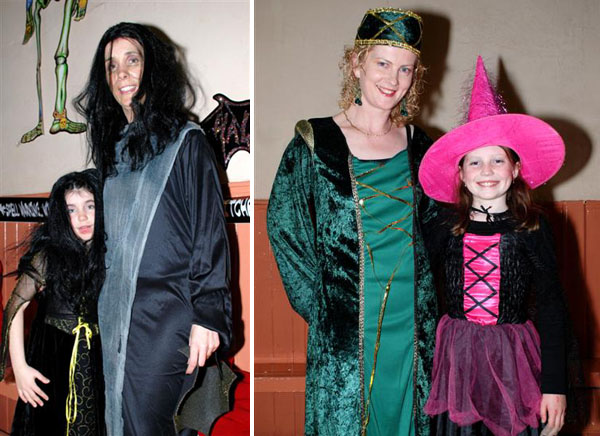 Meave and Mary Stapleton with Rena and Clóda Ryan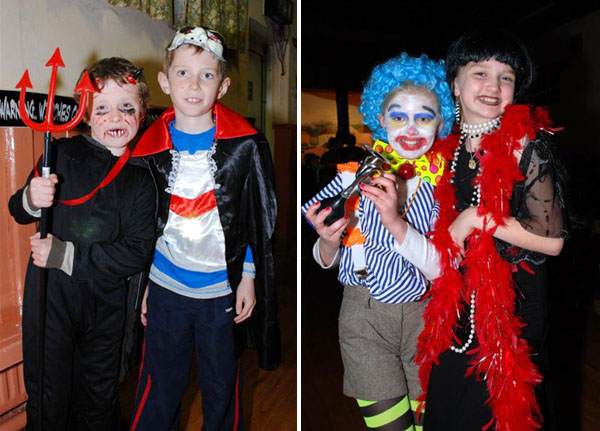 James and Sheamus Ryan with Ciara Ryan and Emer Lyons. Ciara won first prize for most colourful costume while Emer took first prize for most stylish costume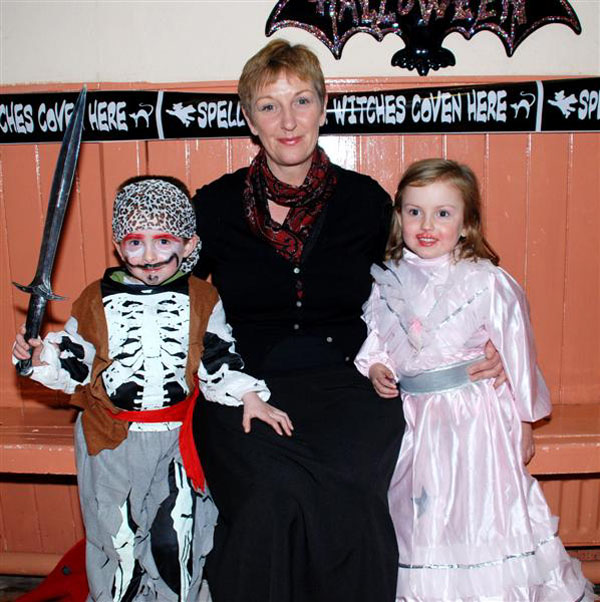 Its all a bit scary but with Mum around we'll be ok! The Comerford twins from Templemore that won best prize for the 'best dressed twins' at the party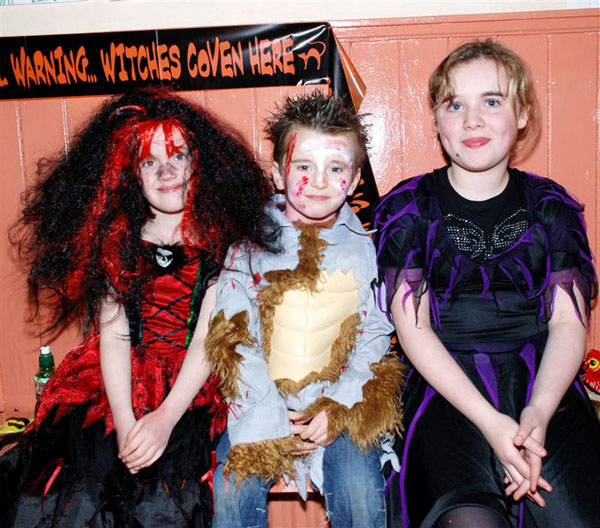 A variation of hairstyles among some of those who attended the Halloween Party in the Marian Hall last Friday night

Picture Paints a Thousand Words!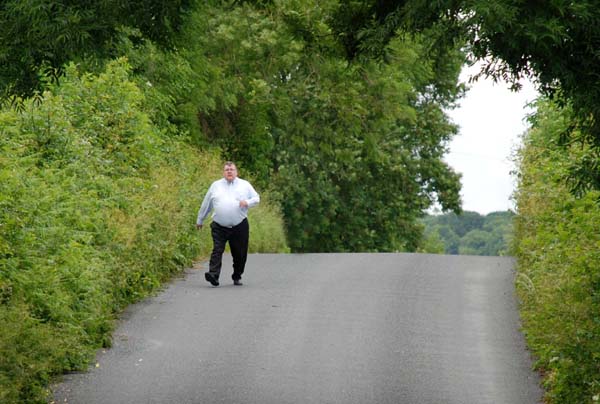 Mick Small takes a stroll along the highways and byways of Rathcarden! The photo clearly shows that he is, in fact, over the hill!

New 'Youth 2000' Prayer Group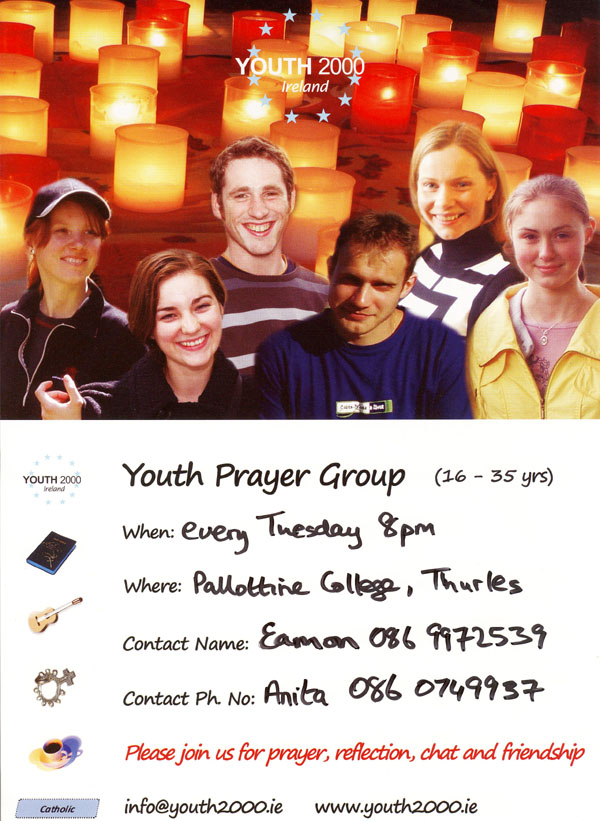 Youth 2000 is an international movement of young people called to spread the good news of the Catholic faith and share this experience with other young people. We have over 40 weekly prayer groups around the country, 18 to 20 weekend retreats throughout the year, a summer festival, an annual ball and various other social events – all organised by young people, for young people.
Our motto is "Youth leading youth to the heart of the Church". We have experienced the love of God in our lives, and come to know how joyful and fulfilling it is to live out the Catholic faith. We want to share this with others, and lead our peers to Jesus Christ, the source of all love, joy and happiness. Quote from Pope Benedict XVI: Dear young people, the happiness you are seeking has a name and a face: it is Jesus of Nazareth, hidden in the Eucharist.
Here's what some young people said after coming to a Youth 2000 retreat: "I really enjoyed the weekend and didn't feel out of place about my faith" – "Inspirational! I have finally found out that God really does love me" – "It was so worthwhile; it has helped put things in perspective and given me peace. I like the social aspect of it too" – "It's a place to really come in contact with Jesus and yourself" – "One word will sum up the whole weekend… UNREAL" – "It was class!"

Why not share in this experience and come along to the Pallotine College in Thurles on Tuesdays nights at 8 p.m. We'd love to meet you.
County Glory for Borrisoleigh

County Champions – the Under 16 Team that beat Mullinahone to become champions of the Premier County


A display of skill, determination and spirit ensured that we emerged with the spoils from the U16 county final replay against Mullinahone in Boherlahan last Saturday. Though behind on a number of occasions following the concession of an early goal, the lads spirit never flagged and they fought their way back into the game and following a goal by Tommy Mockler, led by two points with 10 minutes to go. However, Mullinahone came thundering back to level and two pointed frees gave them the lead and what looked like the title as the game entered injury time.

Borris-Ileigh, however conjured up one more attack and from a long range free, the ball was dropped in around the goal and was blasted to the net by Benny Harkin. Mullinahone came looking for an equaliser but the ball was cleared up the field and Borris-Ileigh were awarded a free which was pointed to leave the score 2-09 to 1-10 in our favour. Following the puckout the final whistle blew and amid great celebrations from the panel of players, management and once again the large number of Borris-Ileigh supporters present, the trophy was presented to the captain Danny Ryan. In training since last March both management and members of the squad have shown great dedication over the last seven months and they have been rewarded with the capture of divisional honours in hurling and football and capped what has been a brilliant year by winning the hurling county title last weekend.
Great credit is due to all concerned for the pride they brought to the parish throughout the year. Commiserations also to the young lads from Mullinahone who deserve great praise for the committment, skill and sportsmanship they displayed throughout both games. Borris-Ileigh Panel, Shane McCormack, Darragh Ryan, Damian Dunne, Cathal O'Connell, Liam Ryan, Danny Ryan, Steven Shanahan, Barry O'Dwyer, Daniel Bergin, Seamus Howard, Benny Harkin, Tommy Mockler, Jack Bourke, Dan McCormack, Thomas Ryan, Seamus Burke, Seamus Doolan, John Fitzgerald, Micheal Ryan, Dean Ryan. Managment team of Jimmy Stapleton, Francis Doolan, Tom Hurley and Jimmy Slattery.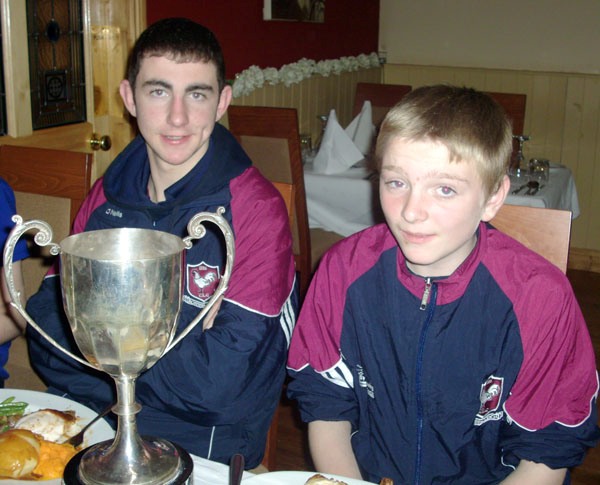 Danny Ryan and Cathal O'Connell at Sheehan's Restaurant after the match with the North Cup which the team won a few weeks ago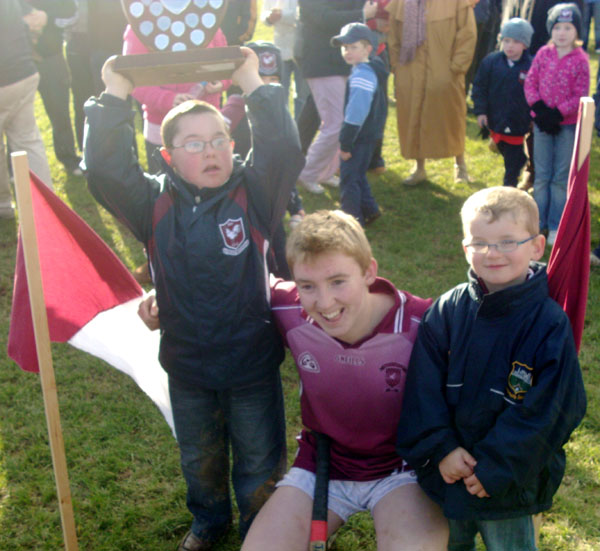 Jack Bourke with his cousins Diarmuid and Colm Boyle as Diarmuid holds the Plaque of Victory aloft!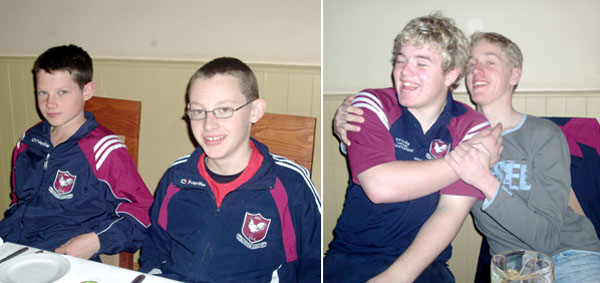 Dean Ryan and Michael Ryan & Benny Harkin and Dan McCormack at the celebrations in Sheehan's Restaurant last Saturday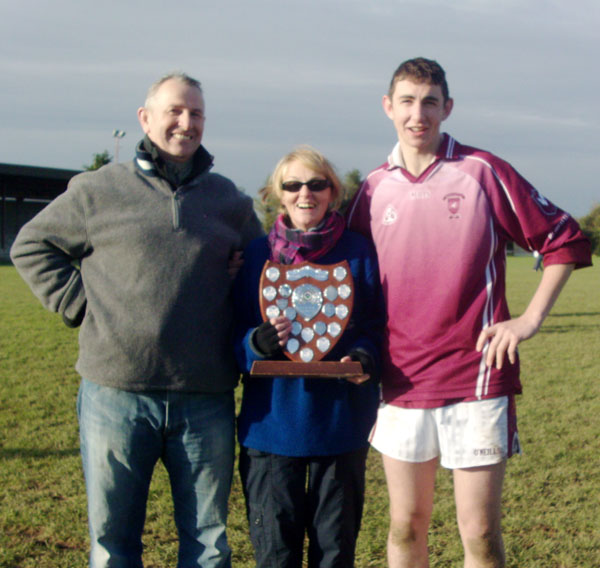 Danny Ryan with proud parents Don and Della

Vincent and Ann O'Sullivan celebrate the great win with Sinéad Bergin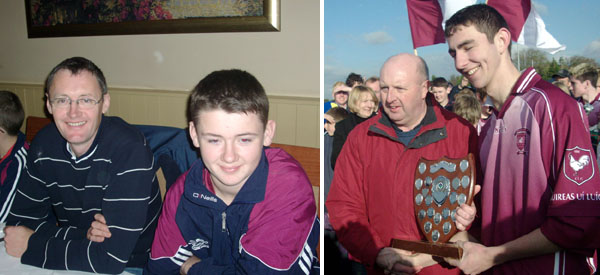 Francis and Sheamus Doolan at the celebration dinner in Sheehan's Restaurant and Danny Ryan (Capt.) receiving the County Under 16 B Plaque from John Smith County PRO for Bord na NÓg

Dressed like a 'Lord'!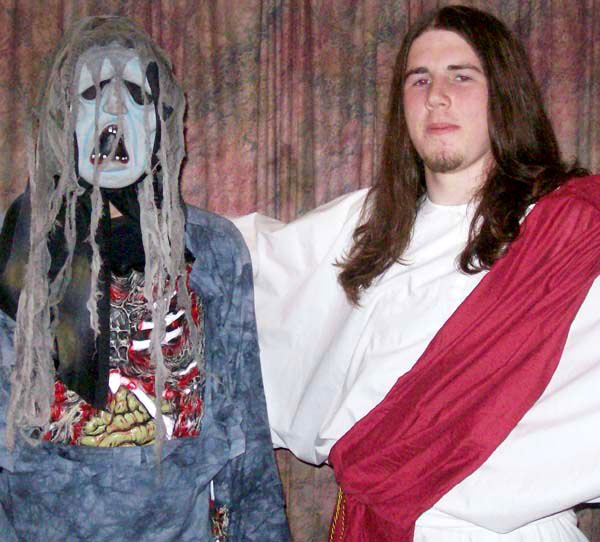 Kevin Kennedy playing the part of the 'Man from Galillee' with his friend Paul McGrath who was afraid to show his face!
Mick Receives Hurling Award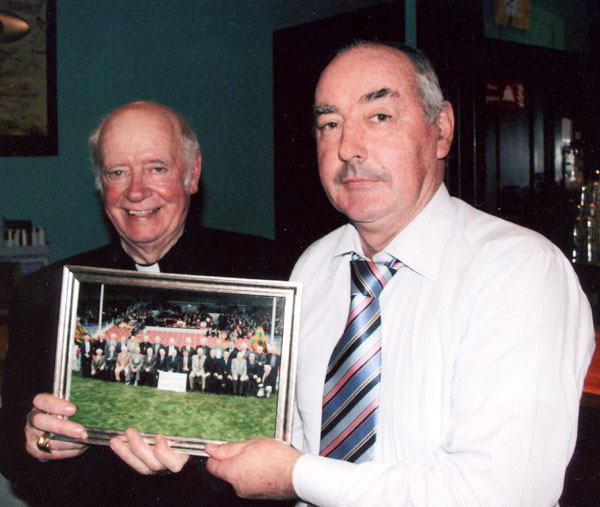 Mick receiving a presentation from His Grace Dr. Clifford at the County Board reception in the Ragg

Mick Cowan was a member of the Moyne – Templetuohy hurling team that won the County final in 1971 and was honoured this year on County Final Sunday in Semple Stadium, Thurles by the County Board. The Team was also honoured by Moyne – Templetuohy Hurling Club.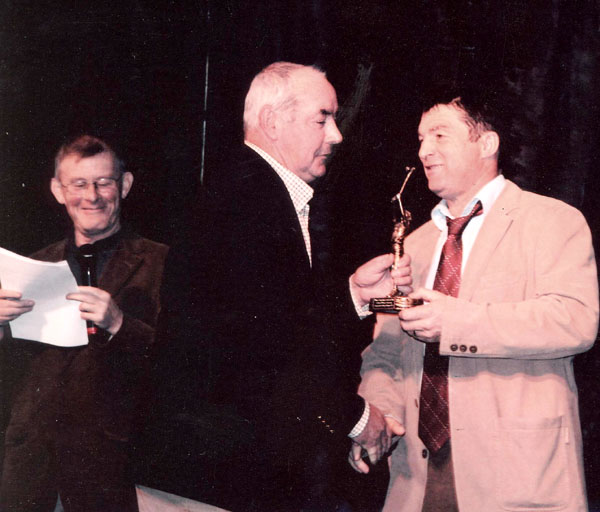 Mick receives a presentation from Moyne – Templetuohy Club Chairman Dominic Everard with Club Secretary Tom Hassett looking on
Neighbouring Parishes Meet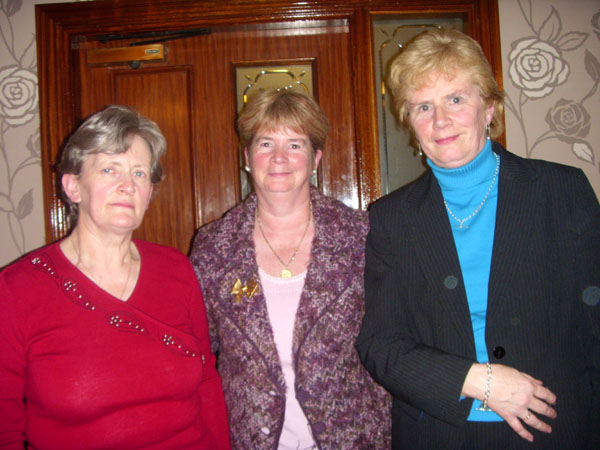 Mary Ryan, Biddy Stapleton and Catherine Kennedy attending the meeting of local Parish Renewal Groups in the Templemore Arms on Tuesday night last 6 November
A meeting of representatives of the Parish Renewal Groups of Moyne – Templetuohy, Templemore and Borrisoleigh took place in the Templemore Arms on Tuesday 4 November. The meeting reflected on the nature of Parish in today's world. Fr. John Beatty, parish priest of Annacarty- Donohill gave a presentation on the history of parishes and how they evolved over time since the beginnings of the Church.
Group discussions took place on different aspects of parish life. There was much valuable interchange during the sharing of ideas and much food for thought for those who attended. Follow-up meetings will take place in the Templemore Arms on Tuesday 11 and 18 November at 8 p.m. If you would like to attend please come along – you would be very welcome.

Gerry Ryan (Chairperson of Borrisoleigh Parish Renewal Group) shares a joke with Fr. James Walton of Templemore parish – Biddy Young with Martin Bourke and Kay Ryan with Catherine Ryan attending the meeting in Templemore last Tuesday evening.
Marian Hall Lotto
04/11/08

Numbers: 05, 09, 15, 19

No Jackpot Winner

6 match 3 winner @ €30 each

Mary Cummins, c/o Shanahan's

Nonnie Ryan, Knockanevin

John Hoban, Pallas Street

Bgt Loughnane, Templetuohy

Tracey Ahern, Nenagh

M J McCarthy, Nenagh

Next Weeks Lotto Jackpot

€7,200
Down Memory Lane… pic of the past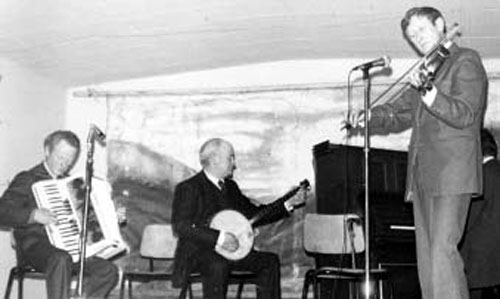 On stage in the Marian Hall

Liam Costello, Tom Leahy and Timmy McSherry

Your Website Needs You!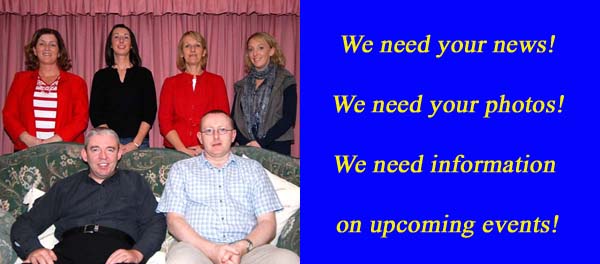 Website Committee: Noreen Fahy, Margaret Cowan, Marie McGrath, Aileen Óg Groome, Michael Barry and Enda Ryan

Many thanks to all those who contributed photographs and news items for this weeks current news. Well done!

Send your email to: info@borrisoleigh.ie
Also, if you like what you see and want to leave a comment, remember to use the Guestbook!