Wedding Bells ring out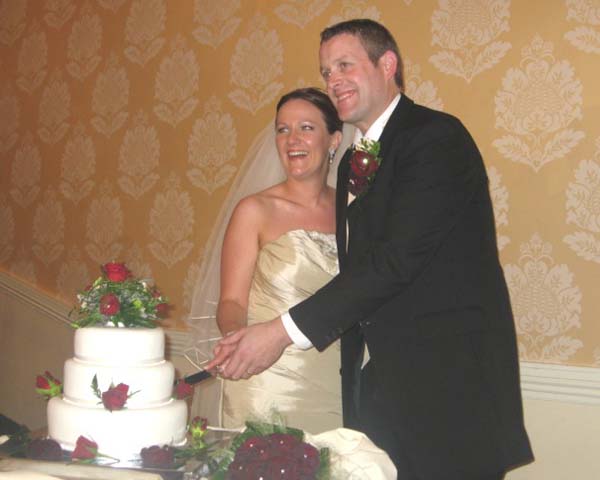 Congratulations to Aisling O'Donnell and Kevin Moloney who were married in Golden on Friday 24th of October.
Local Graduates
Pauline Graduates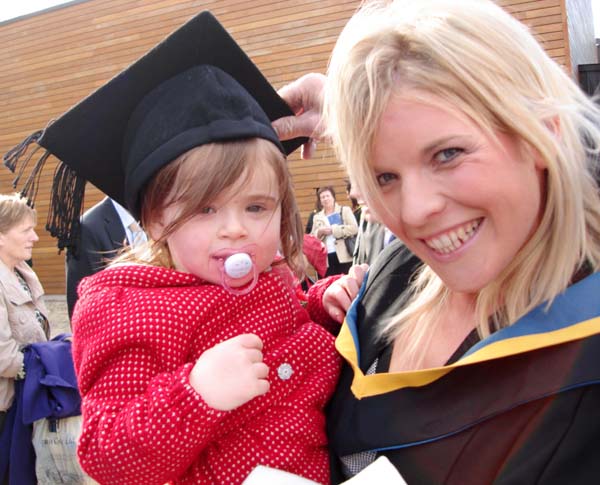 Pauline Kelly is pictured here with her daughter Katie Ann on the occasion of her graduation from Mary Immaculate College, Limerick on Friday 24 October. Pauline is currently teaching in The Ursuline Convent School in Thurles. Well done on your teaching achievement.


Bursting with Pride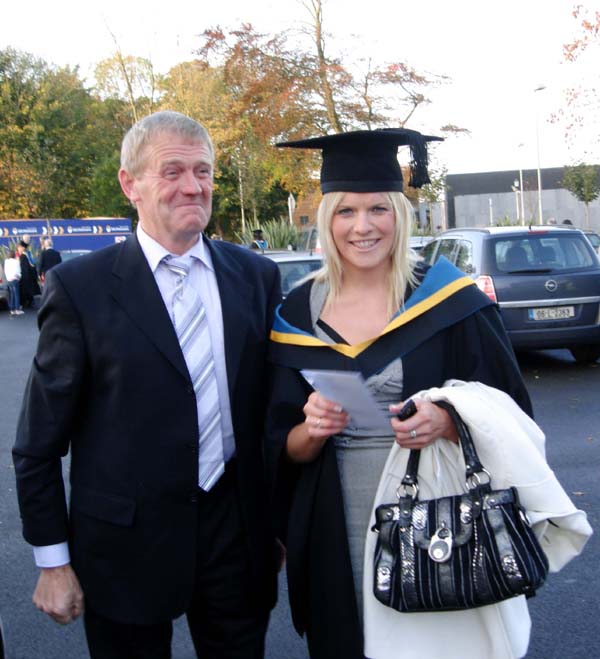 Proud Dad John Kelly with his daughter Pauline after she graduated from Mary Immaculate College recently

Joanne Graduates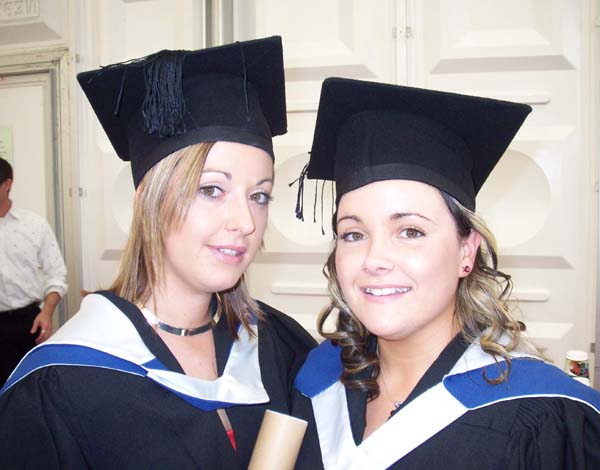 Joanne Cowan is pictured here with her friend Edel Kenny from Roscommon on the occasion of their graduation from Waterford Institute of Technology on Wednesday 22nd of October. Joanne graduated with a Bachelor of Arts in Applied Social Studies in Social Care and is currently continuing her studies in Social Care. Well done on your achievement Joanne.
Parent and Toddler Group Celebrate 1st Birthday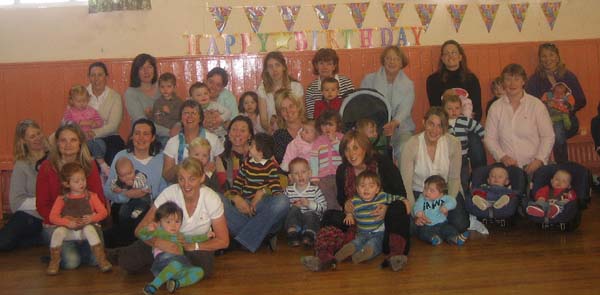 Some of the members, old and young, of the playgroup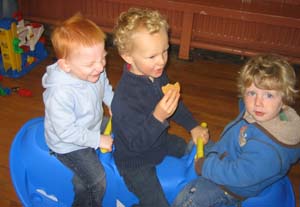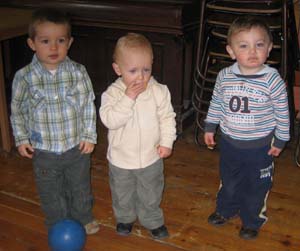 Enjoying the party are Eoin, Harry, Cathal, Killian, Daniel and Nathan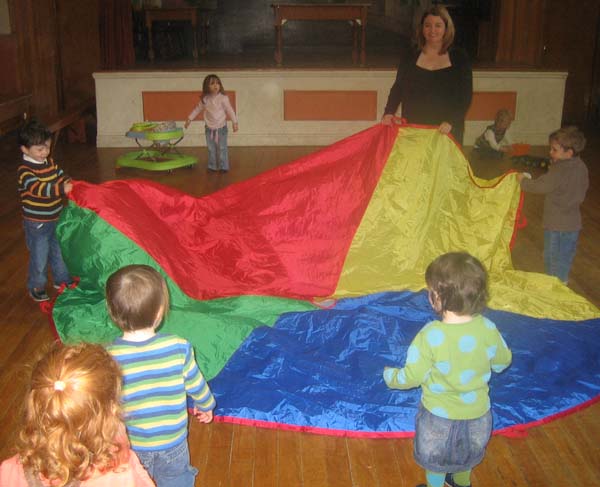 Sarah and the gang having fun with the parachute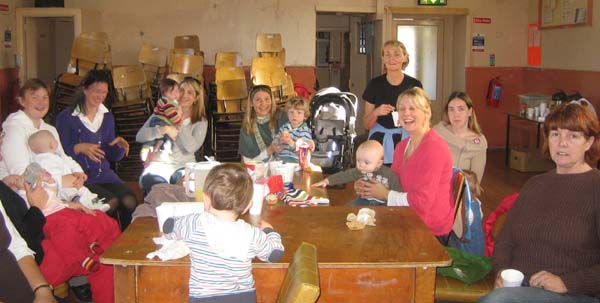 Taking a well deserved rest!
The Parent, Toddler and Baby group celebrated their first birthday in October. The group was set up by the 'Community Mother's Programme' a year ago. Parents, toddlers and babies meet each Wednesday morning from 9:30 to 11 a.m. in the Marian Hall. All parents, grandparents and child minders with children 0 – 3 years are welcome. Della Ryan, the local community mother, facilitates the group and also offers home visits to new mothers in the area following the birth of a baby. The Community Mother's Programme is one of the services provided by North Tipp Community Services. For more information please contact Marian Quigley, co-ordinator at
067 – 41922
.
'Happy 21st '
Catherine, Maura and Marguerite Bradshaw celebrating Catherine's night in Stapleton's Bar

Maura and Mary and Deirdre and Catherine in a party mood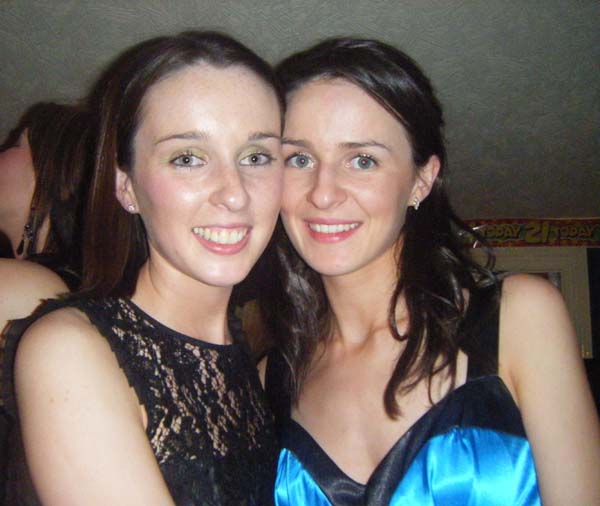 Sister Act – Maura and Catherine Bradshaw
Fifi's Tots Halloween Capers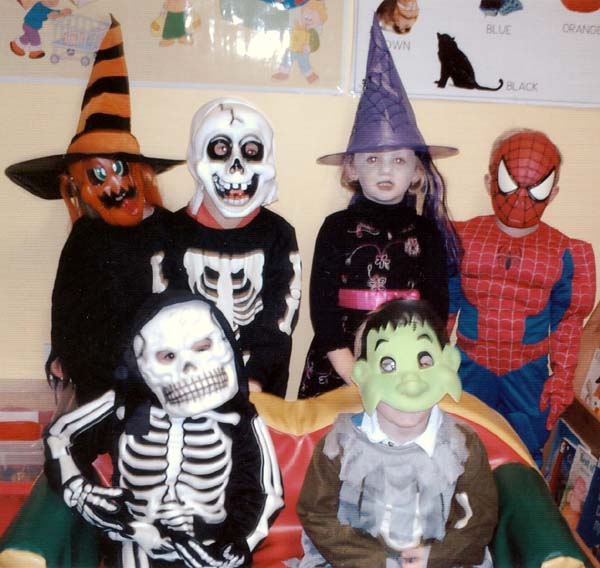 Jane Delaney, Shane Maher, Anna McGrath, Seán Young, Michael Kennedy and Harry Gould enjoying the fun at Fifi's Tots Halloween Party recently

St. Patrick's B.N.S. Football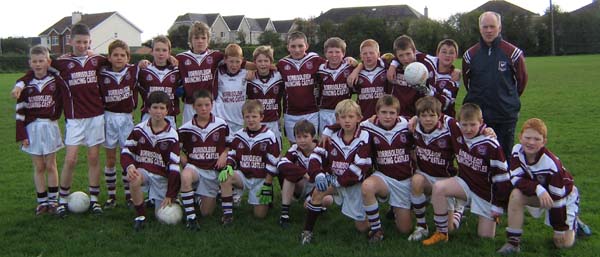 The St. Patrick's B.N.S. football team pictured with their coach, Michael Ryan.
St. Patrick's Boys' N.S. footballers contested a very exciting North Final in the Primary Schools' Championship at Mc Donagh Park, Nenagh on Tuesday, October 21st, last. In a pairing that could truly be described as akin to David and Goliath, our talented young footballers gave everything you could ask for in a very exciting match. Coming from a school with a total of 59 pupils and facing a team from a school with over 360 could not be described as anything other than a formidable task. However, the boys from St. Patrick's put on a marvellous display of courage, skill, determination, teamwork and sheer heart to emerge with a draw on a scoreline of 1:3 to 1:3. Parents, teachers and supporters who travelled to Nenagh were treated to a pulsating game where every player did his utmost to bring the title back to our school. All eagerly await the replay which has been fixed for Wednesday, November 5th. Well done to all concerned and all the best for the replay. Go n-eirí go geal libh, a bhuachaillí!

Congratulations Mick!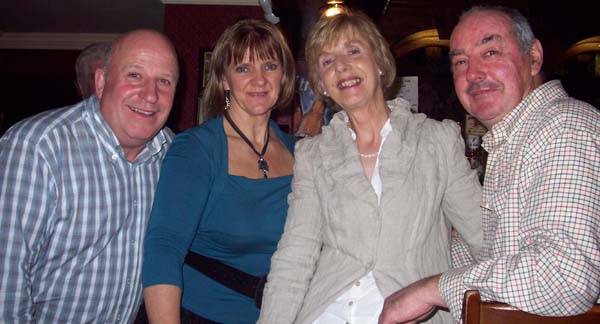 Wille and Kathleen Duff celebrating with Breed and Mick Cowan on the occassion of Mick's 60th birthday Sunday last in Stapleton's Bar.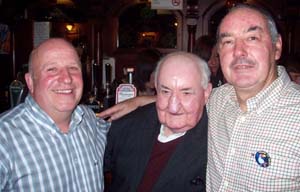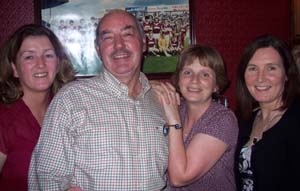 Wille, Seamus and Mick enjoying the night. Blessed art thou amongst women Mick.

Joined Celebrations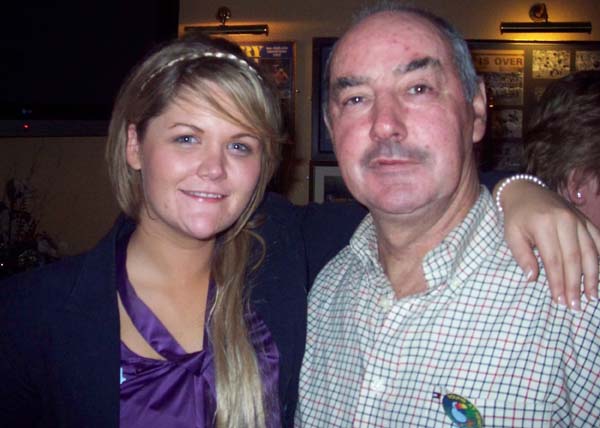 Shauna Rabbitte and Mick share the same birthday. Happy 18th Shauna… add on a few more years for Mick!


May She Rest in Peace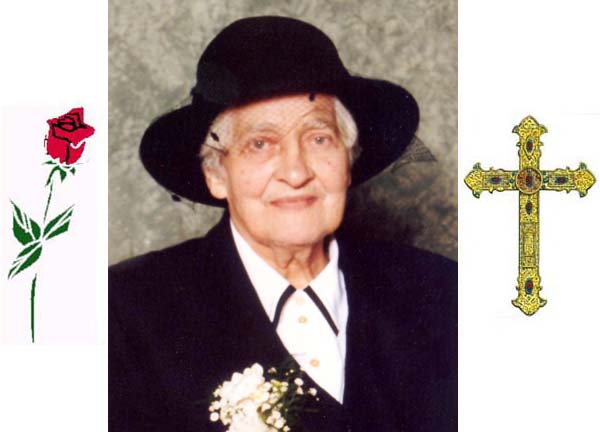 Mrs Alice Quinlan of Dromgill RIP
We record the death of Mrs Alice Quinlan of Dromgill, Borrisoleigh who died at Nenagh General Hospital on Tuesday 28 October. Her Requiem Mass takes place on Thursday morning 30 October in the Sacred Heart Church and her burial will be in St. Brigid's Cemetery. We express our sincere sympathies to her family and friends. May she rest in peace.

Checking in from Oz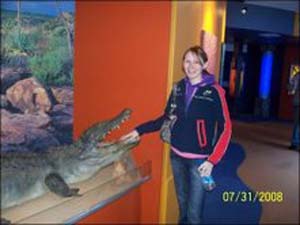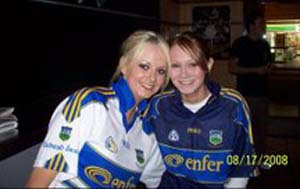 Brid Harty having a great time in Australia with a fellow Tipperary mate, Nicola Strapp from Cashel

Wedding Celebrations

Deidre Stapleton got married to David Reidy in Dublin recently. Deidre's dad Michael is a native Borrisoleigh man and his wife Mary (Kennedy) comes from Templemore.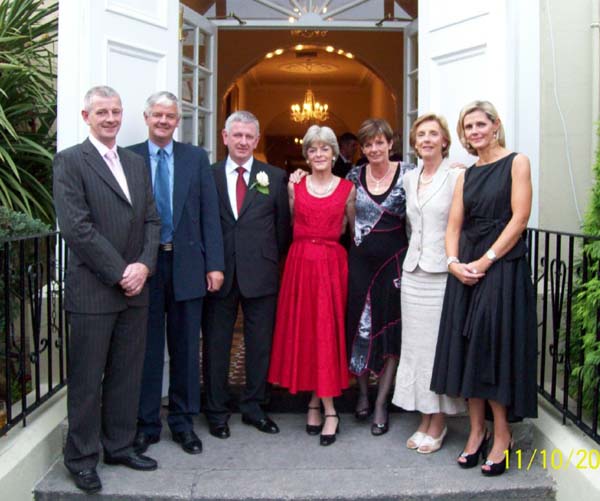 The Stapleton family celebrating Deidre and David's wedding.

The Master Retires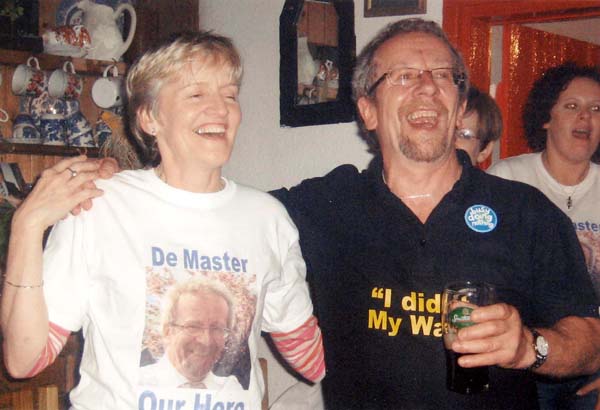 PJ Harrington with his wife Mary is pictured here on the occasion of his retirement from national school teaching. The celebration took place at Jim of the Mills in Upperchurch recently. PJ taught in the Old Boys' School in Borrisoleigh from 1969 to 1970 and in Scoil Bhríde Fantane from 1970 to 1974. By happy coincidence he met his wife Mary Kelly while she was on teaching practice in Fantane. He is said to be doing his homework ever since! We wish PJ the very best for the future.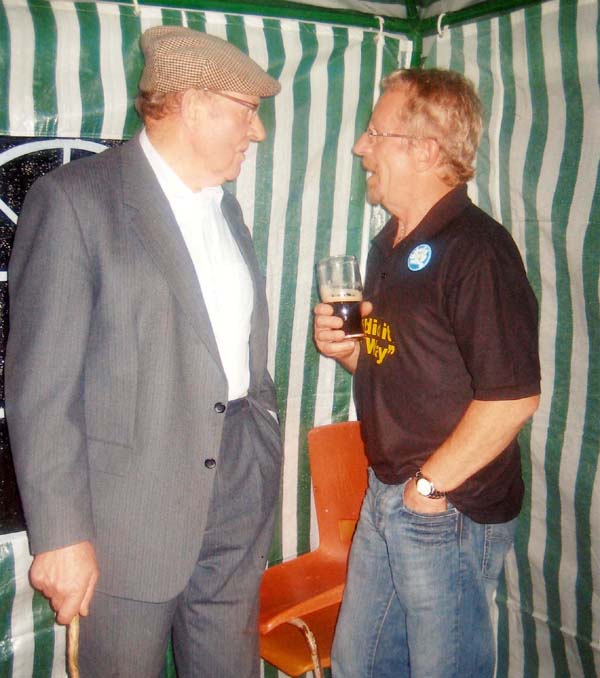 PJ in deep conversation with Phil Bourke of Upperchurch, no doubt, thanking him for the wonderful piece of sculpture specially carved in honour of his retirement.

Borris-Ileigh GAA Lotto

Thursday 23rd October
Jackpot: €14,600 (Not won)

Numbers: 3, 12, 16 & 21

€50 Lucky Dip winners:

Mary Costello, Post Office
Nancy Harkin, Borrisoleigh
Biddy Hurley, Pallas St.
Joanne Kiely, Borrisoleigh

Next draw: Thursday 30th October, in Stapleton's Bar ( Cross of Pallas)
Jackpot: €14,800

Marian Hall Lotto

28/10/08

Numbers: 06, 08, 21, 22

No Jackpot Winner

1 match 3 winner @ €150

Jean Sutton, c/o Ida Costello, Pallas St

Next Weeks Lotto Jackpot

€7,050
Down Memory Lane… pic of the past
In the Marian Hall
Pat Fogarty (Drom), Margaret Hammond, Bridget Stapleton, Bridget Smith and Bill Callaghan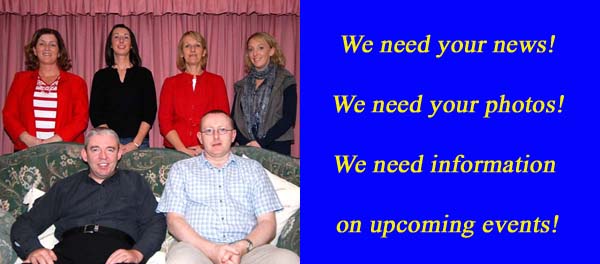 Website Committee: Noreen Fahy, Margaret Cowan, Marie McGrath, Aileen Óg Groome, Michael Barry and Enda Ryan
Many thanks to all those who contributed photographs and news items for this weeks current news. Well done!
Send your email to: info@borrisoleigh.ie

Also, if you like what you see and want to leave a comment, remember to use the Guestbook!