Wedding Bells ring out in Rome
Catherine Quinlan and Mike O'Meara who were married in Rome recently
Congratulations and best wishes to Catherine Quinlan of Pallas St. and Mike O'Meara from Cappawhite who were married in Rome recently. The ceremony took place on 23 September in the Basilica of San Silvestro where local priest Fr. John Fitzpatrick joined the couple in Holy Matrimony. Catherine's Uncle Michael gave her away, and in a surprise twist to the occasion renewed his own marriage vows with his wife Assumpta at the end of the ceremony. Both were married in the same church 30 years ago. We wish them a very happy anniversary.
Catherine and Mike were also accompanied by family and friends to the Eternal City to join them in the celebration of their big day. After the nuptials were concluded they later adjourned to a restaurant in the city for their wedding reception. Then they jetted off to Dubai for their honeymoon where they had a wonderful time. We wish them the very best for the future.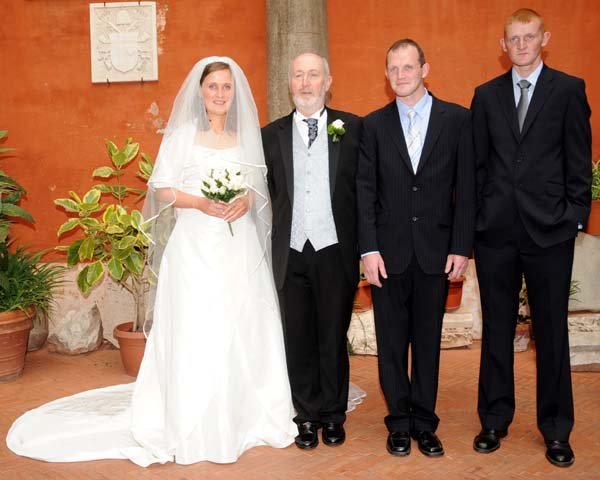 Catherine with her Uncle Michael and brothers Michael and Patrick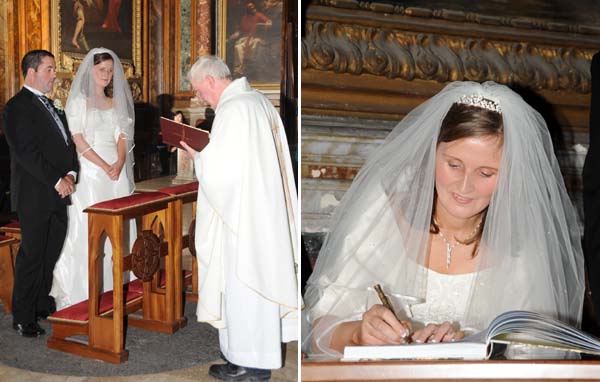 Fr. John Fitzpatrick officiating at the ceremony and Catherine signing the Register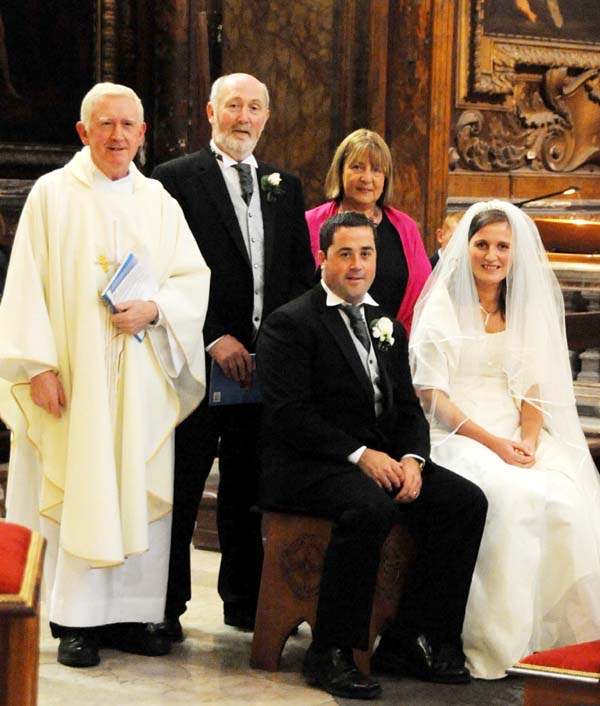 Married couples 'old and new' with Fr. John
Community Defibrillators Purchased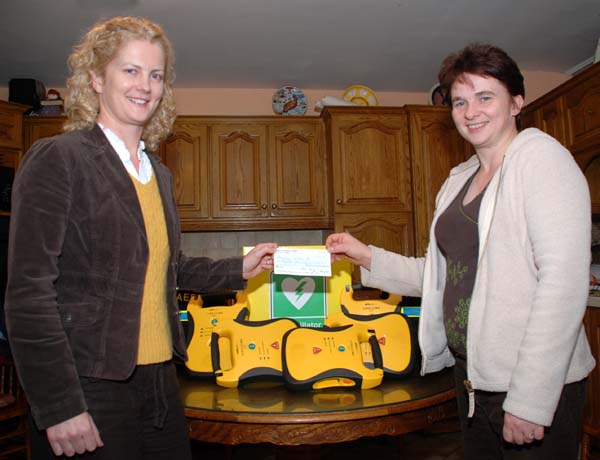 Rena Ryan (Development Assoc. Treasurer) presents Christine O'Dwyer (Chairperson of Borris Life-Savers Action Group) with a cheque for €2000 towards the purchase of the five defibrillators as seen on the table
Borrisoleigh Life Savers Action Group would sincerely like to thank the Borrisoleigh Development Association for their generous contribution of €2000 towards the purchase of defibrillators for the community. The cheque was presented to Chirstine O'Dwyer, Chairperson of Life Savers Action Group by Rena Ryan, Treasurer of Development Association. Borrisoleigh Life Savers Action Group has taken delivery of five defibrillators and are about to commence training personnel. Anyone interested in training is asked to make contact with any member of the committee as soon as possible.

Our regular visitors to
borrisoleigh.ie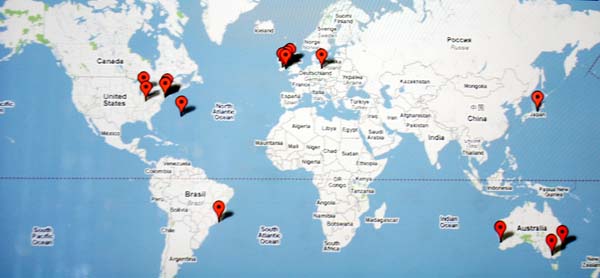 Red flags indicate the parts of the world that are logging on to borrisoleigh.ie on a daily basis

The Borrisoleigh Website Committee have access to information about the number of visitors to our site on a daily basis. We also know what countries, cities and regions are logging on to borrisoleigh.ie. Looking at the above map detailing the location of our visitors, which was generated by our website program, the results are not surprising. Many of our visitors are from Western & Eastern Europe, Australia, the USA and Canada. We also have regular hits from Japan which is not unexpected! South America and North and South Africa also visit from time to time.
Since we launched our site in early May of this year we have had 16,522 visitors who logged on to borrisoleigh.ie. These visitors have viewed 126,652 individual pages, that is an average of 721 separate page visits per day! The site is becoming more and more popular with the most frequent amount of visits on Wednesdays and Thursdays (when our weekly current news is released to the web). Thanks for logging on – keep it up and stay in touch!
Happy Anniversary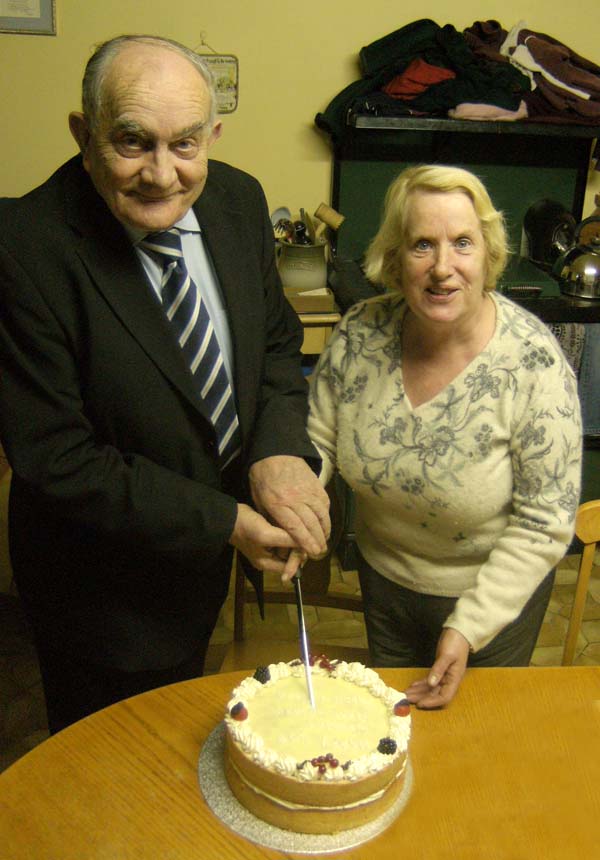 Paddy and Nora Delaney pictured here celebrating their 40th wedding anniversary on October 2nd. Congratulations to you both.
Making our case in Europe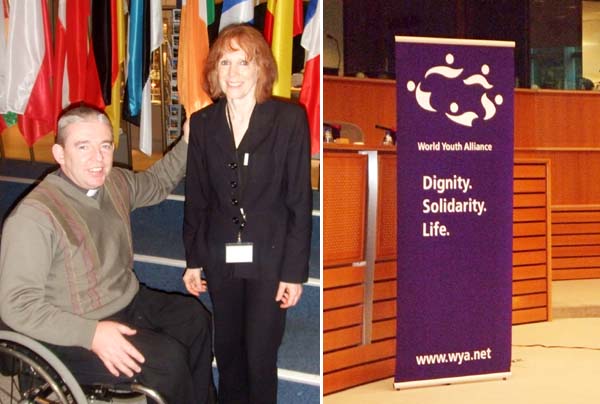 Fr. Michael with Independent M.E.P. Kathy Sinnott at the European Parliament in Brussels last week
Last week Fr. Michael Barry travelled to the European Parliament in Brussels with a group of 30 young people from the Munster region to a World Youth Alliance meeting. Independent M.E.P. Kathy Sinnott hosted the event and gave the group a tour of the Parliament and an insight into what goes on there. She also encouraged the young people present to engage with politics and to lobby their M.E.P.s on issues that are of importance to them. Fr. Michael took her at her word and lobbied for funding from Europe for our new parish centre. Only time will tell how successful this bid has been, but as he says himself: "the best way of NOT getting something is by NOT asking for it!"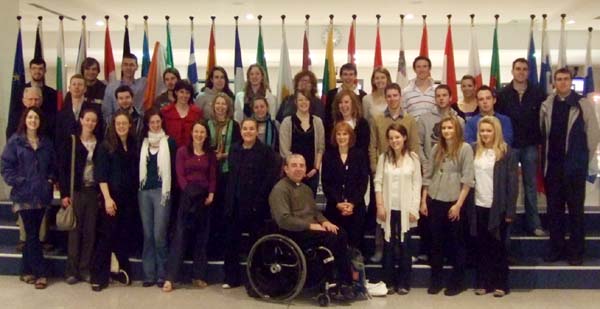 The Youth Group with Kathy Sinnott M.E.P. at the Parliament
Diesel Autoelectrical Award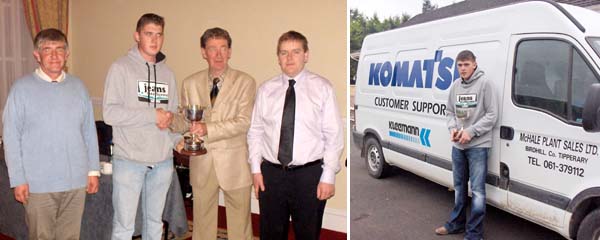 David Shanahan, Knockinure who was nominated by Cork Institute of Technology for the Diesel Autoelectrical Award pictured here being presented with the perpetual cup in the Metrepole Hotel, Cork on October 16th last. David has just completed 4 years training as a Plant Fitter with McHale Plant Sales in Birdhill. He is a past pupil of St. Brigid's Primary School, Fantane and St. Joseph's College, Borrisoleigh. Congratulations David and well done!

Borrisoleigh Man Captains Thurles Rugby Club



Ollie Small from Borrisoleigh (3rd from the left at the back) who captains Thurles Rugby team for the coming season. Also included in the photograph is Aidan Dwyer.
Hair-raising experience!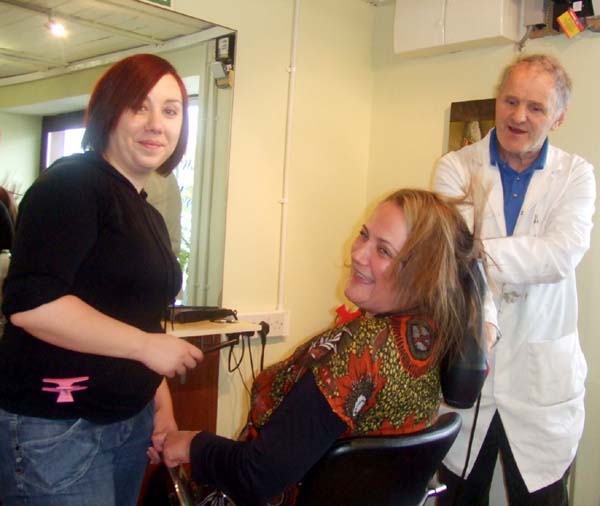 Julia Young of 'Young's Hairdressing Salon' had the tables turned on her recently when Paddy Dolan decided to try his hand at a spot of blow-drying! Laura Gleeson (on left) was happy to see her boss take a little bit of her own medicine for a change! Paddy has decided that it's not the career for him – too much hot air!!!

Bit of a Borris Bar-B-Que Below in Auzzieland!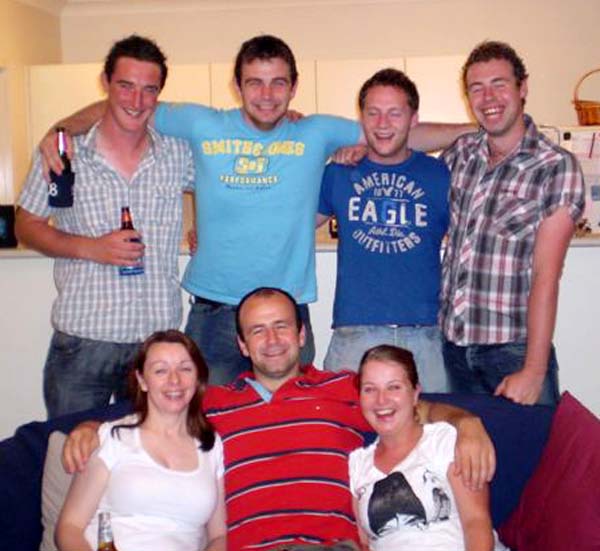 Borrisoleigh locals enjoying the craic in Australia
This photo was taken last Saturday 18 October at Marie's place. Obviously the Borris Crew down under are doing reasonably ok with smiley happy faces all round. It's ok guys – we miss ye too! But keep sending "stuff" for the site – we want to know EVERYTHING ye get up to!!!
Congratulations!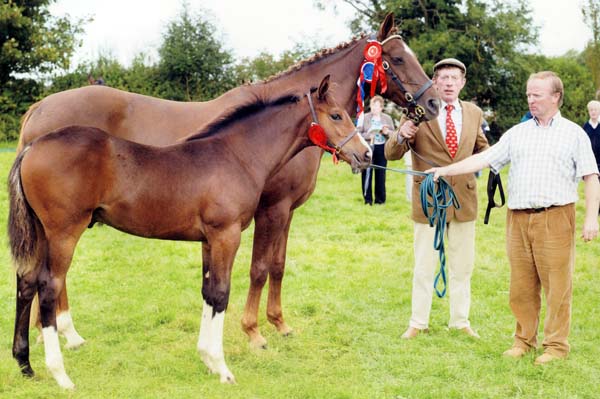 James Ryan of Cronovone with Michael Greene proudly showing Golden Church Girl with her champion foal at the Bansha Show recently
Heartiest congratulations are extended to James and Mary Ryan, Cronovone House, Borrisoleigh on the continuing run of successes being enjoyed by their outstanding mare and her progeny. The latest success acquired by this beautiful mare and her colt was at Bansha in 2008 where the duo won the Champion mare and Champion foal titles. The foal also came up trumps at Cappamore Show where he was declared Champion foal. Their list of successes would surely have been even more, were it not for the cancellation of a number of shows due to the inclement weather conditions. Continued success is wished to James and Mary in the future, as they proudly represent Borrisoleigh in the highest echelons of the equine industry.
County Cross Country Championships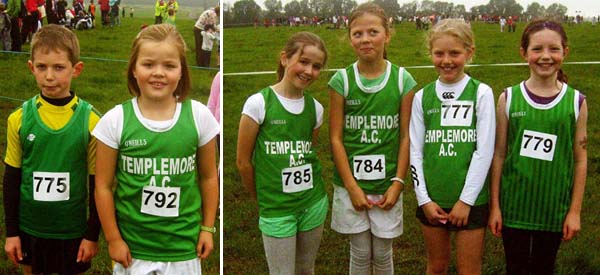 (Under 9s) Seamus Ryan, Rathmoy & Avril Ryan Ballyroan and (Under 11s) Martina Slattery Cullohill, Lorna Ryan Ballyroan, Ciara Ryan Pallas Upr., Clodagh Ryan Rathmoy who took part in the County Cross Country Championships on Sunday October 12th in Two-Mile-Borris

Borris trio on the run!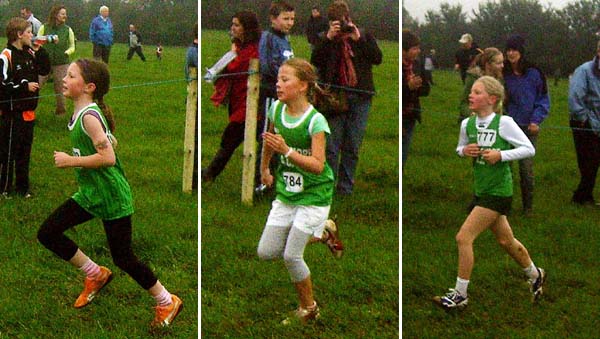 Clodagh Ryan of Rathmoy, Lorna Ryan of Ballyroan and Ciara Ryan of Pallas Upr.

Under 11s Team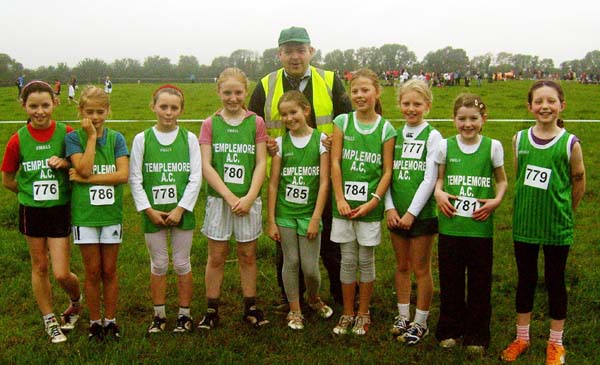 Aoife Hoctor Templemore, Paige Heap Templemore, Clodagh Quinlan Templemore, Courtney Shields Templemore, Martina Slattery, Cullohill, Lorna Ryan Ballyroan, Ciara Ryan Pallas Upr., Emer Delargy Drom, Clodagh Ryan Rathmoy & Martin Leyden Coach, Templemore A.C.
Many of these athletes qualified for the Munster Cross Country Championships which took place on Sunday October 19th (even ages – under 10s, 12s, 14s & upwards) & in November (date to be decided) for under 9s, 11s, 13s & upwards. The best of luck to them all.
Training takes place in the track in Templemore on Monday's, Wednesday's & Friday's from 7 – 7.50 pm & in the Park in Borrisoleigh on Thursday's from 7 – 7.50 pm. All are welcome!

Welcome to our world!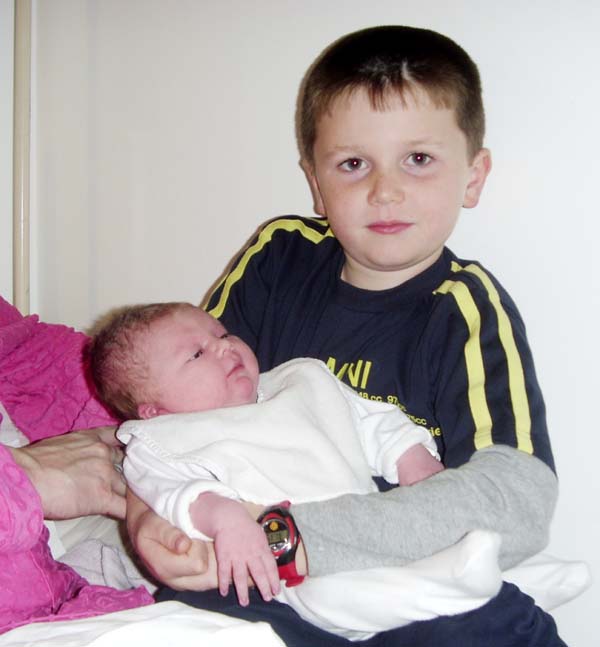 Cian Stapleton seen here welcoming his new-born sister Ava-Marie into the world. Ava was born last Wednesday 15 October and is the second child of proud parents Matty and Anne-Marie, Rathmoy, Borrisoleigh. Many Congratulations!

U16 Hurling
In a very competitive and tense County Final Borrisoleigh played out a very exciting draw on a scoreline of 1-9 to 0-12 against Mullinahone at Littleton last Saturday before a large crowd. In very poor weather conditions both teams served up some great hurling. While both teams had chances to win on the day, at the final outcome a draw was a fair result with neither team deserving to lose. Well done to all involved and also thanks to large number of Borris-Ileigh supporters who travelled on the day. At the time of writing no date has yet been fixed for the replay.
U12 Hurling Plate Final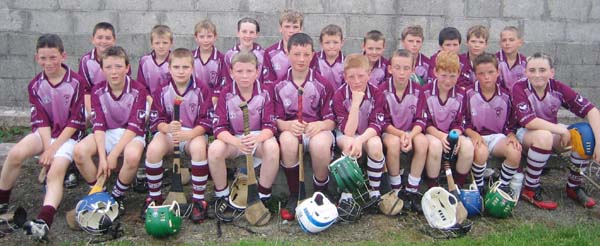 The U12 Plate final against Toomevara was held in Templederry on Sunday last. Once again this match proved to be a very exciting affair. The last few minutes were very tense with both teams searching for a winner. However, it was not to be and once again our final finished in a draw. Well done again to all involved and thanks also to the tremendous support for the team. Replay is on next Monday 27th October at 3.30pm in
Templederry.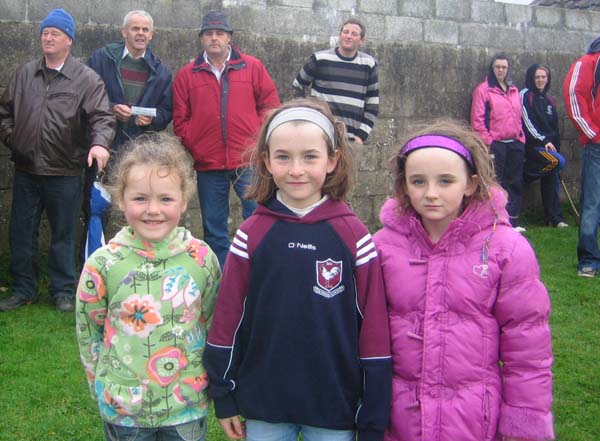 Miriam Murphy, Aedin Hogan and Kayleen O'Dwyer enjoying the match
Marian Hall Lotto
21/10/08
Numbers: 02, 14, 16, 17
No Jackpot Winner
2 match 3 winner @ €75
Mary Cummins, c/o Shanahan's
Cissie Walsh, Roscrea
Next Weeks Lotto Jackpot
€6,900
Pic of the Past… down memory lane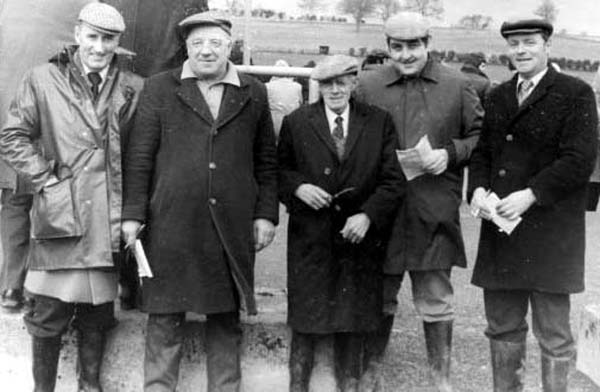 Coursing on St. Stephen's Day

John McGrath, Jim Quinn, Dickie Nolan, Albert Kelly and Joe Brennan

Your Website Needs You!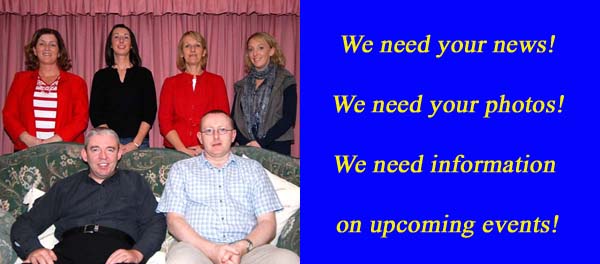 Website Committee: Noreen Fahy, Margaret Cowan, Marie McGrath, Aileen Óg Groome, Michael Barry and Enda Ryan
Many thanks to all those who contributed photographs and news items for this weeks current news. Well done!

Send your email to: info@borrisoleigh.ie


Also, if you like what you see and want to leave a comment, remember to use the Guestbook!