Week-old chicks pay a visit to St. Theresa's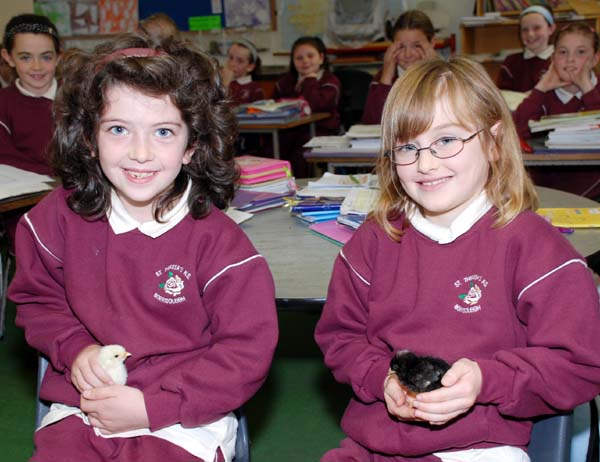 Aoife Max and her friend Ciara Murray show off Chixie and Dixie, the week-old chicks that came to provide a little light entertainment in an otherwise stressful day at school!


Rena Ryan of Rathmoy took on the brave challenge of escorting two of her week-old chicks to St. Theresa's National School last Friday 10 October. Rena did a tour of the school, introducing the, as yet un-named, chicks to each of the classrooms. Great excitement greeted the new-borns as they chirped their way through the whole experience. The pupils had a chance to hold and rub the little chicks while various questions were asked about them: Do they grow up to be ducks or turkeys? Could they fly to the moon? Why is one 'blonde' and the other 'tall dark and handsome'?!
Then the process of naming of the chicks commenced. Each class was given the opportunity of picking various names for the 'blonde' and the 'dark' chicks. Fr. Michael conducted the election process and can verify that all was above board and fully in accordance with the rules, regulations and procedures as laid down by the International Organisation for the Naming of Avian Creatures (I.O.N.A.C.)!!!
Coincidentally, each class ended up picking the very same names for these two little pets, namely Dixie and Chixie. Fr. Michael wishes to reiterate that no undue or external pressure was brought to bear on the choices made by the children. A few suggestions may have been offered to help them come to a consensus but once they all agreed with 'his decision' the matter was finally settled! The pupils were delighted with the inaugural visit of Borrisoleigh's most recent new arrivals. The chicks are also happy to report that their visit didn't knock a feather out of them!!!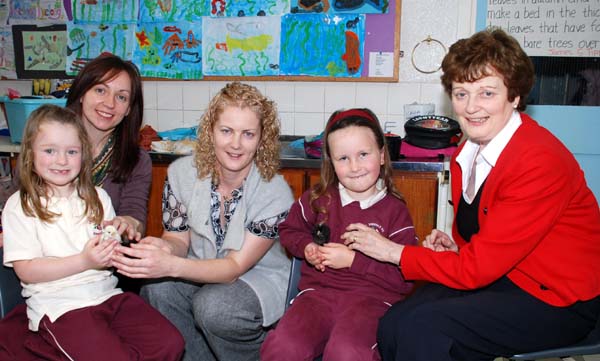 Kellie Healy, Mrs Everard, Rena Ryan, Ann Marie Casey and Mrs Hoare taking good care of Dixie and Chixie

Look what I got Miss!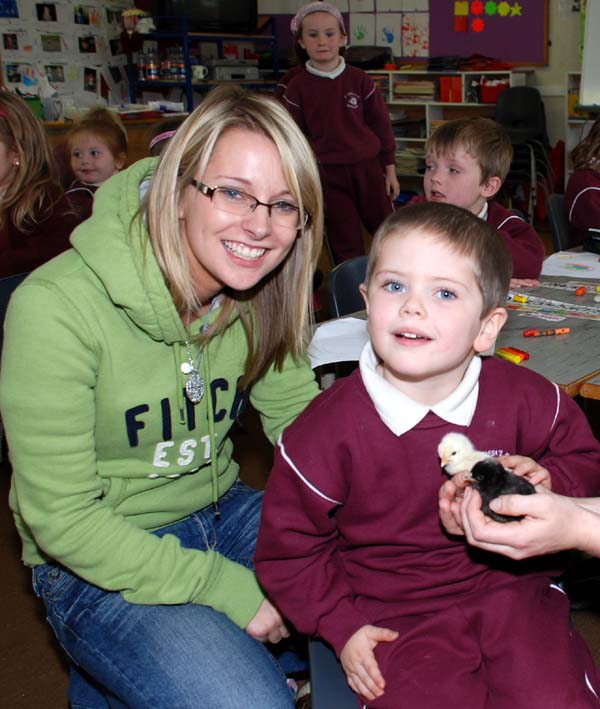 Miss McCarthy and Seán Max proudly present Chixie and Dixie for their first photoshoot!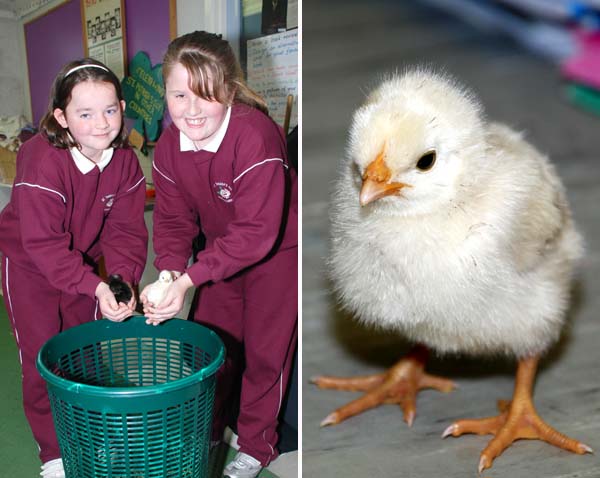 Lauren O'Brien and Katie Shanahan putting Chixie and Dixie back to bed after their visit to the school while Chixie (on right) keeps a close eye on them!


St. Theresa's Halloween Party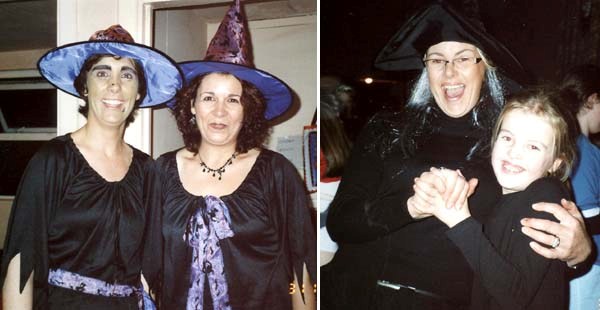 Mary and Frances Stapleton with Elaine and Emma Ryan at last year's Halloween Party
The Parents' Association of St. Theresa's National School are holding their annual Halloween Fancy Dress Party in the Marian Hall on Friday 31 October from 6 – 7.30 P.M.
Music is by D.J. M-Tune (aka Matthew Ryan) who has kindly offered his services for free on the night – Admission is €5 per child or €10 per family – Dress Code: Fancy Dress! Adults Included!

Light refreshments will be provided on the night – kindly sponsored by Tipperary Mineral Water, Hurleys Gala Shop, and Shanahans Filling Station. There are spot prizes for the best dressed on the night!


Borris Girls Down Under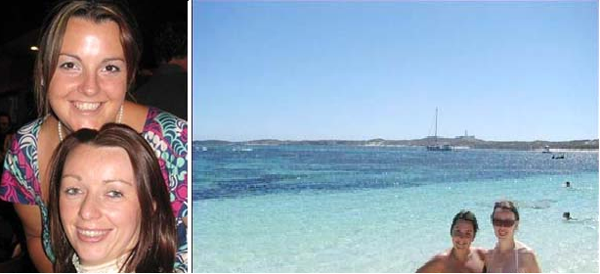 Kym Bourke and Marie Cowan in The Mighty Quinn Irish Bar (left) and on Rottnest Island (right) in Perth, Western Australia
Marie and Kym, who are sponsored in Australia, met up some time ago in Perth where Kym works. They are big fans of the website. Marie says: "I love the Borris website. Its the first thing I do on a Thursday morning, straight in to the website to see the latest news. It's great to see all the photographs too. Keep up the good work". While Kym has the following to say: "The Borrisoleigh website is a fantastic way, every week, of helping the Borris crew over here from feeling homesick. It's a fantastic idea and I hope it continues." – Thanks girls, keep in contact!
Show me the money!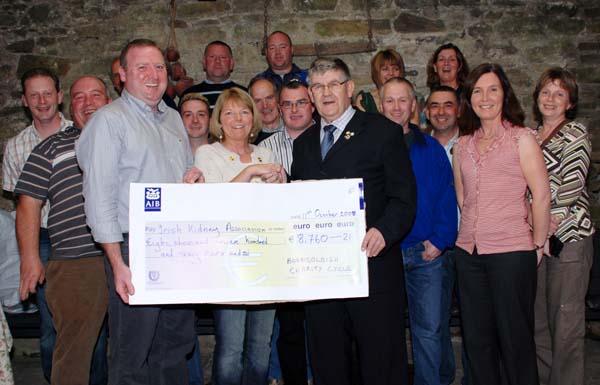 Pat Aylward, Tipperary Branch of the Irish Kidney Association accepts a cheque from Bernie Stapleton on behalf of the Borrisoleigh Charity Cycle 2008

Last Saturday the Borrisoleigh Charity Cycle 2008 presented a cheque for €8,760 to the Renal Support Unit of the Irish Kidney Association. The money was raised by sponsorship from over 45 local cyclists in Borrisoleigh who once again participated in this community event which over the last five years has raised close to €50,000 for various charitable groups. At a get-together in Stapletons Bar, Mr. Pat Aylward Chairman of the Tipperary Branch of the Irish Kidney Association accepted the cheque from Bernie Stapleton representing the cyclists. Pat Aylward said that he was delighted to accept such a large amount of money from the community of Borrisoleigh and complimented all including the organisers, cyclists, sponsors and backroom members who helped to make the fundraiser such an outstanding success. He assured all present that the money received would be put to great use by the Irish Kidney Association. Thanks was also expressed to Stapletons Bar for their hospitality on the night
Smiles all round!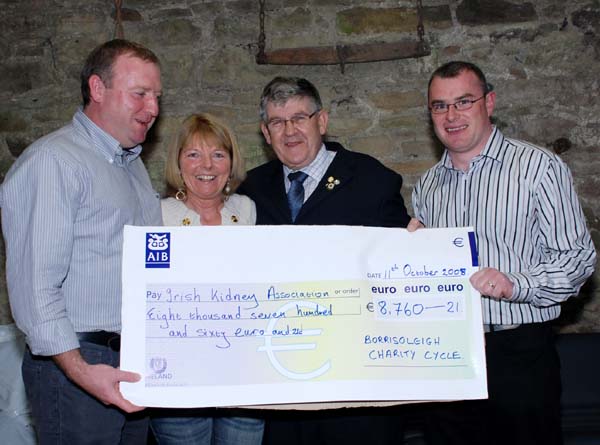 Ruairi, Bernie, Pat Alyward and PJ hold on tight to the staggering amount of €8,760.21 raised in this year's Charity Cycle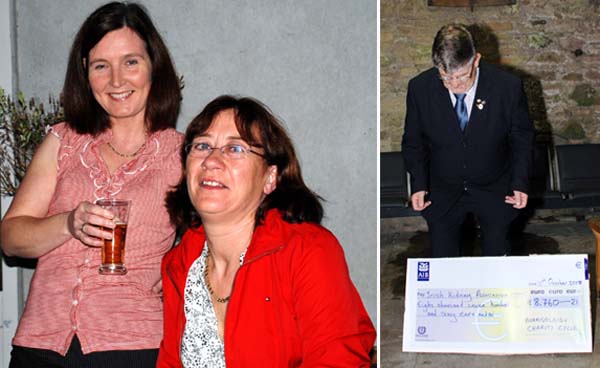 June Stapleton and Mary Smyth enjoy a drink together at the Charity Cycle Presentation Night while Pat Alyward lets the cheque drop to make sure that it doesn't BOUNCE!!!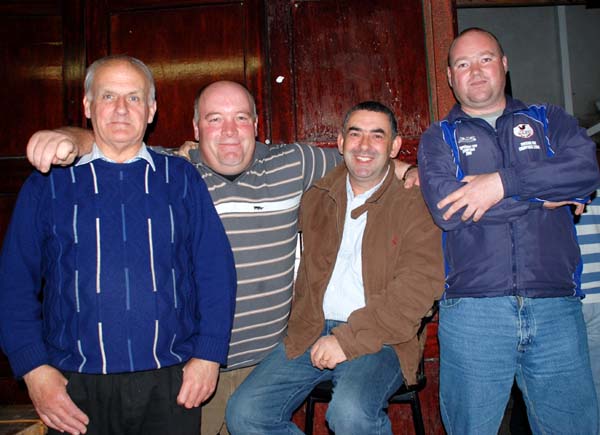 Jody Fogarty, Joe Holland, Paul Boyle and John Vahey at the Charity Cycle Presentation Night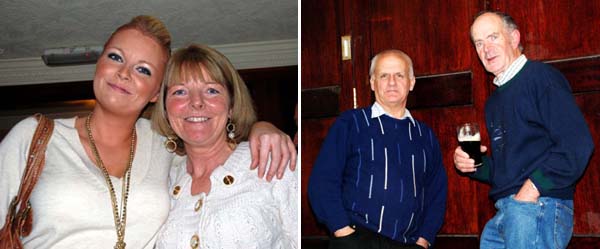 Buddy and Bernie Stapleton happy to pose for the camera while Jody Fogarty and Willie Maloney (Ballycahill) are also happy to be in the picture!

Diarmuid agus an Máistir!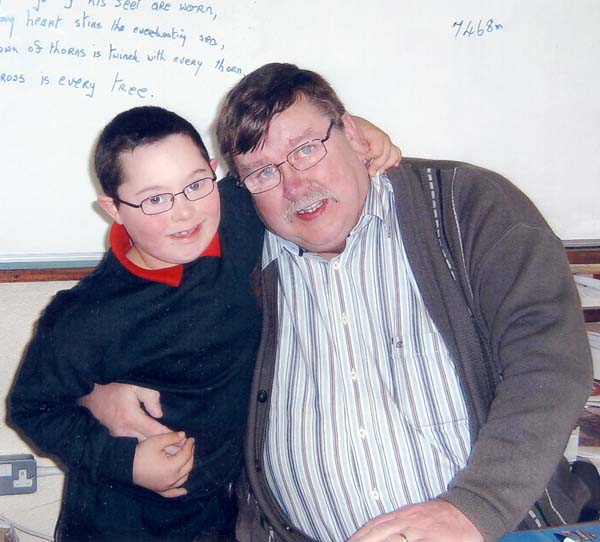 Who said School wasn't a happy place? Diarmaid Boyle and the returned Master who describes Diarmuid as "his best friend in the entire School"

Supporting The New Youth Club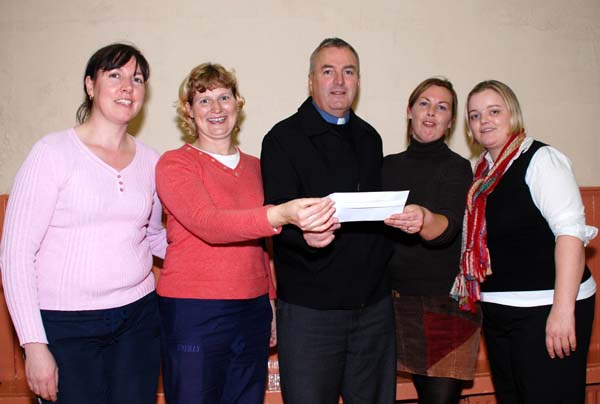 Youth Club leaders: Mary Ivors, Teresa Ryan (Treasurer), Sinead Shanahan (Chairperson) and Caroline Harkin with Fr. Liam Everard PP.
The new Borrisoleigh Youth Club has gotten off to a great start. Last week 48 of our young people turned up for the inaugural meeting. This week there were 86 in attendance and the Marian Hall was buzzing with activity. Fr. Liam Everard PP paid a visit this week to express his support of the new club and made a contribution on behalf of the parish to members of the committee. Sinead Shanahan (chairperson) thanked Fr. Liam for his kind donation and assured him that he would be welcome to visit the club activities at any time (even though he is just over the age limit!!!). We wish all concerned with this new venture in our community the very best of luck for the future.


The Mick Prior Memorial Hurling Tournament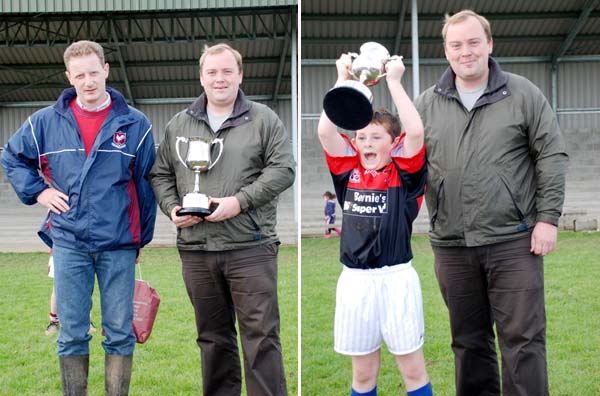 Jimmy Stapleton with Sean Prior, nephew of the late Mick Prior, and Sean with Cathal Hogan the proud captain of the victorious Moneygall Team
Last Saturday 11th October Borris-Iliegh Juvenile GAA Club hosted the annual U10 hurling tournament in honour of the late Mick Prior, a former stalwart of the juvenile club. Teams from Toomevara, Templederry and Moneygall joined Borris-Ileigh in participating for the fine trophy. Following the round robin matches in which Toomevara and Moneygall proved too strong for Borris-Ileigh and Templederry the scene was set for two great finals. In the Plate Final Borris-Ileigh reversed the result of the previous game and with a fine display defeated Templederry to win the Plate. Likewise in the Cup Final a great display by Moneygall saw them take the honours with a fine win over Toomevara. The hurling skills on display throughout all the games played were worthy of this fine tournament. Sean Prior representing the Prior family presented the cup and medals to the victorious Moneygall team and also to the Plate winners Borris-Ileigh. Congratulations and thanks to all concerned in organising, preparing the field, refereeing, catering, serving food which helped to make the day a great success. Well done also to the coaches, players and supporters of all four teams present.

Winners!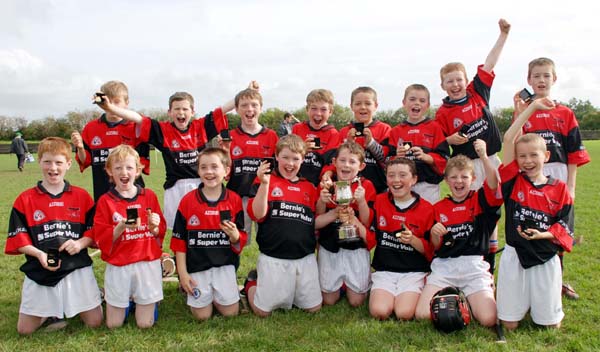 The Moneygall Team holding on to the coveted Mick Prior Memorial Cup

Runners-up Borris!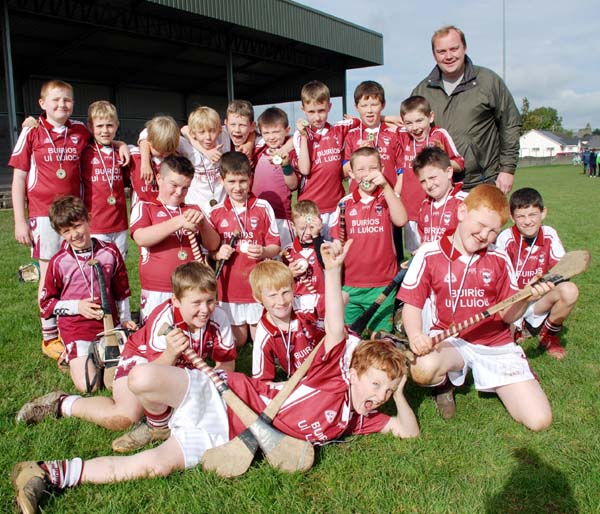 Sean Prior with the Borris lads proudly displaying their medals


The other competing teams: Templederry and Toomevara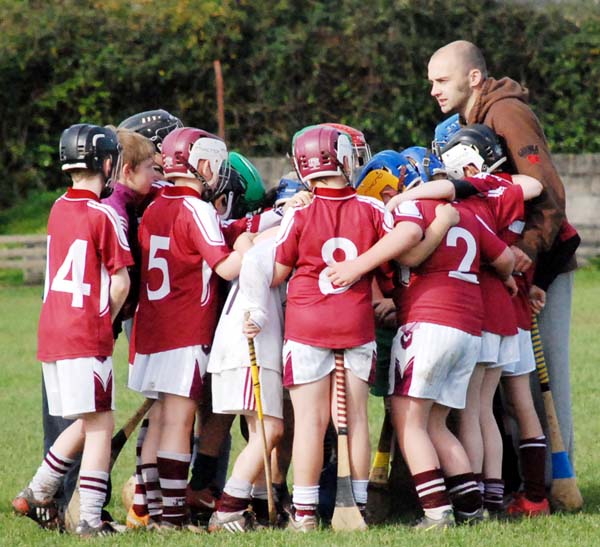 Denis Kelly, Borrisoleigh Manager, rallies his troops for battle!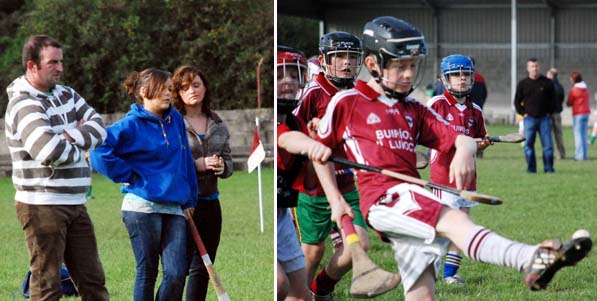 The side-liners: PJ Younge, Clare Kavanagh and Becky Prior watch as David McCormack clears the ball the only way he can!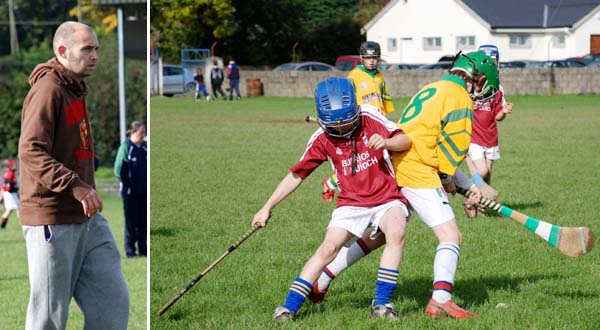 Denis Kelly managing from the sideline as one of his players does his best to nudge his opponent off the ball!
Hurling Moms!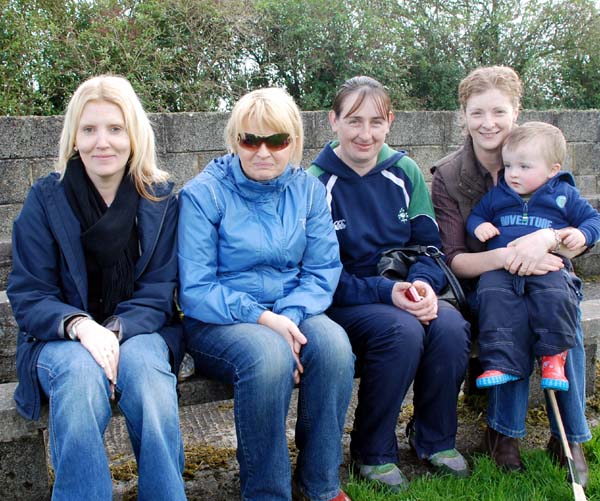 Anne Marie Smith, Pearl Younge, Lorraine Molloy and Patricia Ryan, with baby Donnacha, keeping a close eye on proceedings at the Mick Prior Memorial Hurling Tournament held in the Town Park on Saturday 11 October.
Hurler of the future!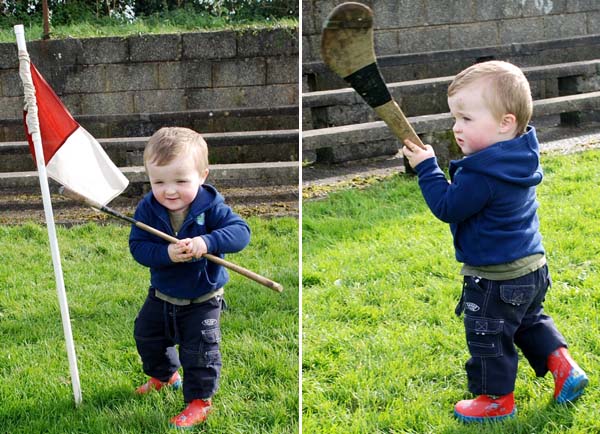 While the big boys are on the field of play, young Donnacha Ryan of Gurteeny is demonstrating his hurling abilities from the sideline – big boys watch out!
40 – but not looking a day over 30!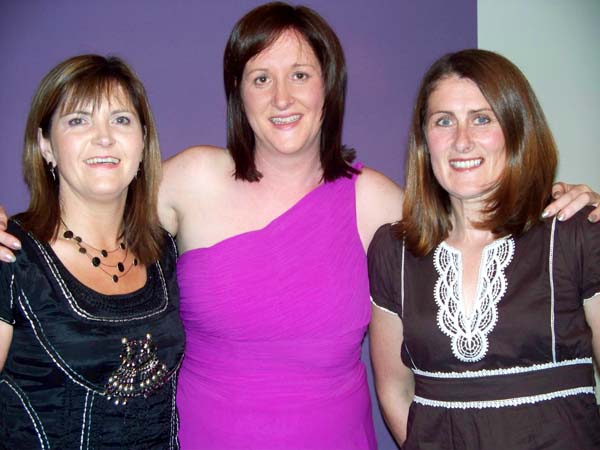 Lucia Kelly celebrating her 40th birthday with her two childhood friends Noeline Ryan and Therese O'Dwyer Currabaha. Lucia, a past pupil of Scoil Bride Fantane, spent her childhood with her Aunt Liz and Jimmy Ryan, The Shop, Currabaha.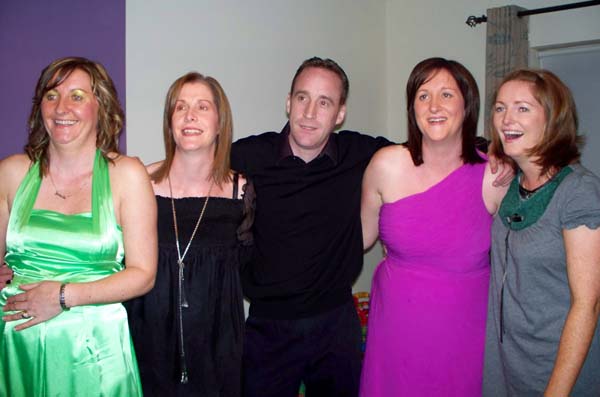 Lucia with her sisters and brother who joined in the celebrations at her home in Roscrea. Lucia is now the proprietor of Guna Galore in Roscrea town. Both Lucia's Grandparents hailed from the parish. Her Grandad was Joe Ryan (Farmer) Curraghgloss and Grandmother Mary Kennedy, Currabaha.
St. Cualan's Senior Citizen's Halloween Party


St. Cualan's Senior Citizens will hold their Halloween Party on Wednesday evening October 29th. Commencing with Mass at 5 p.m and afterwards to Sheahans Restaurant for dinner and a bit of a 'hooley'. A very enjoyable evening is in store. Hope to see you all there.
Cheeeeeze Pleeeeze!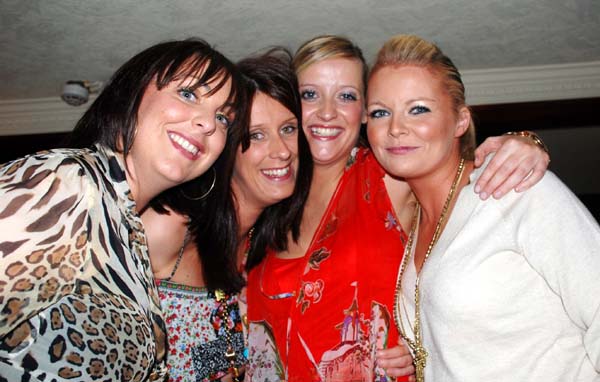 Kerrie Ryan, Emer Keane, Marguerite Ryan and Buddy Stapleton enjoying a night out in Stapleton's Bar on Saturday night last 11 October

Thomas Gleeson Memorial Cup 2008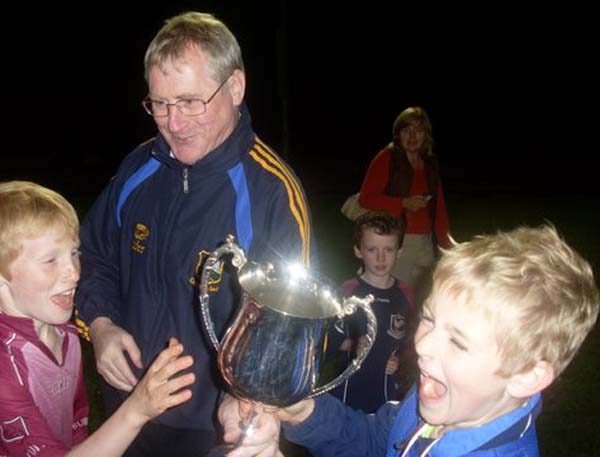 Winning smiles all round! Michael Carey presents the Thomas Gleeson Cup to winning captain Cian Murray
The Thomas Gleeson Memorial Cup took place over the last few weeks. The competition for children in the 7 to 10 age group in the Parish is in its second year and following the round robin matches in which some fine hurling was displayed Tipperary qualified to meet Galway in the Final. This was a real ding dong affair and Tipperary led for most of the game. However with time running out Galway edged ahead and looked to be headed for victory. But at the death a goal with almost the last puck of the game gave victory to Tipperary. Michael Carey presented the cup to the captain of the Tipperary team Cian Murray. Congratulations and well done to all concerned.
The Teams were: Cork – Aaron Reid (Capt), Dan Brooks, John Ryan Gurteeny, Nicky Cooney, Seamus Ryan, George Stapleton, Patrick Foley, Kevin Maher, Pauraic Stapleton &
Luke Cooney. Tipperary – Cian Murray (Capt), Jack Prior, Aaron Donnelly, Dylan Molloy, Ray Mc Cormack, Alvis Danko, Hugh Hurley, Dan Ryan, Fintan Holland & Cian Stapleton. Limerick – David Mc Cormack (Capt), Conor Keane, Jamie Corcoran, Alex Smith, Oran Bergin, Dirk Leimlehner, Ewan Younge, James Kelly, Willie Ryan & Killian Bergin. Galway – Gerry Kelly (Capt), Patrick O' Connell, John Ryan, Paudie Younge, Aaron Rabbitte, Liam Ryan, Michéal Ryan, Harry Younge, John Mc Grath & James Devaney.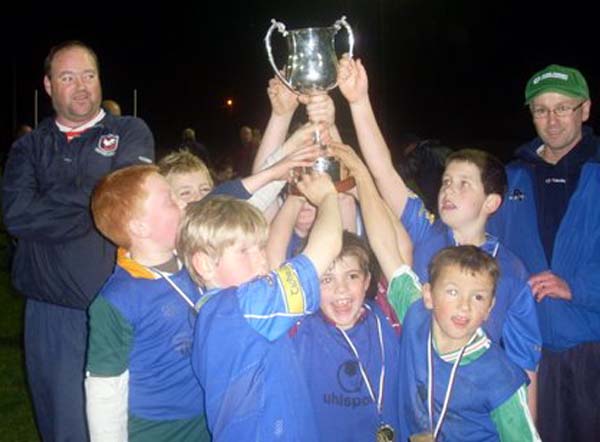 John Vahey & Christy Reid mentors and the victorious Tipperary team celebrate their victory in the Thomas Gleeson Memorial Cup 2008

Borris-Ileigh GAA Lotto

Tuesday 14th October
Jackpot: €14,200 (Not won)

Numbers: 3, 12, 18 & 20

€50 Lucky Dip winners:
Timmy Delaney, Rathmoy
John Slattery, Cullohill
Phil Maher, Cullohill
Rosaleen O'Meara, Garrangrena

Next draw: Thursday 16th October, in Finn's Bar ( T. Younge's)
Jackpot: €14,400

Marian Hall Lotto

14/10/08

Numbers: 11, 16, 25, 27

No Jackpot Winner

1 match 3 winner @ €150

John Stapleton, Pallas

Next Weeks Lotto Jackpot

€6,750

Down Memory Lane… pic of the past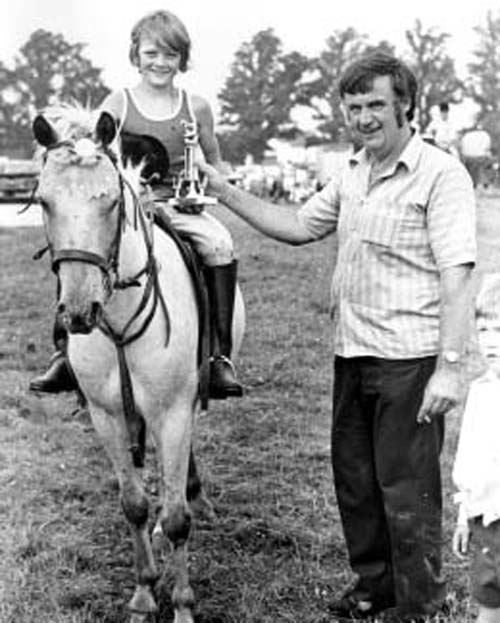 P.J. Shanahan, Knockbrack presenting a trophy to the winner at Borrisoleigh Festival many years ago!
Your Website Needs You!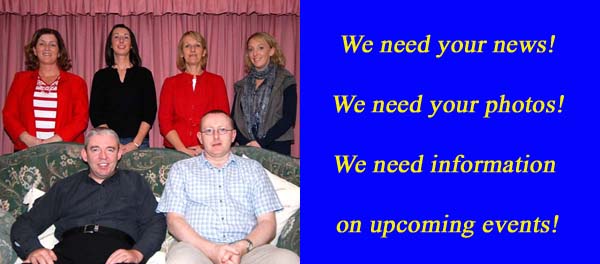 Website Committee: Noreen Fahy, Margaret Cowan, Marie McGrath, Aileen Óg Groome, Michael Barry and Enda Ryan

Send your email to:
info@borrisoleigh.ie
Also, if you like what you see and want to leave a comment, remember to use the Guestbook!