Your Current News Team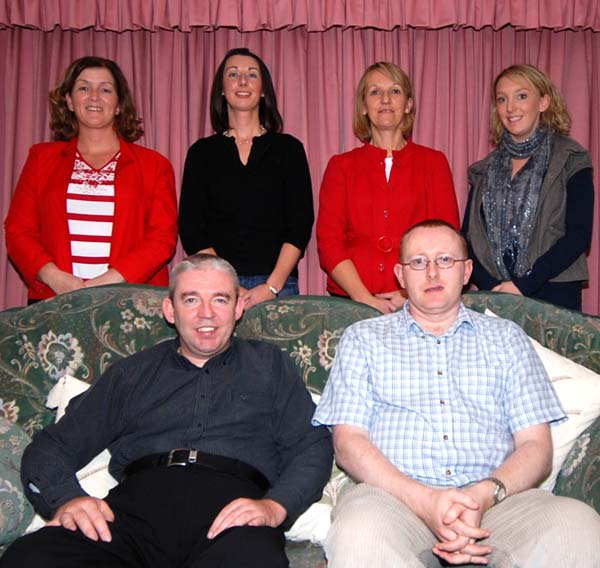 Website Committee: Noreen Fahy, Margaret Cowan, Marie McGrath, Aileen Og Groome, Michael Barry and Enda Ryan
Ever since we launched our community website nearly six months ago we have been trying hard to keep the site interesting and constantly updated. We recognise that if it doesn't get frequently updated then you will have no reason to come back and visit us. We want you to return to us often, that is why we appeal to you to send us news items from time to time along with a photo or two if that's possible.
The above photo shows the people responsible for bringing you our current news each week. We want to bring you fresh news each and every week. We can only do that with your help. If a lot of people give us a little bit of news now and again we can continue to bring you a selection of items showing you what's going on for Borris folk at home and abroad. Help us to help you.
You can send your news directly to info@borrisoleigh.ie or if you prefer you can pass it on to any of the website committee members listed above. Whether you're in Borris, Boston, or Berlin, Sydney, Singapore or Soho we want to hear from you. We look forward to you getting in touch with us.


New Youth Club for Borris!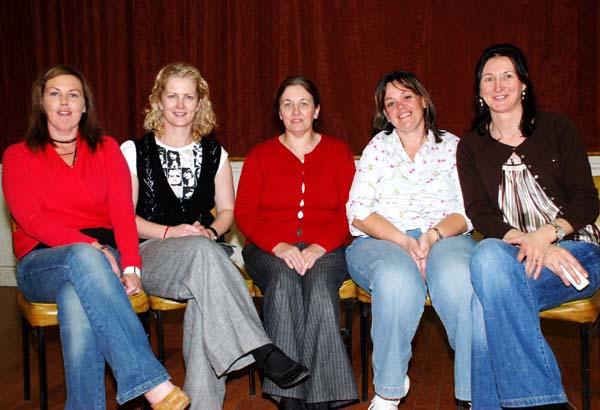 Youth Club Leaders: Sinéad Shanahan, Rena Ryan, Maura Carey (Training Officer), Denise Hogge and Patrice Cooney
Borrisoleigh Youth Club had its first night on Friday October 3rd last. We had a fantastic evening, the turnout was terrific and the feedback from the kids has been very positive. This youth club is for our children. They decide what we do on any given night (within reason!). Our aim as leaders is to ensure the kids have a safe place to come meet with their friends, make new friends and generally have fun. Our job is to simply facilitate this.
We hope other parents will get involved with us as offers of help would be greatly appreciated. The youth club is run on Friday nights from 6:30-7:45pm in the Marian Hall. New members are always welcome. Hope to see you all there!
Top Prize Win for Borris in GAA Draw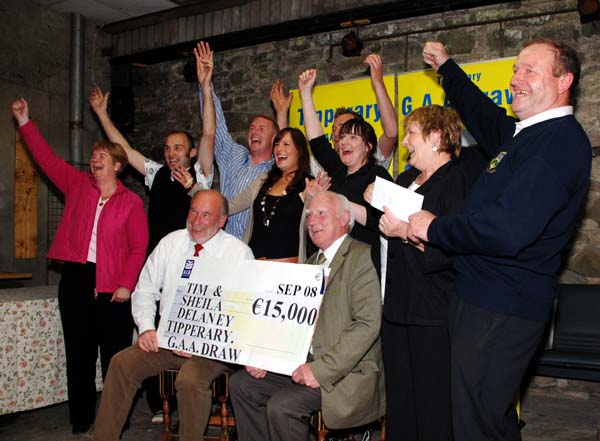 Timmy and Sheila Delaney, winners of the top prize of €15,000 in the Tipperary GAA September draw, are pictured here with family & friends on the occasion of the presentation ceremony at Stapleton's Bar on Friday 3 October last.

Timmy clings on for dear life!!!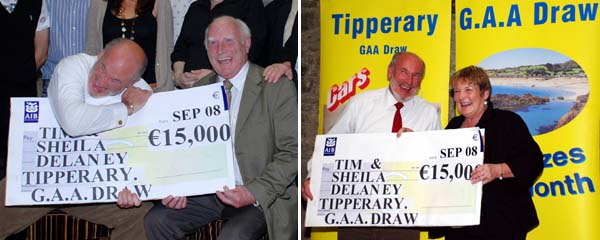 Timmy shows his 'protective nature' as he clings to his latest acquisition! But he is also willing to 'share' as can be seen here in the photo with his wife Sheila!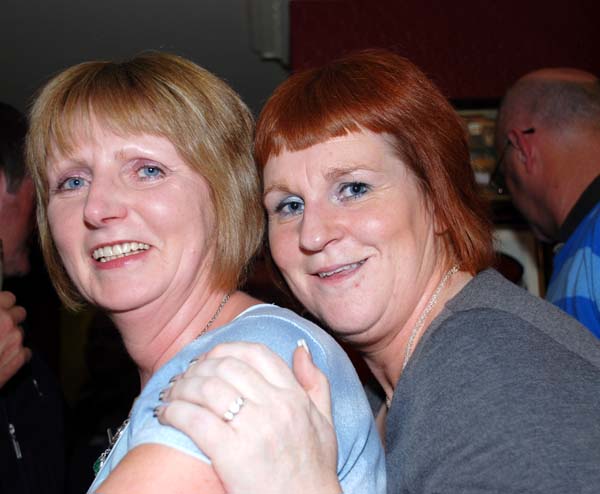 Nora Ryan and Patricia Stapleton enjoying the celebrations at the Tipperary GAA Draw in Stapleton's Bar on Friday 3 October last

Gee up Boy!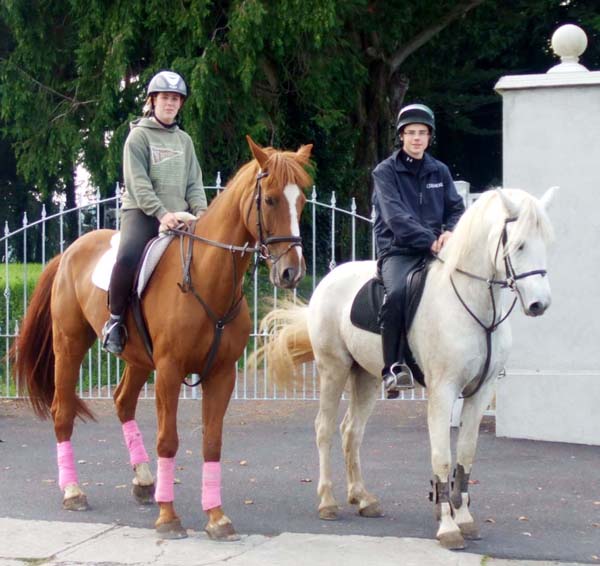 Aisling Ryan of Coolaun Lwr. and Reece St. John of Thurles enjoying a trot down Pallas St. on Saturday evening September 27th

Doin' the Hucklebuck!!!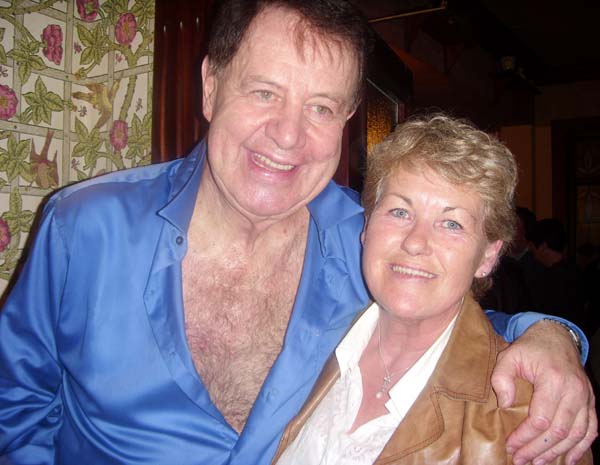 Ann Small with Brendan Boyer having a go at the Hucklebuck



Eleanor Kelly, Catherine Ryan and Frances Kennedy with Brendan Boyer at his concert in the Anner Hotel on Sunday night 4 October last. Not only did they feel like 'teenagers' on the night but they also like to think that they look like ones!!!

Juvenille Hurling Club
Under 16's Victorious Win




Racing for the ball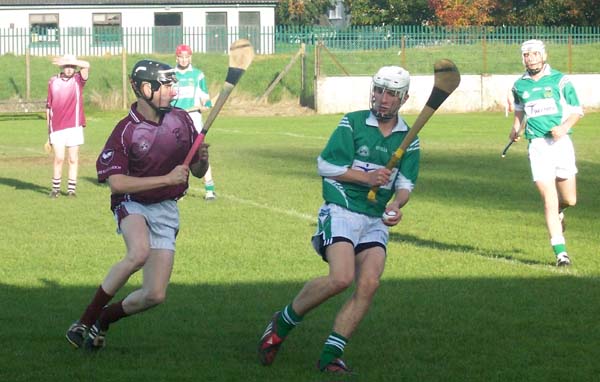 Super defending by Dan McCormack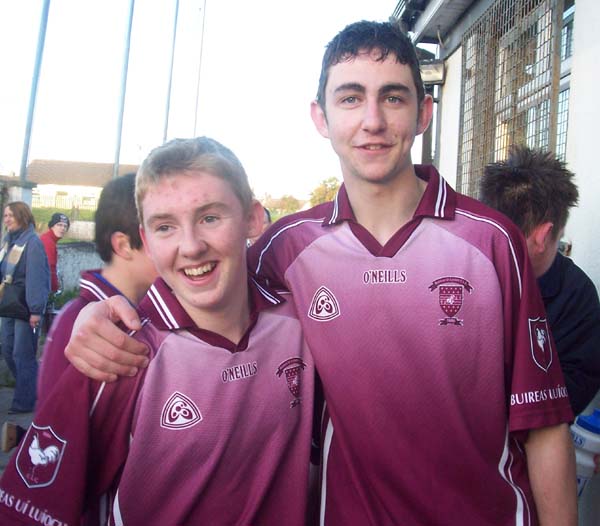 Jack Bourke and Daniel Ryan (Captain) celebrating after their win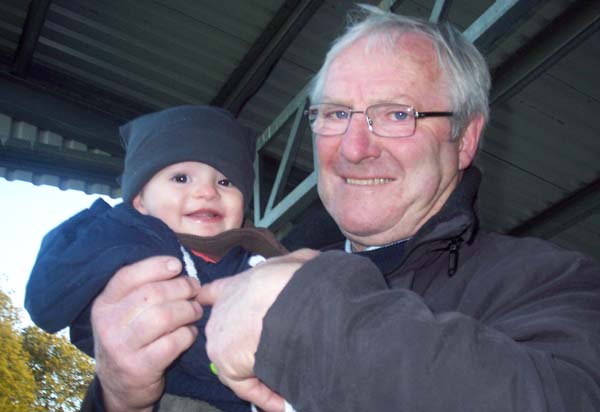 John Bradshaw and his grandson Conor Kinnane in the stand in Templemore watching the match
Our U16s have qualified for the County Final following a hard fought victory over our neighbours Drom & Inch in Templemore last Sunday evening. Once again like the North Final it proved to be a very tough and tense game. Borris-Ileigh led on a number of occasions in the first half only to be pegged back and the game was level at half time. In the second half again Borris led on one occasion by five points but Drom fought back and reduced the deficit to two coming into injury time. However the lads pulled out all the stops and went down the field to score a goal and a point to win on a score line of 1-16 to 0-13 to the delight once again of the large Borris-Ileigh following. Congratulations again to the panel and mentors and best of luck in the county final. At the time of printing we are not aware of our opponents in the final and these and date, time and venue will be notified to players at training.


U12 and U14 Hurling Plate
U12 and U14 Hurling Plate with a victory by the U12s over Burgess last Friday both teams have now qualified for the semi-finals. The U12s play Kildangan in their semi-final next Sun 12th October at 12noon in Toomevara, while the U14s are due to play Nenagh. Details will be given at training.
Meagher Cup
U8 Cup Winners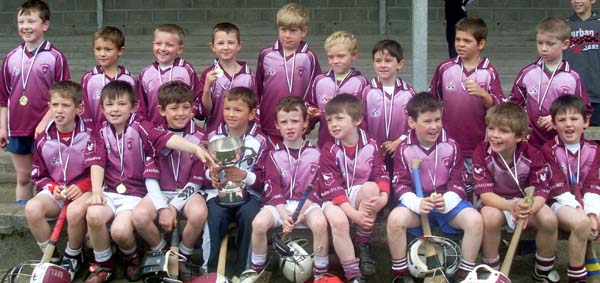 U8 Hurling team which were victorious in the Meagher Cup last Saturday
U8 Hurling Meagher Cup Following a tremendous mornings hurling last Saturday Borris-Ileigh won the Meagher Cup for the first time. Following some very entertaining round robin matches where all of the young players on view displayed all the skills of hurling, Borris-Ileigh and Drom-Inch qualified to meet in the decider. Though Borris had already defeated Drom in the round robin, the young Borris players took nothing for granted and with tremendous skill and determination controlled the game from the start and ran out winners. Rose Stapleton on behalf of Neil O' Dwyer and the Meagher family presented the Cup to captain Alvis Danko of Borris-Ileigh. Great credit is due to all the young players and also to the management team of Paddy Ryan, T.J. Ryan and John Vahey who since last year and early January 2008 both indoor and outdoor have been coaching and teaching these young players all the hurling skills which came to fruition last weekend. Well done also to the players and mentors from Upperchurch, Drom & Inch and Templederry whose participation made for a very entertaining tournament.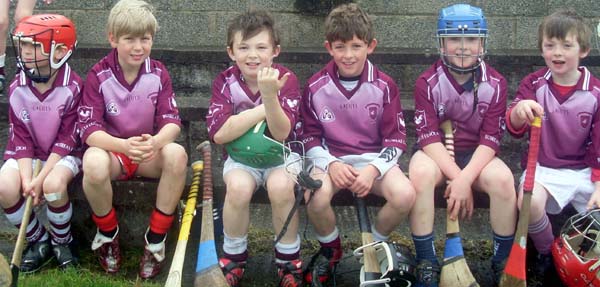 Ready, willing and able to come on to the field of play!
Proud Moment!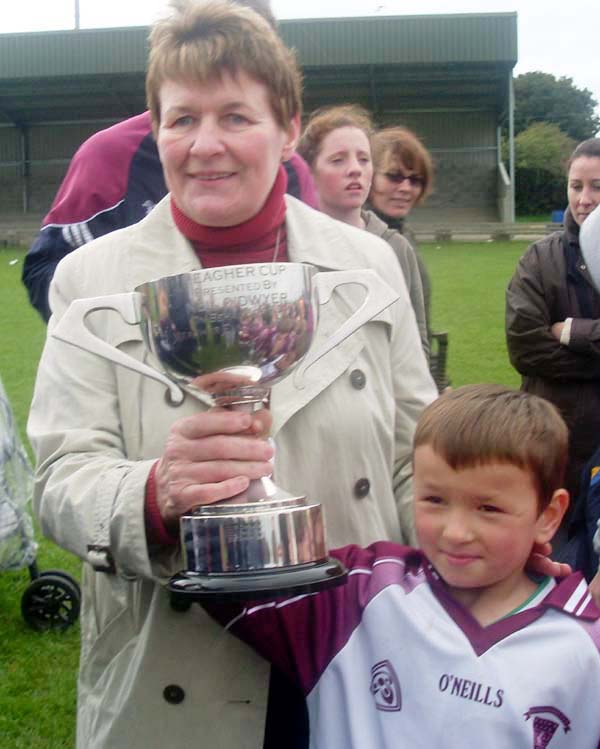 Rose Stapleton presenting the Meagher Cup to Borris-Ileigh's captain Alvis Danko


Thank You Lads!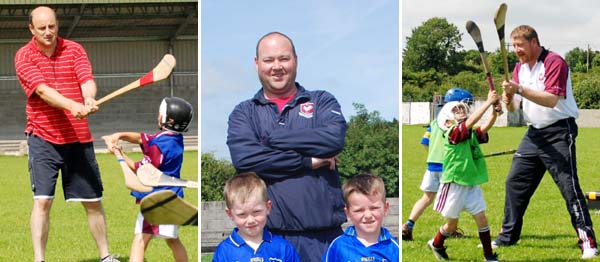 Paddy Ryan, John Vahey and TJ Ryan with the young folk of our parish
We the parents of the U8 hurlers wish to pay a huge tribute and thank you to Paddy Ryan, T.J. Ryan and John Vahey for their huge commitment and dedication with the young players over the last year. We hope that by bringing the Meagher Cup back to the parish the players reflected on the men that led them to victory. The lads have been so wonderful with the youngsters. They gave up their own time and efforts and it is our young boys that have benefited and we just want them to know it does not go unnoticed. St. Peter will reward ye in the next life for all your patience!!!! Many thanks lads.
Parish Centre Fundraising Meeting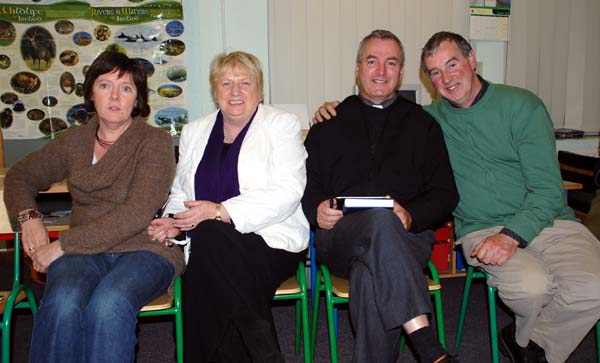 Catherine Ryan, Frances Kennedy, Fr. Liam Everard PP and Philly Bourke at the recent fundraing meeting for the new Parish Centre
A meeting was held last Monday evening 6 October in the Boys' National School to discuss fundraising ideas for Borrisoleigh's New Parish Centre which has been granted planning permission. A very constructive discussion took place around the possible uses for this new centre and various ways of raising the funds necessary to build it. Fr. Liam told those who attended the meeting that Grant Aid is available for such community projects but that a certain level of local contribution would be necessary in order to qualify for such grants. Your support would be much appreciated in our fundraising efforts.

The many possibilities for our new Parish Centre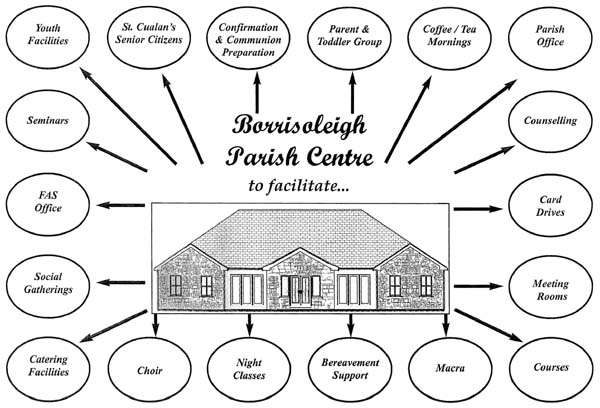 Floor Plan of Parish Centre

Young people getting involved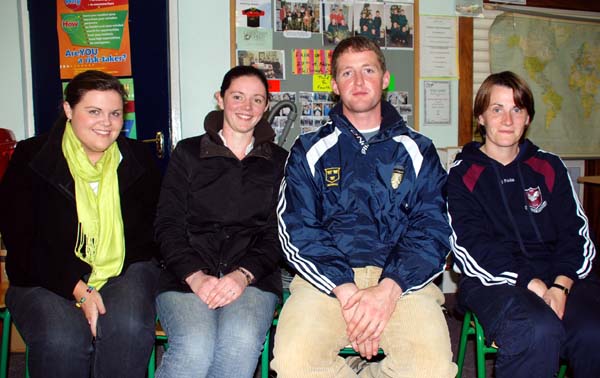 Anne Marie Kavanagh, Laura Ryan, Vincent Stapleton and Vera Hogan pitch their ideas for the new Centre

The 'older' stalwarts playing their part!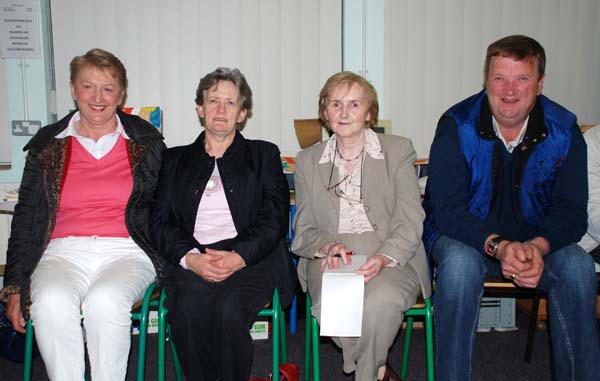 Nancy Lynch, Mary Ryan, Mary Kenny and Pat Kearney attend the brain-storming session

Charity Cycle Cheque Presentation

Borrisoleigh Charity Cycle 2008
A presentation of the cheque to the Renal Support Unit of the Irish Kidney Association in Beaumont Hospital from this year's cycle will take place next Saturday 11th October in Stapleton's Bar at 9.30pm sharp. To date we have raised in excess of €8,000.00, so if anyone has any cards and money outstanding they should return it before Saturday to PJ Delaney or Ruairi O'Connell. All are welcome to attend on the night.
Good Luck Padraig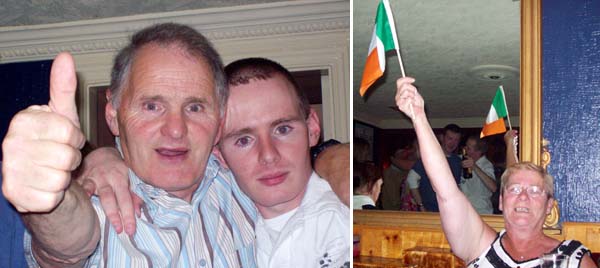 Padraig with his dad Paddy 'giving the thumbs up!' while Marion flies the flag for Ireland
On Tuesday last 7 Oct. Padraig Dolan left Ireland for a four month tour of duty in Chad to help provide security and stability in the region with the Irish Army contingent there. We wish him a safe and successful time. The included photos were taken at a going-away party that was held in Stapleton's Bar on Saturday 27 Sept.
Good Mates!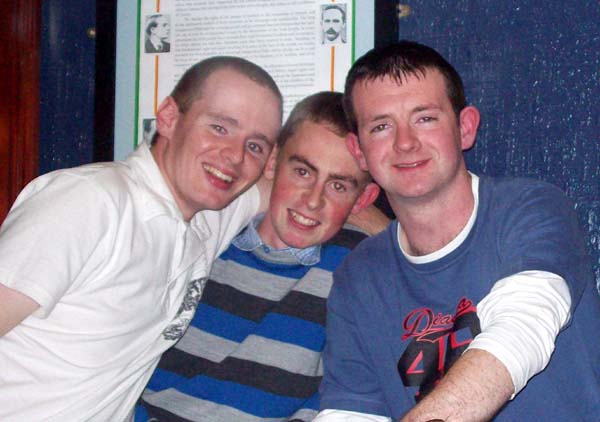 Padraig with his pals

Hands up – you're surrounded!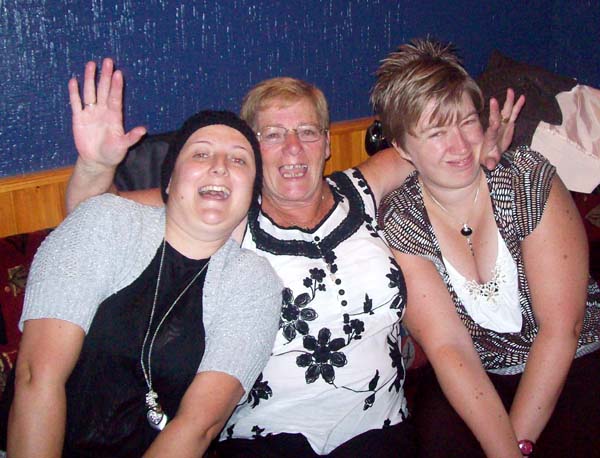 Padraig's Mum Marion with his cousins Michelle and Lisa McCabe

You lookin' at me?!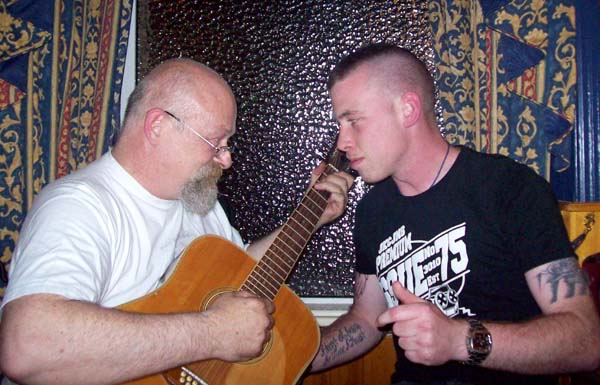 Tony Powell, music man for the night, goes eye to eye with one of Padraig's mates and fellow soldiers

Macra Night Out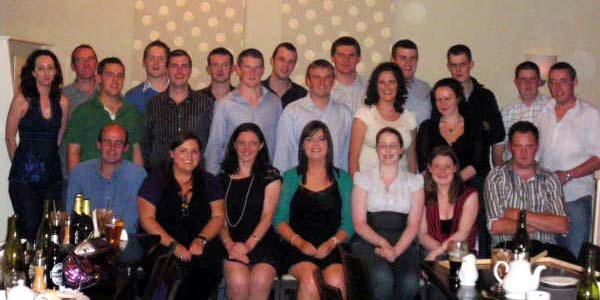 Clodagh Macra Members enjoying their night out at Pepe's Restauant in Nenagh recently
Clodagh Macra had a celebration on 19th Sept in Pepe's Restaurant, Nenagh. This night was organised to celebrate all our success in the Macra year '07-'08, including Majella Carey success in the International Miss Macra 2008 and our Farm Skills team who reached the National Final of that competition. Over 25 members attended the celebration.

Macra ladies havin a good time on their night out: Laura Ryan with Teresa Kennedy, Majella Carey with Anne Marie Kavanagh and Teresa Kennedy with Anne Marie Kavanagh
Clodagh Macra reach final six in the Country!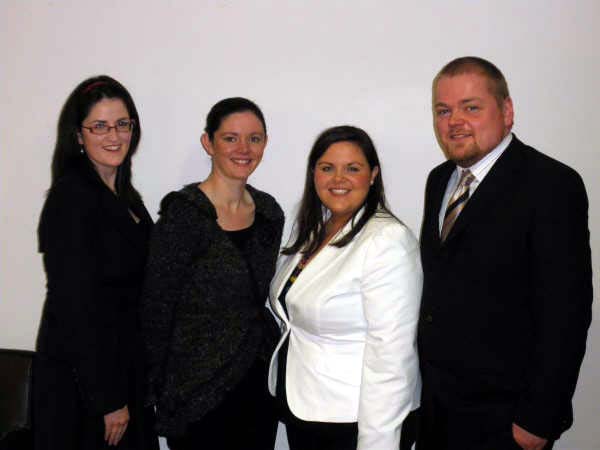 Representing Clodagh Macra in the National Macra Competition: Teresa Kennedy, Laura Ryan, Anne Marie Kavanagh and Philip Ryan
Clodagh Macra have been selected as one of the top six macra clubs on the country. On Saturday last, our four officers from last year ; Teresa Kennedy, Laura Ryan, Anne Marie Kavanagh and Philip Ryan went to Abbeyleix along with 11 other clubs to be interviewed for the top six places. During the interview we highlighted our strengths as a young and active club, focused on our success in competitions and expressed our interest in our local communities of Borrisoleigh and Templederry. This is a major achievement for our new club – only in our fourth year! The Final of the Club of the Year Competition 2008 will be held at the National Macra Rally in Salthill on the 26th Nov. We would like to encourage all our members to go to Salthill on that night, as Maxium support is essential. GO CLODAGH.
Happy Birthday Amanda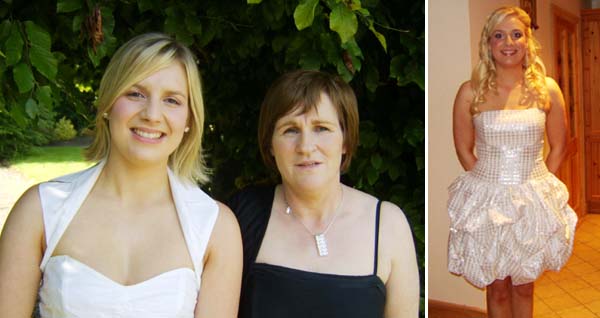 Amanda Stapleton of Glenanogue celebrated her 21st birthday in the Clodagh Bar on Saturday 28th September and is pictured here with her Mum Patricia. Congratulations Amanda!


Borris-Ileigh GAA Lotto

Thursday 2nd October
Jackpot: €14,000 (Not won)

Numbers: 7, 14, 18 & 29

€50 Lucky Dip winners:
Conor Ryan, c/o Gleeson's
Joan Harkin, Drom
Michael Ryan B, Borrisoleigh
Bridie Spillane, Borrisoleigh

Next draw: Thursday 9th October, in Stapleton's Bar, Main Street
Jackpot: €14,200

Marian Hall Lotto

07/10/08

Numbers: 06, 13, 17, 27

No Jackpot Winner

1 match 3 winner @ €150

Mary Morrissey, Templemore

Next Weeks Lotto Jackpot

€6,600

Pic of the past…down memory lane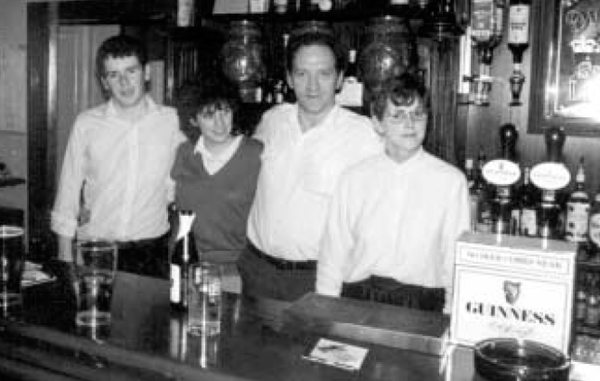 Finn's Bar, Christy Slattery, Betty Martin, Pat Maher and Norrie Ryan

**************************************************

News items, photographs, upcoming events etc. from home and away should be sent to

The success of this site depends on you!!!

**************************************************