Smiles All Round!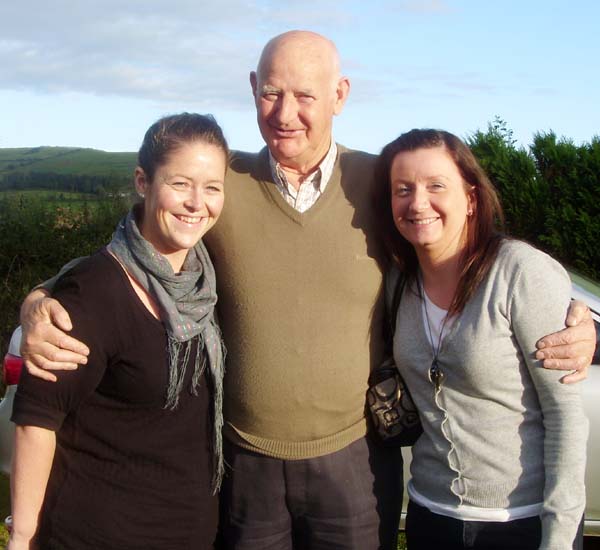 Mick Kennedy Cullohill, with his guests Gina Casey, Raheny, Dublin and Mairead Maher Tonlagee Rd., Dublin,who have just spent a fabulous weekend in Cullohill, Borrisoleigh!

Happy Holidays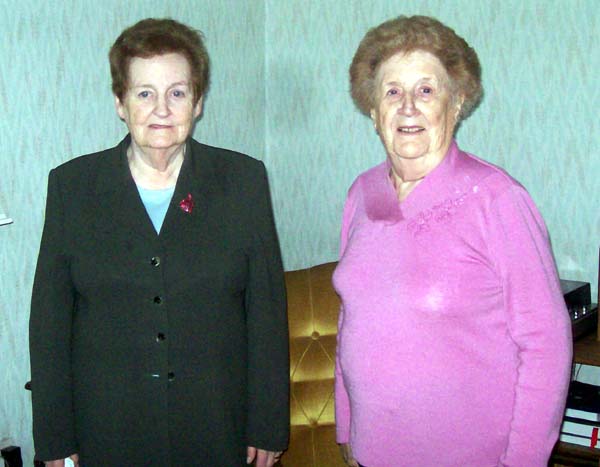 Marie Hynes de Boer pictured here with her sister Kathleen who is on holidays in Borrisoleigh. Kathleen lives in Blackrock, Cork
Borrisoleigh Main Street – €400,000

Deputy Michael Lowry has announced that he has secured a once off allocation of €400,000 to resurface the Main Street of Borrisoleigh. The stretch of road involved is from Ileigh crossroad to the Park. The work will involve reshaping, levelling, drainage, new tarmacadam surface and safety markings. Also included is a new footpath at St. Brigid's Villas and the repair of other footpaths. The work will commence immediately and will take approximately 9 weeks to complete. Deputy Lowry has requested council officals to liase with the local community and in particular the business community to minimise disruption and inconvenience.



On a Recent Visit from Kerry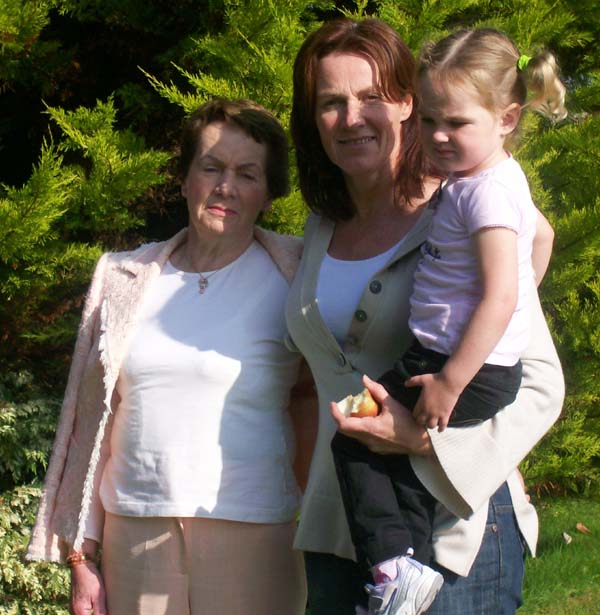 Noreen McGrath pictured here with her daughter Ann and grand-daughter Laura-Mai who were visiting recently from Listowel

May She Rest in Peace

Liza Molloy RIP


The death has occurred of Liza Molloy of Mount George following an illness. Liza passed away at Nenagh General Hospital in the early hours of Thursday morning September 25th. Her funeral Mass took place in The Sacred Heart Church on Saturday September 27th. She was laid to rest in St. Brigid's Cemetery. We offer our sincere sympathies to her family and friends.
Camogie Club Presentation Night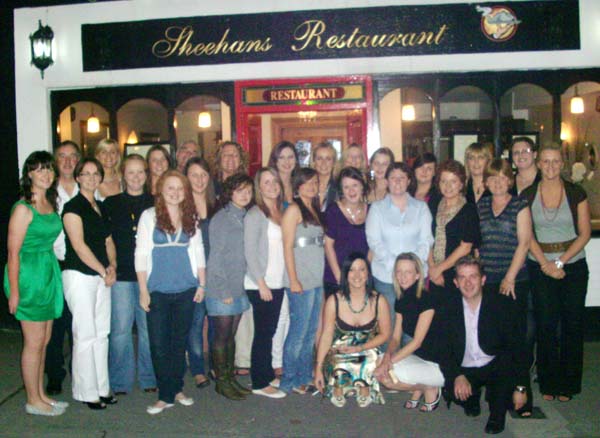 Our Camogie Club outside Sheehan's Restaurant
Presentation to Paul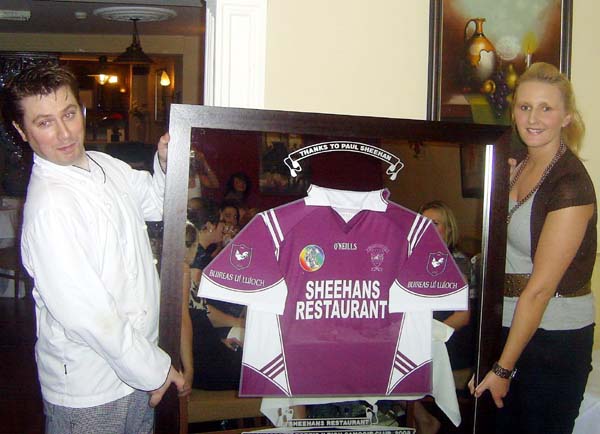 Caroline O'Connor makes a presentation to Paul Sheehan of Sheehan's Restaurant – Official Sponsor of the Borrisoleigh Camogie Club Kit

A presentation evening took place in Sheehan's Restaurant on Friday 19 Sept. last. This was to mark the generosity of the proprietor Paul Sheehan in sponsoring our fledgling club with a full compliment of Jerseys for the Junior Camogie Panel. Also on the night presentations were made to the selectors, Carmel O'Brien, Jimmy Slattery, Philly Bourke and Pat Kavanagh.
This occasion also marked the end of this season for the Club and was the perfect excuse for a good night out and was also the platform for much needed social bonding. All in sundry then adjourned to Bourke's Bar after the meal was over and enjoyed music by Tommy Foley and the 'Back-Liners'! Edel graced us with 'Grace' and Paul, in appreciation for the presentation made to him earlier, sang a few songs to the enjoyment of all. The social bonding project worked!!!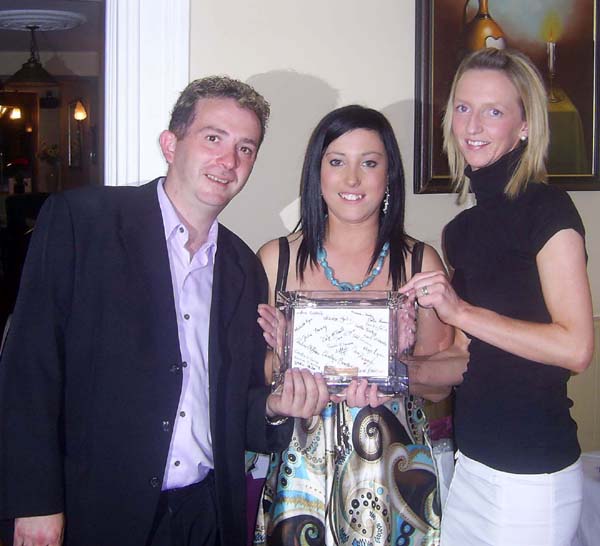 Jimmy Slattery being presented with a gift from Michelle Stapleton and Julie Treacy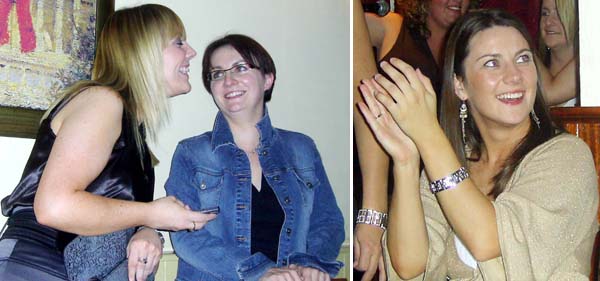 Orla Kinane in a good mood with Evelyn Groome while Michelle Ryan applauds the proceedings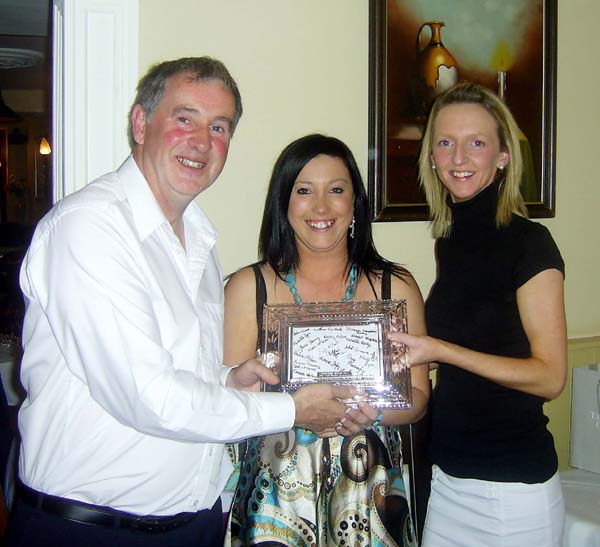 Julie and Michelle making a presentation to Philly Bourke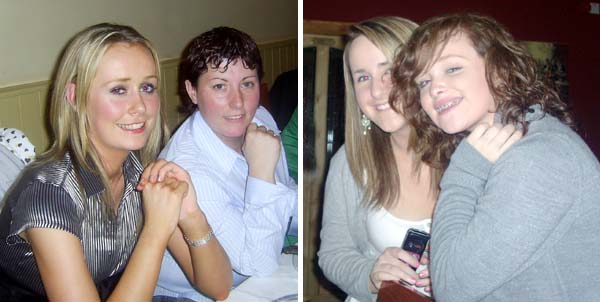 Mags Ryan with Siobhan Stapleton and Clíodhna Bourke with Becky Prior

The Borris Back-Liners!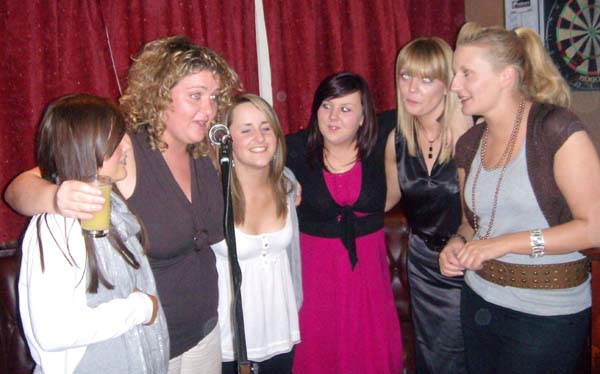 Clare Kavanagh, Edel Groome, Clíodhna Bourke, Louise Fahy, Orla Kinane and Caroline O'Connor in fine singing form in Bourke's Bar after the presentations in Sheehan's Restaurant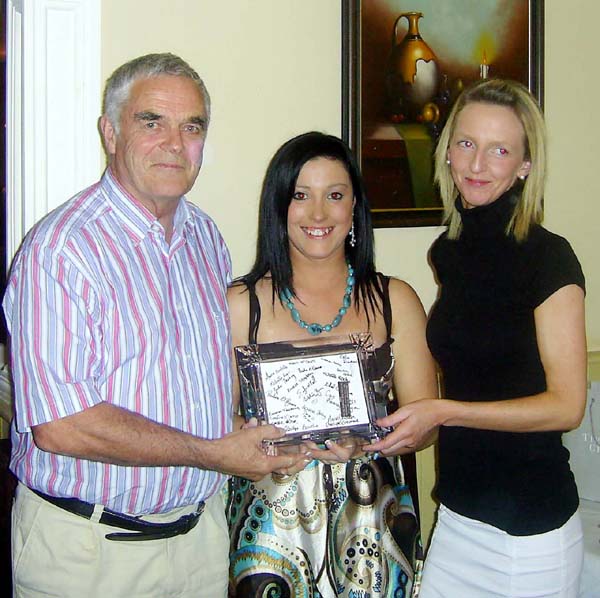 Pat Kavanagh receives his presentation from Michelle and Julie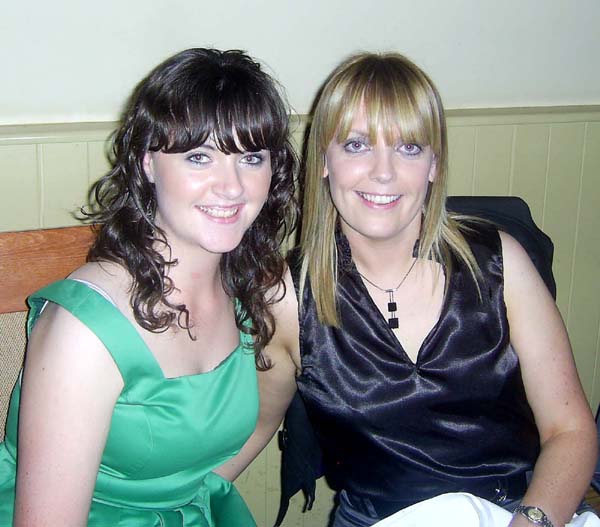 Siobhan Ryan and Orla Kinane looking well on the night!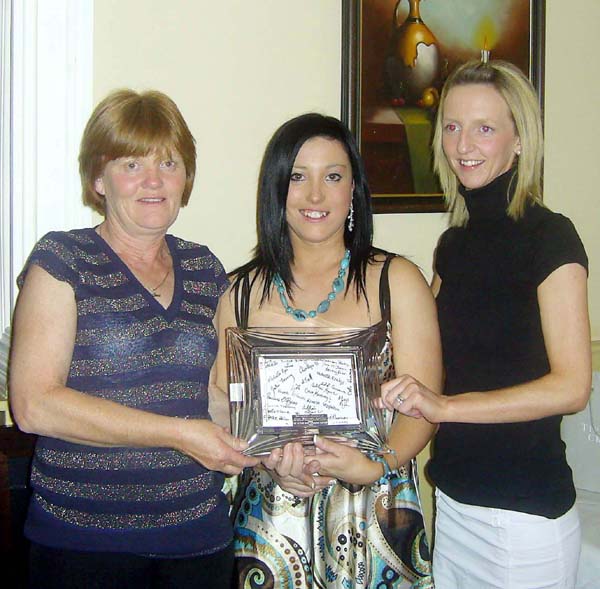 Carmel O'Brien being presented with a gift from Michelle and Julie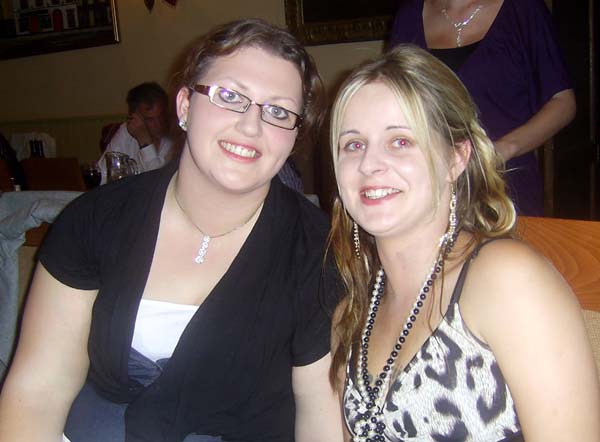 Pauline O'Connor and Emma Treacy at the Camogie Club night out in Sheehan's Restaurant


Happy Birthday James!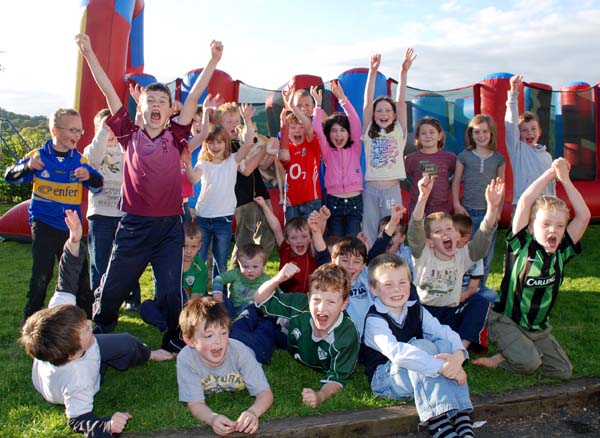 The happy gang at James Ryan of Gurteeny's 8th birthday party on Sunday 28 Sept.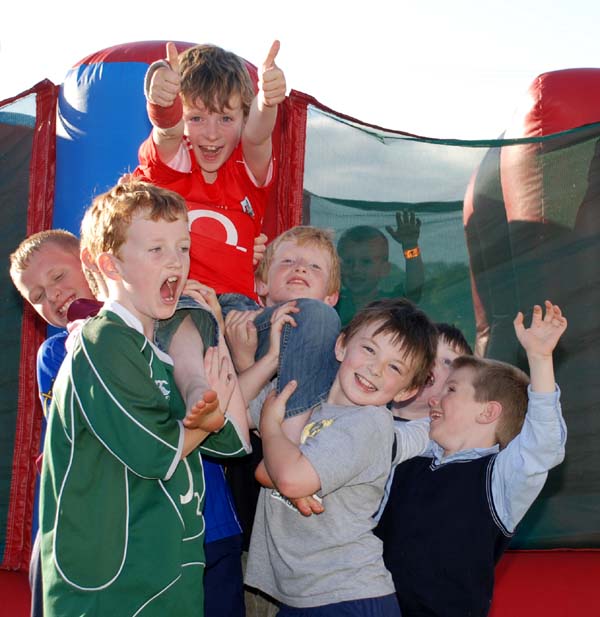 The birthday boy being lofted on-high by his friends!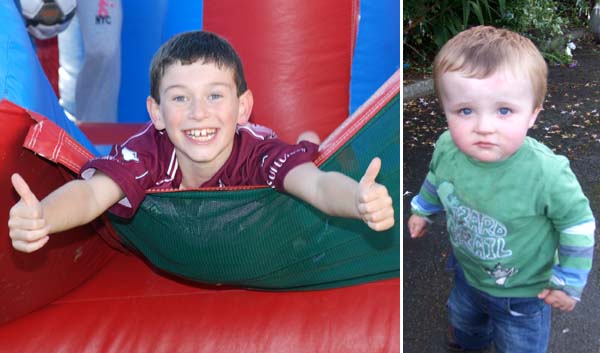 Luke Cooney and Daniel Ryan doing their separate things at James's party!

Peace Man!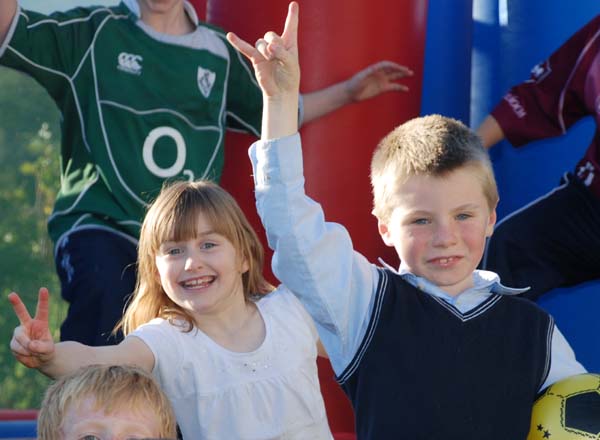 Ciara Murray and Danny Fahey – 'happy out' at the party!

Trying to beat the birthday boy!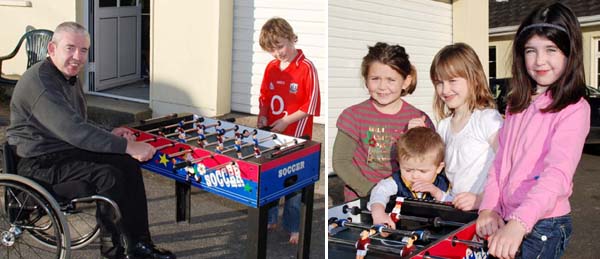 Fr. Michael takes a bad beating from James as the girls and Oisín pose for the camera!

Proud Granny Mai!
Proud Granny Mai Maher with her granddaughter Mairead Maher, Tonlagee Rd. Dublin and her great granddaughter Eve Maher, Rossnamulteeny. Borrisoleigh
I wanna be like my daddy!!!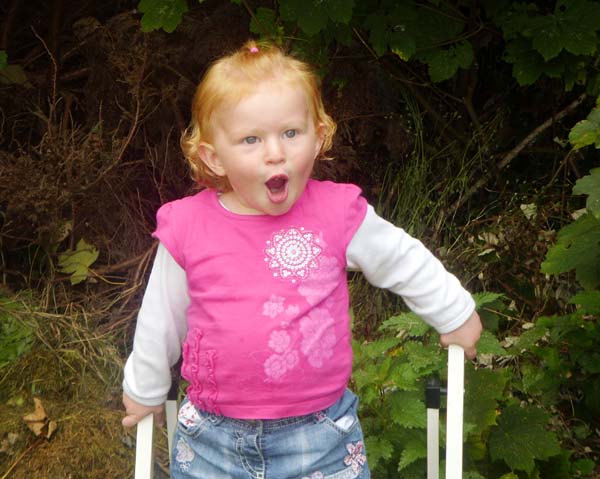 Little Eve Maher, daughter of Sean and Michelle Maher of Rossnamulteeny, already showing signs of following in her Dad's footsteps – be it training or singing! Her good looks obviously come from her mum!!!
Set Dancers Supreme!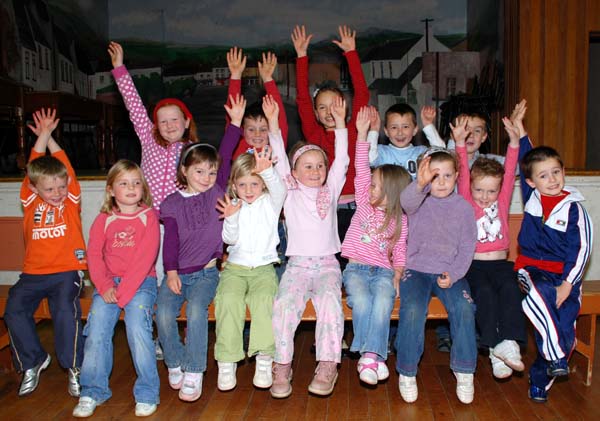 The beginners class show their enthusiasm for their new hobby. Beginner's class meet every Monday night from 6:45 – 7:30 p.m. in the Marian Hall. All beginners who are four years old and upwards are welcome to attend this class. Older children attend classes at 7.30pm, 8.15pm and 9pm.

The Two Annas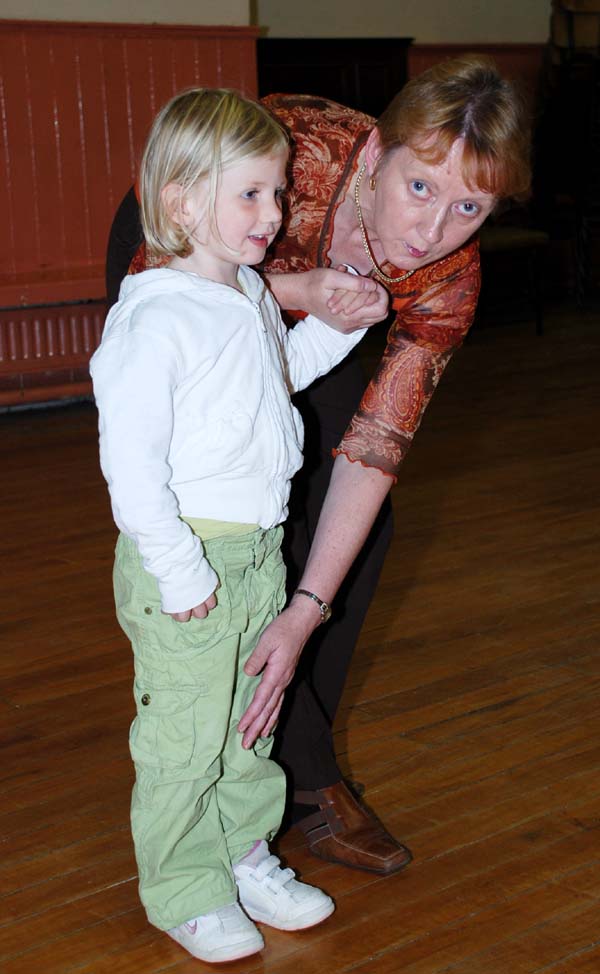 Little Anna McGrath with 'little' Anna Ryan doing their one, two, three, one, two, three!
North Final Cup Winners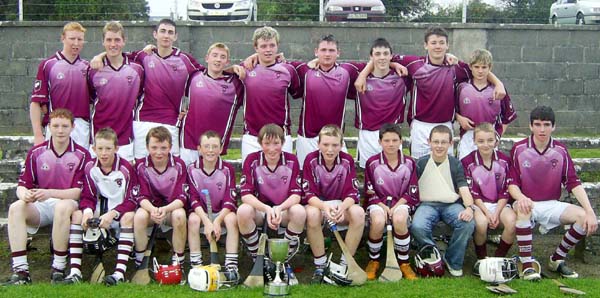 U 16 North Cup Final Winners

Back row (l-r) Damien Dunne, Dan McCormack, Danny Ryan (Capt.), Jack Bourke, Benny Harkins, Daniel Bergin, Barry Dwyer, Seamus Doolan, Darragh Ryan.
Front row (l-r) Seamus Howard, Shane McCormack, Liam Ryan, Thomas Ryan, Tommy Mockler, Cathal O' Connell, Dean Ryan, Michael Ryan, John Fitzgerald , Steven Shanahan

The Borrisoleigh under 16 B team took on Lorrha in the North final in Cloughjordan last Saturday. The Lorrha team started strongly with four unanswered points on the board before Borrisoleigh registered their first. A number of vital tactical changes were made in good time and as soon as the Borris men started scoring they kept in touch with Lorrha, heading in at half time only two points down. With all to play for the Borris team came out for the second half and through sheer skill, determination and teamwork emerged victorious with a three point winning margin. Borrisoleigh 1-16; Lorrha 1-13 the final score. Congratulations to the panel and their mentors on this fine victory. Borrisoleigh have some silverware to polish at last! The team is out again on Sunday, 5th October in Templemore at 5p.m. Your support would be appreciated.
Borrisoleigh U12 will take on Burgess in the U12 Hurling Plate on Friday October 3rd at 6pm in Kilcolman. Your support would be appreciated.
Danny Being 'Bean'!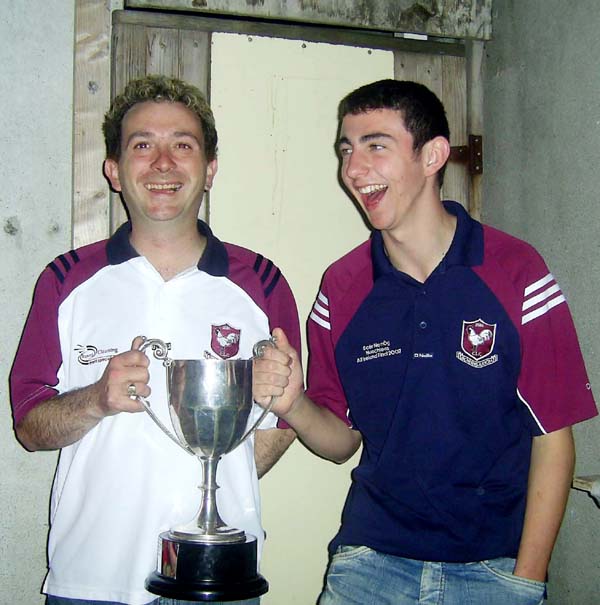 Jimmy and Danny keep a firm grip on their new found silver!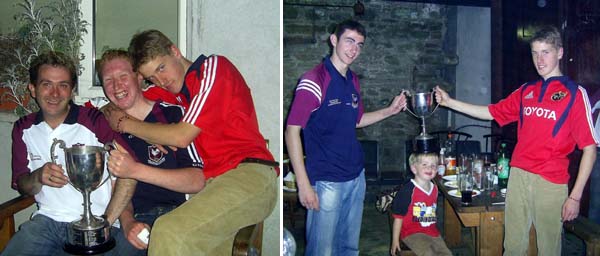 Jimmy, Damien and Dan cuddle up after the great win! While little Paddy McCormack helps Danny and Dan to keep the Cup aloft!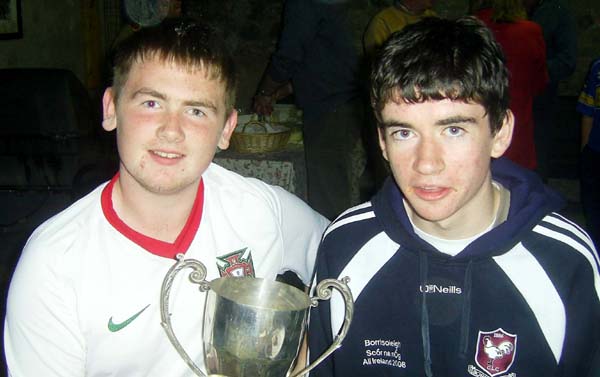 Daniel Bergin and Steven Shanahan take their turn to mind the Cup
First- Aiders on Hand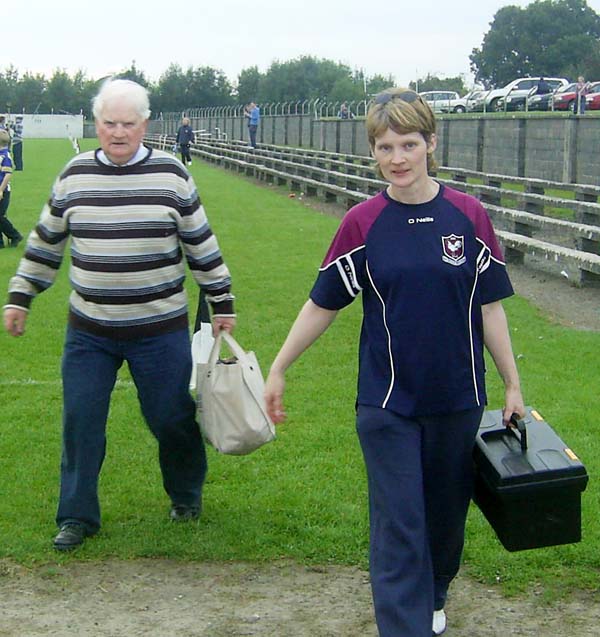 Jim and Paula with a determined look of action about them at the U 16 North Final in Nenagh last Saturday evening 27 Sept.!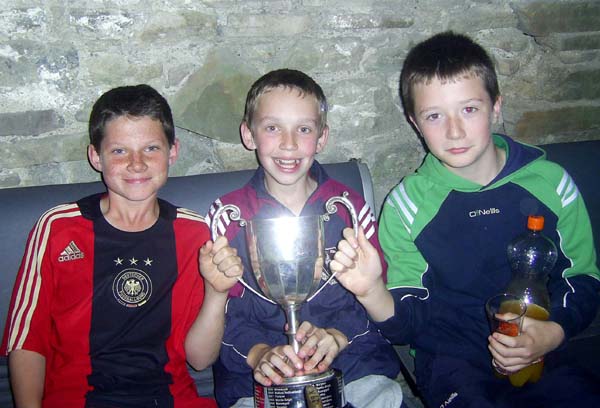 Dean Ryan, Shane Kenny and Eoin Stapleton try out the Cup for size
The Cup and the little people!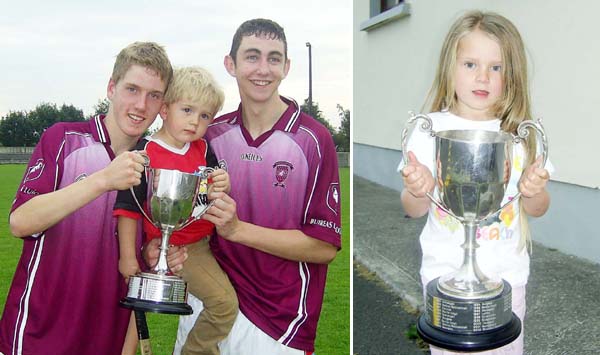 Dan and Paddy McCormack with Danny Ryan (Capt.) holding the Cup while Danielle Ryan is wonderin' what to do with it next!
Foróige Capers!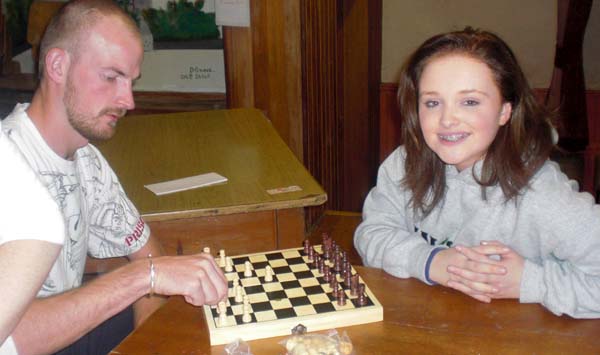 Tom Younge ponders his next move while Becky smiles for the camera!

In a bit of a twist!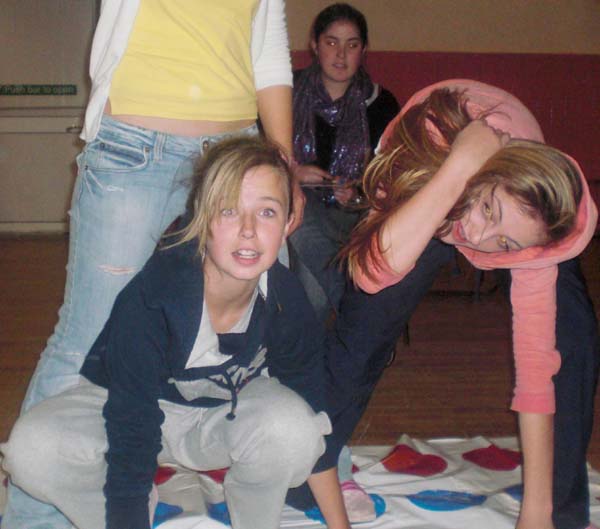 Nicole Walsh and Teresa Ryan in a bit of a bind really!

Cool Dudes!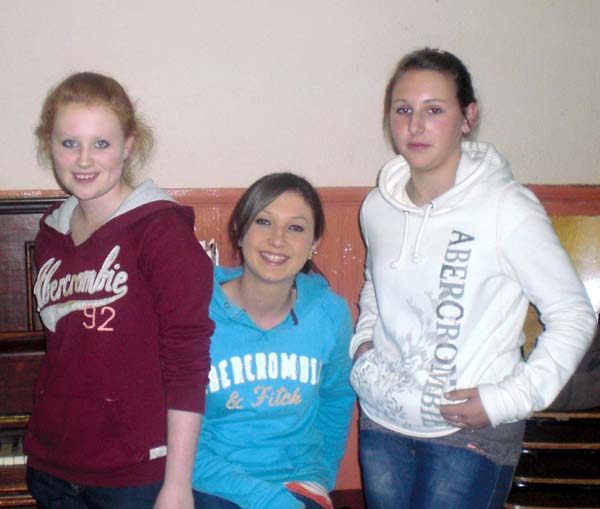 Grace Prior, Eimear Stapleton and Niamh McGrath looking cool and relaxed at the recent Foróige Club meeting at the Marian Hall on Friday 26 Sept.

Aaahh – isn't that sweet?!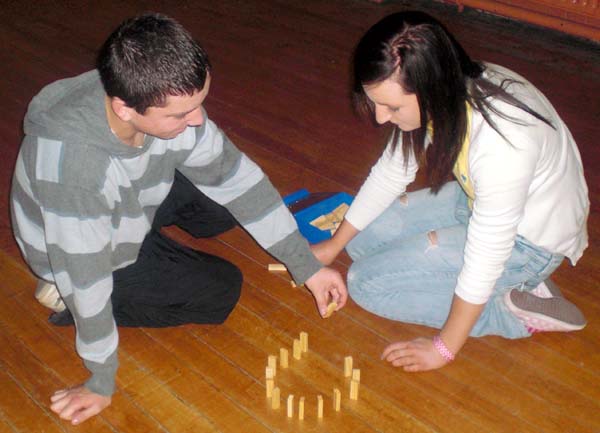 James and Aoife playing together!
Down Memory Lane… pic of the past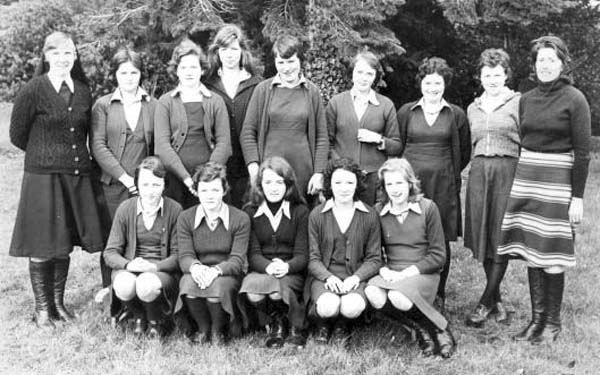 Convent of Mercy Secondary School – 1970s
Back;
Sr. Annette Brown, Mary Groome, Eileen Dwyer, Anna Small, Olive Carey, Mary Ryan, Mary McCormack, Patricia Young and Mary Keating (Teacher)

Front:
Anna Ryan, Glenarisk, Marie O'Neill, Mary Boyle, Catherine Boyle and Ann Stakelum

Marian Hall Lotto

30/09/08

Numbers: 05, 12, 18, 21

No Jackpot Winner

5 match 3 winners @ €30

Mary Bourke, Nenagh
Pauline O'Connor, Summerhill
Rita Kennedy, Templetuohy
Lisa Ryan, Main Street
Louise Comerford, Nenagh

Next Weeks Lotto Jackpot

€6,450

**************************************************

News items, photographs, upcoming events etc. from home and away should be sent to

The success of this site depends on you!!!

**************************************************