All the way from Kitui, Kenya!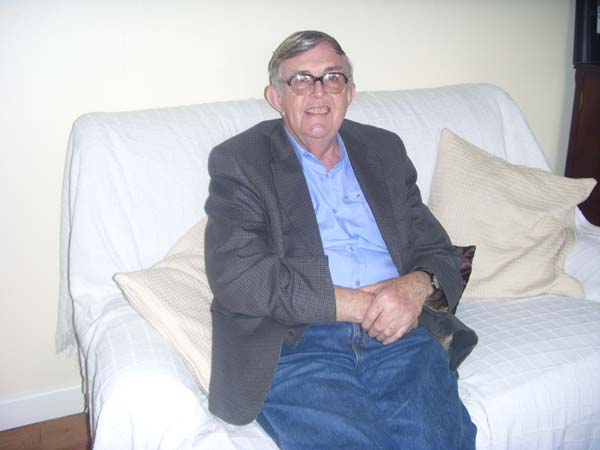 We welcome home Fr. Liam Kelly who is presently on holidays in his native Ileigh with Austin and Helen. Fr. Liam is with St. Patrick's Missionaries, Kiltegan and last December he celebrated forty years of priesthood and forty years working on the missions in Kitui, Kenya. We wish him a very pleasant holiday among us and 'ad multos annos' in his ministry.

Will the real Josie Treacy please stand up???


Josie Treacy (Snr) with her daughter Josie while attending the Golden Jubilee of Sr. Evelyn Russell met up with another Josie Treacy (Cooney) formerly from Fantane, who was at her nephew's wedding. Both celebrations were held at the Keadeen Hotel, Newbridge.

Nurse Mary Retires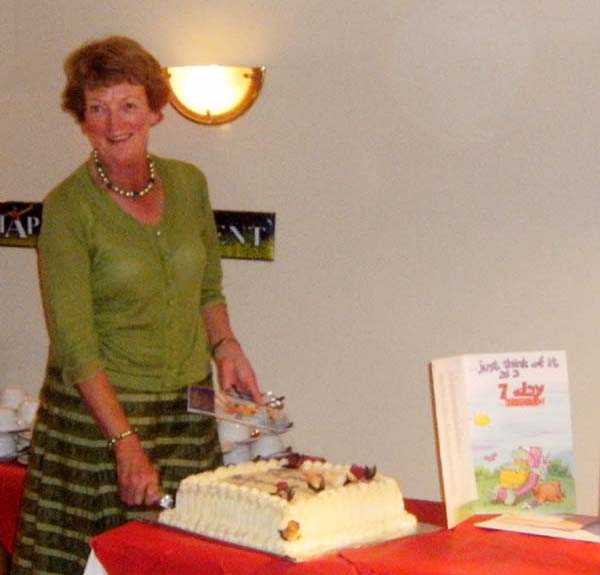 Mary cuts a celebratory cake at her retirement function at Templemore Golf Club on Thursday 18 Sept.
Mary Ryan of The Glebe who served as a public health nurse in the Borrisoleigh / Upperchurch / Kilcommon area for 35 years has recently retired. Her retirement was officially marked at a special function held in her honour at the Templemore Golf Club on Thursday 18 Sept. At the gathering were friends, family and colleagues who marked this significant milestone in Mary's life.
A presentation was made to Mary by Helen Harris (Director of Public Health). A bouquet of flowers was presented by Nurse Mary Tierney. Many tributes were paid to Mary, each fulsome in their praise of her dedication to her work and the manner in which she carried it out. A great and lively night was had by all with music and dance galore! We wish Mary the long life and health that she was so instrumental in providing to others over all those years.
Mary's successor is Nurse Aisling Gleeson of Killoskehane. We welcome her to the area and we wish her all the very best in her work for the local community.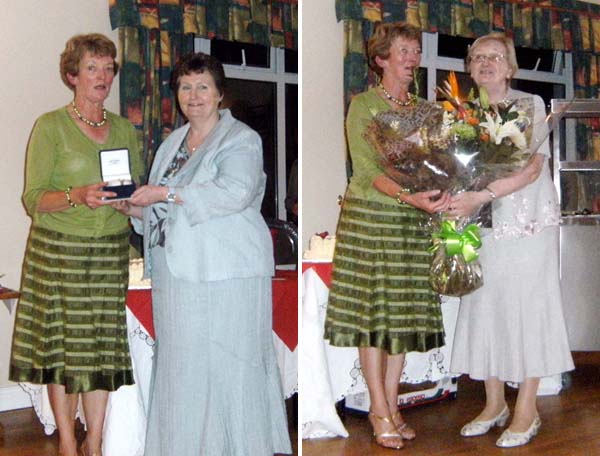 Mary receives presentations from Helen Harris and Mary Tierney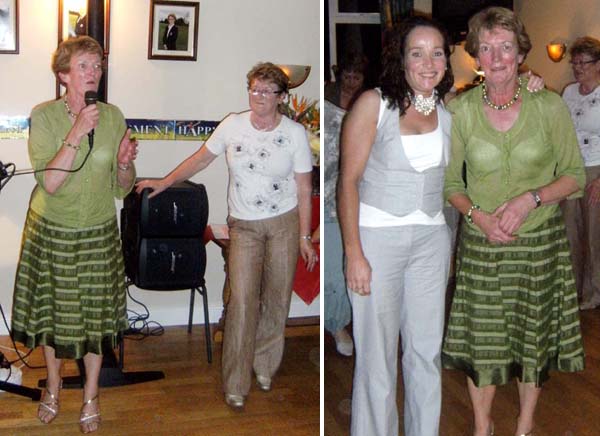 Mary says her few words and stands with her successor Nurse Aisling Gleeson
Three lovely nurses from Borris!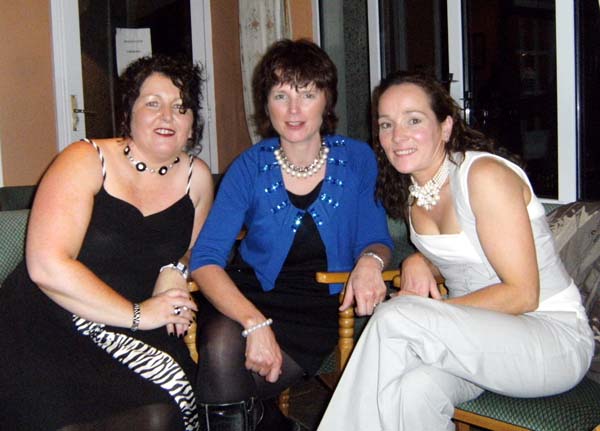 Teresa Maher, Noreen Boyle and Aisling Gleeson – Borrisoleigh's Florence Nightingales!

May He Rest in Peace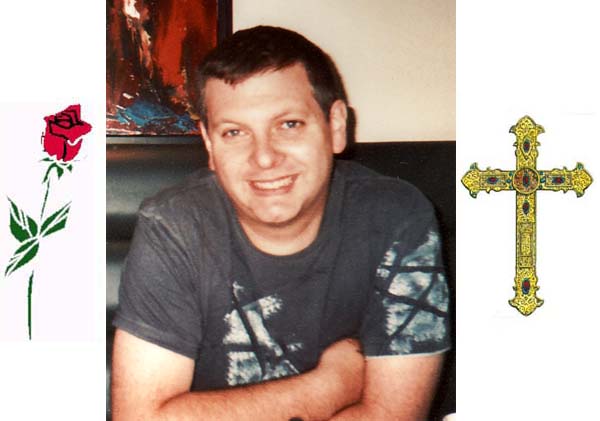 Tomás Max RIP
We record the death of Tomás Max of 5 Knocknevin Borrisoleigh following an accident. His remains will repose at his residence from 5p.m. to 8p.m. on this Thursday evening 25 Sept. with removal to the Parish Church on Friday morning. His Funeral Mass will take place on Friday at 11.30a.m. in The Sacred Heart Church with burial immediately afterwards in St. Brigid's Cemetery. We extend our deepest sympathies to his family and friends.
Brenda and Cathal Marry in Ileigh
Cathal and Brenda Ryan on the day of their wedding
Congratulations and best wishes to Brenda Ryan of Currabaha and Cathal Ryan of Oatfield, Templederry who were married in Ileigh Church on Thursday Sept. 18th. Their Wedding Reception was held at Inch House Hotel and the happy couple are currently on a Mediterranean Cruise which will culminate with a touring holiday in Italy.

The Bridal Party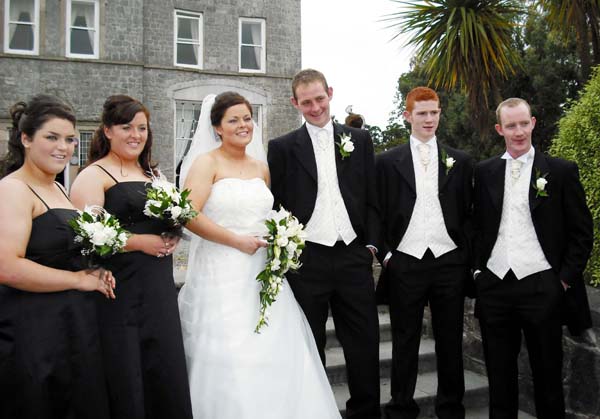 Brenda and Cathal with Brenda's sisters Eiméar and Sinnéad and Cathal's brothers Tom and Padraig

Caroline Graduates from UCC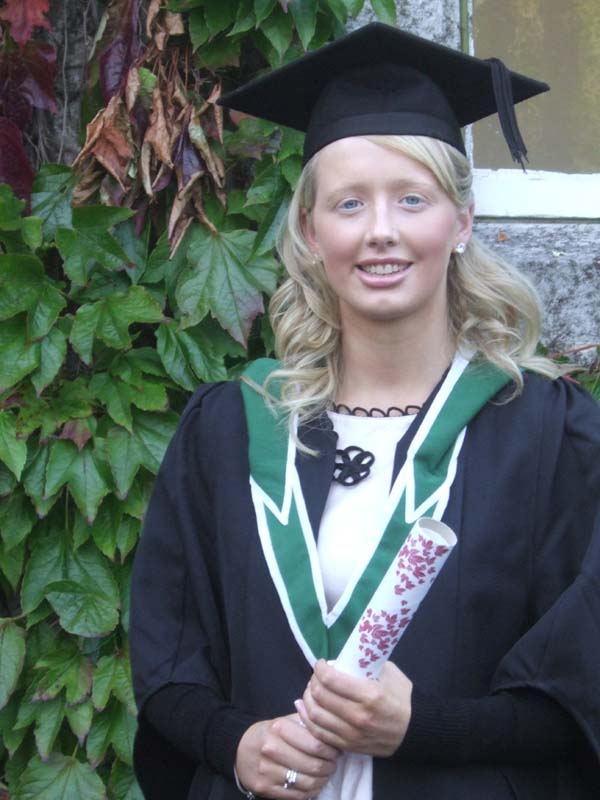 Caroline Kenny pictured on the occasion of her recent graduation from University College Cork with a Batchelor of Arts Degree on Thursday 11 Sept.
You never know who you might meet!
Seán & Shane Kenny, while down for Caroline's graduation, met John Gardiner & Seán Óg Ó hAilpín (Cork senior hurling team) on College Road.
Defibrillator Programme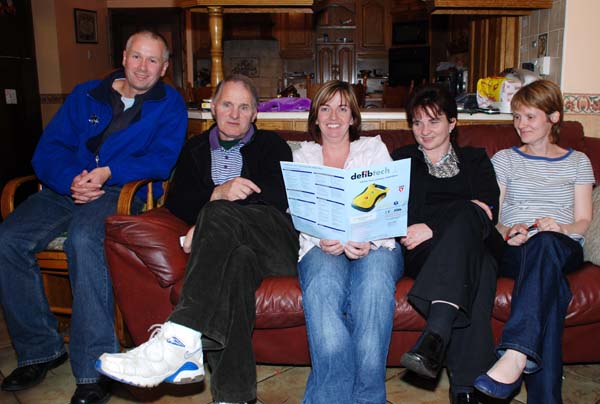 Borrisoleigh Life-Savers Action Committee Members: Christy Reid, Paddy Dolan, Una Shanahan, Christina O'Dwyer and Paula Ryan

Borrisoleigh Life-Savers Action Group is moving on with their project and are about to purchase the defibrillators for the community. They want to say, again, a very big 'Thank You' to everyone who contributed in any way to help them reach their goal. Training personnel in the use of same will commence shortly. Anyone interested in training are invited to contact any member of the committee regarding same. Paula Ryan
(087) 9035949
; Christina O'Dwyer
(087) 2672282
.

Who let the dogs out?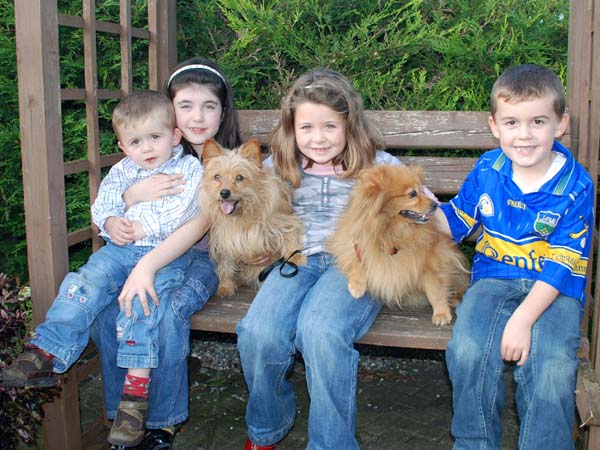 Tadhg, Maeve, Shaneen and Oisín Stapleton with Susie and Polly while out for a walk last Saturday 20 Sept.
From Borris to Chad – to lend a helping hand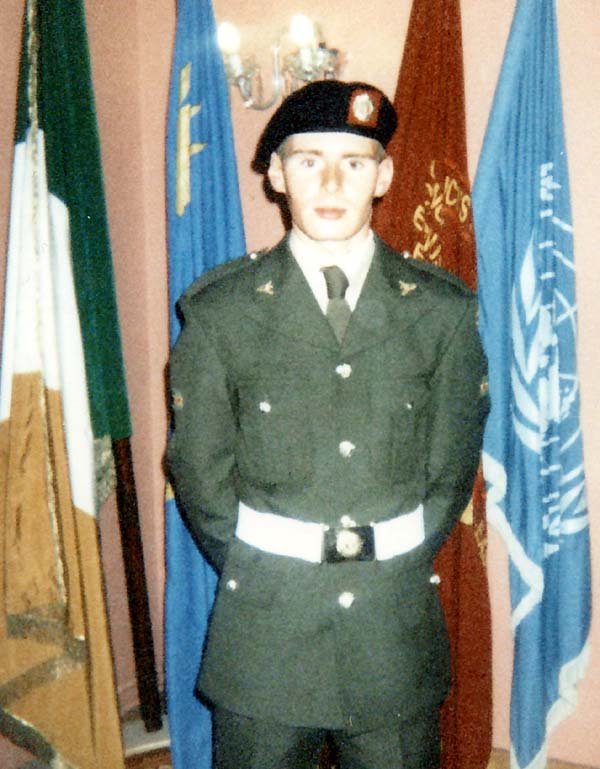 Gunner Padraig Dolan will head out for Goz Beida in Chad on October 7th. The 98th Infantry Batallion will do a tour of duty lasting 4 months. More than 390 soldiers will travel to provide much needed help to over 500,000 refugees. Best of luck Padraig.
Parish Centre Project

Borrisoleigh Parish Renewal Group members: Fr. Liam Everard PP, Kay Ryan, Catherine Ryan, Brigid Hennessy, Gerard Ryan, Biddy Stapleton, Frances Kennedy, Mary Kenny and Noreen Ryan

The Parish Renewal Group are inviting representatives of all parish groups to an open meeting in the Boys' National School at 8P.M. on Monday 6 October. This meeting is to help organise fund raising for the proposed Parish Centre. As this Centre will serve many needs in the community your support will be greatly appreciated.
Hospice Coffee Morning at Ballyroan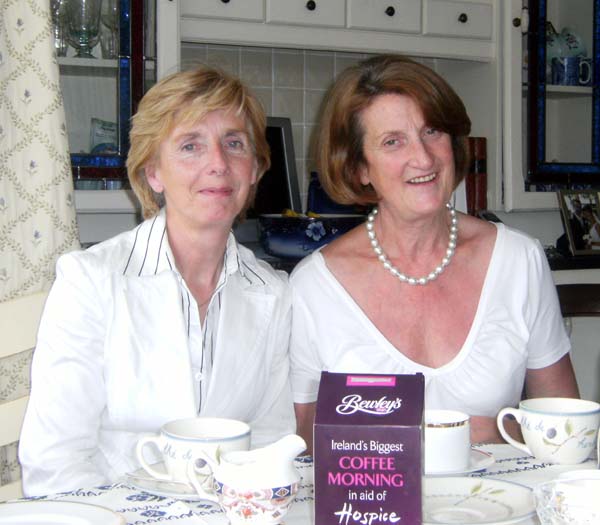 Breed Cowan and Marie O'Connell at the coffee morning hosted by Marie last Thursday 18 Sept.



On Thursday 18 September a coffee morning was hosted by Marie O'Connell of Ballyroan. This was held in aid of Hospice and was only one of many, many coffee mornings that were held up and down the country on that day.
Marie's coffee morning was very well supported by neighbours and friends and she is very happy to report that already she has collected in excess of €1000 for Hospice. All funds raised locally are kept locally, so by giving to this worthy cause you are directly supporting North Tipp Hospice. Well done to all concerned.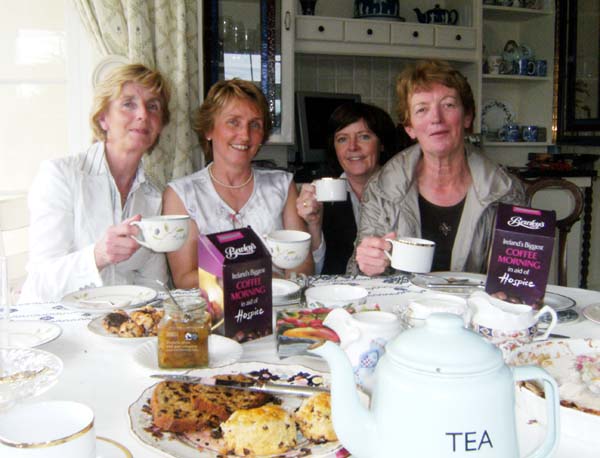 Breed Cowan, Marion O'Mahony, Catherine Ryan and Mary Ryan enjoy a morning coffee at Ballyroan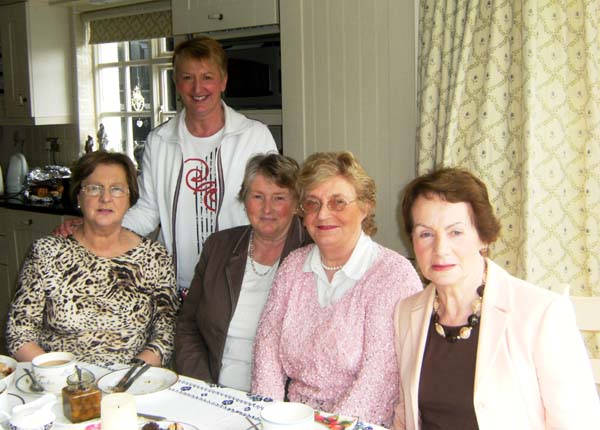 Sheila Ryan, Nancy Lynch, Margaret Kelly, Mai Ryan and Noreen McGrath at the Hospice Coffee Morning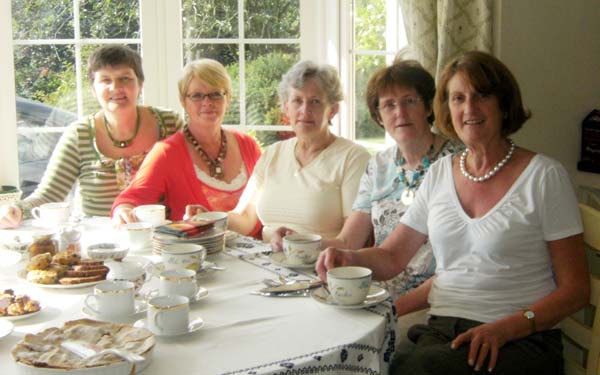 Teresa Stapleton, Breda Jackson, Mary Ryan, Jody Delaney and Marie O'Connell enjoying 11s at Marie's!

Dancing Classes Resume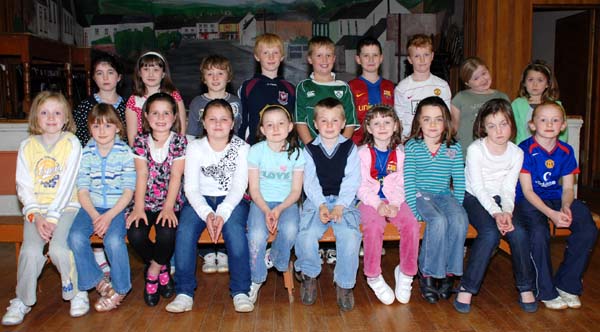 Dancing classes resumed in the Marian Hall on Monday night last 22 Sept. Beginners (4 yrs and older) are asked to come to the 6:45 P.M. class on Monday evenings. All are welcome.
Coal House makes way for Medical Centre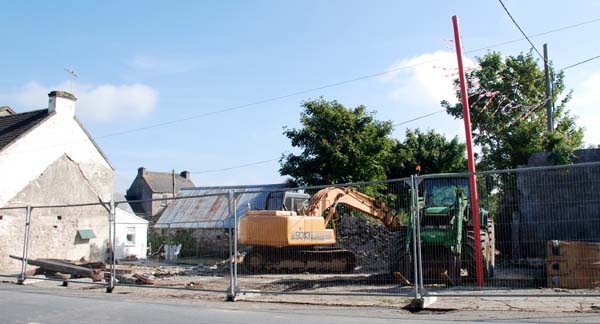 Work has commenced at Pallas St. on the new Medical Centre. Dr. Kevin Delargy's new premises will replace the late Joe Prior's coal shed which operated business from here for many, many years. We hope that this location in our community will replace keeping people 'warm' with keeping them 'healthy'!

Brushing up for the Winter!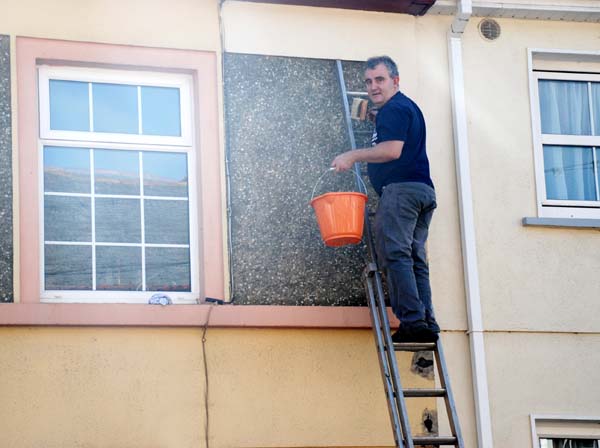 Michael Lyons of Upper Main St doing a little Spring cleaning in the Autumn on what seemed like a Summer's day!
Golden Jubilee Celebration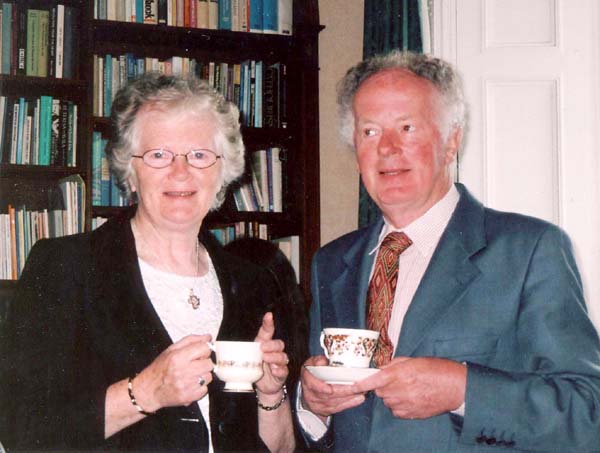 Sr. Evelyn Russell pictured here with her brother Thomas on the occasion of her Golden Jubilee which she celebrated at The Keadeen Hotel Newbridge on Saturday August 30th last.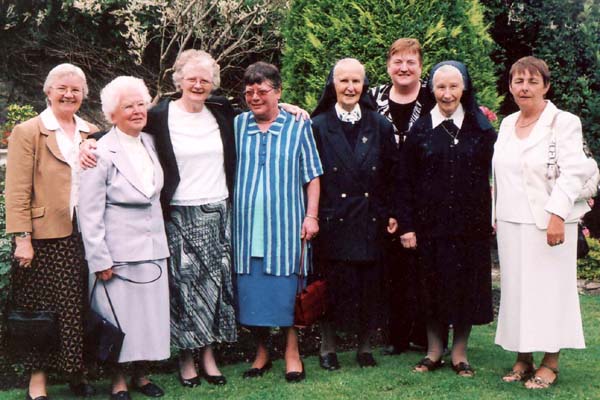 Sr. Evelyn with friends at her Golden Jubilee celebrations recently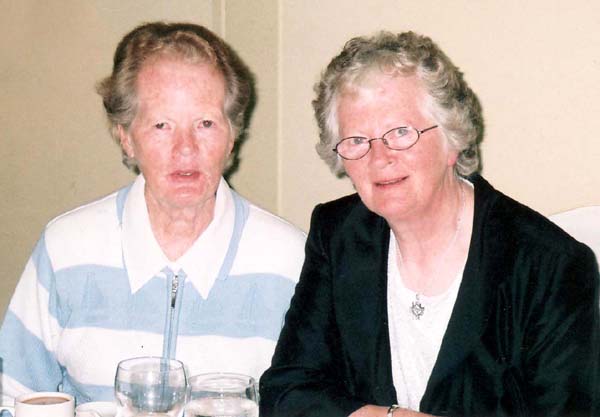 Sr. Evelyn with her sister Sr. Josephine, a missionary sister with the Holy Rosary Sisters (founded by Bishop Joseph Shanahan) in Cameroon, Africa.
Back at her
desk…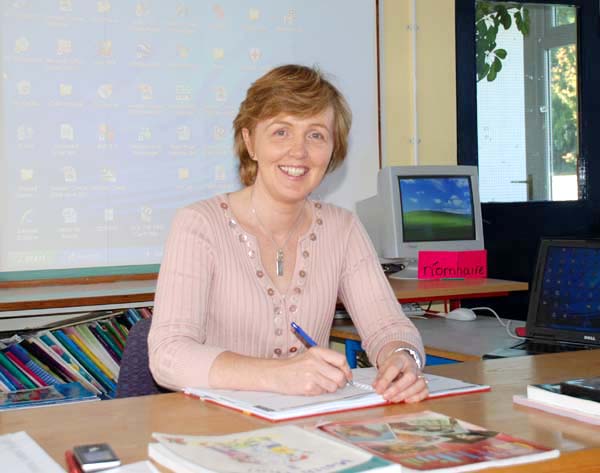 Mrs. Kay Ryan, Principal of St. Patrick's Boys' N.S. back in the classroom
Kay Ryan has returned to school following secondment to the Department of Education and Science for the past two years. During this time she worked as Arts Cuiditheoir with PCSP (Primary Curriculum Support Programme). As Arts Cuiditheoir for Region 4 which comprises Cork, Limerick, Kerry and North and West Tipperary, Kay acted as a consultant for teachers in the implementation of the Primary School Curriculum in Visual Arts, Music and Drama. She delivered seminars to teachers, presented demonstration lessons in schools throughout the region for individual or groups of teachers, designed and presented evening workshops and summer courses in addition to designing and compiling resources for the PCSP website (
www.pcsp.ie
) and articles for In-Touch, the INTO magazine. Welcome back Kay!
Back at his desk too!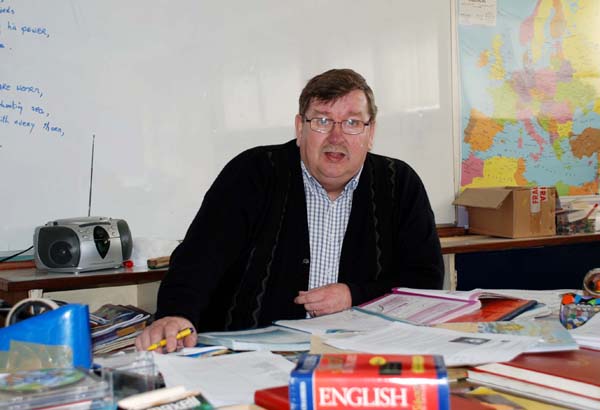 Mr. Michael Small, retired Principal of St. Patrick's Boys' N.S. back on duty, filling in for Mrs Maeve Slattery until her return in October

Marian Hall Lotto

23/09/08

Numbers: 11, 15, 22, 23

No Jackpot Winner

1 match 3 winner @ €150

Noreen Dunne, Thurles

Next Weeks Lotto Jackpot

€6,300

Down Memory Lane… pic of the past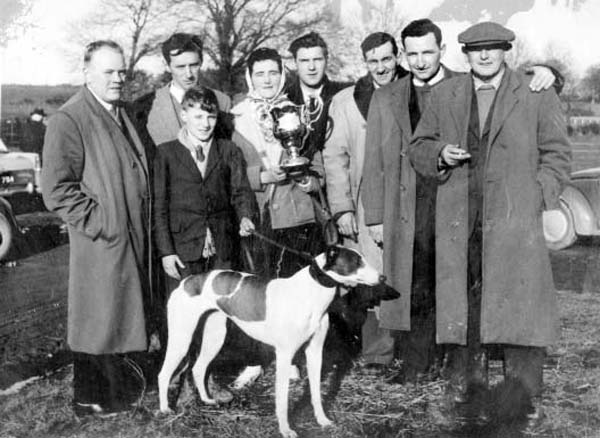 "Simply Terrific"
Pictured here with "Simply Terrific", a greyhound owned by Seán and Phibby Kenny are: John Fielding, Phibby Kenny, Pat Harty (in front), Imelda Kenny, Bookmaker's Clerk, Jimmy Kenny, Seamus Hynes and Lukie Larkin. This greyhound won The Oak's in 1961 and The Irish Cup in 1962. It was the only greyhound to achieve this.
**************************************************
News items, photographs, upcoming events etc. from home and away should be sent to

info@borrisoleigh.ie
The success of this site depends on you!!!

**************************************************