Wedding Bells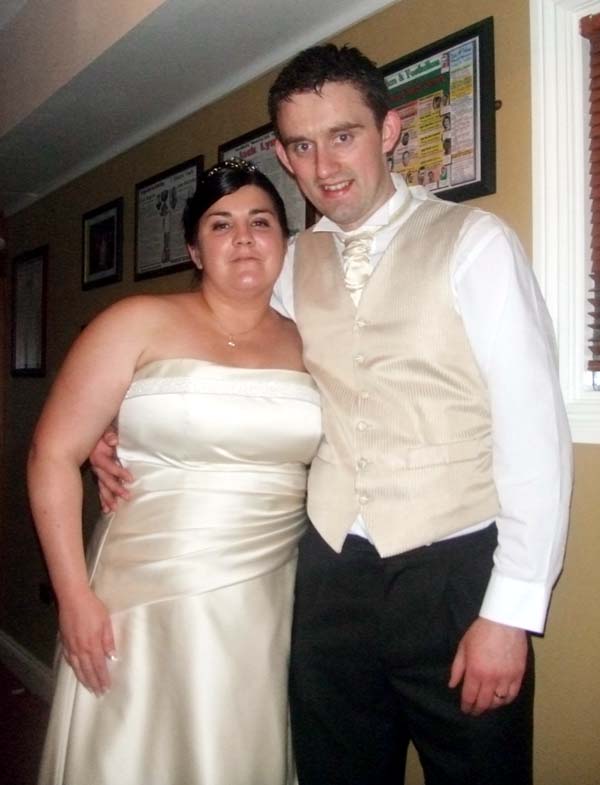 Pauline Kennedy of Pallas Street and Brendan Fanning of Killenaule on the occasion of their marriage at the Sacred Heart Church, Borrisoleigh on Friday September 12th. Their wedding reception was held in The Templemore Arms Hotel and Pauline and Brendan are currently on honeymoon in Lanzarote. Congratulations!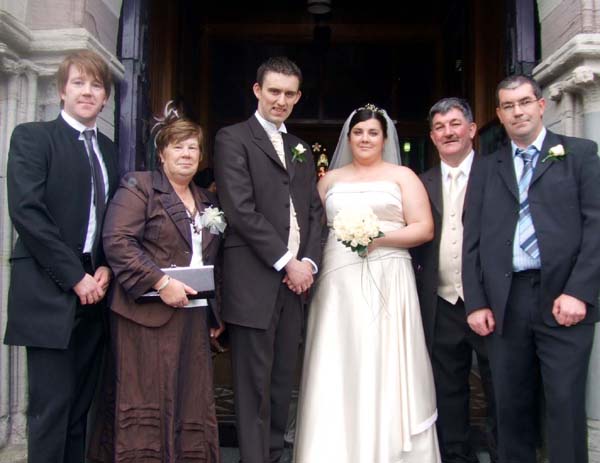 Pauline and Brendan with Pauline's family after the wedding ceremony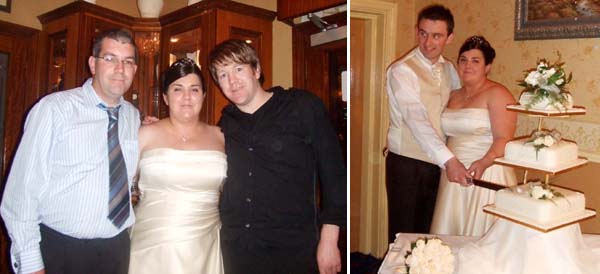 Pauline with her brother's Anthony and Declan and with her new husband Brendan cutting the cake

The night after the day before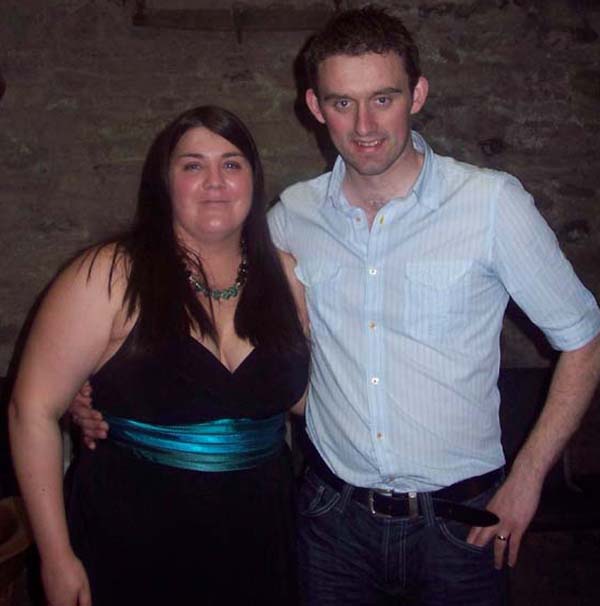 Pauline and Brendan Fanning celebrating in Stapleton's the day after their wedding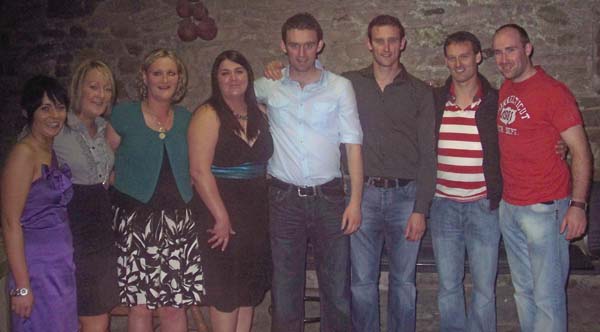 Lillian Treacy, Lucy Bourke, Jacinta Kearney, Pauline Fanning, Brendan Fanning, Declan Fanning, Tony Shelly and Tony Doyle.

Josephine and John tie the knot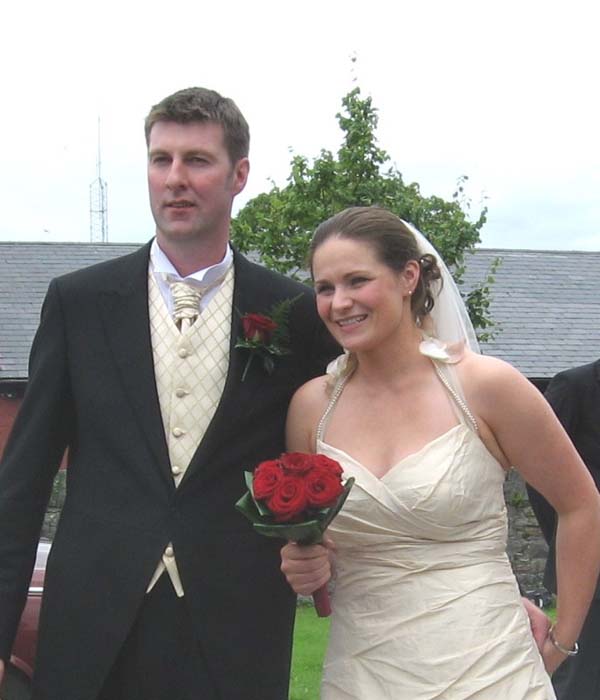 John Begley and Josephine Ryan after their marriage at the Sacred Heart Church
Josephine Ryan of Glenbreeda recently married John Begley at the Sacred Heart Church, Borrisoleigh. Thier wedding reception was held in the Abbey Court Hotel, Nenagh and the happy couple went on honeymoon to Italy. Congratulations!
May She Rest in Peace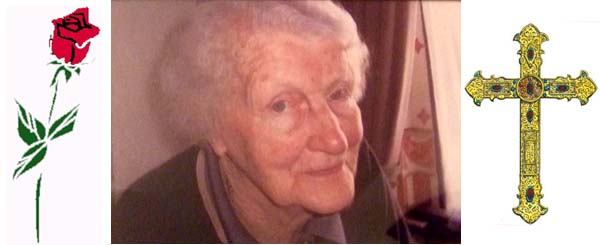 Josie Kent R.I.P.
We record the death of Mrs. Josie Kent of Fort View Borrisoleigh. Josie died at Nenagh General Hospital in the early hours of Tuesday, September 16th. Her requiem Mass will be at 11:30 A.M. on Thursday September 18th in The Sacred Heart Church, Borrisoleigh with burial immediately afterwards in St. Brigid's Cemetery. We offer our deepest sympathies to her family and loved ones. May she rest in peace.
Camogie 7s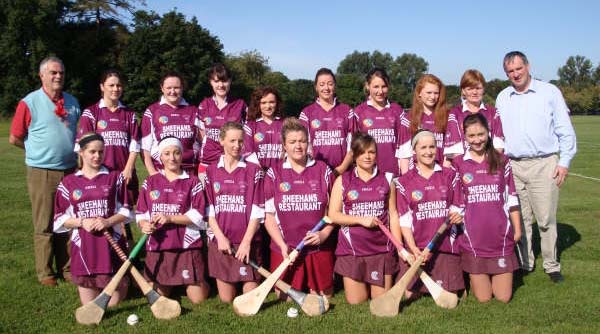 Borrisoleigh's Camogie 7s Team

This is the first ever Borrisoleigh Camogie team to play in the All- Ireland 7-a side tournament; it was held on Sat 13th in UCD, Dublin. They played three matches on the day against strong opposition from Clare, Wexford and Dublin. Although they had little success on the day, spirits were high and a great day was had by all players and supporters. Many thanks to the selectors Philly Bourke, Pat Kavanagh and Carmel O' Brien. Well done to all involved.
Junior B Hurling North Quarter Final
Congratulations to Borrisoleigh Junior B team who played Templederry in Templederry Saturday last 12th September and go on to play Ballina in the North Semi Final.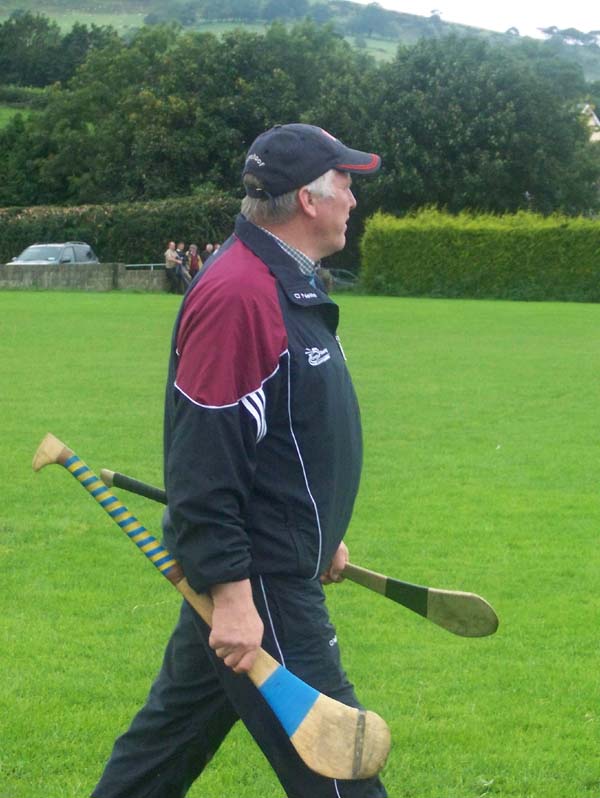 John Keane, selector making sure that a shortage of hurleys will not be a problem!
Three generations of Ryans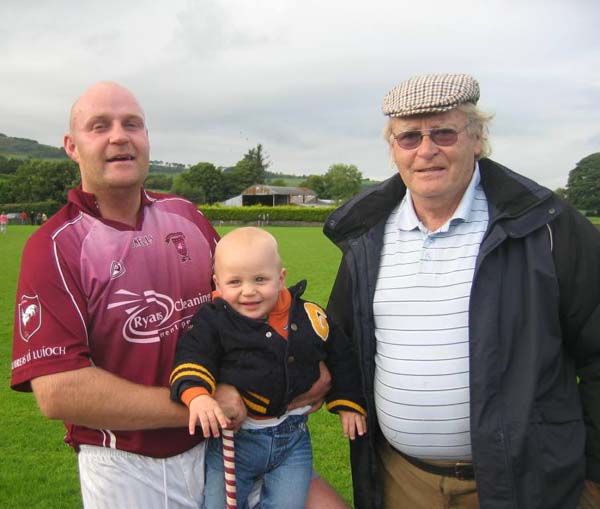 Mossie Ryan, his son Cormac and his father Pat pictured after the match in Templederry. We would also like to extend our congratulations to Mossie and his wife Marcella on the birth of their twins Killian and Aoife. Busy times ahead!!!

Girl Power!!!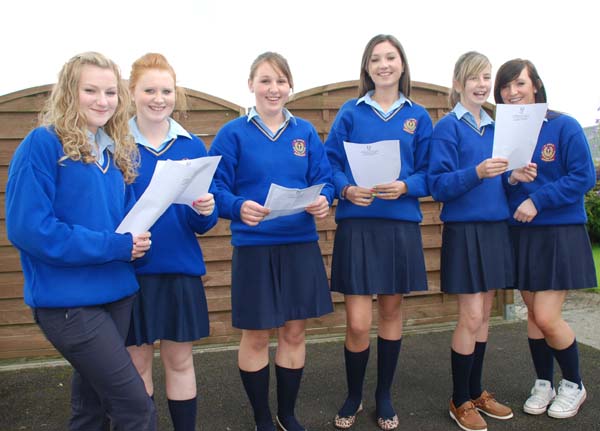 Smiley happy faces…
Noirín Stapleton, Grace Prior, Niamh McGrath, Eimear Stapleton, Nicole Walsh and Aoife Stapleton all seem happy with the results of the Junior Cert. Examinations. The results were out on Sept. 10th with more than forty students taking the examination at St. Joseph's College. Most of the class celebrated by heading off to Jumbos Restaurant in Thurles for a sumptuous meal. A great night was had by all. We wish all of our local students the very best of luck as they face into another school year.
Off to Oz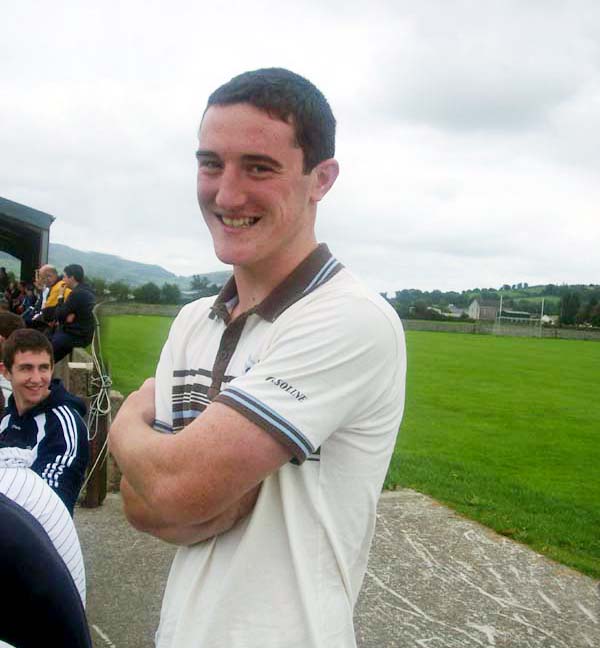 Martin Ryan of the Glebe is pictured here shortly before he went south for the winter and possibly a little longer!!! Martin has been involved in the setting up of our local website and we wish him the very best on his travels. No doubt he will be a big contributor to www.borrisoleigh.ie from down under, keeping us posted as to what's happenin' at the other side of the world. We miss you Martin, wish you were 'ere!!!
Setting out their Stall!



Siobhan and Jamie Groome pictured at the Thurles Farmers' Market recently

Country Market

Anyone interested in setting up or being involved in a country market in Borrisoleigh please contact 086 – 8068616 or 087 – 6166225.


Your Website Needs You!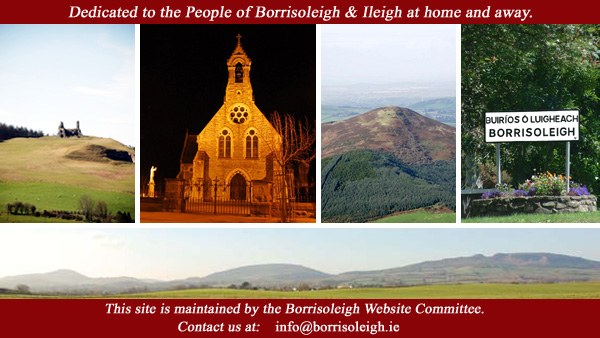 Ever since we launched our website last May we have been very encouraged by the level of support and enthusiasm for it. Our guestbook on the site is testimony to the fact that many, many people from all over the world are logging on each week to see what's going on in Borris. This is great news for us.
Our hope for the future is to be able to continue to provide news and snippets of information about what is going on in our community on a weekly basis. This challenge is our goal! However, we need your help to continue to make it happen. If anything, these last few months have shown that there is always something going on it the locality. We want to share the interesting facets of the people and places that make up Borrisoleigh & Ileigh.
We are particularly interested in hearing from Borrisoleigh emigrants from all quarters of the globe. Let us know what you're up to – send us a photo or two with a few lines of text to accompany it. We would be delighted to share your story on our site. Send your contribution to info@borrisoleigh.ie
Finally, if you would like to become a regular contributor to our site, we would love to have you on board. The more contributors we have the greater the variety and the more interesting the site will be. Send us an email if you are interested (info@borrisoleigh.ie) or contact one of the members of the Borrisoleigh Website Committee. Please note that involvement does not require you to attend meetings. Any work can be done from home in your own time!


The Graduates!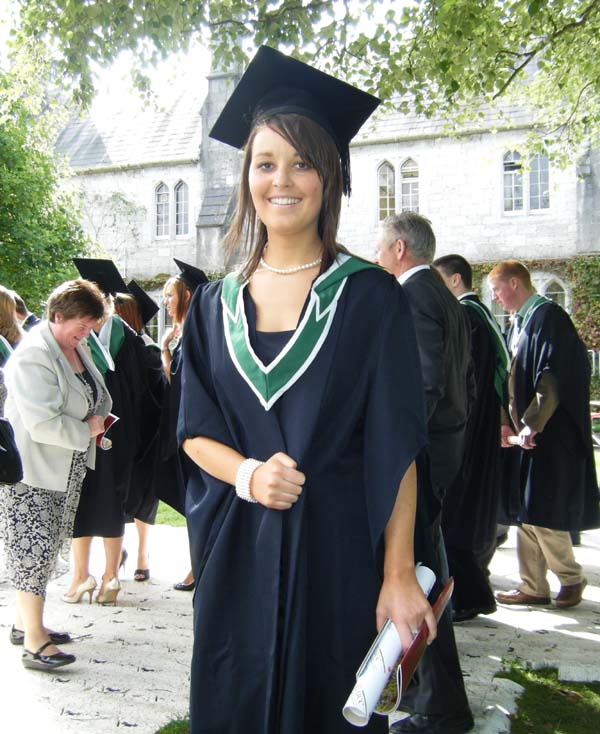 Gemma Mockler of Nenagh Road on the day of her Graduation from UCC
Gemma Mockler studied for a Batchelor of Arts in Geography and Economics and received a Second Class Honours Degree. The graduation ceremony took place at the College on Thursday Sept. 11th. Gemma is returning to college this year to do a Post-Graduate Diploma in Business Economics. We wish her the very best for the future.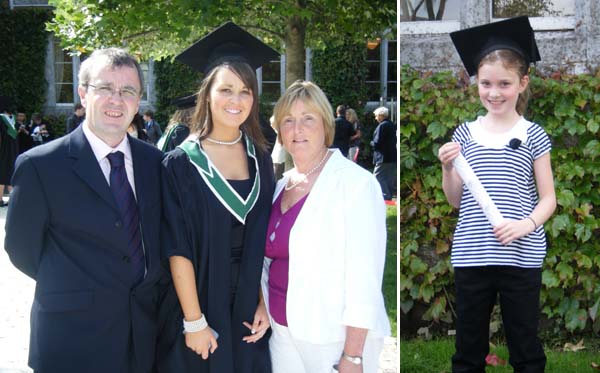 Gemma with her parents Pat and Phyllis and her sister Tara trying out the kit!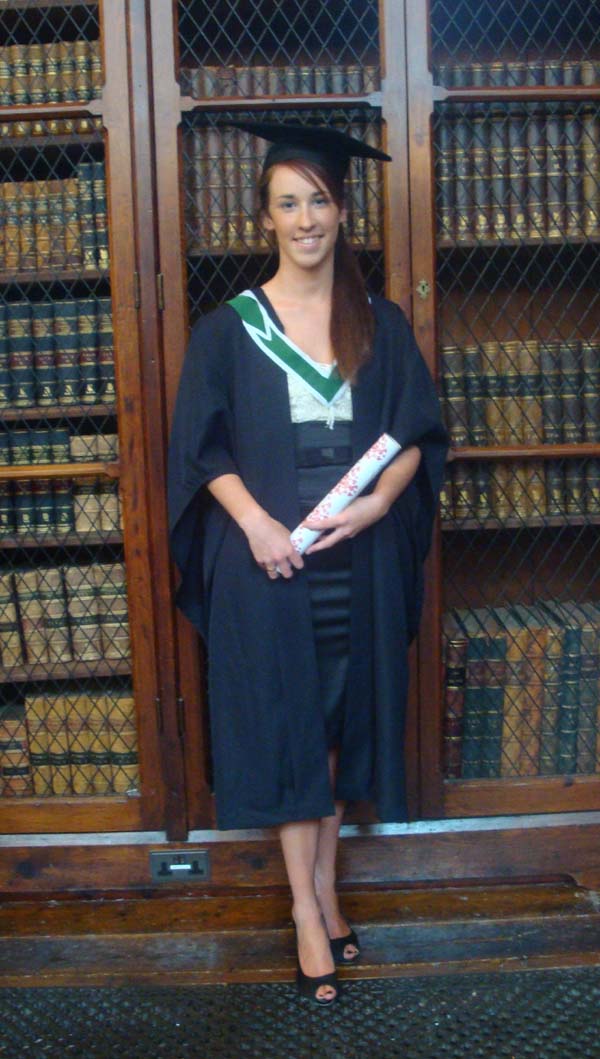 Congratulations to Deirbhile O' Mahony who also graduated from UCC on Thursday September 11th 2008.


The New Recruits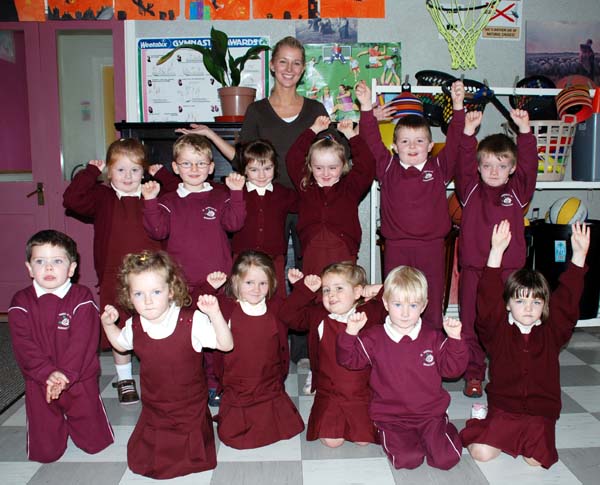 Junior Infants Class at St. Theresa's National School with their teacher Miss Dawn McCarthy

1st Class – Different Class – Top Class!!!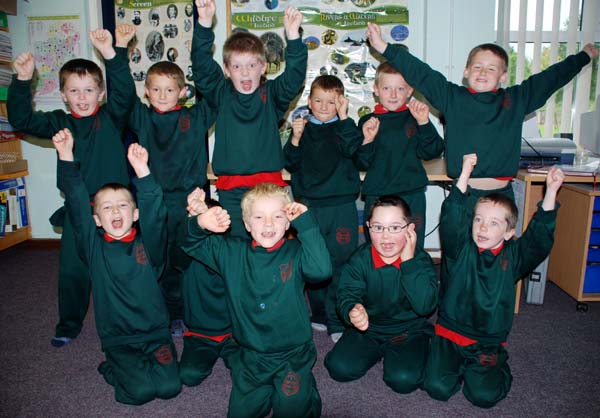 The new kids on the block at St. Patrick's Boys' National School

Macra Farm Skills Competition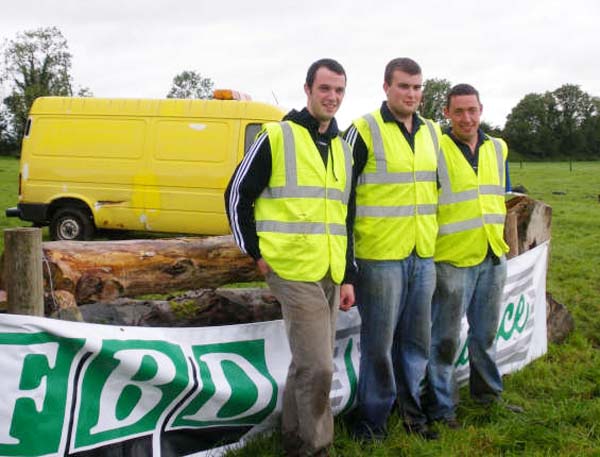 The skillful trio – Matt Ryan, Matthew Carey and Eamon Ryan


Clodagh Macra competed in the National Final of the Farm Skills Competition. Eamon Ryan, Matt Ryan and Matthew Carey (brother of Majella) represented us in the final held in Gurteen Agricultural College on Sat 23rd /Aug. The competition was based on 4 main areas: tractor teamwork, farming knowledge, driving fencing posts and stock proof fencing/gate hanging. Clodagh's team displayed expertise in all these areas but unfortunately were beat on the day by a team from Co. Wicklow who put a lot of emphasis of farm safety.
Bin there – Dump that!!!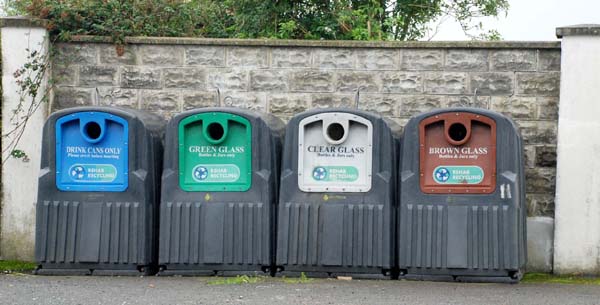 Some of the most recent exciting news in our community concerns the relocation of our recycling bins from the entrance to the Mount George housing estate to outside Borrisoleigh Town Park, on the Thurles road! The new positioning of the bins has obvious advantages, not least of which is the availability of safe and convenient off-road parking. This will eliminate the traffic congestion which sometimes occurred at the other location. Also the ground surface surrounding the bins is now more appropriate when compared to the muddy surface at the old site.
The issue of rubbish being left around the bins will unfortunately remain no matter where the bins are unless people take pride in their community and take their packaging home with them! Bottle banks should be used for 'exactly what it says on the tin'! – Bottles!!!
Does the positioning of the bins on the main route into Borrisoleigh from the Thurles side portray the village in a positive or negative light? In these days of environmental awareness it can only paint Borrisoleigh in a good light, showing how serious the village is in trying to keep our area green and in doing our bit for the environment.

Borris-Ileigh GAA Lotto
Thursday 11th September
Jackpot: €13,400 (Not won)
Numbers: 3, 7 20 & 23
€50 Lucky Dip winners:
Angela Butler, Borrisoleigh
Gerry Younge, Curraleigh
Martin Maher, Cullohill
Pat Power, P & G
Next draw: Thursday 18th September, in Stapleton's The Cross of Pallas
Jackpot: €13,400

Don't forget to check out Borris-Ileigh GAA club news in our Sport menu http://www.borrisoleigh.ie/showClubNews.php?id=1
Marian Hall Lotto
16/09/08
Numbers: 12, 16, 18, 23
No Jackpot Winner
1 match 3 winner @ €150 each
M. Gavin, c/o Bingo
Next Weeks Lotto Jackpot
€6,150

Pic of the past…down memory lane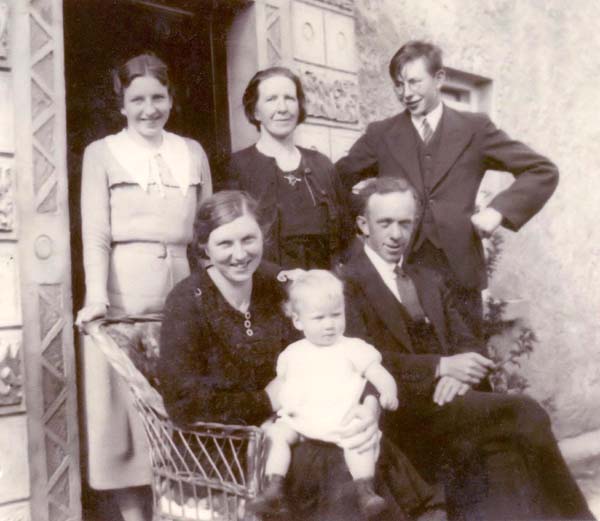 Mrs. Peg Price (Bourke), Johanna Bourke, Tom Bourke, Anne Tierney (Bourke), Michael Tierney and (baby) Mai Tierney


**************************************************

News items, photographs, upcoming events etc. from home and away should be sent to
info@borrisoleigh.ie
The success of this site depends on you!!!

**************************************************