Goings-on in The Park


Inaugural visit by the twins!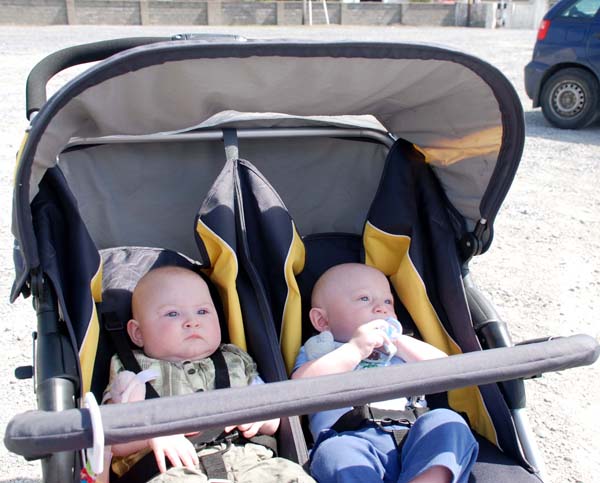 Amy and Eoin Ryan of Coarsepark check out The Park for the first time!

Welcoming Party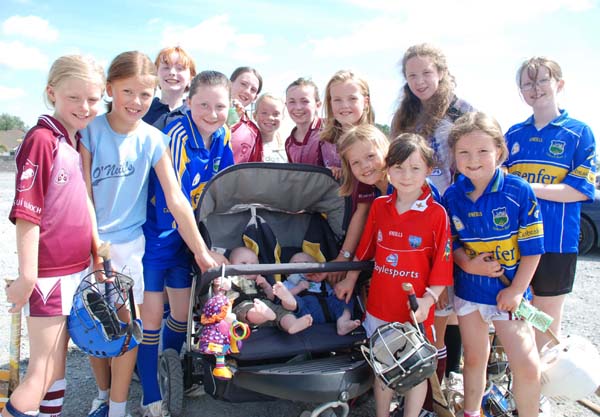 A large welcoming party check out the twins on their visit to The Park

Hurlers on the ditch (or at least by the wall!)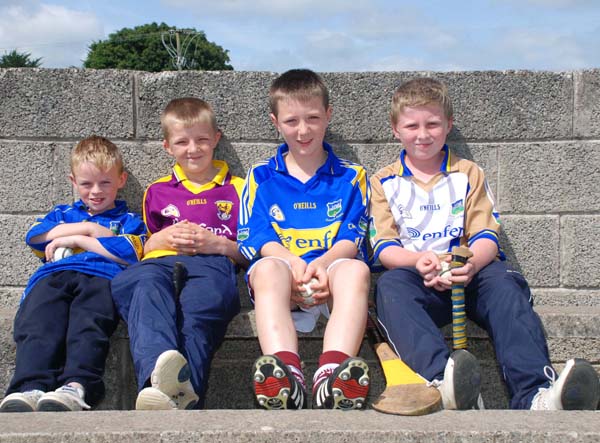 Harry Young, John Ftizgerald, Eoin Stapleton and Declan O'Connell relax at The Park recently

Boys will be boys!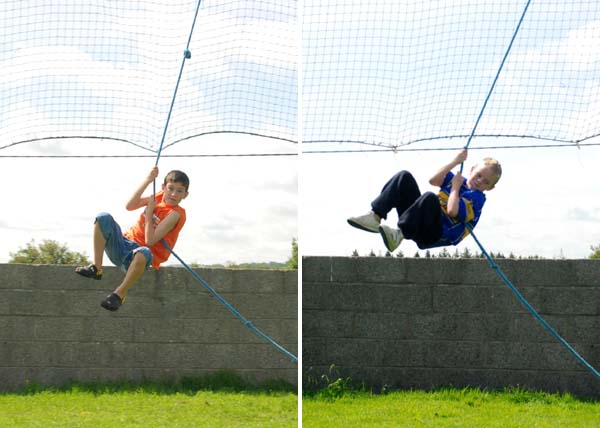 Nickey Cooney and Harry Young take to the air at The Park recently

Father and son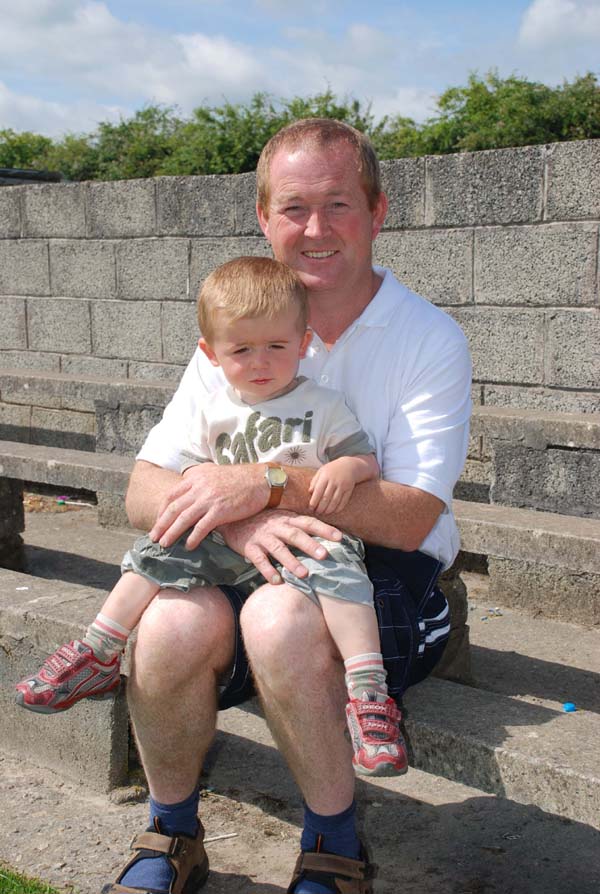 Tom Stapleton and his son Tadhg at The Park

Going for the high ball!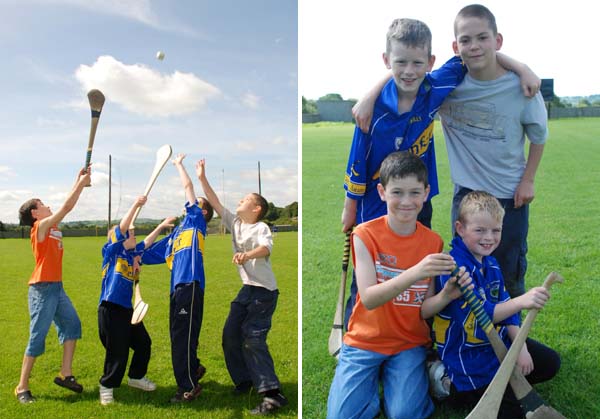 Nicky, Harry, David and Franz stretch for the high ball at The Park on Saturday July 10th
Saying 'Hello' to the neighbours!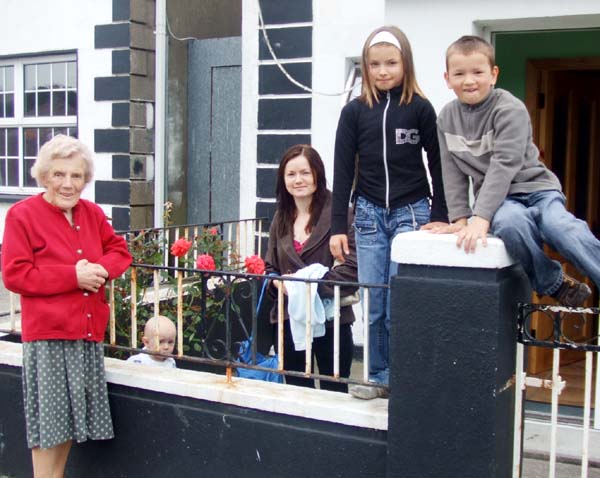 Ida Costello having a morning chat with her Latvian neighbours baby Patrick, Corina, Christina and Alvis
Meeting Shane!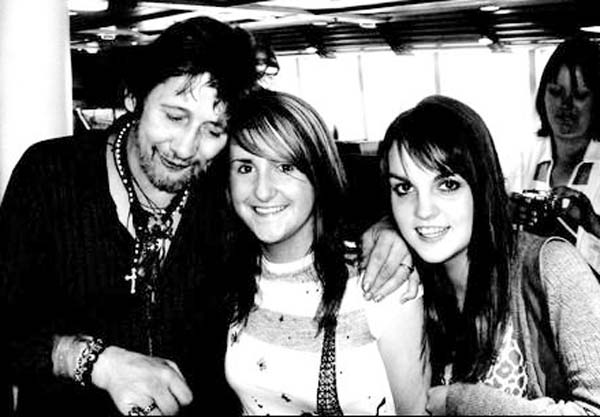 You never know who you might meet crossing the Irish Sea! Shane McGowan of The Pogues was lucky enough to bump into Clíodhna Bourke and Niamh Lyons on their recent trip to Oakwood in Wales with the Foróige Club. We can't confirm this but we think Shane was fortunate enough to get their autographs before continuing on his way!!! Clíodhna and Niamh were delighted to accomodate one of their fans – well done girls!!!
World Youth Day 2008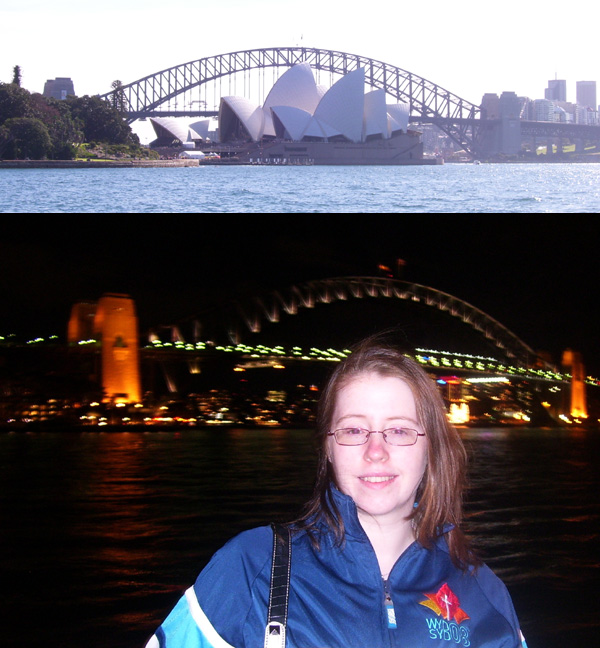 Gemma Ryan of Cooleen, Borrisoleigh's representative at World Youth Day 2008 in Sydney Australia
On Sunday 6th of July, thanks to nomination by the parish priests and the help and encouragement from the parish as a whole, I was lucky enough to find myself enroute to Sydney, Austrailia to partake in World Youth Day, 2008.
The first leg of our journey was pretty uneventful, merely involving a train journey to Dublin where we met up with the Limerick part of our contingent and continued on to Dublin Airport. Following a stint in Heathrow Airport and a 20 hour flight with a stopover in Bangkok we finally arrived into Sydney Airport at 7.30 am on Tuesday morning bright eyed and bushy tailed. But come afternoon we were absolutely wrecked and we all slept soundly that night I can tell you!
We had arrived in Sydney a few days ahead of the opening of WYD and so had the opportunity to do the tourist thing!! Sydney is a beautiful city with great sights, great shops and a great nightlife. Although no one mentions that it is quite hilly in some areas which is fairly hard on the legs. We walked on the Harbour Bridge, saw the Opera House, wandered around the Botanical Gardens, went to the zoo and the aquarium, explored Darling Harbour, and took a trip out to the Blue Mountains and some of the more famous local beaches including "Summer Bay." We also travelled around the city itself to see what it had to offer and one or two nights took an opportunity to check out some of the Irish pubs, just in time for the Munster Final!
In no time at all the second week of our stay had arrived and it was down to business. WYD 2008 was mainly situated in and around Darling Harbour. It involved 6 days of festival entertainment and activities from every corner of the globe, featuring a massive line up of live music, dance, film, visual arts, street theatre and workshops. From Sunday onwards Pilgrims from all over the world started pouring into the city and come Tuesday morning they were everywhere to be seen. We also had two new additions to our group in the form of Fr Pat Coffey and Fr Patrick Winkle.
The official opening of the WYD festival took place Tuesday afternoon in Barangaroo. The Opening Mass was celebrated by Cardinal George Pell, Archbishop of Sydney. The music in particular at the Mass was quite beautiful. Flags of the more than 170 nations with pilgrims attending World Youth Day in Sydney were carried through the Mass crowd by members of the International Liturgy Group. Some 40 cardinals and 400 bishops were in attendance at the Mass along with about 150,000 pilgrims.
On Wednesday, Thursday and Friday mornings catechesis or teaching was held in 250 venues throughout Sydney. We had our catechesis in St James church in North Sydney. Our sessions were primarily run by a group from Christchurch, New Zealand and lasted approx 4 hours. On the first day we had laughter yoga which was an "interesting" experience in itself. The catechesis consisted of a period of introduction followed by some drama. A different Bishop spoke on a chosen topic each day and following this there was discussion and debate. Reconciliation was available throughout our time in the church and the mornings activities were finished up by mass. Following this each group was able to head out to the youth festival and take part in whatever expo they wished.
The major event on Thursday was the arrival of the Pope into Sydney Harbour. He arrived via boat accompanied by young people from all over the world and alighted in Barangaroo. Following the Papal welcome, the Pope travelled through the streets of Sydney in the Pope Mobile.
Friday's main event and one of the highlights of the week were the Stations of the Cross. These were a live theatrical and devotional re-enactment of the last days of Jesus' life which began with the first station at St Marys Cathedral.
The highlight of the week, indeed the entire trip, was Saturday and Sunday. Saturdays' events began early with some groups scheduled to cross the harbour bridge on their pilgrimage walk as early as 5am! Luckily we weren't due to cross over until 12pm so we were able to have a welcome lie in. Our luck was really in that day as the sun was shining and not a cloud in sight. It's not often you get to pack for all for seasons in one day but as we'd realised by now Australian winter weather is a changeable thing plus we were going to be spending the night outdoors so we were laden down when we set off. The Pilgrimage walk started in North Sydney and finished in Randwick Racecourse and was 10 km long. On arrival at the racecourse we had to find our appointed area and settle out our sleeping bags so we'd have room for the night. There was more music to be had and plenty of interaction between all the groups gathered. The evening candle light vigil rounded up the evening and we settled down for the night.
Sunday 20th of July, World Youth Day arrived. The Pope flew over the racecourse in a helicopter at 9am and then drove through the crowd in the Pope-mobile. He then presided over the Final Mass of the WYD celebrations which was the largest gathering of people in history. All too soon it was over and we were piling out of Randwick. It was sad to think that it was nearly time to go home.
World Youth Day is said to be the largest youth gathering in the world and with an estimated 223,000 registered pilgrims and thousands of extra people in Sydney for the event I'm not surprised at that! I had a brilliant time there and we all came home wrecked! It was an amazing experience and one I'd advise to anyone. So start looking forward to WYD Madrid, 2011.
Getting the bigger picture!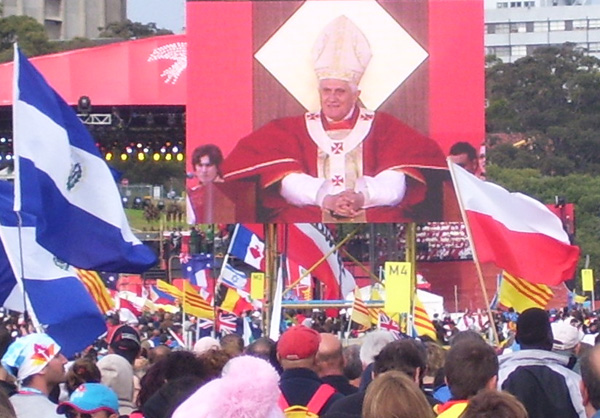 His Holiness Pope Benedict XVI as seen on the big screen in Sydney at World Youth Day 2008
Meeting up down under!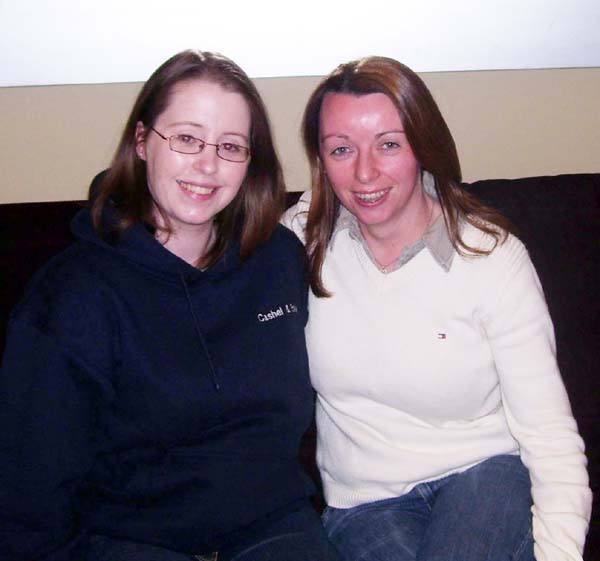 Gemma meets Marie Cowan on her travels
Flying the Flag for Borris and for Ireland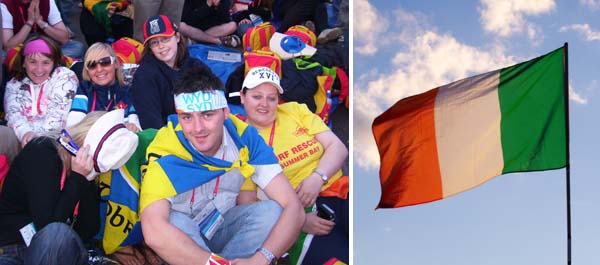 Gemma with Ann Marie Dwan from Thurles and other pilgrims at the Youth Faith Festival in Sydney
To see more photos of Gemma's trip to Sydney go to our photo gallery or click on the following link:
http://www.borrisoleigh.ie/viewGallery.php?gal=38&name=Gemma%20Ryan%20at%20World%20Youth%20Day%20in%20Sydney%20-%202008
Mission Walk in Templederry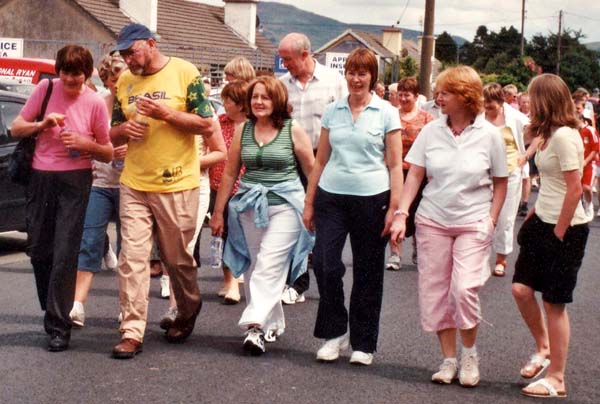 Fr. Matt leads the crowd of over 200 people on the Mission Walk in Templederry on Sunday July 27th

A very successful walk took place in Templederry on Sunday July 27th in aid of Fr. Matt Ryan's mission in Brazil and Sr. Elizabeth Buckley's mission in the Philippines.
Sincere and heartfelt thanks to all who supported this walk when almost € 8,000 was raised for these worthy causes.

Fr. Matt & Sr. Elizabeth are overwhelmed by the generosity of the people of Borrisoleigh, Templederry and surrounding parishes. The walkers in the company of Frs Matt & Martin Ryan of Cooleen, enjoyed the walk in glorious sunshine and the garden party which followed.
Welcome and Thanks!

Fr. Willie Teehan welcomes everyone and prepares to start the walk while Michael and Marion Ryan from Ballyroan listen in
Travelling by shanks mare and a real mare!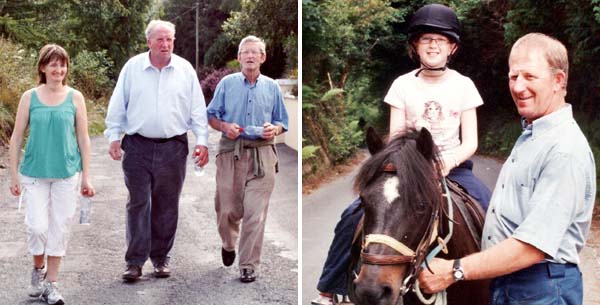 Walk tall – walk straight!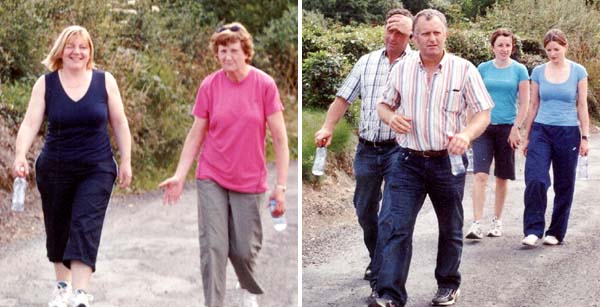 If anyone would still like to make a donation, they can do so by contacting Marian Harrington, Templederry – tel. 0504-52020 / 087-6765133.

Peter's Passing Out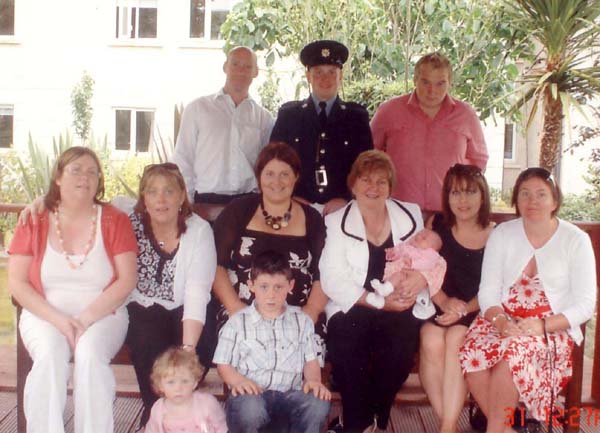 Peter Ryan with members of his family on the day of his passing out at the Garda Training College in Templemore
Pictured above is Peter Ryan of Mountgeorge with members of his family on the day of his passing out at the Garda Training College in Templemore on Thursday July 31st. Peter will return to work at the Bridewell in Dublin where he has been stationed for the last 9 months. Borrisoleigh's newest lawman celebrated with his family and friends at their home in Mountgeorge. No names were taken at the party!!!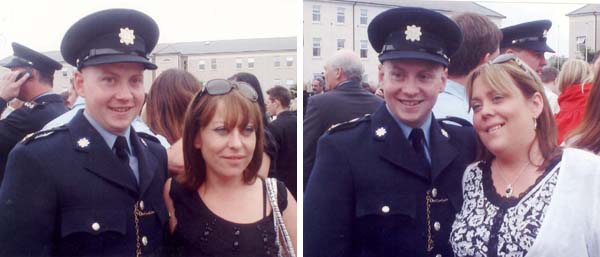 Peter with his sisters Caroline and Marie at the passing out ceremony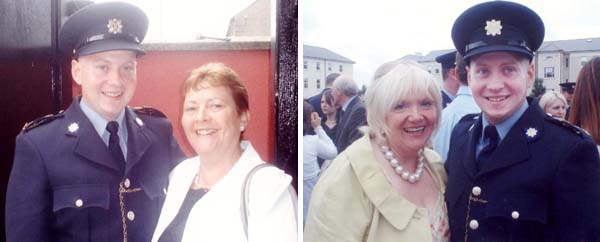 Peter with his aunts Joan and Nonie at the Garda Training college last Thursday

Just chillin' and catchin' a few rays!!!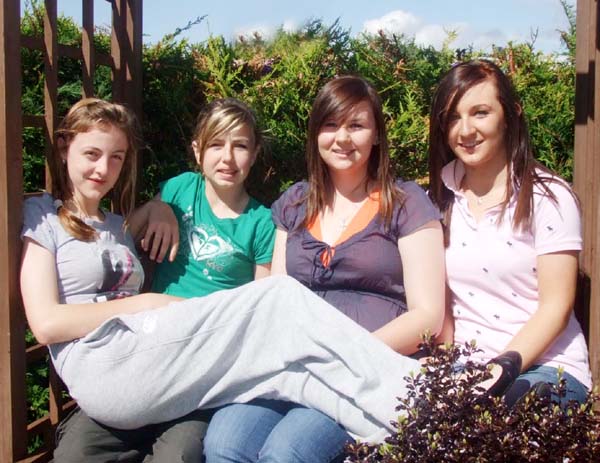 Teresa Ryan, Nicole Walsh, Louise Fahy and Aoife Stapleton enjoy a 'little' of the summer sunshine! We only got a little!!!

Wedding Anniversary Celebrations!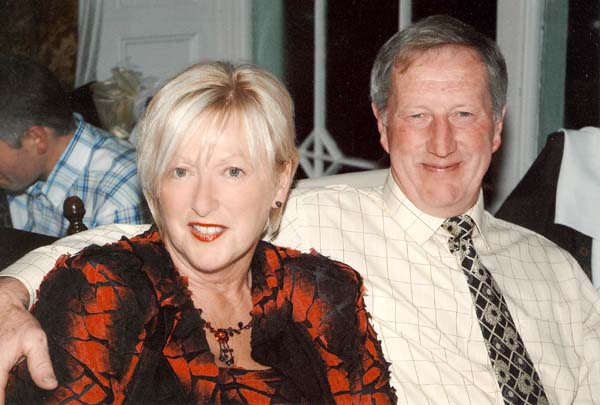 Fidelma and Mick Ryan on the occasion of their 40th wedding anniversary. The celebrations took place in Stapleton's Bar on Saturday 19th July when the happy couple were joined by family and friends. Mick's cousin Eamonn travelled all the way from America to provide music and song for the occasion. A great night was had by all.
Results Marian Hall Lotto
05/08/08
Numbers: 13, 23, 24, 26
No Jackpot Winner
1 match 3 winner @ €150
Pat Slattery, c/o Bingo
Next Weeks Lotto Jackpot
€5,250

Pic of the past…down memory lane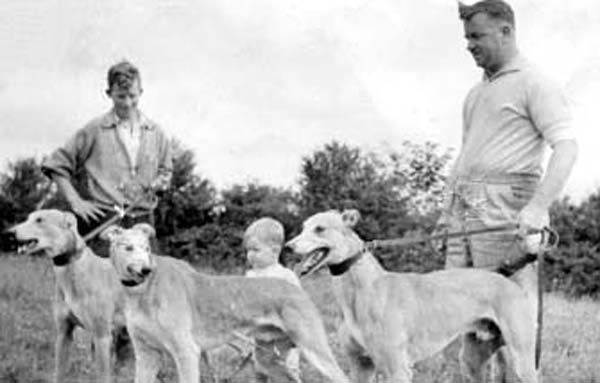 Michael Ryan, Chapel St., Tom Maher (child) and Dan Maher, Greenlawn with Champion Prince (in centre) winner of The Puppy Derby in the early 1950s

*************************************************************
News items, photographs, upcoming events etc. from home and away should be sent to
info@borrisoleigh.ie

The success of this site depends on you!!!
*************************************************************