Michael retires after 51 Years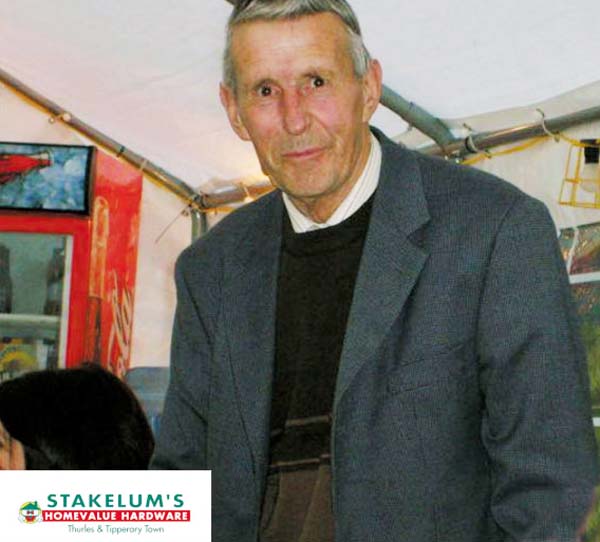 Mikey Shanahan who recently retired from Stakelum's Hardware after 51 years of servic
e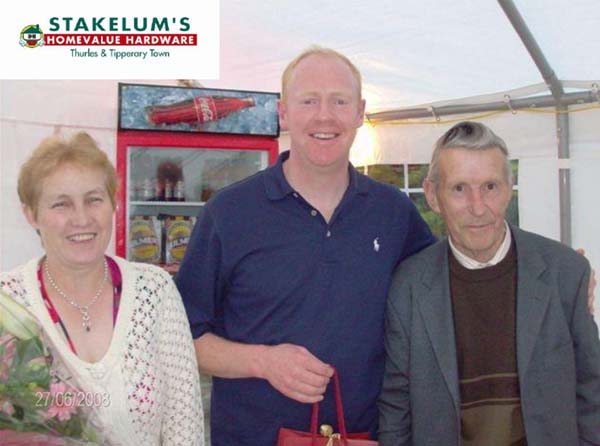 Biddy and Mikey Shanahan with Tom Stakelum on the occasion of Mikey's retirement
Mikey Shanahan of Fantane who has worked with Stakelums Hardware for over half a century has decided to call it a day. Having joined the Company in Borrisoleigh at the tender age of 15 back in 1957, and then moved to Thurles in 1977 he now looks forward to retirement from the hardware business. For the last 11 years he has worked with Stakelum's Plant Hire with Tom Stakelum. At a celebration gathering for his retirement Mikey and Biddy were wished many years of health and happiness for the future.
Treacy Family Gathering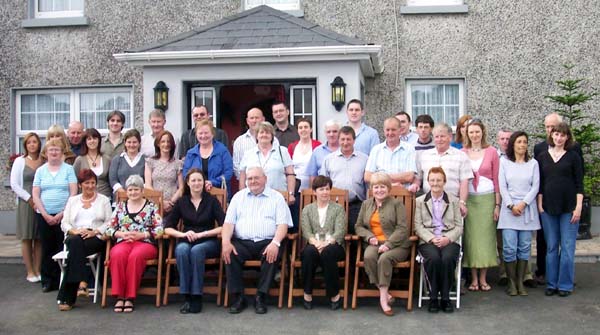 The Clan and Friends
On 5th July 2008 a reunion of three generations of the Treacy Clan (descendants of Martin and Nora, Fantane) was hosted by Willie and Geraldine in the ancestral home. A tented village was set up in the 'hurling field' to cater for all 122 people. Father Liam Everard P.P. opened the event by celebrating Mass.
A pig cooked on a 'spit' was quickly demolished as were several barbecued burgers and sausages. A chocolate fountain was greeted with delight by those with a sweet tooth.
Then came the sporting events (reminiscent of times past) – egg 'n spoon, sack races etc. The highlight was the over seventies race.
As darkness fell an oak tree was planted and and a plaque was laid to mark the event. Then it was on to the musical entertainment provided 'in house' and which continued to the small hours. Tunes were played, songs were sung and sets were danced. A once in a lifetime reunion. Buíochas le Dia.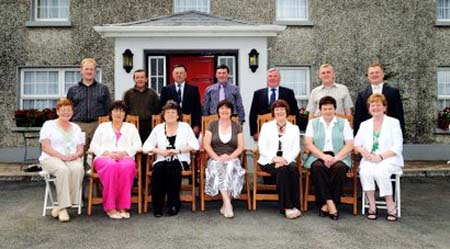 The Family

Gerard, Michael, Denis, Willie, Martin, Seamus and Pat
Mary, Anne, Nora, Teresa, Eileen, Josie and Peggy

Wedding Bells ring out in Malta



Mark Gough and Ann Kenny on the day of their wedding
Congratulations and best wishes to Ann Kenny of Pallas Street who was recently married to Mark Gough of Garanbawn, Murroe, Co. Limerick. The happy couple celebrated their marriage in Lapsi Church, St. Julian's, Malta. Ann was our dedicated organist in The Sacred Heart Church for many years. We wish Ann and Mark long life, health and happiness together.
Cemetery Mass in Ileigh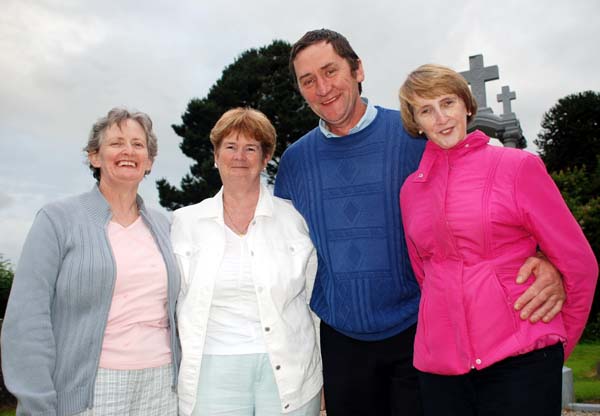 Mary Ryan, Biddy Stapleton, Gerry and Kathleen Ryan at the Cemetery Mass in Ileigh on Friday July 11th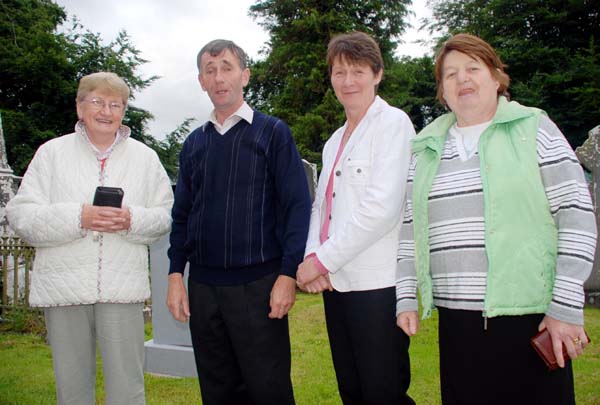 Mai Phelan, John and Margaret Harty and Anna Cummins at the Cemetery Mass in Ileigh on Friday July 11th


Michael, Ann, Mary, Daniel, Mary and Gerard Ryan at the Cemetery Mass in Ileigh on Friday July 11th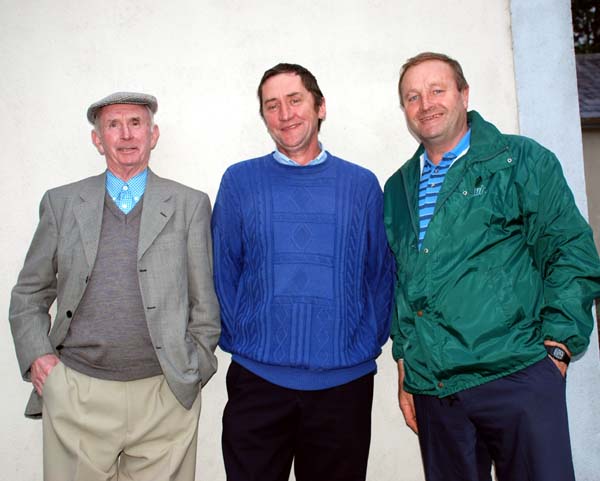 Mick Collins, Gerry Ryan and TF Stapleton at the Cemetery Mass in Ileigh on Friday July 11th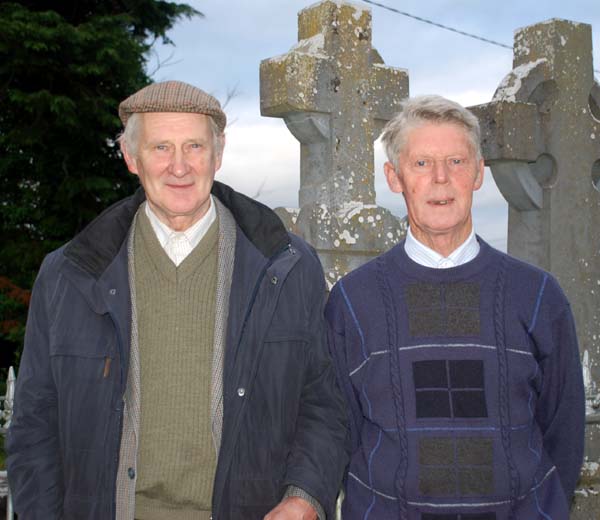 Jack Ryan and Billy Cummins at the Cemetery Mass in Ileigh on Friday July 11th

Mission Walk in Templederry
A Mission walk will take place in Templederry this Sunday, July 27th at 1.30pm, to raise funds for Fr. Matt Ryan's Mission in Brazil & Sr. Buckley's mission in the Philippines. Please be assured that every euro received will go directly to these worthy causes. Fr. Matt is home at present and will walk with us. Sr. Elizabeth Buckley has just returned to the Philippines. Refreshments will be served after the walk. Further details from Marian Harrington. Tel. 0504-52020
Bound for and Back from Australia

The Wacker Backers Return


Gerry Ryan welcomes home the returned emigrants John and Micheál Ryan
John Ryan of Glenkeen and Micheál Ryan of Gortalough have come home to Borris after spending a year or so in Australia. They were heard to say on their return "No matter what else happened, at least we kept the Faith!"
Bríd Bound for Down Under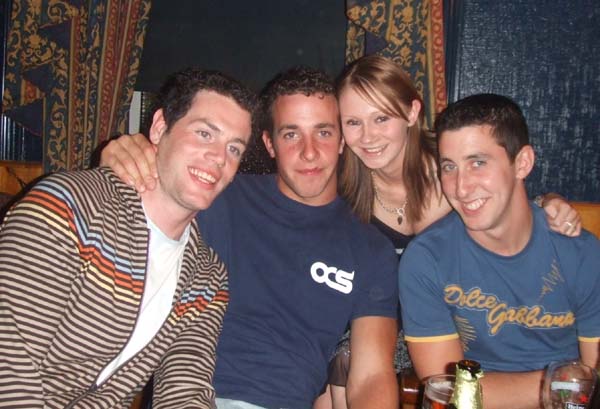 Bríd Harty and friends at her going away party in Stapleton's on Sunday night last (July 20th). Bríd left Borrisoleigh today Wednesday July 23rd bound for Sydney, Australia. We wish her well in her travels.



Bríd with John Ryan and also with Marie Ryan

Linda O'Connor Memorial Tournament



Linda O'Connor R.I.P.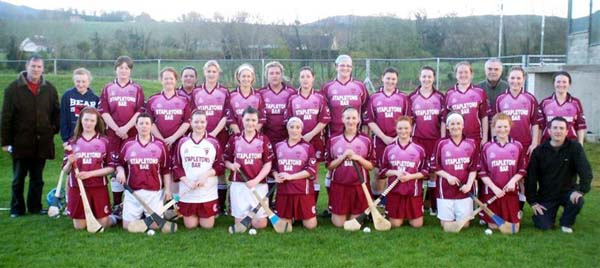 Borrisoleigh Camoige Club


Borrisoleigh Junior B Camogie Club are holding the Linda O'Connor Memorial Tournament in the Town Park this Sunday 27th of July at 12 noon. There are four teams participating: Newport, Boherlahan, Gortnahoe and ourselves. There will be two semi-finals and then the final will be played after these.
Refreshments will be served in the Pavilion after the final. We urge you all to come and support this event as a great day of camogie is expected. Your support would be greatly appreciated.

Praying for Vocations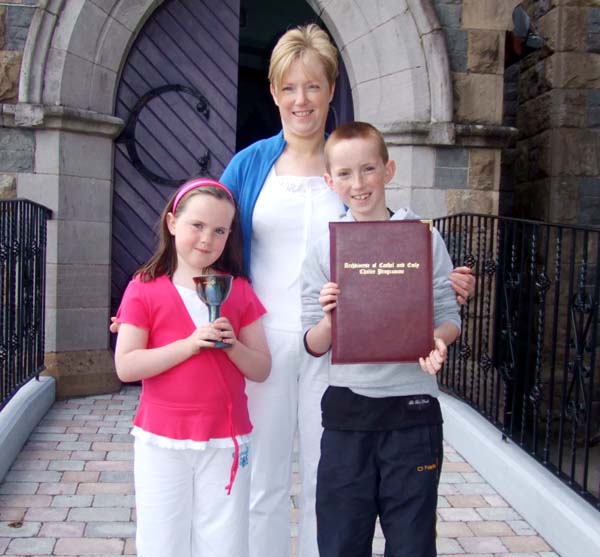 Bríd, Marie and T.J. Ryan of Fishmoyne after 9:00 a.m. Mass on July 20th
Pictured above are Bríd, Marie and T.J. Ryan of Fishmoyne taking home the Vocations Chalice and Book of Prayers. The Chalice programme has been in operation in our parish for over a year now. Different families take the Chalice and Prayer Book each week and use them to pray for vocations to the Priesthood and Religious Life. We are currently in the Year of Prayer for Vocations.

Edel Groome celebrates while Borris folk drown their sorrows!

Noreen Stapleton, Marie Rabbitte, Della Ryan and Edel (Hogan) Groome
The smile says it all – Edel Groome is in joyous mood in Stapleton's after her native team Burgess beat Borrisoleigh in the North Quarter Final in Nenagh last Sunday. No marks for guessing which side of the fence she is on! The final score was Burgess 2 – 17 to Borrisoleigh 1 – 14.
Blazing Saddles



The Borrisoleigh contingent who took part in the Annual Fun Cycle in aid of the National Council for the Blind in Thurles last Sunday.
Gerard Ryan, John Slattery, P.J. Delaney, Catherine Harty, Christy Reid and Ruaírí O'Connell.

Quinlan Brothers back in Borris
Pictured above outside the Parish Centre on Sunday July 20th are Timmy and Michael Quinlan on the occasion of the anniversary Mass of Tom and Margaret Quinlan of Pallas Street. Timmy is currently living in Raheny in Dublin while Michael is based in Celbridge, Co. Kildare.

One woman and her dog!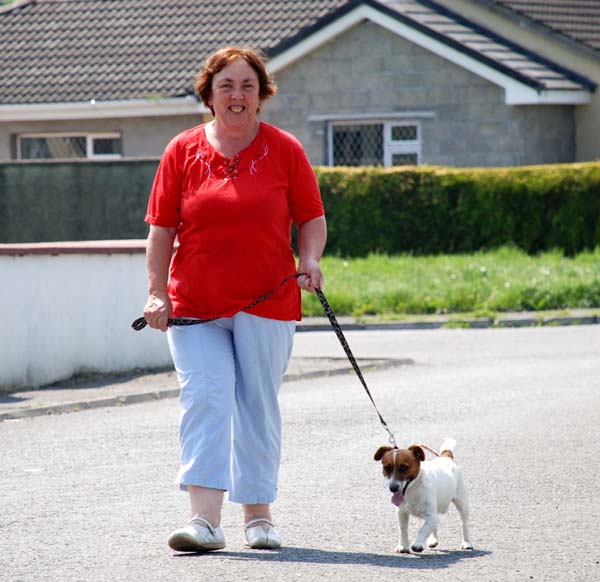 Kathleen Patterson of Mountgeorge taking a stroll with her dog

After the Stag and the Hen parties!

Brendan Fanning, soon to be married to his beloved Pauline Kennedy, pictured here with the 'angelic' Lizzie O'Connor and Noreen Fahy at a gathering in Stapleton's Bar after the return of the stags and the hens!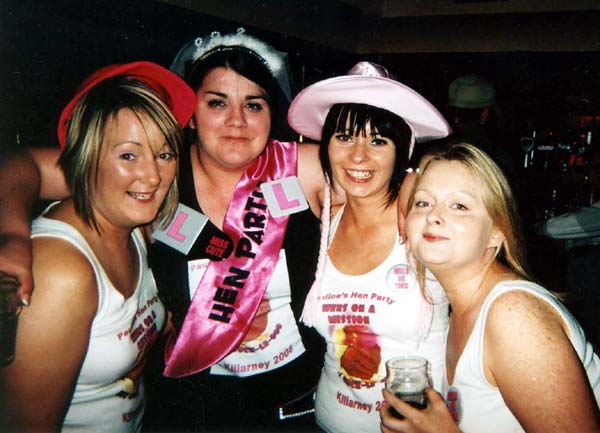 Pauline Kennedy (Bride to Be) with Lucy Fanning, Lillian Treacy and Netty Cullivane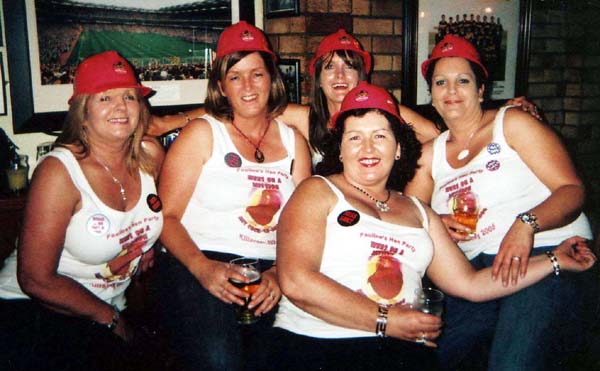 Nonie Kennedy, Noreen Fahy, Lorraine Loughnane, Sinead McPolin and Teresa Maher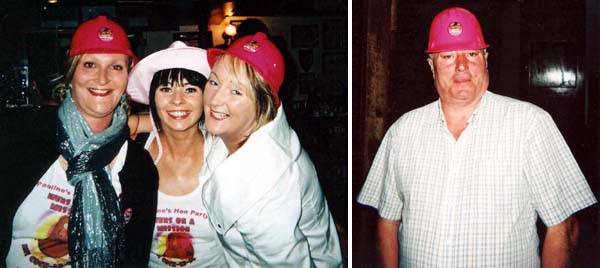 Jacinta Kearney, Lillian Treacy and Lucy Fanning with Liam Stapleton keeping a close eye on the "hens" in his pink hat!!

Fleadh Cheoil na Mumhan 2008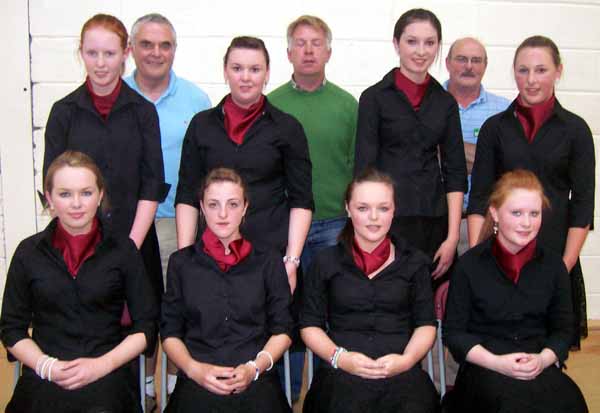 15 – 18 Ladies Set Dancers
Miriam Dunne, Pat Kavanagh, (Secretary of Borrisoleigh Comhaltas), Louise Fahy, Thomas Walsh (Dancing Teacher), Eimear Stapleton, Noelie Maher (Chairman of Borrisoleigh Comhaltas), Niamh McGrath, Mari Ryan, Teresa Ryan, Clare Kavanagh and Grace Prior
The Fleadh Cheoil was held in Kenmare last weekend. There were large crowds in the town all weekend and they were treated to great entertainment all day and well into the night on the "Gig-Rig". Borrisoleigh was well represented in various competitions and all performed well. The following competed over the weekend:
English singing – Clare Kavanagh
Under 12 Ladies Set – Aisling Kiely, Eimear Ryan, Lauren O'Brien, Eimear Lyons, Clóda Scanlon, Fiona Leamy, Emma Ryan and Lauren Butler-Ryan.
Under 12 Mixed Set – Aisling Kiely, Jack Prior, Eimear Ryan, Danny Ryan, Clóda Scanlon, Seán Ryan, Eimear Lyons and Stephen Doolan.
15 – 18 Ladies Set – Clare Kavanagh, Eimear Stapleton, Louise Fahy, Grace Prior, Niamh McGrath, Mari Ryan, Teresa Ryan and Miriam Dunne.
Congratulations to Anne Marie Kavanagh who was a member of the Loughmore Senior Grúpa Cheoil who came 1st in their competition. Phil Maher performed brilliantly for the Under 12 Ladies and Mixed Sets on Sunday. It was great to see so many parents travel the long journey to Kenmare to support their children which made it a very enjoyable occasion.

For more photos taken at this event go to our photo gallery or click on the following link: http://www.borrisoleigh.ie/viewGallery.php?gal=33&name=Munster%20Fleadh%20-%20July%202008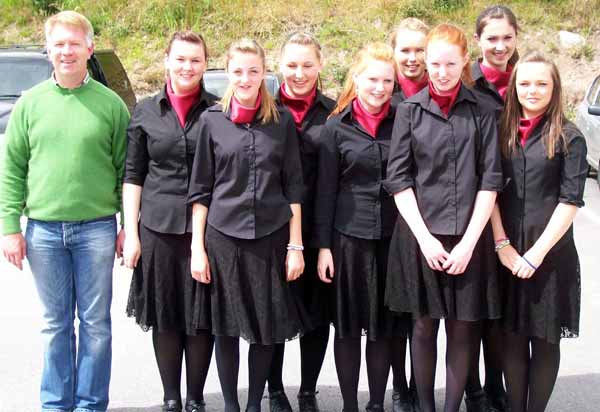 Munster Finalists in Kenmare
Bridge Repairs Needed at Ballyroan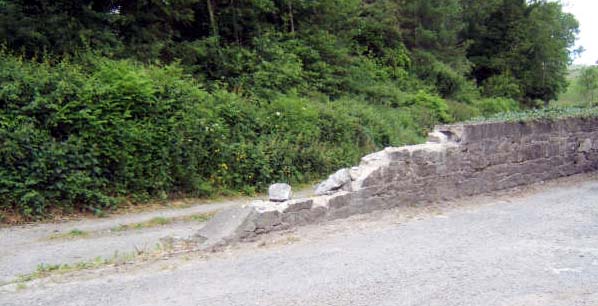 The old stone bridge at Ballyroan was damaged some months ago as can be seen from the above photograph. It needs to be repaired before the rest of the bridge falls into a further state of disrepair not to mention the fact that it is also dangerous. Hopefully North Tipperary County Council will pay heed!!

Glenkeen Cemetery Mass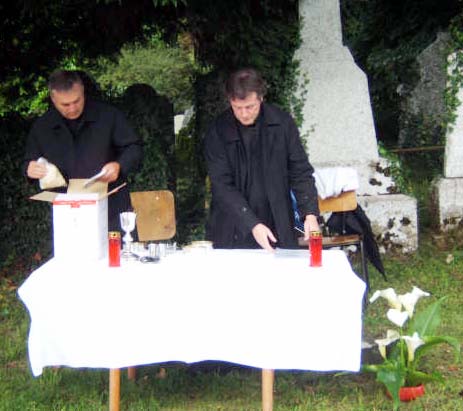 Fr. Liam Everard PP and Fr. Nicholas Irwin CC prepare the Altar at Glenkeen Cemetery before the Cemetery Mass which was celebrated on Thursday July 10th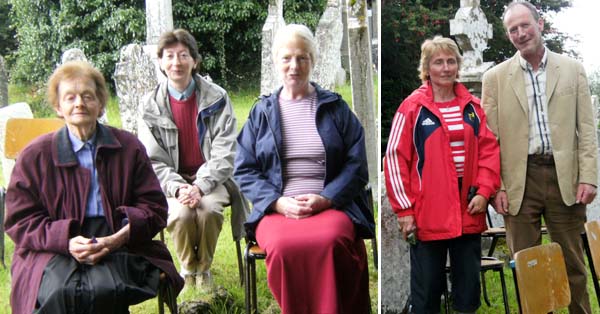 Nancy Quinlan, Josephine Ryan and Chris Costello, and Marion O'Mahony with Martin Ryan at the Glenkeen Cemetery Mass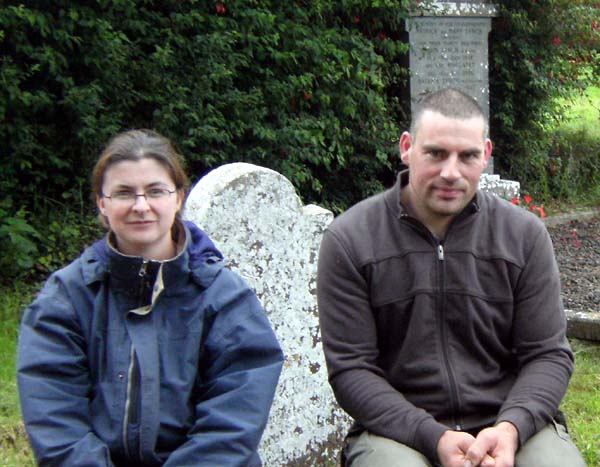 Brid and Larry Devitt at the Glenkeen Cemetery Mass

Pic of the Past… down memory lane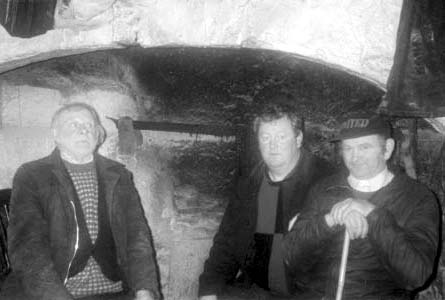 Jimmy Murphy, Glenkeen, James Stapleton and Jackie Gleeson pictured at the open hearth fire in Murphys, Glenkeen
*************************************************************
News items, photographs, upcoming events etc. from home and away should be sent to
The success of this site depends on you!!!
***********************************************************