World Youth Day 2008 in Sydney, Australia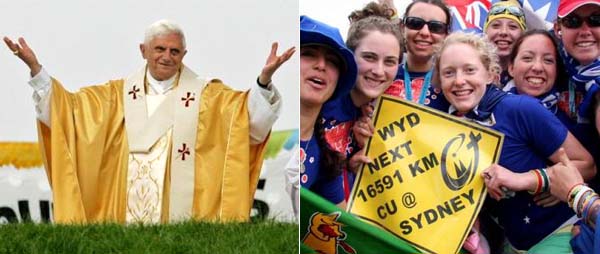 Pope Benedict welcomes the world's youth to Sydney for World Youth Day 2008
On Sunday last July 6th ten young people from the Archdiocese of Cashel & Emly, along with three youth leaders, left for World Youth Day 2008 in Sydney, Australia. Among the pilgrims is Gemma Ryan from Cooleen who has been looking forward to this event for some months now. Prior to their departure a special Mass was celebrated in St. Patrick's College, Thurles to send them on their way. The chief celebrant at this Mass was Archbishop Clifford who spoke of the great privilege it was for the group who were travelling. He said that they would be representing the Archdiocese at this world event and he assured them that the prayers of their families and friends would be with them while they were on pilgrimage.
Cashel & Emly's Representatives in Sydney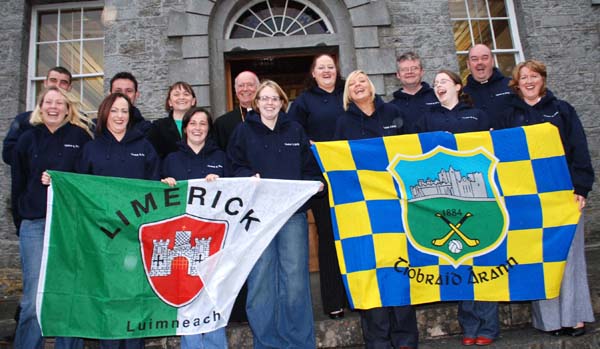 Archbishop Dermot Clifford with the youth group (including Gemma Ryan) and their leaders from Cashel & Emly who will travel to World Youth Day 2O08 in Sydney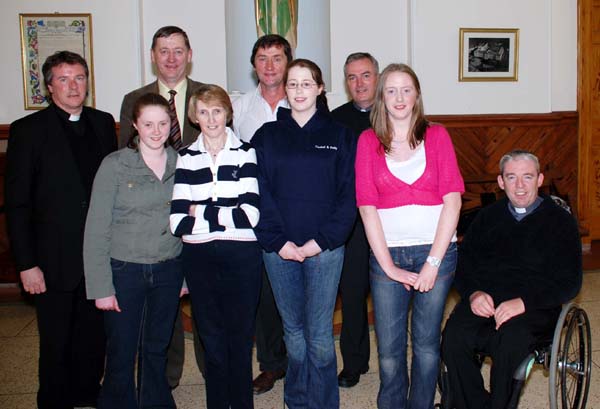 Gemma Ryan (youth group member) with her family and Frs Liam Everard PP, Nicholas J. Irwin CC and Michael Barry CC pictured at St. Patrick's College, Thurles
World Youth Day (WYD) is the largest youth event in the world and will be held in Sydney from Tuesday 15th to Sunday 20th July 2008. Organised by the Catholic Church, WYD brings together young people from around the globe to celebrate and learn about their faith on a more regular basis.
WYD08 will be the largest event Australia has ever hosted. It will mark the first visit of His Holiness Pope Benedict XVI to Australia. Through the WYD08 experience, young people from throughout the world will make a pilgrimage in faith, meet, and experience the love of God. World Youth Day is an invitation from the Pope to the youth of the world to celebrate their faith around a particular theme. This year's theme is 'You will be my witnesses' – echoing the words of Jesus to his disciples when he commissioned them 'to go out into the whole world and proclaim the Good News'.

Knock Summer Youth Festival
(July 24th – 27th)


A Summer Youth Festival will take place in Knock from Thursday July 24th to Sunday July 27th. Many young people from all over Ireland will gather for this Festival at which matters of Faith concerning young people will be explored. A number of workshops dealing with such topics as 'Relationships', 'Youth and Faith', 'Role of Prayer in 2008′, Loved for who I am' etc will be available. There will be various liturgies, dramas and testimonies with music throughout. A reconciliation service will also be celebrated. The cost per person is €55 per person (with a free bus to and from the Festival). For more information or to make a booking please contact Fr. Joe Walsh in Thurles at
(0504) 22229
/ 22505.
Congratulations!!!

Peter Ryan of Coolataggle with his new bride Julianne Barry from Cork
Congratulations and best wishes to Peter Ryan and Julianne Barry who were married at St. Mary's Church Newmarket, Co. Cork on Friday July 4th. They and their guests then travelled to the Woodlands Hotel, Adare, Co. Limerick for the reception. Peter and Julianne are currently on honeymoon in Africa.

Foróige Club head for the hills!


They'll be comin' down the mountain when they come!
The Borrisoleigh Foróige took part in a sponsored walk last Sunday week June 29th. The walk started from MacDonagh Square at 1pm and ventured to the great overshadowing cross of the Devil's Bit. The walk itself took about 3 hours and covered approximately 9 miles. Though weather has been a serious downer these past few weeks, we were blessed with a dry day. The success of the day saw a minority reach the summit of "Little Rock" for the first time and that in itself is a great achievement to experience the beauty of our own back garden.
The walk was in aid of taking the members on a day trip to Oakwood Theme Park, Wales and purchasing gear for next year when the club year starts along with the school term in September.Many thanks to those who sponsored the participants, your contribution is greatly appreciated and to those who car-pooled together and returned all home safely.To view more photos of this event go to our photo gallery or click on the following link: http://www.borrisoleigh.ie/viewGallery.php?gal=29&name=Foróige%20Club%20Climb%20The%20Devils%20Bit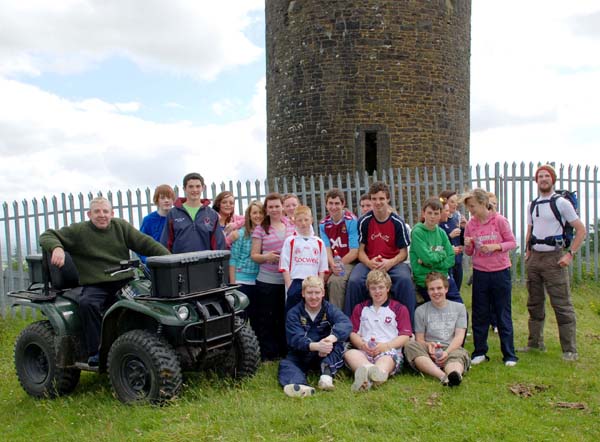 Taking a breather before the final push for the summit!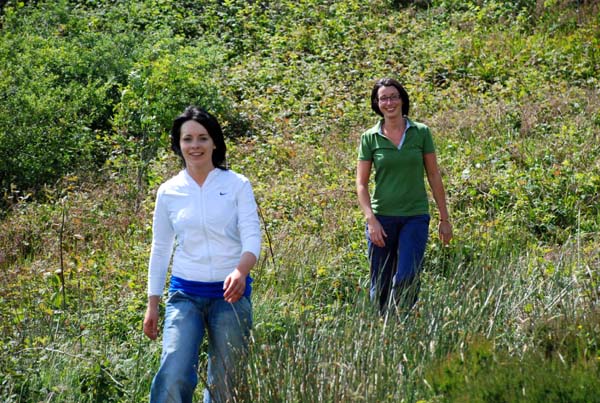 Lilian Treacy and Margaret Cowan on the way down – but making it look so easy!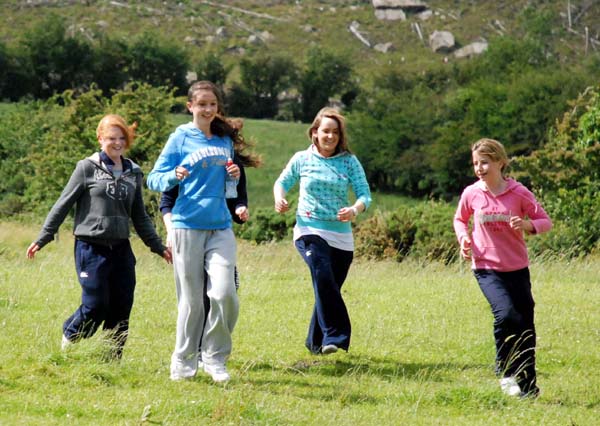 Grace Prior, Eimear Stapleton, Clíodhna Bourke and Nicole Walsh – crossing the finishing line!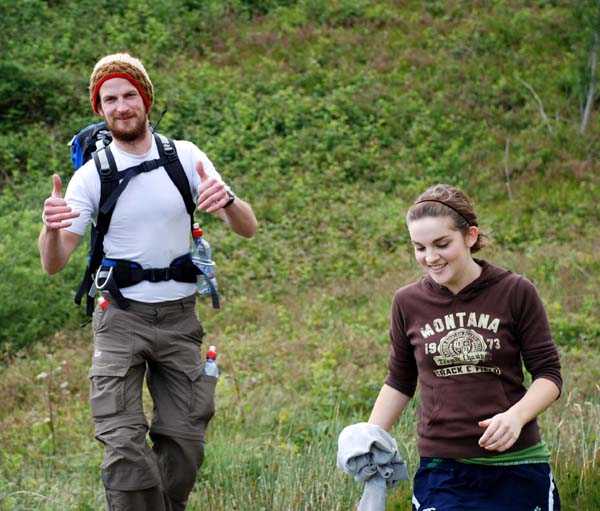 Tom Young, the experienced mountaineer (with how many bottles?!!!), being out-classed by Niamh Lyons on the way down!
Family Fun Day and Vintage Tractor Run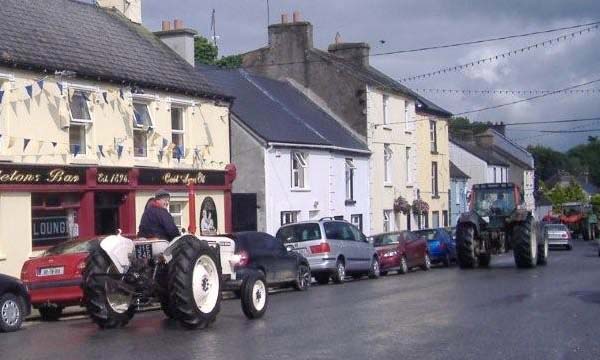 Donal Ryan, Upper Pallas with his David Brown 770 at Borrisoleigh's Vintage Tractor Run and Family Fun Day last Sunday

THANK YOU!
Borrisoleigh Life Savers Action Group would like to sincerely like to thank all who participated, attended, supported, sponsored, volunteered and helped in any way to make Borrisoleigh Family Fun Day a success on Sunday 6th July. Despite atrocious weather conditions on the day, many hardy souls braved the elements and came along to support the Defibrillator fundraiser. The Vintage and Working Tractor Rally was a great success and the scenery en route proved to be very popular with the local and visiting drivers. Congratulations to all of the winners on the day. Again, a sincere thank you to all for their support. More photos and info about the Vintage Run and Family Fun Day in next week's Current News.

Fun Day Bar-B-Que in Stapleton's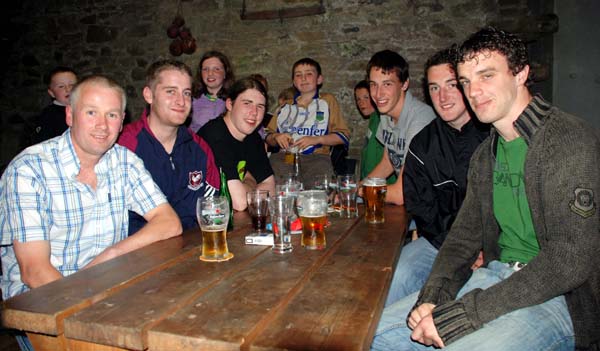 Relaxing at the Bar-B-Que after the fun and frolics of the Family Fun day

(more photos next week)
Welcome Home Ruff!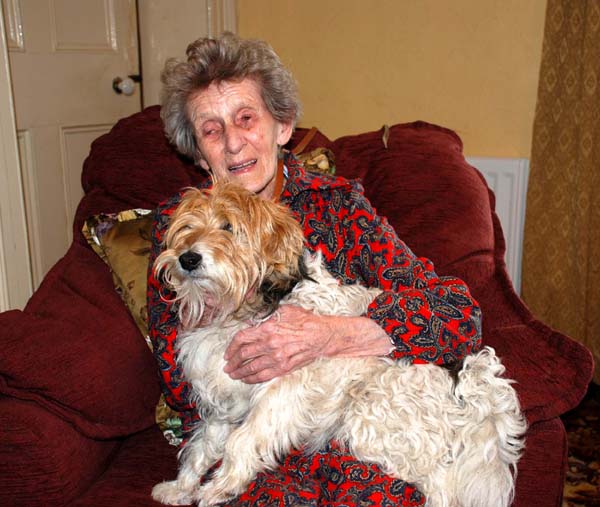 Eileen Ryan with her returned prodigal Ruff!
Pictured above is Eileen Ryan of Rathcarden warmly greeting Ruff home after a rough experience endured by him and caused by the recent thunder and lightening storm suffered locally. On Tuesday July 1st Ruff, having seemingly correctly sensed the imminent arrival of thunder and lightening, decided to take off and disappeared without a bark or growl to anyone. This was 1:30 p.m. on Tuesday and despite intensive searching and calling in the extended local area there was no sign, sound or trace of Ruff. Tuesday night, Wednesday and the following night all passed with no sighting of him and concerns grew for his wellbeing.
On Thursday July 3rd a neighbour (who wishes to remain nameless but, for the more curious among us, a hint lies in the fact that 'his name belies his stature'!) while driving up Main St. at 4:30 p.m. happened to spot Ruff strolling up by the butchers and they were quickly reunited to the relief and joy of both and he was immediately returned to his home, none the worse for his experiences. The old saying "when the going got rough, Ruff got going" was indeed very true, and as medical bulletins sometimes say we are glad to announce that owner and dog are doing extremely well.


Historic Polish Mass in Borrisoleigh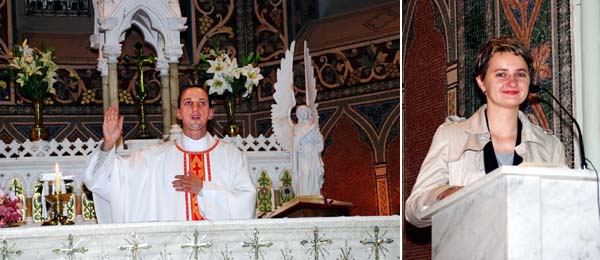 Fr. Mariusz gives the final blessing at the first all-Polish Mass ever to be celebrated in The Sacred Heart Church, Borrisoleigh. His sister Agnieszka translates into Polish some words of welcome spoken by Fr. Liam Everard, PP
On Friday evening July 4th last a moment of history was witnessed in our local parish church. Fr. Mariusz Borcz while visiting his sister Agnieszka (who lives and works in Borrisoleigh) along with his mother Aleksandra, was joined by members of the Polish community who live and work here for the celebration of Mass. Apart from a few words of welcome by our parish priest Fr. Liam Everard, PP which were translated by Fr. Mariusz's sister Agnieszka, the entire Mass was in Polish. It was an unusual experience for all who attended the Mass but a memorable one too. It gave the local congregation some inkling of what it must like for our Polish friends (perhaps with little English) when they come to the celebration of our Mass.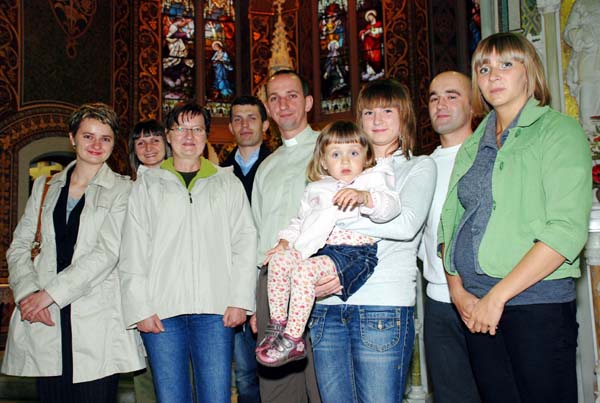 Fr. Mariusz with his sister Agnieszka, his mother Aleksandra, Dorota, Grzegorz, Natalia, Pola, Tomasz and Agata

St. Cualan's Capers!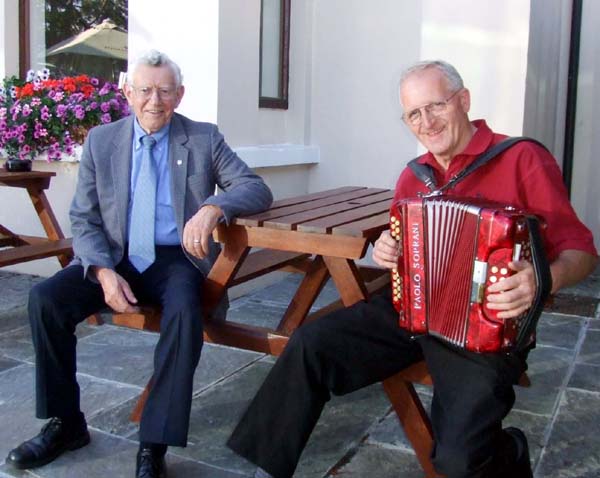 Jack Costello and Phil Maher (our resident music maker!)
On Thursday July 3rd twenty five of our senior citizens assembled on the Square to set out on a day trip. We were dressed to the "nines" and "raring" for road. With brilliant sunshine a comfortable coach and a great programme arranged it could be only a wonderful day out. Our first port of call was to Larkins of Garrykennedy. Here we were joined by Phil Maher, our musician and loyal friend. Some drank of the "cup that cheers but does not inebriate" others had a little stronger, this was provided by the generosity of St. Cualan's Committee. We had a "ball" and everyone was in good form and we waltzed on the street to the refrains of Slievenamon.
We then headed for the Lakeside Hotel via the Lookout, the scenery was breathtaking. The management and staff of the Hotel greeted us on our arrival. We were treated like royalty. Fr. Liam, Fr Jim and Fr. Michael were also there to greet us. A beautiful meal was served in the dining room with another drink from the Committee. Everyone was in a relaxed mood, and we thought to ourselves home was never like this. We then retreated to the front of the Hotel where we had a bit of a "Hooley". Fr. Michael serenaded us with Red is the Rose and for awhile we thought Liam Clancy had come to life again. Fr. Liam and friends danced the soles off their feet, whilst Mary Ryan & Angela McSherry entertained us with many a song. Phil Maher of course kept the show going.
We had a wonderful day and a most enjoyable time. So what can we say only 'Thank God for food, thank God for drink and thank God for friendship which is most important we think.'
To view more photos of this event go to our photo gallery or click on the following link: http://www.borrisoleigh.ie/viewGallery.php?gal=30&name=St%20Cualans%20Club%20Outing%20-%20July%202008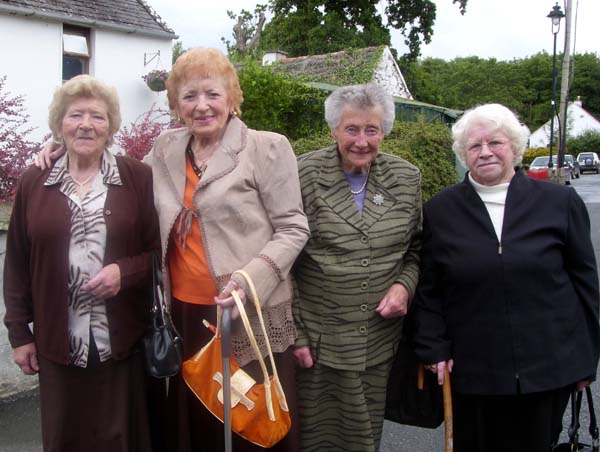 Alice Ryan, Mary Ryan, Mai Maher and Mary Quinn
Dancing at the crossroads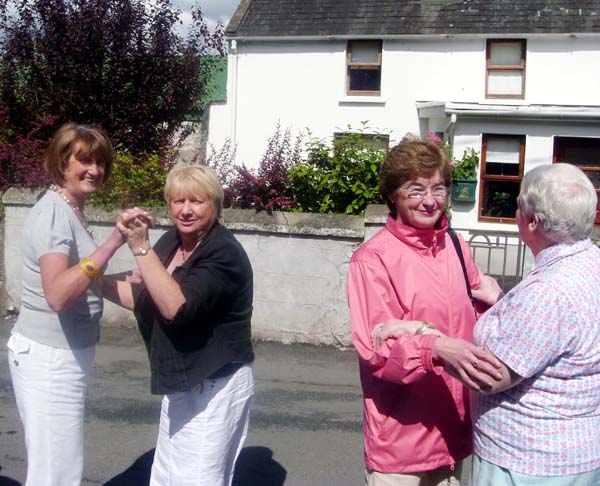 Marie O'Connell stepping it out with Frances Kennedy and Angela McSherry in step with Biddy Young

Blessed among women!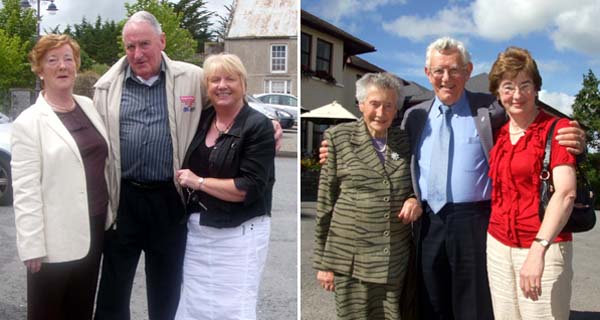 John McGrath with Joan O'Neill and Frances Kennedy, and Jack Costello with Mai Maher and Angela McSherry
Scaling the heights of the Dunshean Needle!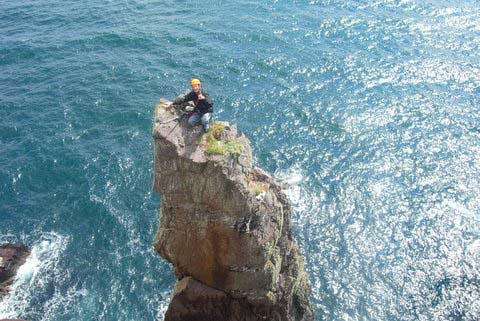 Tom Young giving the 'thumbs up!' from the pinnacle of the Dunshean Needle
As the June Bank Holiday weekend was passing I received a phone call from mentor of climbing John O Dwyer, he and two others were heading to Kerry on the Monday to take on the Dunshean Needle and they needed a fourth! So in the early hours of Monday morning we headed off, John, Dan, Josephine and myself. The needle is a pinnacle off the coast, its
135 feet high and the tip is around a metre squared. There are two ways of approaching the needle, the first is abseiling off the cliffs and making your way across the outcrops of rock jutting out or the second is taking a swim! This piece of rock is a mecca for climbers face if the rock is as sheer as the front of the church put that aside the exposure level is great as you are surrounded by water on 3 sides.
John led the climb followed by Dan and I then the weather broke and Josephine didn't get the chance. I was the last to climb back up the cliff face and as the waves came in and the wind howling I couldn't climb fast enough! The Hill Walkers had a meeting in Finn's on the eve of their annual trip to English Lake District the 19th June, which was a great success and it saw one of their members Carmel O Dwyer walk coast to coast alongside the famous Hadrian's Wall. There was also a hill walk around Latteragh Hills where the walkers had tea and sandwiches back in Finn's. There will be easy walks taking place around Latteragh and the Devil's Bit on certain Fridays over the next few months and notice will be posted on the Tipp Star on the week of the walk.
Borris-Ileigh GAA Lotto

Thursday 3rd July
Jackpot: €11,400 (Not won)
Numbers: 2, 7, 16 & 18
€50 Lucky Dip winners:
Eamon Ryan, Glenarisk, Borrisoleigh
Seamus Kennedy, The Mall, Templemore
Diarmuid Quinlan, Greenane
Mary Stapleton, Dublin c/o Stapleton's Pub
Next draw: Thursday 10th July, in The Clodagh Bar
Jackpot: €11,600
Marian Hall Lotto

08/07/08
Numbers: 9, 15, 18, 28
No Winner
4 match 3 winners @ €40 each
Derry Bourke, Nenagh Road
Mary Bourke, St John's Terrace, Nenagh
M. Gavin, c/o Bingo
Margaret Morrissey, Railway View, Templemore
Next Weeks Lotto Jackpot
€4,650

Pic of the Past… down memory lane
Set Dancers
Gerry Ryan, Peadar Cummins, Paddy Hennessy, Jimmy Molumby,
Delia Ryan, Biddy Stapleton, Phil Maher, Mary Kenny and Una Molumby

*************************************************************

News items, photographs, upcoming events etc. from home and away should be sent to

The success of this site depends on you!!!

***********************************************************