Camogie Club Quiz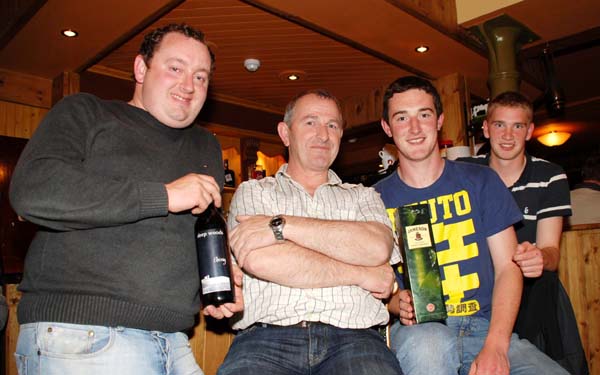 Winners of the table quiz: Henry Groome, Don Ryan, Martin Ryan and Brendan Maher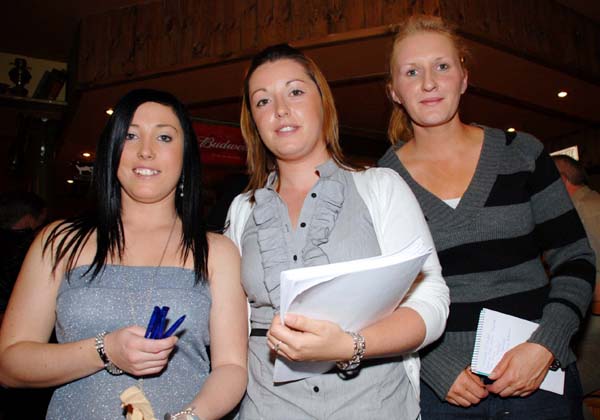 Michelle Stapleton, Joanne Cowan and Caroline O'Connor organisers of the table quiz

How many eggs in a butchers dozen?!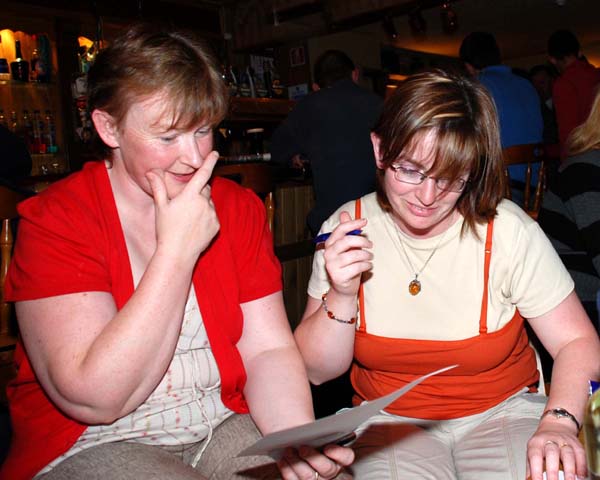 Lucia Ryan and Una Shanahan consider their options

Camogie Match in the Park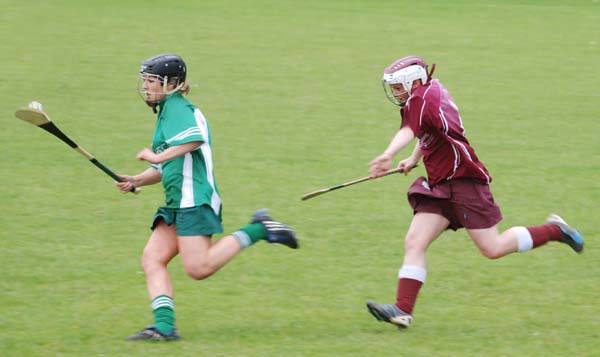 We would like to take this opportunity to thank all who sponsored the table quiz in aid of Borrisoleigh Camoige Club which took place in the Clodagh Bar on Friday evening last. A challenge match took place between Borris and Holycross in the Town Park on Saturday evening June 28th which was followed by a BBQ in Stapletons. Thanks to all who supported us. More photos of the challenge match against Holycross may be seen in our Photo Gallery or by clicking on the following link:
http://www.borrisoleigh.ie/viewGallery.php?gal=28&name=Camogie%20Club%20Photos%20-%20June%202008
Camogie Club Bar-B-Que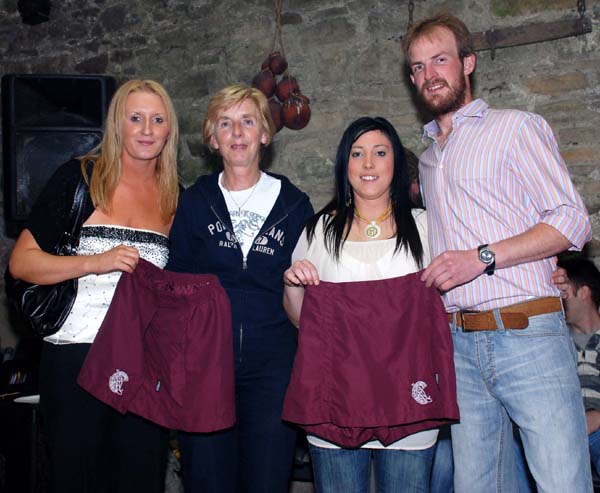 Breed Cowan and Tom Young making a presentation of playing gear to the Club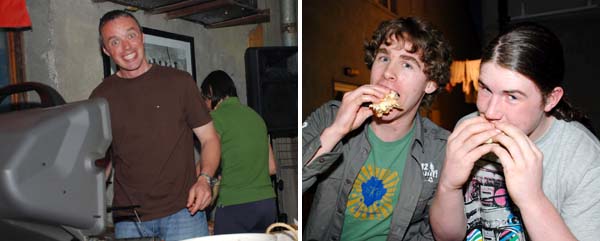 Aidan Cowan mans 'Hells Kitchen' while Thomas Hynes and Kevin Kennedy sample his wares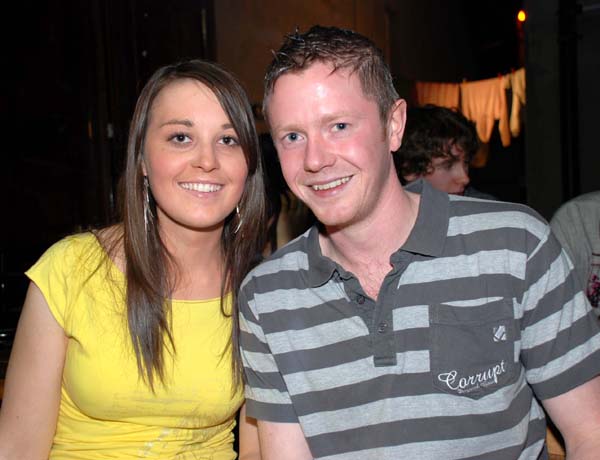 Gemma Mockler and Shane Kelleher enjoying the BBQ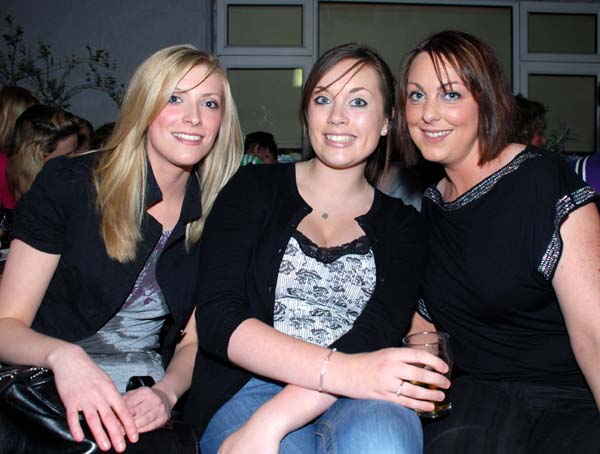 Charlotte Addis, Mairead Ralph and Kerrie Ryan


Flying High!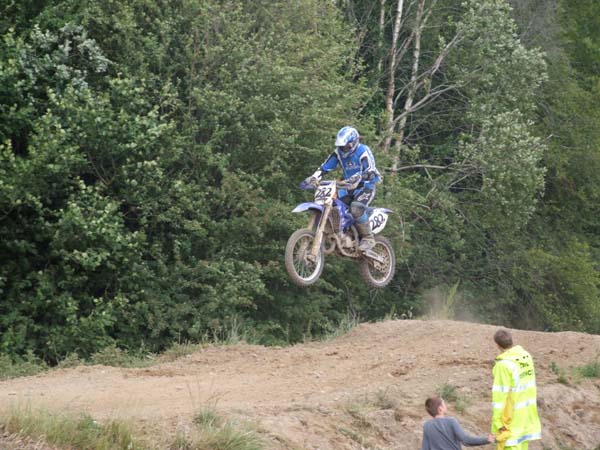 Kevin Kennedy, Garrangrena, taking part in the Motocross Championship at Doon, Co. Offaly last Sunday

Foróige Club

Climbing the Devil's Bit


Members of the Foróige Club returning from their Devil's Bit Climb on Sunday June 30th. A fuller report and more photos will be given in next week's Current News
Having fun preparing for Family Fun Day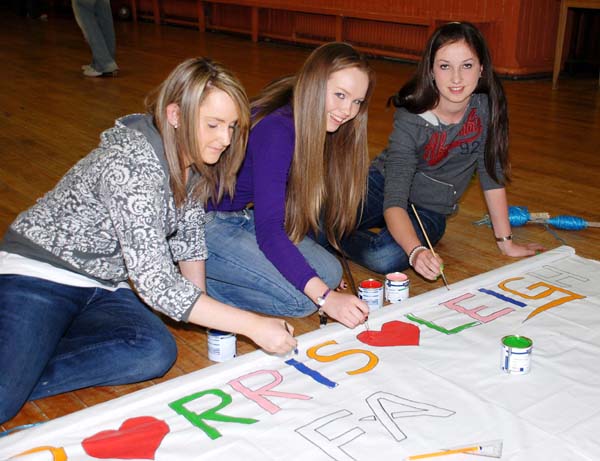 Clíodhna Bourke, Mari Ryan and Eimear Stapleton working on the banner
The local Foróige Club were commissioned to create a suitable banner for the Family Fun Day next Sunday July 6th. Pictured here are some of the club members working on the banner.
Anyone for tennis?!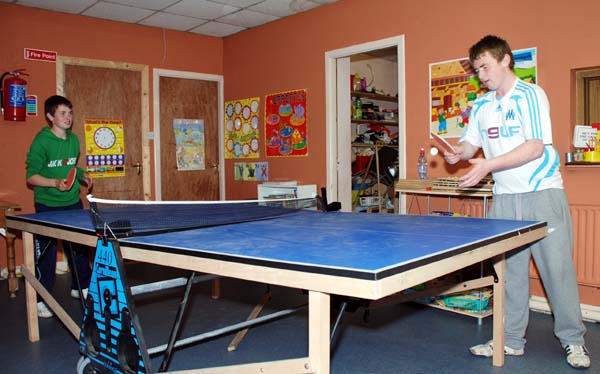 Finbar Williams and Daniel Bergin in heated battle at last Friday night's Foróige Club gathering in the Marian Hall.
Maria Ryan, Niamh Lyons, Kerrie and Teresa Ryan at last Friday's Foróige Club meeting

Fifi's Tots' Graduation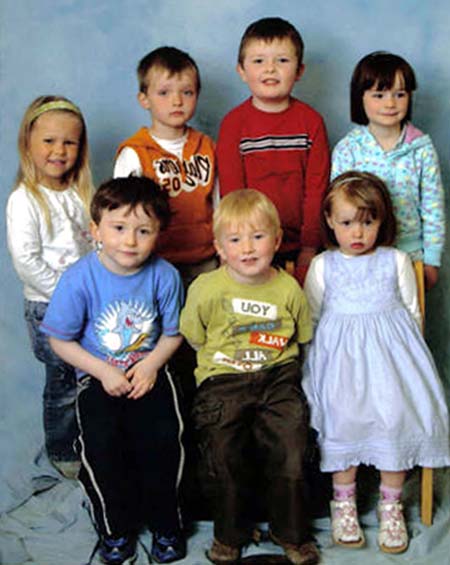 This group of children graduated from Fifi's Tots preschool on June 12th 2008.
Katie Fitzgerald, Adam Carr, Daniel Ryan and Wiktoria Skudlarska
Jane Delaney, Stephen Hutchinson and Larry Ryan.
Best of luck in "big school".
There are still a couple of places available for September 2008. Fiona Max can be contacted on 087-2169150 for further details.
Knockahorna Rose in Luxembourg Finals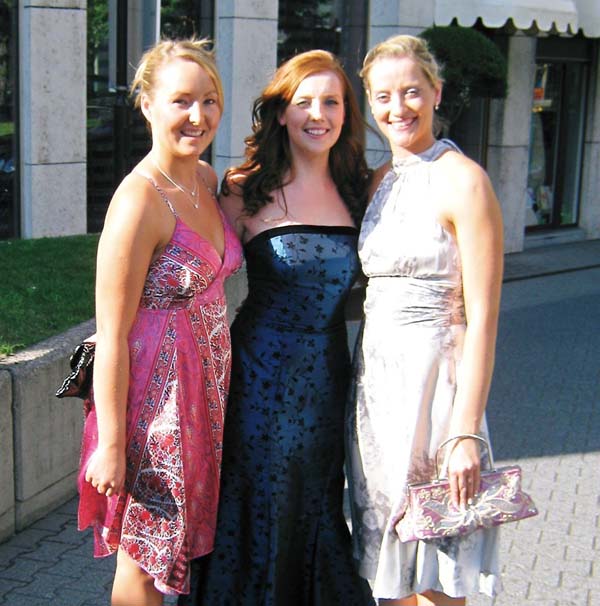 Katie Ryan from Knockahorna pictured with her friend Michelle Maher and sister Marguerite at the Luxembourg Rose Final
Katie Ryan from Knockahorna, Borrisoleigh who now lives in Luxembourg, was one of the finalists in Luxembourg's search for their entry in this year's Rose of Tralee competition. The final was held on Saturday June 29th and while Katie did not emerge as the Luxembourg Rose she did do her native place and country proud at the event.
What follows is Katie's description of who she is and where she comes from:

"An rud is annamh is íontach"
This is the perfect description of the unique picturesque country that is Luxembourg and of my life here. After 22 years I am finally standing on my own two feet and have branched off away from the norm in Ireland. A recent graduate of the University of Limerick, I completed an Honours degree in Business Studies with French. As part of my degree programme in 2006 I came to Luxembourg for eight months on an internship. That was when I fell in love with living centre stage in Western Europe. The decision to return to live here, last September, was an easy one.
A lot of my childhood days were spent with my grandparents, Granny Mai and Austin to whom I remain very close. I left them, my Mum and my Dad, along with two brothers and a sister behind when I decided move to Luxembourg.
An old song describes my townland as "Lovely Fair Ileigh". The area is two miles from the little village of Borrisoleigh in Tipperary and yes, while we all know that it's a long way to Tipperary, I try to get back there as often as I can. I am an avid hurling fan and while at home I attend club and inter-county matches, always with my heart in my mouth.
I have very strong ties with the Irish community in Luxembourg and I'm actively involved with both the Irish club and GAA club. I try to speak Irish as often as I can. People are amazed to think that we have our own native tongue and often curious as to what we're talking about. My Gaeilge isn't quite at the standard that it was when I did my Leaving Cert but as the proverb goes "Is fearr Gaeilge briste ná Béarla cliste".
Even though I have no blood relatives over here, Luxembourg is like a home away from home. For me it's always the people that make the place and it's certainly the case here.
My hobbies include playing the piano, ice-skating, skiing and travelling. I have travelled extensively in Europe and visited the west coast of America but I hope now that my next stop will be Tralee!
Having met all this years contenders, I am very confident that whichever one of the girls goes on to represent Luxembourg in the final, she will do justice to this amazing country.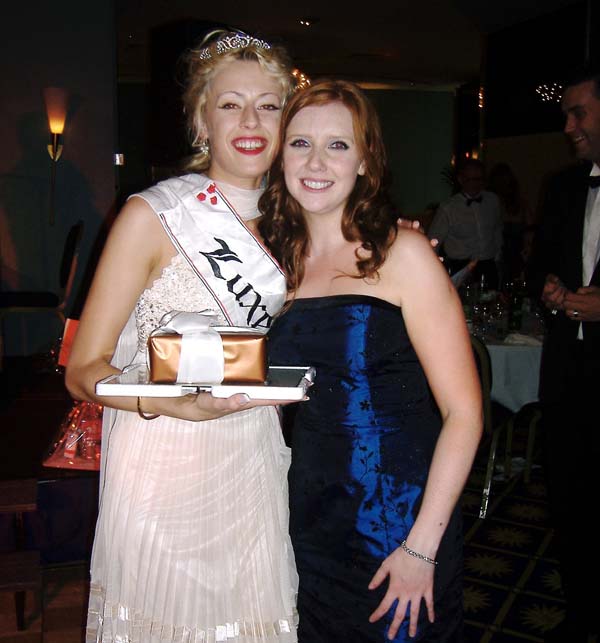 Katie pictured with the winner, Heidi Connolly who was born and mostly grew up in Luxembourg. Her Dad is Irish.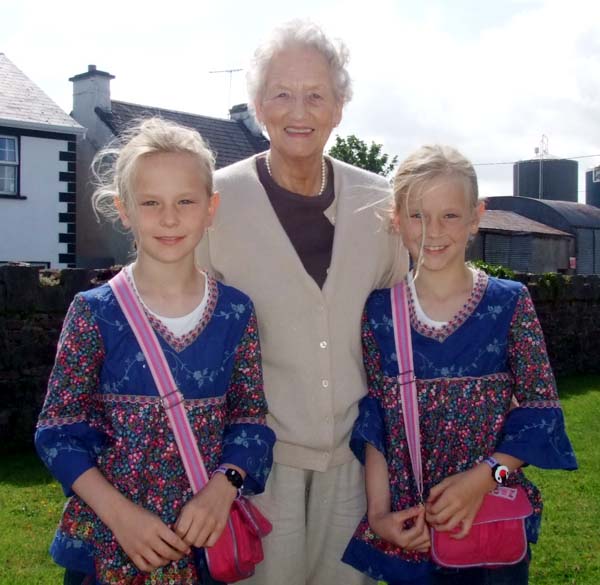 Mai Kearney (Katie's grandmum) with her grand daughters Simone and Michelle (Katie's cousins) during a visit from Dublin to Borrisoleigh.

St. Brigid's Cemetery Mass

Mass was celebrated for all who are buried in St. Brigid's Cemetery, Borrisoleigh on Monday June 30th.
Pat Kearney, Connie Ryan, Jack and Mary Ryan at the Mass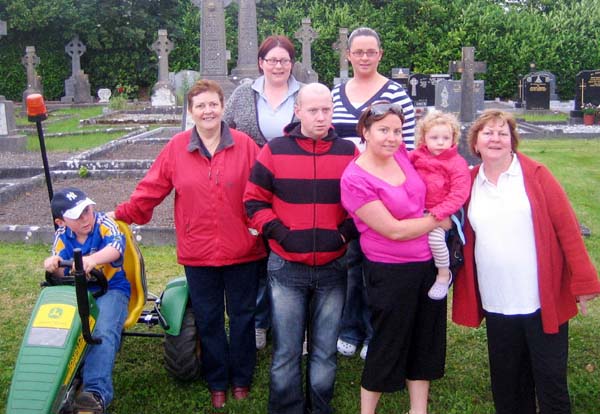 Members of the Ryan Family, Mountgeorge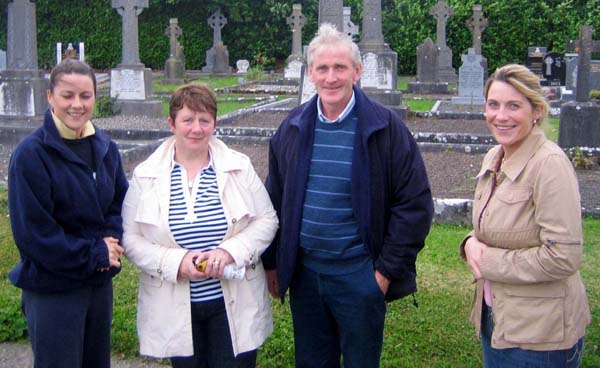 Members of the Ryan Family, Ballyroan

Mass will be celebrated in Glenkeen Cemetery on Thursday July 10th at 8 p.m. and in Ileigh on Friday July 11th at 8 p.m.
Borris-Ileigh GAA Lotto
Thursday 26th June
Jackpot: €11,200 (Not won)
Numbers: 1, 4, 6 & 11
€50 Lucky Dip winners:
Mossy Noonan, c/o Mouse
Sean Ryan, Ballyroan
Phil Halloran, c/o Kelly's of Fantane
Kate Conroy, Templemore
Next draw: Thursday 3rd July, in Bourke's Pub
Jackpot: €11,400
Marian Hall Lotto
01/07/08
4, 12, 17, 21
No Winner
3 match 3 winners @ €50 each
Joan Hayes, Rathdowney
Marette Smyth, Upper Street
Sarah Delaney, Kilkeary
Next Weeks Lotto Jackpot
€4,500
Pic of the Past… down memory lane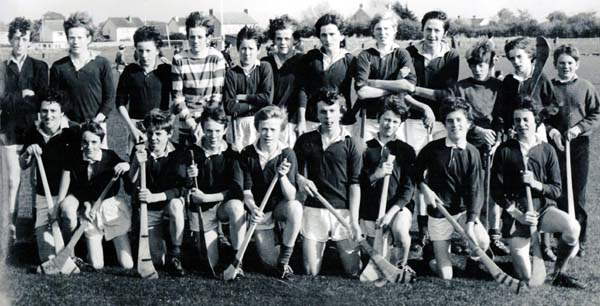 This photograph of a juvenile team from the early 1970s was found during recent renovations in the Clodagh Bar.

Back: John Tynan, Tim Ryan, James Slattery, Neil Stapleton, Donnacha O'Dwyer, PJ Ryan, Ger Ryan, Timmy Stapleton, Gerry Ryan, John Treacy, John Donnelly and Michael Gleeson.
Front: Paddy Butler, Ollie Delaney, Gerry Stapleton, Seán Gleeson, Pat Ryan, Andy Ryan, Martin McCormack, Liam Donnelly and Pat Treacy

*************************************************************

News items, photographs, upcoming events etc. from home and away should be sent to
info@borrisoleigh.ie
The success of this site depends on you!!!
***********************************************************