Congratulations and Celebrations!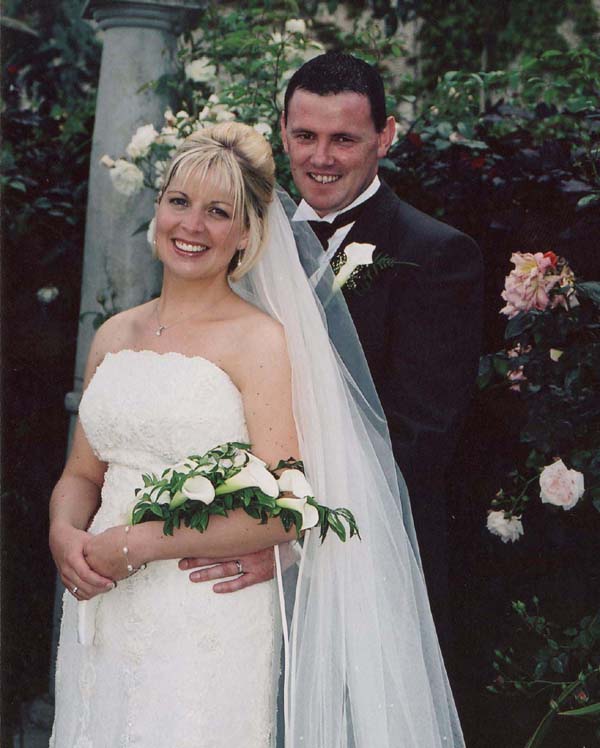 Annemarie Kelly and Ray Doyle on the day of their wedding


Congratulations to Annemarie Kelly of Currabaha and Ray Doyle of Clonmore who were married in The Sacred Heart Church, Borrisoleigh on Friday June 20th last. The main celebrant was Annemarie's uncle Fr. Rory. The wedding reception took place in The Abbey Court Hotel, Nenagh. The happy couple are now on honeymoon in The Maldives and later plan to visit Dubai.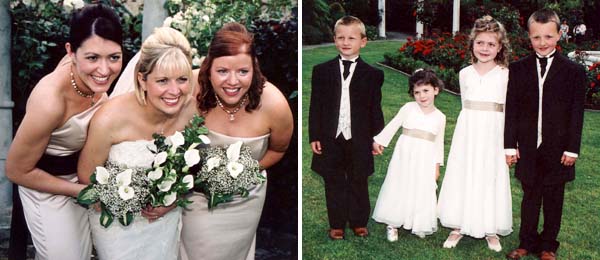 Annemarie with her bridesmaids Ruth (Brennan) Connolly and Siobhan Kennedy. Page boys and flower girls: Darragh Doyle, Emma and Liana Kelly, and Shane Doyle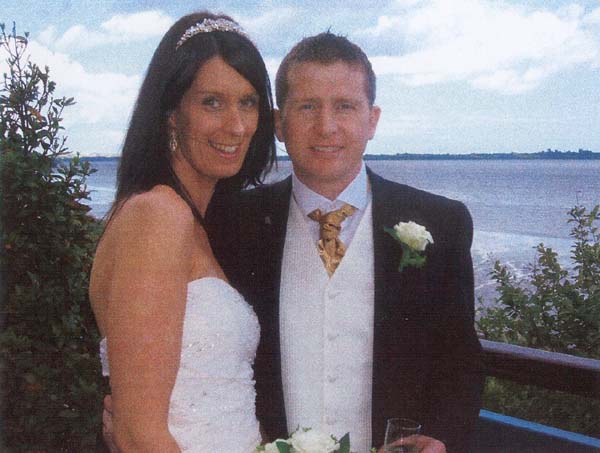 John Keane and Emer Lally (from Dublin) who were married in Crossbeg Church in Co. Wexford on 19th of June. Their wedding reception took place at the Ferrycarraig Hotel Co. Wexford. John and Emer are currently on Honeymoon in Greece.
Borrisoleigh Life Savers Action Group
Thanks to all for a great night at the recent table quiz held in the Clodagh Bar. Thanks to everyone for supporting the event, to all our sponsors of raffle prizes and the sponsors for 1st and 2nd prizes for the quiz winners, to Eamonn and Lisa Ryan of the Clodagh Bar, to Quizmaster Thomas Russell and the fundraising committee.

Family Fun Day
Borrisoleigh Family Fun Day, in aid of the defibrillator fundraising, will be held in Borrisoleigh Town Park on Sunday 6th July. The day will begin with a vintage and working tractor road run. Registration for this event will take place in the Park at 12.30p.m. Participants are asked to be in the Park at this time to allow for registration, copy of rules, place number and tea voucher to be distributed in advance of the start time 2.00p.m. sharp. This event will be stewarded and the route will be approximately 18 miles. Vintage, veteran and working tractors are all welcome. All that is asked of you is that your tractor is insured, you carry no passengers and have no farm implements attached on the day.
With the departure of the rally the Macra na Feirme Group will set the bale rolling with their sponsored 500m bale push from the town square to the Park at 2.15p.m. Events will begin in the Park at 2.30p.m. These will include face painting, guess the number of sweets in the jar, guess the name of the bunny, fun dog competition, races and novelty races. The trophies for the two competitions, get a ball through a tyre and get a ball into a barrel, are sponsored by Noreen and Seanie Ryan of Norden Tiles. The trophies for the puc fada competition, junior and senior, are sponsored by Brid and Mick Coen, Stapleton's Bar. There will be an adults Tug 'O' War. To register for this competition contact Joe Holland on (087) 2439038. Teams of 5 and a coach €50. trophies for this competition sponsored by Tom Young , Finn's Bar. The tractor balance event trophy is sponsored by Templemore Jewellers.
There will be a sponge throw stall and this event is being organised by the new Foroige Club in Borrisoleigh. This promises to be a day of great fun for all the family. Admission at the gate is free and there will be off-road parking provided. Please come along and support this event and experience a fun filled day. Hope to see you there.
Tipp FM broadcasting from Borris

Pictured at the Tipp FM Outside Broadcast Unit are: Aoife, Amy and Sarah Ryan
At the invitation of the Borrisoleigh Life Savers Action Group Tipp FM sent its outside broadcast unit to Borrisoleigh on Thursday 19th of June. Fran Curry broadcast his show live from the square and held interviews with Paula Ryan, Una Shanahan, Sgt Tom McCormack and Christina O'Dwyer. The necessity for defibrillators in the community was discussed. The interviewees also availed of the opportunity to publicise the upcoming Borrisoleigh Family Fun Day to be held in Borrisoleigh Town Park on Sunday the 6th July. Many thanks to Greensleeves Confectionary, Borrisoleigh, who kindly supplied their new frozen drinks, Tropical Twos, to the many children (and adults!!) who visited the outside broadcast unit. What a great way to begin the school holidays!
Bucket Collection after the Big Match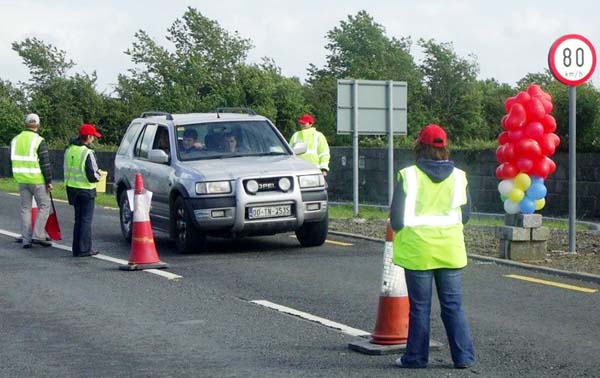 Show us the Money!!! In fact, give us the Money!!!
Borrisoleigh Life Savers Action Group continued their fundraising drive on Sunday evening, 22nd of June. They were out on the streets of Borrisoleigh to meet the match crowd streaming through from Semple Stadium. Between bantering with the Clare fans and commiserating with the Limerick fans, both sides kindly donated a total of €1540.10. Thanks for the donations and to the members of the group who helped out with the collection.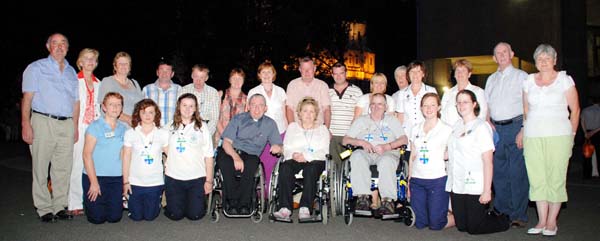 Some of the parishioners from the parish in Lourdes on Pilgrimage

A group of about 25 parishioners from our parish travelled to Lourdes on the Diocesan Pilgrimage last week (June 16th – 21st). This year marked the 150th anniversary of the apparitions of Our Blessed Lady to St. Bernadette in 1858. More than 1,100 people travelled from the various parishes of the Archdiocese including sick, pilgrims, medical staff, clergy, youth group and adult helpers.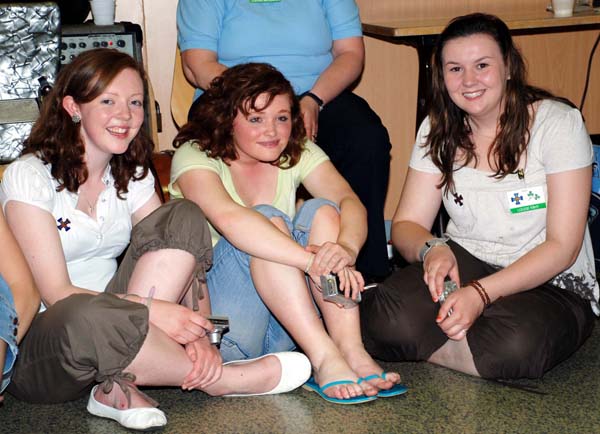 Our fifth year youth helpers, Maria Ryan, Becky Prior and Louise Fahy
Our parish was proudly represented by three fifth year youth helpers, Becky Prior, Louise Fahy and Maria Ryan. All three were exemplary in their efforts to help the sick and needy during the pilgrimage.

Maria Ryan with Frances Hearne (Boher), Louise Fahy with Nora Ryan (Murroe) and Becky Prior with Brigid Winters (Drangan).
Archbishop Dermot Clifford in his remarks at the closing Mass of the Pilgrimage paid tribute to the Youth Group for their generous and selfless contribution to the five days at the Grotto of Lourdes.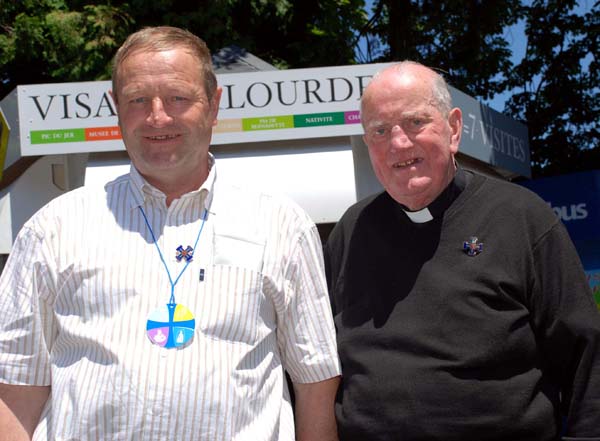 TF Stapleton with Canon James Power AP in Lourdes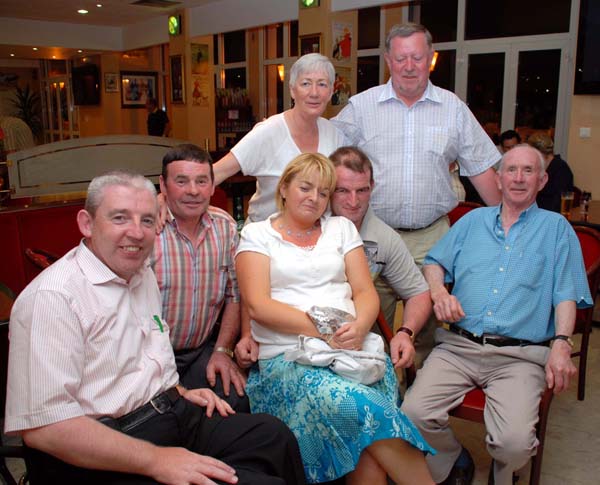 Fr. Michael Barry, Willie Treacy, Marette and Lar Smyth, Pearl and PJ Younge and Mick Collins.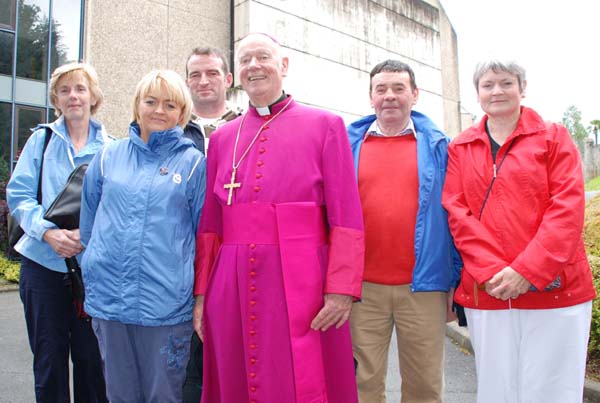 Breed Cowan, Pearl and PJ Younge, Archbishop Dermot Clifford, and Willie and Geraldine Treacy.
Juvenile GAA Club
U16 Football
The U16 Football team were beaten by Holycross last Saturday in the County Semi-Final at the Ragg, on a score line of 2-7 to 0-6. Borris-Ileigh dominated for long periods but the Holycross goalie was exceptional on the day. Well done to the team on reaching the semi-final.

Bag Pack
The Juvenile Club held their annual bag pack in Dunnes Stores recently. Many thanks to all who supported them and a big thank you to all the volunteers who bag packed over the weekend.
Cemetery Masses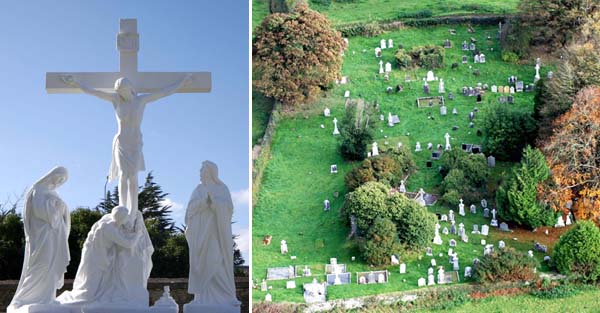 Cemetery Masses will be celebrated in our three graveyards in the coming two weeks. The times and dates of these Masses are as follows:
St. Brigid's Cemetery, Borrisoleigh on Monday June 30th at 8 p.m.
Glenkeen Cemetery on Thursday July 10th at 8 p.m.
Ileigh Cemetery on Friday July 11th at 8 p.m.


St Cualan's Senior Citizen's Club
St Cualan's annual trip will take place on Thursday July 3rd. Bus will leave the Square at 2 p.m. Dinner will be served at the Lakeside Hotel, Ballina. Entertainment will be provided and a great day is assured. The chairman and committee would like to thank all who contributed so generously to our annual sponsored walk on Sunday evening 15th June.
St. Joseph's College
School Golf Team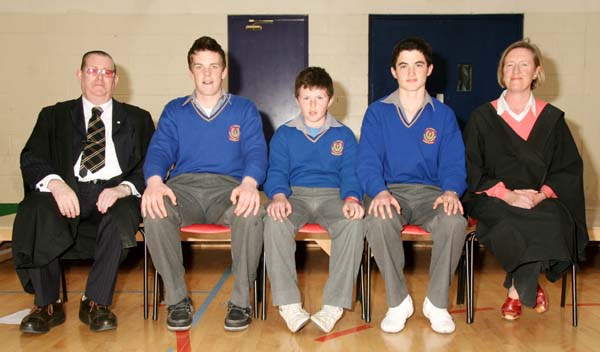 Mr Padraig O Shea (Principal) and Miss Alice Regan (Deputy Principal) with Michael Everard, Brian Ryan and James Ryan who represented St. Joseph's College, Borrisoleigh at Limerick Golf Club recently. Brian Ryan proved to be the star of the team when he shot six birdies on the day.

School Camogie Team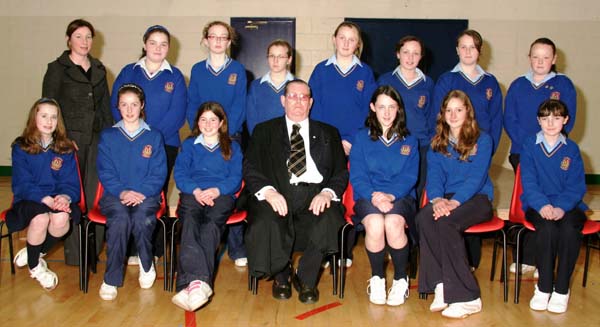 Back row (l-r) Therese Cahill, Claire Ryan (Currabaha), Karen Kenny (Borrisoleigh), Santa Visule(Borrisoleigh), Geraldine Kelly (Gortagarry), Louise McLoughney (Templederry), Edel Cummins (Gortagarry), Aisling Ryan (Templederry)

Front row Niamh Hennessy (Borrisoleigh), Elaine Murphy (Latteragh), Lisa Meade (Templemore), Mr O' Shea, Claire Ryan (Borrisoleigh), Shannon Browne (Barnane), Maureen Walsh (Templederry). Missing from photo Ms Marcella Crowe
Borris-Ileigh GAA Lotto
Thursday 19th June
Jackpot: €11,000 (Not won)
Numbers: 4, 6, 13 & 21
€50 Lucky Dip winners:
John Vahey, Mountgeorge
Marie O'Regan, Thurles
Tommy O'Dwyer, Borrisoleigh
Olive Prior, Knockanevin
Next draw: Thursday 26th June, in Stapleton's Bar, The Cross of Pallas
Jackpot: €11,200

Pic of the Past… down memory lane
Coursing meeting – St. Stephen's Day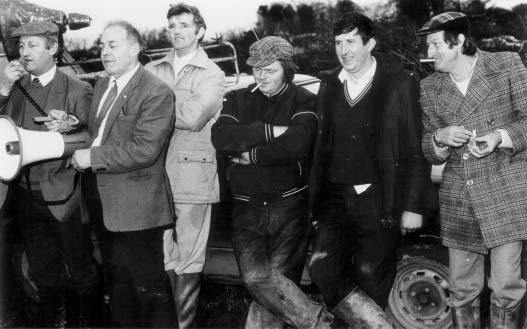 Matt Stapleton, John Fogarty (Cashel), Austin Kelly, Jim Costello, Jimmy Farrell and Tom Costello.
*************************************************************
News items, photographs, upcoming events etc. from home and away should be sent to
The success of this site depends on you!!!
***********************************************************