Table Quiz in the Clodagh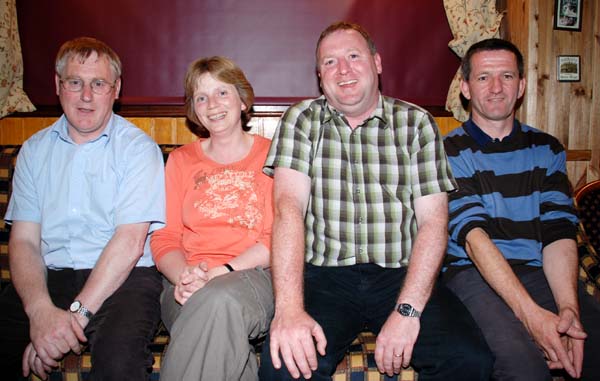 The winners – Michael Carey, Sheila and Ruairi O'Connell and John Hogan
A table quiz took place in the Clodagh Bar on Friday night June 13th. This was in aid of the Borrisoleigh Defibrillator Programme being run by the Borrisoleigh Life-Savers Action Group. A large crowd came to support this venture. Thomas Russell was the quiz master for the evening and as usual he displayed his unique style in the manner of his presentation and the quality of the questions. The organising committee would like to thank everyone for their generous support. A special word of thanks to Lisa and Eamonn Ryan for donating the top prize of the evening and for the use of their premises for the event. Thanks also to all the other prize-givers, ticket sellers, sandwich makers etc. etc. etc. We are delighted to be able to announce that more than €1,100 was raised at this event. Your support is much appreciated.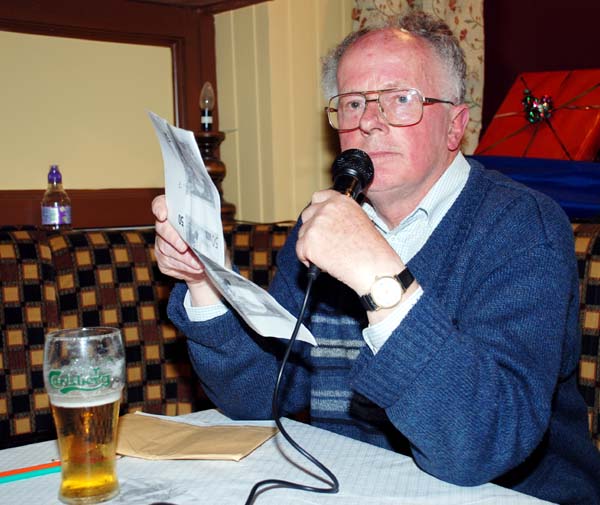 Thomas Russell – Quiz Master extraordinaire!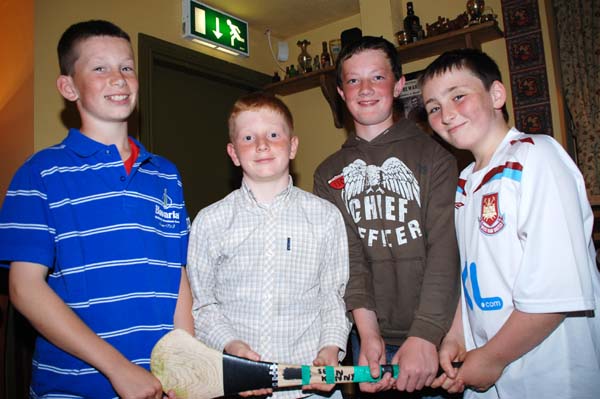 Philip McCormack, Sean Kenny, Sean Ryan and Brendan O'Dwyer at the Table Quiz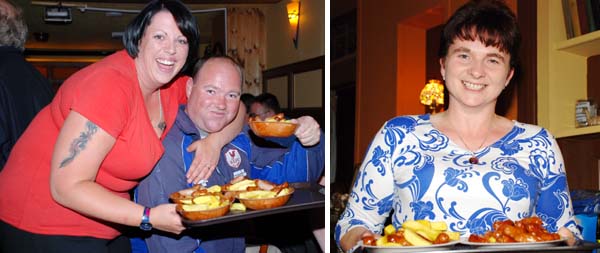 Sam Holland making sure John Vahey is well fed on the night and Christina Dwyer with extras!

Also on the night Teresa Ryan of Castlecourt made a presentation to Christina Dwyer (Chairperson of the Life-Savers Action Group) of €2,630, the proceeds of her sponsored run in the ladies mini-marathon which took place in Dublin during the June Bank Holiday weekend.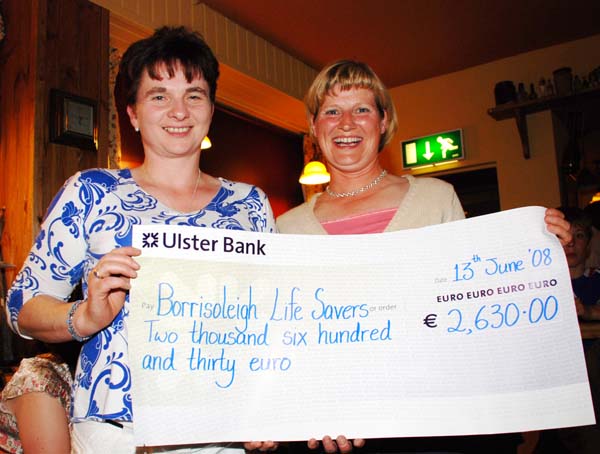 Teresa Ryan presenting a cheque for €2,630 to Christina Dwyer (Chairperson of Borrisoleigh Life-Saver Action Group)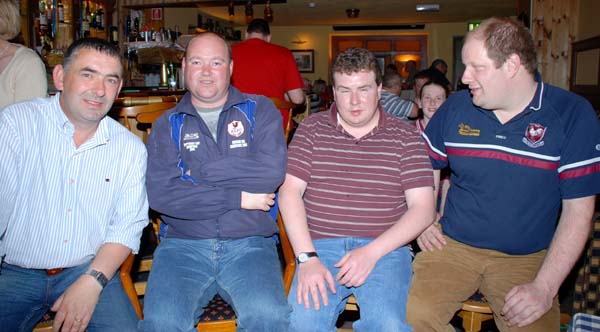 Runners up – Paul Boyle, John Vahey, Liam Bourke and Anthony Ryan


Celebrating Tipp's Win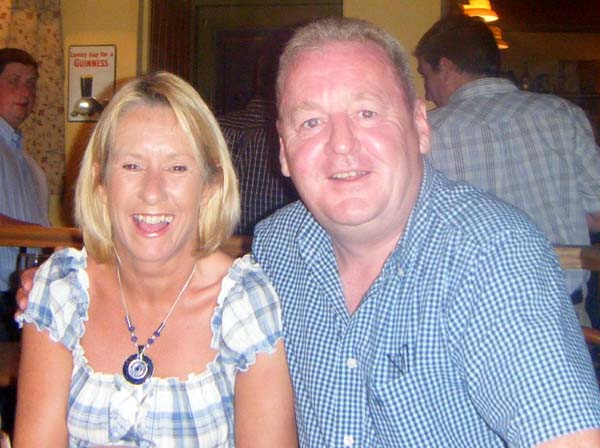 Alma and Fergal O'Connell from Cork enjoying a night out in Borris recently – Up Tipp!!!
St. Cualan's Sponsored Walk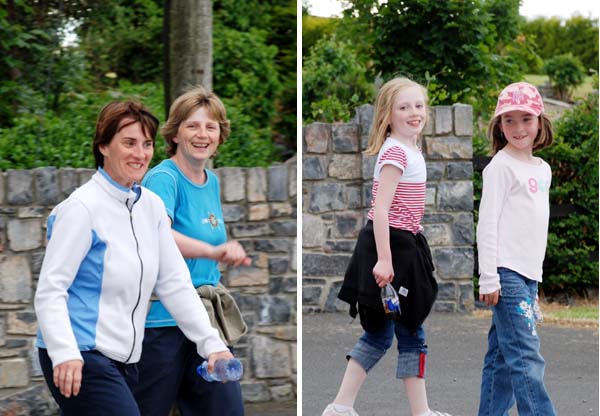 Vera Hogan, Sheila O'Connell, Cliona O'Connell and Aedin Hogan
A large crowd of people turned out for the annual St. Cualan's Senior Citizens' sponsored walk on Sunday June 15th at 6 p.m. The usual Rathmoy route was travelled with lively banter and chit chat to be heard all along the way. Liquid refreshments were supplied en route and tea and sandwiches were made available in the Marian Hall at the end of the walk.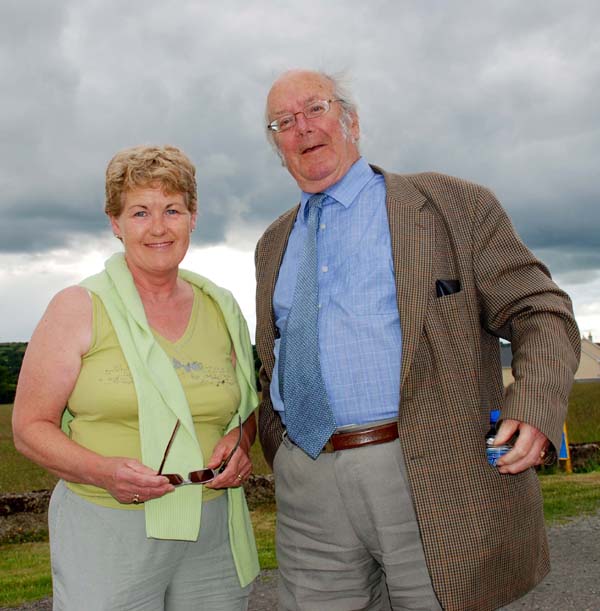 Ann Small and Jeff Skipper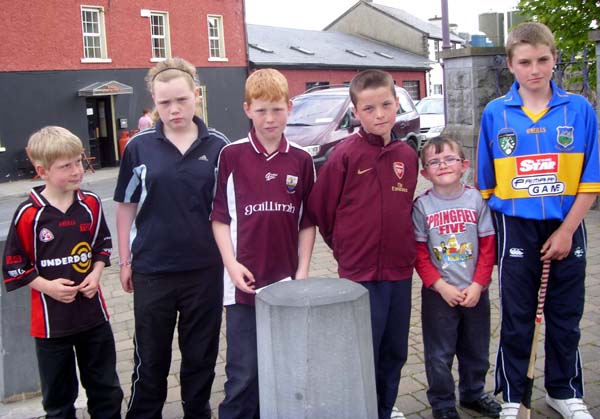 Raymond, Jane and James McCormack with Jack and Cathal Hogan and Matt Stapleton relaxing after the walk
The St. Cualan's Committee are deeply appreciative of the support that they receive from the local community. The funds raised are used to off-set the costs of bringing our senior citizens on various outings throughout the year as well as helping to finance the annual Christmas party.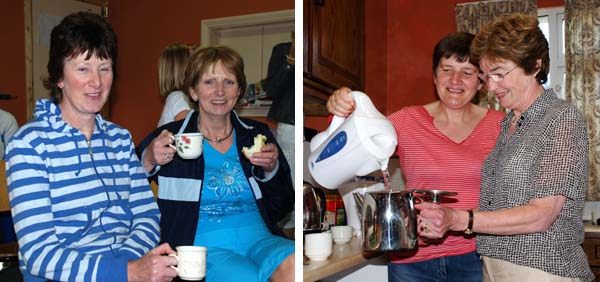 Angela Corcoran and Nora Ryan, Teresa Stapleton and Angela McSherry
Commissioning of Parish Child Protection Representatives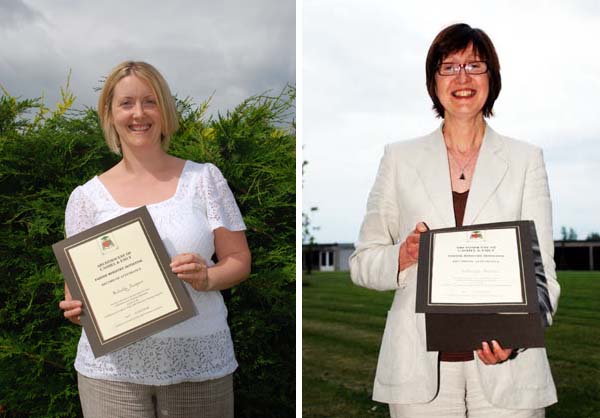 Michelle Duignan and Catriona Spooner – commissioned as Child Protection Representatives for the Parish of Borrisoleigh and Ileigh
On Friday June 13th Child Protection Representatives from every parish in the Archdiocese of Cashel and Emly were commissioned in a special ceremony at St. Patrick's College, Thurles. Archbishop Dermot Clifford in his address to the 100 volunteers from all over the Diocese praised their generosity and dedication. He said that their involvement in this initiative showed their care and concern for the welfare of the children of their respective parishes and also their commitment to Church life. In our own parish Michelle Duignan of Glentane and Catriona Spooner of Rathmoy have undergone the training course involved and will now act as our Parish Child Protection Representatives. We thank them for their generous commitment to this task.

Pictured above are Sally Lee (Presiding Officer), John McGrath (Polling Clerk), Bab Ryan (Polling Clerk) and Eddie Kenny (Presiding Officer) at the Polling Booth in Borrisoleigh last Thursday.
Polling was brisk with a 58.8% turnout in North Tipperary. Irish voters rejected the Treaty by a margin of 53.4% to 46.6%.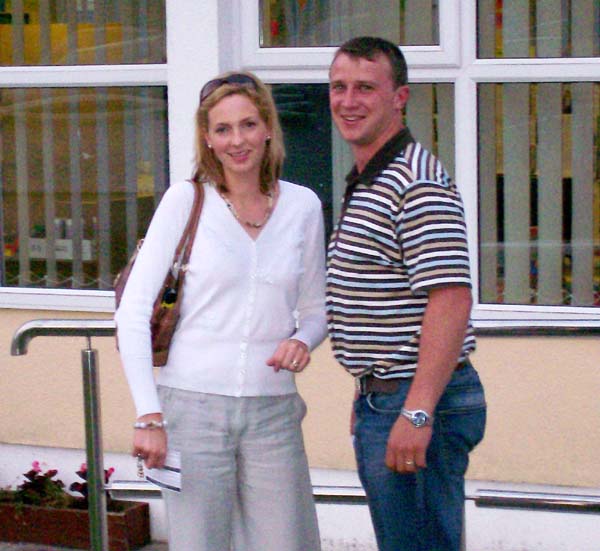 Bill and Irene Duff on their way to cast their vote in the Lisbon Treaty.
Harry Joes Golf Society held their third outing of the year in Limerick County Golf Club in Ballineety on Saturday last June 14th. The competition played on the day was George Ryan's Captains Prize. Over 40 members took part and a very enjoyable day was had by all.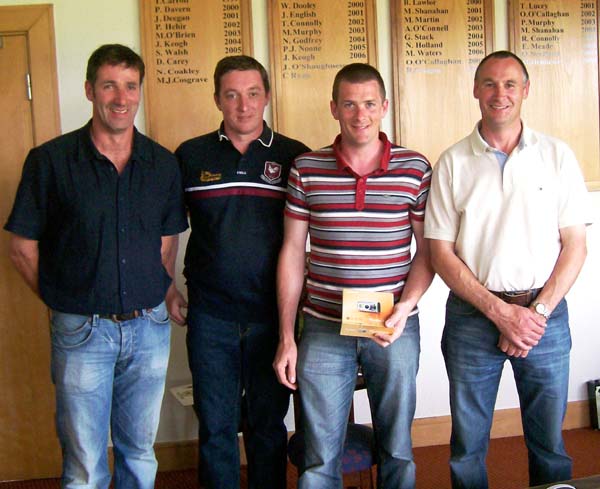 John McGrath, George Ryan (Captain), Declan Stapleton and Martin Fahy
Prize winners on the day:
1st Martin Fahy
2nd John McGrath
3rd Declan Stapleton
Cat A: Jimmy O'Donnell, Aidan Cowan and Denis Ryan
Cat B: Mattie Stapleton, Mark Stapleton and Declan Maher
Cat C: John F. Kennedy, Tony Rabbitte and Neil Stapleton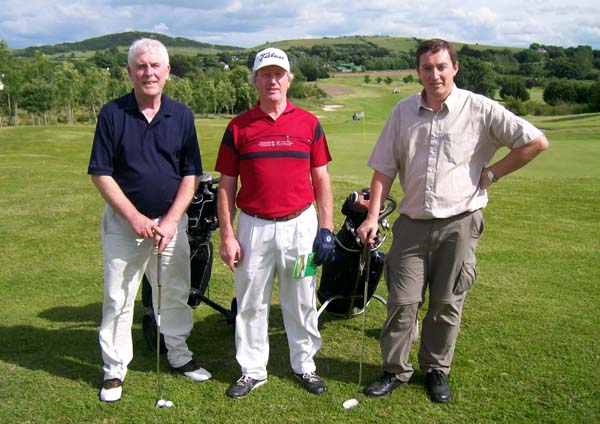 Tony Rabbitte, Michael Ryan and George Ryan (Captain) taking to the fairways
The next outing will take place in the GoldCoast Golf Club in Dungarvan on August 23rd.
Meeting of Church and State
Sergeant Tom McCormack and Fr. Michael Barry take time out from their recent discussions on the state of the local parish and community for a brief photo call.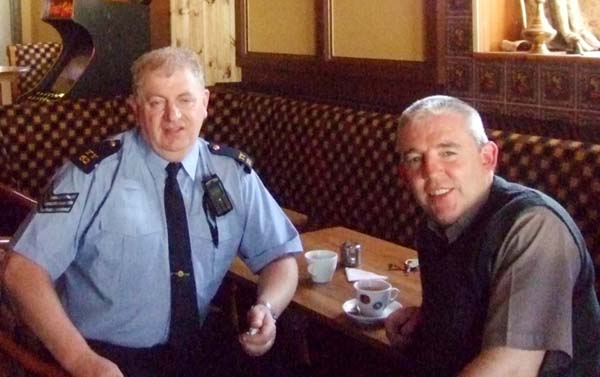 Both gentlemen are agreed that in the interests of national and ecclesiastical security "the least said the soonest mended" and so neither would be drawn on the nature, substance or content of their deliberations. 'NO COMMENT' was all they were heard to say when questioned about their bilateral encounter at the Clodagh Bar on Friday June 13th last.
We can only speculate that perhaps it was the minutiae of the recently rejected Lisbon Treaty, or maybe the escalating scale of our individual carbon footprint, that occupied the minds of these two men. Or could it have been 'the price of the pint'?! Who knows?! One thing is for sure – we'll never know!!!
Borris-Ileigh GAA Lotto

Thursday 12th June

Jackpot: €10,800 (Not won)

Numbers: 11, 14, 24 & 26

€50 Lucky Dip winners:
Tricia Loughnane c/o Michael Browne
Mary Fogarty c/o T.F. Stapleton
Tom Ryan, Killeen, Nenagh
Maura Norton c/o Garda College

Next draw: Thursday 19th June, in Coffey's Bar
Jackpot: €11,000

Results Marian Hall Lotto

17/06/08

2, 9, 10, 13

No Winner

2 match 3 winner @ €75 each

Nonie Costello, Milestone
Cathy Patton, Curraghloss

Next Weeks Lotto Jackpot

€4,200
Pic of the Past… down memory lane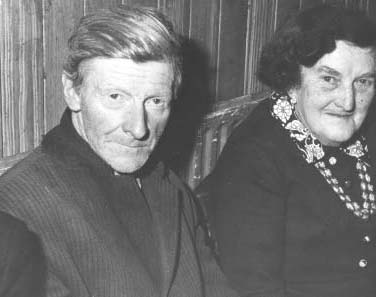 Patrick Carroll of Pallas and Elizabeth Patterson
*************************************************************
News items, photographs, upcoming events etc. from home and away should be sent to
The success of this site depends on you!!!
***********************************************************