Foróige Club Members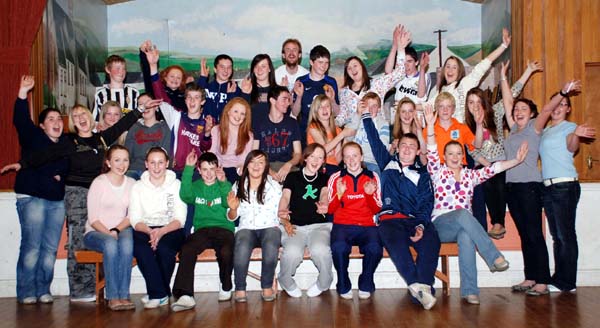 Louise Fahy, Becky Prior, Clíodhna Bourke, Niamh Lyons, Maria Ryan, Eimear Stapleton, Noirín Stapleton, Mari Ryan, Niamh McGrath, Grace Prior, Daniel Ryan, Mark Shanahan, Niall Cowan, Lorcan Ryan, Tommy Kavanagh, Mossy Shanahan, Patrick Donnelly, Barry Dwyer, Benny Harkin, Ciarán Hackett, Conor Walsh, Thomas Fahy, Clare Kavanagh, Tommy Mockler, Steven Shanahan, Steven Williams, Daniel Bergin, Nicole Walsh, Christine Kenny, Teresa Ryan, Aoife Stapleton.


Foróige Club Committee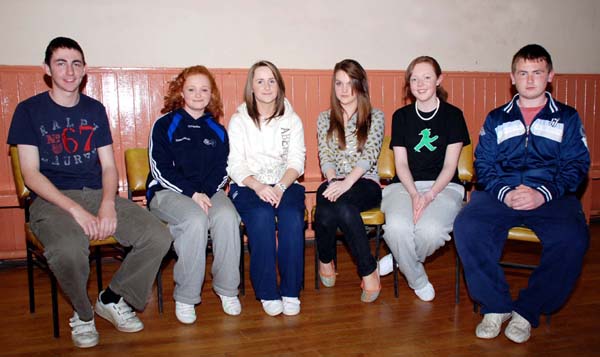 Danny Ryan, Chairperson, Becky Prior, Clíodhna Bourke, Events Organiser, Niamh Lyons, PRO, Maria Ryan, Secretary and Daniel Bergin.
Contribution to our new Foróige Club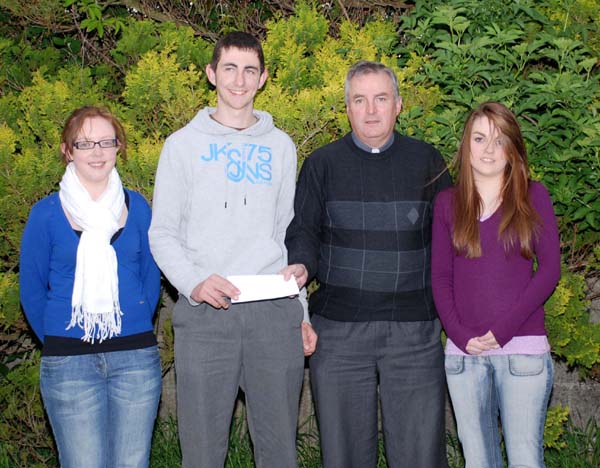 Maria Ryan, Danny Ryan, Foróige Club Chairman, Fr. Liam Everard PP, and Niamh Lyons
Fr. Liam Everard PP making a donation on behalf of the parish to the Chairman of the local Foróige Club Danny Ryan. Fr Liam wished the Club well in their activities and congratulated them on the setting up of the Club. Danny then thanked Fr Liam on behalf of all the Foróige Club members for his generous contribution to their club.
First Holy Communion Class of 2008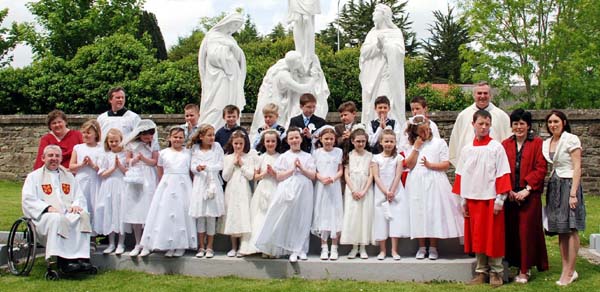 Oran Bergin, Bridget Cleary, Nicky Cooney, Tia Devaney, Stephen Foley, Roisín Hennessy, Aedin Hogan, Alison Hogge, Amy Jordan, Raymond McCormack, Tara Mockler, Amy O'Brien, Aaron Rabbitte, Avril Ryan, Christine Ryan, Clodagh Ryan, John Ryan and Michaela Scanlon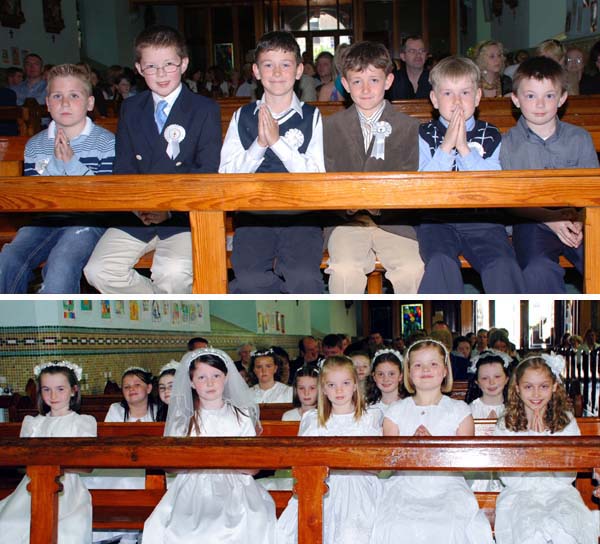 First Holy Communion Day was celebrated in Borrisoleigh on Sunday May 25th 2008. Eighteen pupils from our three primary schools, St. Theresa's N.S., St. Patrick's N.S. and Scoil Bhríde, Fantane celebrated their First Holy Communion on the day. Fr. Liam Everard PP was the main celebrant at the Mass during which he complimented all concerned for their efforts in preparing the young boys and girls for this important day in their lives. He especially thanked teachers Mrs Mary Delaney, Mrs Mary Butler and Ms Deirdre Harrison for their invaluable work and example with the children throughout the year.


Aaron Rabbitte and Tara Mockler on the day of their First Holy Communion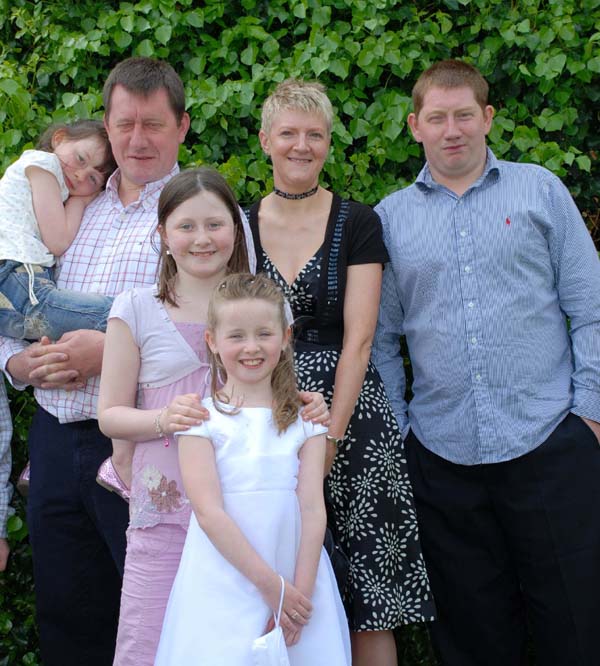 Christine Ryan with members of her family
New kid on the block!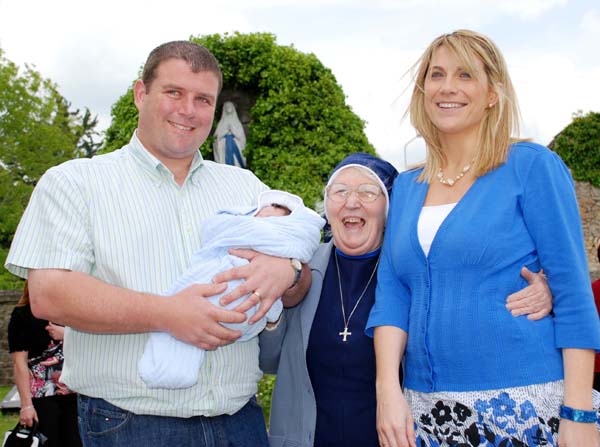 Proud parents Mark and Christine Rabbitte of Knockanure with their little bundle of joy baby David at the First Holy Communion Mass on Sunday May 25th.
Christine is involved with our website committee. We congratulate them both on the birth of their son and wish them a lifetime of happiness together. Also in the photo is Mark's aunt, Sr. Breda who is obviously delighted at the new arrival into the family.
St. Joseph's College – Graduation Mass 2008
On Thursday evening last May 22nd, Fr.Liam Everard PP presided over the graduation Mass for the Leaving Certificate class of 2008 in the Sacred Heart Church, Borrisoleigh. Over 70 students attended the ceremony with their parents and family members. Fr. Everard spoke about "new beginnings", thanked the principal and staff of St. Joseph's College and prayed for the upcoming exams. The students actively participated in the Mass, which was beautifully enhanced by the school choir, who sang throughout. The ceremony was brought to a close with a beautiful rendition of Whitney Houston's "One Moment in Time".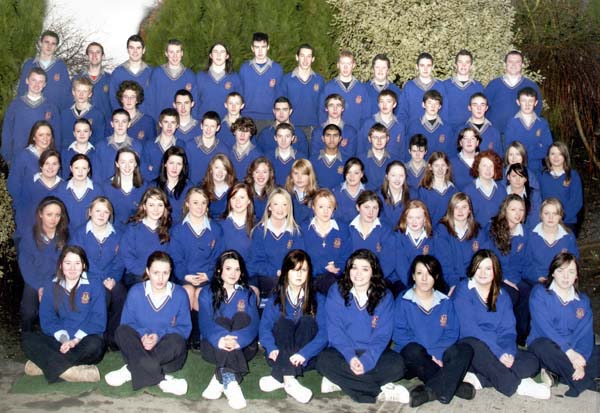 Back: Eoin Ryan, Sean Hackett, Philip Ryan, Tommy Bourke, Kevin Kennedy, Conor Walsh, Paul McGrath, Thomas McCutcheon, Shane Hogan, Michael Kennedy, Michael Everard, Paidi Maxwell
Gary Toohey, John Murray, Cathal 0 Donovan, Ciaran Bergin, Philip Crowe, Joe Buckley, Thomas Hynes, John Paul Dwan, Jack 0'Donnell, Simon Ryan, Ciaran O'Dwyer
Susan Flannery, Regina Garland, Thomas Fahy, Mark Shanahan, Stephen Bourke, Ruairí Moore, Richard Walsh, Issac Kumari Doyle, James Ryan, James Walsh, Neasa Ryan, Stephanie Ryan, Nicole Joyce
Fiona Young, Emma Ryan, Marguerite Bradshaw, Kristina Kenneally, Sharon Madden, Marie Tynan, Róisín Ryan, Sarah Maher, Karen Ryan, Joanne Shanahan, Teresa Coffey, Deirdre Cleary
Louise Fleming, Stephanie Tuson, Ciara Lyons, Keelin Egan, Aisling Stapleton, Fran Martin, Elaine Ryan, Sandra Dunne, Noreen Treacy, Eimear Shanahan, Cherie Quinn, Emma Donnelly
Front: Yvonne Meade, Brigid Hayes, Tara Maher, Michelle Ryan, Eimear Ryan, Lisa Carroll, Áine Lynch, Christine Slattery
Absent: Michelle Darcy, Jason Fahey, Martin Gosling, Bonny Kennedy, Elaine Kinane, T.J. 0 Brien, Margaret Ann Ryan, Joan Slattery

County Board U8 Hurling Blitz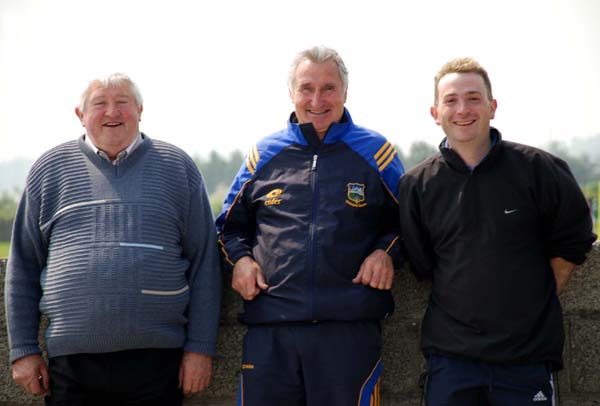 Bertie Fitzpatrick, Roscrea, Len Gaynor, Kilruane and Jimmy Slattery, Borrisoleigh pictured at the blitz
Thanks to all who helped out in hosting this hurling blitz last Saturday 24th May 2008 in the Town Park. A great display of hurling skills was demonstrated by all the young players from Borris-Ileigh, Toomevara, Kilruane McDonaghs and Roscrea. Borris-Ileigh has two teams representing the club in this hurling initiative which is all about having young children participating in matches and has been ongoing for the last three weeks.
These young hurlers commenced training at the end of January with indoor hurling in the Marian Hall and tremendous work has been put in since by all the mentors involved. The Borris-Ileigh players were Raymond Mc Cormack, Aaron Rabbitte, Oran Bergin, Seamus Ryan, George Stapleton, James Ryan, Liam Ryan, Liam Ryan, William Ryan, Harry Younge, Ewan Younge, Dirk Leimhlener, Allison Hogge, Alvis Danko, Killian Bergin, Fintan Holland, Aoife Max, James Devaney, Micheál Ryan, Dan Ryan, Kevin Maher, John Mc Grath, Pauraic Stapleton, Cian Stapleton, James Kelly, Luke Cooney, and Oscar Niserky. Well done to all concerned. The blitz morning continues with Borris-Ileigh playing in Roscrea next Saturday. Players will be notified by text.
Early Morning Worshippers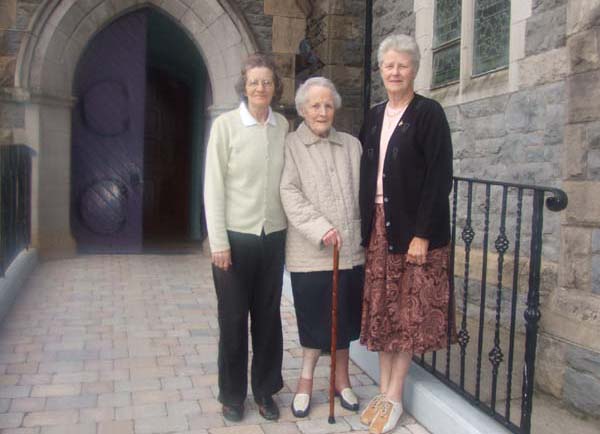 Kathleen Ryan of Mountkinane, Mary Ryan of Main Street and Brigid Prior of Nenagh Road emerge from The Sacred Heart Church after 8:30 morning Mass recently.

Eyes on the ball boys!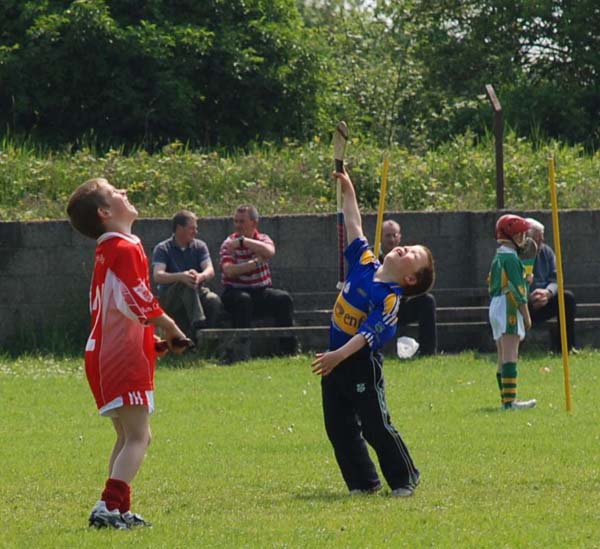 Is it a bird? Is it a plane? Oh no – it's a ball and we better catch it!!!
Kilkenny Colours on Tipp soil!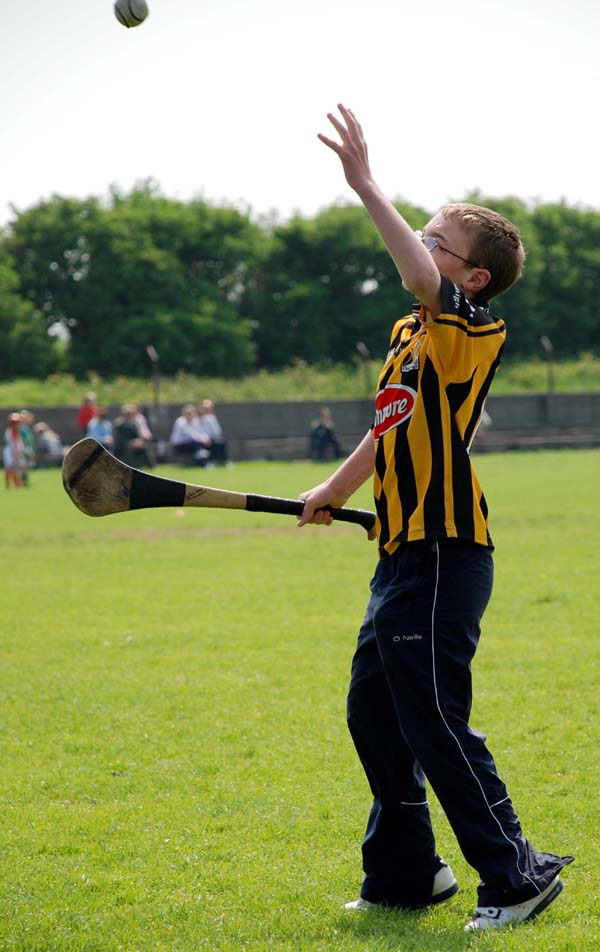 John Fitzgerald demonstrates his ball-catching abilities at the Town Park. And just for the record – he did catch it!
Conference on Clustering of Parishes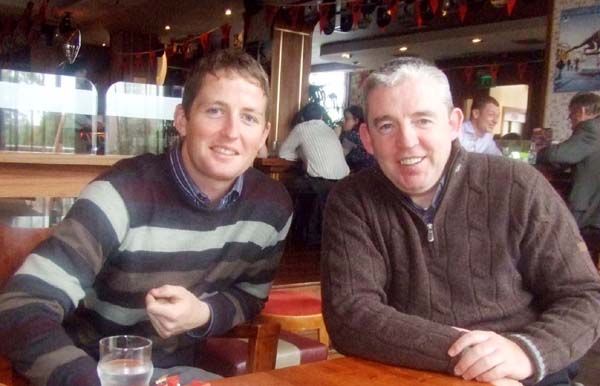 Vincent Stapleton and Fr. Michael Barry attending the conference
The Mary Immaculate Teacher Training College in Limerick hosted a conference on clustering of parishes on Thursday and Friday of last week (May 22nd & 23rd). The purpose of the conference was to explore the dynamics of working parishes into the future. In many dioceses around Ireland there is already the practice of priests being shared between parishes as the number of priests continues to decline. This conference addressed some of the practical ways in which neighbouring parishes can begin to share resources and personnel so that the pastoral and sacramental needs of parishioners can continue to be met. Both Mary Kenny and Vincent Stapleton (members of our parish renewal group) accompanied Frs Liam Everard and Michael Barry to the conference. They all found it to be both insightful and beneficial. The issues raised were then discussed at our parish renewal group meeting which was held in the Boy's N.S. on Monday night last (May 26th).
Fr. Liam Everard and Mary Kenny enjoying the conference
Women's Mini Marathon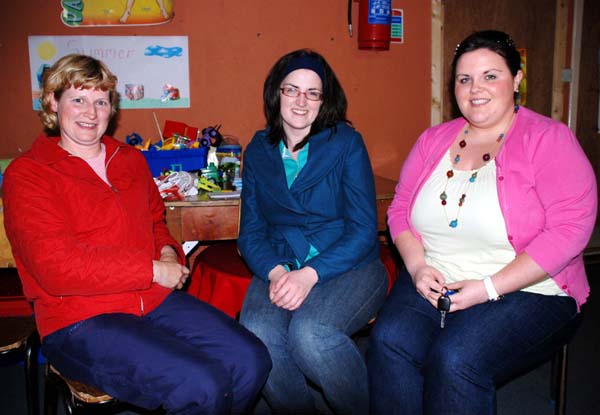 Teresa Ryan of Castlecourt (on left) is running in the Women's Mini Marathon on Monday June 2nd (Bank Holiday) in aid of the Borrisoleigh Defibrillator Programme. Sponsorship cards are in the local shops. Your support would be greatly appreciated. Also in photo are Teresa Kennedy and Annemarie Kavanagh of the Clodagh Macra Club. They are also participating in a 500 metre bale push from the church to the park on Sunday 6th July.

Sallypark F.C. Presentation Night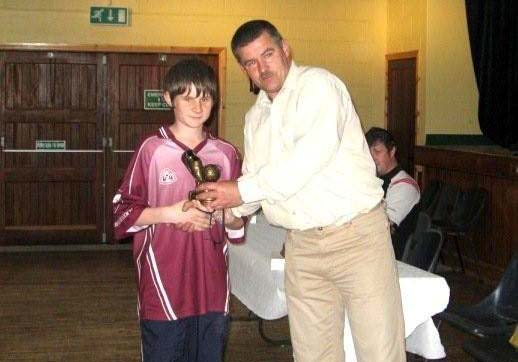 Darragh Ryan receiving under 14 Player of the Year Award from Tony Brosnan under 14 coach
Munster Ladies in Cardiff


Aoife and Margaret Lowry (nee Ryan, The Glebe) and Terri and Jane Ryan, Ballina enjoying the celebrations in Cardiff last weekend
Fifi's Tots on Tour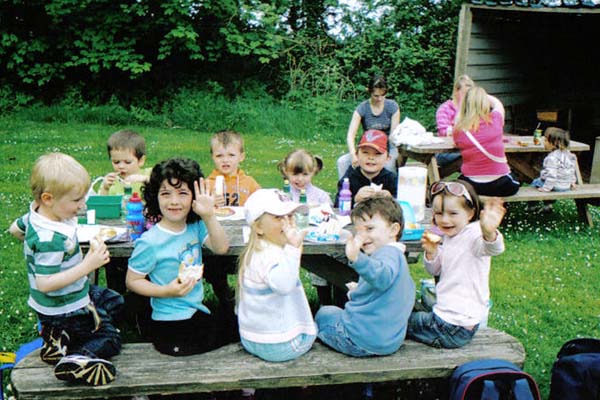 Pictured here are the children of Fifi's Tots Pre-School on their recent school tour to Pallas Hill Open Farm
Results Marian Hall Lotto 27/05/08

2, 13, 19, 27
No Winner
1 match 3 winner @ €150
Fr. Liam Everard, Borrisoleigh
Next Weeks Lotto Jackpot
€3,770
Borris-Ileigh GAA Lotto 22/05/08

Jackpot: €10,200 (Not won)
Numbers: 6, 9, 17 & 20
€50 Lucky Dip winners:
Liam Costello, Killough
Donie Kennedy, Templederry
Phil Quinlan, Pallas
Michael Laffan c/o T.F. Stapleton
Next draw: Thursday 29th May, in Clodagh Bar
Jackpot: €10,400
Manchester Mania!!!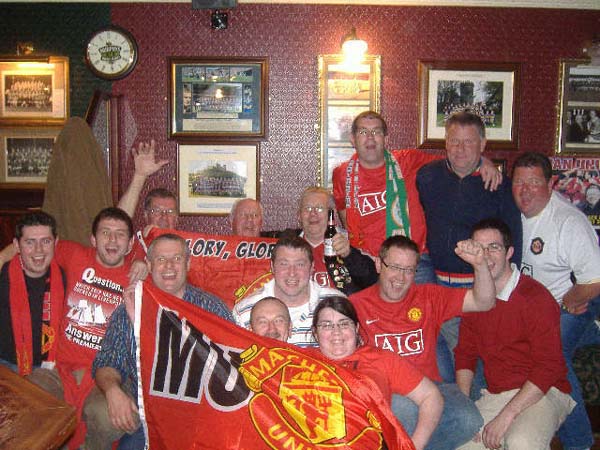 Smiles all round in Stapleton's Pub after Manchester United's great win
Down Memory Lane… pic of the past


Are we there yet?
Martin and Mary Loughnane of Chapel Street

***********************************************************
News items, photographs, upcoming events etc. from home and away should be sent to info@borrisoleigh.ie
The success of this site depends on you!!!!
***********************************************************