Wedding Bells Jingle for Jim and Juanita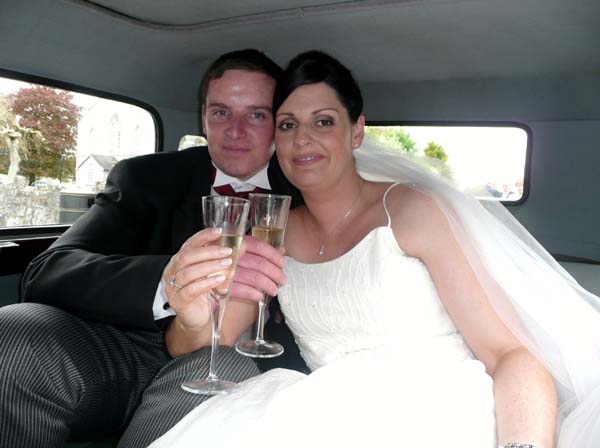 Congratulations to Jim Ryan (of Rathmoy) and Juanita Nealon (originally from Dublin) who were married at Holycross Abbey on Friday 9th May last. Their wedding reception was held in the picturesque Aherlow House Hotel overlooking the Galtee mountains.The happy couple are now in the Dominican Republic on their honeymoon.

Area Engineers and Local Councillor survey our streets and footpaths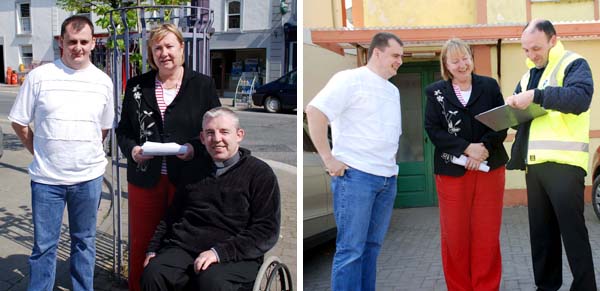 Notice was given to the people of Borrisoleigh recently via our newsletter, website, local radio and newspapers that funding was to be made available for improvements to our streets and footpaths. Pictured above are Cllr. Pauline Coonan with Senior Engineer Peter Fee and Assistant Engineer Philip McGrath along with Fr. Michael Barry who met with them to discuss the provision of two disabled parking bays, one in the Square, the other outside the Marian Hall. The Marian Hall Committee and the local Development Association have backed the provision of these spaces. The Councillor and the Engineers then went on a walking tour of Borrisoleigh to consider the other areas of improvement necessary for our town. Submissions have been made to the Council by the local Development Association regarding same.

Borris-Ileigh GAA Lotto
Thursday 15th May
Jackpot: €10,000 (Not won)
€50 Lucky Dip winners
Michael Kennedy, Curraghgloss
Noreen McGrath, Greenlawn
Joe Harkin, Borrisoleigh
Angelo Walsh, Borrisoleigh
Next draw: Thursday 22nd May, in Bourke's Bar
Jackpot: €10,200

Cheering up the Minister!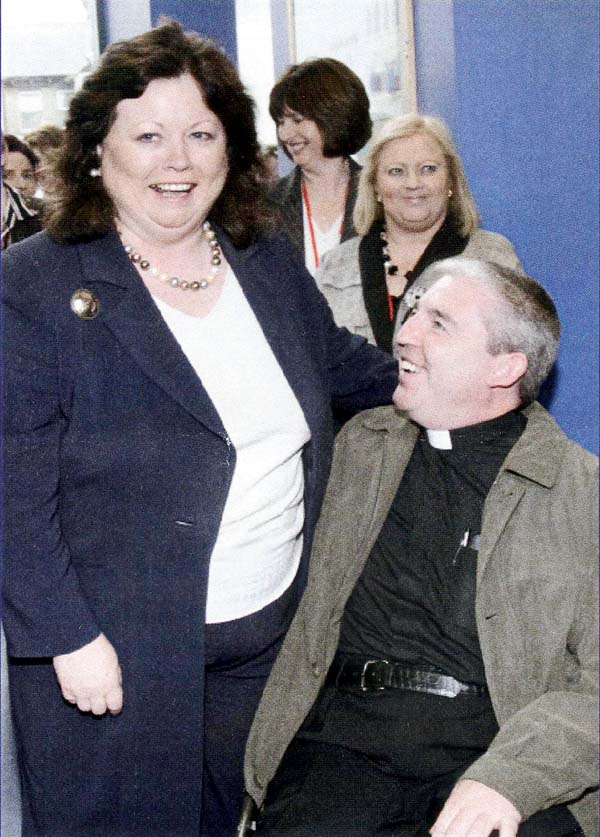 Fr Michael Barry bringing a smile to the face of Health Minister Mary Harney at South Tipperary General Hospital last Monday. Fr Michael is a patient representative at the hospital and has been trying to improve services for patients in general and in particular for those with any kind of disability who come in contact with the hospital. He met the Minister at the hospital when she officially opened the amalgamated hospital services in Clonmel. The transfer of surgical and other services to Clonmel from Cashel now means that all of the acute services are now located in the Clonmel campus of South Tipperary General Hospital, formerly St. Joseph's Hospital.
Practicing for their big day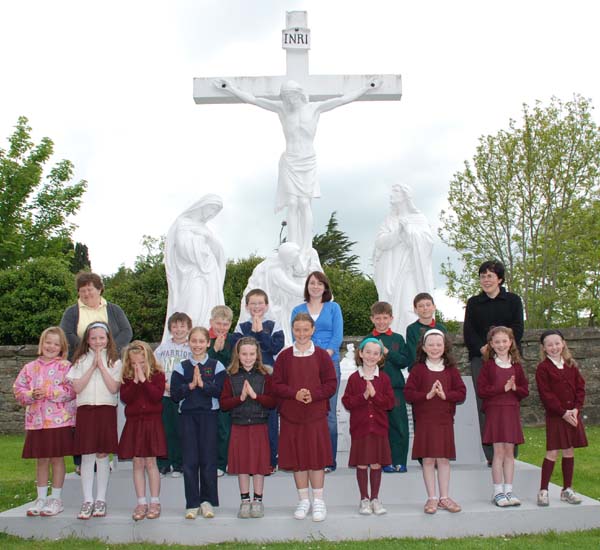 These are pupils from our three primary schools who will be receiving their First Holy Communion in The Sacred Heart Church on Sunday 25th May – the Feast of Corpus Christi. Great credit is due to their teachers, Mrs Mary Delaney, Ms Deirdre Harrison and Mrs Mary Butler for their efforts throughout the year. The children have also been participating in the parish based 'Do this in Memory' programme which focuses on the doctrine of the sacrament the children will receive. We wish them, their teachers and their families the very best for Sunday and we hope that it will be memorable for all of the right reasons.

Compliments in Verse
Margaret Maher (Tierney) formerly of Glenbreeda whose photo appeared on last week's 'Current News' section writes to compliment Borrisoleigh's new website:
"Congratulations on the launch of your fantastic website."…

The once sleepy village of Borrisoleigh
boasts of a website, which now includes me
Congrats to you all as I bend on one knee
It's a pleasure to surf Borrisoleigh.ie
Keep up the good work. God bless Margaret Maher (Tierney)

On their way to training!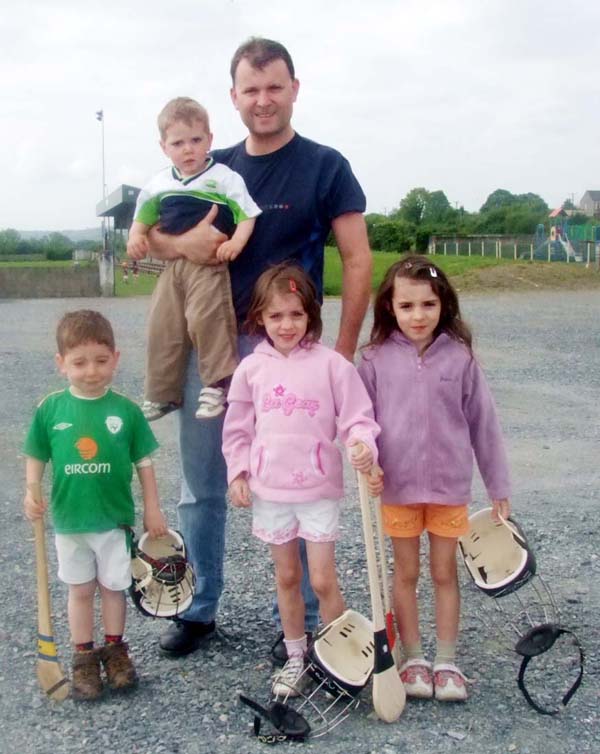 Sean Ivors of Chapel St. with his children Denis, Pierce, Claire and Rachel. The future hopes of our local hurling and camogie teams may very well be among this quartet of budding all-stars.

Current News www.borrisoleigh.ie
In order to keep the website up-to-date and interesting the current news section of the site will be updated on Wednesday evening of each week. The diary of events will also be updated regularly. If you have news items, photographs, upcoming events etc. which you feel is of interest please e-mail them to info@borrisoleigh.ie or michaeljbarry@eircom.net
Log on each week……….Keep up-to-date!!!!
Lovely Hurling!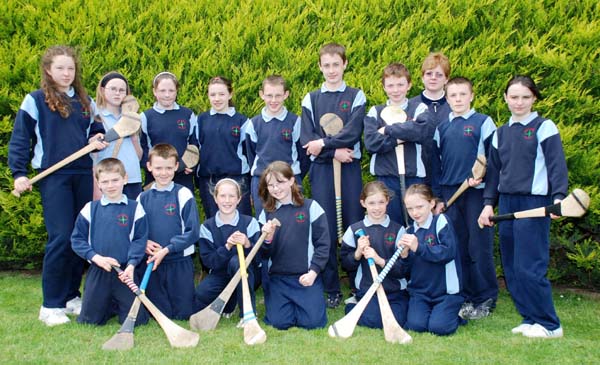 Scoil Bhríde, Fantane winners of the North Tipperary Hurling Semi-final, played against Aglish on Tuesday May 20th in Nenagh. The final score Scoil Bhríde 5 -5, Aglish N.S. 3 – 3.

Harry Joes Golf Society
Last Saturday 17th May, Harry Joes held their second outing of the year at Mitchelstown Golf Club. A group of 48 took to the fairways and enjoyed a great day's golfing in very favourable conditions.
The following are the results of the 3-ball scramble:
1st Aidan Cowan, Robbie Stakelum, Joe Tynan
2nd Willie Duff, Mark Stapleton, John F. Kennedy
3rd Barry Ryan, Mattie Stapleton, Henry Groome
4th Joe Kennedy, Pakie O'Brien, Philip Maher

The next outing will be take place in Ballyneety (Captain's Prize) on June 14th.

Murty at the Bridge of Ballyroan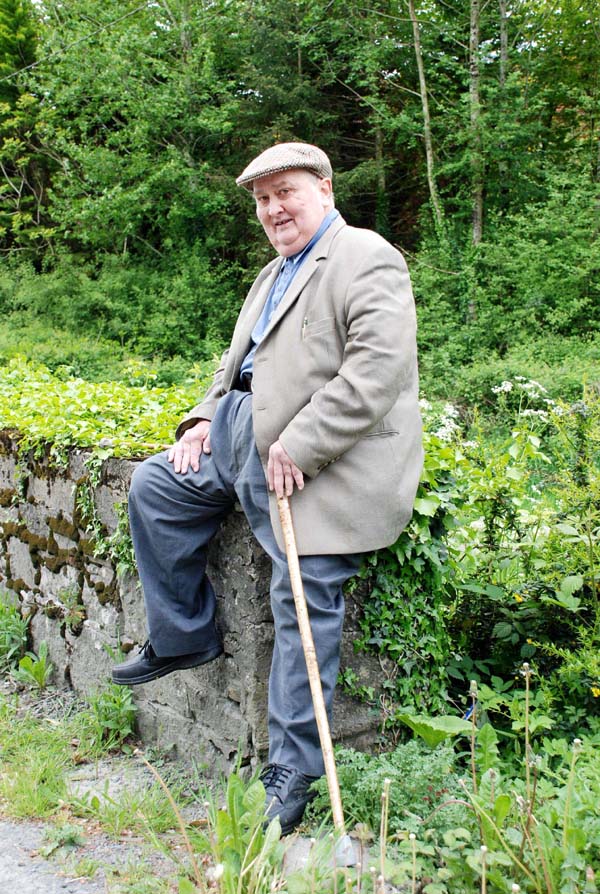 Murty Ryan happy to pose for a local photographer, while waiting for a lift to Nenagh at the cross of Ballyroan.
North U16 B Football Final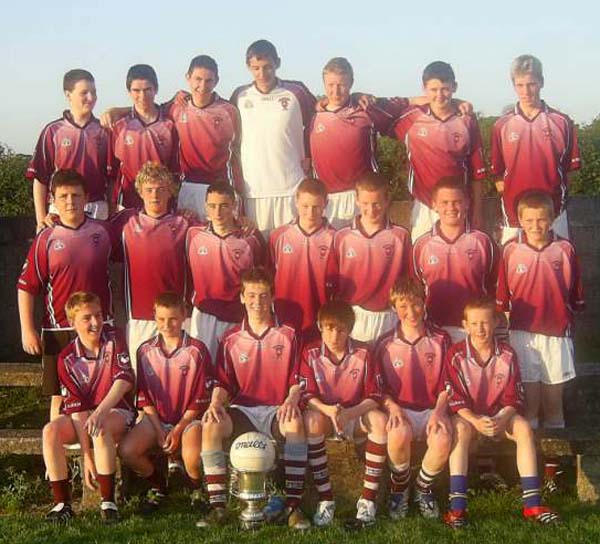 Last Tuesday May 13th, Borris-Ileigh won the North U16 B Football Final by a single point in Puckane. It was a keenly contested match. With Shannon Rovers getting off to a much brighter start, scoring two goals in the first ten minutes. However Borris-Ileigh began to take control towards the end of the second half and were the more dominant team thereafter. They left it late in the game to draw level and finally took the lead by a single point. A great spirited display was given by all on the night. This victory gets this team off to a great start with the hurling championships which start after the exams. The final score was Borris-Ileigh 1 – 7 Shannon Rovers 2 – 3.
Back row l – r Paul Stapleton, Steven Shanahan,Danny Ryan, Nathan Gerber, Damien Dunne , Seamus Doolan, Dan McCormack. Middle row l – r Denis Ryan Benny Harkin, Robert Buckley,Seamus Howard, Patrick Coffey, Daniel Bergin. Front row l – r Jack Bourke Matt Stapleton, Barry Dwyer(captain) Darragh Ryan, Tommy Mockler, Shane McCormack.
Congratulations to Borrisoleigh under 16 football team their manager selectors and coach.

Borrisoleigh Foróige Club

This year, for the first time Borrisoleigh have set up a branch of the Foróige youth club for the youth in the area and it has been hughly popular so far.
The purpose of Foróige is to enable young people to involve themselves consciously and actively in their own development and in the development of society. This purpose challenges and supports young people to involve themselves in developing their character and talents. Foróige's work is directed primarily at young people in their adolescent years – the years between childhood and adulthood. Foróige club membership is confined to boys and girls in the 12-18 age group. Founded in 1952, Foróige was formerly named Macra na Tuaithe. Its name was changed to Foróige in 1981. The name Foróige is derived from forbairt na hóige, which means 'development of youth'.
We recently held our AGM and elected the following to the committee.
Chairperson: Danny Ryan
Secretary: Maria Ryan
PRO: Niamh Lyons
Treasurer: Niall Cowan
Events Organiser: Clíodhna Bourke
The members of the Borrisoleigh branch of Foroige would like to thank all the leaders involved in the setting up of the youth club!

Macra Shannon Cruise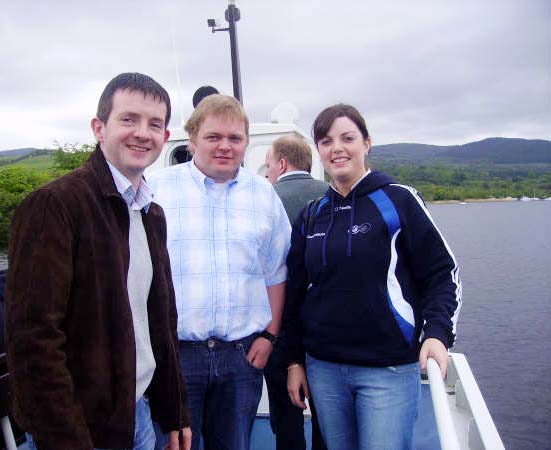 Aidan Bourke, Philip Ryan and Majella Carey enjoying a leisurely cruise on the Shannon on the recent North Tipperary Macra outing.
Clodagh Macra AGM will take place on Fri 23rd at 9.30 p.m. in the back room of the Marian Hall.

Hibernian Inn Senior Hurling Championship

All roads lead to Nenagh this Sunday evening for any Borrisoleigh fan as last years County Intermediate Champions, Lorrha take on the men in maroon. Borris have themselves positioned right where they want to be at the top of Group 1 with maximum points from their opening two games following a win over Nenagh and a walk over conceded by Roscrea. Another two points Sunday would set Borris up to take the semi final spot from Group One with only old rivals Toomevara in with a chance to take the top spot. We wish the best of luck to Borris led by our very own "Captain Fantastic" Aiden Cowan" on Sunday and hope they can take another step in retaining the Frank McGrath Cup for 2008.
County Fleadh in Cashel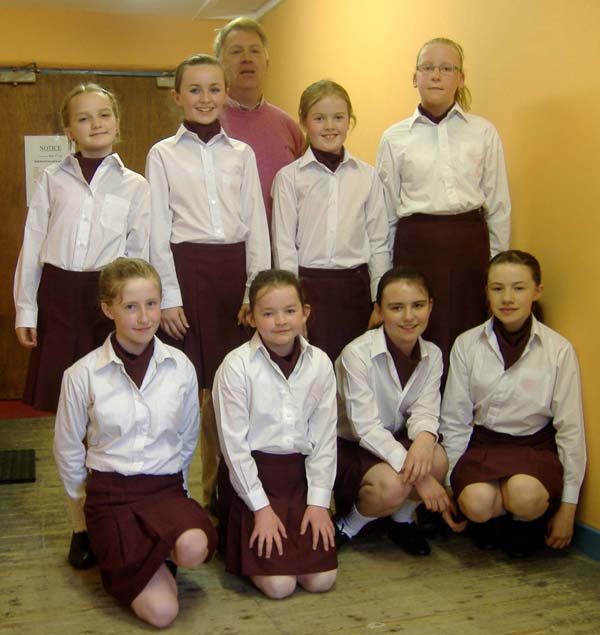 Under 12 All Girls B Set
Aisling Kiely, Lauren O'Brien, Fiona Leamy Cloda Scanlon. Eimear Lyons, Eimear Ryan, Emma Ryan, Lauren Butler Ryan. Thomas Walsh.
1" Place.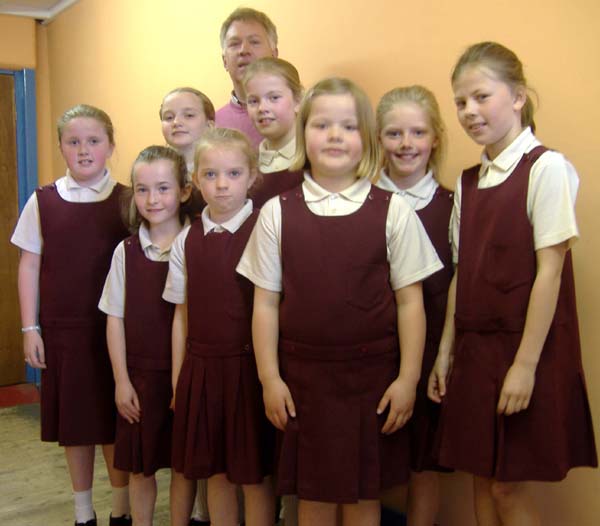 Under 12 All Girls A Set
Thomas Walsh
Katie Shanahan, Eimear Lyons, Emma Ryan, Ciara Ryan, Lorna Ryan Aideen Hogan, Amy O'Brien, Avril Ryan.
3rd Place.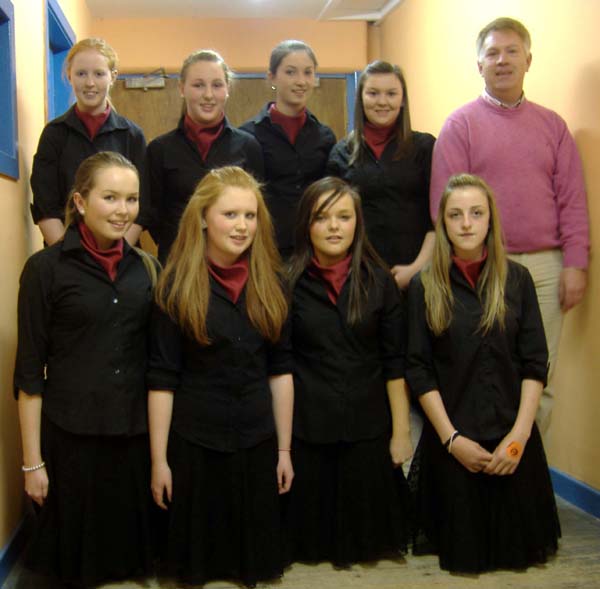 Under 18 All Girls
Mari Ryan, Grace Prior, Clare Kavanagh, Teresa Ryan,
Miriam Dunne, Niamh McGrath, Eimear Staplton, Louise Fahy, Thomas Walsh.
lst Place.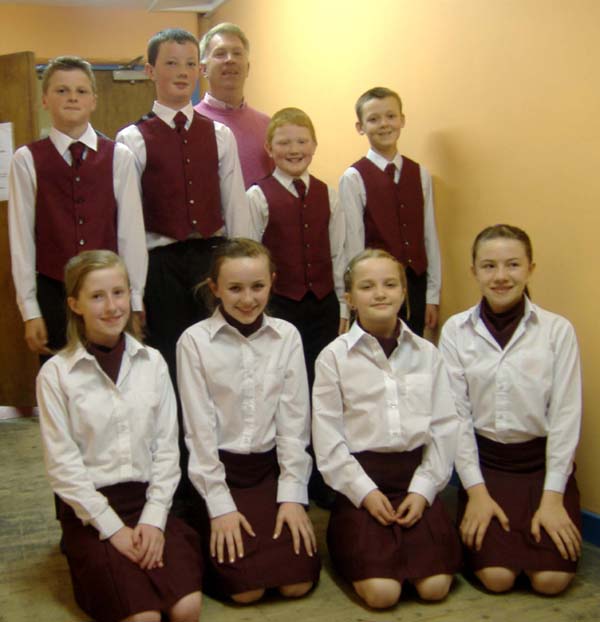 Under 12 Mixed Set
Aisling Kiely, Eimear Ryan, Eimear Lyons, Cloda Scanlon Danny Ryan, Sean Ryan, Jack Prior, Stephen Doolan. Thomas Walsh.
1" Place.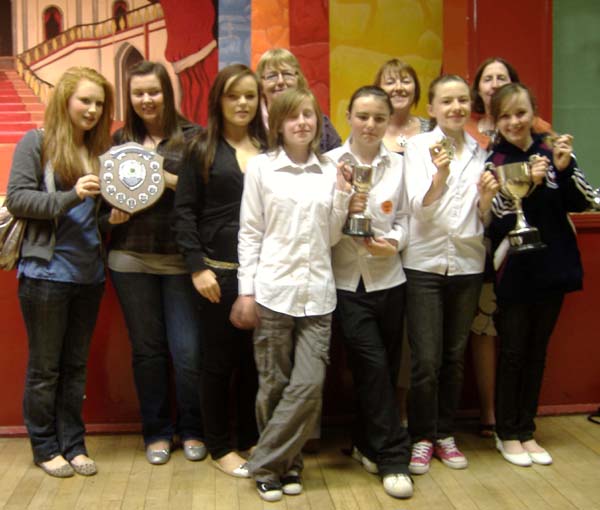 Displaying their Trophies
Grace Prior, Louise Fahy, Clare Kavanagh, Philomena Maher, Kathleen Scanlon, Teresa Kiely, Aisling Kiely, Fiona Leamy, Cloda Scanlon, Eimear Ryan.

Down Memory Lane… pic of the past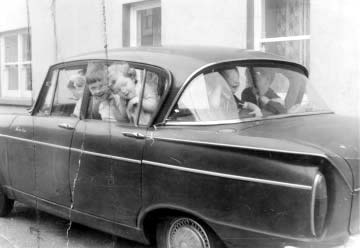 The Coursing Quartet
Jim Costello, Joe Brennan, John McGrath and Murty Ryan

***********************************************************
News items, photographs, upcoming events etc. from home and away should be sent to info@borrisoleigh.ie
The success of this site depends on you!!!!
***********************************************************