Parade of honour with the North Final Cup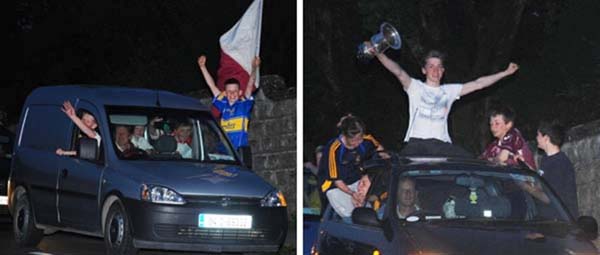 Barry O'Dwyer, Captain and team mates enjoying the celebrations after their great win.
Borrisoleigh Under 16 Football Team were victorious against Shannon Rovers Gaels in the North Final in Puckaun on Tuesday May 13th.
The final score was 2 -3 to 1-7. Congratulations to all concerned.
Hen Girl and Mother Hen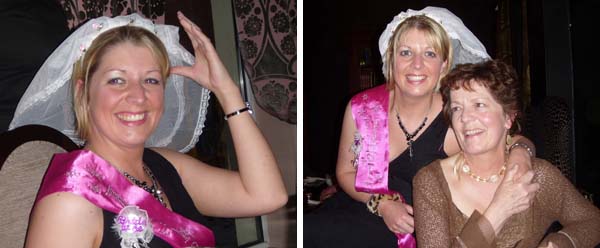 Taken at the hen party of Anne Marie Kelly in The Temple Gate hotel in Ennis on Saturday 26th April 2008. She is to marry her sweetheart Ray Doyle from Clonmore who recently graduated as a Garda from Templemore. We congratulate them both on their upcoming nuptials. More anon.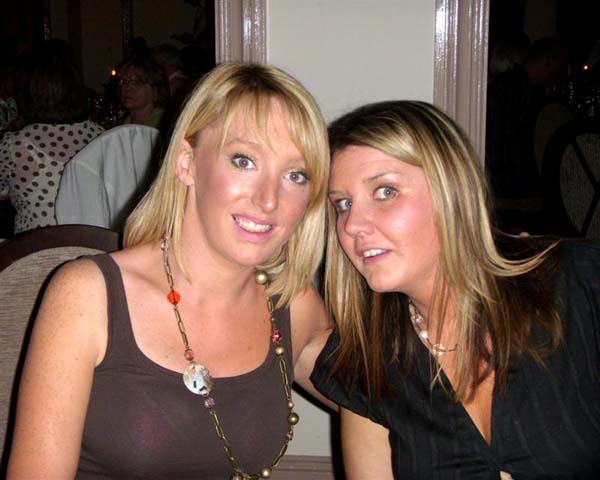 Aileen Og and Nuala enjoying the Hen Night
Foróige Club
We are informed by the recently formed Foroige Club that great progress is being made in recruiting new members and the group hope to be shortly able to announce the election of their own committee. Meetings have been held in the Marian Hall and it is intended to continue these gatherings each Friday evening from 8pm to 10pm. Full membership is open to those between the ages of 12 to 18 years and they run their own affairs and functions in consultation with members and leaders.
Foroige is the National Youth Development Organisation and its members play an active role in their community thereby empowering them in enriching communities. Some of their activities involve running sports tournaments, organising dance classes, helping local charities, being involved in local clean up operations and many other pursuits aimed at improving the quality of life for all our citizens young and old. Their highly laudable efforts deserve the assistance and support of all those in a position to help them. 'Mol an Óige agus tiocfaidh sé'. The group are wished every success as a youth based committee is very important in a community.
Seachtain na Gaeilge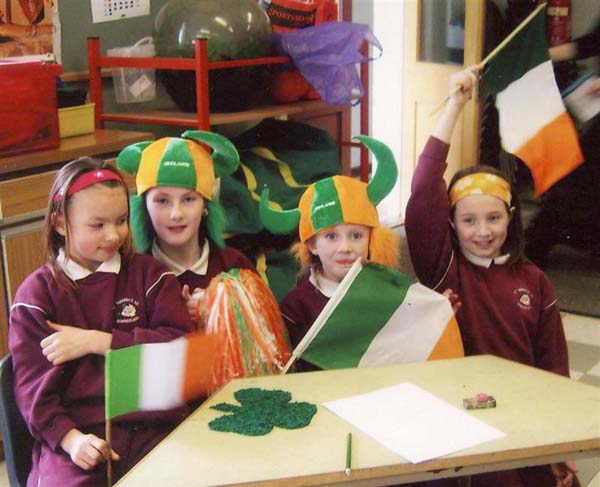 Pupils from St. Theresa's N.S. participating in Tráth na gCeist
Website Launch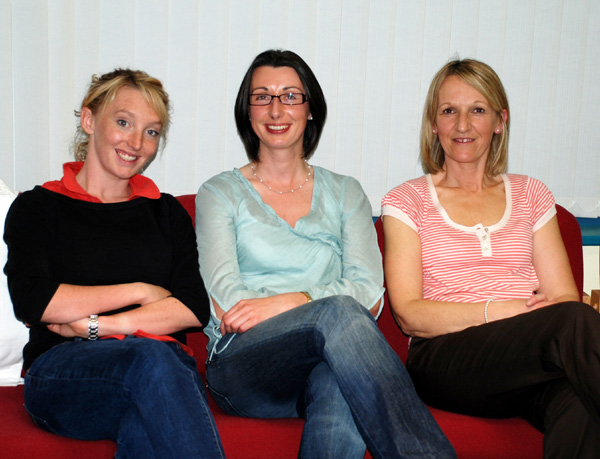 Aileen Óg, Margaret and Marie
From the Leaving Cert. Class of 1966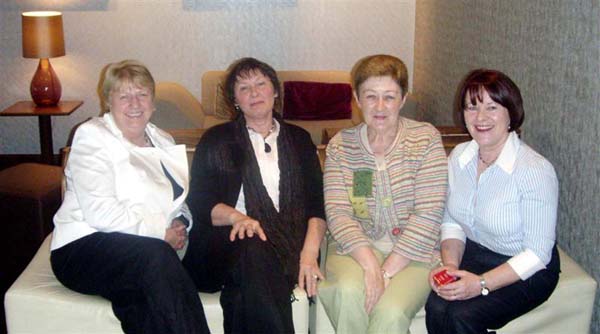 Frances Kennedy (Tierney), Marian Ryan (Murray), Patsy Lynch and Eileen Treacy
School friends meet after 42 years – still as young and as good looking as ever!
Photo taken in the Radisson Hotel Cork Airport on 3rd May 2008.

Disabled facilities completed in and around our Church



As the picture clearly demonstrates our Church Grounds now have two designated disabled parking bays. These come after the recent construction of our stone ramp and the provision of two spaces for wheelchairs inside the church near the ramp door. We would ask that these spaces be respected and be made available for those who need them.

Marion Hall Lotto

Lotto Numbers for 13th May 2008
4, 5, 9, 19
No winner
1 match 3 @ €150
Mary Cummins c/o Shanahans
Next Weeks Lotto Jackpot
€3,510

GAA Lotto reaches €10,000!!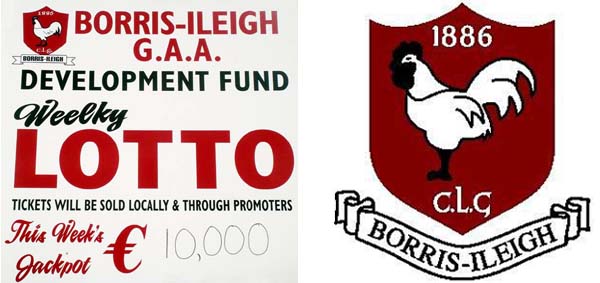 When nobody matched the numbers that emerged from the drum on Thursday last, May 8th , in Coffey's Bar, it meant that the jackpot of €9,800 was not won. Hence, a small bit of local history will be made this Thursday, May 15th, in the X of Pallas when the GAA Lotto will have a 5-figure jackpot for the first time in its short life.
The club would like to sincerely thank all who have supported this draw since the beginning and would encourage everybody to keep doing so, especially with the club in the process of buying and developing a new playing field behind the stand in the Park. The jackpot now stands at a very attractive €10,000 and it should guarantee massive interest in the four balls that will be pulled from the drum this Thursday. Best of luck to all ticket holders!
For the record, the numbers last week were 2, 4, 13 & 20.
The €50 Lucky Dip winners were:
Mary O Mahony, Ballyroan
Seán & Darragh Egan, Borrisokane
Peter Kennedy, Kilfithmone
Julia Young, Main St.
New jackpot: €10,000. Draw to take place in Stapleton's Pub, Pallas, Thursday 15th May.

May Devotions at The Sacred Heart Church


Pictured here is Vincent Stapleton with some of the pupils from 6th class in our three primary schools. The pupils have been leading the Holy Rosary in The Sacred Heart Church each Tuesday evening during May as part of the May Devotions to Our Lady.
Vincent takes a leading role in preparing the children and instructing them on how to pray the Rosary. On Tuesday May 13th, The Feast of Our Lady of Fatima, he gave a talk to the children and those who gathered for the Rosary, on the story of Fatima and on the power of the Rosary as a powerful prayer of intercession.
The Rosary will be prayed again over the coming two Tuesdays of May at 7:30 p.m. in the Parish Church. All are welcome

New Holistic Health Clinic in Borrisoleigh


Martin Maher of Curraleigh seen here at his newly opened Holistic Health Clinic at 16 St. Brigid's Villas, Borrisoleigh.

Contact:
Martin Maher on 0504 51724 or 086 2581492
Bookings are by appointment only
The main aim of complementary medicine is to bring the body back to a state of "Equililbrium"/Balance, as disceases are seen as imbalances of energy within the body.
Tuina
Tuina (Chinese Aupressure) works on the same principle as that of Acupuncture, only without the use of needles. Tuina uses massaging techniques as well as the manipulation of pressure points. Pain and discomfort are considered to be signs of energy imbalance, which, if left in this state, will become illness and disease. Acupressure approaches this energy imbalance in a concrete way through the identification of Pressure points. These are located on meridians that run throughout the body and connect all parts of the body together. By addressing problems or imbalances at the pressure points, you can balance the flow of energy and thereby reduce or eliminate pain in the affected area.

Benefits Include:
Back and neck pain, Headaches, Sinus problems as well as many other ailments.
Indian Head Massage
Indian head massage is a wonderfully relaxing therapy that has been practised in India for over a thousand years. This therapy not only treats the head but also the upper back, shoulders, arms and neck. This holistic therapy has become one of the most popular therapies around the world.

Benefits Include:
Stress, tension, promotion of hair growth, relaxation of muscular system and release of blockages.
Swedish Massage
Swedish massage consists of a deep tissue manipulation. Relieves tension and rids the body of toxins and helps to aid relaxation.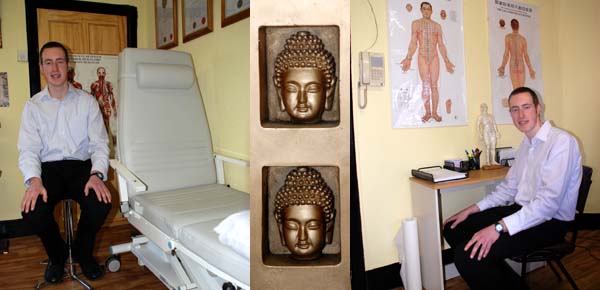 Relexology
Reflexology is a science that deals with the principle that there are reflex areas in the feet that correspond to all glands, organs and structures of the body. By using pressure/palpation on a reflex point of the foot, imbalances in the body can be detected and effectively treated through a system of zones/energy channels that link specific reflexes with specific organs or structures. It is a natural, holistic, non-invasive therapy. The practitioner uses only the techniques of human therapeutic touch.

Benefits Include:
Improves circulation, reduces stress and induces deep relaxation, cleanses the body of toxins and impurities, revitalizes energy, relieves back pain, is effective in the treatment of sinus, asthma and balances the whole system.

Aromatherapy
Aromatherapy is a holistic therapy which consists of the manipulation of muscel tissue in conjunction with the use of essential oils which are extracted from aromatic plants.
Benefits include:
Relieves headaches, indigestion, muscle pains, skin conditions as well as stress related disorders.

Improper use of glass recycling facility at Mountgeorge


We wish to draw to your attention a problem at the Mountgeorge bottle bank facility. As can be seen from the photograph there is great misuse of this facility. The proper way to use the bottle bank is to insert the different coloured glass into the respective bottle bank. (Jam jars etc should be washed before depositing them). The only cans to be recycled are drinks cans. Any other type of can such as cat food tins, peas or beans tins, salmon tins etc. are not to be left in or around the bottle bank.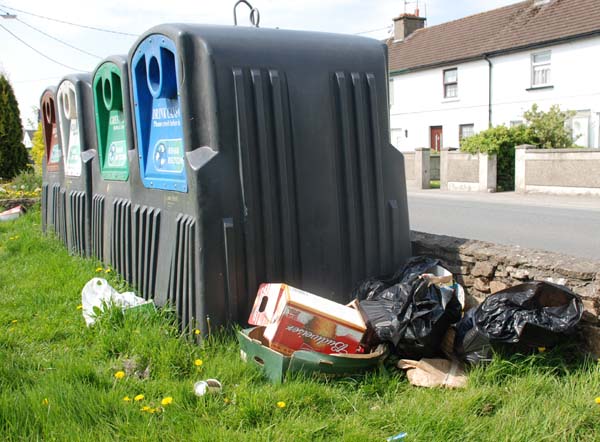 Bottle bank area with dumping of rubbish in close proximity
The leaving of cardboard boxes, plastic bags and any other rubbish is strictly prohibited. If you witness any littering in this area please report the offence to the Council on their Freephone number 1800 – 250350. Please note that the on-the-spot fine for littering in the North Tipperary County Council area is €125.

We should all be conscious of trying to keep our community as litter-free as possible. Keep Borrisoleigh tidy.

Down Memory Lane… Pic of the Past
Three lovely lassies from Glenbreeda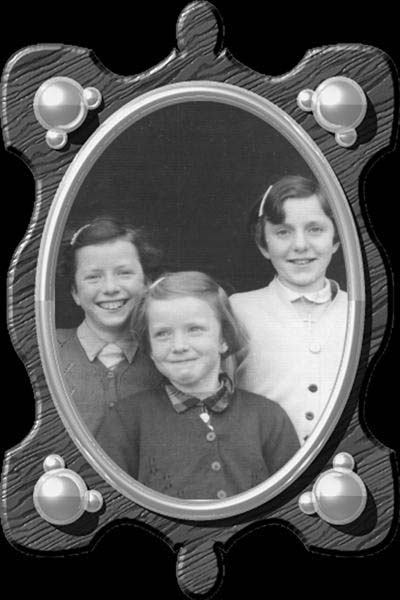 Frances, Margaret and Nuala Tierney. This photo was taken in Scoil Bhríde Fantane fadó fadó.
***********************************************************
News items, photographs, upcoming events etc. from home and away should be sent to info@borrisoleigh.ie
The success of this site depends on you!!!!
***********************************************************