Website Launch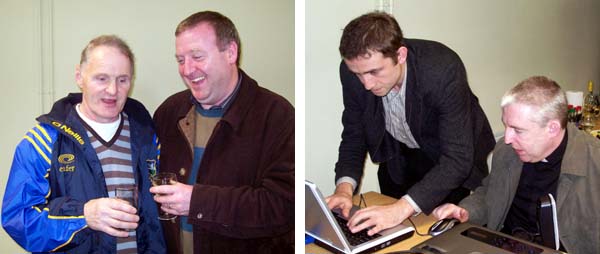 Paddy Dolan and Ruairi O'Connell share a joke… while Mark O'Leary and Fr. Michael put the finishing touches to the site.
Borrisoleigh Website Committee are pleased to announce the launch of their new website
www.borrisoleigh.ie
which took place on Thursday evening May 1st in Templemore Library. The site was designed for and is dedicated to the people of Borrisoleigh & Ileigh at home and away.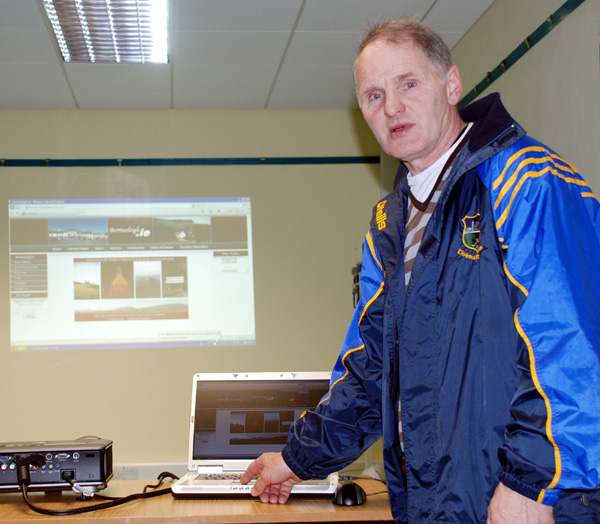 Fr. Michael Barry gave a demonstration of the site to all present. He acknowledged the work of Mark O'Leary, Irish Web Headquarters, who designed the site, Borrisoleigh Development Association who funded the project and the hard working website committee. He also thanked Pat Bracken and staff at Templemore Library.
We would ask those of you who have family members and friends abroad to make them aware of the site's existence. We believe that www.borrisoleigh.ie will strengthen links between Borrisoleigh at home and away.
Please submit any photographs, articles and notice of upcoming events to info@borrisoleigh.ie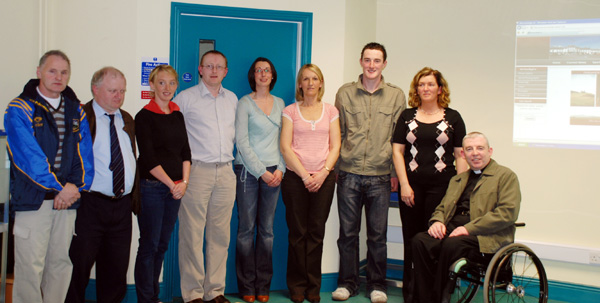 Some of the website committee members: Paddy Dolan, Pat Costello, Aileen Óg Groome, Enda Ryan, Margaret Cowan, Marie McGrath, Martin Ryan, Noreen Fahy and Fr. Michael.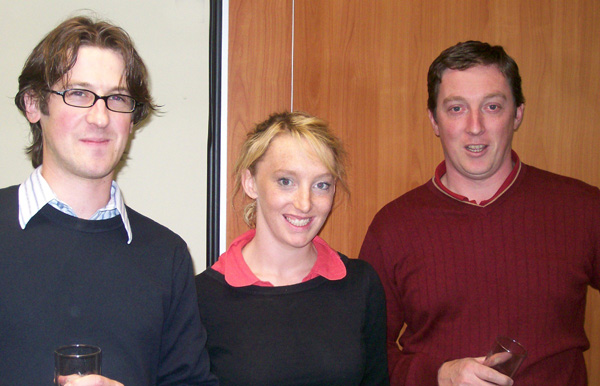 John McSherry, Aileen Óg Groome and George Ryan enjoying the launch.
Website Sponsors (The Development Association) with some committee members: Marie McGrath, Jimmy Stapleton, Enda Ryan, Martin Ryan, Noreen Fahy and Dave Carter.
Fundraiser for Sydney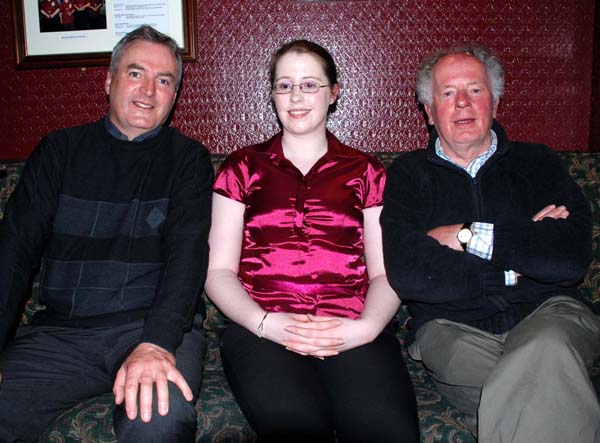 Fr. Liam Everard PP, Gemma Ryan and Thomas Russell on the occasion of the Fundraiser for Sydney event.

A table quiz was held in Stapleton's bar on Friday 2nd May to help raise funds to assist with the travel expenses of Gemma Ryan of Cooleen who is traveling to Sydney in July for The World Youth Day Pilgrimage. The duration of the Pilgrimage will be from July 6th to July 20th inclusive. The Pilgrimage will conclude with a final Mass celebrated by Pope Benedict. World Youth Day 2008 promises to be the largest gathering of people in the history of Australia.
Anne Marie Kavanagh, Ciaran Hackett, Pat Kavanagh, Tommy Kavanagh and Aidan Bourke enoying their night at the Fundraiser.

Gemma wishes to say a big 'thank you' to everyone who made the fundraising night such a success. Special thanks to Stapleton's for hosting the event and to Quiz master extraordinaire Thomas Russell for devising the questions and delivering them with such aplomb. Thanks also to Seamus Ryan, Gerard Ryan and Maureen Ryan and the many ticket sellers for all their hard work. The amount raised from the table quiz, donations and the raffle was a staggering €1,892.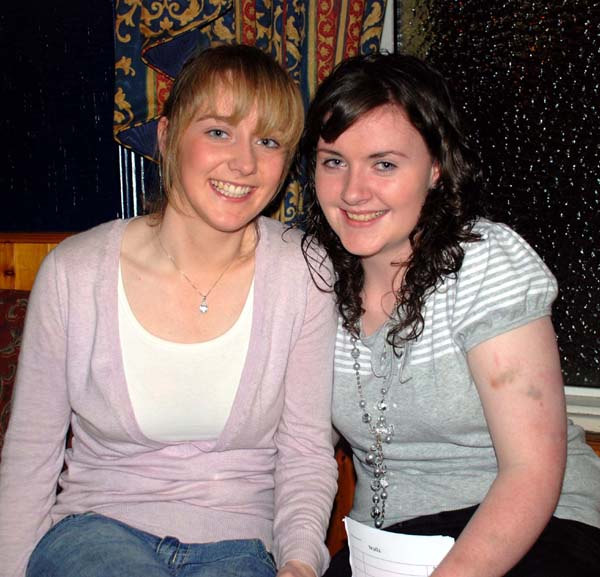 Marie Ryan and Siobhan Ryan smiling between rounds of the quiz.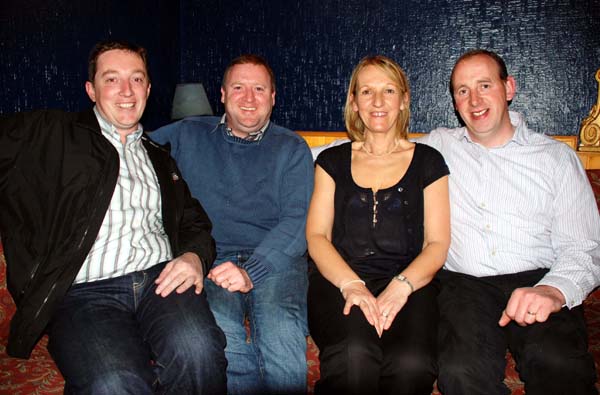 The winning team was made up of George Ryan, Ruairi O'Connell, Marie McGrath and Tom McGrath who were declared the final winners after a playoff. A great night was had by all.


Road improvements for Borrisoleigh


The broken footpaths and uneven road surface at the junction of Main Street and the Templemore Road are just an example of the necessary improvements our streets require.

At a recent meeting of North Tipperary County Council the poor condition of our streets and footpaths was discussed. Promises were made to make funding available to improve same.
In 2008 €20,000 is to be allocated for footpaths and an additional €100,000 for the Borrisoleigh/Thurles Road at Rathmoy along with €62,000 which is being included for Rathmoy Lane. In 2009 €100,000 is being set aside for the Main Street and footpaths.


These pictures show the dangers of our streets and footpaths being at the same level.
Two designated disabled parking bays are also being mentioned as a possibility in the near future for Borrisoleigh.

Wedding Bells ring out for Derry and Mary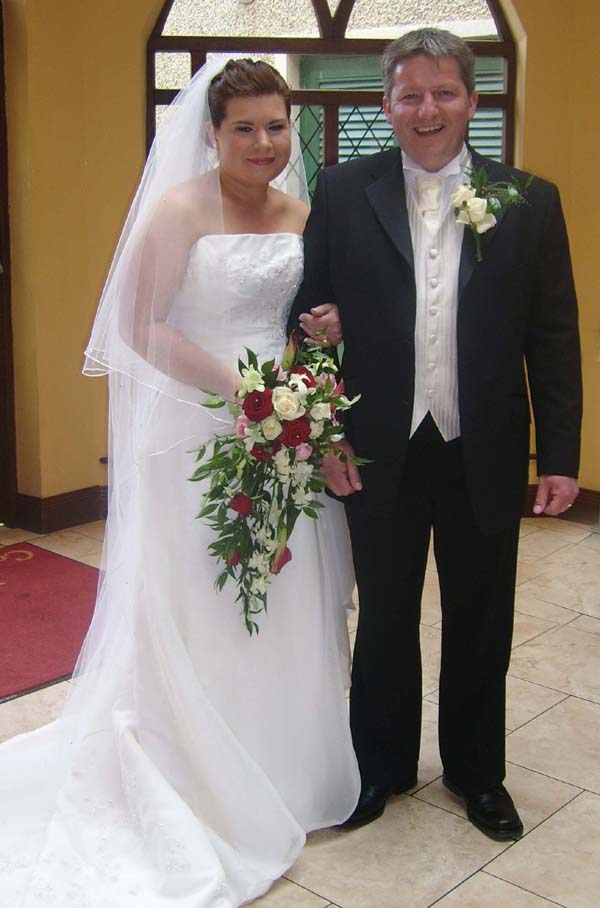 The Happy Couple
Derry O'Donnell and Mary Rogers who were married in the Sacred Heart Church Borrisoleigh on Friday May 2nd. Their wedding reception was held The Abbey Court Hotel, Nenagh. The happy couple jetted off for Miami on May 6th where they will spend five nights before spending the rest of their honeymoon on a Carribean Cruise.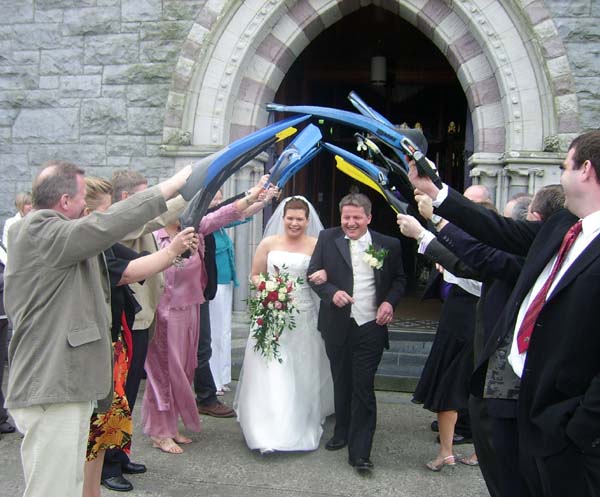 Derry and Mary walking under the guard of honour of flippers formed by the Nenagh Diving Club where Derry is a member!
Cheque presentation to new Defibrillator Programme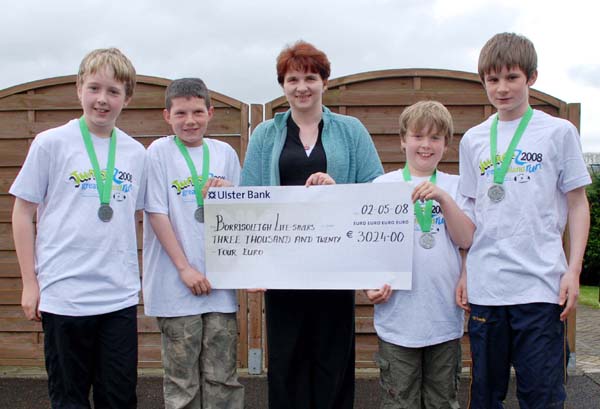 Dylan Reid, Dean Ryan, Aaron Reid and Darragh Ryan presenting a cheque for €3024 to Christine O'Dwyer (Chairperson of the Borrisoleigh Life-Savers Action Group)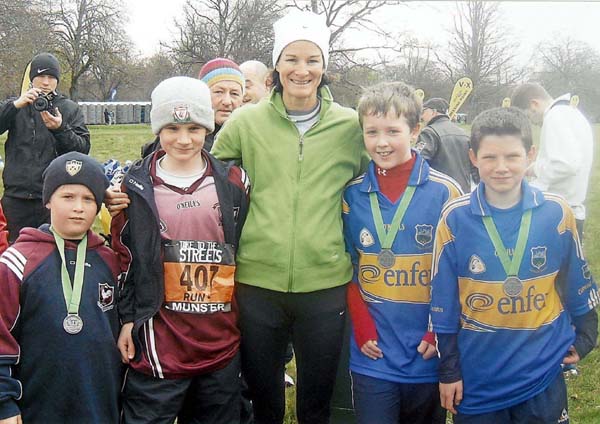 Phoenix Park Dublin – 6th April 2008
The Junior Great Ireland Fun Run
Aaron Reid, Darragh Ryan, Sonia O'Sullivan (who participated with her own children as part of her training for the London City Marathon) Dylan Reid and Dean Ryan.
Hibernian Inn Senior Hurling Championship Group 1 Round 1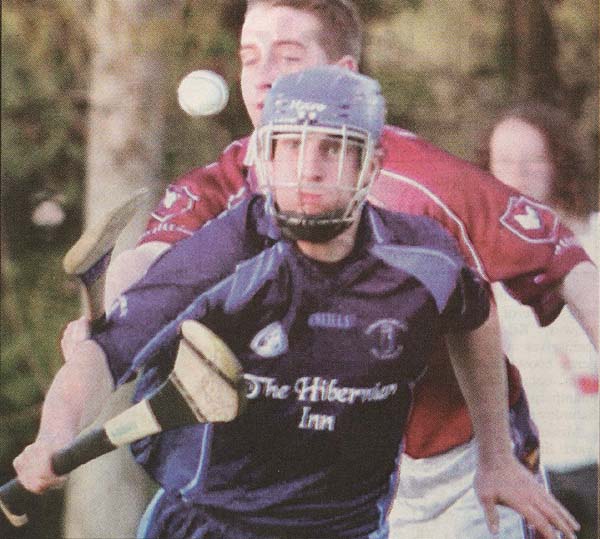 Nenagh's Alan Kelly is challeged by Borris-Ileigh's Matthew Stapleton at Dolla on Sunday evening last.

Borris-Ileigh sent out a warning that they will not give up the Frank McGrath Cup without a fight after a convincing win over Nenagh Éire Óg on Sunday evening. The final score was Borris-Ileigh 0-16 Nenagh Éire Óg 0-9.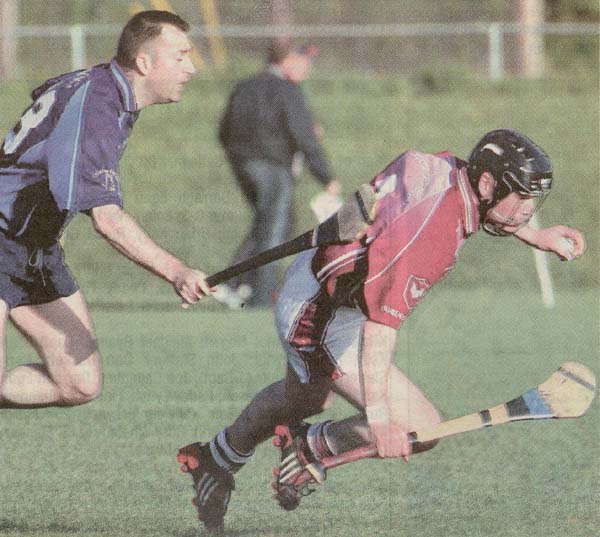 Borris-Ileigh's defender Martin Treacy gets away from Nenagh's Kevin Tucker.

Macra Talent Competition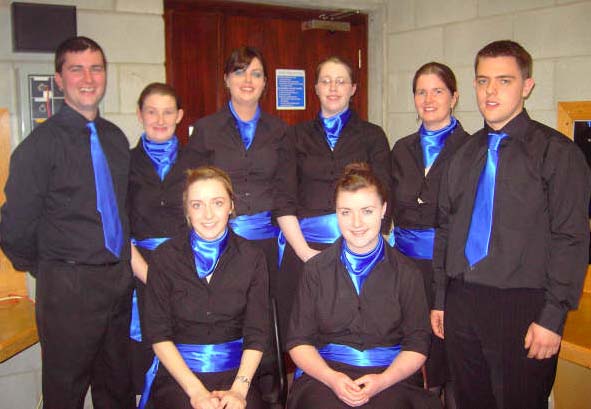 Set Dancers who competed in the Final of the
National Macra Talent Competition

Seamus Farrell, Jackie Shannahan, Majella Carey,
Gemma Ryan, Anne Marie Farrell, Toby Kavanagh
Marie Ryan and Siobhan Ryan

April was a good month for us on the competition scene, indeed on one weekend we were awarded with many titles… On the weekend of the 12th – 13th, Clodagh got through the regional finals of the National Macra Talent Competition, we were victorious in the following competitions: Set Dancing, Ballad Group and -Laura Ryan- in the Mastermind competition. On the same weekend, but on a different scene altogether we won the North Tipp Farm Skills Competition. On the team were: Matthew Carey, Eamon Ryan and Matt Ryan, these boys had to demonstrate their tractor driving skills and also construct a fence, this was easy for these boys!! They beat Toomevara in the final. On the same day Eamon Ryan won the North Tipp U/23 Dairy stockjudging. These outdoor competitions were held in Paddy Ryan's farm in Templederry, it was a great day's entertainment. Well done to all involved in competitions and best of luck in the next round.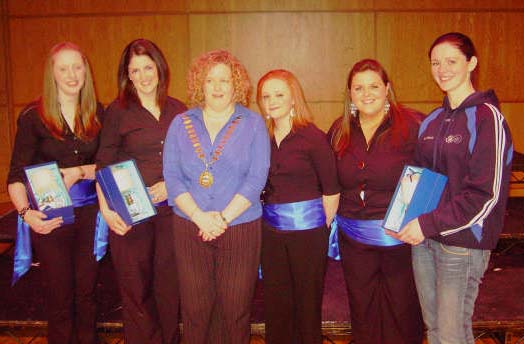 Ballad Group who got Second in the
Final of the National Macra Talent Competition

Karen Ryan, Teresa Kennedy, National President Catherine Buckley, Becky Prior, Anne Marie Kavanagh, Laura Ryan – who also got second place in Mastermind competition.

We are went forward to the Final of Macra National competition on Sun 4th May in UL Concert Hall, all our hard work didn't pay off on the day, but we had to admit that it was a great experience to perform in the concert hall. We got 2nd place in Ballad Group and Mastermind, hard luck to our dancers – who danced out of their skin! Also a big thanks to Francy O'Meara who trained our dancers to perfection!!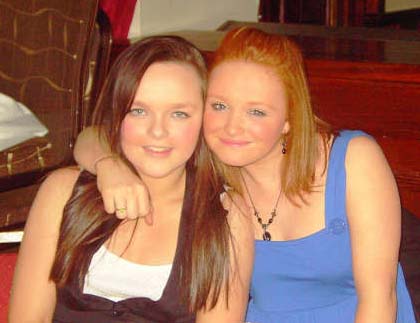 Clare Kavanagh and Becky Prior at the
Macra Mr. Personality Competition in Kilkenny.
We are glad to say that we are involved in helping Borrisoleigh get Defibrillators for our village and our fundraising is well underway, we have planned a sponsored 500 Metre Bale push that will take place in early June. We have collected a lot of money already, lines can be bought off any committee member. On the social scene, there is nothing holding us back! On the weekend of the 19th of April, we headed down to the Mr. Personality competition in Kilkenny to support Liam Coffey from Toomevara – Mr. North Tipp – it was a great weekend. North Tipp are planning a summer cruise on the Shannon, starting in Killaloe on the 18th May, costing only €10. If you are interested in joining Clodagh Macra, this would be a great start, it promises to be a great day, if the weather holds up. Our club are also in the process of getting Clodagh hoodies and T-shirts, these will be arriving soon!

Cup Final Winners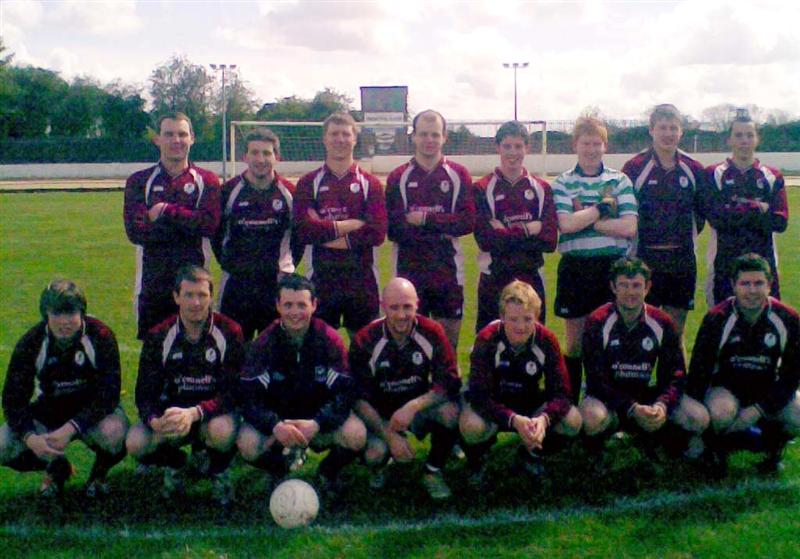 Borrisoleigh's AFC Team – recent Barry Cup Final Winners
The team that brought home the Barry Cup was: Gerard Treacy (G.K.), Declan "Benny" Stapleton, David Butler, Kevin Walsh, Barry Walsh, David "Doc" O'Connor, Niall "Connie" Stapleton, Philip Maher, Rory Kinane, Noel Kent and Jodie Harkin. Reserves: Paul Maher, P.J. Kiely, Liam Tynan and Martin Treacy.

The season just ended could be fairly described a mediocre one in which the Club met with fluctuating fortunes at various stages in the different competitions. However, as they say, success comes to those who persevere, and at the Greyhound Track Stadium, Thurles on Sunday 27th April, the season finished on a very high note indeed with the comprehensive and deserved defeat of Templetuohy F.C. on a scoreline of 3-1. This victory ensured that the Club are the proud possessors of seasonal silver in the form of the Barry Cup and this should prove to be a sound launching pad for further successes next season.
In Thurles, on the occasion of the Cup Final 'Tuohy scored first after a mix-up in the Borris defence. It took a while for the local lads to find their feet and after the break the "Doc" (David O'Connor) scored with a great header from a Jody Harkin cross. With scores level at 1-1 a position of stalemate existed for ten minutes but then came a big change in fortunes with the introduction of substitutes, Paul Maher followed by Liam Tynan.
The course of the game changed drastically following this and two further goals were scored by Philip Maher and Noel Kent thus ensuring that Borris A.F.C. ran out easy winners in the end. The outstanding victory ensured that Borris finished the season on a high and players, officials and supporters look forward to next season and a hoped-for return to the top flight and the acquisition of some new silverware.
Sincere thanks are expressed to all involved in the Club during the season just ended and any parents interested in being involved with U/10 and U/12 players are invited to contact either Jamie Groome or David Butler. Similarly, should anyone be interested in managing either the Youth or the Senior teams they too should make contact with Jamie or David.
***********************************************************
News items, photographs, upcoming events etc. from home and away should be sent to info@borrisoleigh.ie
The success of this site depends on you!!!!
***********************************************************