Sean and Aoife tie the knot!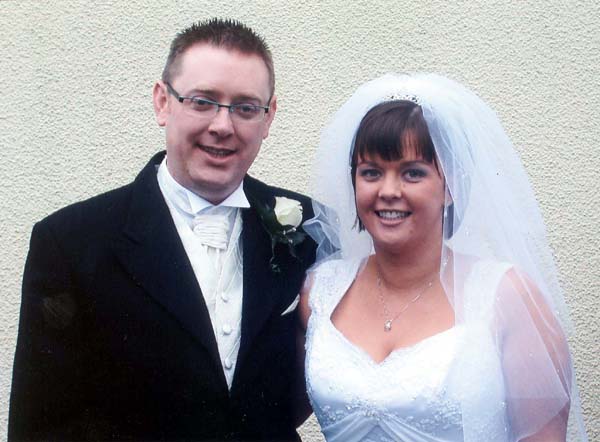 Best wishes to Seán O'Shea and Aoife Forde on their recent marriage. Seán is a valued contributor to the Newsletter and Aoife and himself are wished many years of health and happiness.

Their wedding reception took place in the Shannon Oaks Hotel in Portumna and they spent their honeymoon on a Carribean Cruise.
All-Star in Borrisoleigh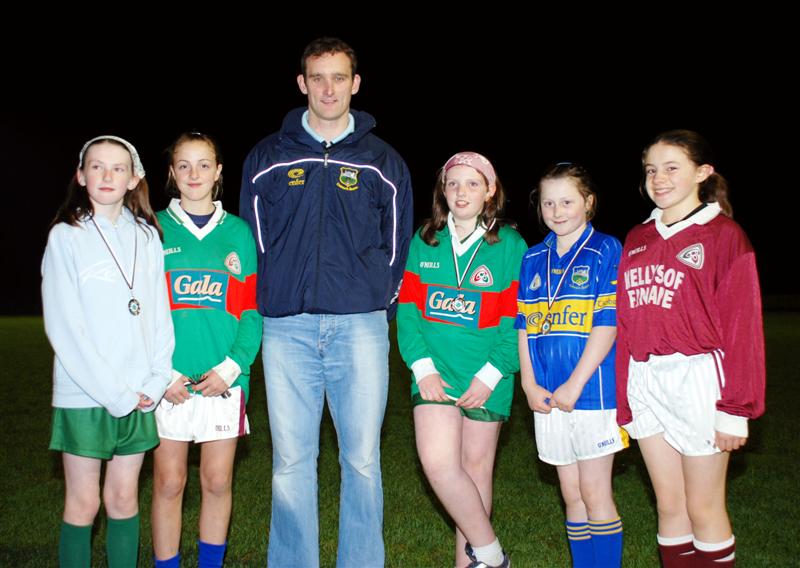 Declan Fanning teaches the boys and girls of Borrisoleigh the tips and tricks to becoming a great player. Declan was an All-Star with Tipperary in 2007.
Harry Joes on tour!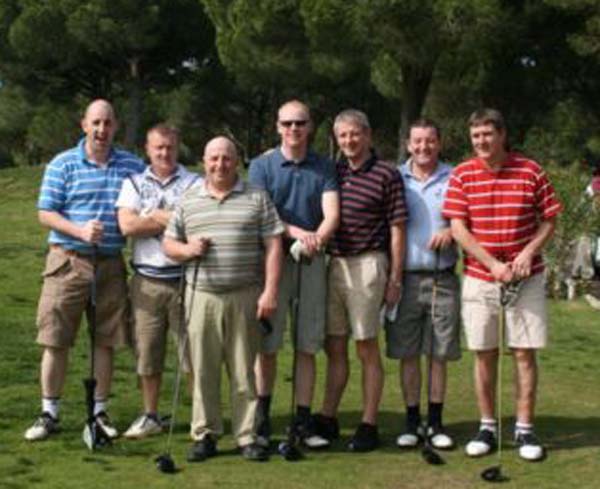 The Harry Joe's Golf Society had a very successful trip to Portugal last month. Forty people in all travelled to Villamora in Portugal for the golf holiday. This is the first time that the society has ventured off this little island of ours. The reaction to the trip was very positive and the demand seems to be there to go on trips like this more often.


New Foroige Club for Borris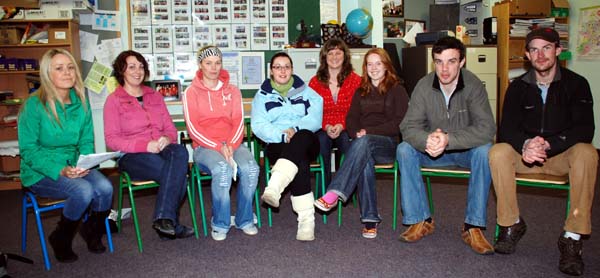 Local Youth Leaders at a training session for the proposed new Foroige Club for Borrisoleigh

Foroige Clubs offer young people the opportunity to run the club themselves in co-operation with their adult leaders. Involvement in a Foroige Club allows young people to experience the democratic process first hand.

How does this work?
The members of the Club elect their own committee (i.e. a chairperson, secretary, treasurer and public relations officer) who control and manage the affairs of the Club in consultation with members and leaders.

Who are the members?
Foroige Membership is open to young people between 12-18 years. There is an annual affiliation fee per member.

Who are the leaders?
Leaders are generally members of the local community who have undergone a recruitment and selection process. In a club all leaders must be over 18 and at least one leader must be over 21.

If you want to get involved contact Brid Canny, Foroige Regional Youth Officer



The Tea Ladies!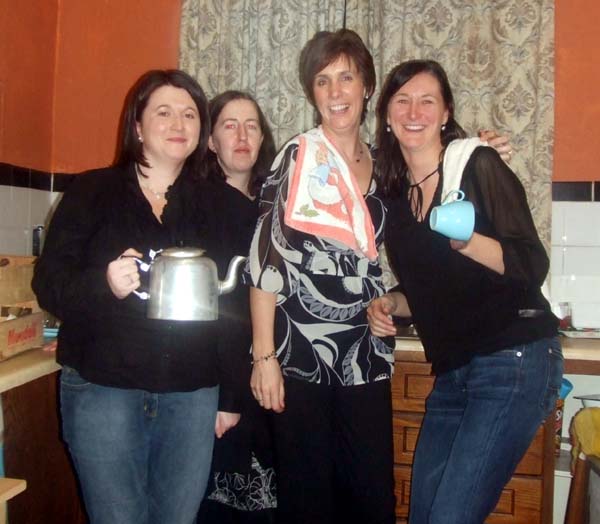 Pictured at the recent St Theresa's school concert in the Marian Hall are:
Clare Ryan, Teresa Kiely, Mary Stapleton and Patrice Cooney.


Defibrillator Programme for local community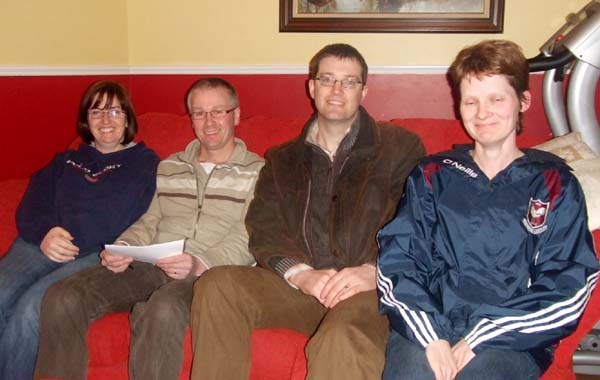 Pictured at a recent meeting to discuss the provision of defibrillators for Borrisoleigh were: Una Shanahan, Christy Reid, Dr Kevin Delargy and Paula Ryan

An information meeting will be held in the Marian Hall Borrisoleigh on Thursday17th April at 7:30 p.m. The purpose of this meeting is to discuss the necessity of providing a defibrillation program for the community. As you may be aware the demands on the Ambulance Services are ever-increasing. In the event of a person collapsing suddenly the objective is to have people in the community fully trained and able to respond quickly. This gives the collapsed person a better chance of surviving and may even save their life. 14 people in Ireland die every day of cardiac arrest; age is irrelevant, as recent reports have shown.

This initiative will be affiliated to the Irish Heart Foundation and Nenagh General Hospital Resuscitation Site. Dr. Kevin Delargy, M.B., B.Ch., B.A.O., D.Ch., D. R. C. O. G., M.I. G G.P., and Mary O'Brien, Resuscitation training Officer for North Tipperary and East Limerick have given their full support to this project. This is a community based project for the benefit of all! This defibrillation programme could save YOUR life. Please come along and support.

The more support we get, the more defibrillators we can purchase and the more people we can have trained to respond.

Finding their way in the world!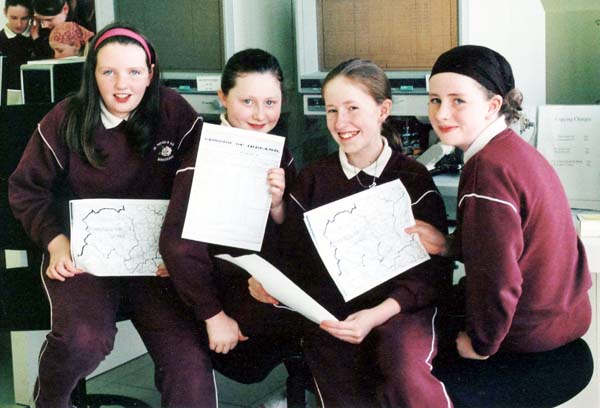 During the month of March the Senior classes visited the Source Library in Thurles. The children were given a presentation by a member of the Library staff. Following this, the children were divided into groups and taken upstairs to the Tipperary Studies Department. Mary Darmody showed the children where to find information on the 1901 Census of Main Street Borrisoleigh. She also helped them to find articles on the 1847 Famine in the Borrisoleigh area. Some availed of the opportunity to research Ordinance Survey Maps of their townsland areas. It was a most enjoyable and educational experience.
Connie receives a bravery award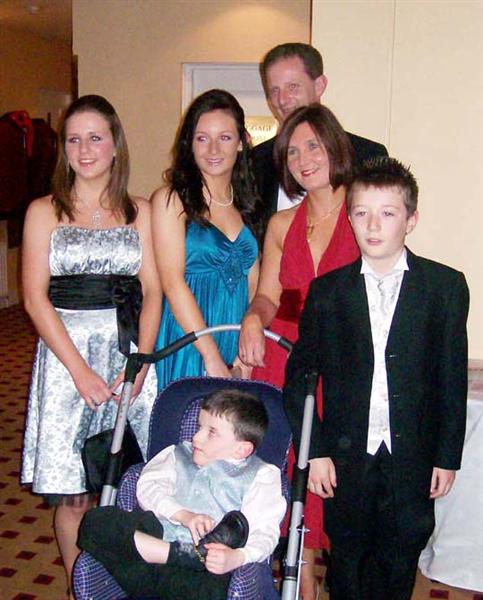 Conor Stapleton of Rathmoy, pictured here with his family, on the occasion of the Share a Dream Foundation National Children of Courage Award Ceremony held on 17th November 2007 in the Bunratty Shannon Shamrock Hotel.

Connie, seen here looking cool and relaxed, took the whole event in his stride. His proud parents Jimmy and June, sisters Aisling and Aoife and brother Eoin had a wonderful evening at this gala event.

Connie was one of eight children to receive an award having been selected from among 200 nominations from all over Ireland.

In his welcoming address the Founder / Director of the Share a Dream Foundation Mr Shay Kinsella said that all eight children were deserving of an award for their courage in life.

Each child had their own individual dream come true courtesy of the Foundation. Connie and his family travelled to Disneyland Paris and had a wonderful time. Congratulations to Connie and his family.
Down Memory Lane… pic of the past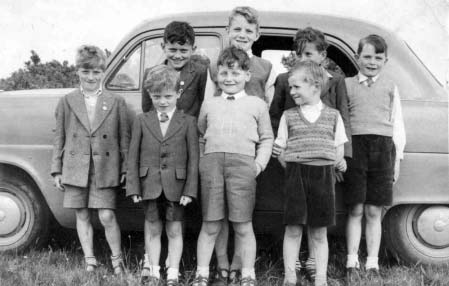 Back: Stephen Ryan, Lar Long, Phil Harty and Oliver Kent
Front: Pat Harty, Ned Harty, Fitz Chadwick and Pat Fanning

***********************************************************

News items, photographs, upcoming events etc. from home and away should be sent to info@borrisoleigh.ie.

The success of this site depends on you!!!!

***********************************************************