20 November 2019
20 Nov 2019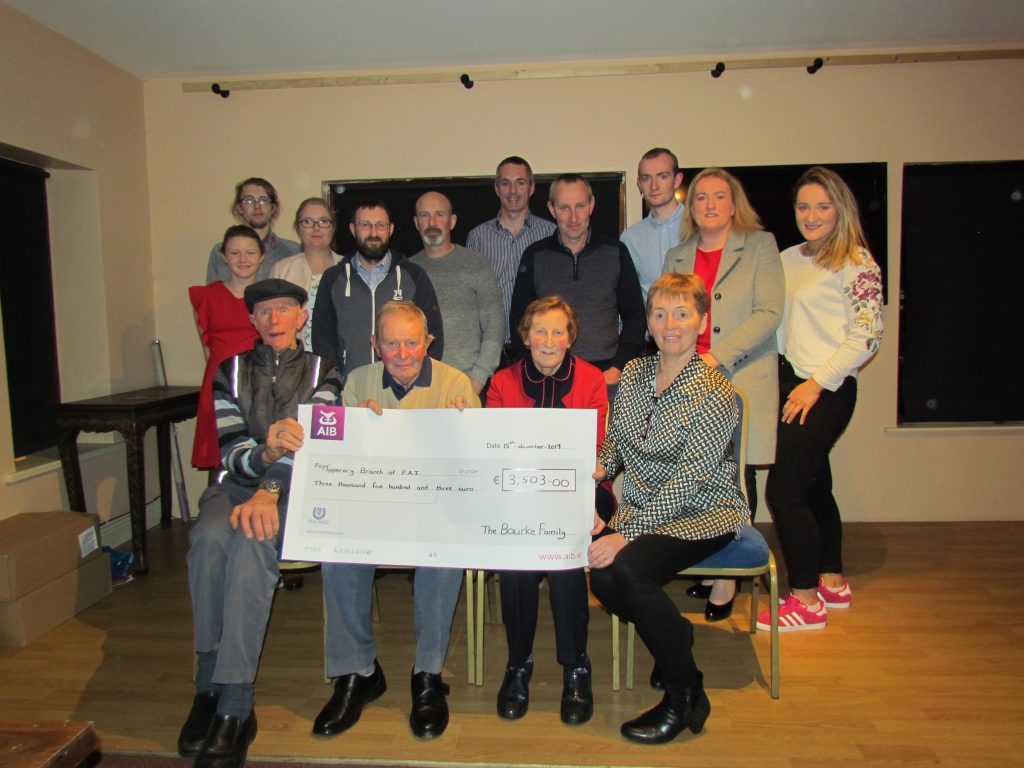 Back row L-R: Ava Bourke, Alan Bourke, Deirdre Bourke, Martin Bourke, Paddy Bourke, Donal O'Brien, Tom Bourke, Thomas Bourke, Margaret Bourke & Maggie Bourke.
Front row L-R: John Carey (Branch Treasurer), Martin Bourke, Chris Bourke & Mary Carey (Branch Secretary).
A recent fundraiser for the Tipperary Branch of the Parkinsons Association of Ireland, that was organised by Martin & Chris Bourke.
On behalf of the Bourke Family we would like to extend our sincere thanks and gratitude to everyone who supported and helped organise our table quiz held in Pa's Bar, Upperchurch on Friday 8th November. Over 30 teams on the night took part and it was a very enjoyable evening for the entire community answering the quizmasters trivia questions. €3,503.00 was raised from this event with all proceeds in aid of the Tipperary Branch. Meetings for the Tipperary Branch are held in Thurles, Nenagh, and Clonmel . Any one that would like to attend meetings please contact Mary Carey 0863916726(Thurles), Marian Burke 0872966296 (Nenagh) and Mary Finnegan 0861224283 (Clonmel). New members are always welcome.
---
St. Cualáns Social Club Notes
St. Cualáns Social Club are holding their Christmas party on Sun Dec 1st at 2pm in the Community Centre Borrisoleigh. The day will start with Mass followed by Christmas dinner and an evening of entertainment by Phil & John Maher and friends. There will be a few Special Guests on the day. Anyone interested in going should give their names to either Eileen 087 9849848 or Lucia 086 3961211 before Tues Nov 26th. If there is anyone interested in donating a raffle prize or would like to help out on the day please contact the names above.
There is a Coffee Morning next Fri Nov 22nd from 10am to 12noon in the Community Centre Borrisoleigh in aid of Alzheimer's Society of Ireland . Everybody is welcome.
St. Cualáns Social Club are holding their annual church gate collection next weekend 23/24 Nov at all masses.
---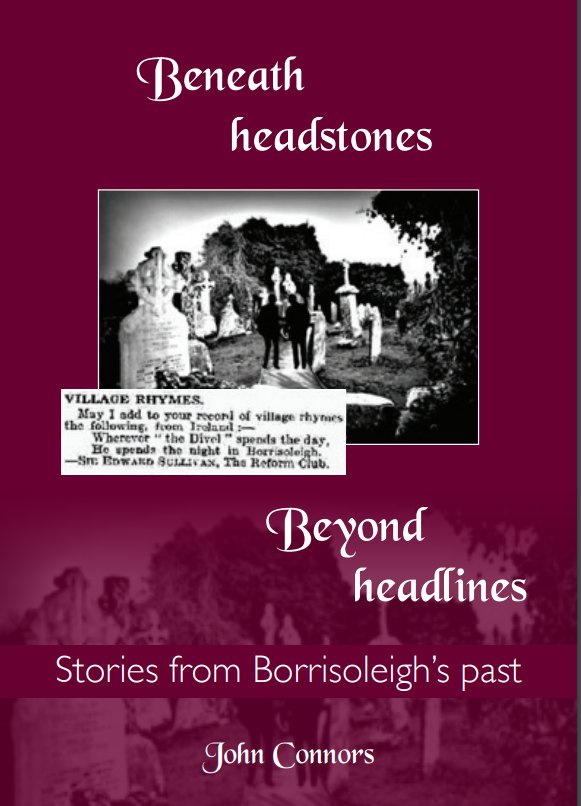 Launch in early December
---
Martial Arts Academy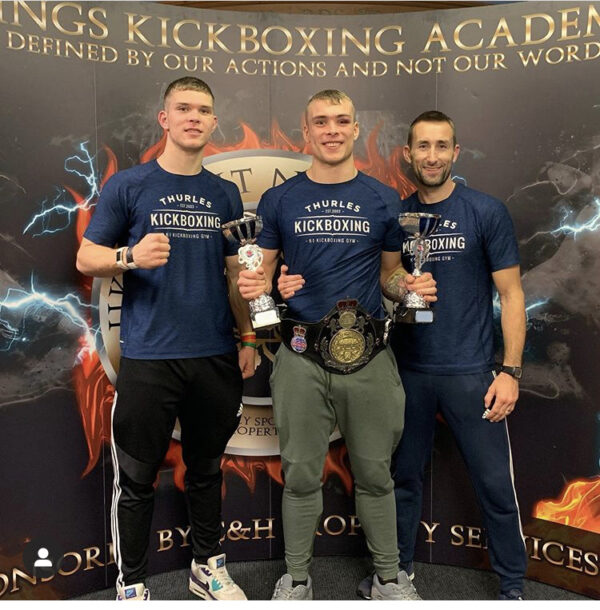 Sam Devaney of Lower Street who recently added more accolades to his growing list of achievements, taking two gold medals in the ISKA amateur World Championships in two catagories – 85kg Muay Tai and the 85kg K-1. He won -90kg IKF European open in March in the u.k, the -91kg 5 nations ICO title in September.
Sam and his brother Liam have both put in massive performances in the last 12 months with huge success in the ring across Ireland, both competing at major events in kick boxing and Muay Tai, with Liam winning the majority of his regional fights with technical knock outs. They are honoured to represent Borris, Tipperary and Ireland every time they step in the ring and have so much more to come as they move away from amateur grade and up in class. Well Done!!
They both train in Thurles kickboxing Club under Pat John McCoole and both teach kickboxing to the juvenile members. The club are in Stradavoher industrial estate in Thurles and on Facebook and Instagram @thurles_kickboxing_and_bjj
---
Parish News

Anniversary Masses next weekend: We pray for all whose anniversaries occur and for whom the following Masses will be offered.
Saturday November 23rd at 7pm Mass: Marette Smith Main Street, Tony Ryan Chapel Street, and Joe Lennon Borrisoleigh, Clonmel and London.
Sunday 24thNov 11am Mass :William& Joan Connors, Castlequarter, Paddy and Elizabeth Connors Knockanevin and deceased members of the Connors family.
November Cemetery Prayers: The Rosary will be recited Sunday in Ileigh graveyard on 24th November @ 3pm.
We wish our Senior HurlingTeam the very best of luck next Sunday against Ballygunner in the Final which takes place in Pairc Ui Rinn, Cork @ 2pm.
Holy Hour: St Joseph's Young Priest's Society are holding a Holy Hour for Vocations to the Priesthood. This will be in the Community Centre Borrisoleigh at 3pm on Sunday 24th All are welcome to attend.
Fr Ray Kelly Concert: Fr. Kelly has appeared on the Late Late Show, Britain's Got Talent and will perform in St Joseph's Church Moneygall on December 1st. Fr Kelly's concert commences at 7 pm and doors are open from 6 pm with unreserved seating. Tickets are €20 and we would love to have you join us for an evening of music, hymns and song.
Thought for the Week He who cannot forgive breaks the bridge over which he himself must pass." — Francis Bradley
---
Borrisoleigh Historical Society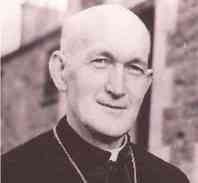 A Talk on Bishop Thomas Quinlan
On Friday 29th next, at 8.00 pm, in the Community Centre Borrisoleigh, a talk will be given on the life of Bishop Thomas Quinlan. Thomas Quinlan was born in Pallas, Borrisoleigh and as a young man he joined the Columban Order of missionary priests. Posted first to China, in 1934 he joined the Order's mission in Korea. His time in Korea coincided with a most troublesome period in the history of that country, surviving Japanese occupation, house arrest, the Second World War and the Korean War with its infamous death march.
Upperchurch man, Eugene Shortt has extensively studied on the life of Thomas Quinlan and has compiled a detailed lecture on the life of the Pallas missionary.This talk gives a fuller and rounder picture of the man who , although chiefly associated with that Death March, was involved in and led, many more initiatives and accomplishments on the Korean peninsula.
Talk begins at 8.00 pm, – admission is 5.00 euro and all welcome.
---
Borrisoleigh Active Social Club Notes
The Borrisoleigh Active Social Club are holding their Christmas party on Sun Dec 1st at 2pm in the Community Centre Borrisoleigh. The day will start with Mass followed by Christmas dinner and an evening of entertainment by Phil & John Maher and friends . There will be a few Special Guests on the day.
If anybody is interested in helping out on the day or would like to donate a raffle prize it would be much appreciated. Please contact Recie 087 1072443, Eileen 087 9849848 or Lucia 086 3961211 .
We are holding a Coffee Morning next Fri Nov 22nd from 10am to 12noon in the Community Centre Borrisoleigh in aid of Alzheimer's Society of Ireland. All support and donations of confectionary would be appreciated.
There are still a few seats available on the bus for the shopping trip to Cork on Dec 10th.
We are sending our good wishes to the Borrisoleigh Senior Hurling Team in the Munster Club Final next Sunday.
---
Scór Notes

The County final of Scór na nÓg will take place on Sunday 1st December at 2pm in Holycross. The eight categories on the day will be Rince Foirne, Tráth na gCeist, Rince Seit, Ballad Group, Solo Singing, Novelty Act, Recitation/Story telling and Instrumental music.
Entries to Helen Keane on 087-4140287 by Friday 22nd November
---
Explore Your Options
Education, Careers and Volunteering information event to be held in Borrisoleigh
Explore Your Options – Education, Careers and Volunteering event will be held in Borrisoleigh Community Hall on Tuesday, November 26th from 10.30 – 12.30pm. This free information session will provide the public with an opportunity to meet representatives with expertise in career guidance, training and volunteering.
There will be representatives there from North Tipperary Development Company, Tipperary Education and Training Board and Tipperary Volunteer Centre to discuss the different options available to any individual who attends.
It would be suitable for anyone looking to further their career and get career and educational advice. Those who want to add to their skill-set through further training can find out what courses are available in their area. Volunteering opportunities can also be explored for those who want gain work experience through volunteering or simply be a bigger part of their community.
For further information you can contact 086 0481743.
---
AXA Community Bike Ride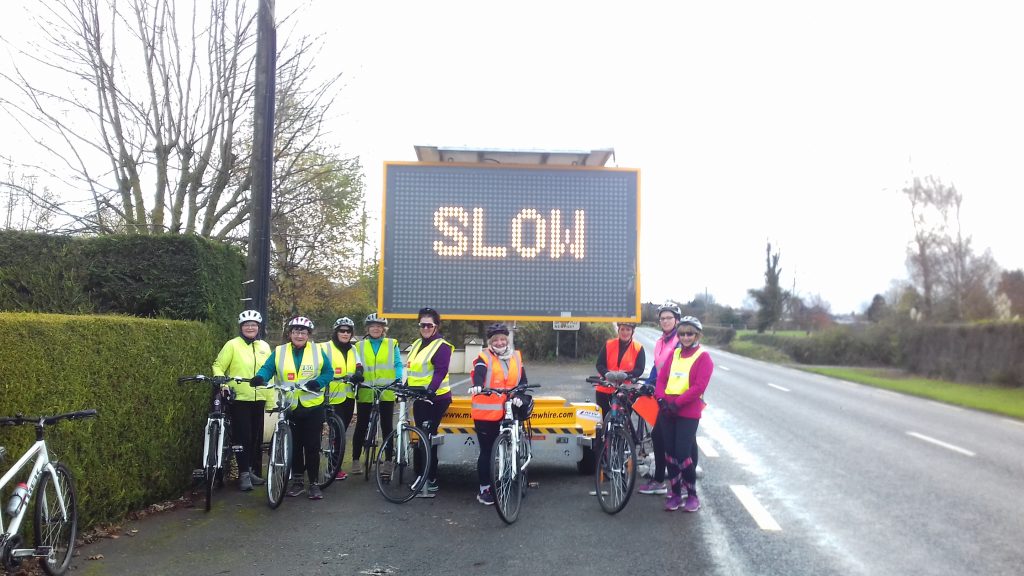 Another lovely community cycle on Sunday with everyone enjoying the crisp dry November air.We cycled towards Thurles and turned when we encountered roadworks see photo. Next weekend the challenging cycle is on Saturday at 10 o clock with the easy going cycle on Saturday at 1 o clock. No cycle Sunday as everyone travelling to Cork to support the Senior hurlers and management in the Munster Final Good luck to all involved Borris Abu.
---
Unveiling of the Martin Bourke plaque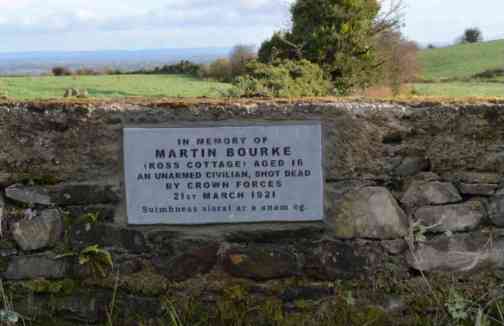 Borrisoleigh Historcial Society in conjunction with (TiDR) Tipperary in the Decade of Revolution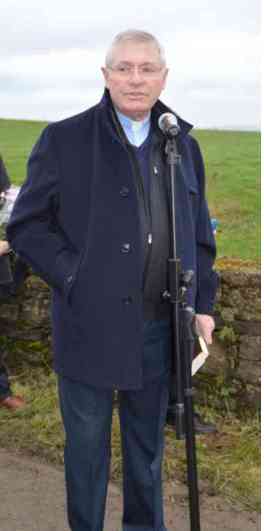 Fr Pat O'Gorman and Fr Gerard Hennessy bless the plaque.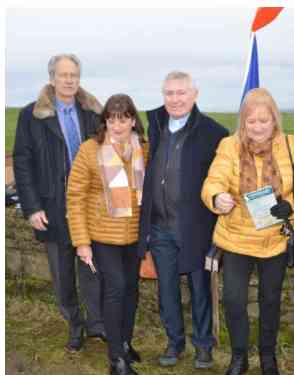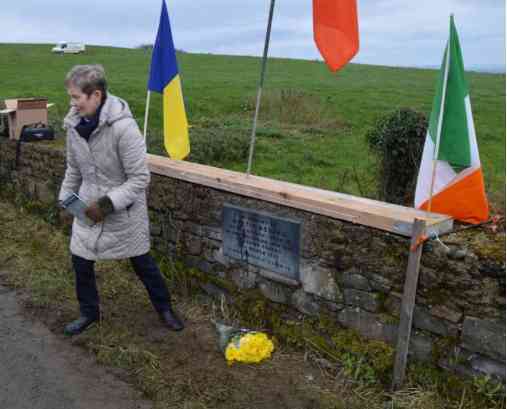 Una Flynn lays flowers on behalf of the Bourke family.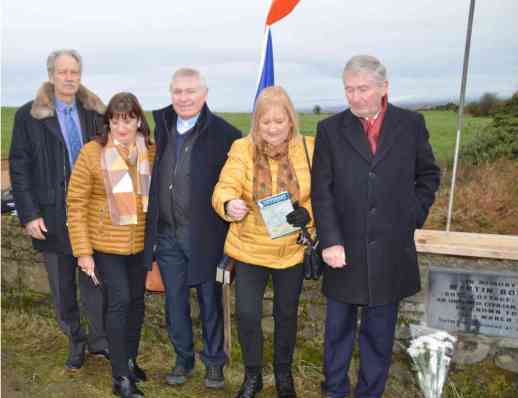 John Bourke, Ann Bourke, Fr O'Gorman, Una Bourke and Andrew O'Gorman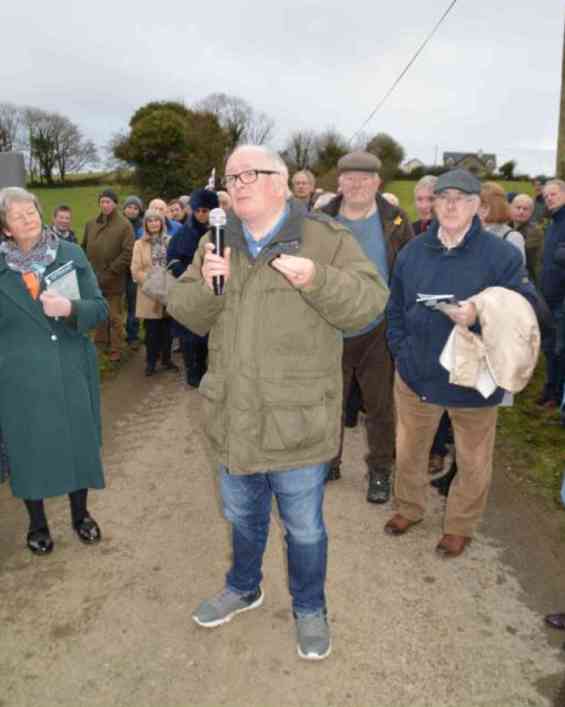 Andrew Powell [nephew of Martin Bourke] addresses the crowd. Michael Delaney, Chairman of Borrisoleigh Historical Society who unveiled the plaque
---
Scoil Naomh Cualán Notes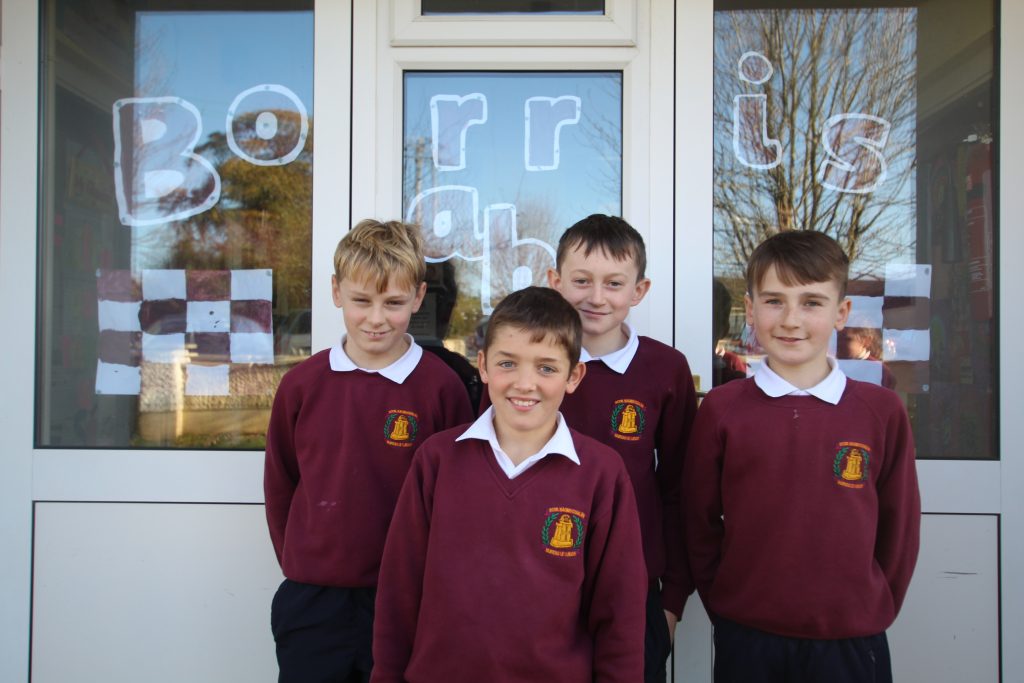 Our second team only narrowly missed out on qualification for the County Final, hard luck boys, you did us proud!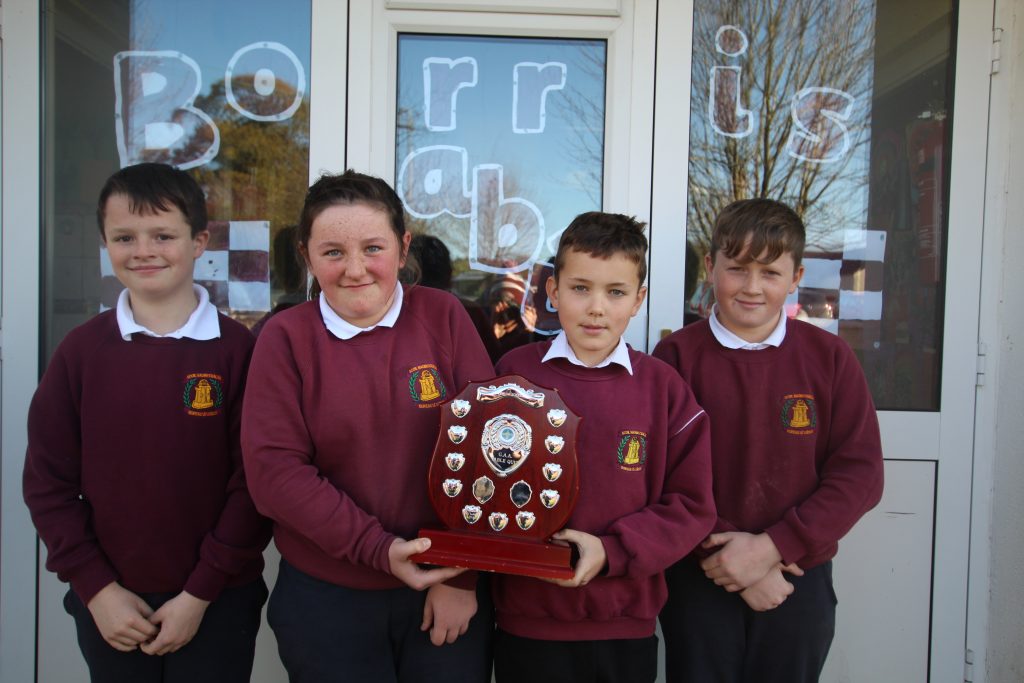 Our school won the North Tipperary Primary School's GAA quiz on Sunday 17th of November in Cloughjordan. Well done from all in Scoil Naomh Cualán!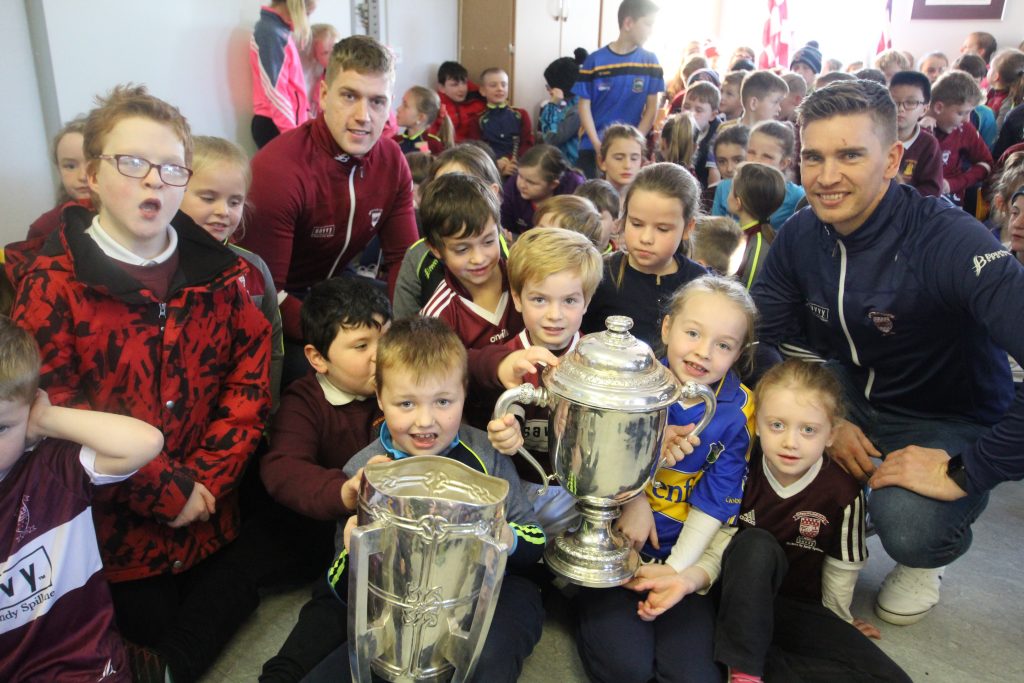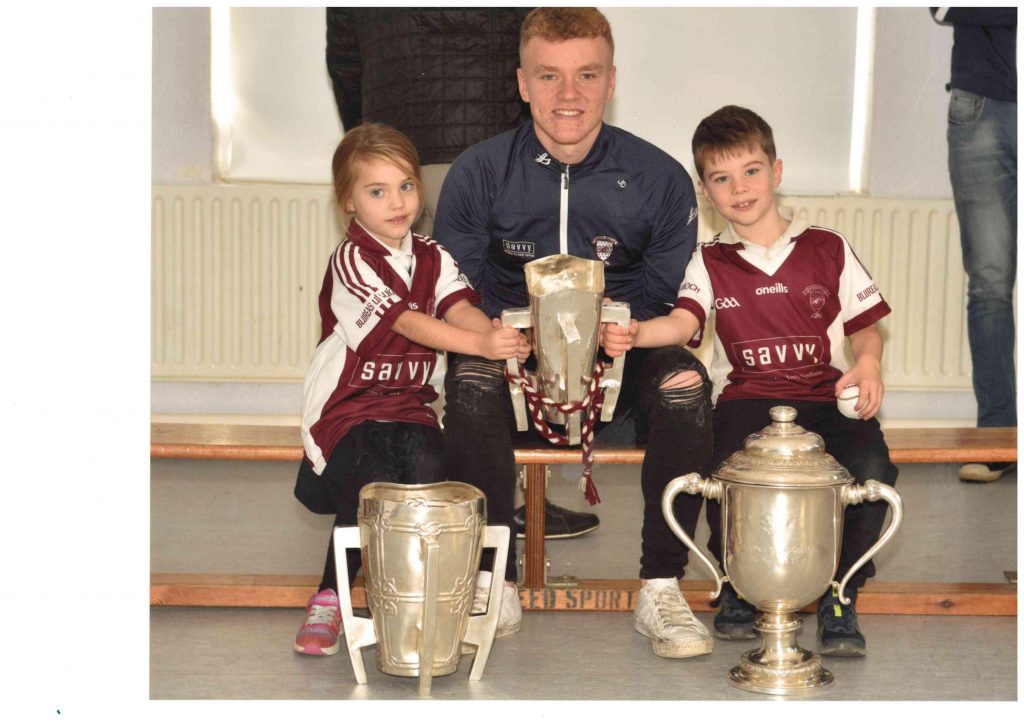 Devaney family with the cups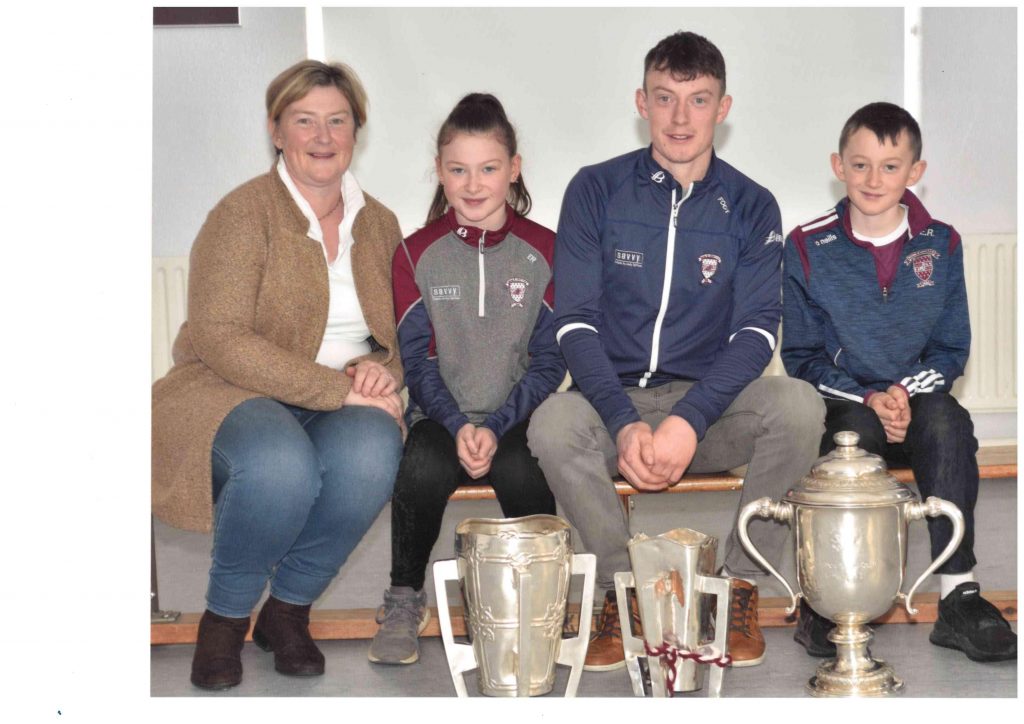 Tommy Ryan and family with the cups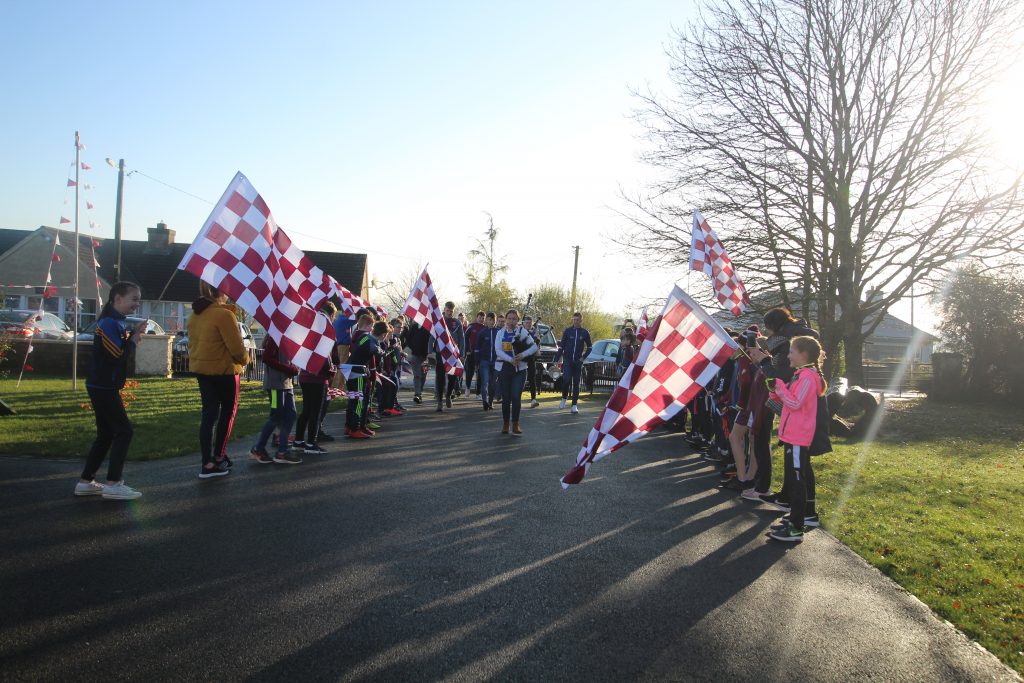 The squad were piped in to the school by Ms. Martha O'Brien and were given a guard of honour by our fifth and sixth class.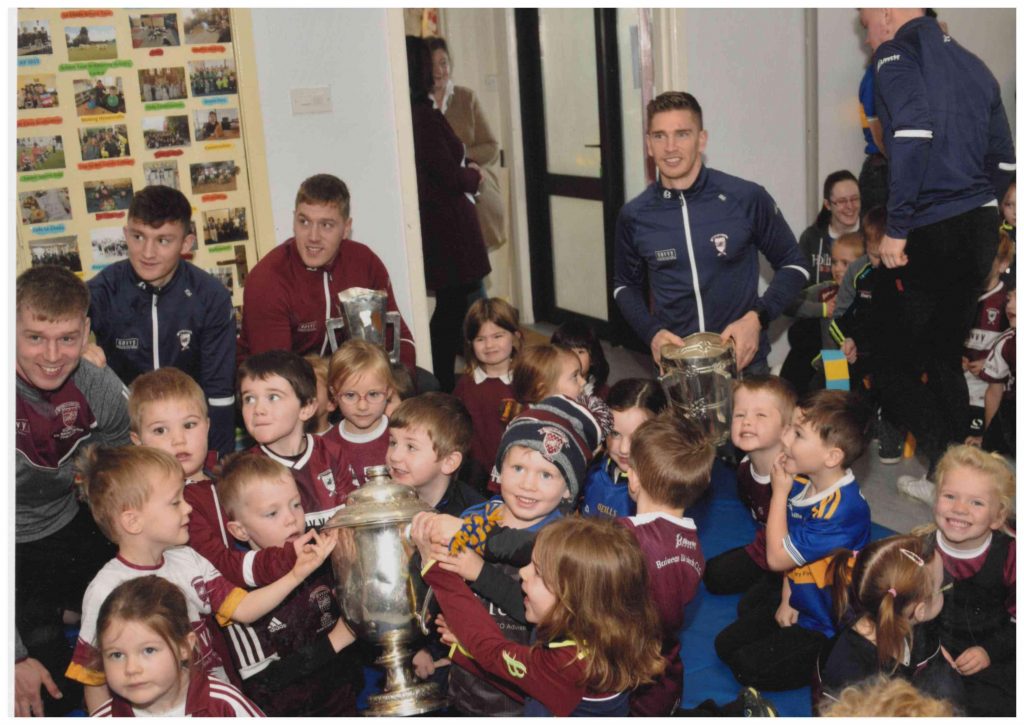 Brendan Maher and Dan McCormack brought along the Liam McCarthy and Ray McCormack, James (JD) Devaney and Kevin Maher brought the James Nowlan trophy as well.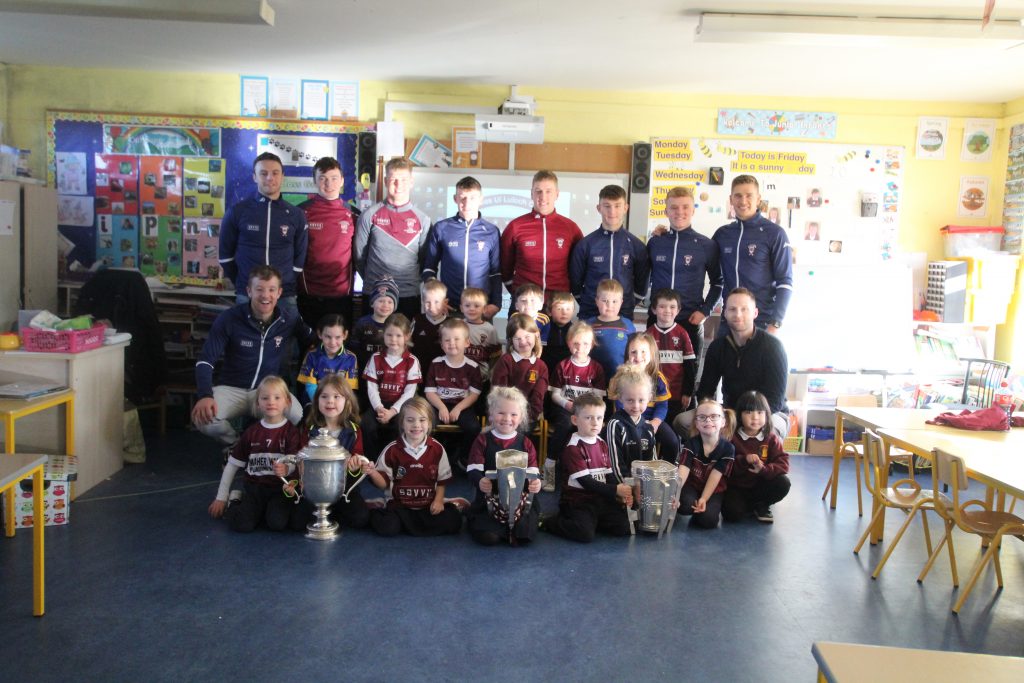 Junior Infants with cups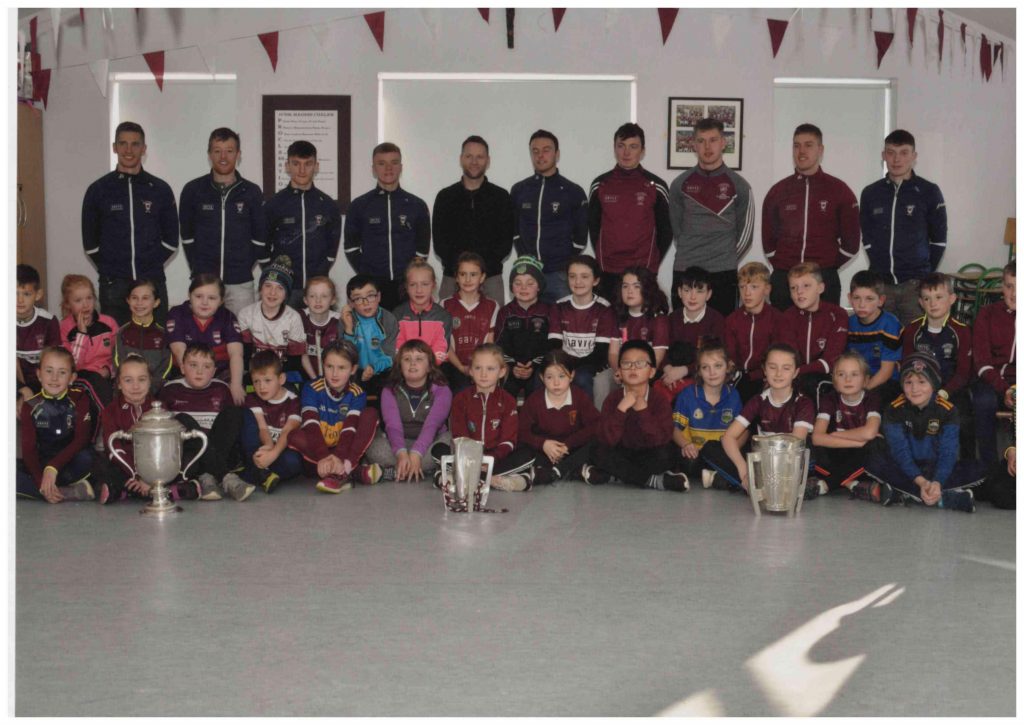 Third and fourth classes with the cups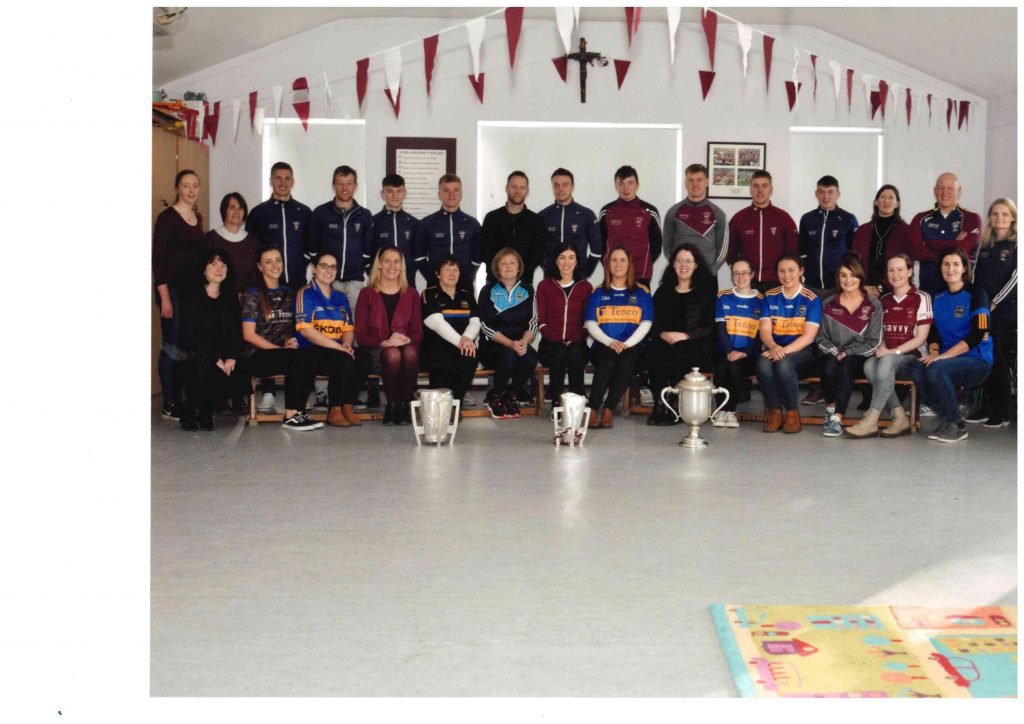 Staff with the cups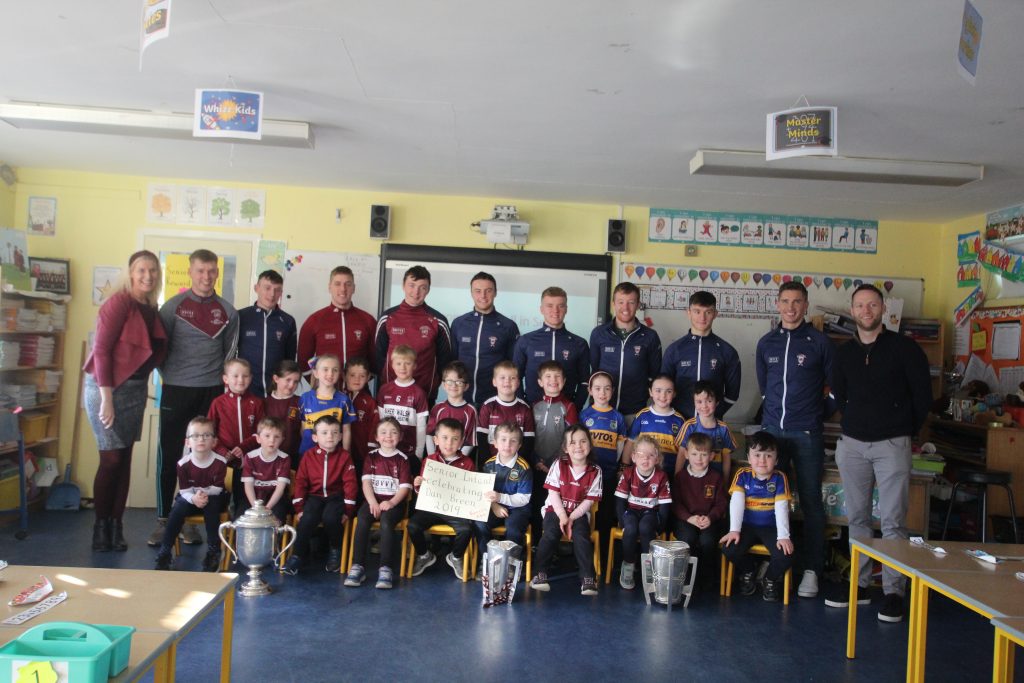 Senior Infants with the cups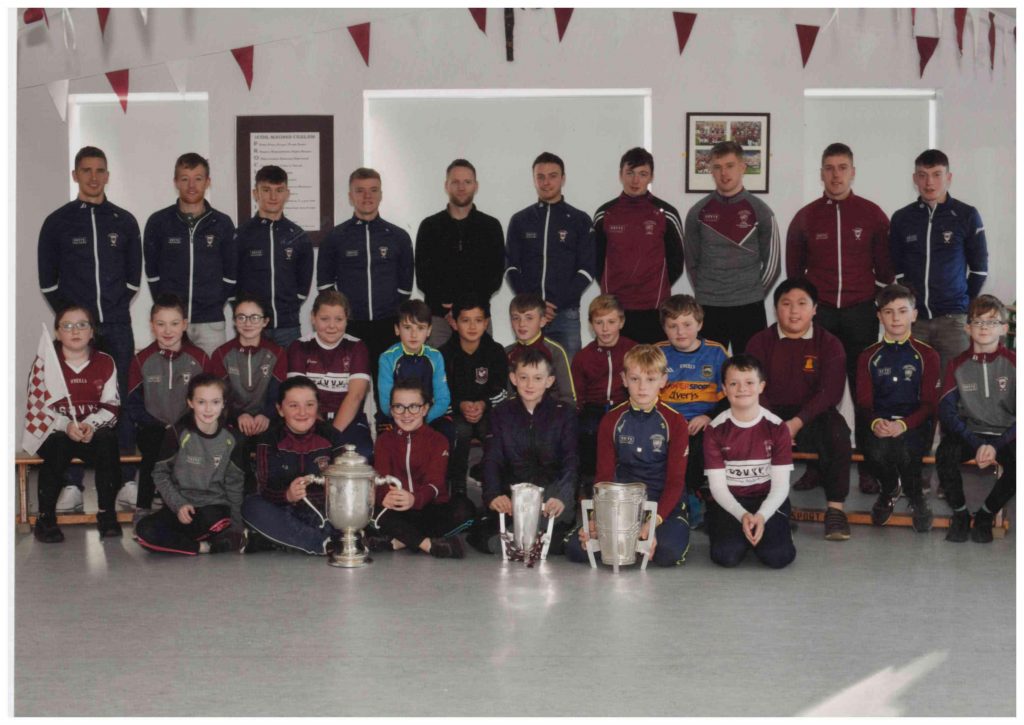 Sixth class with cups
Senior Infants with cups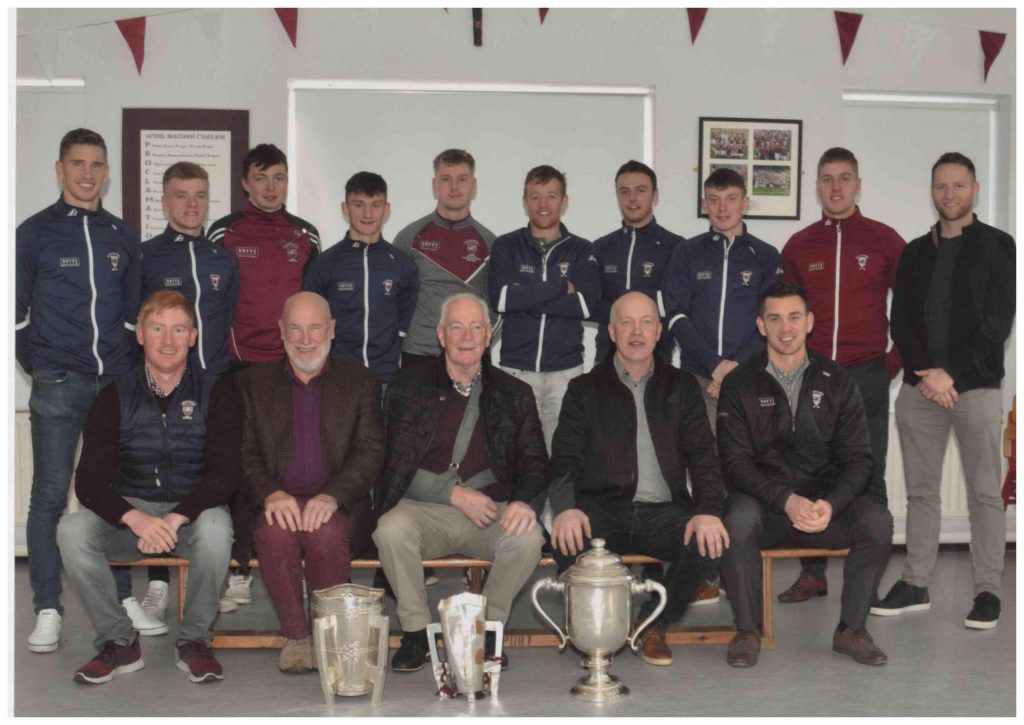 We had three special guests, Michael Ryan, Timmy Delaney and Frank Spillane who were members of the Borris-Ileigh teams that won three county finals in the 1980's.
Above are some pictures of members of the Borris-Ileigh squad and their mentors visiting the school with the Dan Breen after our County Final win.
The team have brought great joy to our school and parish and all in Scoil Naomh Cualán wish them the very best of luck against Ballygunner in the Munster Final.
---
Pic of the Past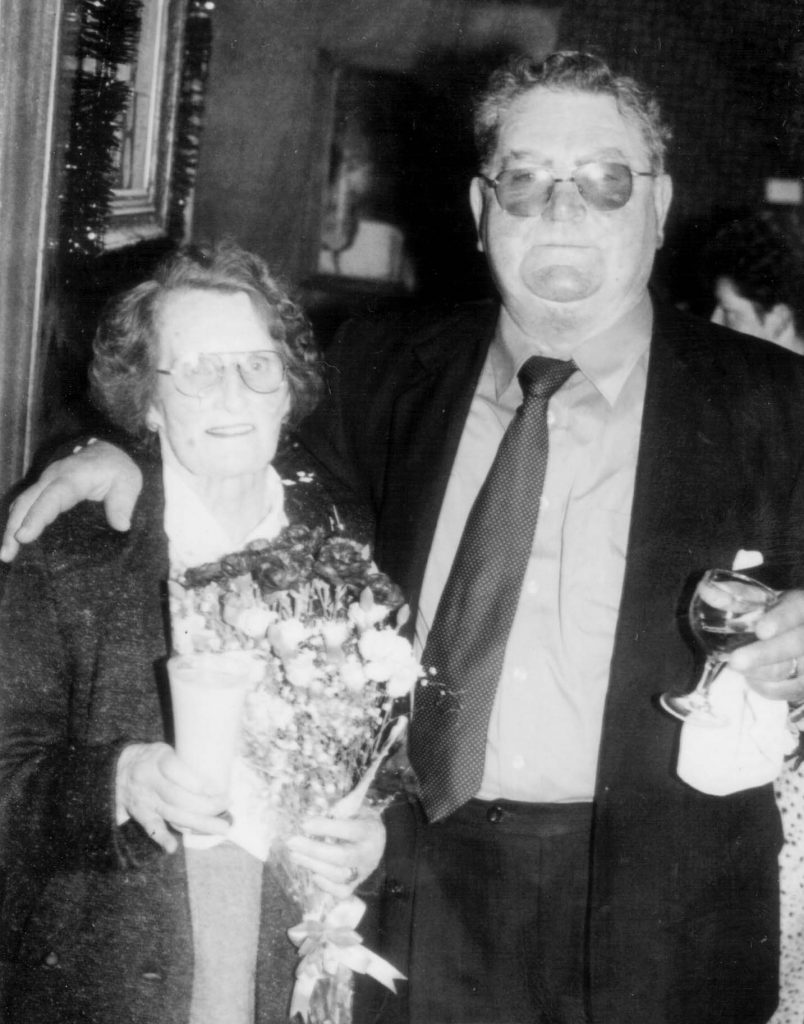 Dancing Duo!Margaret Harty and Paddy Maher, Upper Main Street.
---
Committee: Enda Ryan, Noreen Fahy, Marie McGrath, Derry O'Donnell and Fiona Max
Many thanks to all those who contributed photographs and news items
Remember, we need you to continue to send us material so that we can keep our website current and interesting.
While we make every effort possible to ensure that the information contained in this Website is accurate and complete, we cannot accept any legal liability as a result of the inaccuracy or incompleteness of the information presented to users of this site. We also reserve the right to edit material for suitability to a website format.
Also, if you like what you see and want to leave a comment, remember to use the Guestbook