20 January 2016
20 Jan 2016
St Joseph's College Notes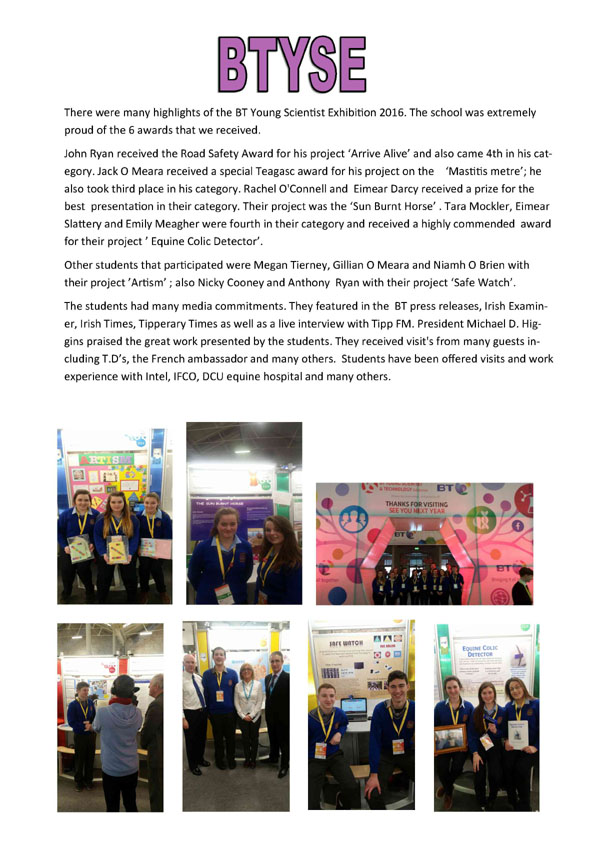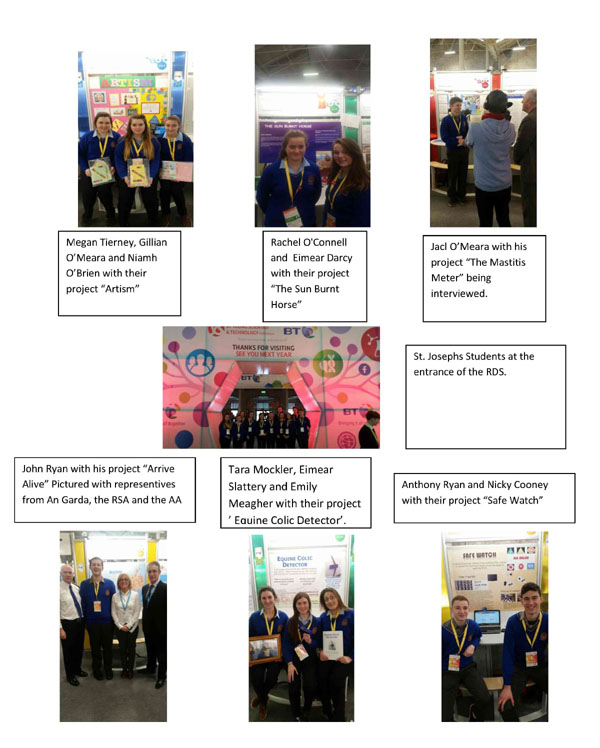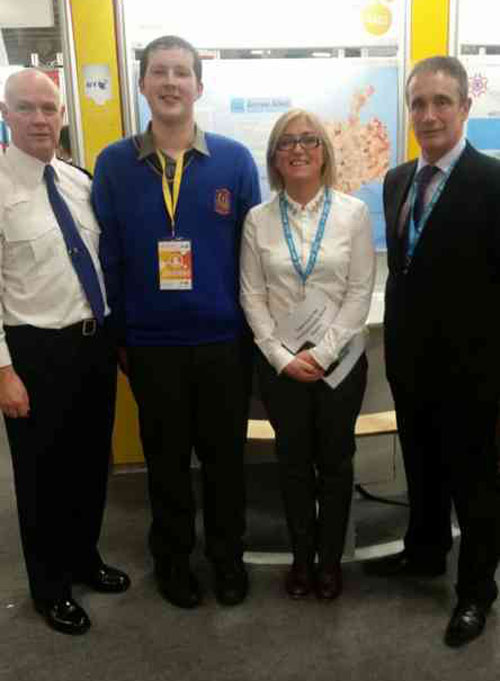 John Ryan received the Road Safety Award for his project 'Arrive Alive' and also came 4th in his category.
Jack O Meara received a special Teagasc award for his project on the 'Mastitis metre'; he also took third place in his category.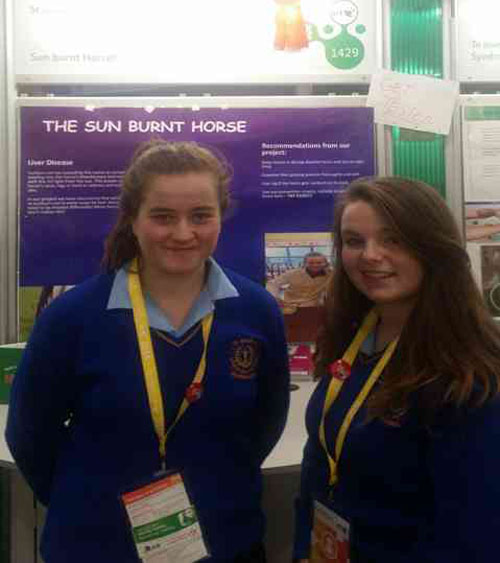 Rachel O'Connell and Eimear Darcy received a prize for the best presentation in their category. Their project was the 'Sun Burnt Horse'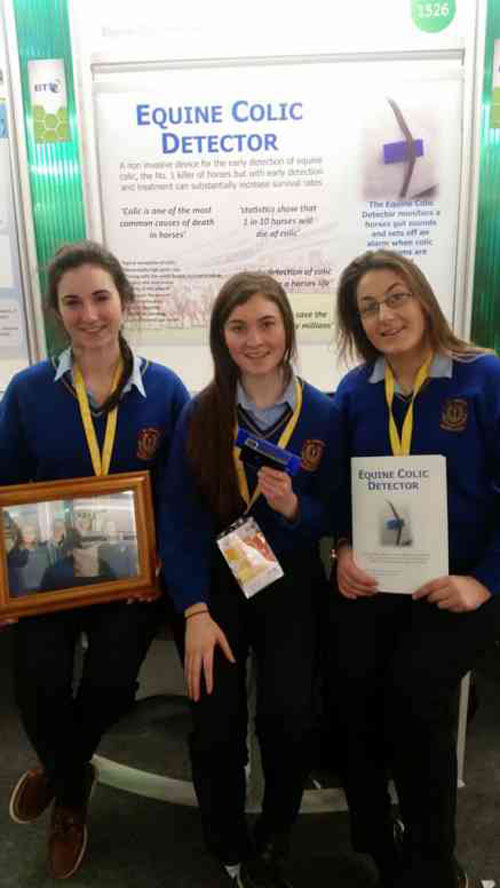 Tara Mockler, Eimear Slattery and Emily Meagher were fourth in their category and received a highly commended award for their project ' Equine Colic Detector'.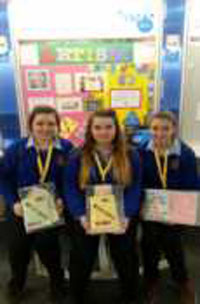 Other students that participated were Megan Tierney, Gillian O Meara and Niamh O Brien with their project 'Artism'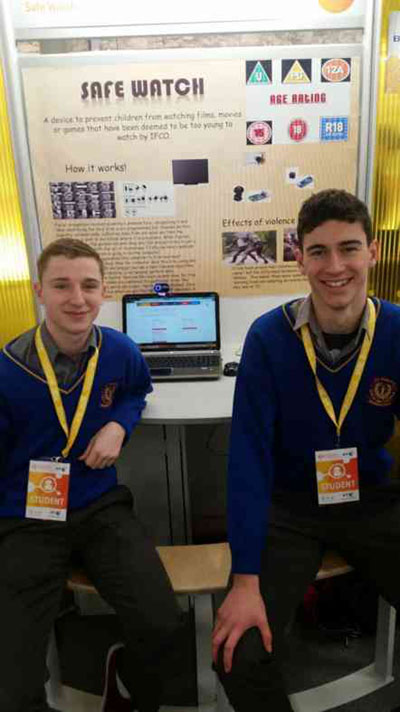 Nicky Cooney and Anthony Ryan with their project 'Safe Watch'.
The students had many media commitments. They featured in the BT press releases, Irish Examiner, Irish Times, Tipperary Times as well as a live interview with Tipp FM. President Michael D. Higgins praised the great work presented by the students. They received visit's from many guests including T.D's, the French ambassador and many others. Students have been offered visits and work experience with Intel, IFCO, DCU equine hospital and many others.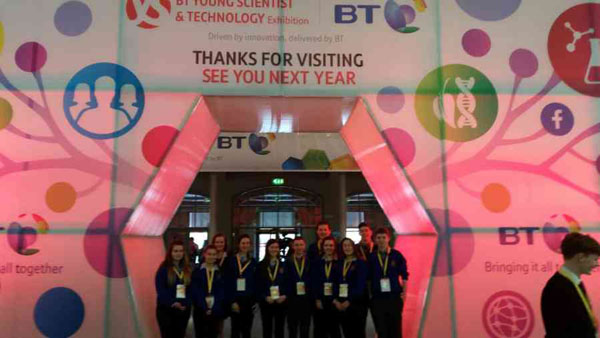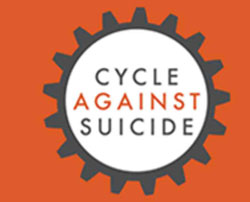 St. Joseph's College has been chosen as an anchor school for the Cycle Against Suicide 2016. We will provide entertainment and refreshments for the cycle as it passes through Borrisoleigh on Tuesday 3rd May. We would like to invite everyone in the community to come out and support the cyclists as they pass through our town. If you would like to help out or get involved contact Michelle (087) 6683511. "Shoulder to shoulder let's break the cycle"
---
Borrisoleigh Track-Attack Notes
The opening night of the Track-Attack Safari Team Trek which is sponsored by Camsaw Distributers Ltd (main suppliers of OleoMac and Weibang lawnmowers) attracted an impressive 149 participants which included runners, joggers and walkers.
With 3 distances for participants to choose from namely 3km, 4km, and 6km, there was a great variety of standard and age as everybody made their way around the course trying their best to achieve the best completion time possible.
There were many new to the Track-Attack scene with some very impressive debut performances and as the remaining 9 weeks of action materialise, we will see them attempting to knock minutes and seconds from their times in order to gain points for their respective teams.
The teams will be named this week following the completion of round 2. They will consist of participants of all various standard and age and points will be won or lost by how well a team member will perform in comparison to their personal best time of the series to date.
A participant will gain a point for every second that they beat their PB by up to a maximum of 60 points. A participant will lose a second that they finish slower than their PB up to a maximum of 30 points. Bonus points will be on offer a various stages of the series and details of this can be seen on the Borrisoleigh Track Attack Facebook page in the days leading up to each round. It is simply all a bit of fun that should create some great battles and slagging as the series progress.
Is it too late to join Track-Attack? No, it's never too late. We welcome all comers and encourage anyone that would like to improve on their general fitness level and health to come along on a Monday night and be part of a simple and enjoyable community event. It doesn't matter how young or old or what level of fitness you are at, you will be made welcome with us.
To join Track-Attack, the membership fee for the year is €10 for adults and €5 for under 18's. There is a €2 charge for adults each night with our underage members free of charge. All of the monies raised will go towards the Track Development Fund.
---
Borris-Ileigh G.A.A. News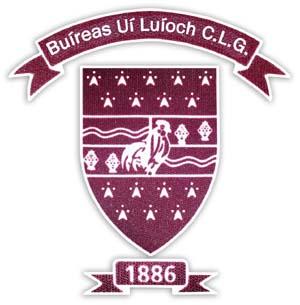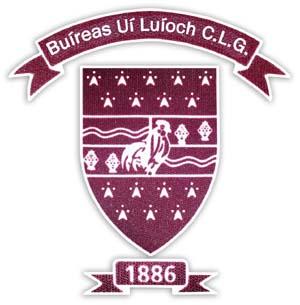 New Development: As many of you have probably seen by now, a new development has begun to take place in the town park. This is quite a large scale development and hopefully will leave the parish with one some of the best, if not the best, facilities in the county. We hope to have this development up and running in the next few years and looking forward to people enjoying these marvellous facilities. This will facility will be for all members and clubs of the community and will not just be a GAA facility. It is our belief that the Town Park should be at the heart of our community and this will only add to it.
As stated, our plan is to have state of the art facilities for the people of Borrisoleigh. This will consist of the following; the building of a state of the art multi purpose sports complex that will house our sports hall, ball alley, gym, 4 dressing rooms, meeting rooms, external floodlit hurling wall, kitchen and toilet facilities and also a viewing area out on the pitches. We will also complete the floodlighting of the now extended walking track, the building of a third playing pitch, the re-development of the tennis courts and the re-development of the soccer pitch.
As you can imagine this will not come cheap, and we hope that with the support of the parish, we can complete this development within the next few years. We are proposing a fundraising scheme where we can claim back tax on a charitable donation. We are proposing that people give a donation that equates to €21 per month for 3 years. You can pay this by standing order or in a lump sum. Members of the development committee have called to some houses already and hope to call to the remaining houses in the next week. We hope this will finish paying for the development within the 3 year mark stated above. We hope as many people as possible will become involved in this scheme and help us give the people first class sports and recreational facilities in the parish.
U 21 Hurling: Congratulations to our u21 hurlers who defeated Upperchurch in the county semi final on Sunday morning in Borrisoleigh. It was a tight and tough match but thankfully our lads finished strong to win the game by 2 points. We will now play Killenaule in the county final this Saturday 23rd at 2pm in Templetouhy. We hope to see a huge crowd there to support this great team.
For more action from U21 County Semi Final please click here
Tipp Supporters Club: Applications are now being taken for membership for the Tipperary Supporters Club for 2016. The cost is just €30 and is of great source of income to the Tipperary training fund. If you are interested in joining please contact TF Stapleton
AGM: Our senior club will holds its AGM on Sunday 31st of January at 7pm in The Pavillion. All members and potential members are asked to attend. Nominations for any position are to be with club secretary Gerry Treacy in writing next Tuesday 26th by 8pm. We encourage anyone interested in getting involved in any capacity to put their names forward.
The Juvenile Club will also hold its AGM on Friday night 29th of January at 7.45pm in The Pavillion. Nominations are to be with Philip Delaney by Tuesday 26th. All positions are open for application and we would love to see new people getting involved.
---
Hope Foundation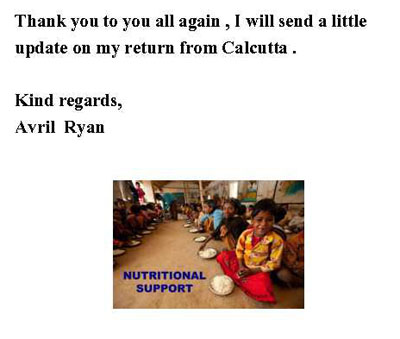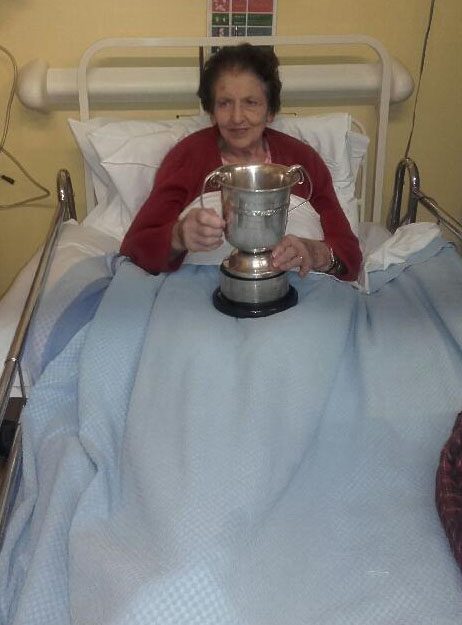 Teresa Coffey holding the North Final Cup that the U21's won recently.  May we wish Teresa a speedy recovery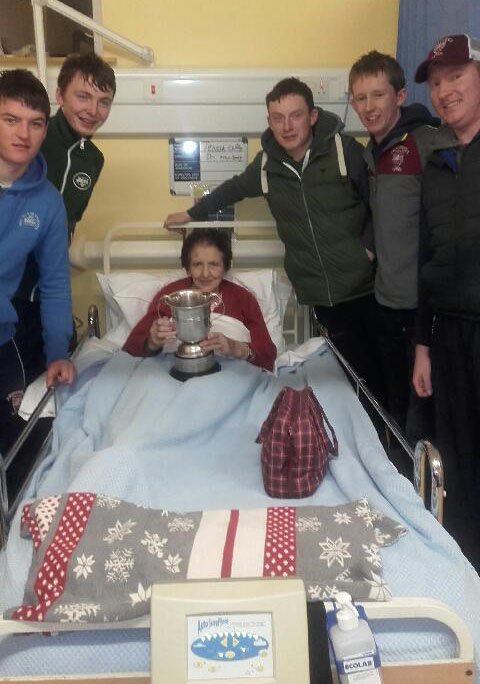 Some of the U21 Team with Gerry Treacy and Teresa Coffey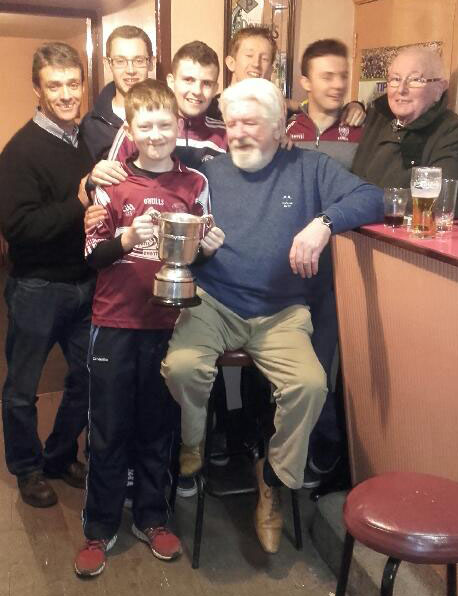 Cup was taken to Coffeys Pub, Borrisoleigh
---
Hazardous Waste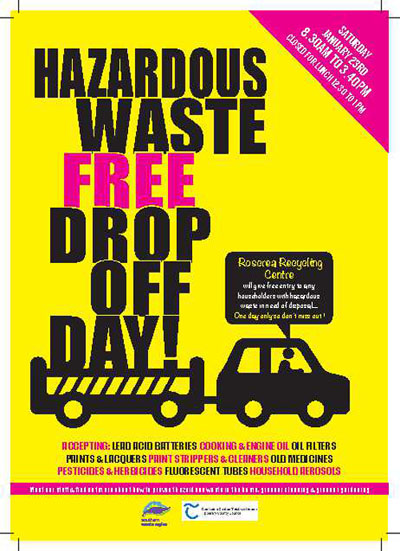 Hazardous Waste free Drop Off Day in Roscrea Civic Amenity Centre – Saturday Jan 23rd  
St. Joseph's College, Benefit Night 
---

---
Borrisoleigh Annual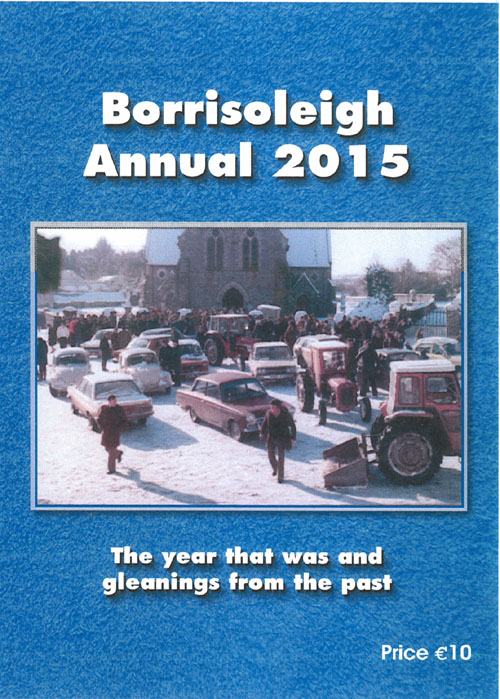 The Annual is now on sale in Walsh's, The Bothy, O'Connell's Pharmacy, Hurley's and Shanahan's.
The Borrisoleigh Community and Development Association would like to thank all the individuals and organisations who submitted articles and/or photos for this years edition, the local shops for selling the Annuals for us and those who turned up the the launch and the lighting up the square for Christmas.  We hope you all enjoy the Annual.
---
Borrisoleigh Festival AGM
 Our AGM is on Wed February 3rd at 8pm in Marion Hall.
All new members are welcome.
---
 Pic of the Past …………down memory lane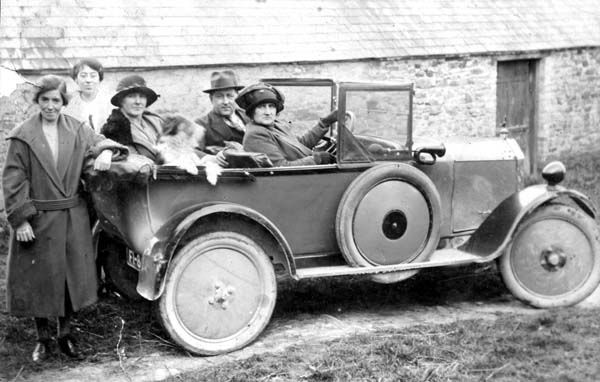 Maggie Stapleton and Molly Stapleton, Roo, ….., Ned Loughnane, Chapel Street and Margaret Ryan at the wheel of an old Citreon car.
---
Committee: Enda Ryan, Noreen Fahy, Margaret Cowan, Marie McGrath, Aileen Óg Groome and Derry O'Donnell

Many thanks to all those who contributed photographs and news items. Remember, we need you to continue to send us material so that we can keep our website current and interesting.
Send your email to: info@borrisoleigh.ie

While we make every effort possible to ensure that the information contained in this Website is accurate and complete, we cannot accept any legal liability as a result of the inaccuracy or incompleteness of the information presented to users of this site
Also, if you like what you see and want to leave a comment, remember to use the Guestbook!
If you are leaving a comment asking people to help with family research etc. please include your email address within the comment itself