St. Joseph's College
Transition Years
On the Thursday 11th of February, our Transition Year class went to Collins Barracks in Dublin. They spent a few hours looking around the former military barracks and enjoyed looking at the art pieces and historical objects. They ended the day with a shopping trip to Dundrum Shopping Centre. It was overall a very educational trip and each student enjoyed it very much.
Rugby News
On Thursday the 25th our u-15 Rugby team went to Munster Rugby's Development Schools 11 a side Blitz. The boys won some and lost some as they played against Thurles, Nenagh, Abbey and Cahir. They thoroughly enjoyed their day as they touched up on their rugby skills.
Cycle Against Suicide Launch
We launched our Cycle Against Suicide Awareness Campaign last Friday, 26th February with a coffee morning and guest speaker Teresa Murray Ryan. This week is our Mental Health Awareness Week. We have invited guests to come to the school to talk with the students about their experiences with mental health. We hold 'walk and talk' every Tuesday to promote positivity and wellbeing. On Wednesday the 2nd years will encourage random acts of Kindness at break time. We will finish our Mental Health Awareness week with a Walk in my shoes Competition.
CanSat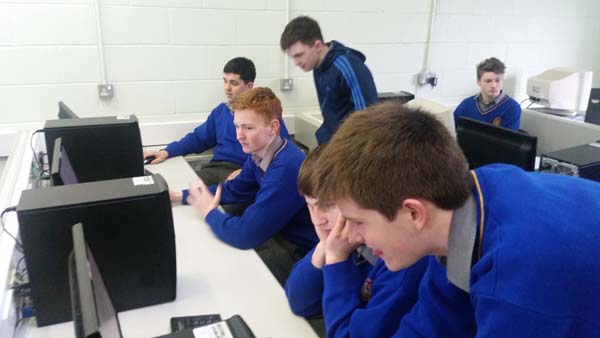 CanSat is a European Space Agency competition for 2nd Level Students (transition year and upwards) run by ESERO Ireland in association with Cork Electronic Industries Association and Institutes of Technology.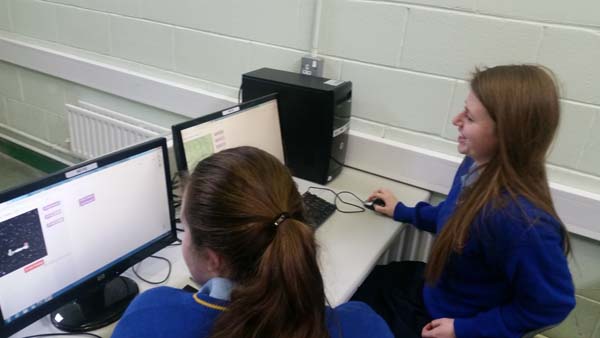 In the school, Jack Cullen, Aaron Reid, John Ryan and Nicky Cooney decided to take on the challenge. A CanSat is a simulation of a real satellite, built inside an empty soft drink can. The boys will be taking their CanSat to the regional competition in Limerick on the 4th of March. They had  to do an outreach programme worth 20% of their final marks. For more information please go to https://www.facebook.com/CopernicusIV/
Race Night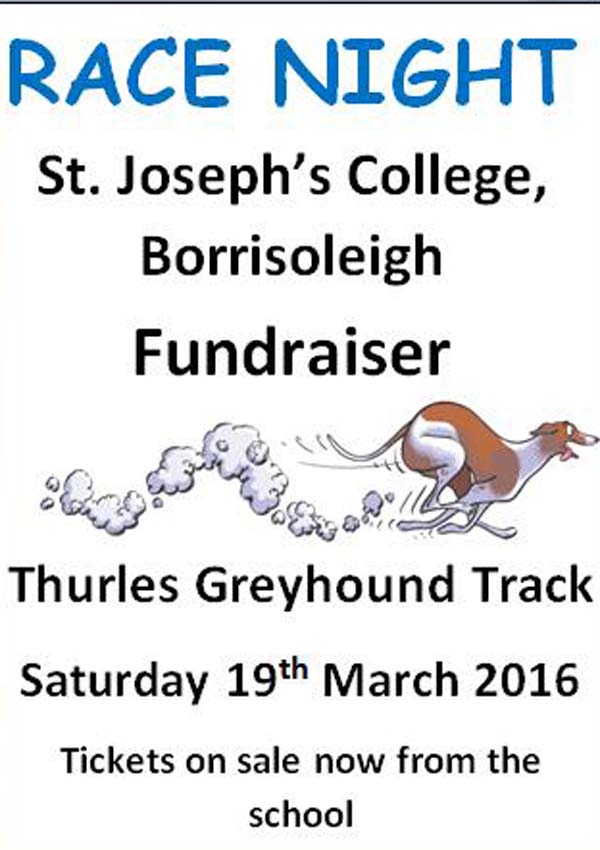 Excitement is building for St Josephs College Fundraiser Race Night at Thurles Greyhound Track on Saturday 19th March. Tickets are being sold by students and are also available to buy from the school. We look forward to a great night with students, parents and teachers. We hope to see you there!
---
Borrisoleigh Track-Attack Notes
Snakes & Ladders
With just 3 rounds of the current Track-Attack Safari Team Trek left to complete, details of our next venture are available. It will be entitled the Track-Attack Snakes & Ladders Series which will again be a team event. Again the fundamental aspect of the event will be the "Fun Factor" and we will continue to encourage and promote this in all our events.
This will be a 5 week Series with an entry fee of €10 for adults (€2 per night option is again available) while all our school going members are free of charge. Any potential participant has to be a member of Track-Attack which is available at €10 for adults and €5 for Under 18's.
Teams will be of 4 or 5 in size approximately and will be picked by the Track-Attack organisers. In order to be part of a team, you have to enter by the last night of the current Series which is Monday 14th of March. The new Series will begin on Monday 21st with the teams named prior to this.
This time, there will be no penalties for a participant losing time on a given night where as they will be able to gain points for their team by improving their time each week. We would encourage everyone to be part of a team as it is purely the fun factor of the whole event. To do so, just contact either Declan Maher or Pat Keane or send a message to Track-Attack on Facebook.
An outline of the Snakes & Ladders board will be displayed soon at the track. There will be 100 squares on it and it will include an amount of both snakes and ladders. As per the board game, if a team land on a ladder, they will climb the table as a bonus but land on a snake and you slide back down the table. The object of the game will be for the team to reach that magical 100 mark!!!!
Devils Bit Climb
The families and organisers of the Devil Bit climb in aid of Temple Street hospital and in remembrance of Ronan Kennedy deserve a tremendous about of credit for the smooth running of the event. The crowd came in their hundreds and the array of colour spread out over the climb was a fantastic sight.
A striking aspect of the event was to see so many young kids giving it their all climbing the slopes which was brilliant to see. A huge congratulations to all involved.
Gazelles Leap Ahead
With just 3 rounds left of the Safari Team Trek left to go, the Track-Attack rollercoaster ride just keep on moving forward and proceedings at the top of the table are getting brilliantly close. The top 10 teams and possibly even more are capable of taking the title with all now depending on the general improvement and attendance of the various team's participants over the final 3 rounds.
Having been placed in 16th position a few short weeks ago, The Gazelles have leaped to the top of the table after a string of superb performances from their team members. Ruairi O'Connell was their trump card in round 7 grabbing the double maximum for the team. He was backed up with a similar degree of impressiveness by Matilda Hayes, Clodagh Ryan, Delia Ryan and Siobhan Carr.
Kelley Harrington and Daniel Madden were just off their PB in round 7 but both have been in outstanding form in recent weeks clocking up some serious points for their team. Mary McLoughlin and Will Cooney have also been accumulating the points in recent weeks and the efforts of all 9 team-mates are combining brilliant as a unit and will fancy their chances of going all the way now.
The Gazelles have a total of 960 points, second in command are the Antelopes with 903, third are the Bears with 849, fourth are the Bobcats with 832 while the top 5 is completed by the Leopards with 807.
---
Borrisoleigh Annual 2016
The  Borrisoleigh Annual for 2016 group will hold a meeting on Thurs 3rd March at 8.30pm in the Parish Center to start work on the Annual.
Anyone interested in pursuing this project please attend.
---
Borris Bothy Call For Help
Can you help?
The Bothy was set up as a community shop in Borrisoleigh which would act as a community space and an outlet for local artisans to sell their produce. The idea was that local food producers and craftspeople would have a regular outlet to sell their wares. It was also hoped that more people would be encouraged to begin earning extra income by producing food and crafts to sell in The Bothy. More income earned by local people would help the local economy as money spent locally stays locally.
It was also an aspiration that The Bothy would become a community hub. A place where people could come together to share a cuppa, hold meetings or maybe learn something new as a group. The Bothy has been extremely fortunate and grateful to have had several volunteers over the years. It is one of the very few volunteer run community shops in Ireland today and has hosted visitors on educational tours from around Europe.
However, we need your help to ensure The Bothy remains open.
More craftspeople and food producers are wanted to keep the shelves stocked with as wide a variety of goods as possible. Would you like to earn a little extra income? Maybe put aside some money to pay for school books, holidays, college fees? Why not try your hand at producing some crafts or foodstuffs for sale? Maybe you already have a hobby that you could use to generate a little side income. You can always learn new crafts by taking courses or even studying online through websites like www.craftsy.com.
Volunteers of all kinds are always welcome. Maybe you can volunteer for one hour a month or maybe you can do four hours a week. It doesn't matter. It's a great opportunity to meet other people, have a chat and get to know your fellow parishioners. You might also have ideas and might like to host other activities in The Bothy similar to the Bookclub. For instance poetry readings, sewing circles, family history research, whatever. Any time you can donate is greatly appreciated. If you want to get involved in any capacity we'd love to hear from you.
Customers of course! Last but by no means least The Bothy needs customers. Even just popping in for a quick cup of tea or coffee can make all the difference if enough people do it. While The Bothy is a not for profit organisation, there are still running costs which need to be paid. Why not make a point of meeting friends for a cuppa once a week or once a month or whenever you can. Better still if you can support some of the local food producers or craftspeople.
Unless the issues above are addressed it will not be possible for The Bothy to stay in business. If you can help out or contribute in any of the ways mentioned above please call in let us know. We'd love to hear from you.
---
 Borrisoleigh Active Social Club
Our monthly meeting this place this Wed night Mar 2nd @ 8.30 pm in the Community Centre Borrisoleigh. This month we have a beautican coming to give us some tips and advice on looking after our skin . Should be a fun evening and everybody is welcome. If you haven't already paid your membership please do so on Wed €10.
---
Cookery Demonstration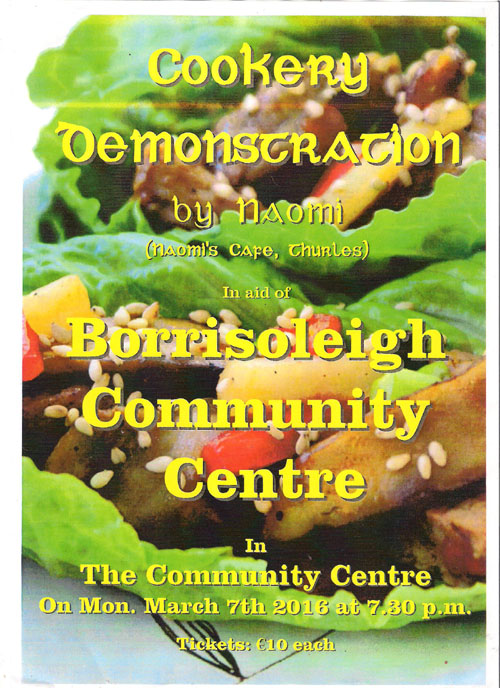 Borrisoleigh Community Centre would like to invite you to a cookery demonstration evening with Naomi of Naomi's Café, Thurles.
We held a cookery night last year and everyone in attendance had a great time picking up tips and tricks and of course tasting the beautiful food!
Tickets are available from the Centre Committee members and from the Centre office from 9am to 12pm Monday to Friday. The Centre number is 0504-50643 if you need to find out any more details.
Tickets will also be available on the door.
---
Paddy Stapleton Fitness Plus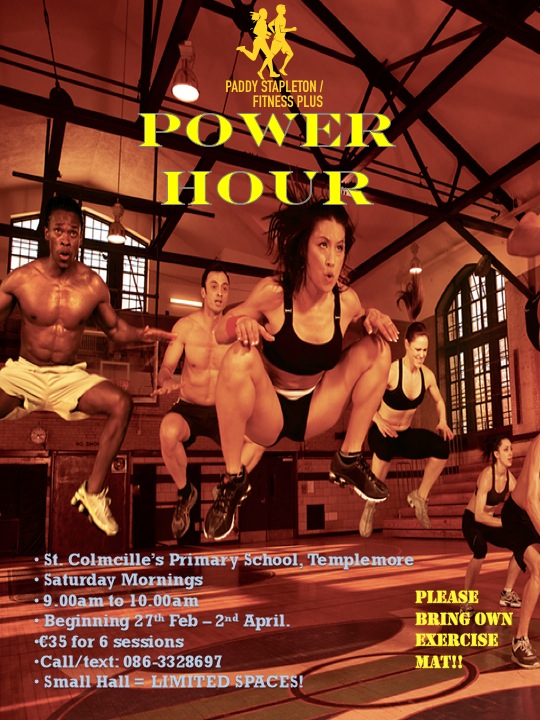 ---
Borrisoleigh Historical Society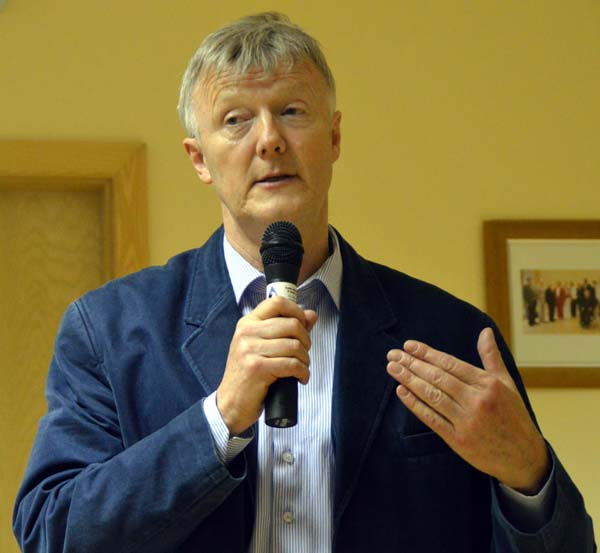 Some photographs from Gerry Kearney's lecture on February 22nd on lesser known figures in history 1916-1923.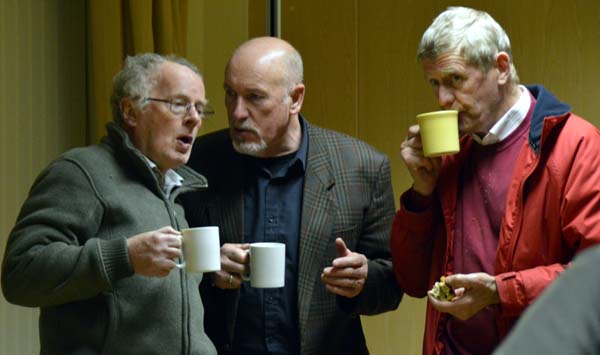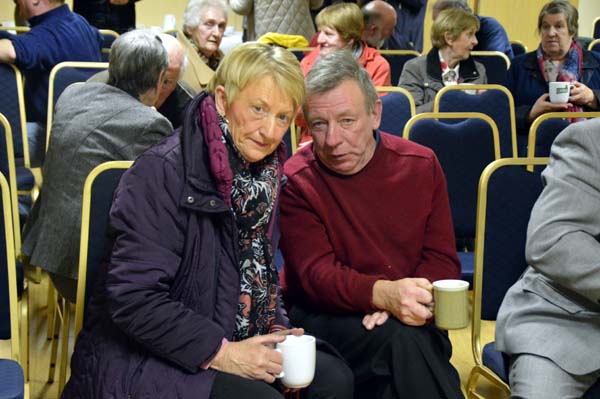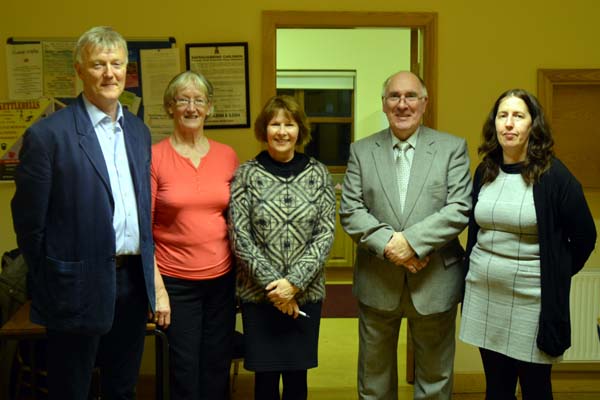 ---
INCH DRAMA GROUP
present 
TROUBLED BATCHELORS
 A three act comedy
 in
INCH COMMUNITY CENTRE, THE RAGG THURLES 
ON SUNDAY 6th MARCH  @ 8.15pm sharp.
The play revolves around three troubled batchelors whose only trouble is three fine women who want to get their wicked way and to find out if they do….just come and see the play!!!
---
Borris-Ileigh Camogie Club Notes

CLOTHES COLLECTION
Fundraising clothes collection will take place on April 2nd in the parish centre, so if you are doing some clearing out, please put some aside for this collection. By getting involved in our Bag2TheFuture collection you have an opportunity to sort through your cupboards and wardrobes and donate any unwanted textiles.  These can be returned in any kind of bag. 
This can include adult and children's clothes, shoes (tied together please), hats, belts, handbags and teddies.  Donations of mobile phones, tablets and digital cameras can also be handed in separately.
Please NO duvets, pillows, bedding, curtains and towels please. 
The clothes have to be of good quality for reuse in Africa, Asia and Eastern Europe. 
REGISTRATION MORNING
A further REGISTRATION MORNING will take place in the next couple of weeks.
Many thanks to all of you who have registered already.
Membership as follows: Senior players – €50; Juvenile players – €30 (Cost of Juvenile insurance €10 & registration €18) Committee, Managers, Coaches & Social Members – €20
Additional Registration forms available from trainers and committee. If you wish to train or play with any team this year registration is essential.
 TESCO SPONSOSHIP FOR CLUBS
Borris-Ileigh camogie club have been included in Tesco sponsorship for clubs, so the more tokens that are collected in Tesco Thurles, the more funds could be generated for the club. We would really appreciate your support and many thanks to Tesco Thurles.
FIXTURES
SENIOR LEAGUE 2016
GROUP : DROM, MONEYGALL, BORRIS-ILEIGH
SATURDAY MARCH 5TH  MONEYGALL V BORRIS-ILEIGH
Our Senior team play Moneygall in Moneygall this Saturday, at 1pm. Good luck girls.
JUNIOR B LEAGUE 2016
GROUP : BOHERLAHAN, CLONOULTY, BALLINGARRY, MOYLE RVRS, BORRIS-ILEIGH.
SATURDAY MARCH 5TH @ 12NOON,  MOYLE RVRS V BORRIS-ILEIGH
All roads lead to Moyle Rovers this Saturday for this debut outing for our new Junior B team. The very best of luck girls. New players always welcome.
---
Borris-Ileigh GAA Club Notes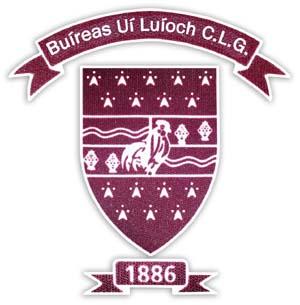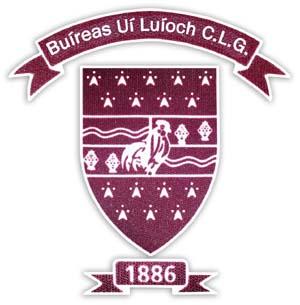 Membership: Membership and insurance is now being taken for 2016. For adult players the rate is €50 and for student players the rate is €30. The cost for non playing members is also €30. Membership and insurance can be paid to Registrar John Bradshaw or any club officer
Senior League: Borris will play Knockavilla on Sunday morning at 12pm in Borris in the first round of the county league. All support would be greatly appreciated 
Junior A League: We have been drawn against Knockshegowna, Nenagh, and Kilruane in group 2 of the North Junior League. It is thought that these games will begin the last two weekends of March. 
Golf Classic: We are happy to announce that the club will be hosting its annual Golf Classic on Friday 13th and Saturday 14th of May. Over the past 3 years we have had huge success with it and it has been an event that has been thoroughly enjoyed by all. The timesheet is now open. If you wish to book a spot please contact Martin on 087 2608780.
Pitch Use: For the month of March onwards, all pitch bookings are to go through Martin Hayes. People can contact Martin on 086 2755532. The pitch will be closed to all outside teams. 
---
Scór News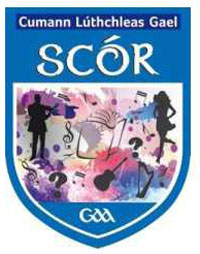 There was great excitement at the north final of Scór na bPáistí when Borrisoleigh were named the winners of the Nuachleas.  The winning novelty act was called "The Rose of  Borris".  Congratulations to Emma Kelly, Ella Slattery, Anna Harkin, Will Cooney, Lar Stapleton, Shane Maher, Natasha Kennedy and Jane Delaney.  Well done to all the Borrisoleigh competitors.  The north B final of Scór na bPáistí will take place in the Marian Hall in Borrisoleigh on Friday night at 7pm.
All roads will lead to Ovens in Co Cork on Saturday where our Léiriú will take part in the Munster Final of Senior Scór.  The club would like to wish the group the very best of luck.
---
Computer Classes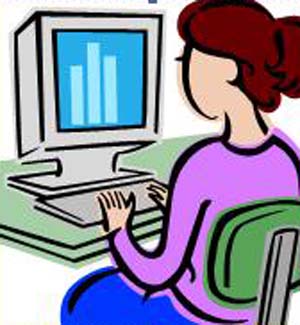 Beginners computer classes is starting up in early April in Borrisoleigh Community Centre through ETB (education & training board).
If anyone is interested in this classes please contact the community centre office at 0504 50643 Monday-Friday 9am – 1pm.
---
Pic of the Past…………down memory lane
---
Committee: Enda Ryan, Noreen Fahy, Margaret Cowan, Marie McGrath, Aileen Óg Groome and Derry O'Donnell

Many thanks to all those who contributed photographs and news items. Remember, we need you to continue to send us material so that we can keep our website current and interesting.
Send your email to: info@borrisoleigh.ie

While we make every effort possible to ensure that the information contained in this Website is accurate and complete, we cannot accept any legal liability as a result of the inaccuracy or incompleteness of the information presented to users of this site
Also, if you like what you see and want to leave a comment, remember to use the Guestbook!