Website Update!
Over the next few weeks we will be updating the information sections of the website. If you are involved in any of the clubs, groups, schools or businesses and would like to amend or change your information or contact details please email the updated information to info@borrisoleigh.ie
---
Appeal for News
This is an appeal to those of you who are involved in various activities (limited as they might be in the current circumstances), not to forget to send us an email with a few lines and maybe a photo or two publicising what you are doing. The regular users of this site (particularly those not on social media) would like to see them and it will help paint a fuller picture of what is taking place in and around Borrisoleigh. We rely on you, the local community, to send us your news.
Thanks,
Borrisoleigh Website Committee
---
Parish News
Eucharistic Ministers: Eucharistic Adoration will recommence on Wednesday next 2nd June after 10am Mass and will continue every Wednesday.
Parish Office: The Parish Office will open three times a week from 9am-1pm from Tuesday 10th
Cemetery Masses: This year we will be unable to have outdoor cemetery Masses because of Covid-19. Like last year Mass will be offered for those buried in St.Bridgid's Cemetery Borrisoleigh, on June 6th at 11am for those interred in Glenkeen Cemetery on Sunday June 13th at 11am and for those buried in Ileigh, Mass will be offered at 9.30am June 20th.
Leaving Cert: Wishing all those doing their Leaving Cert Exam the very best of luck in them.
---
Borris-Ileigh Camogie Club Notes

Sports Stadium Tour:
Our virtual Sports Stadium Tour continued up to last Sunday night and the messages of support from around the country kept coming through. On reaching Mayo, we heard from former footballer of the year Andy Moran and he was followed by the captain of the Roscommon camogie team Niamh Coyle.
TEG Cusack Park in Mullinagar was next and we heard from hurling star Tommy Doyle as well as camogie goalkeeper Fiona Keating. Pearse Park in Longford was our next port of call where we heard from Borris native Eamonn Kenny. It was then onto Leitrim where Iranian born inter county hurler Zac Moradi sent us a few words.
Sligo Ladies Football captain Nikki Brennan greeted us at Markievicz Park before we moved up further north and a few words from Ryan McHugh in Donegal. Celtic Park in Derry was next and here we met with Derry hurler Seán Cassidy. The Glens of Antrim was next and a greeting from the legend that is Sambo McNaughton. It was destination Pairc Esler next in Down and another legend in the form of sharpshooter Mickey Linden.
Our next stop off was the Athletic Grounds in Armagh and a message of support from their camogie captain Ciara Donnelly. Teak tough defender Ryan McMeniman greeted us at Healy Park in Tyrone before country singer Nathan Carter sent words of encouragement from Co. Fermanagh. One of Ireland's greatest ever sports athletes Catherina McKiernan was on hand with a message as we arrived in Cavan.
Former Monaghan footballer Tommy Freeman welcomed us to Co. Monaghan before we visited the wee county of Louth where we went send a few words from their hurling goalkeeper Dónal Connolly. Meath's Gaelic football captain Shane McEntee welcomed us to Pairc Tailteann and then Borrisoleigh and Tipperary hurling legend Richard Stakelum sent very encouraging words from the Capital.
It was then across to Ruislip in London where Nick McCarthy, the great grandson of Liam McCarthy (hurling cup) awaited us. From here it was back to the Model county and messages from former camogie star and RTE panellist Ursula Jacob and also Irish and Lions rugby star Tadgh Furlong. The Garden of Ireland was next and here we met up with camogie captain Dervla Byrne.
Our penultimate stop was in Kildare where National camogie President Hilda Breslin and former Gaelic football manager Cian O'Neill were on hand to greet us. Our travels finished when we visited our 33rd county ground at O'Connor Park in Tullamore. Our final message was from Offaly's county Chairman and former hurler Michael Duignan.
Our Club would like to thank everyone who helped out in any way to make the virtual fundraiser the success that it was. Thanks to everyone who completed 5km's, thanks to everyone who donated to the event GoFundMe page, thanks to all of our video message contributors and thanks to everyone who helped put the whole event together.
---
Historical Society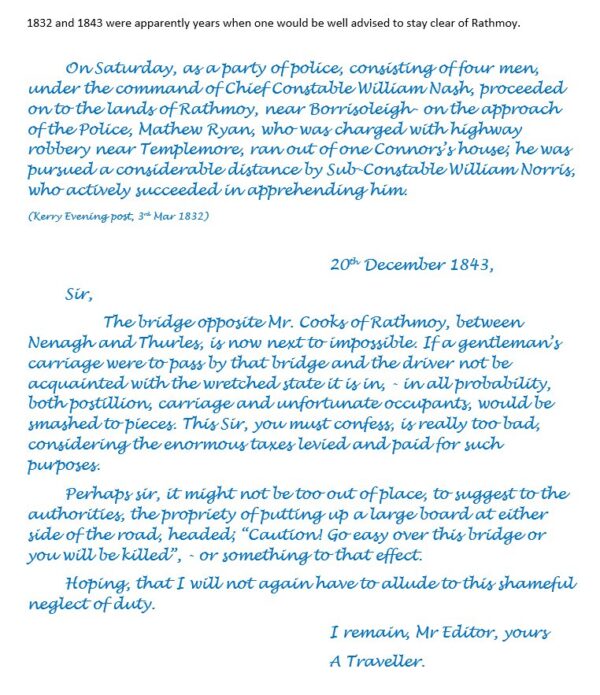 ---
---
Your Website Needs You
Committee: Enda Ryan, Noreen Fahy, Marie McGrath, Derry O'Donnell
Many thanks to all those who contributed photographs and news items.
Remember, we need you to continue to send us material so that we can keep our website current and interesting.
Send your email to: info@borrisoleigh.ie
This website is supported by Borrisoleigh Community Development Association.
While we make every effort possible to ensure that the information contained in this Website is accurate and complete, we cannot accept any legal liability as a result of the inaccuracy or incompleteness of the information presented to users of this site. We also reserve the right to edit material for suitability to a website format.
Also, if you like what you see and want to leave a comment, remember to use the Guestbook.