2 December 2020
02 Dec 2020
Parish News

Obituaries: We are asked to pray for the soul of Ann Butler Mount George and Childers Park, Thurles, who was interred during the week
Reopening of Churches for Masses: The public celebration of Mass will recommence at 10am
Weekday Masses Monday-Friday inclusive will be at 10am. There will be no Friday evening Mass.
Sunday Masses will be at the usual times 7pm Saturday and 11am Sunday and 9.30 in Ileigh.
Please remember the following;
Only 50 people can attend each Mass. This is due to Covid regulations
Please sanitise your hands on entering and leaving the Church.
Please observe social distance of 2m inside and outside of Church.
Please heed the Covid-19 Notice inside the Church and in the Church grounds.
Stewards will be in place. Please co-operate with them.
Please sit in pew places that are clearly marked. People coming from different households must sit 2m apart in same pew i.e. at either end of it. People coming from same household may sit together. There will be a one way- system in operation. Entry is by the main door and exit by the side door.
Please wear face coverings at all Masses, this applies to all over 13.
---
One From the Archives
Photo courtesy of Liam Ryan
---
First Ordnance Survey of Ireland
The first Ordnance Survey of Ireland was conducted between 1824 and 1846. The parish of Glenkeen was surveyed at the end of 1840, 180 years ago now. To mark the occasion the Borrisoleigh Historical Society has prepared a paper, First Ordnance Survey, Parish of Glenkeen, 1840, which can be opened by clicking
here.
This paper discusses the resulting Ordnance Survey Map and features that have disappeared in the intervening years. It also discusses some of the individuals involved and their correspondence regarding the parish. It also shows where you can find this information for this and all parishes online. The survey provides an invaluable record of the parish and indeed the entire country as it was on the eve of the Great Famine.
Tom Leahy
---
Bloody Sunday
There was an involvement of a Borrisoleigh native in the events of Bloody Sunday morning. He was Paddy Kennedy (Madders) – an uncle of Phil Maher of Culohill. His statement to the Military History Archives is available on their site. He had an address in Fairview in Dublin. This might be of interest to some people.
---
Borris-Ileigh Camogie Club Notes

Defeat for Tipp
Tipperary's progression in the All Ireland Camogie Championship came to a halt on Saturday last following a defeat to the reigning champions Galway at the semi-final stage.
Defeat may have been their lot on the day but undoubted progress have been made this year and as a result of reaching the semi-final for the third year running, they have cemented their place as a top four team. Injuries didn't help their cause but with a full complement of players back on board next year, they could well take further steps forward to help them in their quest to bring National honours back to the Premier.
Great credit to Borris-Ileigh players Nicole Walsh and Julieanne Bourke who were both members of the Tipperary panel throughout the year.
Club Officer Positions
The club officer position for 2021 have now been filled and we are delighted to have both Yvonne Hodgins and Maria Cowan on board for the coming year.
Yvonne will retain the role of Child Welfare Officer while Maria comes in to fill the Designated Officer role.
---
St. Stephen's Run/Cycle in aid of Borrisoleigh Community Centre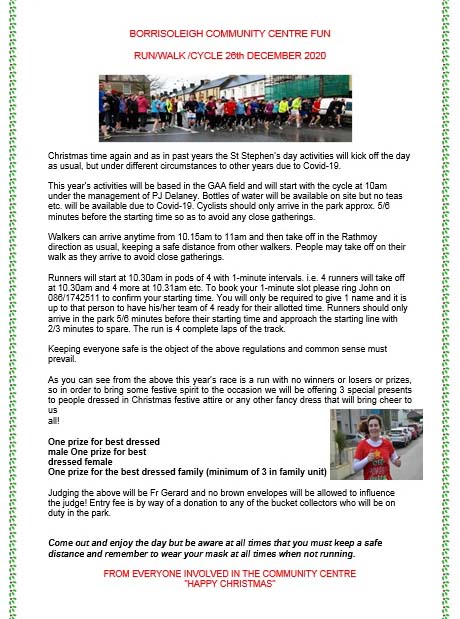 ---
Raleigh Bicycle Wanted
Old Raleigh Bicycle (Men or Women)
If anyone has an old Raleigh Bicycle pre 1960 model if possible for sale with a view to restoring please contact
---
Pic of the Past
Your Website Needs You
Committee: Enda Ryan, Noreen Fahy, Marie McGrath, Derry O'Donnell
Many thanks to all those who contributed photographs and news items.
Remember, we need you to continue to send us material so that we can keep our website current and interesting.
Send your email to: info@borrisoleigh.ie
This website is supported by Borrisoleigh Community Development Association.
While we make every effort possible to ensure that the information contained in this Website is accurate and complete, we cannot accept any legal liability as a result of the inaccuracy or incompleteness of the information presented to users of this site. We also reserve the right to edit material for suitability to a website format.
Also, if you like what you see and want to leave a comment, remember to use the Guestbook.
---