Website Update!
Over the next few weeks we will be updating the information sections of the website. If you are involved in any of the clubs, groups, schools or businesses and would like to amend or change your information or contact details please email the updated information to info@borrisoleigh.ie
---
Appeal for News
This is an appeal to those of you who are involved in various activities (limited as they might be in the current circumstances), not to forget to send us an email with a few lines and maybe a photo or two publicising what you are doing. The regular users of this site (particularly those not on social media) would like to see them and it will help paint a fuller picture of what is taking place in and around Borrisoleigh. We rely on you, the local community, to send us your news.
Thanks,
Borrisoleigh Website Committee
---
Borrisoleigh Historical Society
Placenames In the Parish in the 1650s
The parish of Glenkeen was surveyed extensively in the 1650s and around 100 placenames were recorded. Some of these are readily recognisable in today's names, some are almost beyond recognition, and about 50 names are no longer used and seem to be forgotten. Some names are fairly easy to recognize, such as Borreshleagh, Fountaine, Killcoolane and Cowlyne. Then there are names such as Cappapullonealogh, Lisanardybawne, Caragh Worish and the Mountaine of Gortinoryorna, all still in use but shortened or simplified. Finally there are names that are no longer used such as Gortyloghane, Garrangortygilly, Garrilish and Corbally; the last two were the biggest townlands in the parish in 1650. For more on this and other facts such as who owned the land in 1640, click on this link.
Placenames in Territory of Ileigh, 1650s
FAITH AND RELIGION IN BORRISOLEIGH.
Borrisoleigh is famous for the number of missionaries that have come from the parish and their endeavors in foreign fields. Most notable among them, Bishops Joseph Shanahan and Thomas Quinlan. But at certain times, our relationship to faith and religion might have been occasionally somewhat unothrodox or a little contradictory.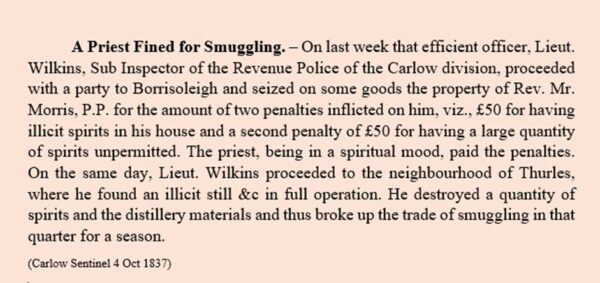 The above must have had a chastening effect on the good PP, because by the end of that month, the Nenagh Guardian could proudly proclaim,
"The Very Rev. Theobald Matthew has forwarded to the Rev. Fr. William Morris P.P. the sum of £8, as a token of his regard for the teetotallers of the parish, for their uniform adherence to the temperance pledge".
Happy and secure in the elevated status afforded to the clergy resulting from Daniel O'Connell's Catholic emancipation movement, it was a rather ungrateful PP who encountered Repeal agitator, Tom Reynolds as he attempted to address the exiting worshippers from Sunday Mass in Sept of 1841. As reported at the time by a traveller who witnessed the scene.
"While waiting in the village of Borrisoleigh on yesterday, for a change of horses, I of course, was inquisitive enough for 'the news'. I learned that Tom Reynolds, of Repeal notoriety had visited the parish in the character of the hierophant of agitation. But he met with a most signal discomfiture, for the Rev. Mr Morris P.P. refused to sanction the itinerant repealer's scheme for disturbing the tranquillity of the parish. The Rev. gentleman, I have been informed, not only declined to sign the requisition, but assured the travelling humbug that he would denounce such proceedings and recommend his flock to devote the Lord's Day to pursuits more edifying than listening to the inflammatory harangues of a repeal hireling".

---
Borris-Ileigh Camogie Club Notes

Sports Stadium Tour
Next week will see our camogie club take on a virtual 3000km tour of the 32 County GAA grounds as well as Ruislip in London in our club fundraiser for this year.
We would encourage everyone to be part of our event by getting up, get active and do a 5km. You can run it, jog it, walk it, cycle it or crawl it!!
On completing your 5km, just send us a photo to Pat at 0876380649 or Kate at 0870901618 and give a donation of your choice to our event GoFundMe page.
We would encourage you to follow the virtual journey on our social media pages next week and hear some messages of support from some well known faces of the world of GAA, camogie, sport and entertainment. Already we had messages from Liam Sheedy and Irish International soccer player Jason Molumby.
Dust off the cobwebs, lace up the runners and be part of the Sports Stadium Tour by doing a 5km….
---
Borrisoleigh Active Social Club
---
Pic of the Past
---
Your Website Needs You
Committee: Enda Ryan, Noreen Fahy, Marie McGrath, Derry O'Donnell
Many thanks to all those who contributed photographs and news items.
Remember, we need you to continue to send us material so that we can keep our website current and interesting.
Send your email to: info@borrisoleigh.ie
This website is supported by Borrisoleigh Community Development Association.
While we make every effort possible to ensure that the information contained in this Website is accurate and complete, we cannot accept any legal liability as a result of the inaccuracy or incompleteness of the information presented to users of this site. We also reserve the right to edit material for suitability to a website format.
Also, if you like what you see and want to leave a comment, remember to use the Guestbook.