19 February 2020
20 Feb 2020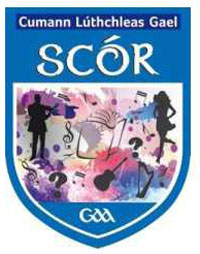 Scór na bPáistí Parish final will take place on Sunday 23rd February at 2pm in the Marion Hall, Borrisoleigh.
The categories on the day will be: Figure Dancing, Solo Singing, Recitation, Instrumental Music, Novelty Act, Sean Nós dancing, Question time, Set Dancing and Ballad Group.
Entries to Helen Keane by this Friday 14th February
Scór Sinsir
The County Final of Scór Sinsir will place on Saturday 7th March in Newport
---
Food Waste Pilot Project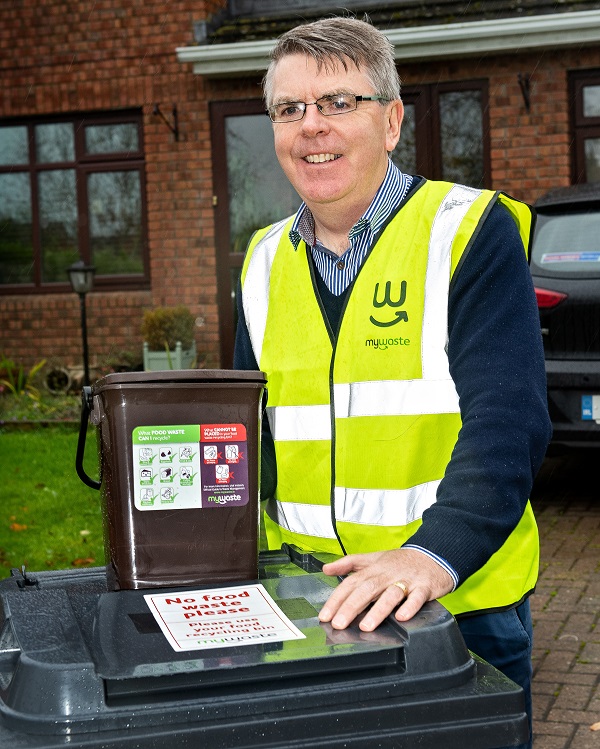 Borrisoleigh's brown bins are to become the focus of a new pilot scheme that will raise awareness among Irish householders as to what food and organic waste should be disposed of in the brown food waste bin.
An estimated one third of food purchased every week in Ireland is thrown away, with half of this food waste ending up in the wrong bin. This has negative consequences for public health and the environment, as well as financially impacting the householder.
The Department of Communications Climate Action and Environment has funded the pilot project that will help Borrisoleigh's householders segregate more organic waste, and ensure food no longer ends up in the general waste bin and landfill.
This project is being managed by the Regional Waste Management Offices and Tipperary County Council, who are working with local waste collection companies, including Ryan Brothers and Clean Ireland, on this pilot project.
Clare Curley, Director of Services, Environment and Climate Action, Tipperary County Council said, "Residents in Borrisoleigh who have a collection service with these companies can expect to receive a householder pack, which consists of a kitchen caddy, paper liners and an information leaflet in the coming weeks. A sticker will also be placed on the General Waste Bin to help remind householders that organic or food waste should not be disposed of in the General Bin, but should be put in the Food Waste Brown Bin. All packaging must be removed from food waste before disposal."
"It is important that people understand what should be put into the Food Waste Brown Bins. Food waste is all vegetable and fruit peelings, loose tea, coffee grounds, egg shells, all plate scrapings, leftover or food no longer edible, regardless whether it is cooked or uncooked. Kitchen paper towels and napkins can also be disposed of in the brown bin. Small quantities of cooking oil is also acceptable. I would like to thank the people of Borrisoleigh in advance for their co-operation with the pilot project.'' she said.
Pauline McDonogh, Waste Prevention Officer with the Southern Region Waste Management Office added, "In 2018, the EPA conducted a national waste characterisation survey which found that approximately 50% of household organic waste is still being disposed of in the "wrong bins", in other words the recycling or general waste bin.
"We are confident that with some reminders on our bins in the form of a sticker and easily accessible information through mywaste.ie, we can help householders reduce this figure significantly. The waste management offices are also encouraging householders who do not already have a food waste bin, to check if they are eligible for one by contacting their local waste collector."
Stickers will be placed on bins in Borrisoleigh from the end of February and customers will also receive their household pack.
Once collected, the food waste brown bin material is delivered from homes once a fortnight to an anaerobic digestion plant or a dedicated composting plant.
More information about food waste recycling is available from www.mywaste.ie , Tipperary County Council and local waste collectors.
---

The dates for this year's Borrisoleigh Festival are 11th and 12th July. Put it in your diary!
We recently held our AGM.
The following officers were elected or re-elected.
Chairperson Marie Shanahan, Vice Chairperson Declan Curtis, Secretary Fiona Max, Treasurer Kathleen Scanlon, PRO Derry O'Donnell.
---
Scoil Naomh Cualán News
BIG TRAVEL CHALLENGE 2020
The Green School Committee is inviting all in Scoil Naomh Cualán to take part in the BIG TRAVEL CHALLENGE 2020. We hope this challenge will encourage more pupils to enjoy the benefits of actively travelling to school in the month of February.
The aim of the challenge is to promote a sustainable mode of transport for 10 days during the month of February. Our aim is to increase the numbers of pupils walking to school. To spread the message of The Big Travel Challenge the Green-Schools committee visited each class to talk about the challenge.
We are asking pupils to make an extra special effort from Monday 10th February to Monday 25th to walk to school for TEN DAYS.
Any parent willing to help out with this initiative please let us know by calling Clare in the office on 086-0233023. It would involve walking to school in the morning time with a group of children.
---
Parish News

Anniversary Masses next weekend: We pray for all whose anniversaries occur and for whom the following Masses will be offered
1. Saturday February 22nd @ 7pm Mass: Mary Ryan, her parents Paddy & Sarah Kennedy and her sister Josephine O'Dwyer, Cronovone.
2. Sunday February 23rd @ 11am Mass: Kathleen Ryan Garrangreana, Month's Mind. Tony & Mary Ryan and daughter Kit, Chapel Street. Borrisoleigh
3. Bereavement Support Information Evening will take place in Milford Care Centre on Tue 25th February 2020 from 7pm – 8.30pm.
The Bereavement Information evening is designed to give general information on grief and bereavement to bereaved people, their family and friends.
Bereavement Counsellors will be in attendance to provide general information on Grief and Bereavement. The evening will comprise of: Short talk by a Bereavement Counsellor, Different experiences of Grief, Services available, Question Time.
The Information Evening is Free.
4. Monastic Day Retreat: Saturday 21st March, 9am-5pm Donation only All Welcome-Talks: Monasticism, Monastic Saints, and Life in a Contemporary Monastery. Participate in the Divine Office and Adoration. Lunch Provided. Contact: Mother Prioress, St. Benedict's Priory, The Mount Cobh, Co. Cork Tel: 021 4811354 email: cobhtyburnconvent@gmail.com
5. Lent at Glenstal Abbey 2020
An opportunity to prepare for Easter.Talks every Sunday of Lent at 4.30pm
This year's series focuses on the Sunday Gospel readings.Further information on website www.glenstal.com
Talks will be streamed and available as recordings on the website.
6. Archdiocese of Cashel and Emly Pilgrimage to Lourdes 2020 50th Annual Pilgrimage: 13-18 June-5nights- Fully Inclusive Price €745. Booking Forms available now for the Pilgrim Section From Joe Walsh Tours 143 Lower Baggot Street Dublin 2. Tel (01) 2410811 ((01) 2410810. Pilgrimage Director: Rev Jimmy Donnelly, Parochial House Church St. Doon Co. Limerick Tel: 061380165
Application Forms available for Assisted/Sick Section, Enquiries to: Rev. Joe Tynan, Parochial House, Kilteely Co. Limerick Tel: 061384213
Youth Section Director: Rev Pat Coffey Parochial House Golden, Cashel. Co. Tipperary. Tel: 06272146.
7. Thought for the week: Believe in yourself and you will become unstoppable.
---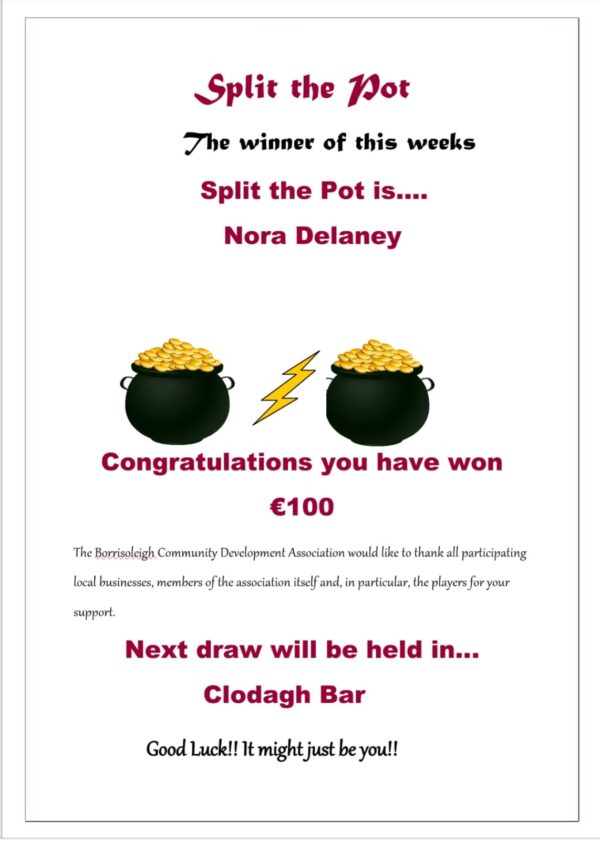 ---
Borrisoleigh Active Social Club
Borrisoleigh Active Social Club membership is now being renewed. Anyone else who is interested in joining please contact Lucia on 0863961211.
Chair Pilates class takes place every Tues evening at 7pm to 8pm in the Community Centre Borrisoleigh. Everybody's welcome.
---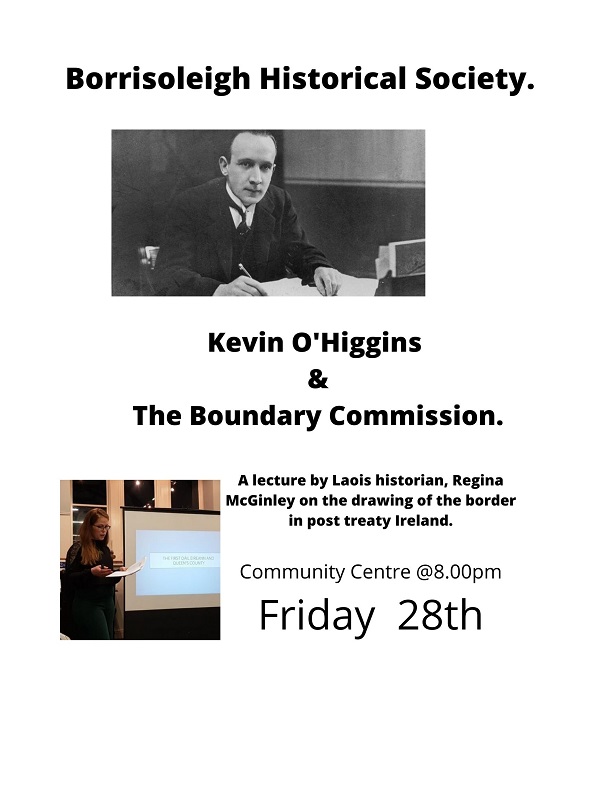 Our society have a number of events in place for the coming months, that we hope will be of interest. The first of these;
"Kevin O'Higgins and the Boundary Commission" – will be presented by Laois County Library Historian in Residence, Regina McGinley. Regina has studied extensively on the life of the controversial O'Higgins and his input into the early period of the State. Her lecture gives an insight into how the border with Northern Ireland was drawn up, – who were the main influencers, behind the scenes treachery and breach of trust, the views of Sinn Fein TDs from the proposed border area, – and what the local population felt on the matter.
Field trip; Plans are in progress to hold a number of field trips during the coming summer. In May, [date to be yet decided] we will travel to Newport to spend an evening in the company of the local History & Heritage Group.
End of year publication; We aim to produce a historical publication at the end of the year with stories relative to Borrisoleigh. If people have conducted research into any aspects of life in the parish from times gone by, we would love to hear from you [0862752634]
---
Local Enterprise Week 2020 2nd – 6th March
Are you interested in setting up your own business or are you already in business and looking at ways to increase sales of your product or service? Are you concerned over the impact of Brexit?
Local Enterprise Week runs from March 2nd to 6th across Co. Tipperary, and Local Enterprise Office Tipperary has organised a programme of events across the county that will appeal to Tipperary entrepreneurs, whatever stage your business is at.To see upcoming events and training visit www.localenterprise.ie
#MakingItHappen
---
Chiropody Service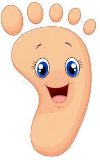 Chiropody Service will continue in the Parish Centre on Monday 24th of February 2020.
Please ring Deirdre at 089 4478511 for Bookings.
---
Pic of the Past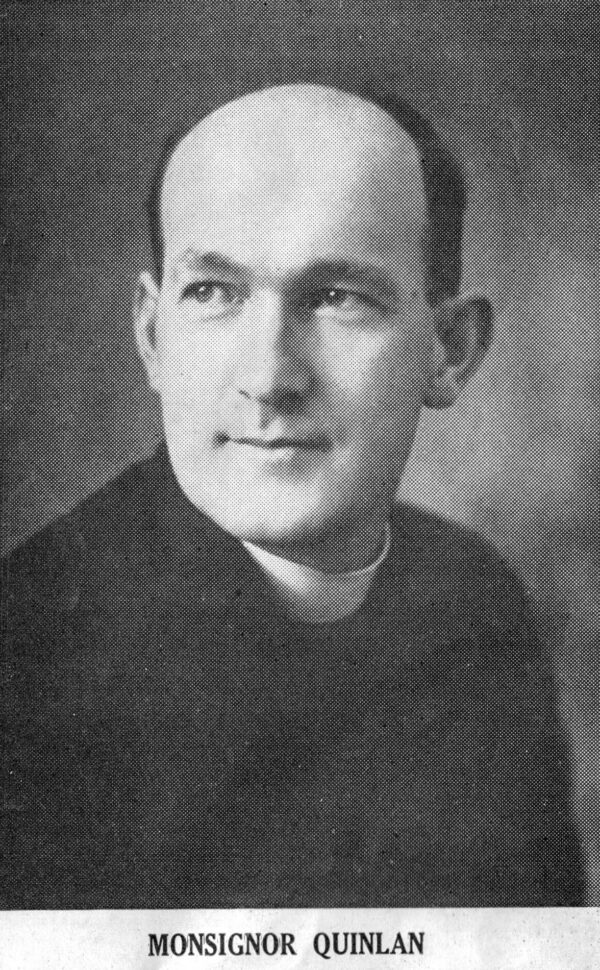 ---
Your Website Needs You!
Committee: Enda Ryan, Noreen Fahy, Marie McGrath, Derry O'Donnell and Fiona Max
Many thanks to all those who contributed photographs and news items
Remember, we need you to continue to send us material so that we can keep our website current and interesting.
Send your email to: info@borrisoleigh.ie
This website is supported by Borrisoleigh Community Development Association
While we make every effort possible to ensure that the information contained in this Website is accurate and complete, we cannot accept any legal liability as a result of the inaccuracy or incompleteness of the information presented to users of this site. We also reserve the right to edit material for suitability to a website format.
Also, if you like what you see and want to leave a comment, remember to use the Guestbook