18 November 2020
18 Nov 2020
Borris-Ileigh Camoige Club Notes
AGM
The Club's AGM was held via Zoom on Friday night last resulting in a new set of officers taking charge of the club for the coming year. Over the last few years, a lot of work has been put in to develop the club at all levels and great credit it due to the outgoing officer trio of Mike Galvin, Rachel Hogan and Triona Fitzgerald and all their committee members for the great work and progress that they oversaw. They have left the club in a very healthy state and they can be hugely proud of their achievements.
The newly elected chairman for the coming year is Pat Keane and he will be aided by the new Vice Chairman Sean Maher. Christine Ryan makes a return to the club executive as secretary while Aoife Max takes up the position of Treasurer. Another debutant at executive level will be Siobhan Groome who will be the club registrar for the coming year.
Management 2021
The managers for the underage teams for 2021 were named at last Friday's Club AGM. Aoife Max and Maria Cowan will team up as joint managers for our Under 6 team. Martin Treacy will take charge of our Under 8 team while last years Under 8 manager, Edel Groome will step up to the Under 10 grade for the coming year.
Christine Ryan will move up from the Under 10's to 12's, Mark Stapleton comes in as Under 14 manager while Helen Kiely Hayes will take charge of the Under 16's.
The managers for both the minor and Intermediate teams will be named at the adjourned AGM.
Tipp March on
Congratulations to the Tipperary Senior Camogie team who overcame the challenge of their Munster neighbours Waterford in the All Ireland quarter final over the weekend. Well done to Nicole Walsh and Julieanne Bourke who were part of the team and the best of luck to them in the upcoming semi-final.
Congrats also to Brendan Maher and Dan McCormack who were also on county duty over the weekend, overcoming Cork in a close encounter.
---
Home Energy Grants Available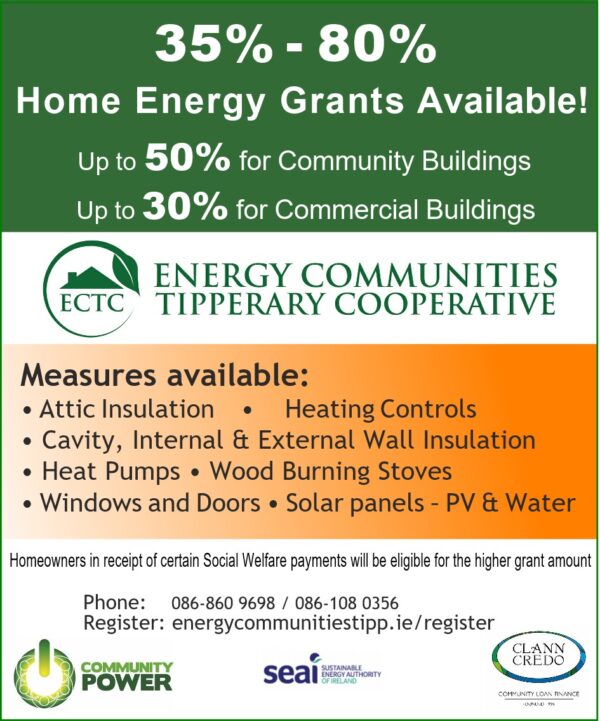 Energy Communities Tipperary Cooperative (ECTC) are now seeking homeowners, businesses and community buildings who wish to avail of grant funding to carry out retrofit measures and energy upgrades on buildings throughout Co. Tipperary.
ECTC is a community led, home insulation upgrade and retrofitting organisation which provides a One Stop Shop Retrofit Service. This takes the hassle out of getting grant aid, sourcing contractors and overseeing projects for homeowners, businesses and community groups.
Grants are available through the Sustainable Energy Authority of Ireland (SEAI) for measures which include: Attic Insulation; Heating Controls; Cavity, Internal & External Wall Insulation; Heat Pumps; Wood Burning Stoves; Windows and Doors; Solar panels – PV & Water. Grants are available for homeowners from 35% to 80%, for community buildings up to 50% and for commercial buildings up to 30%. ECTC applies for these grants on behalf of homeowners, businesses and community groups.
Click here to register: https://energycommunitiestipp.ie/register/
Since 2012, ECTC has upgraded over 800 homes and secured over €10 million in investment for Tipperary, with funding from SEAI. All presided over by a volunteer board of community directors. As a not-for-profit company, ECTC's mission is to allow communities in Tipperary and surrounding areas, to create local employment and community benefit through reducing their carbon footprint and generating community-owned energy.
New communities are welcome to join ECTC to participate in the scheme and avail of the opportunities available. Benefits include: Improved householders living conditions i.e. warmer, more efficient houses; Alleviate fuel poverty; Create jobs in the local communities; Save money – through awareness of household energy efficiency; Reduce carbon footprint.
ECTC are proud partners of Community Power, Ireland's first community owned electricity supplier.
---
St Joseph's College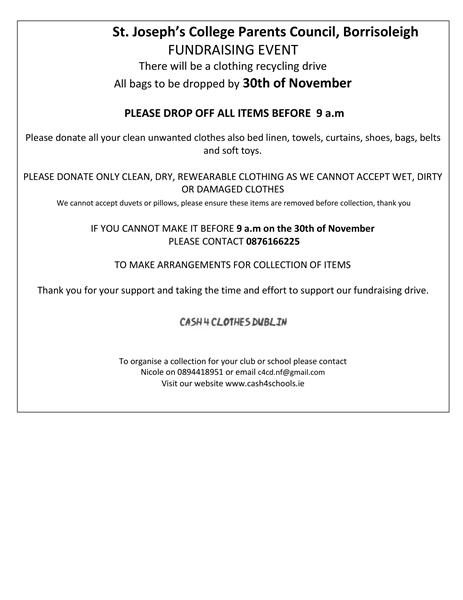 ---
Bloody Sunday 1920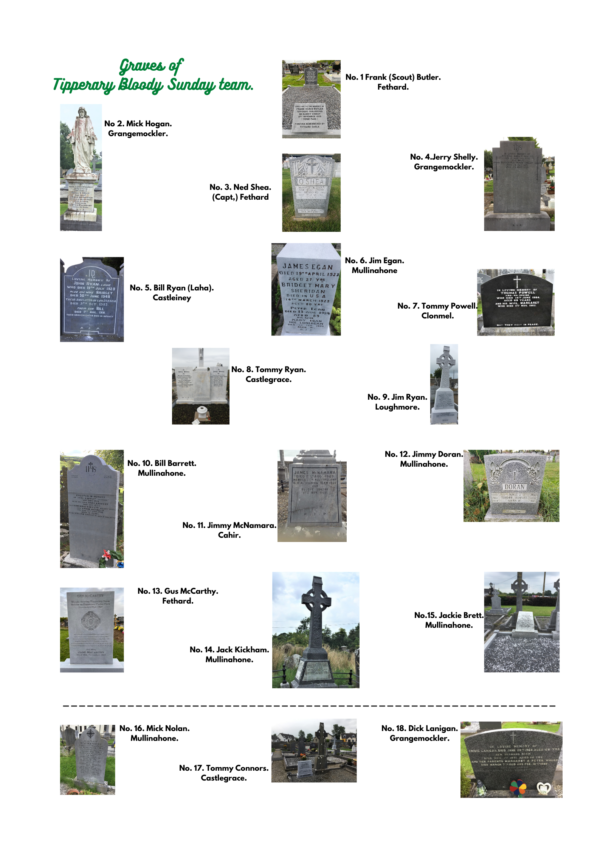 Saturday next, the 21st, marks the centenary of one of the most tragic events in the War of Independence. On that day, Tipperary footballer Michael Hogan was shot dead when Crown Forces opened fire on players and spectators in Croke Park. Among the other 13 who died, were Tipperary men James Teehan from Kilcooley and Dan Carroll of Templederry. Jim Ryan of Loughmore, who played mid field that day, was grandfather to local man Don Ryan, Nenagh Road. The first stand erected to the memory of Mick Hogan in Croke Park, was moved to Limerick Gaelic Grounds in the 1950's. When that venue was refurbished in 1988, local contractors, Kellys of Fantane were tasked with the demolition of the stands and terraces. The trusses of the Hogan stand were retrieved by Kellys and integrated into the canteen at Fantane.
---
Pic of the Past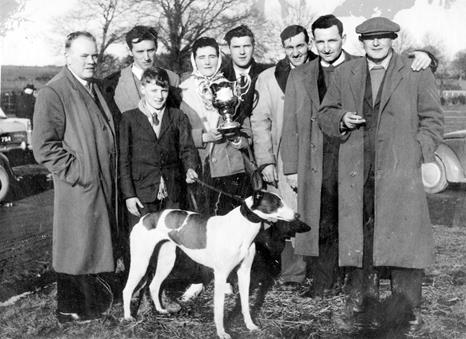 "Simply Terrific"
Pictured here with "Simply Terrific", a greyhound owned by Seán and Phibby Kenny are:
John Fielding, Phibby Kenny, Pat Harty (in front), Imelda Kenny, Bookmaker's Clerk, Jimmy Kenny, Seamus Hynes and Lukie Larkin.
This greyhound won The Oak's in 1961 and The Irish Cup in 1962. It was the only greyhound bitch ever to achieve this.
---
Your Website Needs You
Committee: Enda Ryan, Noreen Fahy, Marie McGrath, Derry O'Donnell
Many thanks to all those who contributed photographs and news items.
Remember, we need you to continue to send us material so that we can keep our website current and interesting.
Send your email to: info@borrisoleigh.ie
This website is supported by Borrisoleigh Community Development Association.
While we make every effort possible to ensure that the information contained in this Website is accurate and complete, we cannot accept any legal liability as a result of the inaccuracy or incompleteness of the information presented to users of this site. We also reserve the right to edit material for suitability to a website format.
Also, if you like what you see and want to leave a comment, remember to use the Guestbook.