17 October 2018
17 Oct 2018
Borris-Ileigh Camogie Club

U12's are county B champions after a fantastic victory over Thurles Sarsfields in a nail biting final that was close to the end. Superb goals from Aoife Fitzgerald in the first half meant a five point lead for Borris at half time. Thurles made a come back early in the second, scoring three goals but a set up and a goal from Therese Groome and fantastic saves from "Player of the Match" Lisa Carr settled the outcome and brought Borris to be victors with a final score of: Borris-Ileigh 4-03, Thurles Sarsfields 4-01.
Fantastic win girls, we are all very proud of you.
Scores from: Aoife Fitzgerald 3-01, Emma Maher 0-02 & Therese Groome 1-00. Well done girls.
PANEL: Lisa Carr, Niamh Ryan, Eve Maher, Emma Maher, Gabriel Hodgins, Alesha Fanning, Tara Kennedy, Therese Groome, Hannah Clare, Aoife Fitzgerald, Ava Bevans, Emma Quigley, Anna Fitzgerald, Ella Ryan & Nicole Colgan.
U14's will contest their County final against Moycarkey on this Wednesday evening October 17th in Borrisoleigh at 7pm.
PANEL: Lisa Carr, Emma Galvin, Katie Fitzgerald, Anna McGrath, Emma Maher, Jane Delaney, Chloe Carroll, Aoife Fitzgerald, Ava Bevans, Emma Kelly, Shannon D'arcy, Dani Ryan, Rhona Lyons, Hope Bergin, Niamh Ryan & Tara Kennedy
Overall this has been a great year for both these teams and a huge congratulation is due to them and their coaches on each reached county final stages.
Many thanks to our sponsors who contributed to gear bags for both U12 and U14 teams for the county finals:
Bourke Sports, Colm Healy, Ivers & Cullinan Ltd, Alan Kelly, P Ryan & Sons Plant Hire Ltd, Donal Hurley & Outa Diesel and to Mossy Shanahan for food and drinks.
Minor's unfortunately lost out to Nenagh on Sunday, hard luck girls.
U8/U6's tournament has been changed to Thursday evening at St. Joseph's College in order for everyone to support U14's in Wednesday's county final.
We are delighted to have secured a sponsor for each of the 8 teams participating. They are as follows:
Waterford – Treacy Road Markings
Antrim – Latteragh Crafts
Cork – Silver Dollar
Limerick – Pat Keane Painting
Kildare (U6) – TJ Ryan Powerwashing
Galway – John Maher Transport
Dublin – Trevor Groome
Laois (U6) – JC Engineering Services
Many thanks for your support.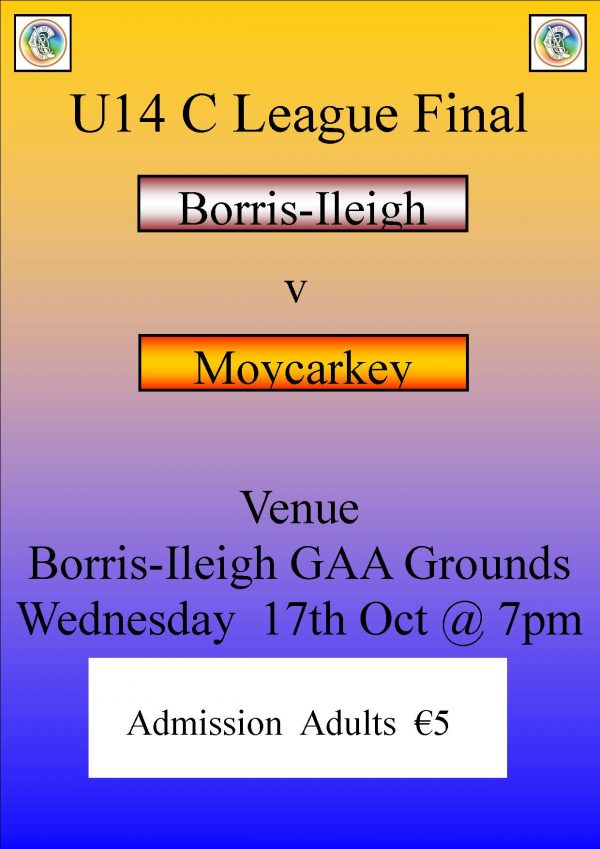 ---
Retirement Night
After many years of outstanding service as both teachers and principals in the primary schools of Borrisoleigh, Mrs Kay Ryan and Mrs Mary Butler are now retiring. To mark their retirements and to celebrate and give thanks for their dedication and the great contribution they made to education in Borrisoleigh, the B.O.M. are organising a Mass of Thanksgiving in the Church of the Sacred Heart, Borrisoleigh, at 7pm on the 9th of November, followed by a retirement function in Borrisoleigh Community Centre.
The Board of Management would like to extend a warm invitation to the families of current and past pupils, former teachers and school staff and the wider community to attend the event.
If you would like to be associated with this event or should you wish to make a contribution towards their retirement gift, please call to Clare our school secretary or contact her on, 0872820497. You may also contact Helen Keane on 0874140287 or call in to Frances Kennedy in the Parish Office.
---
Art & Craft Update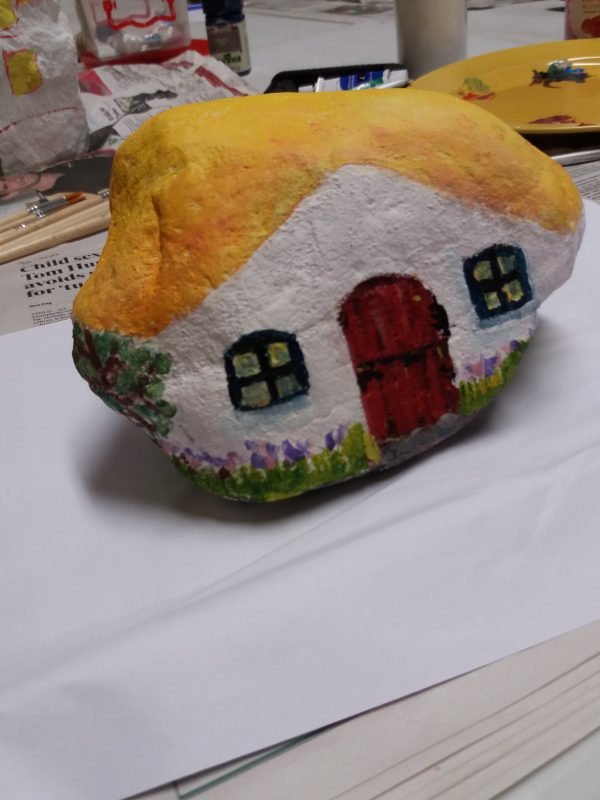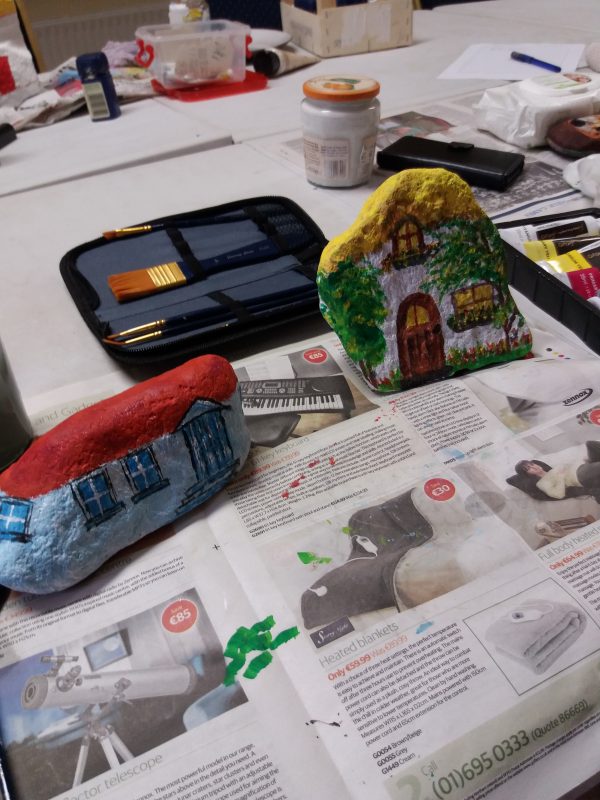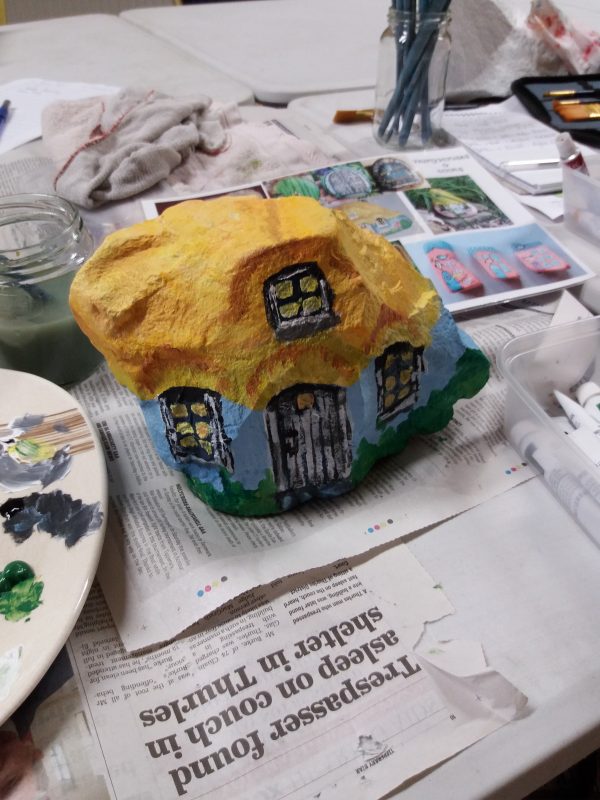 Some photos of the work by the budding artists attending the ETB Art and Crafts class in Borrisoleigh
---
Track Attack Notes
Club Jersey 5km Fun Run
On Saturday 3rd November, Track-Attack will host a Club Jersey 5km Fun Run in Borrisoleigh where the proceeds will go towards the Amanda Stapleton Benefit Fund.
Club members of all sports are invited to take part where they can run, jog, walk or crawl. It is a non-timed event with an entry fee of €10 for adults and children are free. The 11am start will see participants start outside Shanahan's Centra at the Nenagh side of the village. They will go down through the village and continue out to Rathmoy, heading onto the Borrisoleigh 5km course, returning back and finishing on the track in the GAA field.
Refreshments will be served afterwards. Track-Attack invite you to round up your club mates and display your club colours with pride and support a very worthy cause.
---
Chiropody Service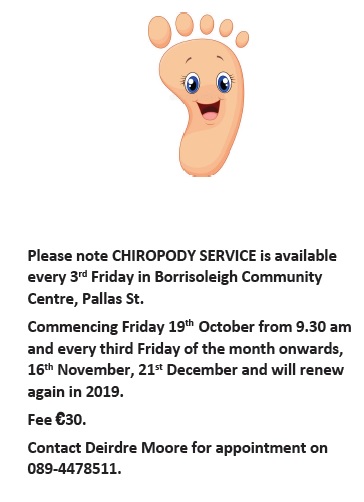 ---
Borrisoleigh Active Social Club
At our recent October meeting we had Chiropodist Deirdre Moore. She gave a good account of a service she hopes to provide in Borrisoleigh every 3rd Fri of a month in the Community Centre. For more details contact Deirdre on 0894478511.
Pilates class for our members takes place every Tues night in the Community Centre Borrisoleigh. 6.45pm to 7.30pm
---
St. Joseph's College
St. Joseph's College is holding its Open Night on Wednesday 24th October 2018 at 6.30pm.
We invite all 5th and 6th class Primary school students and their parents to our school. Meet the students, teachers and Principal to find our what our wonderful school has to offer.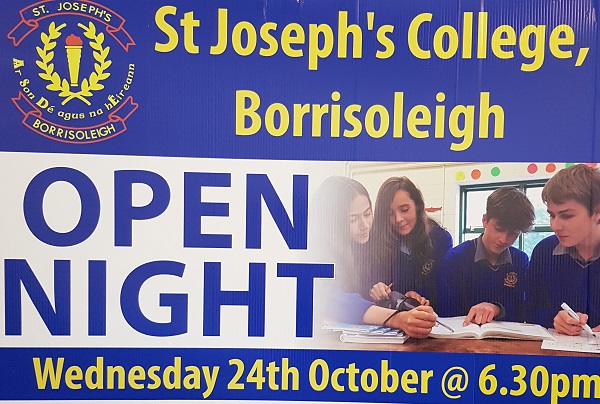 ---
ShoeBox Appeal
Filled shoe boxes can again this year be dropped to Fiona Max.
Phone 0872169150 for leaflets, to arrange drop off, collection or if you've any questions.
Leaflets will be distributed to local schools this week.
---
Sr. Áine Historical Society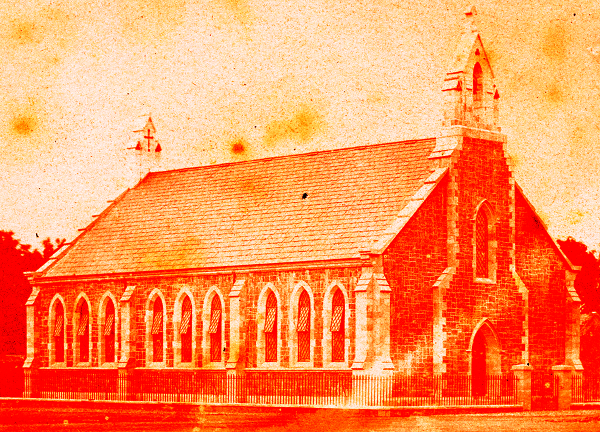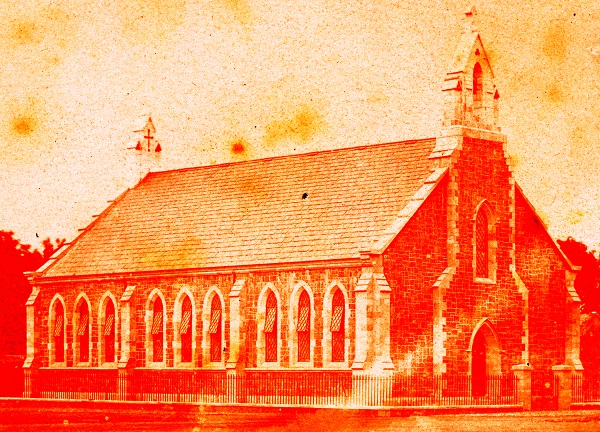 The first photograph taken anywhere in the world was in France in 1826. 25 years later Alfred Capel-Cure was stationed at Richmond Barracks, Templemore with the 55th Foot Regiment and had a keen interest in photography. He took many photos of Richmond Barracks and thanks to the research of John Reynolds we can now view these as part of a lecture given by John in the Garda College, Templemore on Friday October 19th at 8pm. All are welcome. Admission is free.
---
War of Independence Commemorative Tour
Organised by TiDR (Tipperary in a Decade of Revolution)
---
Craft Class/Community Project
The Craft class in Borrisoleigh will be commencing their community project in the park in the coming weeks.
This will be a mural that will be painted on a sheet of mdf and secured to a section of the wall dividing the park and the parochial property.
It is hoped that it would be a mural of houses, local attractions and maybe some business premises. If any businesses would be interested in making a contribution/ supporting this project it would be greatly appreciated. Materials such as paint and mdf will need to be purchased. Any businesses that support this community project will have their premises represented on the mural.
This is a project being done by the craft class. Anyone that would like to get involved is more than welcome to join us. It is a great opportunity to continue to enhance the great work that is being done by all in the park.
Any enquiries please phone 0876166225.
Being done by the community for the community
---
ETB Hospitality Training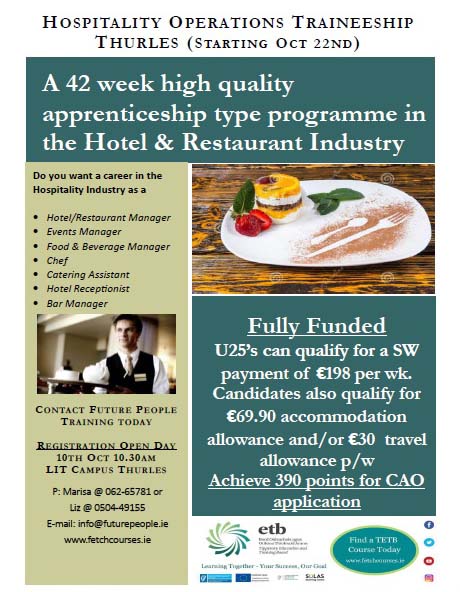 ---
Pic of the Past ………..down memory lane
---
Committee: Enda Ryan, Noreen Fahy, Marie McGrath, Derry O'Donnell and Fiona Max
Many thanks to all those who contributed photographs and news items
Remember, we need you to continue to send us material so that we can keep our website current and interesting.
While we make every effort possible to ensure that the information contained in this Website is accurate and complete, we cannot accept any legal liability as a result of the inaccuracy or incompleteness of the information presented to users of this site. We also reserve the right to edit material for suitability to a website format.
Also, if you like what you see and want to leave a comment, remember to use the Guestbook
---