Borris-Ileigh Drama Group to perform Widows' Paradise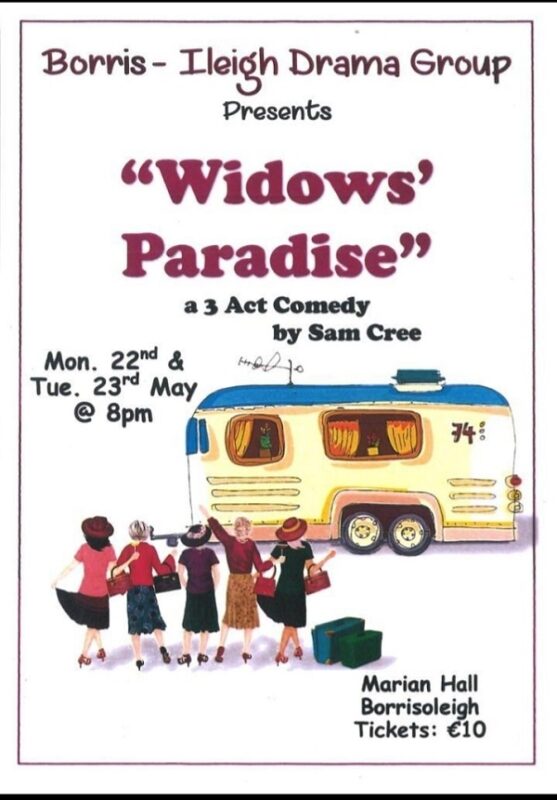 Borris-Ileigh Drama Group is delighted to announce its upcoming production of the side-splitting comedy play, "Widows' Paradise" written by Sam Cree and directed by Mary Boyle. The play promises to take audiences on a riotous journey filled with laughter, memorable characters, and an unforgettable evening of entertainment. The play will be performed on Monday 22nd and Tuesday 23rd May in The Marian Hall, Borrisoleigh at 8pm, admission €10..
"Widows' Paradise" follows the escapades of five women who seek refuge from their individual 'man troubles' by embarking on a weekend getaway in a coastal caravan. Of course things don't go according to plan with resulting hilarity. Written by the legendary Irish playwright Sam Cree, who also wrote for the 'Carry On' movie series, "Widows' Paradise" has captivated theatregoers around the world since its debut. With its sharp wit, clever dialogue, and uproarious situations, audiences are ensured of a great night's entertainment.
This will be the first production by Borris-Ileigh Drama Group since before the pandemic and the cast and crew have put in a phenomenal amount of work to get to this point. It also marks the 10th anniversary of the group's reforming in 2013. The dedication of the actors, producers and all the backstage crew is second to none, with their greatest reward being happy in the knowledge that they have entertained an appreciative audience. Your support is greatly appreciated. Contains adult themes, may not be suitable for young children.
---
Borrisoleigh Historical Society
Borrisoleigh Historical Society
Famine in Borrisoleigh and the Cullohill evections of 1850.
On Monday night 22 May next at 8.00 pm, in the local Community Centre, local historian, John Connors will deliver a talk on the Irish famine as it played out in his native parish.
With material sourced from the National and newspaper archives, this talk paints a somber picture of hunger, despair and death that prevailed in that village and surrounding countryside 185 or so years ago. While many valiant efforts were made by some to alleviate the distress and hardship, John's talk will also focus on the landlords who stood by unaffected and disinterested.
The talk will also deal with an event of seismic proportions, sadly well forgotten in local history, when in July of 1850, a total of 470 people were dispossessed and evicted from their farms and hovels in the general area of Cullohill. These were left to find shelter under the open sky or seek the sanctuary of the dreaded workhouse.
The world has sadly seen too many famines and displacements of people since that terrible devastation was visited on Ireland in 1845. One of those, the Holodomor [death by starvation], inflicted by Russia on Ukraine in 1932/33, resulted in the deaths of many millions of Ukrainians. Sofiia Mandrusiak from the city of Kolomyiia in Ukraine, will briefly address the gathering on that genocidal attack on the people of her native land and also say a few words on the links of common history that bind our two nations.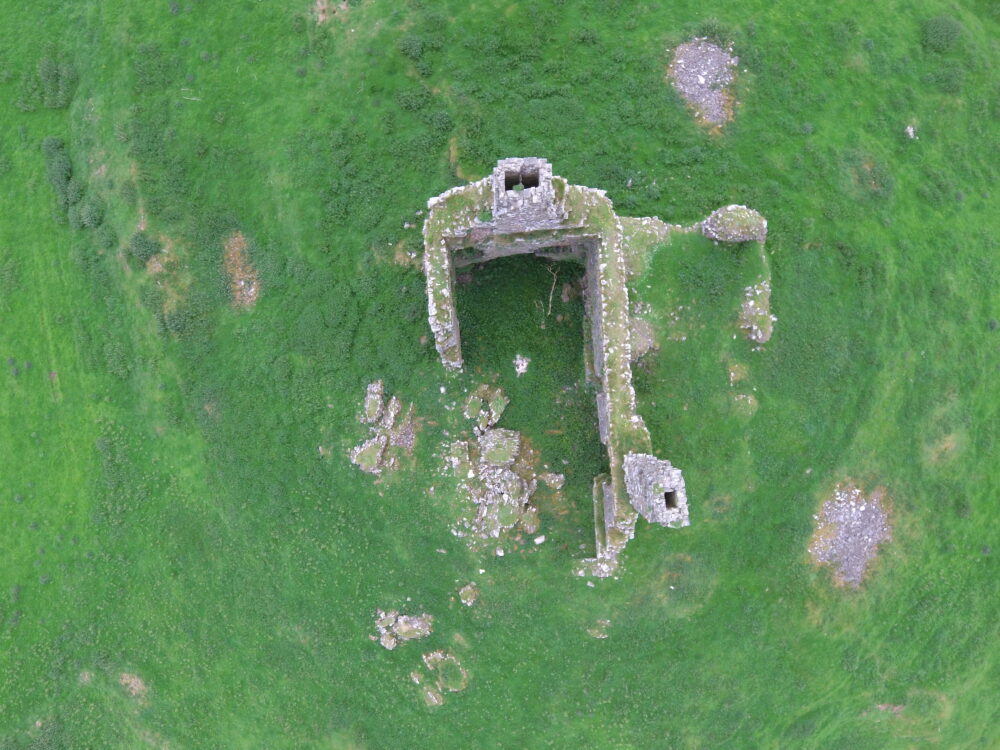 ---
Parish News

Anniversary Masses
Saturday 20th May @ 7pm – Borrisoleigh Mick Cowan, Main St. and the deceased members of the Gilmartin family.
Sunday 21st May @ 11am – Ileigh Joe Prior, Knockanevin.
Saturday 27th May @ 7pm – Borrisoleigh Gloria O'Shea, Pallas St. Month's Mind.
Sunday 28th May @ 11am – Ileigh Maura Ryan(Simon), Ballydaff. Month's Mind. `
Pray for May Butler, Beakstown, Holycross who died last weekend. Mother of John Butler, Glenkeen.
Padre Pio National Pilgrimage:
Holycross Abbey, on Sunday 28th May. Ceremonies begin at 1.30pm Contact 0504 43124 or
hbparishoffice@gmail.com
.
Cashel & Emly Diocesan Pilgrimage to Lourdes:
17th – 22nd June 2023 for 5 nights. All booking should be made through Joe Walsh Tours, 89 Harcourt St. Dublin 2. Contact 01 2410800. or booking form can be downloaded from diocesan website –
www.cashel-emly.ie
. Please note there will not be a special assisted section with medical and care staff this year. Hopefully this will resume in 2024. For this year pilgrims should be able to make the pilgrimage independently or with the assistance of someone accompanying them and taking responsibility for their care.
Synodal Pathway: The National Steering Committee of the Synodal Pathway invites you to the day of prayer in Knock on 31st May 2023. Mass will be celebrated by Archbishop Francis Duffy at 12 o'clock.
Novena for Life:
The Pray for Life Novena is an invitation to join the thousands of people across Ireland to pray for the protection of human life from Tuesday 23rd May to the Feast of the Visitation on Wednesday 31st May. Each day's intention is accompanied by a short reflection and suggested actions to help build a culture of life in Ireland. Visit
www.prayerforlife.ie
for the daily novena prayers which will also be posted on
facebook.com/PrayforLifeNovena
and @ChooseLifeIRL on Twitter. This is an initiative of the Council for Life of the Irish Catholic Bishops' Conference.
All Ireland Rosary Rally in Knock takes place on Saturday June 3rd from 1pm in Knock. It will include Holy Mass, the Rosary, the Stations of the Cross and a talk by Bishop Oliver Doeme. The Main Celebrant for the Holy Mass is Archbishop Eamon Martin. A bus will leave from Tipperary Town. Please book your seat early to avoid disappointment. Contact Maura Stapleton: 086 0622087.
---
Eucharistic Adoration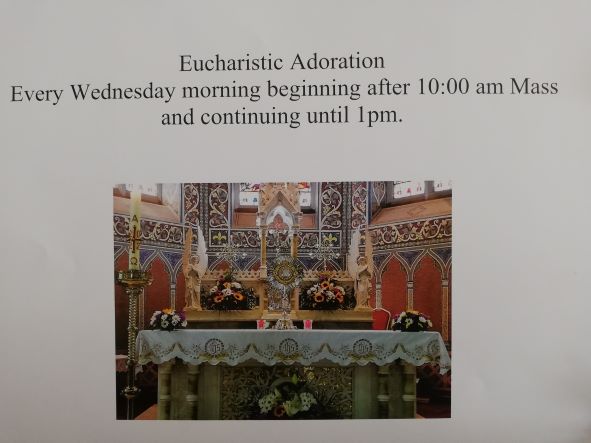 ---
Borrisoleigh Parish Pastoral Team
During Laudato Si week the Templemore Parish Pastoral Team has arranged a very interesting talk titled "Making sense of our Creation Story" to be given by Michael Long, Cabra Wetlands in the McAuley Centre, Templemore on Tuesday 23rd May, 2023 at 8pm. This initiative is aimed at fostering communications between the four parishes in our area group. They have requested that as many people as possible from our parish would support this very interesting evening.
---
Community Climate Coaches
Join the Community Climate Coaches Programme
Are you a facilitator, community organiser, active volunteer or local authority / agency staff working in County Tipperary?
Then this is for you! Picture it …
Resilient, regenerative local communities in County Tipperary inspiring change, embodying innovation, and solid in tackling the climate, biodiversity, and energy storm head-on.
What's not to love, but how do we get there?
Community Climate Coaches is a pioneering programme and an exciting opportunity for individuals interested or active in facilitating community-led development and sustainability. This Continuous Professional Development programme will build your skills and knowledge to empower change at the grassroots level.
Community Climate Coaches will ensure engagement and action within the five municipal districts of Tipperary. For the duration of this project, April 2023 to April 2024, we particularly want to encourage those working with, or from, seldom heard communities to participate, regardless of their previous experience in this area.
Apply here or contact us at coaches@sustainable.ie Or read the full programme description
You will have the opportunity to facilitate increased local well-being and resilience, enabling stronger, thriving communities.
Programme activities include:
Establishing a Climate Coaches Community of Practice or training network in County Tipperary

Three In-Person and Seven Online Sessions

Learning with experts

Co-hosting three community events in each of the five municipal districts

Developing climate resilience projects within your community

Co-designing a Toolkit for community-led development and sustainability

Replicating best practices nationally

Addressing climate anxiety and overwhelm through reconnection and action
What commitment is required from you?
As a participant, you will benefit from Continuous Professional Development via expert advice and support sessions, three of which are in-person. Full attendance is highly desired for the success of the overall project. These sessions will be held on Saturdays with venues in Cloughjordan (May 20th 2023), Cabragh Wetlands (June 10th 2023), and South Tipperary (venue TBC, September 16th 2023).
The following themes will be covered:
Nature & Place Connection

Community Story and Asset Mapping

Community Conversations on Climate Resilience.
Online sessions will also be held to advance your skills in facilitation, community development, and engaging your local community, to empower you to be a Community Climate Coach. Following these coaching and training sessions, participants put their learning into practice by working with their local communities to lead regenerative community development, fully supported by experienced facilitators in Tipperary.
We want you on the team. Apply here or contact us at coaches@sustainable.ie with any questions. If you are interested but have any additional needs that wouldn't allow you to participate, do get in touch and we will do our best to accommodate you. www.sustainable.ie
Facilitating Community Well-Being and Resilience!
---
Bealtaine Festival 2023 – Smartphone Workshops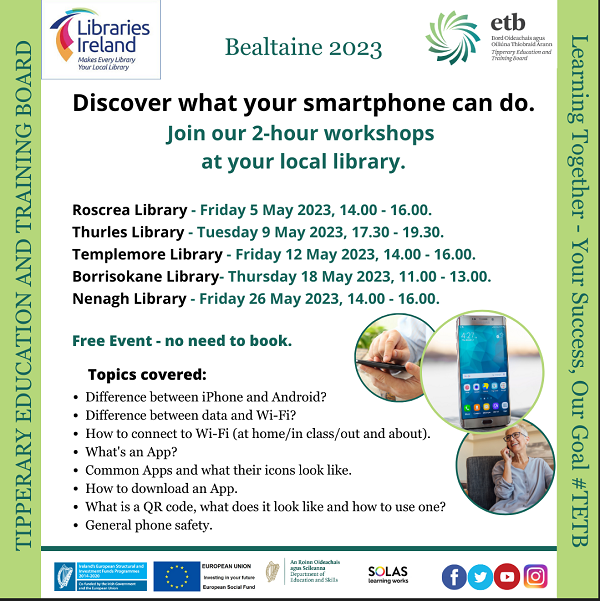 ---
Knitting and Crochet Group
Knitting and Crochet Group continues to meet every Wednesday at 10am. New members with other skills or none always welcome.
For information call Mary on 0863098982.
---
Pic of the Past
---
Your Website Needs You
Committee: Enda Ryan, Noreen Fahy, Marie McGrath, Derry O'Donnell
Many thanks to all those who contributed photographs and news items.
Remember, we need you to continue to send us material so that we can keep our website current and interesting.
Send your email to: info@borrisoleigh.ie
This website is supported by
Borrisoleigh Community Development Association.
While we make every effort possible to ensure that the information contained in this Website is accurate and complete, we cannot accept any legal liability as a result of the inaccuracy or incompleteness of the information presented to users of this site. We also reserve the right to edit material for suitability to a website format.
Also, if you like what you see and want to leave a comment, remember to use the Guestbook