Social Cycling Group
Christy Reid is doing an AXA Community Bike Ride Leader Training course with Cycling Ireland on July 28th following which he hopes to set up a Social Cycling Group doing short local spins with stops every 10 km approx. He hopes to do the first cycle on August 11th. Anyone interested in cycling with the group give Christy a call on 0874487338. Helmet and hi vis must be worn by everyone.
---
Borris-Ileigh GAA Club Notes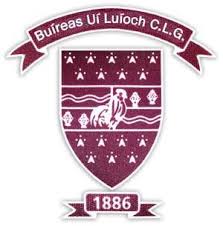 North Junior 'A' Hurling Championship:
Commiserations to our Junior 'A' Hurlers who were beaten 4-20 to 1-15 by Nenagh Eire Og in Round 5 of the North Junior 'A' Hurling Championship.
They now have a two week break before they play their crucial final round game against Burgess with a victory being required in order to progress to the semi final stage. Details of this fixture will be posted across all relevant social media sites.
North Minor 'B' Hurling Championship:
Well done to our Minor hurlers who put in a fantastic display as they beat Burgess 1-21 to 0-10 in Round 1 of the North Minor 'B' Hurling Championship. They now take on Lorrha Rovers Gaels in Round 2 this Wednesday the 17th of June in The Park at 7.30pm. Best of luck to both players and management.
Juvenile Fixtures/Results:
RESULTS:
North U14 'A' Championsip:
Borris-Ileigh 4-04 Toomevara 2-11
North 12 'A' Hurling Championship:
Borris-Ileigh 1-10 Burgess 1-05
North U12 'D' Hurling Championship:
Borris-Ileigh 1-04 Newport 5-02
FIXTURES:
Thursday 18th July:
North U12 'A' Championship Quarter Final:
Borris-Ileigh vs Ballina, in The Park at 7.30pm.
Friday 19th July:
North U12 'D' Hurling Championship Quarter Final:
Borris-Ileigh vs Toomevara, in Toomevara at 7pm.
Tipperary GAA:
Well done to both Dan McCormack and Brendan Maher who have an All Ireland Semi Final against Wexford to look forward to on the 28th of July after Tipperary's 2-25 to 1-18 victory over Laois in Croke Park last Sunday. Also we would like to congratulate JD Devaney, Ray McCormack and Kevin Maher on the Tipp U20's comprehensive victory over Waterford in the Munster Semi Final.
---
Borris-Ileigh Camogie Club
U16 Camogie Summer League:
Best of luck to our U16's who take on Rockwell Rovers in the next round the Summer League this week. This game will take place on Tuesday the 16th of July in Rockwell at 8.15pm. Best of luck to both players and management, all support greatly appreciated.
Tipperary Camogie:
Well done to Julieanne Bourke, Megan Ryan and Nicole Walsh who were all part of the Tipperary Panel who were 1-11 to 0-09 victors over Dublin in Round 4 of the Liberty Insurance Senior Championship in The Ragg last Saturday evening. Well done to Dani Ryan and Katie Fitzgerald who were part of the Tipp U16 'A' Hurling panel who had a comprehensive victory over Antrim in Round 2 of the All Ireland U16 'A' Camogie Championship. Well done to Emma Galvin who was part of the Tipp U15 Development Squad who took part in the Wexford Blitz last weekend and were victorious in the Plate Final. Also Emma Maher and Ava Bevans who were part of the Tipp U14 Development Squad took part in the Dublin Blitz at the weekend.
---
Diocesan Pilgrimage to Knock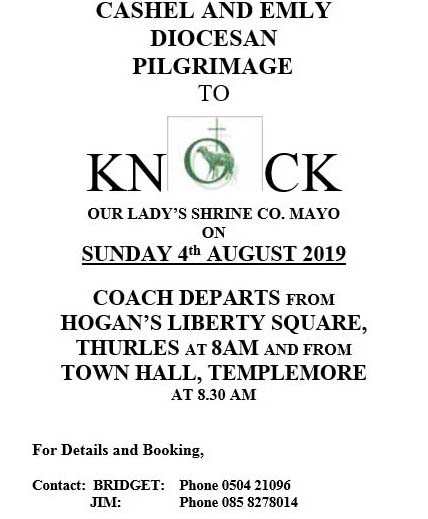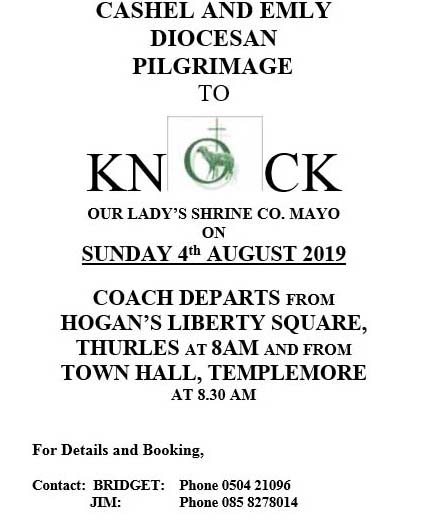 ---
Parish News
Anniversary Masses: Please pray for Donal Ryan, Garangreana and John & Greta Ryan Coolataggle whose anniversaries occurred last weekend and Joan Connors, Rathmoy whose month's mind Mass was celebrated last Sunday 14th July 2019.
Month's Mind Mass: for Margaret Hodgins Glenbreeda on next Sunday 21st July 2019.
Cashel & Emly Diocesan Pilgrimage: to Knock our Lady's Shrine Co. Mayo on Sunday 4th August 2019. Coach departs from Hogan's Liberty Square, Thurles at 8 a.m. and from Town Hall, Templemore at 8.30 a.m.
For Details and Booking Contact Bridget: 0504 21096 Jim 085 8278014.
Open Garden: hosted by Johnny Bourke, Clonboo, Clonmore, Templemore,
Eircode E41 A2C2 on Sunday 21st July from 2-6p.m.. All proceeds in aid of St. Joseph's Primary School Pitch Development. Light Refreshments available. Please note: not wheelchair friendly.
Lough Derg 2019: The Three Day Pilgrimage is currently open. You may begin on any day until Tuesday 13th August. Advance booking is not necessary.
The Lough Derg Team can help you to co-ordinate public transport or link up with Pilgrimage Organisers in your locality. Phone Lorraine on 071 9861518 or email: info@loughderg.org.
Portroe Parish: Vintage and Family Day, Large selection of vintage tractors and farm machinery from yesteryear. Irish Dancing, bouncy castles, face painting, animal farm. Under 16s Free. On Sunday July 21st from 11.30 a.m.
Templemore Bereavement Support Group: Our group aim is to provide support in a safe and confidential space to adults grieving the loss of a loved one: family member, sibling, spouse or any other loss caused by death whether the death is recent or longstanding. We are a voluntary compassionate group who facilitate a "drop-in" style of service on a monthly basis. We are non demoninational. Total confidentially is expected. The group is a support source only and does not provide professional therapy or counselling. We meet on the First Friday from 11 am to 12 noon. For further Information phone McCauley Centre 0504 35772.
---
Cemetary Masses
Cemetery Masses
Loughmore: Friday 19th July 7.30pm
Templeree: Wednesday 31st July 7.30pm
---
Opening of Pre-School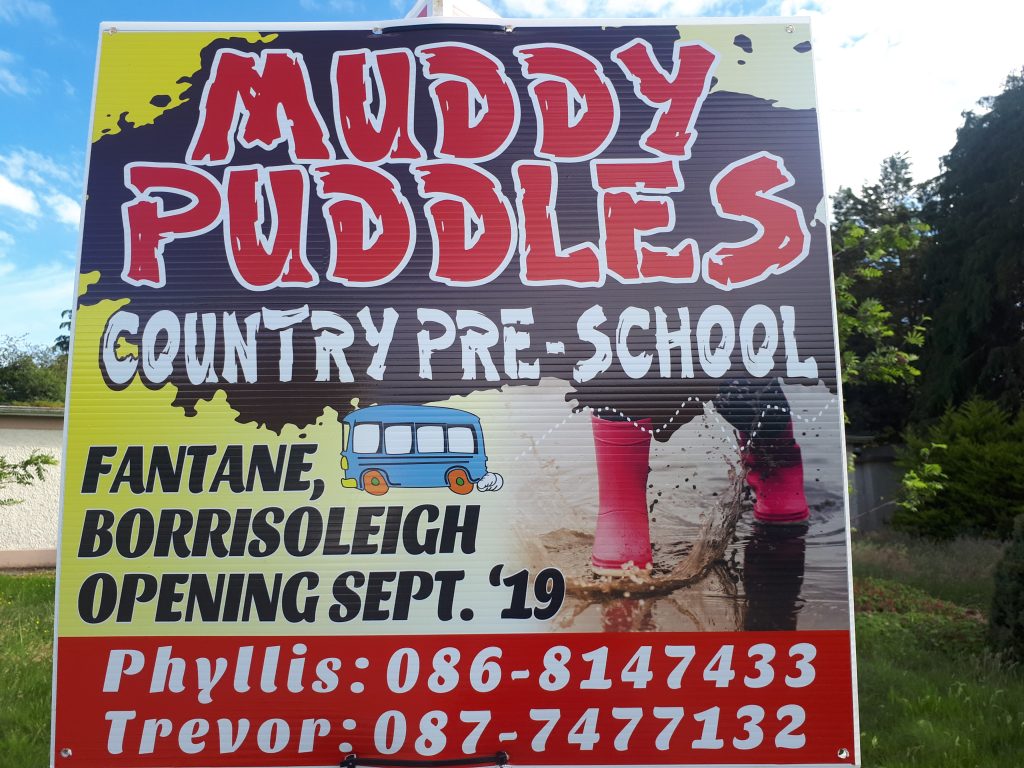 ---
LEGO Play Day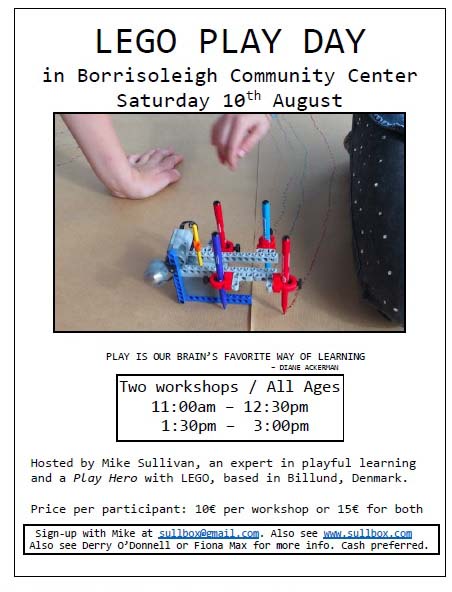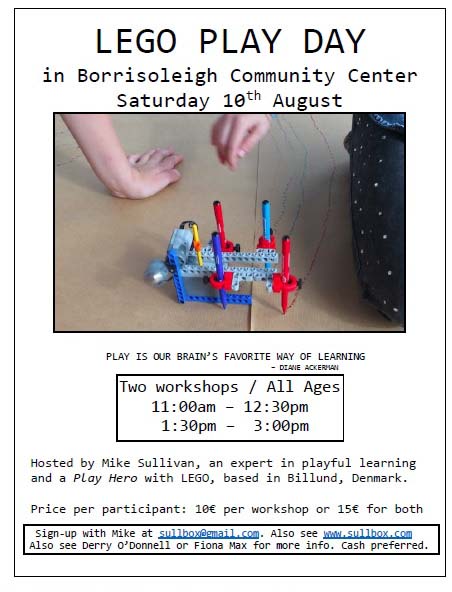 ---
Chiropody Service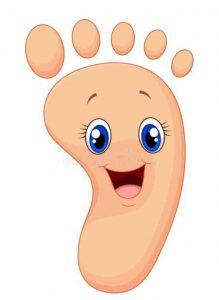 Chiropody Service will continue in the Parish Centre on Friday 19th July 2019. Please ring Deirdre at 089 4478511 for Bookings.
---
Pic of the Past
---
Committee: Enda Ryan, Noreen Fahy, Marie McGrath, Derry O'Donnell and Fiona Max
Many thanks to all those who contributed photographs and news items
Remember, we need you to continue to send us material so that we can keep our website current and interesting.
While we make every effort possible to ensure that the information contained in this Website is accurate and complete, we cannot accept any legal liability as a result of the inaccuracy or incompleteness of the information presented to users of this site. We also reserve the right to edit material for suitability to a website format.
Also, if you like what you see and want to leave a comment, remember to use the Guestbook
---