16 March 2016
16 Mar 2016
Proclamation Day at Scoil Naomh Cualán
Tuesday, March 15th, 2016 will linger long in the memories of pupils, parents and staff of Scoil Naomh Cualán, Borrisoleigh, Co. Tipperary following their Proclamation Day 1916 Commemoration ceremony.
Having read the 1916 Proclamation and presented their Proclamation for a New Generation, all present were treated to the premiere of a unique film depicting the events of 1916 which was compiled by the pupils and featured every child in the school from Junior Infants to Sixth Class. All classes participated in a feast of music, poetry, song, visual arts and drama which celebrated the stories of Tipperary's Thomas Mc Donagh, Pádraig Pearse, Joseph Mary Plunkett and Con Colbert who has a direct connection with our school.
A moving highlight of the day was the reading of Con Colbert's letters from Kilmainham Gaol to his aunt, Mary O' Donnell, and cousin, Máire, who were grandmother and aunt, respectively, of local woman, Mary Kenny. Following   a presentation of a copy of the original letters to Mary and a Roll of Remembrance for ancestors of our school community and all who have lost their lives in the pursuit of freedom and justice, all present united in a prayer for peace.
The raising of our National Flag, singing of Amhrán na bhFiann and compilation of the very special school photograph enclosed with this article proved a proud finale to a very special day.
'All at Scoil Naomh Cualán would like to say a huge 'thank you' to Oisín, John and Nicky who made this unique photo of a very special day possible. Go raibh míle maith agaibh go leir'
Ní bheidh a leithéid ann arís!
---
Fifi's Tots Celebrate Proclamation Day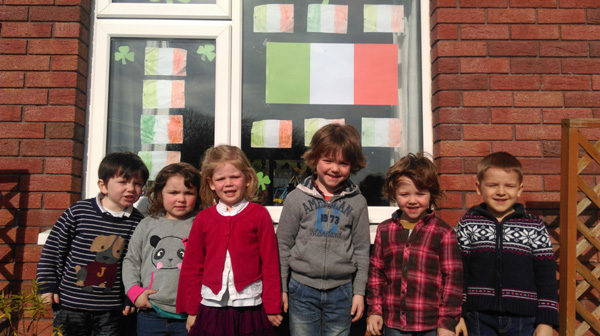 Fifi's Tots preschool celebrated proclamation day this morning. We learned about the 1916 Rising, our flag & the proclamation. We then wrote our own proclamation with the children saying what things they would like to have on it now in 2016. Each child then signed it just like the leaders they had learned about did 100 years ago. Following this some of the children went to the primary school to see the flag being raised up there.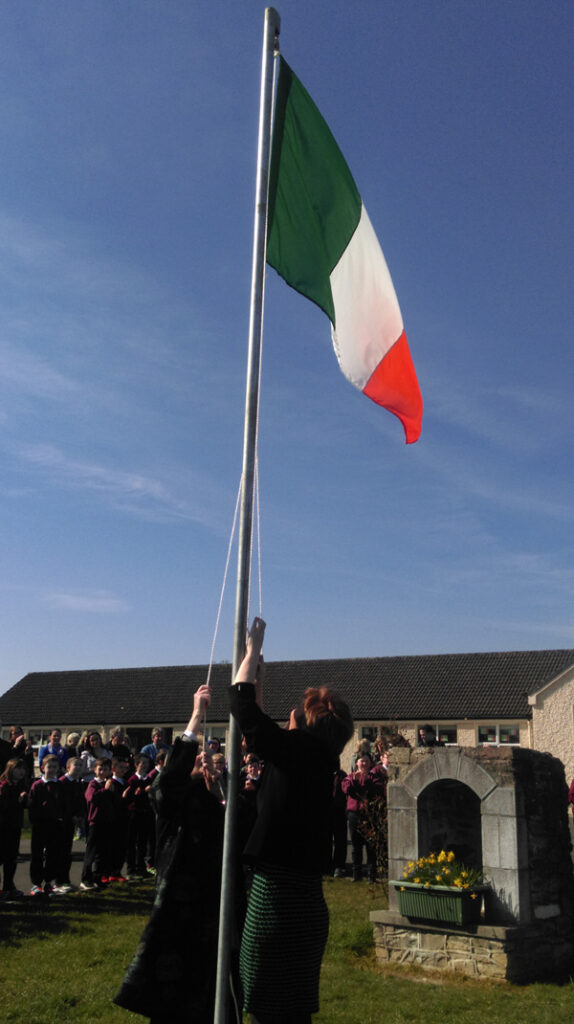 To see more photos from Proclamation Day click here
---
St. Joseph's College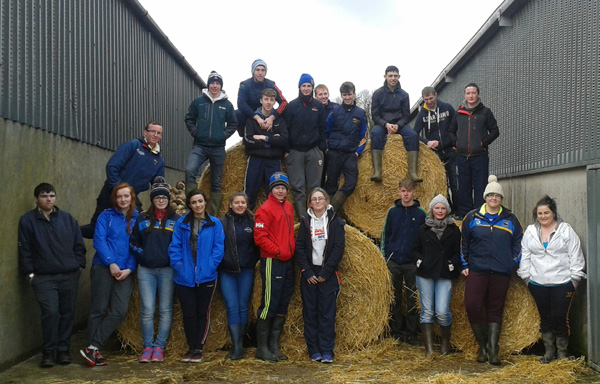 Ag Science  class had a great day in Gurteen Agricultural  college organised by agri aware. Thanks to Stephen Grace Toomevarra  for a tour of his dairy farm on the way home, all students appreciate this as they look forward to their practical assessment!!
On Monday 7th March,the Leaving Cert Music class travelled to the National Concert Hall in Dublin to see 'A Leaving Certificate Guide to Berlioz's Symphonie Fantastique'. While it was a most enjoyable experience to hear three movements of the symphony performed live by the RTÉ National Symphony Orchestra (conducted by Gavin Maloney), by far the most beneficial aspect of the concert was presenter Paul Rissmann's dissection of the work, reinforced by examples played by the orchestra and by visual aids in an overhead presentation. By breaking down the music into simpler parts, we left the concert hall with a greater understanding of this romantic-era work and as one of the most complex works on the Leaving Cert course, it was very helpful to see it performed with specific reference to the Leaving Cert music curriculum.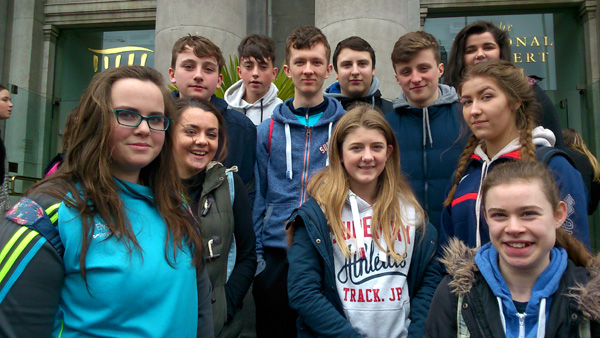 On Tuesday, it was the  turn of the Junior Certs to attend a similar presentation of their prescribed works. Again it was a valuable and illuminating experience which was of great benefit to the students in their preparation for their forthcoming exams. We fitted in a visit to the Natural History Museum (fondly known as the dead zoo!) and the G.P.O.  Given the significance of this historic building in the events of 1916, it gave the students an opportunity to reflect on what happened there almost exactly a hundred years ago.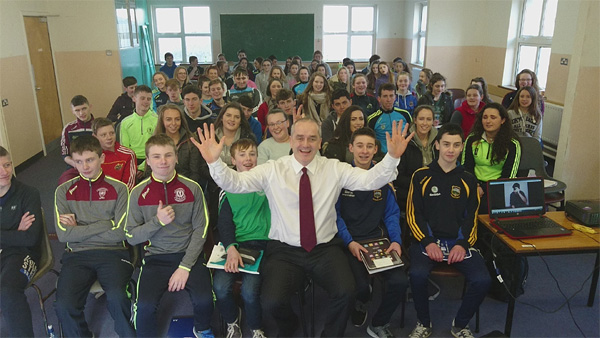 Our Parent's Council organised a Study Skills Seminar which we held on Saturday, March 5th. Many students from 2nd up to 6th year attended. The presenter was Mr. Enda O'Doherty of Study Skills Ireland. This was a very informative day with great study and revision tips and excellent hints and exam techniques. Our students felt inspired and motivated by the experience. The day was very enjoyable and worthwhile and proved a fitting end to our POSITIVE MENTAL HEALTH WEEK at St. Joseph's College.
Race Night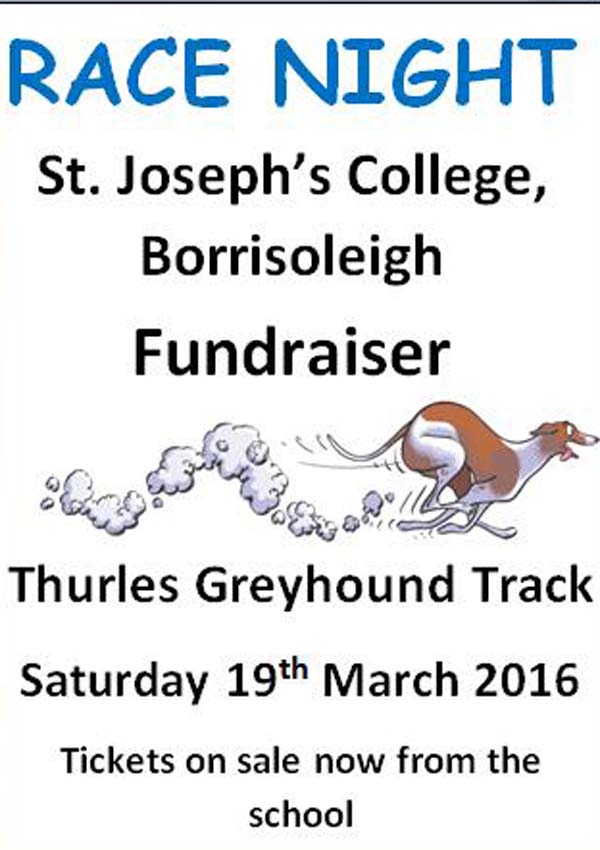 Excitement is building for St Josephs College Fundraiser Race Night at Thurles Greyhound Track on Saturday 19th March. Tickets are being sold by students and are also available to buy from the school. We look forward to a great night with students, parents and teachers. We hope to see you there!
---
Holy Week Ceremonies
Confessions:  Tuesday 7pm
Spy Wednesday: 
Chrism Mass in Cathedral @7.30 pm. Parishioners are invited to this Mass and also to refreshments afterwards in St. Patrick's College.
Holy Thursday:
Evening Mass of the Lord's Supper @7pm.
Holy Hour at Altar of Repose immediately after Mass.
Good Friday:
Celebration of the Lord's Passion 3pm.
Stations of the Cross:
Ileigh 7pm.    Borrisoleigh 8pm.
Holy Saturday:
Easter Vigil 7pm.
Easter Sunday:
Masses: 9.30 am. (Ileigh); 11.00am. (Borrisoleigh)
---
 St. Cualán's  Social Club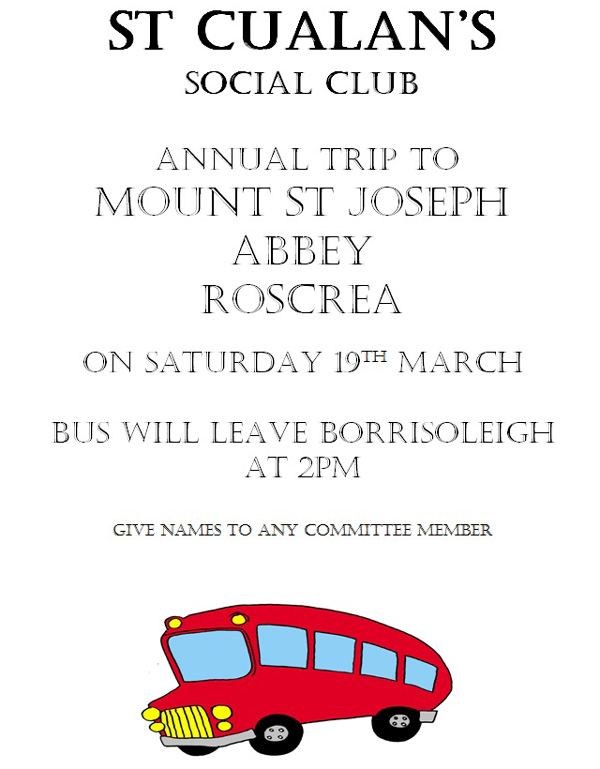 ---
Borrisoleigh Track-Attack Notes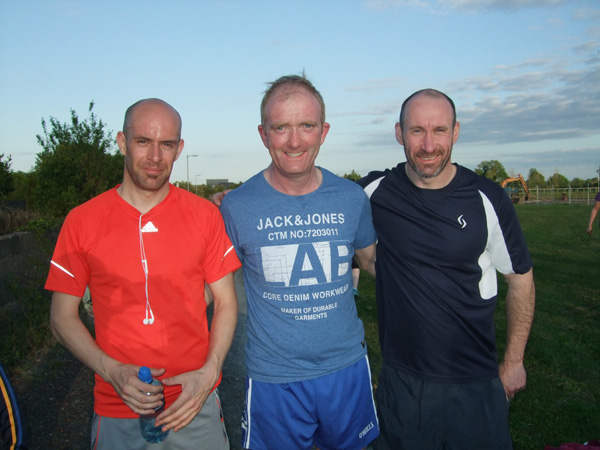 Track-Attackers Michael O'Brien, Daniel Madden and Tom Shanahan
Denise Bears Down on Title
Led by their captain Denise Gould, the Bears have worked their way to the top of the Track-Attack Safari Team Trek League with just a single round to go. She was one of 5 of the team members who recorded a PB on the night, the others being Celine McCarthy, Michael Ryan, Emily Bourke and Sean Young. Their lead is less than 100 points which is slender in terms of many points a team are capable of winning or losing on a given night.
They have timed their climb to perfection however and are now the favourites to claim the overall title. The aforementioned quintet are joined on the team by Jacqueline Minogue, Paddy Kennedy, Therese Groome and Paddy McCormack who have all contributed handsomely to their team rise to the summit in recent weeks and the quartet could well be jewels in the crown when the final laurels are presented.
The Rhinos are poised perfectly to raise one last gallop and it would be foolish to underestimate the team's ability to mount one last effort. Led by captain Mairead Long, they are a team of hugely consistent performers. Last week saw Joanne Minogue produce an outstanding bonus point performance as did Deirdre Collins and James Gould.
The leaders for the previous 2 weeks, the Gazelles are now sitting in third spot and the team led by Clodagh Ryan will still fancy their chance of claiming the title. Mary McLoughlin, Daniel Madden, Delia Ryan, Will Cooney and Matilda Hayes all recorded PB's in round 9 and one last push could well see them regain their table topping position.
Snakes & Ladders
Our next Track-Attack Series begin on Monday night next and it's entitled the Snakes & Ladders Series. It is again a team league so if you would like to be a member of a team, text your name to 087 6380649 by tomorrow night (Thursday).
Again the fundamental aspect of the event will be the "Fun Factor" and we will continue to encourage and promote this in all our events. This will be a 5 week Series with an entry fee of €10 for adults (€2 per night option is again available) while all our school going members are free of charge. Any potential participant has to be a member of Track-Attack which is available at €10 for adults and €5 for Under 18's.
We have added a 5km distance to the Series so participants have the option of competing in either 3km, 4km, 5km or 6km. An outline of the Snakes & Ladders board will be displayed soon at the track. There will be 100 squares on it and it will include an amount of both snakes and ladders. As per the board game, if a team land on a ladder, they will climb the table as a bonus but land on a snake and you slide back down the table. The object of the game will be for the team to reach that magical 100 mark!!!!
---
Willow Basket Weaving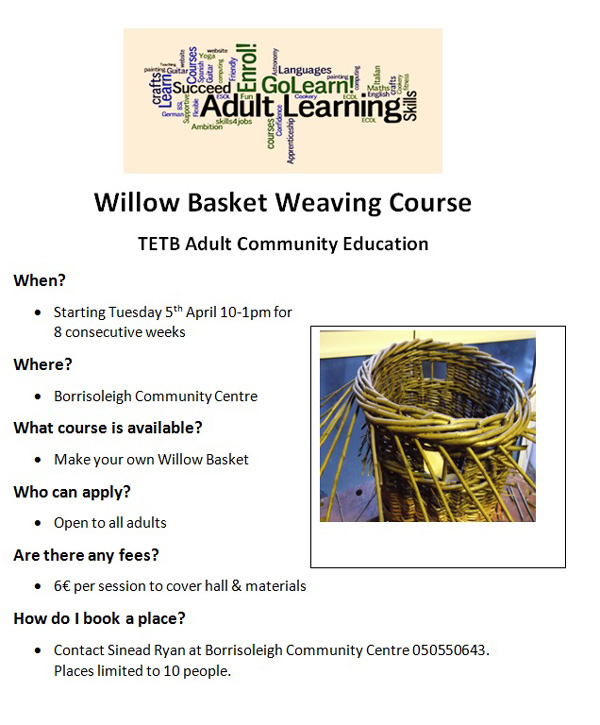 ---
Borris Bothy Call For Help
Can you help?
The Bothy was set up as a community shop in Borrisoleigh which would act as a community space and an outlet for local artisans to sell their produce. The idea was that local food producers and craftspeople would have a regular outlet to sell their wares. It was also hoped that more people would be encouraged to begin earning extra income by producing food and crafts to sell in The Bothy. More income earned by local people would help the local economy as money spent locally stays locally.
It was also an aspiration that The Bothy would become a community hub. A place where people could come together to share a cuppa, hold meetings or maybe learn something new as a group. The Bothy has been extremely fortunate and grateful to have had several volunteers over the years. It is one of the very few volunteer run community shops in Ireland today and has hosted visitors on educational tours from around Europe.
However, we need your help to ensure The Bothy remains open.
More craftspeople and food producers are wanted to keep the shelves stocked with as wide a variety of goods as possible. Would you like to earn a little extra income? Maybe put aside some money to pay for school books, holidays, college fees? Why not try your hand at producing some crafts or foodstuffs for sale? Maybe you already have a hobby that you could use to generate a little side income. You can always learn new crafts by taking courses or even studying online through websites like www.craftsy.com.
Volunteers of all kinds are always welcome. Maybe you can volunteer for one hour a month or maybe you can do four hours a week. It doesn't matter. It's a great opportunity to meet other people, have a chat and get to know your fellow parishioners. You might also have ideas and might like to host other activities in The Bothy similar to the Bookclub. For instance poetry readings, sewing circles, family history research, whatever. Any time you can donate is greatly appreciated. If you want to get involved in any capacity we'd love to hear from you.
Customers of course! Last but by no means least The Bothy needs customers. Even just popping in for a quick cup of tea or coffee can make all the difference if enough people do it. While The Bothy is a not for profit organisation, there are still running costs which need to be paid. Why not make a point of meeting friends for a cuppa once a week or once a month or whenever you can. Better still if you can support some of the local food producers or craftspeople.
Unless the issues above are addressed it will not be possible for The Bothy to stay in business. If you can help out or contribute in any of the ways mentioned above please call in let us know. We'd love to hear from you.
---
 Sacred Heart Church
Our Sacred Heart Church is under repair at the moment. Scaffolding has been erected to repair leak in Gallery, Bell & Bell Tower and Pointing. Sorry for any inconvenience caused.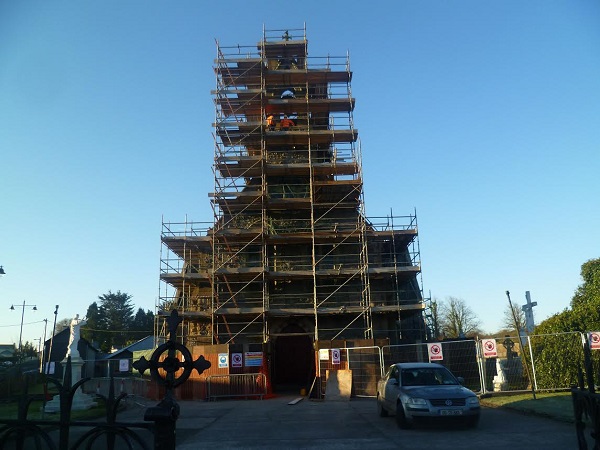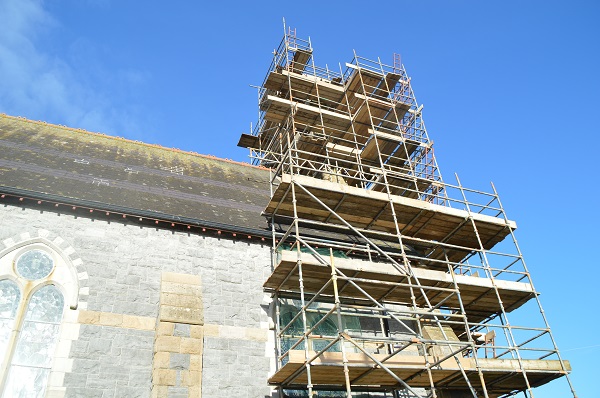 ---
---
Borris-Ileigh Camogie Club Notes

CLOTHES COLLECTION
Fundraising clothes collection will take place on April 2nd in the parish centre, so if you are doing some clearing out, please put some aside for this collection. By getting involved in our Bag2TheFuture collection you have an opportunity to sort through your cupboards and wardrobes and donate any unwanted textiles.  These can be returned in any kind of bag.  
This can include adult and children's clothes, shoes (tied together please), hats, belts, handbags and teddies.  Donations of mobile phones, tablets and digital cameras can also be handed in separately.
Please NO duvets, pillows, bedding, curtains and towels please.  
The clothes have to be of good quality for reuse in Africa, Asia and Eastern Europe.  
Many thanks.
A further REGISTRATION MORNING will take place in the next couple of weeks.
Many thanks to all of you who have registered already.
Membership as follows:
Senior players: €50
Juvenile players: €30 (Cost of Juvenile insurance €10 & registration €18)
Committee, Managers, Coaches & Social Members – €20
Additional Registration forms available from trainers and committee. If you wish to train or play with any team this year registration is essential.
Tesco sponsorship for clubs
Borris-Ileigh camogie club have been included in Tesco sponsorship for clubs, so the more tokens that are collected in Tesco Thurles, the more funds could be generated for the club. We would really appreciate your support and many thanks to Tesco Thurles.
SENIOR LEAGUE 2016;
GROUP : DROM, MONEYGALL, BORRIS-ILEIGH;
SATURDAY MARCH 26th BORRIS-ILEIGH V DROM
---
Borris-Ileigh GAA Club Notes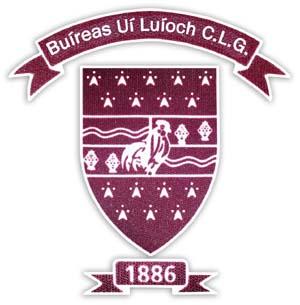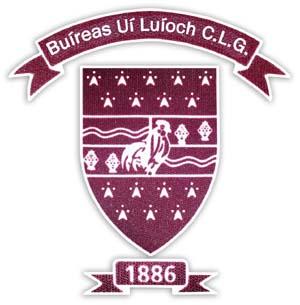 Membership: Membership and insurance is now being taken for 2016. For adult players the rate is €50 and for student players the rate is €30. The cost for non playing members is also €30. Membership and insurance can be paid to Registrar John Bradshaw or any club
Senior League: Borris will take on Toomevara this Sunday morning in the second round of the league. The game will take place at 12pm in Borris. All support would be greatly appreciated
Junior League: Our Junior A team open their season with a clash against Kilruane on Saturday 26th. Time and venue to be confirmed. It is thought that the Junior B team will play on the following Saturday
Juvenile Club: The annual Good Friday table quiz takes place again this year. It will be held in the community centre
Golf Classic: We are happy to announce that the club will be hosting its annual Golf Classic on Friday 13th and Saturday 14th of May. Over the past 3 years we have had huge success with it and it has been an event that has been thoroughly enjoyed by all. The timesheet is now open. If you wish to book a spot please contact Martin on 087 2608780.

---
Daffodil Day 11th March 2016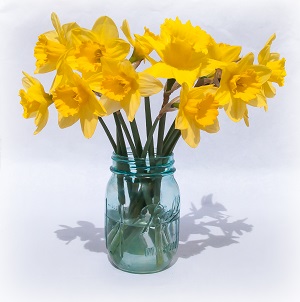 €4,950 Donated!
A huge thank you to everyone who came out to support us on Friday 11th March.
Very special thanks to all the volunteers who gave up their time.
Thanks to all those who provided much needed refreshments to the volunteers throughout the day.
---
Computer Classes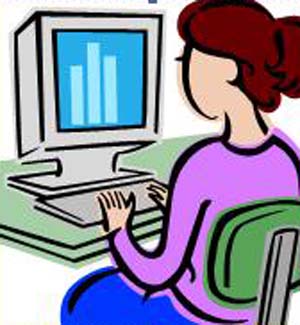 Beginners computer classes is starting up in early April in Borrisoleigh Community Centre through ETB (education & training board).
If anyone is interested in this classes please contact the community centre office at 0504 50643 Monday-Friday 9am – 1pm.
---
Pic of the Past…………down memory lane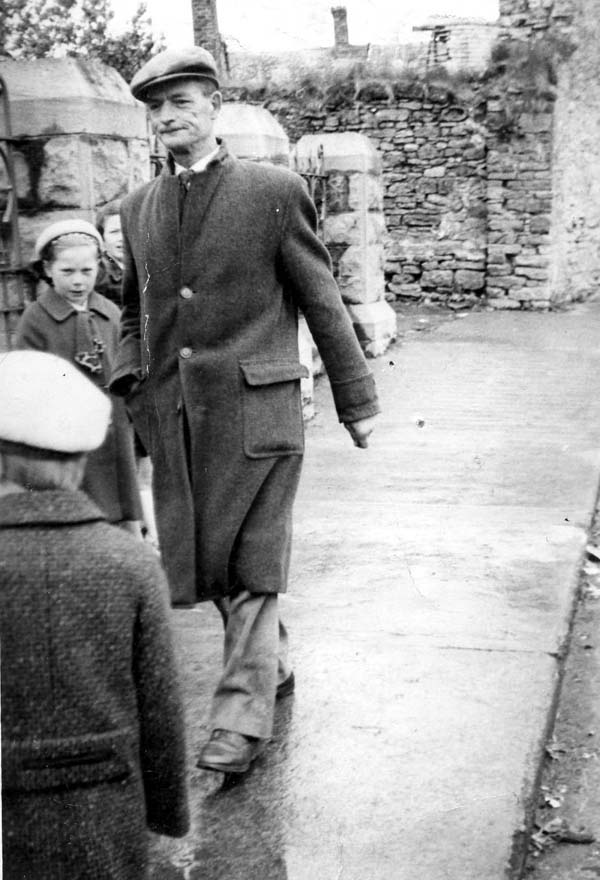 Ned Patterson, Lios Pádraig
Child on the left: Bernie O'Dwyer
Ned was a well-known character – not afraid of a hard day's work. He was also a great musician who readily took part in a 'seisiún'.
---
Committee: Enda Ryan, Noreen Fahy, Margaret Cowan, Marie McGrath, Aileen Óg Groome and Derry O'Donnell

Many thanks to all those who contributed photographs and news items. Remember, we need you to continue to send us material so that we can keep our website current and interesting.
Send your email to: info@borrisoleigh.ie

While we make every effort possible to ensure that the information contained in this Website is accurate and complete, we cannot accept any legal liability as a result of the inaccuracy or incompleteness of the information presented to users of this site
Also, if you like what you see and want to leave a comment, remember to use the Guestbook!